Buying gifts and toys can be difficult, but not as hard as you think when it comes to shopping for a boy who is just one. He might end up playing with the box the gift came in more than the actual toy. If you think about getting him a nice box there are chances he plays with the bag you keep the box in. So buying something for a one-year-old child is not as hard as it seems. In this article, there are several options that you can go through and also a buyer's guide to help you in the process.
Top Gift Ideas For 1-year-old Boys
1. MAGNIFIER Splash Pad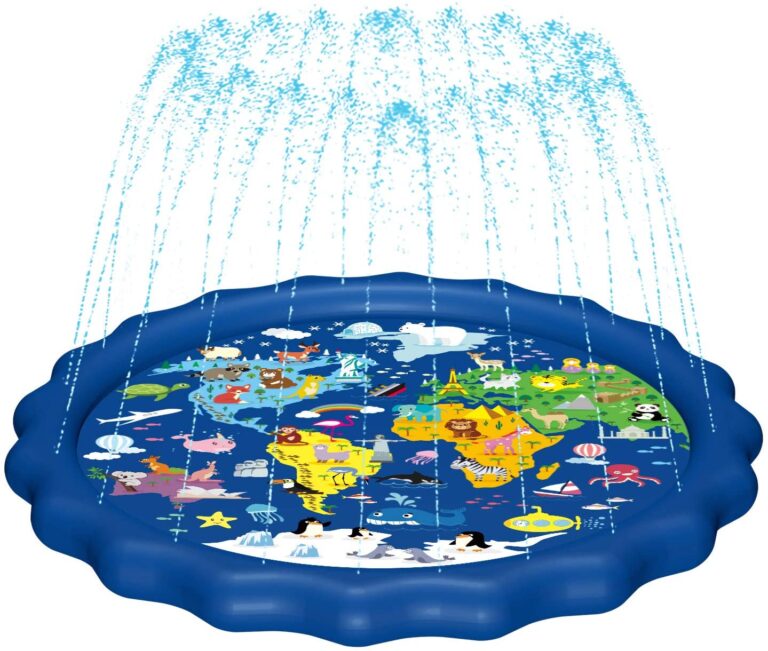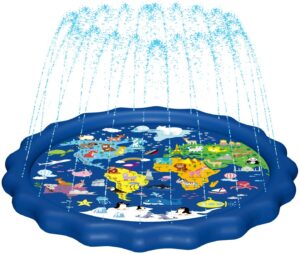 Kids, when they are one, are not easy to handle, and getting them in a bath without crying or resisting can be a task. Making bathing fun for them by giving them a Little pool of their own can make your tough job simpler. This splash pool is a great toy for kids. It will also give them an amazing summertime. The pool is completely safe and is shallow specially made for kids. It will also be a great time for family bonding. There are three options to choose from, maps, whale, and shark. You can select the design Which your child will like. All the patterns are colorful and vibrant.
The use of the pool is super simple. You just have to connect a hose or a pipe with the ring inside the sprayer connector of the pool, then you have to use the metal joint directly with the pipe and turn it on after putting the pipe on a tap. The pressure of the water easily fills up the pool and activates the sprinklers. The material used to make the pool is of very high quality and the plastic is great quality PVC material. The injecting ports which will sprinkle water are manufactured to be soft on the kids. There is also a sturdy side seam that will prevent any crawling. You can create a small personal water park for your little one. Parents have recommended it and given it a 4 plus star rating.
Features:
Easy to use and assemble.
Safe for kids.
Durable material.
High ratings.
Great for summer.
2. Magnetic Drawing Board For Toddler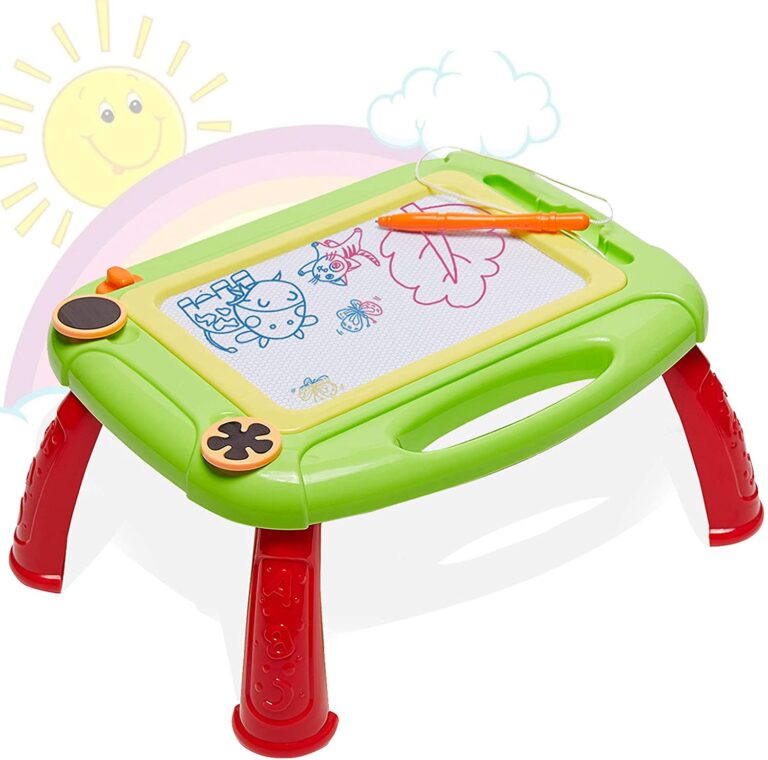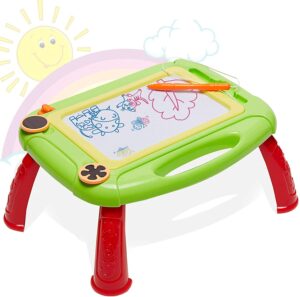 Kids tend to use crayons on walls and floors and spoil your precisely chosen furniture. But there are several ways to prevent that from happening. One of them is buying a drawing board for them which does not involve the usage of crayons or any other type of pen which can be used on furniture. This magnetic drawing board is a little bigger than a traditional iPad and it can be used in three ways. One as a slate, the second with two feet up in a slant position, and the third as a table board.
Using this board is also very simple and a hundred percent free from mess. With just one swipe the slate can be cleaned. There are 3 color options available in this product which are green, blue, and pink. You can buy whichever color your little one I will like the most. This item is a great way to keep your toddler away from the screen. The board comes with one sketch pen which can only be used on the board. There are two magnetic stamps as well. One in the shape of a flower and a circle. A unique thing about this sketch board is that it's not like a traditional slate with black and white colors but it has rainbow colors making it even more attractive. There are four different color zones on the board!
Features:
Doodle board.
Erasable.
Free of mess.
4 color zones and 2 magnetic stamps.
Lightweight.
3. ALASOU Silicone Flipping Busy Board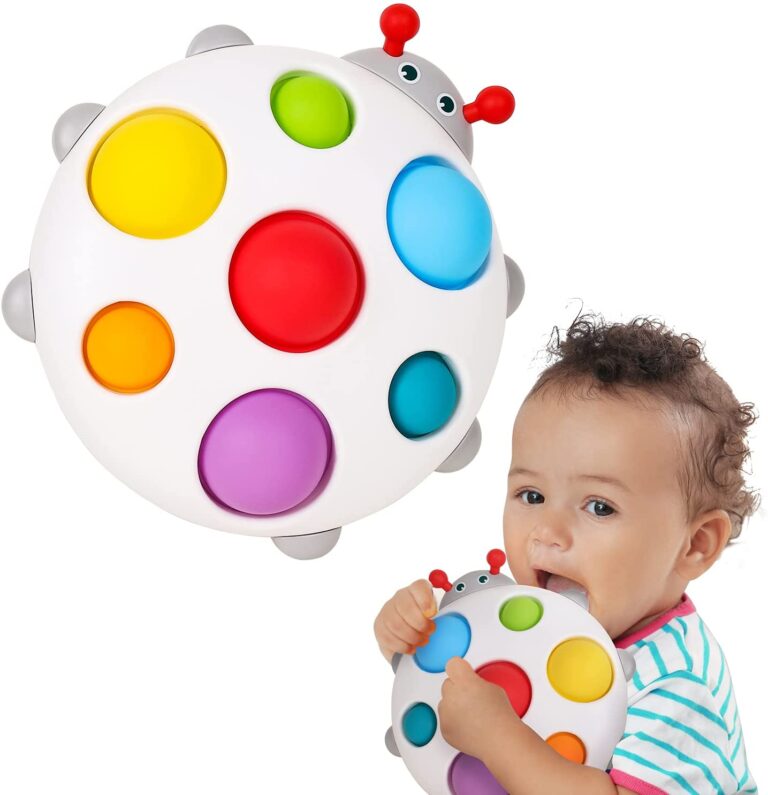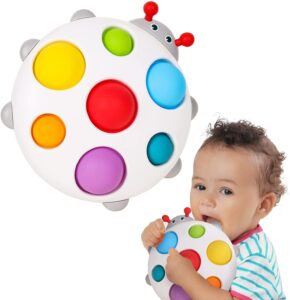 Every parent has a hard time keeping their child busy and away from the television or tablets. This toy will make your job much easier than you can imagine. It was specially designed to keep toddlers occupied with themselves while you can finish your work or complete errands. This silicone busy board is manufactured with good quality silicone material. It is super soft and safe for your child. The toy is sturdy and durable so you don't have to worry about breakage.
There are bubbles on the toy they pop like wrapping paper except you can use it an unlimited amount of times. Popping them will also keep your little one away from early anxiety or stress. This toy will also help him stay more focused and attentive. It is great to enhance your toddler's skills, like sensory exploration, ability to focus better, learn different colors, and develop favorites and it's really good for finger exercising as well. It will help you through the teething process too, it is a hundred perfect safe for teething as it is made of silicone which is food grade. You can take them wherever you want to.
Features:
Safe for teething babies.
Good fidget toys for kids as well as adults.
Increases sensory abilities.
Travel friendly.
4. Educational Airplane Toys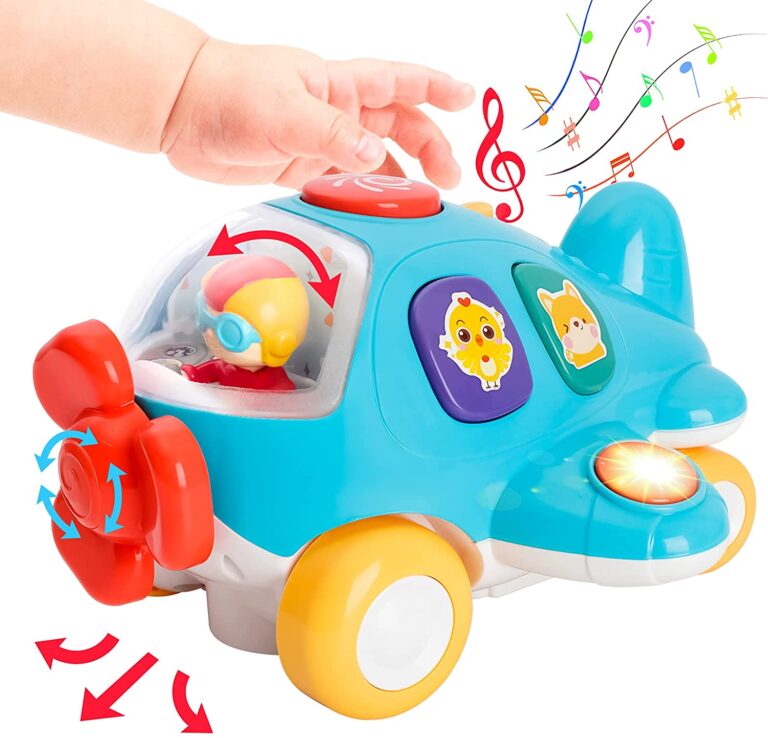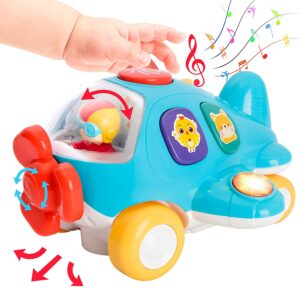 Starting education at an early age can be something you can question. But having fun and growing is more important when they are just one of age. This airplane will help you a lot in the development of your baby. It will increase his coordination between hands and eyes. The toy will also enhance his creative skills along with fine motor skills. With this educational airplane, your child will learn new colors and his concentration levels will also become better.
It is full of features, with several amazing sounds and melodies, the sound of a propeller giving a feeling of reality with the plane. A volume low and high button for convenience. All the edges in the toy are smoothed out by the manufacturer to prevent scratches and increase safety. The whole material is free from toxic and BPA. While moving around the plane will go straight and in case it bumps somewhere it will automatically change the path it is on, so if your baby gets hit by the plane he will be safe and sound because of the round edges and auto-tuning feature. The toy has no small pieces which is always a big aspect to look for while buying a toy.
Features:
Educational toy with several features.
About six amazing music modes.
Completely safe and secure for toddlers.
Easy to use and sturdy quality.
5. Baby Bath Toys-Wind Up Turtle Bathtub Toys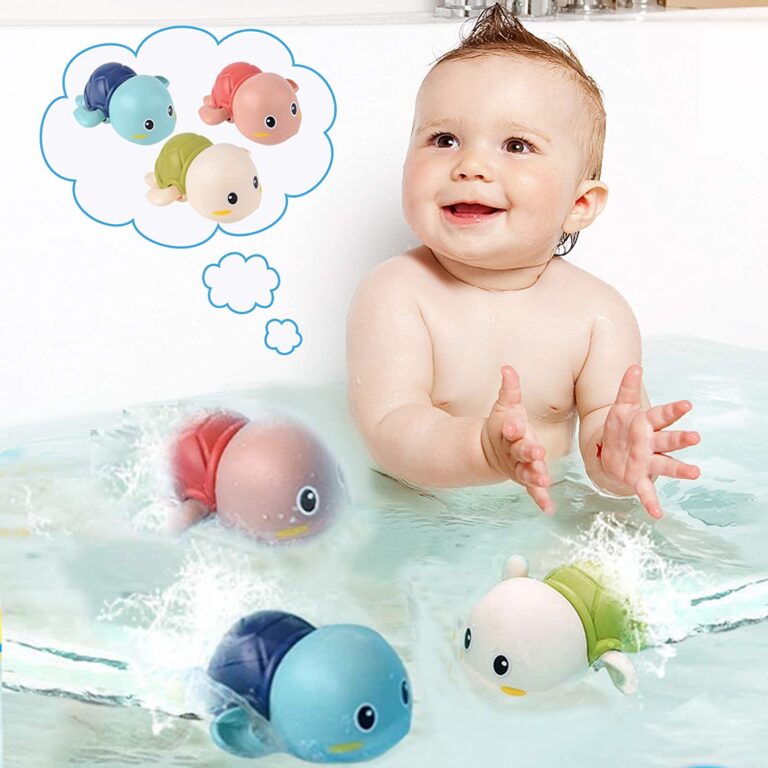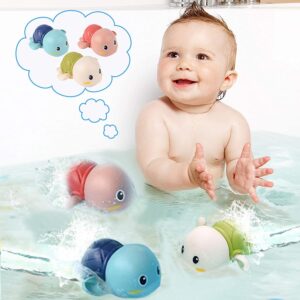 Kids tend to cry during a bath and that problem can be everlasting if you don't find a solution. These turtles can solve your problem very smoothly. They are made with beautiful colors and for him, they will be fun to play with during his bath time. It is completely safe, with round edges and good quality material.
It is very easy to use, you just have to turn the motor spring and leave it in the water to take a good swim keeping your little one distracted. These can be taken to the pool as well and will not have issues with chlorine. Even going to the beach will be even more fun with these adorable turtles.
6. WOOD CITY Wooden Sorting & Stacking Toy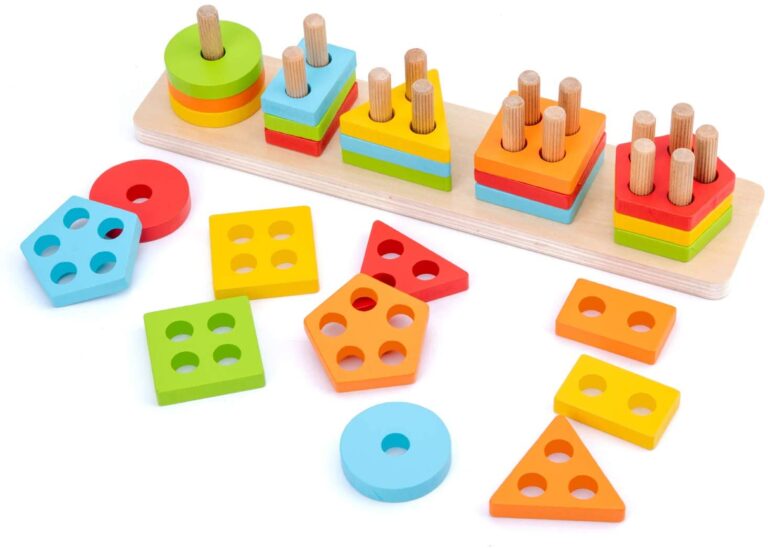 Teaching your little one shapes and colors will become super simple with this wooden sorting and stacking toy. It is made especially for toddlers and to teach them while ensuring complete safety. All the edges of each shape are round and smooth, so there will not be any scratches. Even the top of each stack is round instead of square. The material used to make this set is amazing quality wood. A total of 5 shapes come in the set which includes, circle, rectangle, triangle, square, and pentagon. Each shape is painted with toxic-free different colors.
Using this set you can teach your kid more than just shapes and colors, you can help him develop his motor skill, hand and eye coordination, and you can also combine different shapes and create new items. He will stay occupied with these bright-colored pieces for a long time.
Features:
Safe for small kids.
Made with good quality wood.
Free from toxic paint used.
Round edges.
Buyer's Guide To Buying The Best Toys And Gift Ideas For 1-year-old Boys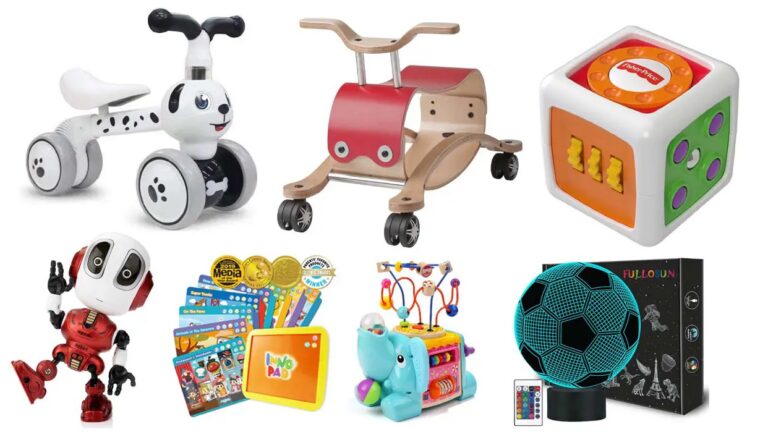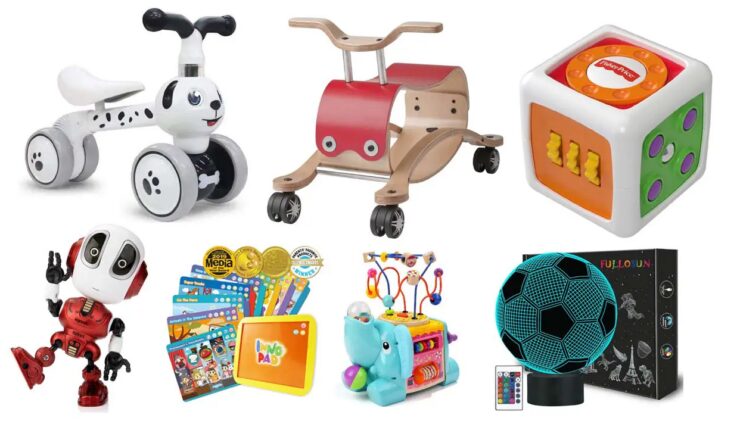 A growing kid can show tantrums but they will always like the toy you will get for them. At the age of one, they barely know about their likes and dislikes and they have an open mind. You can form their interests and teach them things that you want them to learn. Buying the right present or toy can be a smooth process when it comes to 1-year-olds. You just have to go through the below-mentioned aspects and consider them before making a purchase.
Safety
The safety of your baby who is just one in age is a necessary aspect to take care of. Toys with sharp edges or objects that could hurt your little guy need to be checked before buying. Taking care of small pieces is especially very important as your kid can swallow them. The toys should also be durable and if any small part breaks there are chances he will swallow that too so ensure that the toy is made of good quality material.
Interactive
The attention span of a child who is just one in age is very less and he will get bored or distracted easily. Buying interactive toys is important, keeping your kid active and not bored is good for development. Toys like the airplane which has several sounds and lights will attract your little one and help him learn new things.
Parent Reviews
A lot of parents tend to give reviews about products online to help other parents during their shopping spree. You can go through the reviews and decide whether or not a specific toy your gift will be good for your child. You can also check the ratings available online. Nothing is better than checking what other parents have got to say about a product, as they have experienced it with their child and know if it will be right.
Brand
Choosing good brands that you can trust is important as well because quality brands use good quality material which will be safe for your son. They might be a little expensive but it will be worth it when you will have surety that the toy is completely safe for your little one.
Warranty
Kids have fragile hands and things fall from their hands very often so you don't want your money to go to waste. Having a good warranty on the product will pay off when the toy ends up getting damaged and your little one crying. With the warranty, you can get a replacement for the product and stay on the safe side with your baby.
Conclusion
Boys who are just one year of age are not aware of everything around them and will eventually forget about toys once they grow up. Getting their attention is altogether a difficult job but with the right colors and lights, you might be able to win it. The toys which are given in this article were found after thorough research and the buyer's guide will also help you through the process of purchasing a gift or a toy for your lovely baby.
FAQs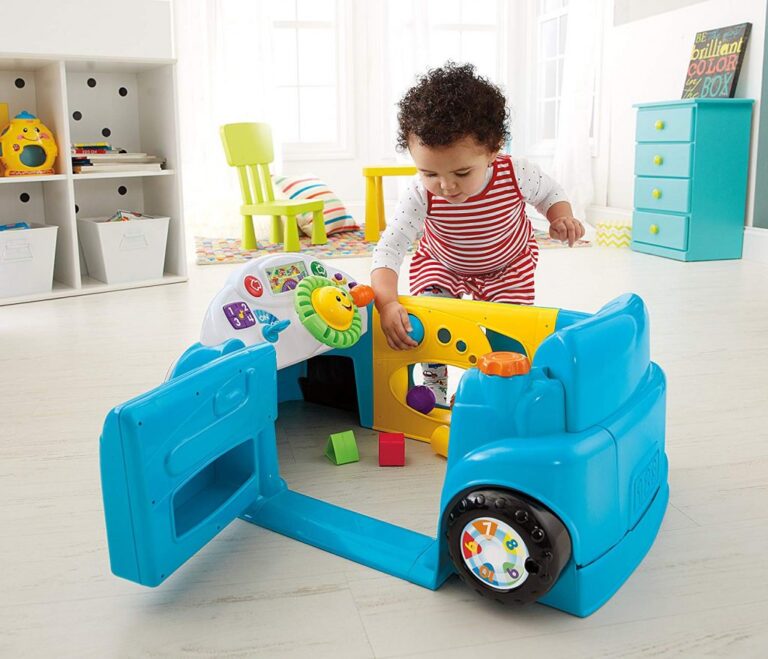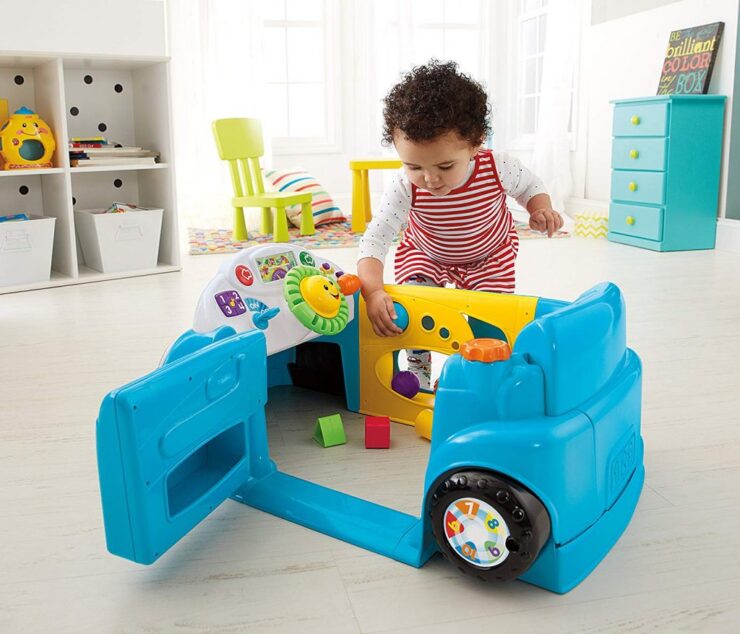 What is the best toy for my toddler who is one in age?
A child who is just one will not remember about his gift much and he might just end up playing with the packaging so whatever you get for him make sure it is safe and interactive.
Is getting toys that have educational value important for a one-year-old?
A kid who is one does not need all educational gifts, having fun is more important. He will grow and develop skills even if the toy does not have educational values.
What toys can a 1-year old have?
Toys which will keep him occupied and away from the screen will be good for a kid who is one.
Check out some other picks from Amazon also: