The age of 10 is confusing, not yet a teenager and no longer a toddler. Just like they are confused you must be too, so many questions like which toy to get, does she still want to play with toys, and whether or not the gift you get for her will be liked by her.
All of these worries can now be kept aside as this article has everything that one needs to know about purchasing toys and gifts for a ten-year-old girl. In the end, a detailed buyers guide is also written to make this task much easier.
Top Gift Ideas For 10-year-old Girls
1. Hollyhi 41 Pcs Kids Makeup Toy Kit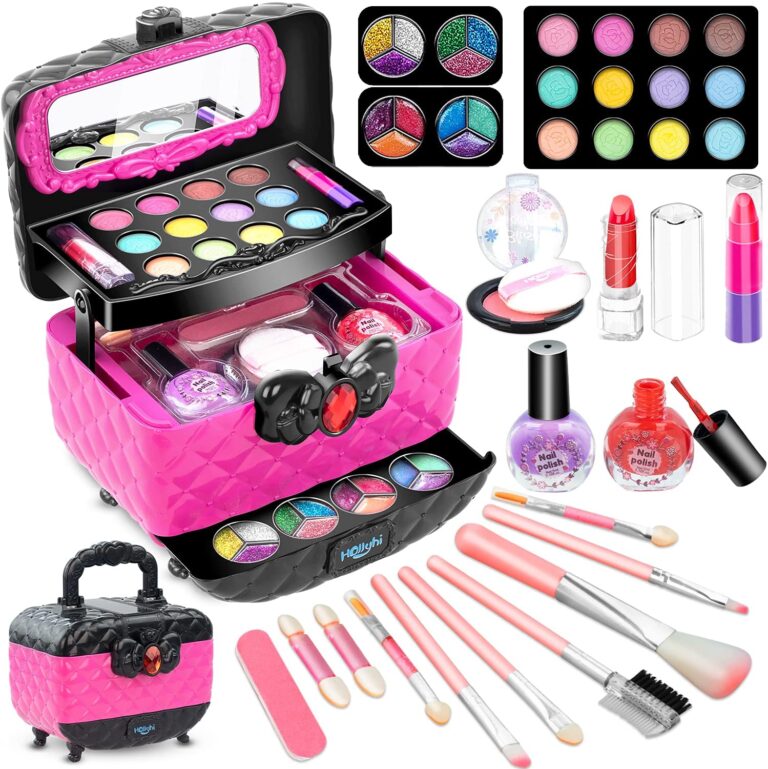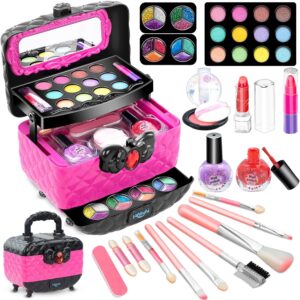 Makeup is something that fascinates almost every girl. Just watching your parents do makeup raises several exciting thoughts in every girl's mind. When you're not looking they might end up using or wasting your expensive makeup products, adult makeup products are not even safe for small children and their baby skin. So why don't you get her a makeup kit of her own?
This makeup kit includes 41 pieces in total. I'm sure she will never get bored. It has nail polish, eyeshadows, lip glosses, and even makeup brushes. Everything your little one needs for a safe makeup session. All the makeup products are completely washable and non-toxic, the nail polish does not need acetone to be removed, it can be easily peeled off.
All products come inside a fancy box that has a handle to carry. The box is very organized and looks super cute. The storage is also very convenient and it is very travel friendly. Be it a house party, birthday, Halloween, or Christmas your daughter's makeover will look the best and at the same time safe for her skin. Along with fascinating her and keeping her excited, it will also increase her creativity and practical abilities.
Features:
41 pieces in total.
14 eyeshadow options including glass shadows.
Pink and red blush and one blush wax.
Two lipstick options with three colors each.
Two eyebrow products.
One compact powder.
9 different makeup brushes.
2 shades of nail paint and one nail filer.
A mirror with the cosmetic case.
2. Original Stationery Fluffy Slime Kit For Girls Everything In One Box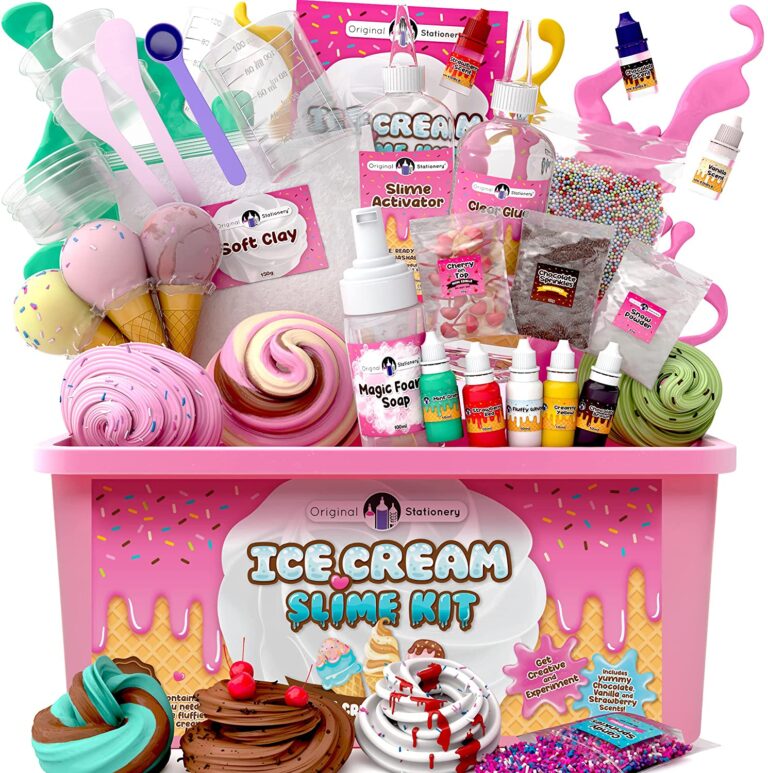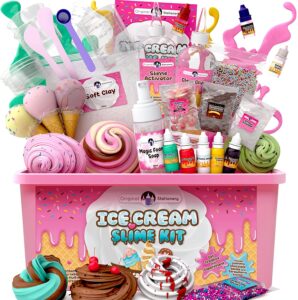 Ice Cream and slime are two words I am sure will fascinate every 10-year-old girl. This stationery kit has everything one needs to make fluffy ice cream slimes. As it is a do-it-yourself kit, it will help in her cognitive development. Along with that when you will work with her and help her in making the slimes you will get a chance to bond with her better.
This kit is super adorable and will be a great way for her to play with her friends as well. Let's see what all comes inside the box, it has measuring cups so that the slime mixture is perfectly made, instruction manuals to guide you through the process, measuring spoons glue, and a slime activator. To decorate your ice cream slime it has inks of different colors, scents to make it smell just like ice cream, sprinkles of different kinds including cherry, color full, and chocolate. Above all, it even has ice cream containers in the shape of an ice cream cone. It has everything in a box and has all that you need. All these things can be kept in a container that comes with the kit. The container makes storage very easy.
Features:
Hundred percent hypoallergenic.
Can be used to make over a  hundred combinations of slime.
3. YOFUN Make Your Own Unicorn Night Light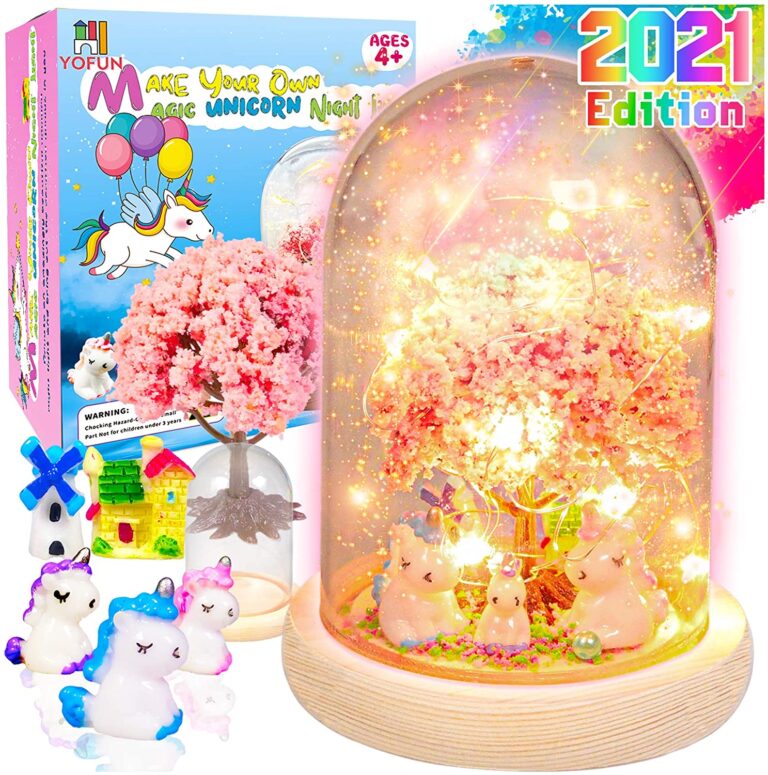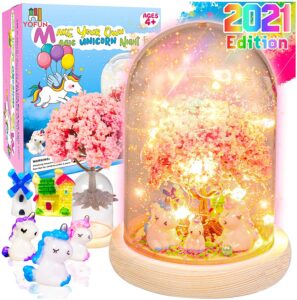 If DIY fascinates your girl as well, this unicorn light maker might just be the perfect gift for this birthday. The kit comes with all accessories including the light, the light has a  replaceable battery so you can use it for a very long time. It can be prepared in just 3 steps and then let it glow All Night.
The package includes several decoration items like a house tree windmill, a family of unicorns, flower powder, and many pearls. Using this kit your girl can increase her creative skills and enhance several cognitive abilities. She will have an option to decorate just the way she wants it to look.
Features:
Made of premium quality BPA-free and non-toxic material.
Has up to 10 different options for decoration inside.
Detailed instructions included
4. Kidzlane Dance Mat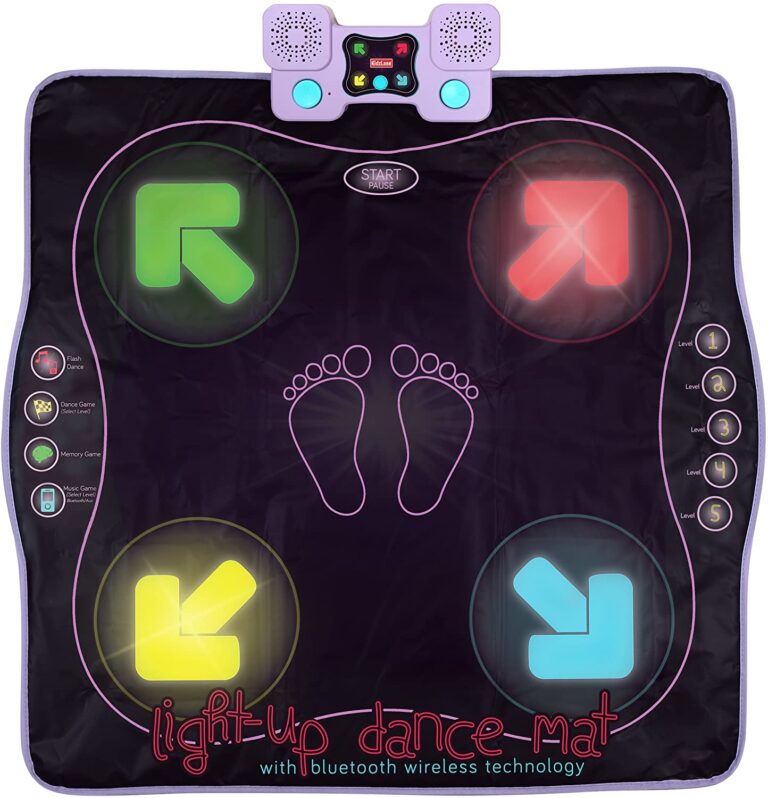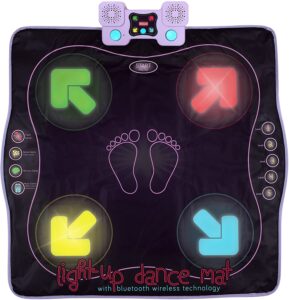 The Age of 10 is a growing age and your girl needs exercise for her body to grow taller and stay healthy. This dance mat will make exercise fun for her. With many music options and three different arcade games with 5 difficulty levels, she will never get bored of it. You can also attach aux or use Bluetooth to play your daughter's favorite musical beats.
The build of the mat is super strong and will last forever. It has adaptable settings so you can turn down the volume or turn it up according to convenience even if the lightning can be controlled. Above all the control options are so simple that your girl will never have to worry.
Features:
Several lighting options
Three fun arcade games with 5 difficulty levels
Strong construction
Made with high-quality material
Adaptable settings
5. Wireless Karaoke Microphone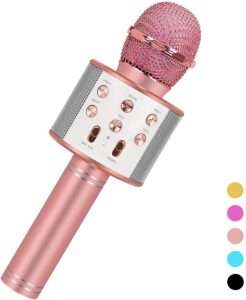 For a rising singer or a pop star, this karaoke microphone will be just right. It comes in four different colors so you can pick the one your daughter will love the most. The mic can also be connected through Bluetooth and used as a speaker or place tunes while she sings. The volume is adjustable and echo can also be decreased or increased. The sound is super high quality and it supports an SD card so that your daughter does not have to connect Bluetooth again and again.
It is made with high-quality material so it is durable. Once fully charged it can be used for up to 8 hours so don't worry about it getting off between a party.
Features:
Sturdy built
Kid-friendly
Comes with an instruction manual
Charging micro USB cable included
Can be connected with Bluetooth or used through an SD card.
Adjustable volume and echo
Amazing sound quality
6. Charm Bracelet Making Kit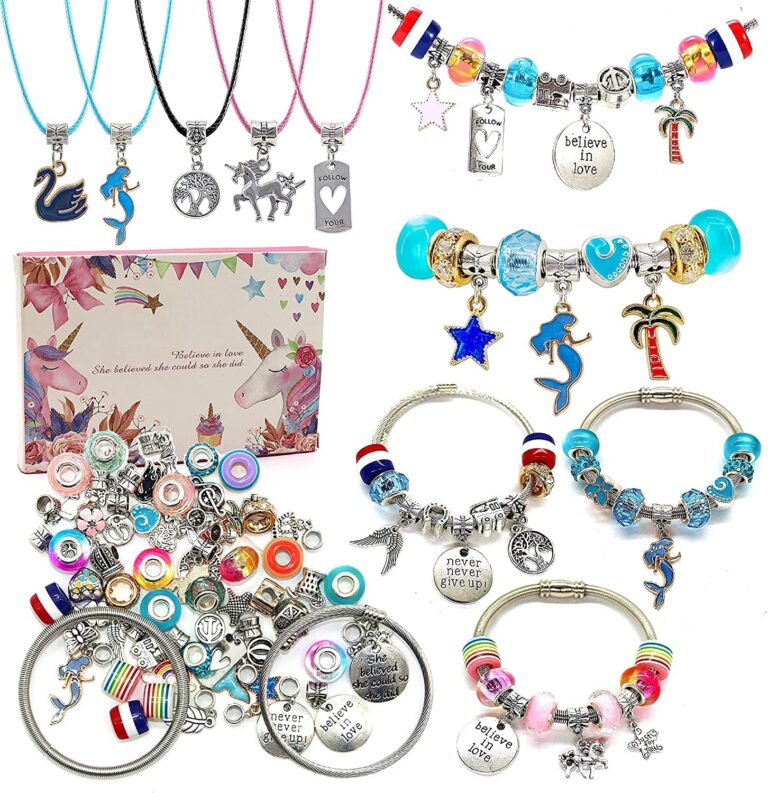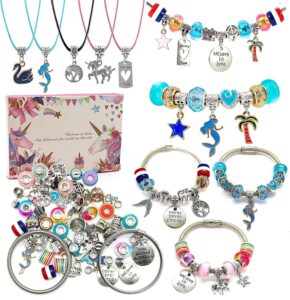 To keep your girl occupied for hours having fun with her friends this charm bracelet-making kit will be just right. It includes several beads, pendants, and charms to make beautiful bracelets. Having a customized unique bracelet is something to be proud of. This kit will make her super excited and will have her enjoying it for a long time.
Even this kid will help you in bonding time with your daughter. A great thing about this kit is that you don't have to use any tools or any glue to make the bracelets hence there will be no mess.  With this kit, your angel can make several beautiful bracelets for many different occasions.
Features:
Includes 15 European big hole beads
Has 22 charm and pendants options
Up to 20 colorful beads
Three necklace cords
Two different snake chain bracelets.
7. Fashion Angels Make-up & Hair Design Sketch Portfolio Sketchbook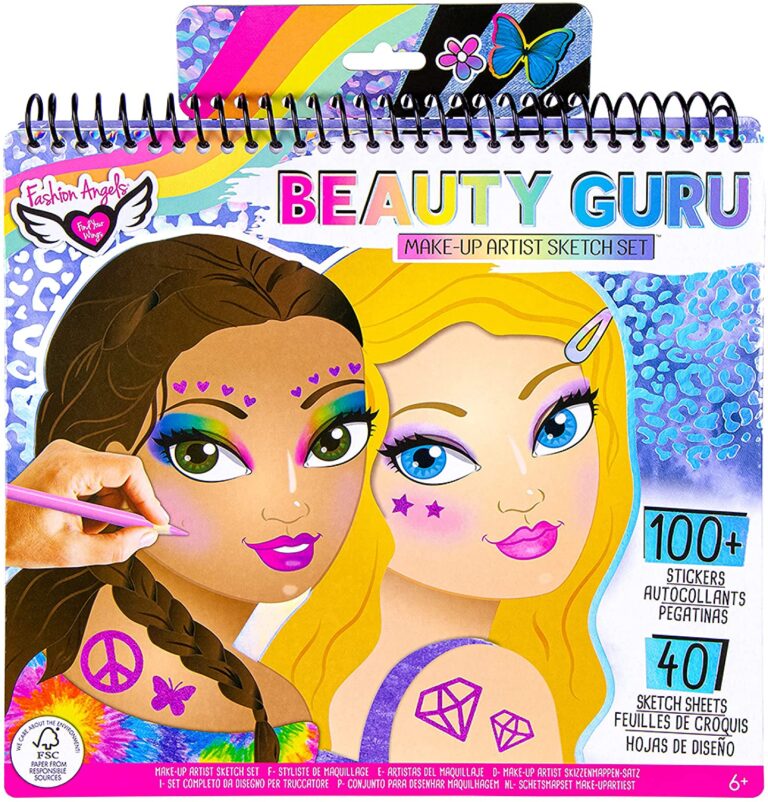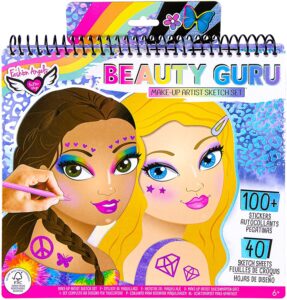 If your daughter is into fashion designing or sketching this little sketchbook will make her super happy. There are different makeup and hair design options with up to 40 sketch sheets and pre-printed templates which are great for beginners. She can create her look book with her designs using the sketch pages, stencil sheets and for decoration, there are more than a hundred stickers included in this kit.
With this kit the options are endless, she can make new combinations every single day! It will increase her artistry skills, imagination and it will also give her a vision towards becoming a fashionista.
Features:
40 sketch sheets
5 plastic stencil sheets
Several stickers
Instruction manual included
8. Crayola Light Up Tracing Pad Pink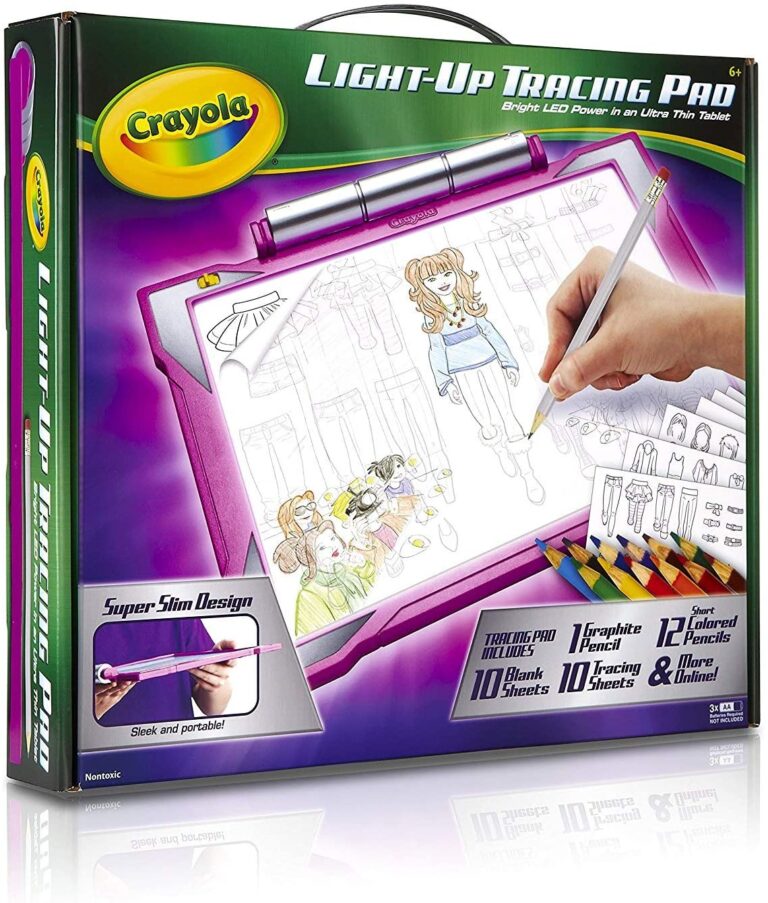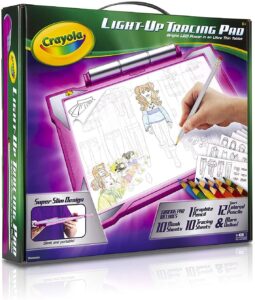 This Crayola light-up tracing pad comes with an all-in-one art set giving the kids confidence to create different artistry pieces on their light-up pad. There are 10 tracing sheets available using which they can trace them on a blank sheet and the graphite pencil to trace the image before adding their imagination into it. It comes with different color options to use on the pad.
Along with all that, a really good thing about it is that it glows in the dark. The LED tablet illuminates the drawings of your children, using it as a showpiece in your daughter's room will make her happy and it will also increase her creativity.
Features:
Has one graphite pencil.
Up to 12 color pencils.
10 tracing sheets and 10 blank sheets.
It requires 3 AA batteries to work.
Has a glow-in-the-dark feature.
Can be used to make up 100 traceable images.
Buyer's Guide To Buying Toys And Gift Ideas For 10-Year-Old Girls 2023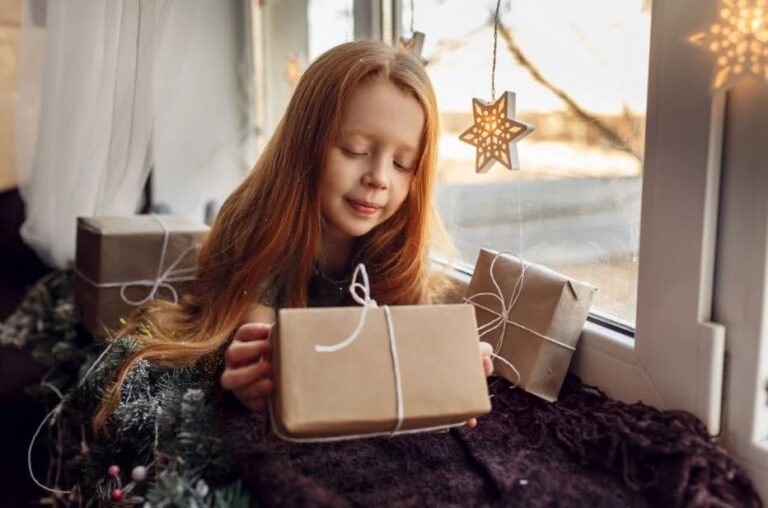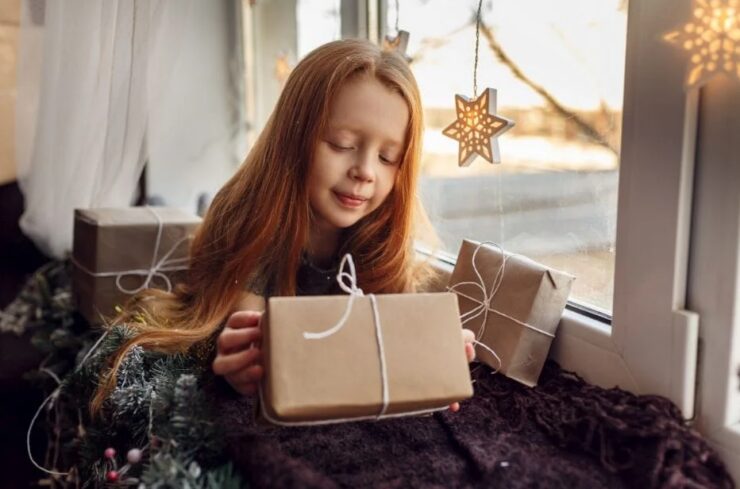 Shopping is anyways a task but buying gifts for a growing child can be a bigger task. In between several mood swings and tantrums, deciding what would excite her can be difficult but you need not worry because this buying guide will make your decision-making simpler.
Before making a purchase consider the below-listed aspects and I'm sure you will find the right gift.
Picking A Toy For The Right Age
At the age of ten girls usually start to get mature and start dreaming about their future, they start moving on from Disney Junior to Disney+ and so do their toys. Before picking your gift for her make sure it's not too young for her and neither too complicated for her age. Getting a sketchbook or karaoke mic can be good if she's dreaming about becoming a fashion designer or a singer respectively.
Multiple Customizations
Having a toy with more than one customization ensures that your child will not get bored easily, even though by the age of ten the attention span of children tends to increase but the distraction levels also increase. So buying a toy that involves a good amount of focus and comes with different customization options can be of good help.
Safety Of The Toy
Kids get curious when they reach ten and can hurt themselves while playing, you can't even imagine the ways they could manage to get a scratch or even a worse injury. So making sure that the toy is safe to play with and won't lead to any mishaps is important before you make a purchase.
Reviews By Other Parents
Nothing is better than reading reviews written by other parents who have experienced the toy with their children. You get to know all the pros and cons by doing so. Checking reviews is necessary to fully understand the gift you want to purchase.
Warranty By The Manufacturer
Along with getting hurt, breaking things is also something you have to take care of. After spending your hard-earned money on a toy that didn't last even two hours after reaching home would be a waste. So making sure the brand offers a warranty and reading what all the warranty covers can be important.
Conclusion
The above-listed 10 toys and gift ideas were selected after precise research about various available options in the market. I hope one of these products might be coming to your home soon to bring a big smile to your girl's face! This article was meant to decrease your burden so to make things easier than ever a buying guide was also written. Before deciding which toy will be good for this year's birthday gift, going through the guide might be of big help.
FAQs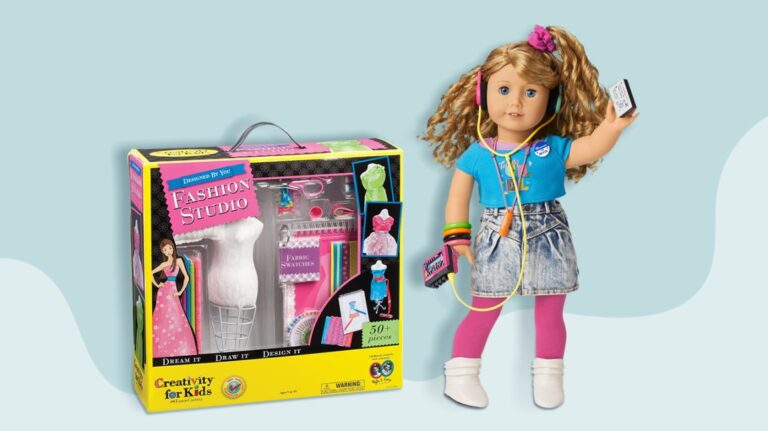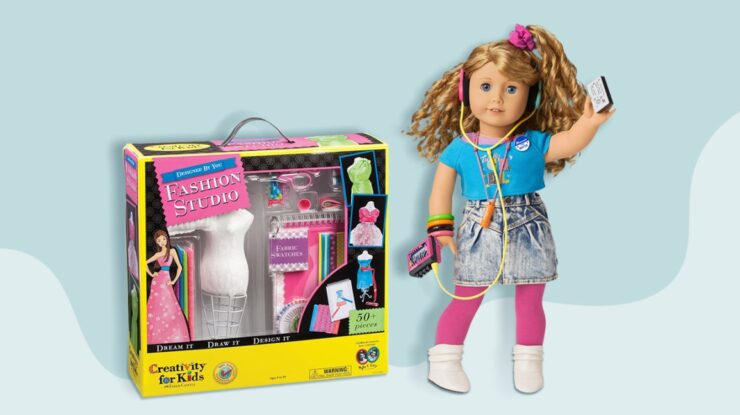 Do I still have to take care of small pieces?
No, ten-year-old girls are less likely to swallow small pieces.
What are the best Christmas gifts for a 10-year-old girl?
Any of the above-mentioned toys will be perfect for Christmas but if you want something else you can go through the buyer's guide and then make a purchase.
What are some active toys for a 10-year-old girl?
A dance mat is a great option if you are looking for active toys.
Check out some other toys from Amazon also: