Who doesn't love to get the feel of their newborn right at their side during sleep? So they can snuggle and play with the baby whenever they want. But what if there is not enough space in your bed? Co-sleeper Crib is the best solution for you. These baby sleepers have taken a boost in recent years since many child experts have claimed that you should keep your baby in your room but not directly on your bed at night.
They keep your baby in complete protection throughout the night and allow you to stay closer to them. The significant step which you can take to keep your child under your safety throughout the night is to get the best co-sleeper or bassinet which can be attached to your bed.
Here I will provide you with the three best options you can purchase directly from the market. Make sure to read properly and understand details related to them.
Here is a list of the three best co-sleeper cribs and bassinet in the year 2023, which you can reliably attach to your bed. It will make sure your baby is closer to you throughout the night and is under proper supervision.
1. Ronbei Baby Bassinet & Bedside Sleeper – Best Co-Sleeper Bassinet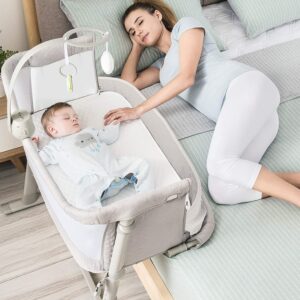 This product is a 2 in 1 product that can be converted into a co-sleeper. The feet of this bassinet conveniently slide under the bed so that you can come nearer to the baby. Because of the availability of detachable side panels, you can reliably remove the side panel and can convert this bassinet into a co-sleeper.
This will make you feel that you and your baby are both sleeping on the same bed but independent spaces. This bassinet is made using mesh fabric in the side panels, which allows the proper air crossing and helps you see your child in a clear view. This is necessary to keep your baby's environment fresh and healthy.
Furthermore, nine different height adjustments help set the bassinet's height according to your need, and these adjustments range from floor beds to big adult beds. Those new mothers in parenting will find this bassinet very easy to set as it hardly takes 8 to 10 minutes to assemble up.
Moreover, being light in weight and easy to move, you can replace this bassinet anywhere in your room. The fabric used in the construction of this bassinet is machine washable, so you can keep it neat and clean by simply washing it in the machine. Additionally, a music box is fitted in the bassinet, which provides your child with lullabies and nature songs to make his sleep better.
Pros
Easy to assemble
Machine washable fabric
Music box
Ronbei Baby Bassinet & Bedside Sleeper is a two in one option that can be easily converted into a co-sleeper. This bassinet is very easy to assemble and consists of machine-washable mesh fabric. It also has an inbuilt music box to provide your child with lullabies and nature songs.
2. Baby Delight Beside Me Dreamer Bassinet & Bedside Sleeper – Baby Side Bed Sleeper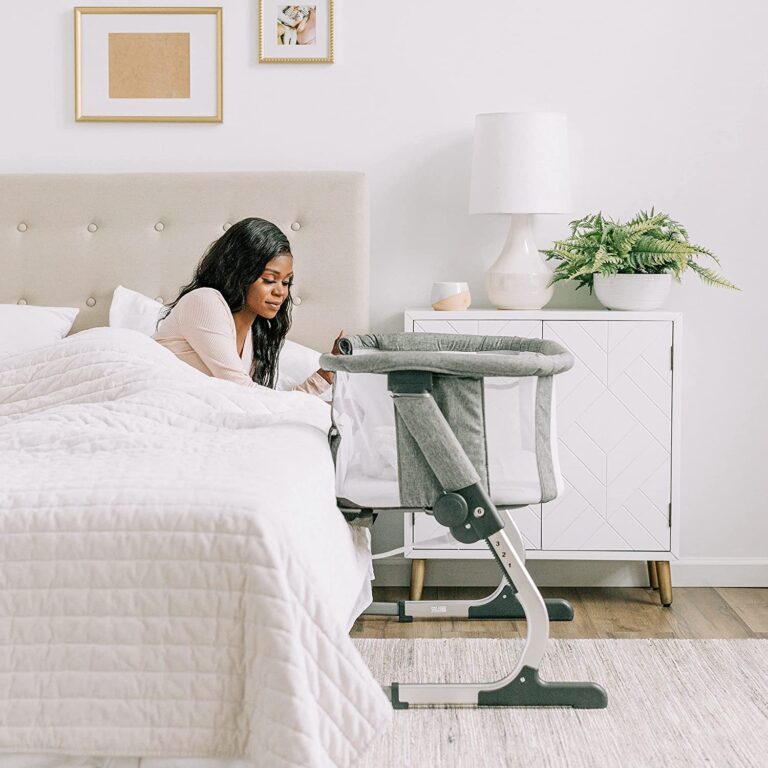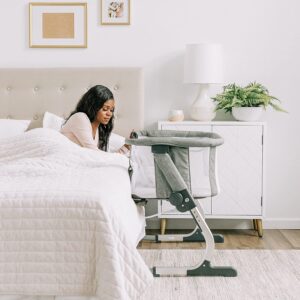 To set Beside Me Dreamer and fix it with your bed, you need to anchor the sleeper beneath your mattress to provide it with full support. You can also conveniently move the legs under your bed, but it depends on the height of your bed and mattress. In case you want to bring your baby nearer, you can slide the sleeper's legs underneath your bed.
This sleeper is designed for those parents who want to make their investment lifetime or serve them for some years. Further, it is designed in an extensive style and made portable, so you can quickly move it from one place to another in case you want to change the place of the baby sleeping or to sit inside it. Without using any tools and accessories, this baby sleeper is easy to assemble.
Furthermore, this baby's crib contains mesh fabric construction in the sides to allow breathability and an easy view of your baby during the night.
Moreover, with the availability of 6 adjustable height options, you can easily adjust the height according to the need to make it more compatible with your bed size. Additionally, and lastly, I would like to tell you that you can safely place your baby's necessary items such as diapers and feeders in that built-in pocket in this sleeper.
Pros
Adjustable height
Pocket for storage
Easy Assembling
This baby sleeper is designed to provide you with maximum comfort and relaxation that your baby is sleeping right beside you. It contains side pockets for extra storage and is constructed with adjustable height options. Moreover, it is easy to assemble and made portable so that you can move the crib anywhere around your home.
3. Mika Micky Bedside Sleeper – Easy Folding Portable Crib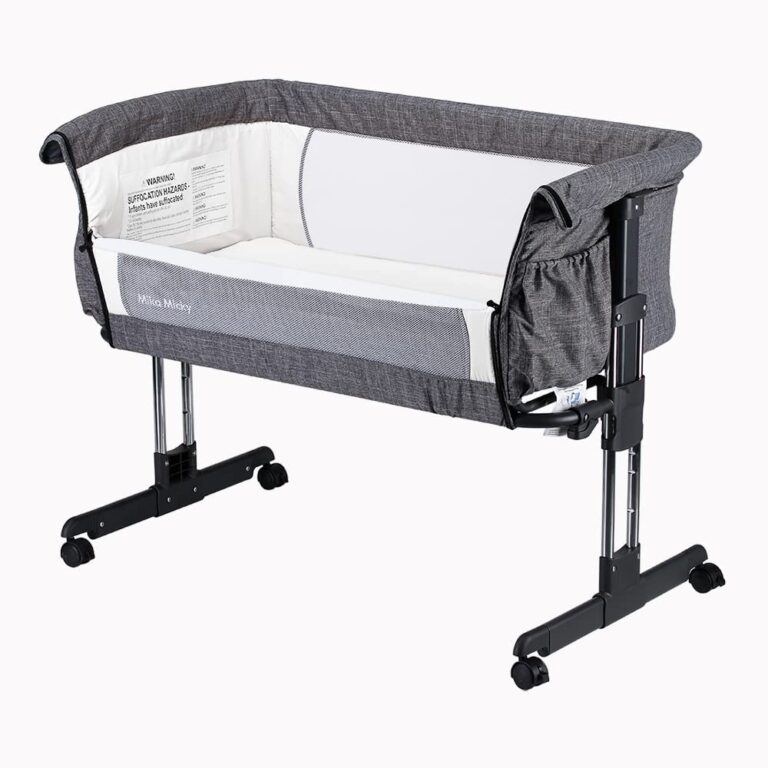 If you want to get the best quality products for your baby but that too at an affordable price, you can go with the selection of this Mika Micky Bedside Sleeper Easy Folding Portable Crib. This product consists of a fastening strap so you can easily tie and lock this sleeper with your bed.
Moreover, this bedside sleeper provides you with seven adjustable height positions so you can adjust the height according to your bed height. Further, you are not required to use any tools and equipment to assemble it, making the product straightforward to assemble.
Then, we have the mesh fabric which is used in the construction of the sides of this Mika Micky Bedside Sleeper. One side of this baby sleeper is foldable, so you can conveniently fold it and sleep with your baby safely. Moreover, these sides are easy to open and close because of zipping.
Additionally, you have two side pockets so you can put your baby's accessories in them for easy and quick access. This provides you with a convenient spot to place diapers, wipes, or other necessary items you may need in the night. Lastly, the base of this sleeper contains wheels to make it portable and easy to move from one place to another in case you want to change direction.
Pros
Pockets for extra storage
Wheeled base
Mesh fabric construction
This Mika Micky Bedside Sleeper consists of mesh fabric construction which enables the air crossing, ultimately making your baby healthy. It also consists of two side pockets to provide enormous storage. The wheelbase makes it convenient for the sleeper to move from one place to another.
Guide To Pick The Best Co Sleeper Crib and Bassinet That Attaches To Bed in 2023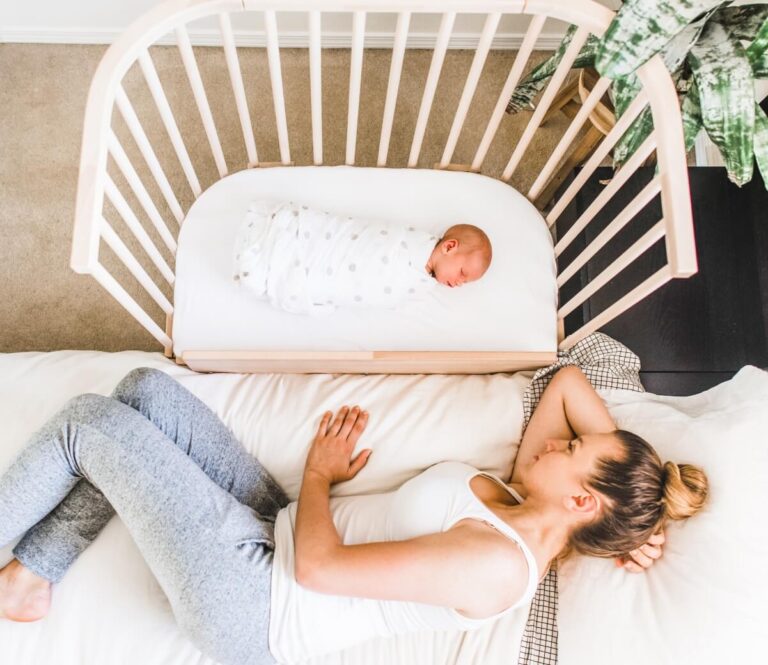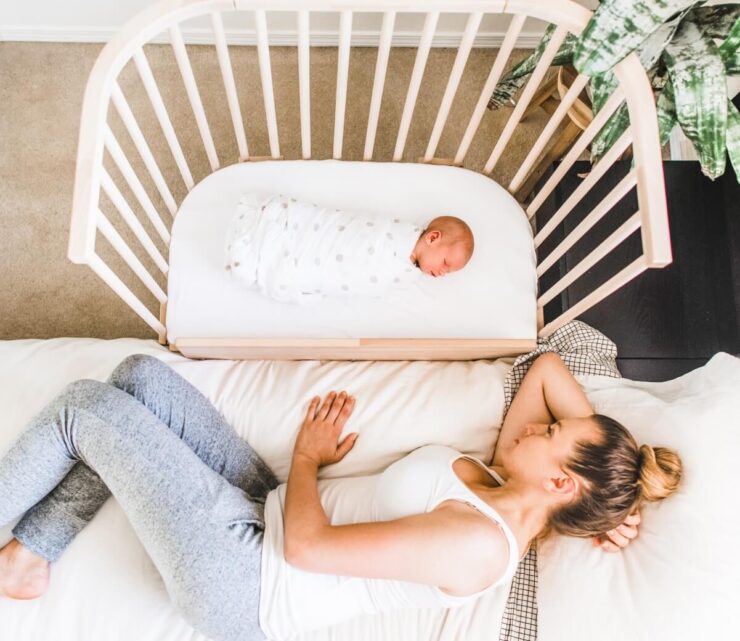 Here is the list of features and specs you should focus on while purchasing a sleeper and bassinet for your baby. Read each point carefully to get the maximum out of this context.
Safety Features
Your child's safety should be the topmost priority while purchasing these co-sleepers or bassinets. This is because, in the presence of safety features, your baby would be in a top safe condition throughout the night while sleeping. There are specific requirements that should be fulfilled during the manufacturing of cribs, bassinets, and co-sleepers.
The top feature included in these requirements is the presence of a firm, strong, and thin mattress. Although the soft and foam mattress looks more comfortable, it is unsafe because the baby cannot take turns on its own, so there are chances of sinking into the bed. Make sure to look for a firm and thin mattress for your baby.
Size And Versatility
Always keep in mind that babies grow faster. Ensure the co-sleeper or bassinet you are purchasing should be able to adjust your baby's increasing size. Focus on the size of the sleeper you're buying with your full attention, as it should not be small enough that your child cannot take a convenient turn but should be medium-sized so your growing baby can accommodate and adjust inside it.
Construction Material
Make sure the sleeper you are purchasing should be made up of durable and quality material. It should be comfortable enough to provide your baby with comfort and relaxed sleep. Keep in mind that your baby will spend most of the time inside it, so the quality of the material should never be ignored. I will recommend you to select mesh fabric in case you are looking for breathable fabric because it will allow proper airflow and will help your child live healthily. Moreover, you would see your child at night more conveniently through it.
Washable And Easy To Clean
Look for the bassinet and co-sleepers, which are easy to clean and maintain. This is an essential factor to keep in mind while finalizing your baby's crib. Because your baby often leaks pampers, can spit, and sometimes vomits so there are chances that the bassinet gets dirty.
And in such a case, if it stays dirty, it would be a significant cause of germs. So to keep your baby healthy and in a germ-free environment, the bassinet you are selecting should be constructed with washable fabric and should be very easy to clean. Make sure the crib you are finalizing is easy to clean and wipe so you can maintain the cleanliness of your baby.
FAQs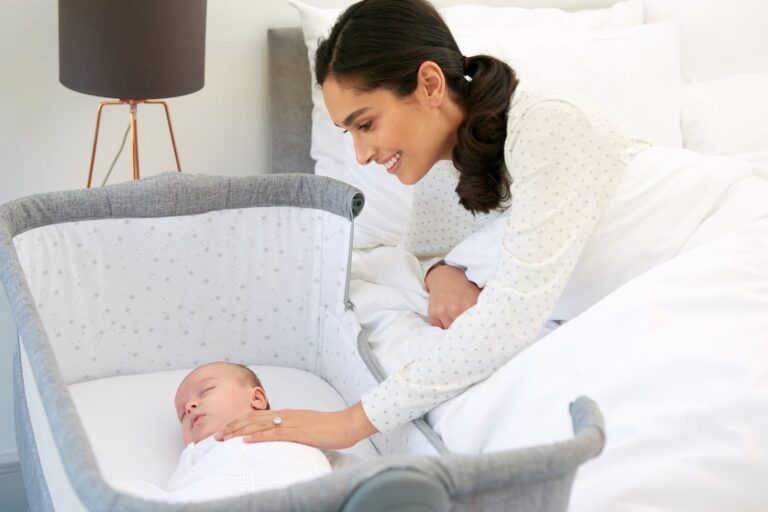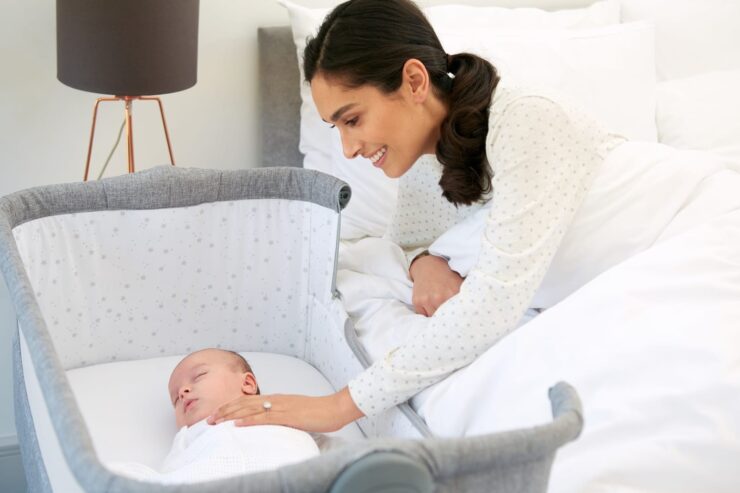 Are cribs that are attached to the bed safe?
When the numerous professionals asked this question, they responded by conveying that there is not much research that has been done on this topic, which means that we cannot conclude that they are either safe or unsafe. But cribs attached to the bed are considered safe because you can keep your child in front of your sight throughout the night.
Which is better, Co-sleeper or Bassinet?
Bassinets are more preferable and recommended than co-sleepers. These are more affordable and versatile in functioning. They are constructed in a highly portable way so you can move them from one place to another. Furthermore, they come in a foldable style, so you can fold them and can store them easily anywhere.
Is a Co-sleeper worth it?
Yes, a co-sleeper is worth buying because of the versatility and comfortability they provide to you and your baby both. These co-sleepers will make you feel that your baby is sleeping with you in your bed, but he will be sleeping in his own independent space. Make sure the co-sleeper you are purchasing is comfortable and is constructed with the use of quality material. In this way, your money would be worth spending.
Final Thoughts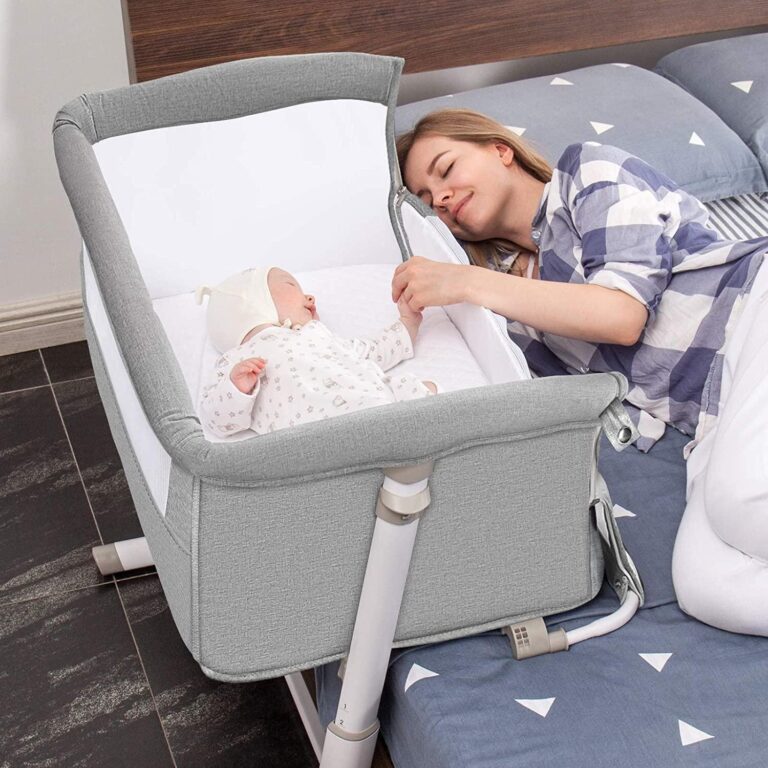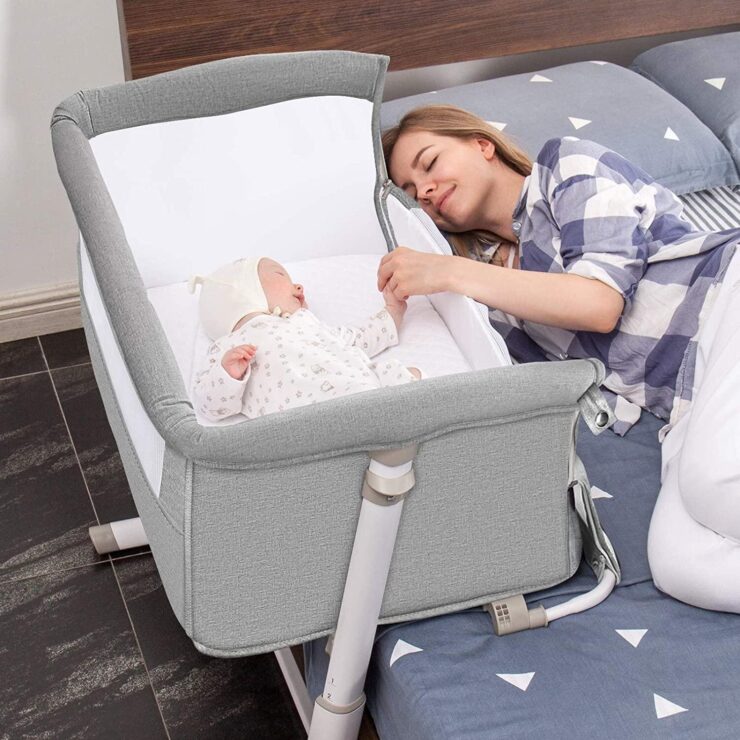 As a mother, you always want your baby to be in the nearest place around you. This will give you not only a feeling of love but also the relaxation that your baby is in your reach. It's not a difficult task to keep your baby near you during the day, but it somehow becomes difficult at night. Many manufacturers have introduced baby cribs, bassinets, and co-sleepers to make your baby safe and comfortable.
I have concluded the three best co-sleepers and bassinets, which are easy to attach from your bed so that you will feel no separation between you and your baby. Make sure to read the details mentioned above attentively and consult the buying guide before purchasing and finalizing the co-sleeper and bassinet for your baby.
As a reviewer, I will suggest you buy:
Ronbei Baby Bassinet & Bedside Sleeper is a two-in-one product that can be converted into a co-sleeper. It is effortless to assemble and consists of a music box for your baby to enjoy lullabies.
Check out some other picks from Amazon also: