What comes to your mind when you think of a 6-year-old? Children of this age have a good sense of what they want and what they don't. Most of them at this age are developing their interest in activities and discovering their talents. Most are school-going kids and have a ton of extracurriculars to discover.
They are good observers and know what is going on around them. So what could be the best gifts for 6-year-olds?
Here I have listed down the best toys and gifts for 6-year-olds that are available online.
Best Gifts For 6-Year-Old Girls for 2023
1. ZMLM Scratch Paper Notebook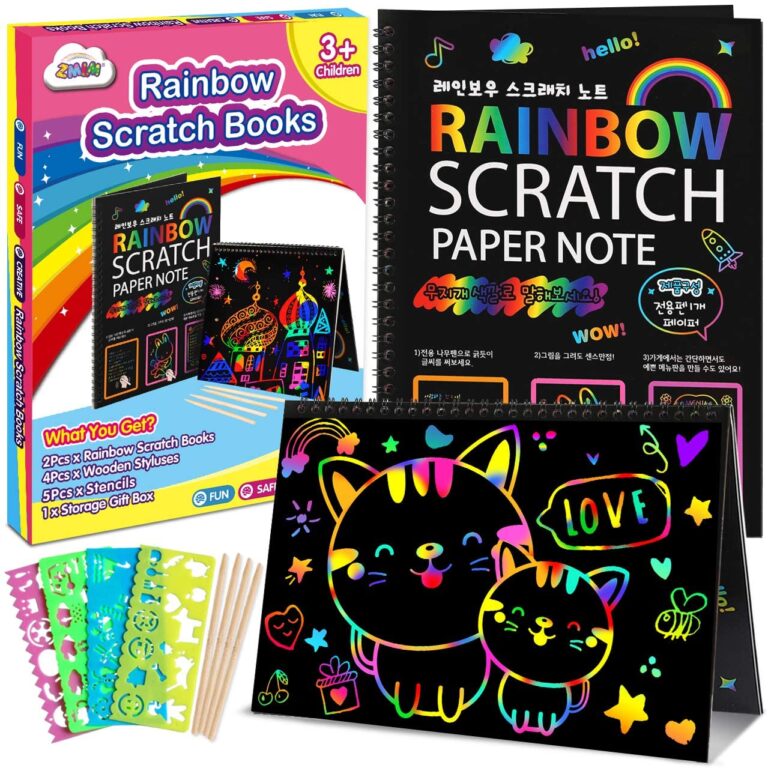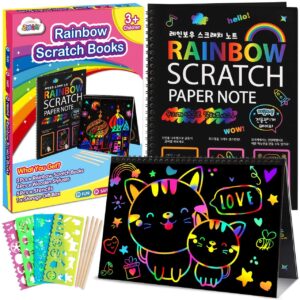 The first toy in the list today is a toy that attracts many eyes. It is an ideal toy for a 6-year-old and they would get excited to see this one without a doubt. A scratch paper notebook that can help kids be creative in their own ways.
The colors revealed by scratching are also rainbow in color which could fascinate these kids even more. Just pick up a wooden stick and get going. This activity is own which would enhance creativity, can also be used to make education and school activities more interesting and will definitely help engage the kids more with their parents in this digital world.
One does not need to worry about the kids safety as the scratch paper is made from completely non-toxic and odorless material. The pack consists of a notebook which is of a good size, styluses for designing and drawing pencils which can be used to give more details into your drawing.
This gift is a perfect one for kids this age. It can be used for art as well as craft and can be hung in the kid's bedrooms as wall art. It is a convenient gift that can easily be taken care of and does not take up a lot of space.
Features:
A pack of 2 Rainbow scratch notebooks
Drawing pencils
Wooden styluses
A storage gift box
The pieces are easy to pick and use
Not expensive or messy
2. Kidzlane Dance Mat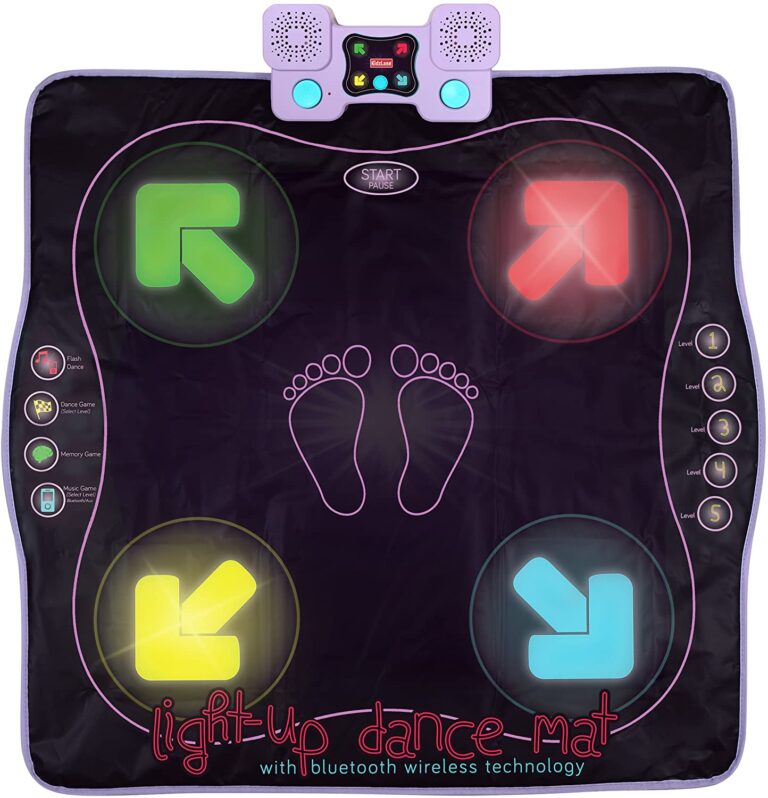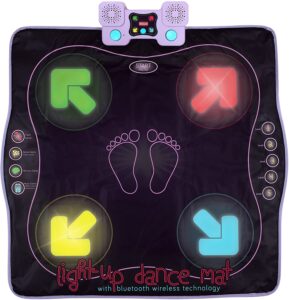 One of the best ways to grasp a child this age is to show them colorful lights. This dance mat by Kidzlane is a bestseller in the market and is known to have great reviews. The game is easy to play and exciting as well. It will help your kid become active and everyone knows how important running and jumping is for kids.
This dance mat will not only help your kid relieve some stress by dancing it away, it will also help them create the basic foundation for a healthy lifestyle.
In the presence of this digital world, this dance mat would help them in staying away from mobiles and tablets. This dance mat can also be used among their friends and can be a fun activity. This dance mat is made out of soft material so that it's easy for the kids to jump on, it has many internally stored songs to jam to and also has the option of playing external music via Bluetooth or an aux cable. The volume of the songs can be adjusted according to preference and the mat has three games and five difficulty levels.
Features:
Made of extremely durable material
Has money-back guarantee
Has 3 arcade games and an adjustable volume feature
3. Rindol Child Camera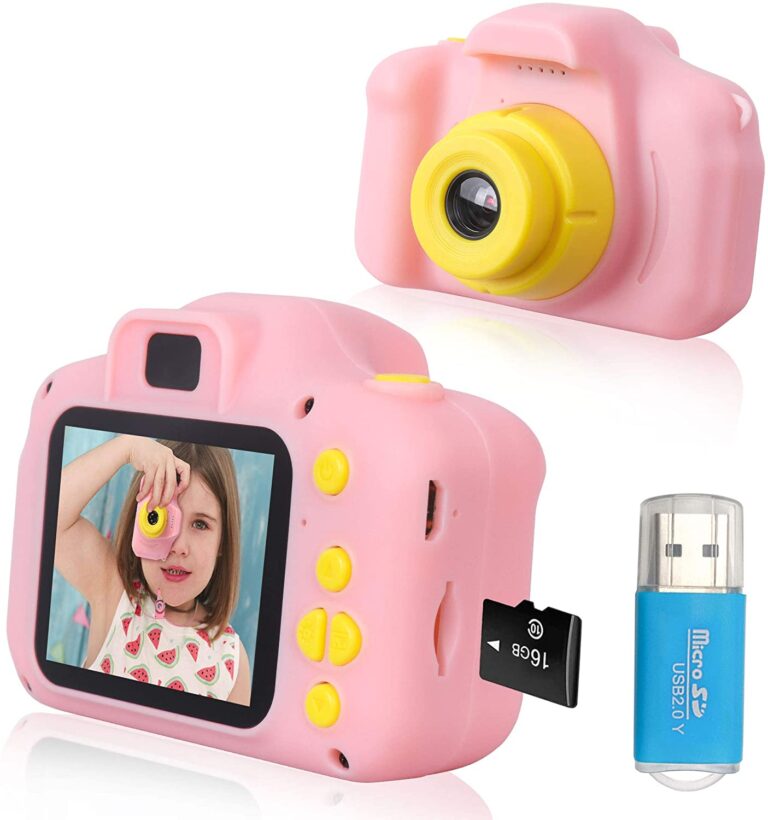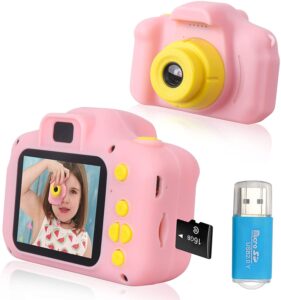 These days from the age of 3 years old itself, most children know how to operate a phone. The first thing which they seem to be getting extremely pally with is how to take a picture on a phone. This child camera will not only help your girl take her mind off your phone, but also make them passionate about taking pictures.
This could be their new talent and the camera will always keep them busy. This product of Rindol's is as good as a normal camera for a normal camera.
A small micro SD card will store pictures clicked and the camera has other features like zooming in, taking multiple shots and an option to surf and delete pictures as well. It's compact structure makes it suitable for children to hold and its color options make it an attractive purchase for a 6-year-old!
It is lightweight and gives you an option to record videos as well. It's really worth the money. The box contains a memory card reader, a small string for children to hold the camera with, a USB cable for charging and a memory card.
The lightweight nature of the camera makes it easy for children to take it outdoors and capture nature with their eyes. This camera can easily be used for activities that are educational in nature and bring out the creative instincts of your little girl.
Features:
Has multiple funny frames and filters
Has 4x zoom
Handy in nature and made with eco-friendly products
4. Bracelet Kit by LANHYER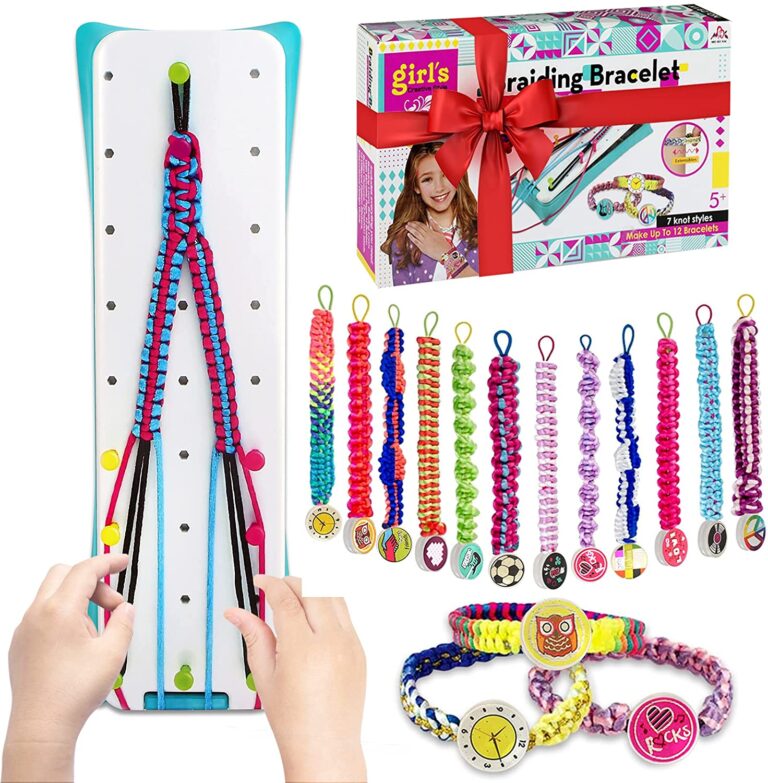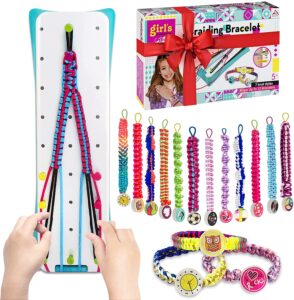 Bracelets and earrings have always been fascinating for kids. This bracelet kit is one of the best ones out there in the market as it helps girls use their imagination to create fancy bracelets. The kit is easy to use and comes with a braiding loom which makes the process suitable and easier for 6-year-olds.
The look bands created are durable and soft too. They can be adjusted according to wrist size and have a variety of colors to choose from. These bands not only divert the attention of kids from gadgets but also help them express themselves in a better way.
They can be utilized as a family activity or simply be made to show someone love. For a girls group, they are an amazing group activity and are something which can never go out of style.
One of the best things about these bands is that they can also be used for friendship day and we all know that handmade things portray more affection and love than any store-bought product! The packet of the product contains strands of different colors, braiding rings, stickers and many more exciting trendy fashion articles.
One of the best learnings from this kind of gift would be increasing the amount of patience in the child and their coordination among their hands and eyes.
Features:
The package also has a step-by-step guide provided.
The threads for making these bands are of good quality and don't break easily.
5. Marble Painting Kit by Dan&Darci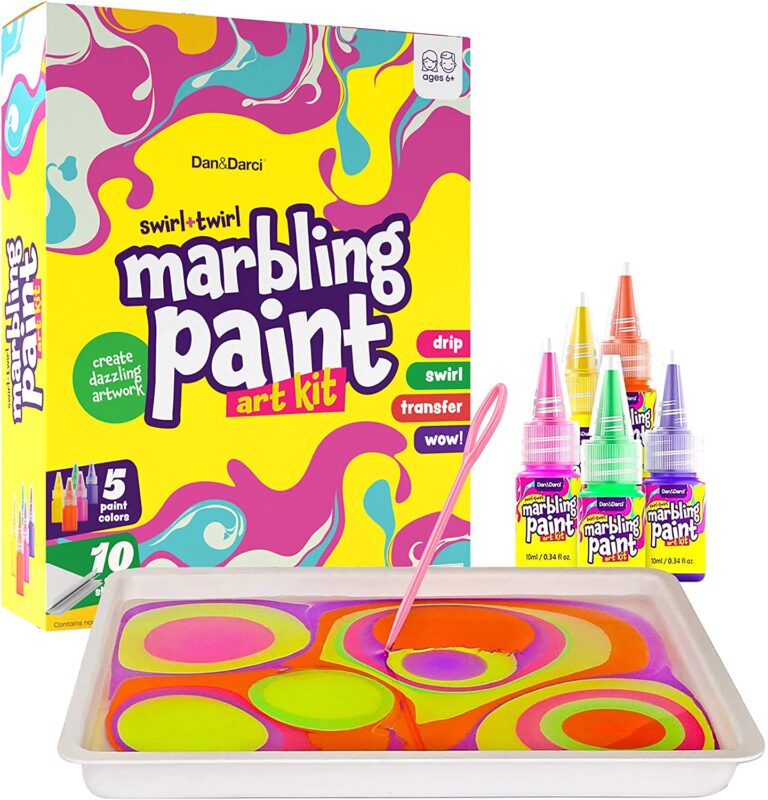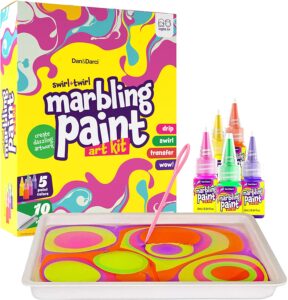 This marble painting kit is one of the best sellers for 6-year-olds who are interested in art or just like creating a mess! Painting has its own benefits. Some of which are improving hand-eye coordination, color learning, motor skills development and being imaginative.
Other than these, painting helps kids in expressing their emotions through the objects they draw and the colors they choose. The above-mentioned reasons make this a great purchase for parents who are looking to work on these skills of their little girl. This kit has a fairly simple procedure and therefore does not come with a step-by-step guide.
The first step is to fill the small tray available in the package with water and drip by drip put colors into the water. Then you are free to create any kind of pattern on the tray. Once you like the pattern created you can simply transfer it onto the paper. Every pattern you create would be unique in itself.
This is the best way to unleash the creativity of a child and let them just enjoy and be messy with themselves. Once the art they create has dried, it can be used as a background or a wallpaper or a wall hanging.
They have the liberty to style it however they want with other art tools like sketch pens, stickers or anything they like. Not only can marble painting be done on paper, but it can also be practiced on canvases as well.
As an activity that helps you and your children think out of the box, you can even style boxes or make pen stand holders using ice cream sticks and then paint it with this kit to engage kids even more! It's a great gift for kids as they will surely enjoy the activity!
Features:
The kit has 10 sheets available
It has 5 different colors to get creative
It has styling objects like styluses and pipettes.
Buyer's Guide To Buying Best Toys And Gift Ideas For 6-Year-Old Girls 2023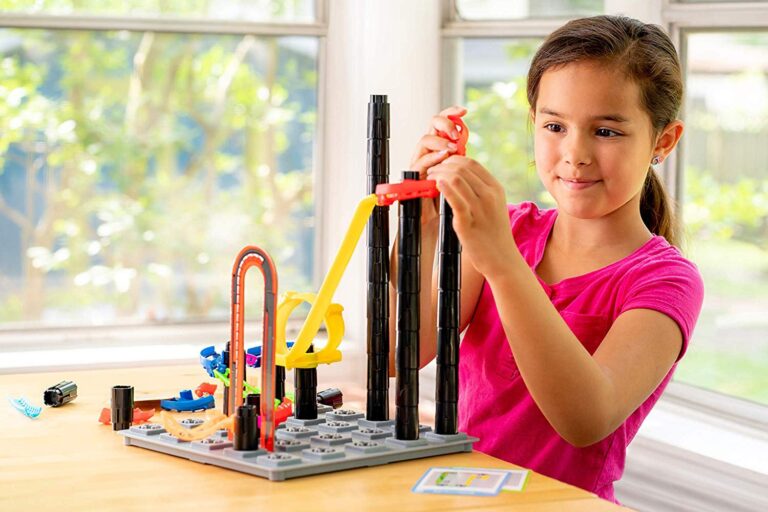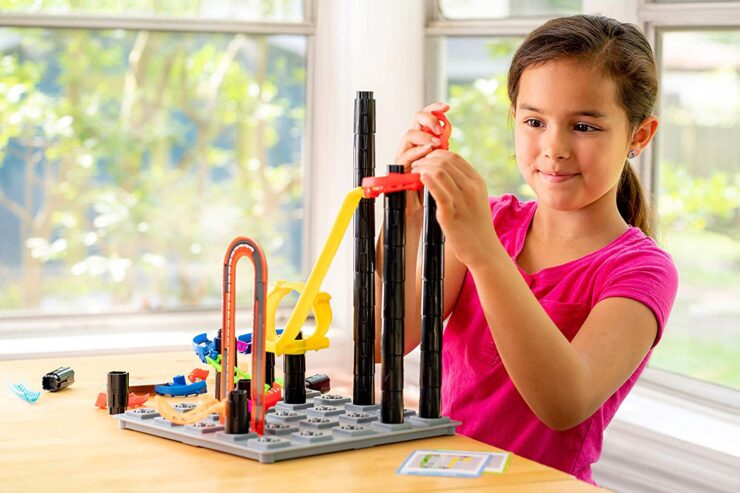 Buying gifts or toys for 6-year-olds can be extremely confusing. You may face a great amount of trouble searching for the perfect gift. The versatility of toys in the market is huge and this article will help make buying the child a gift easier for you. Following, there is a list of several aspects which you should consider and analyze while buying a toy for a 6-year-old child.
Duration of Use
The attention span of a 6-year-old is not a lot. A 6-year-old would need something which can be used multiple times a day and can be fun even for a span of a few minutes. The best example of this could be the dance mat. A little girl would definitely play with it when it strikes her eye. The dance mat could be used several times and it would always be fun because it's a challenging game. Gifts like these are extremely suitable for a 6-year-old.
Toys That Help Grow Their Creative Thinking Skills
At the age of 6, The brain of the child is extremely active. This is the age when a child is making an effort towards improving their motor skills and their thinking capacity. This is the age when they are observing everything around them and taking it all in. This makes it very important for you to buy them a gift which would help enhance their skills and learn new and different things.
Toys That Are Long Lasting
When it comes to the life of the toy, anyone would want to give something a child could play with for a couple of years. Since the attention span of a 6-year-old is also less and say a small fight with a sibling can be bad for a toy, something sturdy and durable would be the perfect gift.
Conclusion
In conclusion, there are a wide variety of gifts available for kids of this age. After the thorough research presented in this article, there are numerous gifts you could give to your little daughter which she would love. You could try and pick something out which would help them grow mentally and help instill many creative skills.
After reading the article and looking at the essential aspects you should look for in a gift after reading the buyer's guide would help you purchase the perfect gift. This would also help you by not letting you waste your money on a gift you and your child would not utilize.
FAQs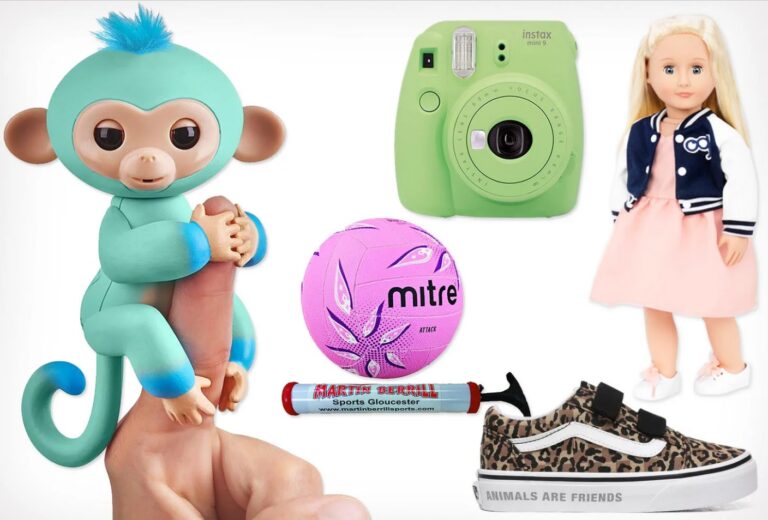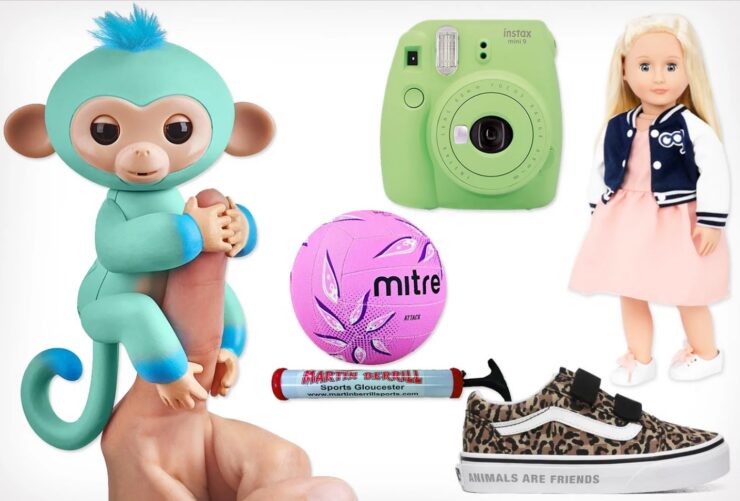 Which toy would be best for my child to play with their friends?
Almost all toys listed in this article can be used as a group activity but the dancing mat and the marble painting kit would be one of the best toys for that purpose. The mat could be used turn by turn and has many different modes and the kit can be used creatively among friends as well!
Can I buy my 6-year-old a nerf gun?
Yes, why not! If your 6-year-old likes to play with nerf guns, you should totally go for it! It's just important to check the age range they are suitable for.
My child loves it when I can make her studies interesting. Which game would be suitable for that purpose?
The rainbow scratch kit would be the best for that purpose as it has many different colors and can be used for drawing anything! Be it fruit shapes or animals, anything could be made interesting using it! The kid's camera mentioned can also be used for making nature or other topics more informative and educational.
Check out some other picks from Amazon also: