Buying a gift for a girl who just turned 13 might seem difficult but it's not as hard as it looks. Getting anything trendy enough on Instagram will work. At the age of 13, a girl's no longer a child and is stuck between being a kid and an adult.
This article includes several options for you to choose from and a buyer guide in the end which you can refer to before making a purchase.
Top Gift For Teen Girls
1. Alex Spa Glow Sketch It Nail Pens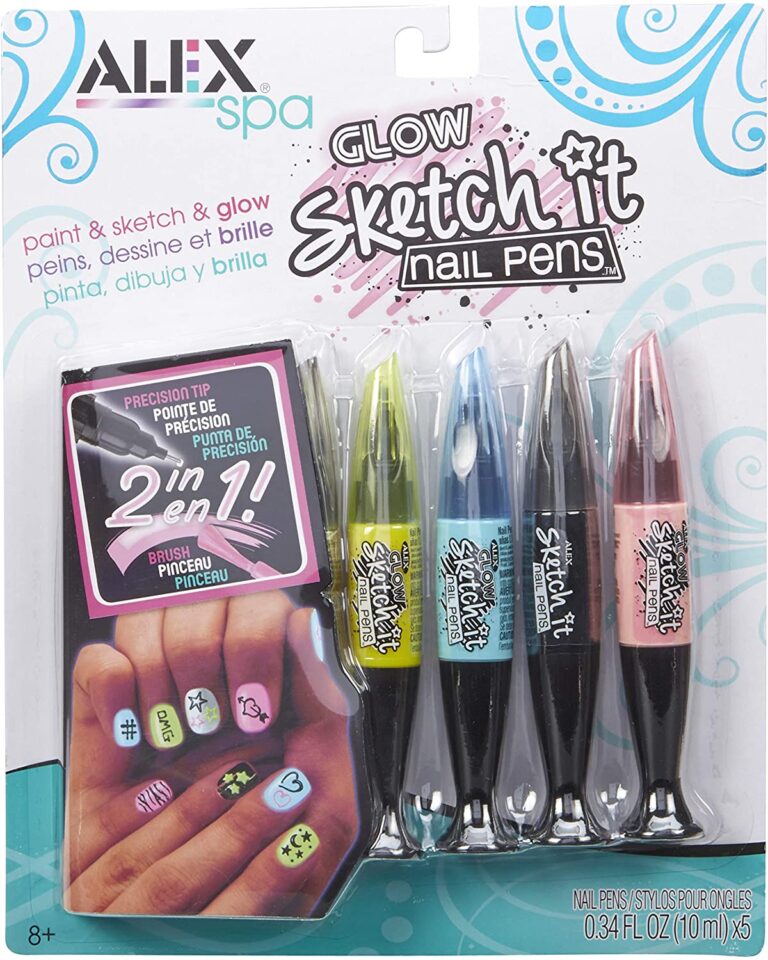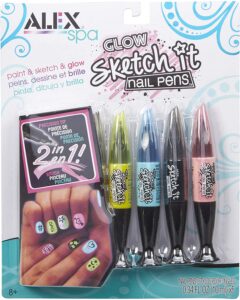 The first product on the list is one of our best gifting options for a girl in her teenage years. It is an Amazon bestseller and has been rated 4 plus by several parents. These glow sketch nail pens will give her exactly what she needs. Doing cool nail art with them will make her trendy on Instagram and Facebook.
The best thing about them is that they glow in the dark, so in a movie hall or at a house party your girl will have the best set of nails to show off. There are 5 fabulous color options, all the shades are pretty, especially the neon shades which are pink, blue, and yellow. The black and the silver color also bring out the glow on the nails.
Another great thing about these pens is that they have two tips on either side of the pens, one has a brush and the other has a nib like a pen. The brush can be used for easy application and the pen can be used to get creative and make beautiful nail art designs. It is simple to use and is completely messed free so you don't have to worry about any spillage around the house.
Features:
Amazing glow-in-the-dark feature
Long-lasting high-quality nail polish
5 colors with 2 tips on each side
10 ml in each pen
Easy instruction manual provided
2. Mosaiz Hair Chalk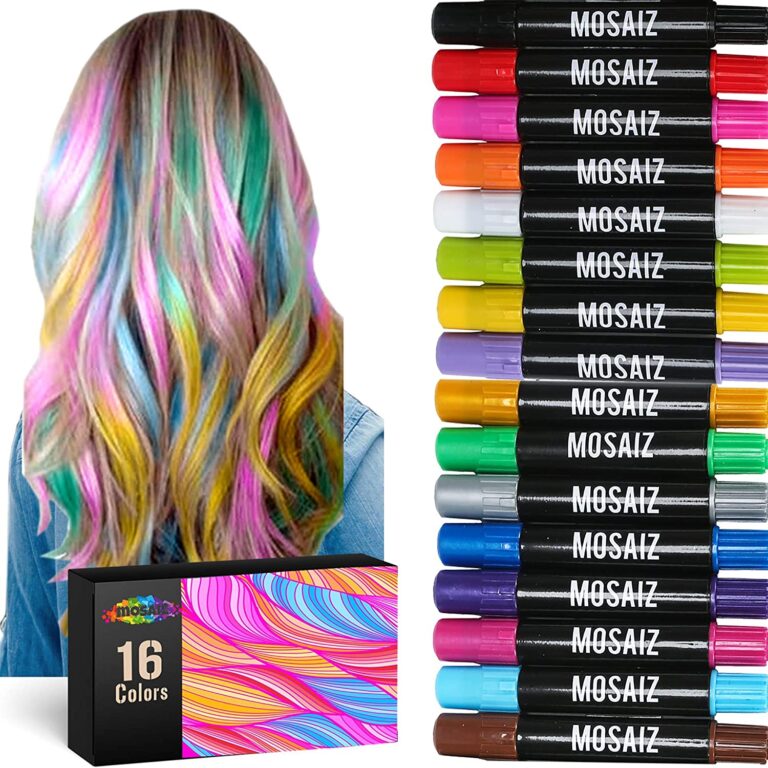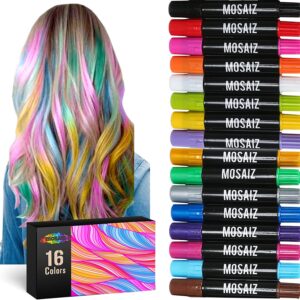 What is more trendy than colorful hair these days? Every teenager dreams of experimenting with different colors on their hair. I understand that you don't want to use bleach or any other chemical-based hair color to fulfill their wishes. This hair chalk set by Mosaic will be your perfect option. This product is another Amazon bestseller and comes in two packages one with 16 colors and the other with 12 so you can take your pic before purchasing.
These colors are completely safe, they are made of non-toxic material and they include all-natural items. No alcohol was used in the making of the product and the great thing is that they work on all hair types. These are temporary so you don't have to worry about them going to school and violating disciplinary codes. She can pick her color and easily apply it. Another great thing is that your girl will not have to choose just one color she can easily mix and match whichever color she wants.
The removal process is also very simple; the color will wash off in just one hair wash session. The package with 16 colors includes ten classic colors and six metallic colors. Be it Halloween birthday or Christmas your girl will rock her colorful trendy hair just the way she likes it. These hair color chalks work on all colors of hair you don't have to Bleach to lighten the hair, the vibrant colors will be visible on black and brown hair as well.
A great tip from the manufacturer is that before coloring the hair, wet your hair a little and apply the chalk in downward motion then dry your hair with a dryer or let it air dry.
Features:
16/12 colors in one pack
Safe to use
Easy to apply and remove
Works on all hair types and colors
3. Moon Lamp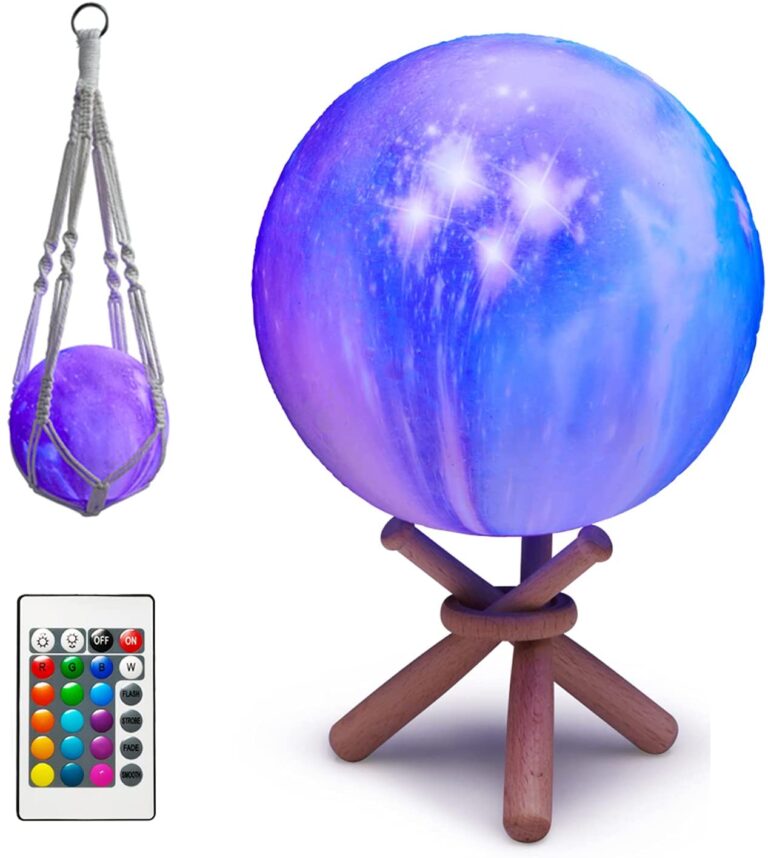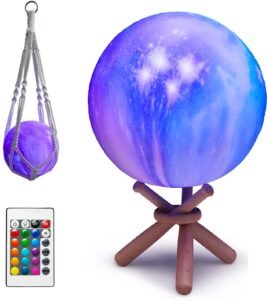 At this age decorating rooms gives teenagers a feeling of self-actualization. Gifting her this moon lamp will help make a room look prettier than ever. As it is 3D and it can glow in sixteen different colors this moon lamp will win the best gift award. It comes with a wooden frame to be kept on, it can also be hung, let sit, or kept just the way she wants it.
It comes with a remote that can be used easily to control the brightness and the color options of the moon and adjust it according to your daughter's mood. A glowing blue moon when she is happy may just make her happier. This lamp is suitable for Christmas gifts or even birthday gifts.
It has a 500 mAh battery which can be easily recharged and once fully charged it was for about 10 to 35 hours. Even at full brightness, it can last a whole night. It also comes with 4 modes, you can set the mode according to your preference. The customer service for the manufacturer is available 24/7 so if you have any issues with the moon you could contact them. This moonlight lamp will make her look super cool in front of her friends.
Features:
It is 15 CM in diameter.
The main body color is blue.
An LED bulb is used.
The bulb can glow up to 16 colors.
Takes 2-3 hours to charge.
Lasts for 10-35 hours on a full battery.
500mAh battery.
4. STMT DIY Journaling Set By Horizon Group the USA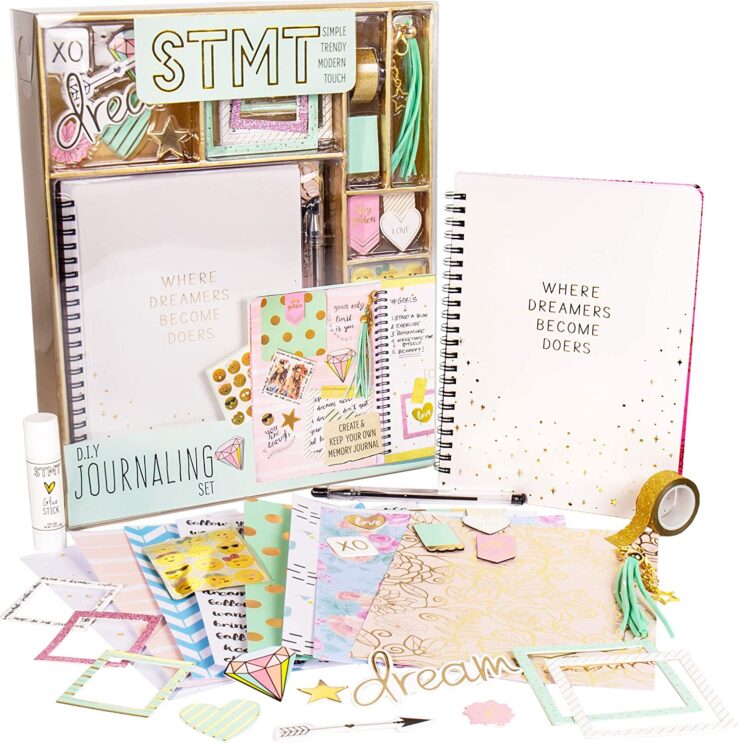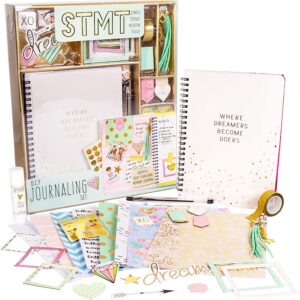 If your daughter loves to be organized and likes to journal all of her ideas this might be the perfect gift for her. This spiral book can be used to write all the amazing thoughts and memories that she goes through in her day-to-day life. This journaling set by horizon group includes several fun items to keep every page unique and beautiful. She can give stickers, gems, glitter frames, and many more such items to store her amazing thoughts.
She can also add Pictures or stick a ticket from her recent travels. Maybe even her first ticket when she took a bus ride. Because of this journaling set, after a few years, she can come back to her beautiful memories and revisit them with a smile. The set includes more items than you think it even has bookmarks keychains glue stick sticker sheets and many more things. The material is very sturdy so you don't have to worry about it lasting long. This set is completely value for money. All items are super cute and pretty. With this set, she will have something to rely on.
Features:
70 sheets.
8 die-cut shapes
1 really cute sticker sheet
A beautiful glitter tape
A ballpoint pen
6 very cute shaped paper clips
Three magnetic bookmarks
A few chipboard frames and a beautiful suede tassel keychain.
It also has 8 printed pages and one glue stick for convenience.
5. Vlando Princess Style Medium Size Jewelry Box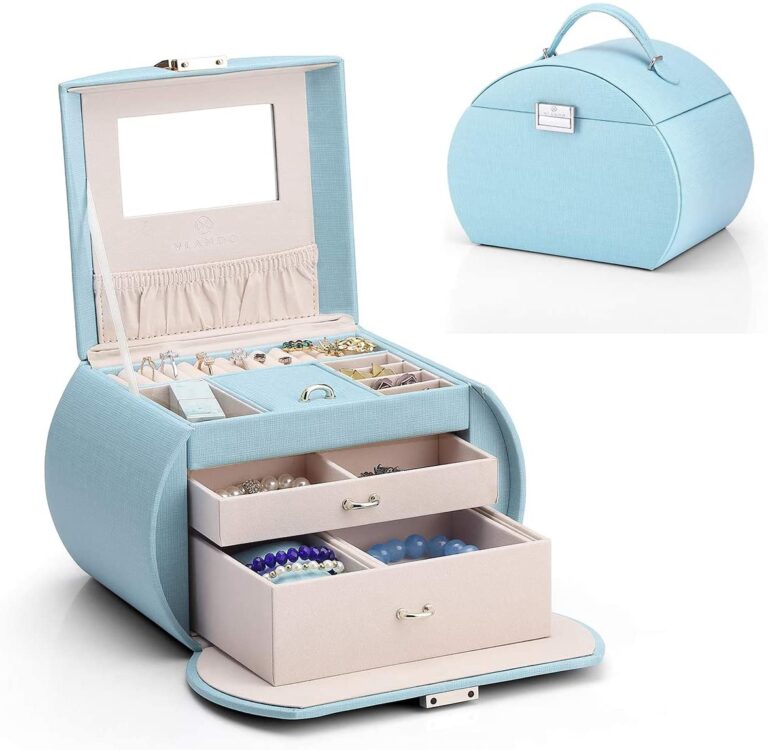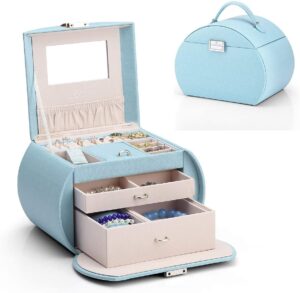 For a growing princess, this beautiful jewelry box might just be the perfect present. It comes in three beautiful colors, all three are amazing pastel shades of blue, purple, and pink. It is made of leather and has a velvet lining inside making it even more royal than it looks.
It has a mirror and a lid pad to prevent small items from falling off. It has different sections for different kinds of jewelry items and it also has a tray that can be taken out to create a drawer. All dividers are removable so it is easy to clean. An amazing thing about this jewelry box is that it comes with a solid strap that can be used for comfortable traveling. Along with jewelry it also has a cushion to keep a watch. This jewelry box is not just very efficient for storing precious items but the looks are extremely elegant as well.
Features:
Made of high-quality material.
Is very durable.
Value for money.
Extremely efficient for traveling.
Beautiful looks.
Available in three color options.
Made by a designer from the Netherlands.
6. 13 & Fabulous 20 Oz Stainless Steel Tumbler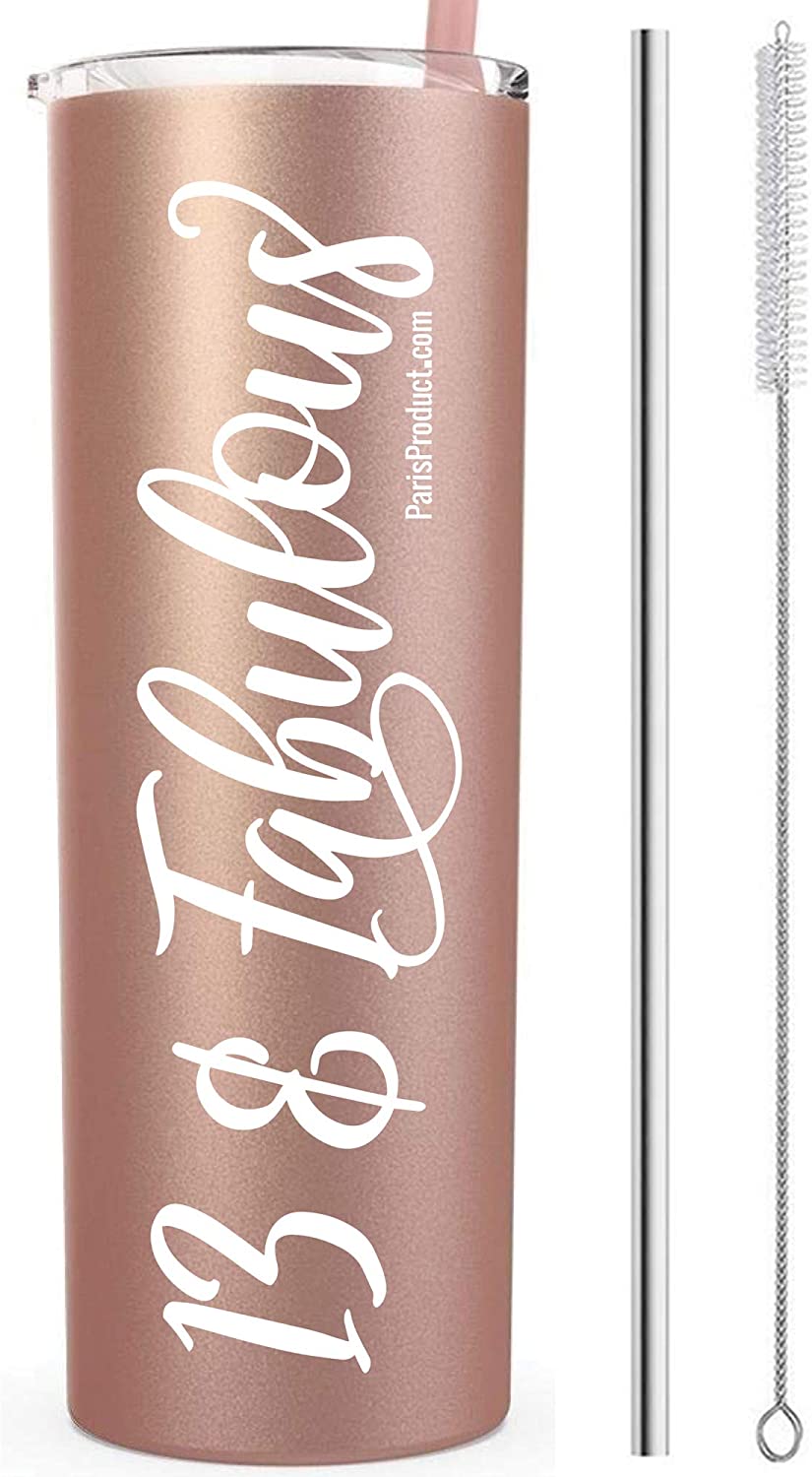 Getting a gift which she can use every day is a good option. This stainless steel tumbler will be a great gift item for her birthday. She can take it to school and it will look super cute while carrying it around. The tumbler says 13 and fabulous which she most definitely and with this tumbler she will be reminded about it every day.
It can keep hot drinks hot for up to 3 hours and cold beverages can stay cold for up to 9 hours. It comes with a classy-looking metallic straw and a cleaner to efficiently clean the straw. The lid is completely splash-proof so she doesn't have to worry about spillage. She will think about you every time she uses it!
It has double-walled vacuum isolation to keep all beverages inside fresh. It is made of eco-friendly material, it's easy to use and carry and as it's reusable it is good for the environment.
Features:
Made of Stainless steel.
Can store up to 20 ounces.
Double-wall vacuum isolation.
Improved heat and cold retention
Hundred percent BPA free
Stain-resistant
Splash-proof lid
Buyer's Guide To Buying Toys And Gift Ideas For 13-Year-Old Girls 2023
To make your worries go away and make shopping for gifts easier this buyer's guide was prepared with lots of research. Before making a purchase please go through all the aspects listed below in detail in the buyer's guide. Reading it once will ensure that your present for your teen girl will never go wrong.
Trendy
All teenagers these days look for trendy items, nail art, cool watches, beautiful accessories, and similar items. Finding a present that is trendy on Instagram and is being used by many celebrities online will be right. This generation of teenagers loves to be in style so something like the above-mentioned hair chalk or nail art set will be perfect.
Safety
At such an age of just 13 girls tend to go crazy and they feel like doing wild things so getting a present which will make them look cool but is safe at the same time is important. Ensuring high-quality material and non-toxic ingredients are used in the manufacturing of the gift is a necessary thing to look into. Like the above-mentioned hair, chalk is completely safe for children's hair, before making a similar purchase check the ingredients mentioned and whether or not it is made of non-toxic material.
Duration Of Use
The attention span of a teenager is way less than a newborn child, so buying something that can be used repeatedly or in day-to-day life will be good. Like the above-mentioned tumbler that can be used every day will come in handy. Getting the jewelry box or the waterproof camera for a teenager will be a good option as they can use it whenever needed.
Customization Options
Almost for every age group, a gift with various customizable options is like a blessing. Ensuring they never get bored of it is a really important part of buying a gift. Like the above-mentioned journaling, the set can be used in a way they like. Your daughter can customize it according to her preferences giving her a feeling of comfort and self-actualization.
Parent Reviews And Rating
Listening to what other parents have got to say about the product can be helpful as they have already purchased that and have experienced that with their teenage daughter. So knowing the pros and cons of the gift is important. You can easily understand whether or not your teenage girl will like it.
Conclusion
After this article, finding a gift for a girl in her teenage years might be something you could do with closed eyes. All the products that are mentioned above will be great for her and if you look for something other than the list going through the buyer's guide will be of great help.
FAQs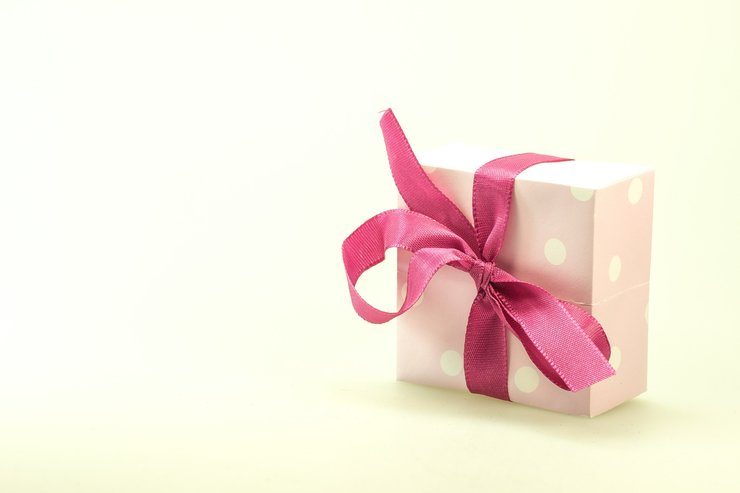 What are some creative gifts for girls in their teenage years?
All the products listed above are great options for gifting. The journal set might be a very creative gift.
How to know if my teenage daughter will like the gift I get for her?
Teen girls these days like items that are in trend so getting something online like nail art sets or hair chalks might be good.
What is the best Christmas gift for a 13-year-old?
Any of the products that are listed above will be great for a Christmas gift. Other than that the buyer's guide can be referred to.
Check out some other interesting gifts from Amazon also: