Five years of age is a tricky one. The girls are stuck between toddlers and big kids. Most of the girls at this stage start their schooling. As a result, they would feel even more mature and capable of better controlling themselves.
Moreover, because self-regulation has still been developing, emotional tantrums would be prevalent. Parents should keep their children energetic as habits acquired at this age are beneficial for the coming years.
The presents on this selection are specifically selected to assist a 5-year-old child's growth while also catering to various interests.
Top 10 Toys And Gift Ideas For 5-Year-Old Girls
1. Shifu Orboot Globe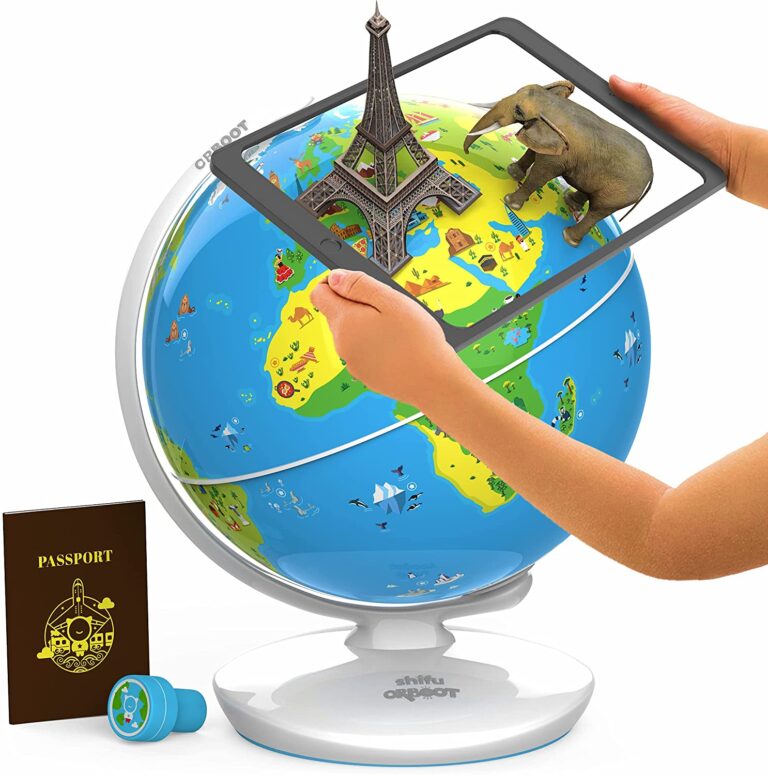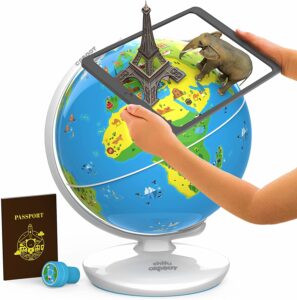 Globes have become an effective instructional tool that would last your child throughout her school days, adding information to her learning and her grasp of countries. The Shifu Orboot went a step further, providing virtual reality connectivity through an app.
Your little angel can access vast information by holding her device up towards the globe, increasing her technology abilities, and encouraging constructive technical use. The Shifu Orboot works with Android devices and iOS devices and aids in developing your child's involvement in geographic location and awareness of the enormous globe.
Features:
Interactive learning with AR
More than a thousand world facts
More than four hundred highlights
There are no in-application purchases
Works with android and apple devices
2. Juno 6047249 Wildluvs, Interactive Elephant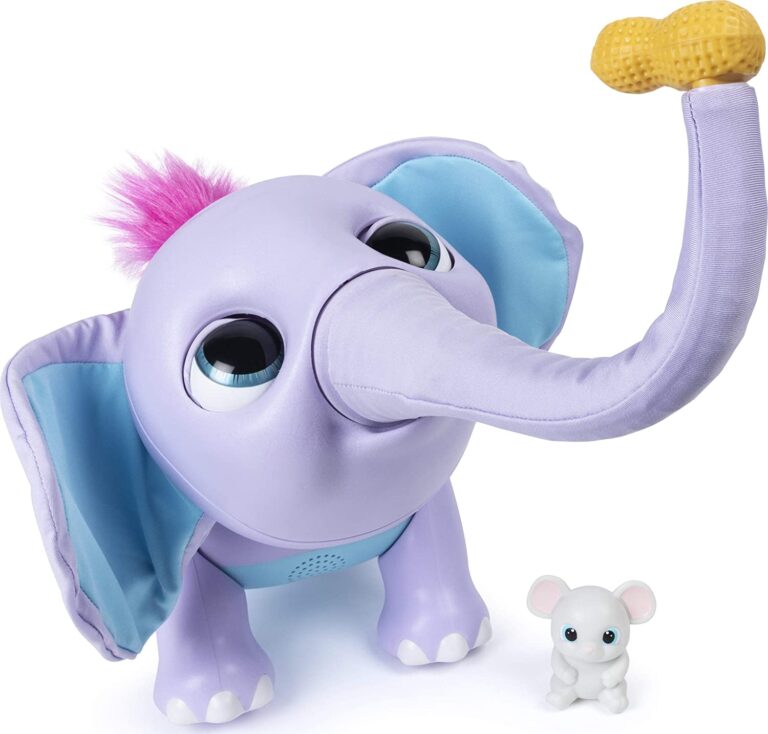 Baby elephants are cute and adorable, and this is the case with this immersive baby elephant by Juno. It is an interactive elephant that can move and also makes noises. This type of fantastic toy caters to a girl of 5 years of age. Girls at this age have the desire and passion for caring for and feeding things. She must have dolls and other toys, but it is different from whatever she presumably already has.
Your baby girl may indeed start caring for the Juno Baby Elephant using interactive items like a toy peanut, providing opportunities for creative play. Juno will be hesitant and will try to hide her face with her big ears when she first arrives at your home. Juno's quirky and endearing personality emerges as your child's pet and interacts with her. She'll chuckle, produce funny noises, and toss her trunk about in a joking way after she's at ease. Meanwhile, awareness and enthusiasm about technology also grows. She will learn how various components of the product function together.
Features:
4AA batteries are required
Several interactive accessories
A care guide is included
3. PLAYMOBIL Lucky's House Playset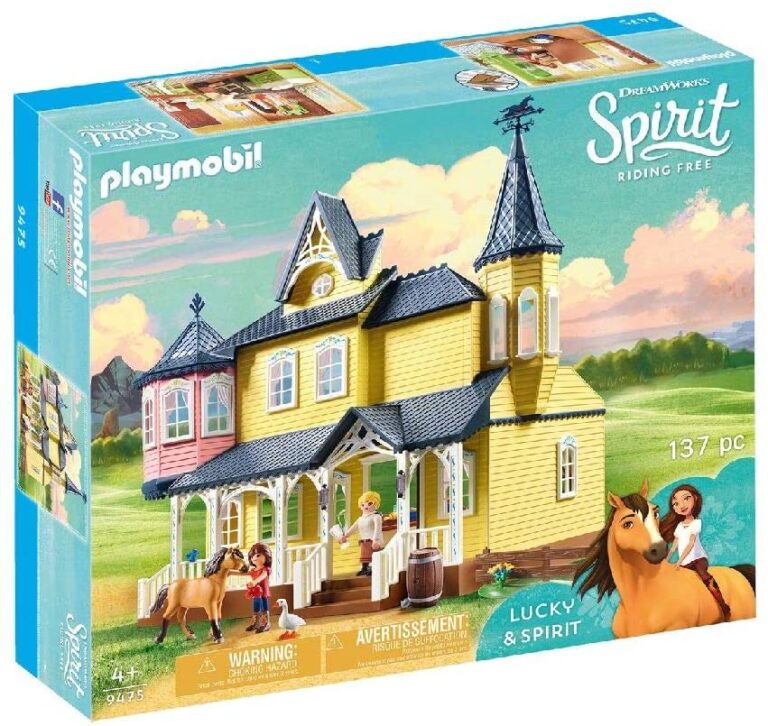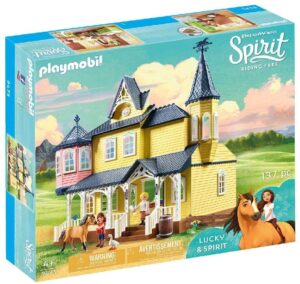 Playmobil is a fantastic approach to get kids to engage in creative and interactive play. Various creative settings are present, which your child can try out with the multiple sets offered. If your child loved the movie Spirits, then this toy is a perfect choice for her. It is based on that film and allows her to play and enact her favorite scenes.
She will enjoy this toy with her pals, and it will also help develop team spirit in her. Her creativity will be at its peak with this set as she takes on the roles of various personalities. This can aid in the development of prosocial behaviors. So, if your girl likes Spirit and horses, then this is the toy for her.
Features:
Comes in Multicolour
Figures can sit, bend, and turn
Several accessories
4. Crayola Sprinkle and Rainbow Art Shaker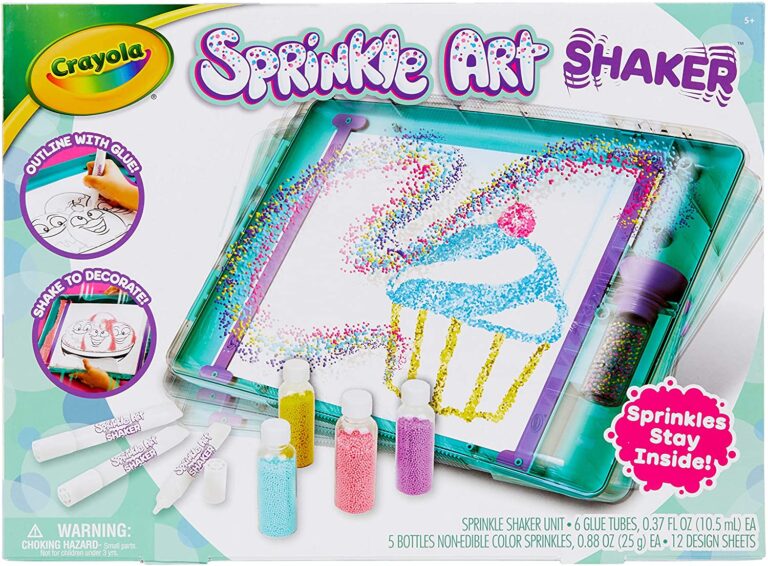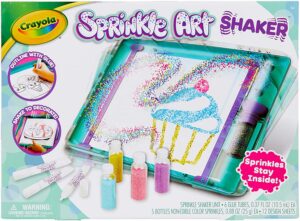 Craft and coloring sets are something that every girl of this age wants. When they are five years old, they enjoy being artistic and creating their artwork. This set is a moveable art kit with easy instructions. Reading comprehension and following directions is a crucial ability for your child. It helps her to grow since it enables her to be more self-sufficient in her activities. This set promotes creativity while minimizing mess. This set is perfect for an imaginative and bright girl.
Features:
It is portable
Less messy
Sprinkle art
Easy crafts ideas
5. Micro Kickboard – Mini Original 3-Wheeled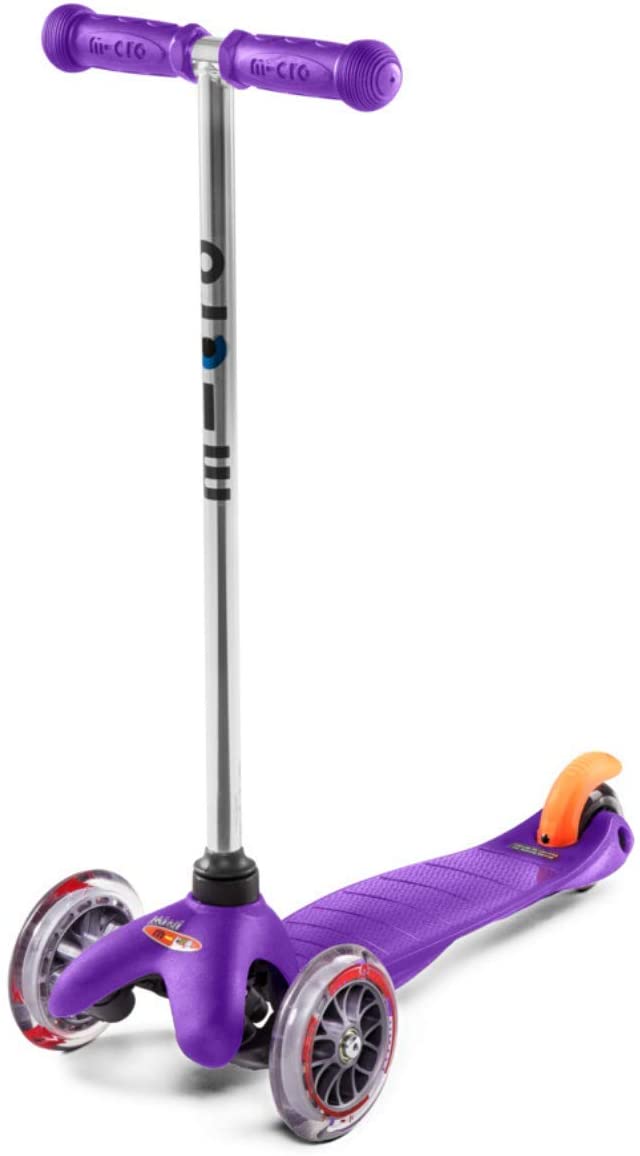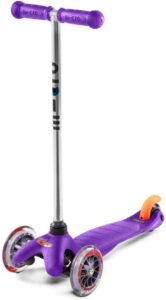 One thing that is popular among children of all ages is scooters. They rarely get bored of it. Five years of age is a perfect time to upgrade your girl's scooter. If your child doesn't know how to ride one, it is best to teach her. This scooter comes with an adjustable height and consists of a solid three-wheel.
The scooter is one of the great methods to keep kids strong and fit while also providing a simple mode of transportation when walking is too tedious. In addition to providing lots of fun, learning a scooter also helps the development of skills in children. She can learn how to balance and coordinate. It comes in six colors: Aqua, blue, green, pink, purple, and red.
Features:
Adjustable Handle
It comes in six colors
Easy to handle
Lightweight
No assembly is required
6. KidKraft Wooden Heart Table & Chair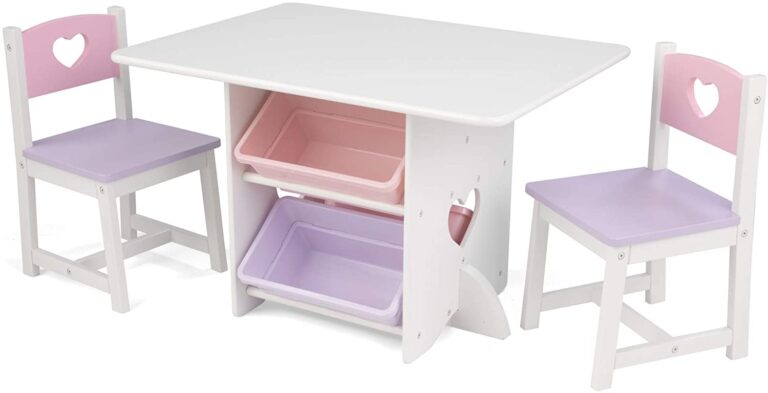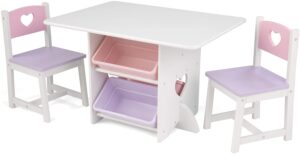 Does your girl like to decorate her room, add new things to it? These chairs are an item for your little girl's room. The best part is that they will match the decor and are constructed to last. This small table and chair set, designed specifically for children, will be put to good use by a 5-year-old.
The table could be utilized for various activities, including games, pretend tea and dinner parties, arts, crafts, etc. As she grows she expresses a passion for sketching and writing skills, the table-chair set would put her in a comfortable, optimal position for such activities, and it's also a great place to finish homework!
Features:
Last long
Four storage bins
Made up of wood
Easy instructions
7. ThinkFun Robot Turtles STEM Toy And Coding Board Game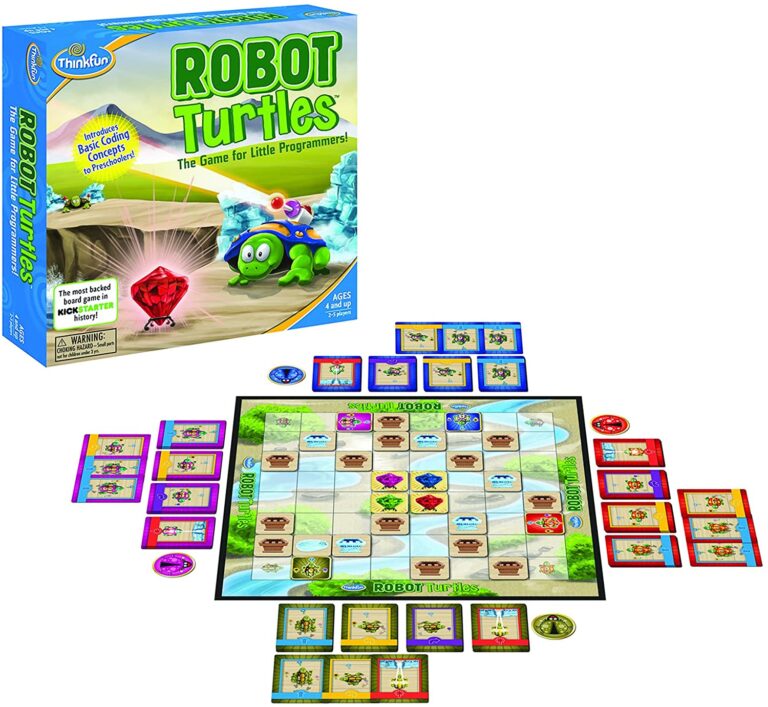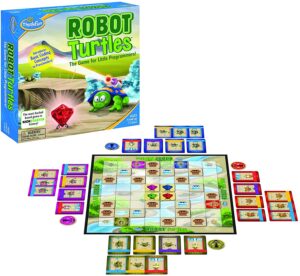 Board games are always fun. This fantastic board game has a wealth of advantages for kids and would be a fantastic gift for any 5-year-old kid. The board game has most of the benefits of classic board games, including teaching youngsters how to take rounds and obey rules.
It also assists the young lady in learning about computing and programming, encouraging those much-desired technological abilities. Kids write the code with cards, and there's no need for a screen in this game. This is the perfect educational present.
Features:
It comes with explicit instruction
Made up of cardboard
Easy to learn
Detailed instruction manual
8. Jewelkeeper Musical Jewelry Box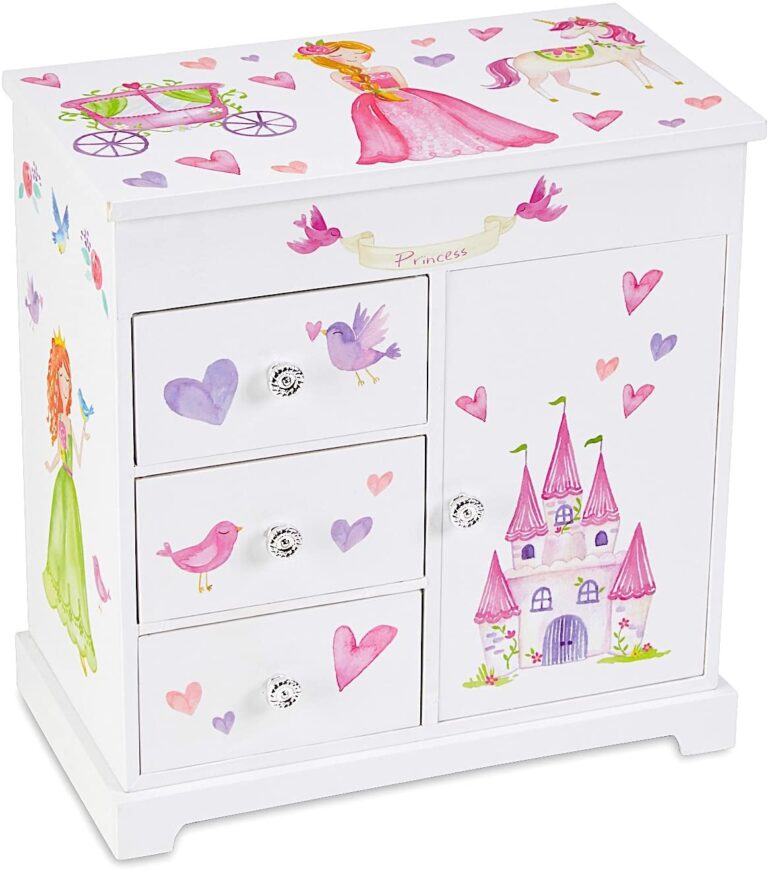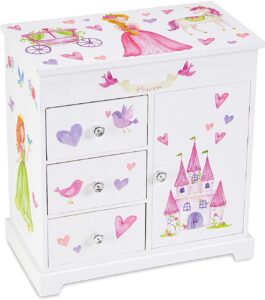 Most small girls, as they reach age five, would have collected a jewelry collection that they were either given or produced for themselves. Buying your angel a jewelry box implies she'll have a place to keep her jewelry and other trinkets that the girls have seemed to accumulate. Most of the girls are fascinated with unicorns. So, a jewelry box with a unicorn in it is like a cherry on top of the cake. So, there is a cute unicorn pattern, a rotating unicorn. Also, when the box is opened, it plays music. So, it is the best gift for any little girl.
Features:
Plenty storage
Plays music
There's a gift box included
Best quality
9. LEGO Disney Pixar's Toy Story 4 Buzz Lightyear & Woody's Carnival Mania 10770 Building Kit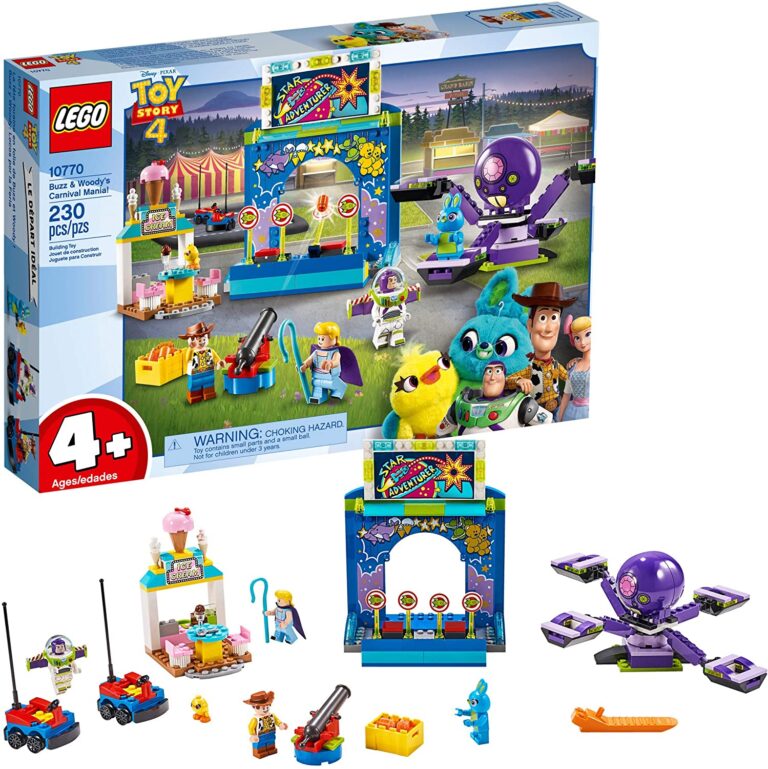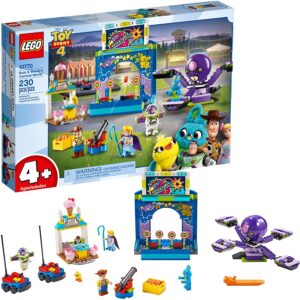 Toy stories are a favorite among kids. The other thing that is loved by all five-year-olds is Lego. So, if combined, this game set comes into the picture. This game is inspired by the well-known Toy Story characters Woody and Buzz Lightyear. With this toy, any girl will enhance her play while reenacting the Toy Story 4 film events.
Implementing the movie's directions to build the carnival will spark a 5-year-curiosity while improving her attention, patience, and building abilities. She might improve the game and her inventiveness by using this kit, which is suitable for various Lego components.
Features:
Colorful playset
Includes toy story four characters
Easy to build
230 pieces
10. Kidi Star Karaoke Machine

From around the age of five, a young girl might be greatly interested in musical theatre and arts. If you would like to inspire your 5-year-old daughter to sing songs and start dancing, then this toy could be a great gift. This machine comes with an adjustable base and several sounds and lights. This gift would please any little girl. There is a stand designed to hold a mobile or music player so she can sing away!
Features:
Height is adjustable
Recording is possible
Ideal for kids
It comes in two colors: Pink and purple
Buyer's Guide To Buying Best Toys And Gift Ideas For 5-Year-Old Girls 2023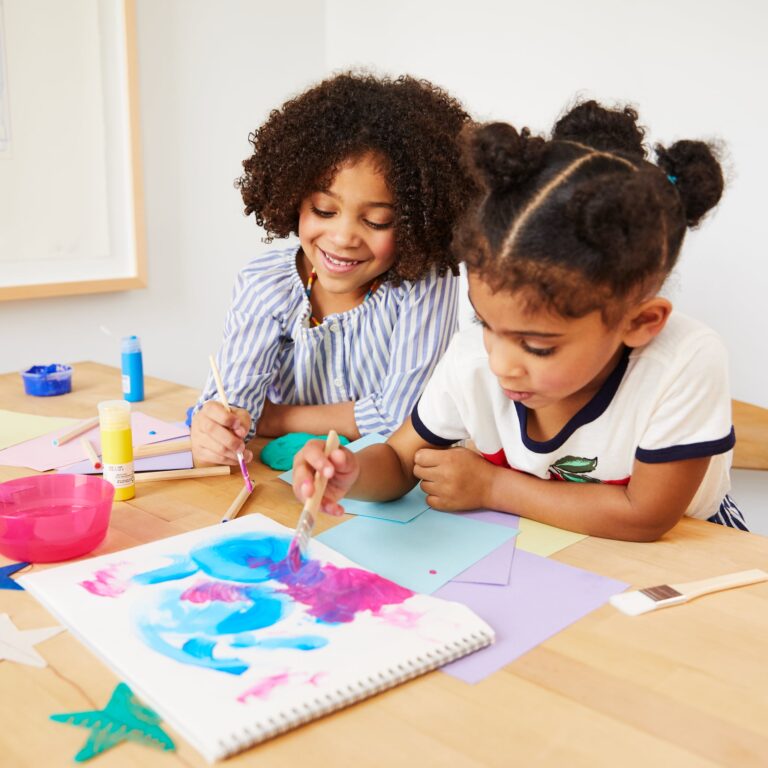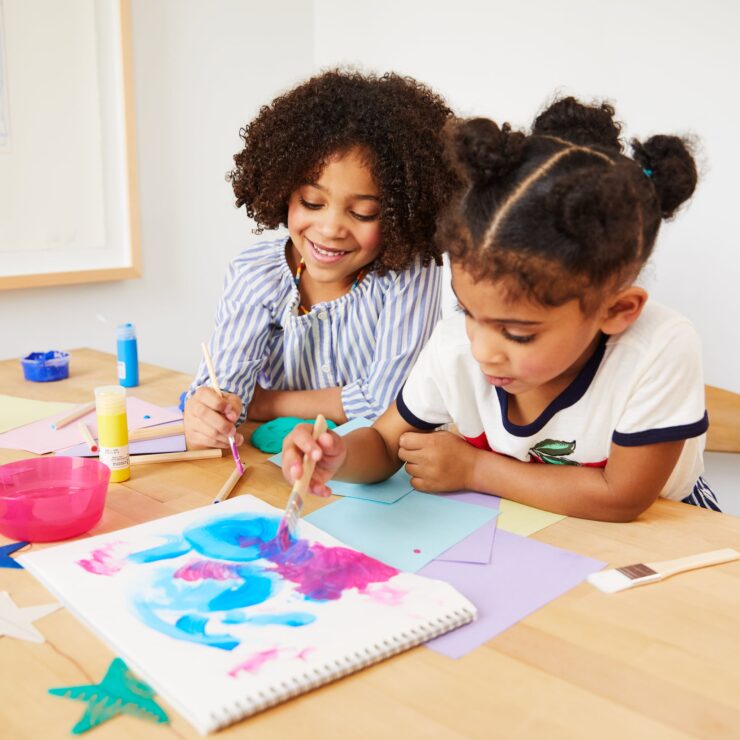 It becomes tougher to keep track of a child's preferences, desires, and fashions as they grow older. This makes buying gifts for such particular girls in your life challenging. You must have been perplexed, and the majority of you may have been hesitant about which toys to buy. There are various factors to consider as well as a thorough examination of all provisions. These toys teach children a lot of other knowledge. As a result, choosing a suitable toy for your child is crucial. This buying guide will help you in selecting the most OK toy and present for a 5-year-old girl.
Toys For Learning
Children of this age have strong minds and may gain knowledge from toys and games. These toys make it possible to educate children on a variety of new skills in a pleasant way. Additionally, specific memory and kids' gadgets with language terms and expressions are available. These toys can also assist your children in learning new things by improving their educational process.
Toys That Can Be Used In A Variety Of Ways
The brains of children are full of creative ideas. They're usually looking for anything new at this point, and they're developing a strong creative mind. As a result, they will not stick to one toy. They'll become weary. As a result, flexible toys should be your primary priority. These toys can be used in many ways. They aren't limited to a single application.
Creative Toys
Children aged 2 to 5 years notice and discover new stuff at a faster rate. Their tiny minds are brimming with innovative ideas and creativity. As a result, it's critical to provide them with the proper grooming supplies.
Toys Of Good Quality
The first essential element you should examine is the quality and durability of the toys. Kids are known for roughhousing with their toys. They continue to jump and stomp on their toys. As a result, they must be able to endure shock and severe handling.
Toys That Last A Long Time
Toys in today's world quickly bore children. After some time, they become tired of it and discard it. To avoid this, look for toys that will benefit your child at various stages of development.
Conclusion
We've looked for the best toys to give as gifts and presents to your daughter in your life, ranging from educational toys to pricey items. With the help of these toys, you can teach your child a variety of skills. Every one of the items is from reputable companies and provides quality products at affordable prices. The above toys will bring joy to your little girl while also assisting her in learning and beautifully discovering new things.
FAQs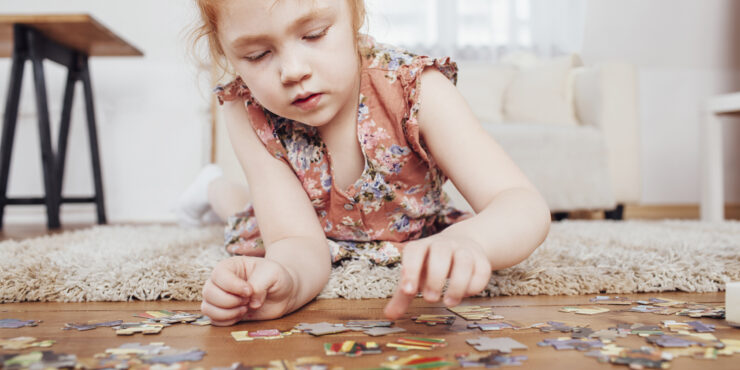 What toys can help to enhance the kids' knowledge?
It would be best if you went for educational toys. These toys consist of AI robots, a classroom setting, a creativity set, a globe, and so on. These toys will not only help develop the knowledge but make your child fall in love with studies.
What kind of games can a 5-year-old play?
Your 5-year-old can jump and leap well. She's likely to be able to swing and climb. She is also getting better at multitasking and can now ride a bike, dance, and control the ball.
Should children as young as five play video games?
Your child is developing the physical and intellectual aptitude to play more difficult video games, and her interest in these games is likely to expand as well. Five-year-olds like imitating their older siblings and pals. It's never too soon to start developing positive computer game practices.
If these weren't enough, check out some other gift ideas from Amazon also: