Sweet sixteen is a special age and after turning sixteen your little angel deserves a special gift. Finding the right gift that she would remember and cherish throughout her life is important. But looking for that gift seems like a tough job, honestly, it is not.
Girls tend to become mature by the time they reach 16 and will love every small present given to them.
To make your shopping spree simpler in this article some amazing gift ideas are mentioned along with a detailed buyer's guide to help you through the process of buying gifts.
Top Gift Ideas For Teen Girls
1. Sterling Silver Sweet 16 Necklace for 16-Year-Old Girl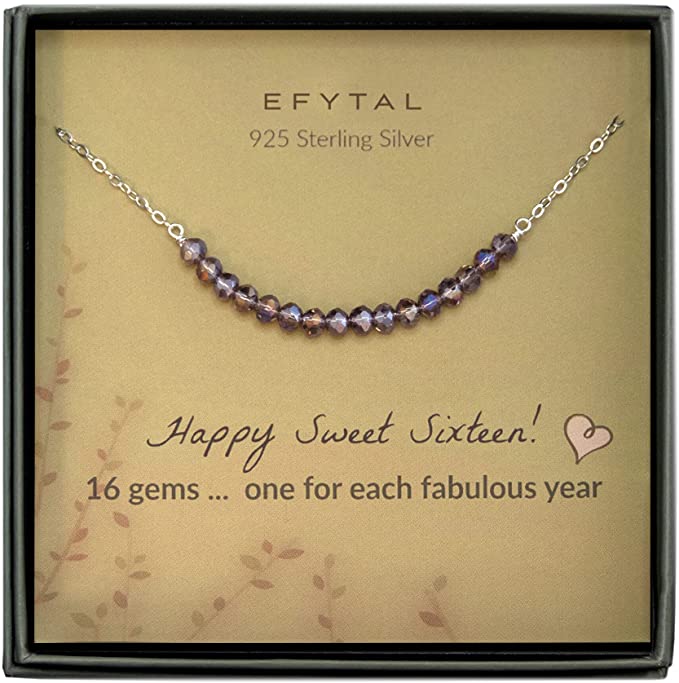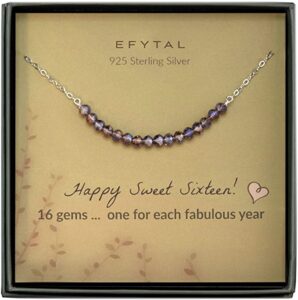 What is better than getting your angel a beautiful necklace that represents how amazingly she has grown to be a woman. This gorgeous piece has sixteen crystal beads that indicate her age and every crystal is proof of each fabulous year she spent growing up and maturing.
All gemstones are sparkly and will make her feel like a Disney princess for sure! She will look super trendy in front of her friends because not everybody has such an amazing necklace flaunting her sweet age. A great thing about this item is that it will go with almost every outfit because of its silver interlocking chain and clear sparkling gem beads.
Every time she will look at this necklace she will be reminded about your love for her and how you were so thoughtful to get her this lovely present making every day for one year special for her. As the manufacturer guarantees that this piece is made to last a lifetime so maybe when her daughter turns sixteen she could pass it on to her. Wouldn't that be great!
The necklace will reach you in a very elegant black colored box which you can further wrap with wrapping paper and gift to her. The material used to make this necklace is completely safe for young skin, it will not itch or create issues in the neck area. It is one hundred percent nickel-free and is made with good quality silver. The box also contains a note card which you can fill up with advice or some sweet wishes.
Features:
Approximately 18 inches in length.
Handmade good quality product.
Packed beautifully using tissue and note cards.
Comes with a gifting bag.
Does not contain nickel.
Great customer service with a 5-year warranty.
2. Perfect 16th Birthday Party Gifts Set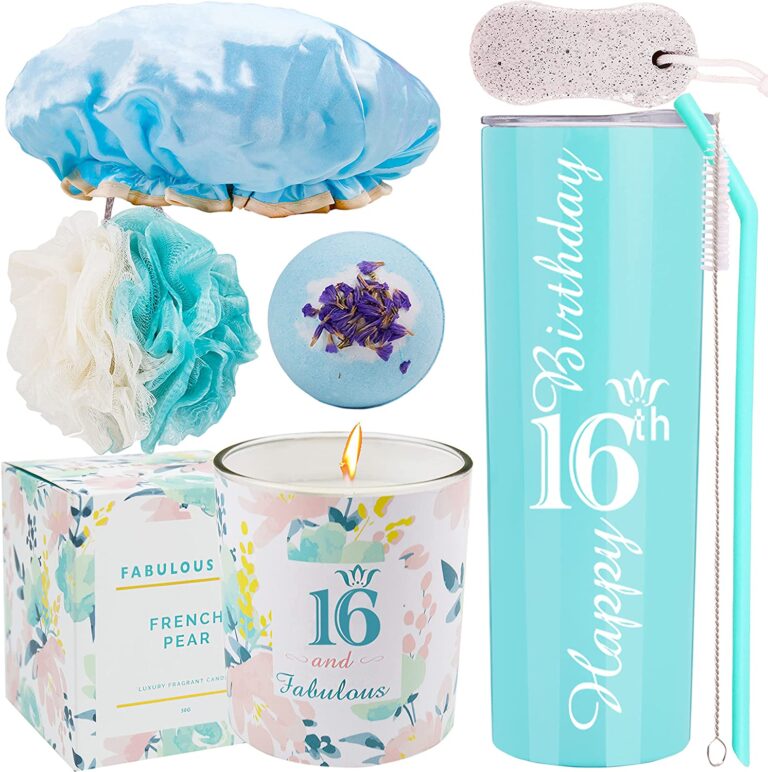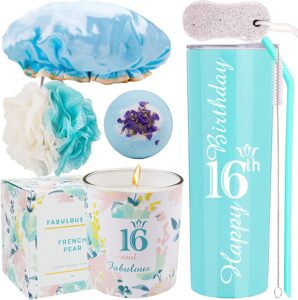 This set has everything that a girl who just turned sixteen needs. From an adorable tumbler to handmade bath bombs. This birthday set will make your daughter super happy and it is a useful gift. The tumbler is in mint green color and is made with unbreakable material that is also safe for the environment as it's eco-friendly.
It is stainless steel and the lid is hundred percent spill-proof so you don't have to worry about any mess. The straw is made with silica gel and it can be reused. A straw cleaner also comes with the pack for easy cleaning. The best part about the tumbler is that it says happy 16th birthday which makes it even more beautiful and perfect for her.
The second item in the set is beautiful colorful bath bombs. Each bath bomb is wrapped with care and above all, they have moisturizing elements to make her skin super soft. Other than that the bath bombs also provide therapeutic remedies and will keep your girl free from stress.
The set also includes Natural pumice stone to keep feet clean and fresh and along with that a bath sponge. This set gives your girl an amazing spa-like experience at home! That's not it, the set also has a candle that says 16 and fabulous and as it is a scented candle it makes it amazing. A shower cap is also given in the set to complete it.
Features:
Perfect set.
Made with good quality material.
Includes handmade bath bombs and scented candles.
Printed tumbler made of stainless steel.
3. Me Unicorn-Sweet Sixteen Gifts For Teen Girls Cute Makeup Bag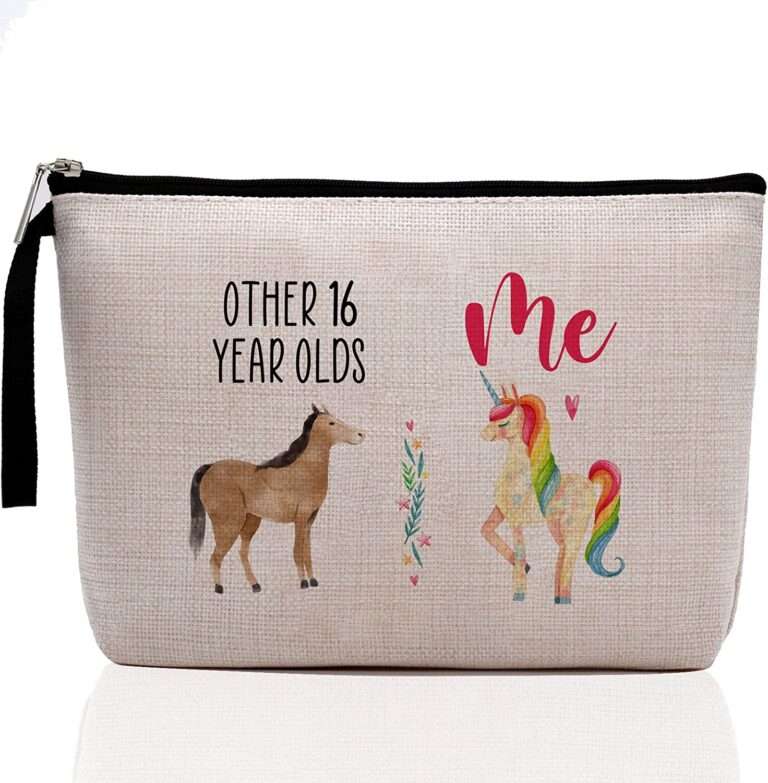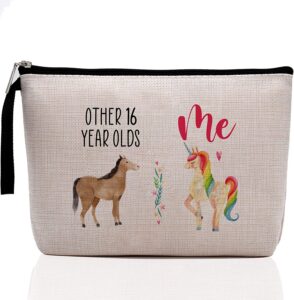 By the age of sixteen girls start to adore makeup and this makeup bag will be a great gift. The material used in making the bag is of good quality and is extremely soft and gentle towards the items she will keep inside. The print on the makeup pouch is also beautiful just like your little girl. It shows a cute unicorn showing her sass and looking pretty. This bag will be a trendsetter and will be loved by your daughter.
She can also use it as a pencil case and take it to school with her and flaunt her sweet sixteen beautifully in front of her friends. The brown wooden color also gives it a very amazing look.
Features:
Good quality material used.
Amazing design.
Unique look.
Trendy item.
4. Vlado Princess Style Jewelry Box From Netherlands Design Team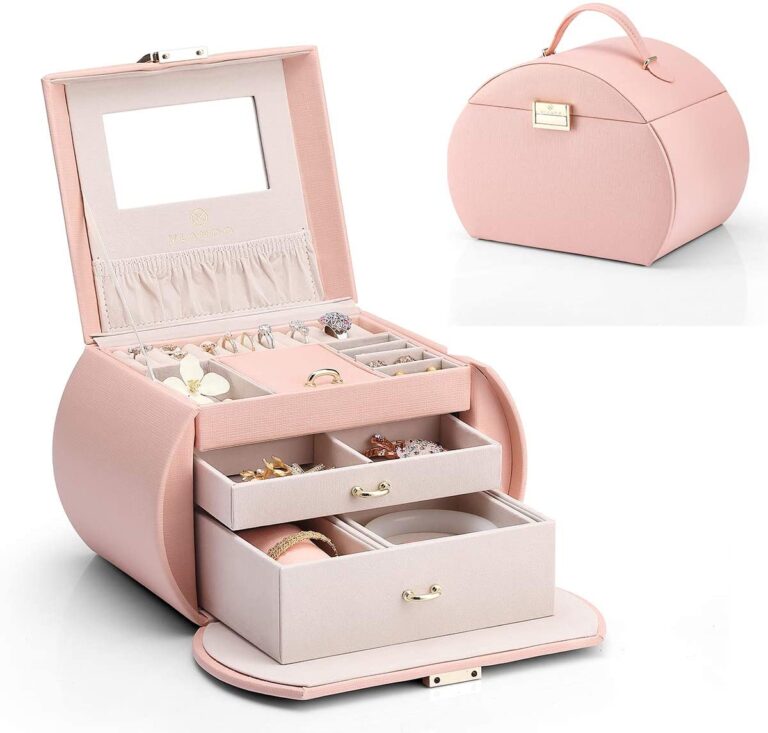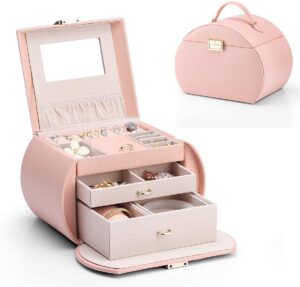 Bored of basic square and circle boxes? This jewelry box is very unique with several features and specifications making it one of the best available options for gifting. It is shaped like a half-moon which makes it look really beautiful. You can get it in 3 gorgeous color options, all of them are pastel shades, pink, blue, and purple. I love the purple color variant as you can rarely see a jewelry box in that color so it makes it even more unique.
The box is made of good quality leather and the inner lining is super soft to make sure each jewelry piece is safe and secure. There is a mirror on top which enhances the look of the box overall even more. The top of the box has a strap which makes travel easier for her. The material used is also water-resistant so she does not have to worry about small spills.
This box is very convenient to store jewelry, it has several compartments on the top for different pieces especially small jewelry items. It also has two drawers that can be used to store bracelets, watches, and several other bigger articles. Both the drawers are removable. A separate cushion is provided with the box to hold the watch safely.
Vlando is an amazing brand from the Netherlands so you can trust them and know that this box will be completely safe for your girl and she will be happy after looking at this gift.
Features:
Value for money.
Weighs about 1.5kg.
Half-moon design.
Soft lining and sponge.
Portable.
Made of high-quality material.
Available in four different pastel shades.
Durable and sturdy.
5. Amazon.com eGift Card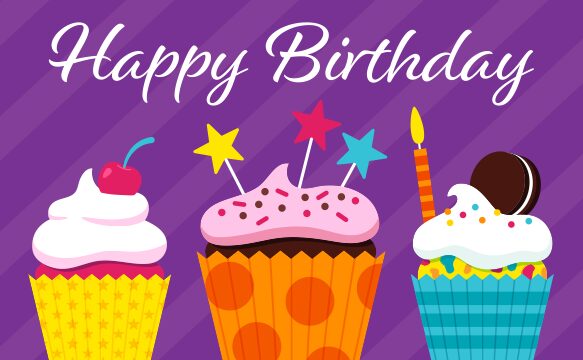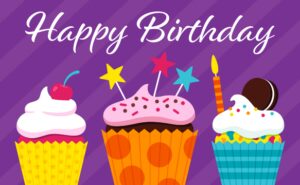 Nothing is better than letting her buy her gift herself! This Amazon card can be given to her and later she can use it to buy whatever she needs and she will love it. The cards are available in different variants, you can send them online as well with an animated card. You can also add the amount on your own.
Another great thing is that you can customize the card and put your picture as well with her! Or even a video if you want.
Features:
Does not expire.
About 400+ design options.
You can add whatever amount you want.
6. FASCINATE Trifold Led Lighted Makeup Mirror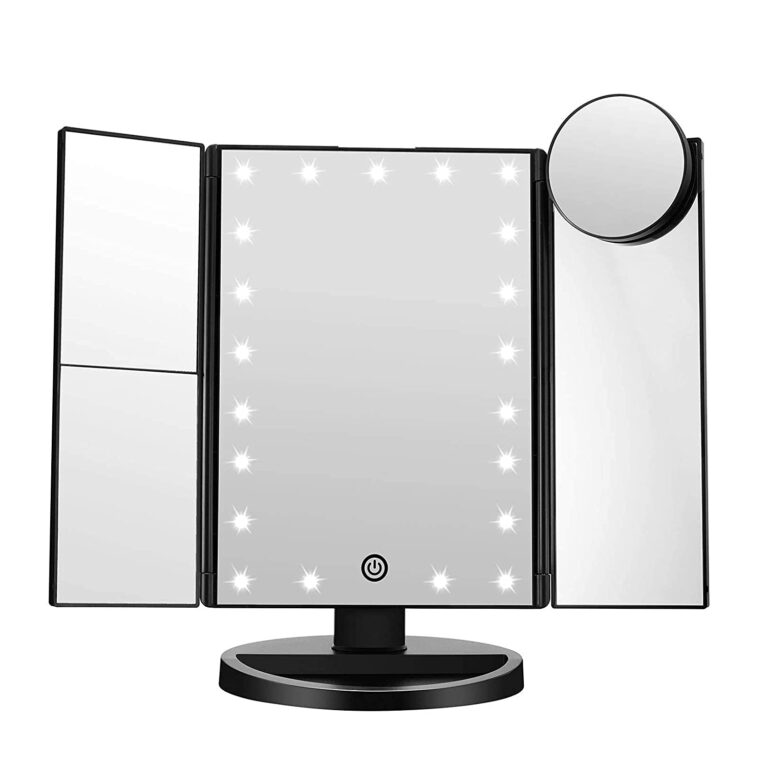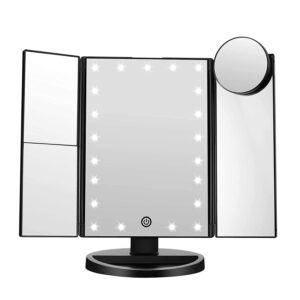 The mirror is a girl's best friend and everybody knows that. As she turns sixteen her love for makeup also increases so buying her this amazing mirror with hundreds of features will be a great way to show her that you understand her growing age. Let's look at the big set of features that come with this mirror, up to ten magnifying options to get that perfect eyeliner stroke. The mirror has two power options: you can use the USB cable and use batteries as well if needed.
There are 21 LED bulbs and she can control the brightness level of the light and use it just the way she likes it. A cool touch sensor is given to switch the mirror on and off. The base tray can be used to keep small makeup products or jewelry pieces. The base is detachable which makes it very compact and easy to carry while traveling. Another great thing about this triple folding mirror is that it can rotate 90 degrees back and forth making the same usage simpler. The customer reviews are great as well and this mirror is Amazon's choice with a 4 plus star rating.
Features:
10 times magnifying.
21 LED bulbs.
Two power options.
Great customer ratings.
Elegant looking.
Buyer's Guide To Buying The Best Toys And Gift Ideas For 16-year-old Girls 2023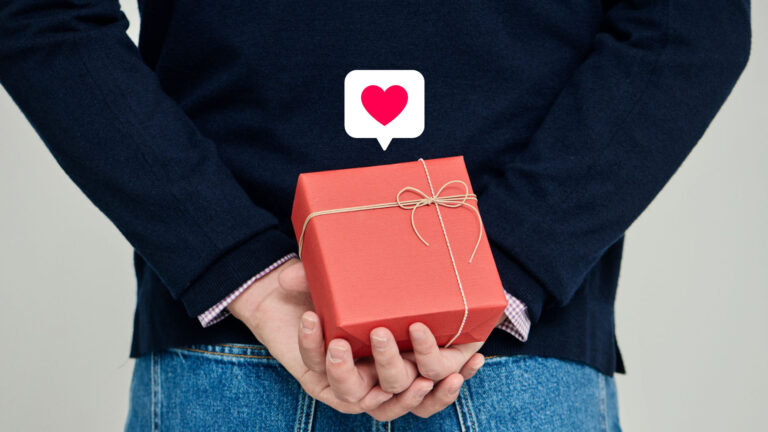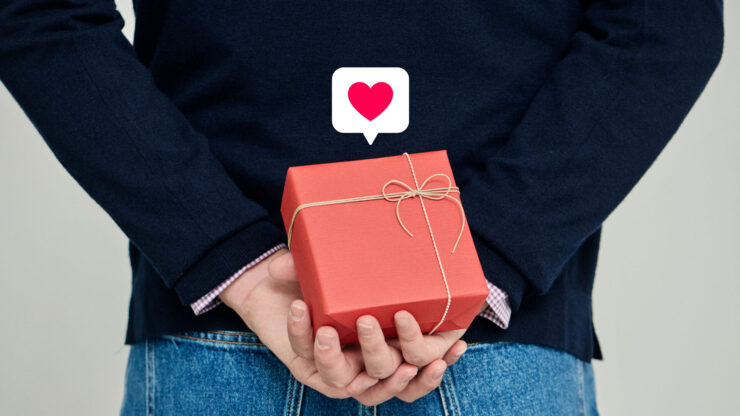 A sixteenth birthday gift can be really important for every girl. Buying what she will remember forever and will love with her whole heart can be a big task. If you did not like any of the options given above you can purchase something after going through the buyer's guide. This guide has been written in detail after thorough research and analysis.
Memorable
Sixteen is an important age and getting a gift that is memorable for your girl is necessary. Even if you forget what you got her for her sixteenth birthday she will remember it and if she loves it she will cherish it forever but if she doesn't like it, there is a big chance that she negatively remembers you. The necklace with sixteen beads can be one of the most memorable options available in the market these days, it is beautifully trendy and it represents her growth.
Useful
At the age of sixteen girls get organized and more mature than ever so something useful will make them happy. A jewelry box is a great option, it can be used in everyday life and all of her pieces will be stored with care inside it. Similar options like maybe a journal, an art set, or even a mirror are some amazing and useful choices to look for while making a purchase. Keep in mind that it is useful and essential for her.
Safe
When it comes to girls in their teenage years, safety and security become a major aspect to look at while you are shopping for her gift. If you get her something with the wrong ingredients or material it could lead to rash, allergy, or maybe some infection as her skin is still soft like a baby even though she is growing day by day. Ensuring that the product is made of good quality raw material and the ingredients used in products are safe for your girl.
Customer Reviews
Reading customer reviews thoroughly is also a good way to understand the product, other parents usually drop in a review if their daughter loves the gift and if she does not they still tend to inform them in the review section. Going through the reviews will also help you know if the product is safe for your daughter's skin. Knowing what other parents have got to say about the gift can help your decision-making skills.
Trendy
Buying what is in trend on social media is also an important part of purchasing a gift for your teenager. You can check Instagram for trendy jewelry items or decoration articles and get her something special.
Conclusion
In the end, this article concludes with a note that your daughter will love whatever you will get for her because by the age of sixteen she will become mature enough to understand that the thought behind the gift is what matters more than the gift. She will remember that you put in the effort and put thought into buying her something special for her birthday. Knowing that there is not something like the best gift, every gift that is given with love will be special for her in her life.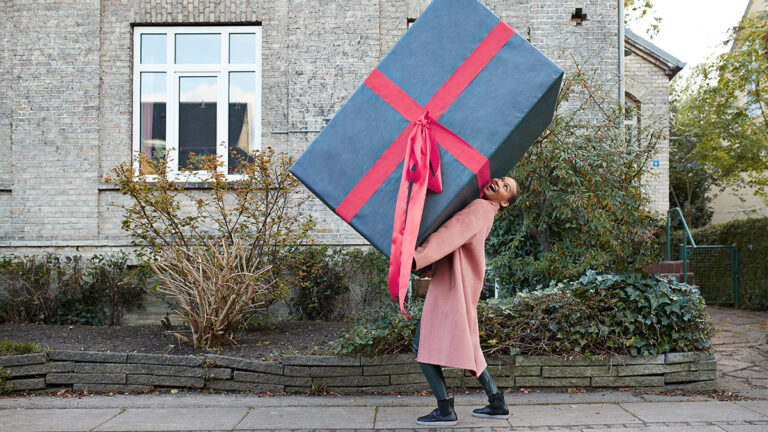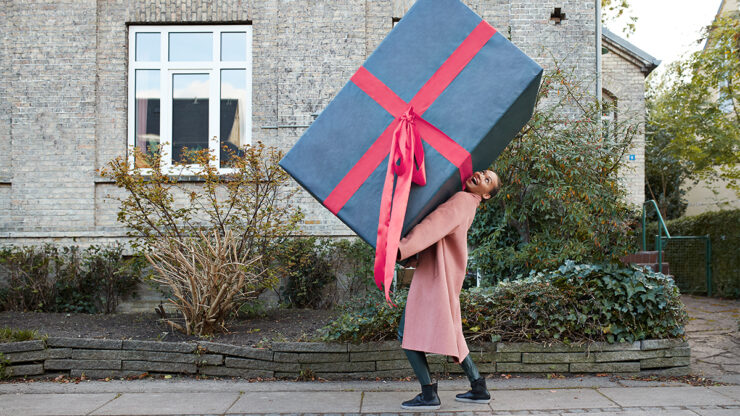 FAQs
What should I buy for my daughter for Christmas after giving her a special birthday gift?
If you have already spent a good amount on her birthday gift you can go for something simple this time like an Amazon gift card.
What are some unique gifts to buy for a 16-year-old girl?
The jewelry box or the necklace with 16 beads are some unique gift ideas. You can look for similar items.
Check out some other picks from Amazon also: