Traditional gift ideas will not appeal to kids these days. The current generation is far more clever and intelligent than ours. So, if you still believe that the toys you played with are appropriate for your 9-year-old, think again and read this article.
This is a critical stage for children, and what you offer them and how you nurture them have an equal impact on their mental and physical development.
Here, we have compiled a list of the best toys and gift ideas for your 9-year-old daughter that you can give to surprise her.
Best Gift For 9-Year-Old Girls
1. Emoji Writing Journal Set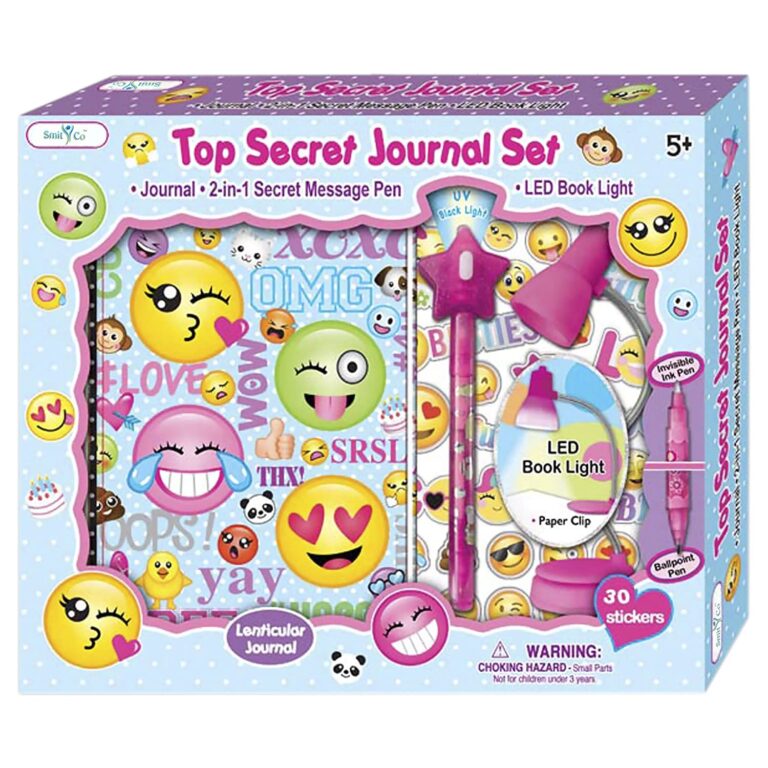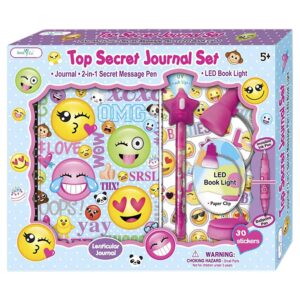 Despite the age group, girls adore stickers and prefer to keep their secrets to themselves. The first item on our list is the sweetest and most inventive gift a girl could get. It is a journal set for girls, including stickers, a double-sided pen, a notebook, a black UV light, and a lamp.
The pen has two sides; one side is incorporated with the regular ink pen, and the other side is incorporated with an invisible ink pen. Amazing, right? Now your daughter will feel safe to jot down her secrets in the diary without any fear of her secrets getting caught.
It can be an ideal birthday gift for your little girl as she can write all her thoughts, dreams, and ideas in it. This item will keep your girl entertained for a long time because the stickers add to the excitement. She can see her secrets by imposing the blue light on the page; that way, the text will be visible to her.
While growing up, a girl has so many things to share, but often parents are so busy that the child doesn't get the time she craves. As kids grow up, they start becoming more and more secretive. So, a diary could be helpful. Writing down thoughts reduces stress and helps to focus on positive things.
Features:
200-page notebook
30 stickers
Two lithium batteries are included
2. LEGO Gadgets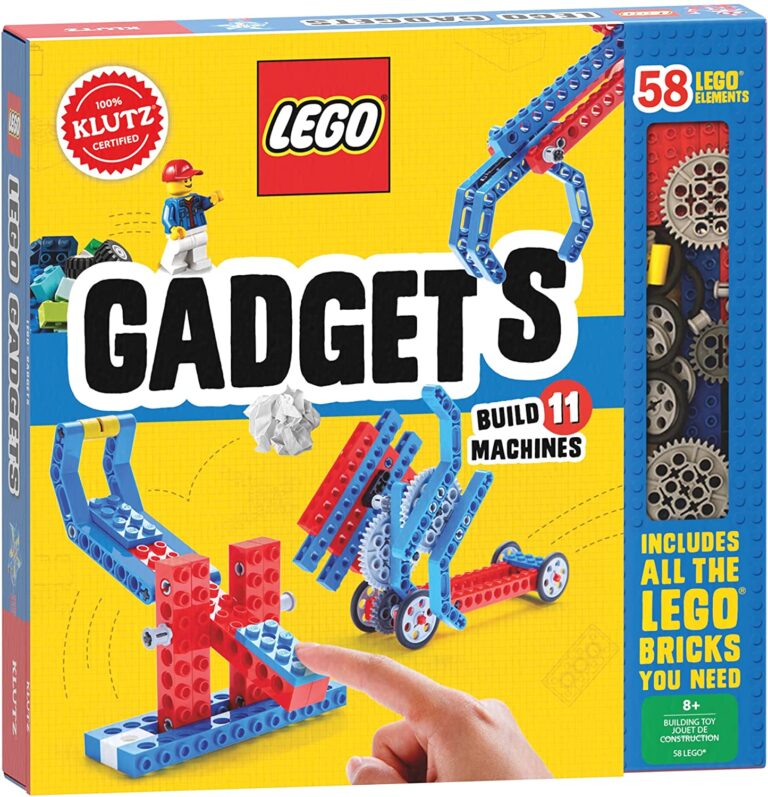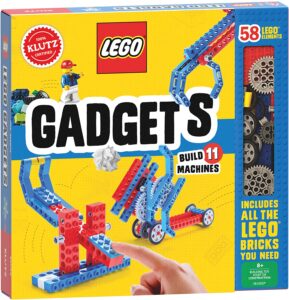 Block-building games do wonders in upgrading the creative skills of your child. The kit comes with 58 LEGO components that your daughter must put together to create a machine. She can build eleven unique machines with these elements. You will have to dismantle the old one before making a new one. These toys are much better than video games. Typically, boys get these kinds of gifts.
Society has already specified the gifts for girls, and boys. So, girls often get dolls and boys get gifts like footballs, but the world is changing now with all the new technology coming up day by day. To cope with the upcoming challenges, you need to treat your boys and girls equally.
Features:
Safe for your kids
58 pieces
Light in weight
Fun and engaging
3. Rock Painting Kit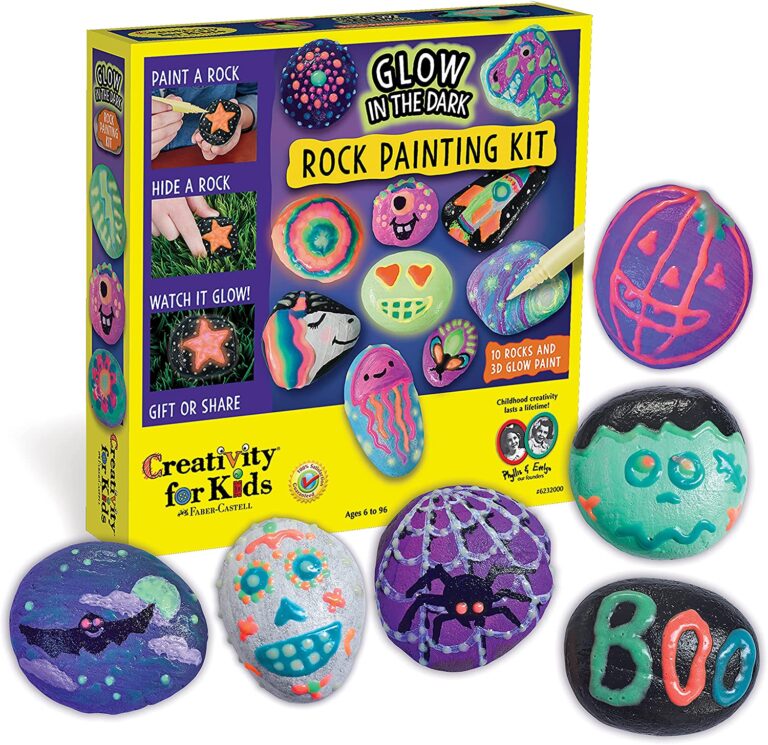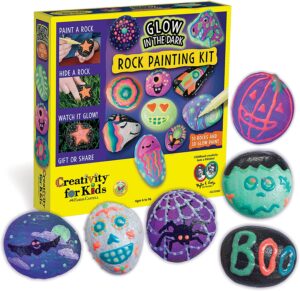 Are you wondering what is so special about this gift option? You might have seen children being fascinated with glowing and sparkling stuff, especially girls. Those fairytales that you read to your kids at night; often include the description of lots of sparkly things and bright skies.
The product contains rocks that glow in the dark. Your little one can let her imagination run wild, and draw anything that she likes and place it in her room to create a fairy world. Rock painting promotes the creative as well as imaginative skills of the child. Your princess will definitely like this product as a birthday present. The product contains everything that you need to decorate the rock.
Rocks are easily washable with regular soap and water, which means your girl can draw new things on the rock once she gets bored with previous drawings. It's very interesting to play with. Surprise your daughter with this kit regardless of the occasion. To make it more interesting, you can hide these glowing rocks in darker places, and she can find them.
Features:
Waterproof
Non-toxic for kids
Glowing rocks
10 rocks
Include fluorescent paint
Easy to wash
4. Solar Robots Toy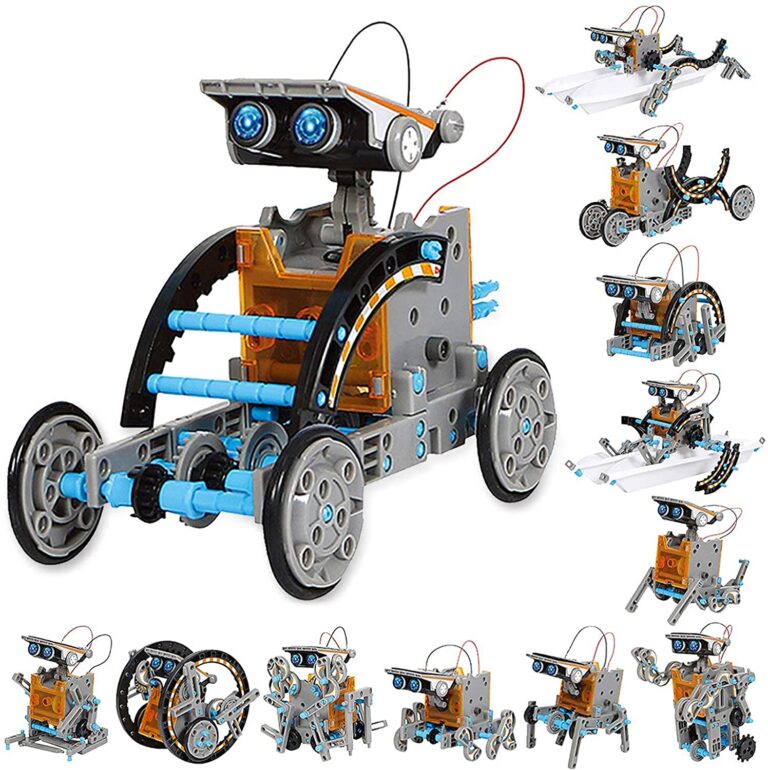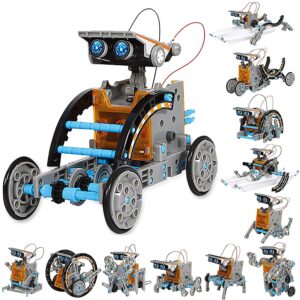 Are you looking for a birthday present for a girl that is both fun to play with and beneficial to her cognitive development? Check out the Solar Robot available on Amazon.com.
Your child has to assemble the pieces that are provided in the kit. This toy is both informative and entertaining to play with.
Your daughter will be astounded to learn how solar energy helps in toy movement. When she is done with assembling the pieces, the toys will consume the solar energy and start moving. If your child wants to play with it indoors, she can use batteries to drive the robots that she made.
Kids are filled with enthusiasm when they are young. They have much larger imaginative skills, and they tend to question more and more, and as a parent, you have to never let that creativity die. So, give them things that intrigue them and excite them.
Your little girl can make her robot and that will give her immense pleasure and satisfaction. These kinds of games promote innovative skills and boost self-confidence among children.
Features:
190 pieces
Suitable for 8-12 age group
Helps in the mental development of the child
Easy to assemble
Great quality
5. Premium Pottery Wheel Studio for Beginners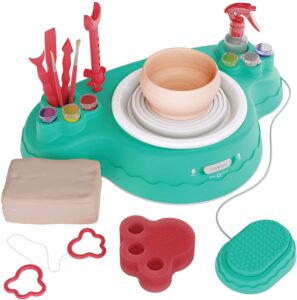 It is one of the best-reviewed products on Amazon.com and is best suited for a nine-year-old girl. Now, you can let your girl get her hands dirty at home and use her imagination to mould the clay. It can be a little tricky for the first time, but she will love it once she gets the hang of it. Aside from the wheel machine and clay, the kit includes three sculpting tools, a spray bottle, two paint brushes, a paint palette, and an AC power adapter.
This is how it works:
You place the clay on the pottery wheel and then mould the clay into whatever shape and size you want. It is a really fun activity for your princess. She will be able to design and customize her own items. This is an exciting activity for young girls. They can decorate their rooms with their creations, making them proud of themselves.
The pottery wheel is incorporated with a plug that delivers smooth and fast spinning. The product comes with a user-friendly instruction manual and a 100 % money-back guarantee.
Features:
Powerful motor
No battery required
1 Lb air dry clay
Contains space for tools
Pressure-sensitive Foot pedal
6. Bracelet Making Kit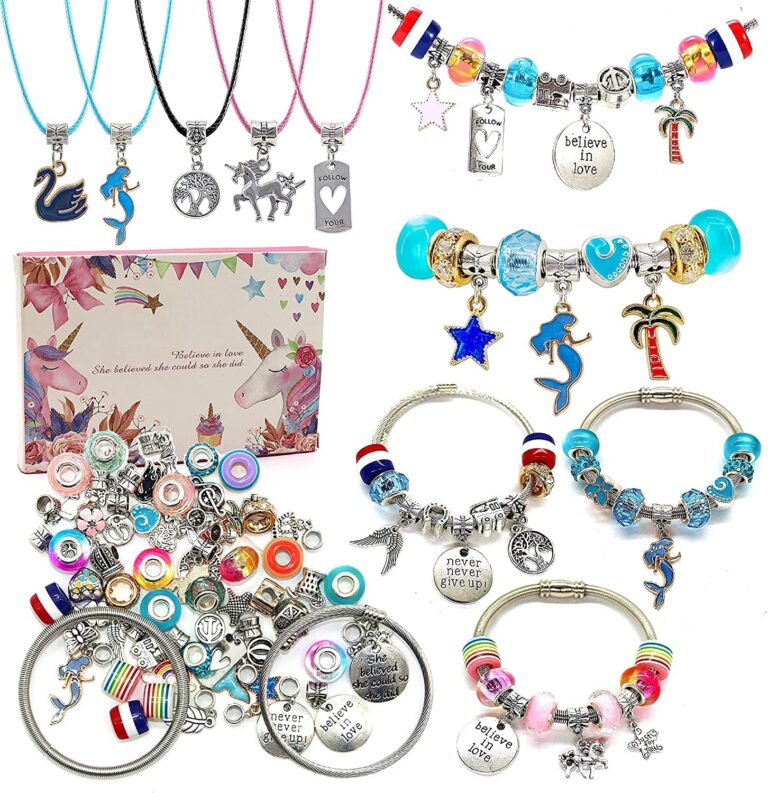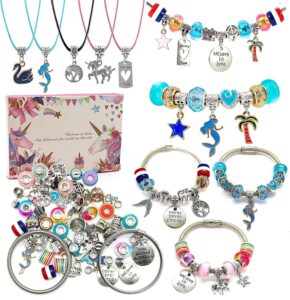 Girls love to carry jewelry, but as kids, they don't have enough access to it. So, this year, give your princess this beautiful bracelet-making kit. Let her creativity come out that she was holding onto for so long. There are lots of beads, unicorns, and mermaid-shaped elements in the kit that will surely fascinate your little girl.
She can play with it and make bracelets, pendants, keychains, etc., for herself. Let her try out things and challenge her imagination. The kit has everything that your daughter needs to create jewelry for herself. You can help her if you want to. These kinds of toys reduce the gap between parents and children that has been created due to social media and the internet.
Features:
Great quality
No special tools required
Easy to put together
7. Stationery Fluffy Slime Kit for Girls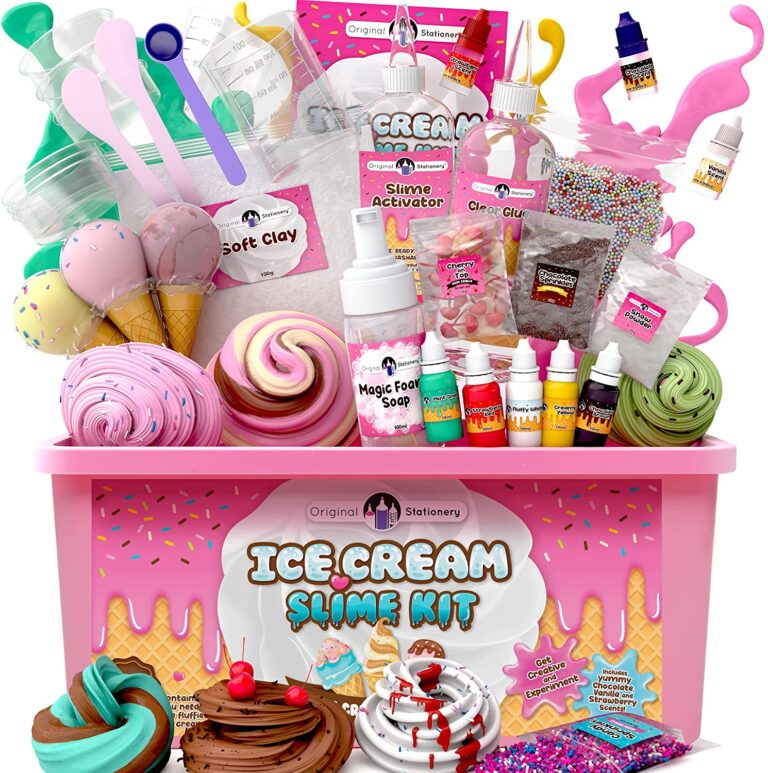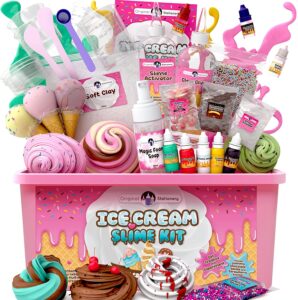 Kids are so focused on screens these days, and one of the reasons is that parents do not engage with them. They don't get to do fun activities in real life and that is why they make TV and mobile phones a way of escaping the real world. Give your child this enthralling slime kit to keep them from doing so.
Everything is already available in the kit, like activator, mixing tools, clay, glue, snow powder, etc. Slime activities help children to expand their learning, become better at teamwork and problem-solving. Kids love to play with slimes and make some silly and funny things out of it, that actually seem very interesting to them.
Not only kids but adults also love to play with slime. Give a helping hand to your daughter and guide them with this fun activity. Make some ice-creams with her and mould them in the shapes she likes. Let her make her favorite cartoon characters or other things from her fairytale world.
Features:
100% hypoallergenic
Safe for children
Lab-tested
Non-sticky
Buyers Guide For Buying Toys And Gifts For A 9-Year-Old Girl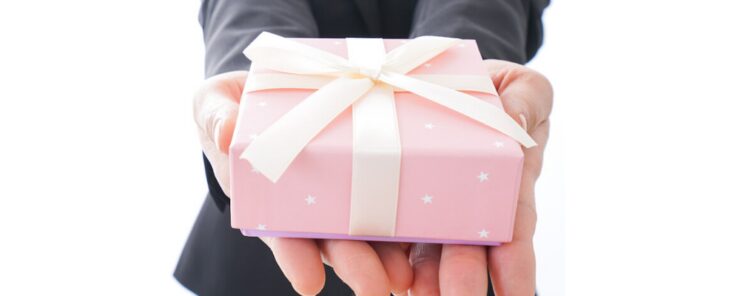 There are a few things that you must keep in mind when buying a toy for your little munchkin.
Fun
Sometimes we end up buying gifts that we used to play with when we were young, and that is absolutely the wrong direction to start in the first place.
The toys and gifts that you choose for your 9-year-old must pique her interest. Children are drawn to things that are visually appealing and enjoyable to play with.
It is not easy to trick a 9-year-old kid with a doll or something that we used to play with. As a result, you must be a little more inventive in your selection.
Challenging
Choose a gift that not only creates fun in your cutie's life but also challenges her critical and analytical thinking. The best way to teach your kid something is through games, as they are completely engaged in playing games.
Therefore, whenever you buy a gift for a girl, think about the positive and negative impact it will make on her and the challenge it will create for her.
Choose something that challenges her physical and mental well-being positively. That makes her come out of her comfort zone but without giving up on her fun zone.
Safety
As parents, our foremost concern is our kids' safety. Selecting a gift for kids is not a problem, but selecting a gift that is safe for our kids and on which we can rely for our daughter's happiness is quite a challenge.
So, before buying a gift or a toy make sure to check the safety standards of the product.
Quality
Make sure to check the quality of the product because there is no point in investing huge amounts in low-quality products.
Customer Reviews
Customer reviews can assist you in selecting the ideal product for your young lady. People share their personal experiences with the product and review them to make it easier for those people who are considering purchasing that product.
Of course, different people will have different opinions about the product. So there will be positive as well as negative reviews according to the people's needs.
You have to figure out what your kid needs and see if the product fulfils that requirement or not.
Reading reviews might assist you in determining what you can anticipate from a product.
Conclusion
The article contains a list of the top seven toys and gift ideas for 9-year-old girls that will aid in their improvement and advancement without compromising on fun.
Make sure you read over the buying tips included in the post. It will help you to make a better choice for your princess.
All the gifts mentioned in the article are developed to promote the cognitive skills of your children.
These toys not only help children but also contribute to making a parent-child bond much stronger and healthier. Children tend to trust their parents and start communicating things much more easily.
FAQ'S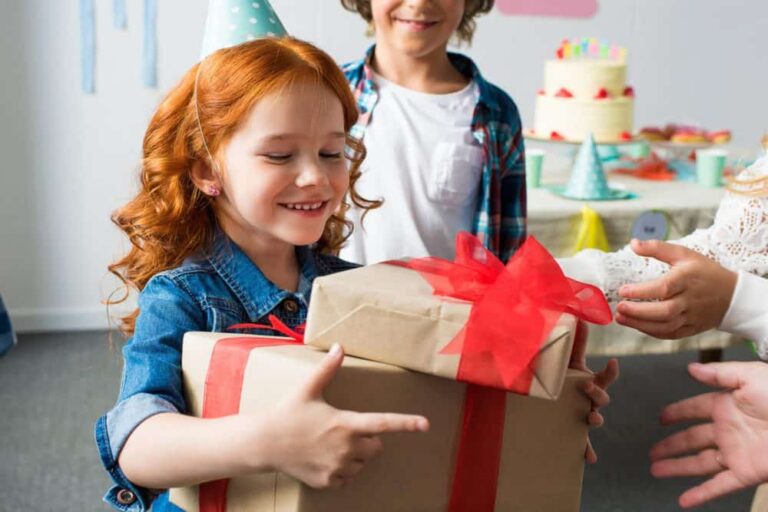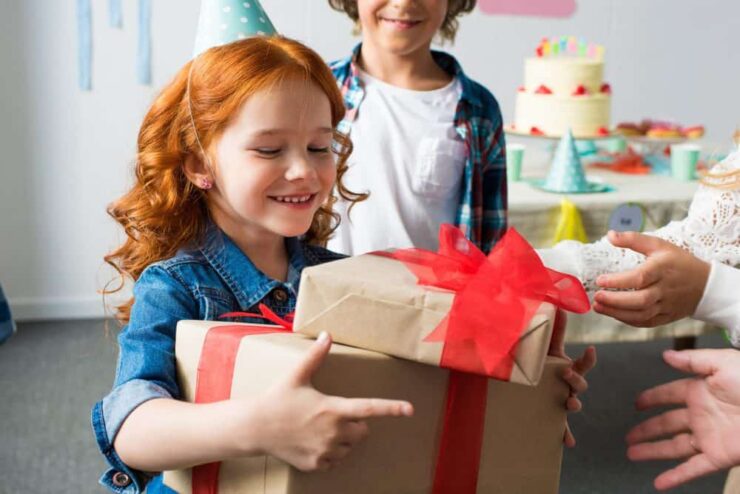 What gifts are the best for a 9-year-old girl?
Aside from the gifts mentioned in the list. You can buy something related to your kid's interest or something that she has ever mentioned in her talk or something she ever wished for.
How can I find gifts that have educational value and also interest my daughter?
Firstly, be clear about your daughter's interests. So, look for your daughter's preferences and daily life interests and pick something related to that.
What kind of gifts do you think a 9-year-old girl might enjoy?
A present that combines fun, creativity and challenge is great for a nine-year-old.
Take a look at these toys and gifts from Amazon also: