When you have two children, a double stroller is an essential item. It allows you to take your kids places without having to carry both. Young kids also get tired much easier, and they can't last a long when walking places. I always keep one of the best lightweight double stroller options available to use with my kids. These strollers can save the day, especially on a hot, summer day!
How to Select the Best Lightweight Double Stroller
Even though we want to purchase the best products for our kids, we are always limited by the depth of our bank accounts. Strollers can cost hundreds of dollars. Double strollers are not the exception. In fact, they can be even more expensive than a standard, single stroller. There is some budget friendly choices we will include because we know that everyone can't afford the same amount.
If you take some time to look for lightweight double strollers, you quickly will realize there are hundreds of choices. Selecting the perfect choice for your kids is a hard decision! You want to spend your money wisely. Here are some things to consider before you make your purchase.
Size Weight Limit
Instead of a total weight capacity, a double stroller will list the maximum weight capacity for each seat. The weight limits can range from 35 to 55 pounds. Think about the age of your kids. You want this double stroller to last. My kids are typically close to 30 pounds by the time they are one year old. So, we always have to find a stroller with the highest weight limit possible. If your kids are naturally petite, a stroller with a smaller weight limit could work just fine.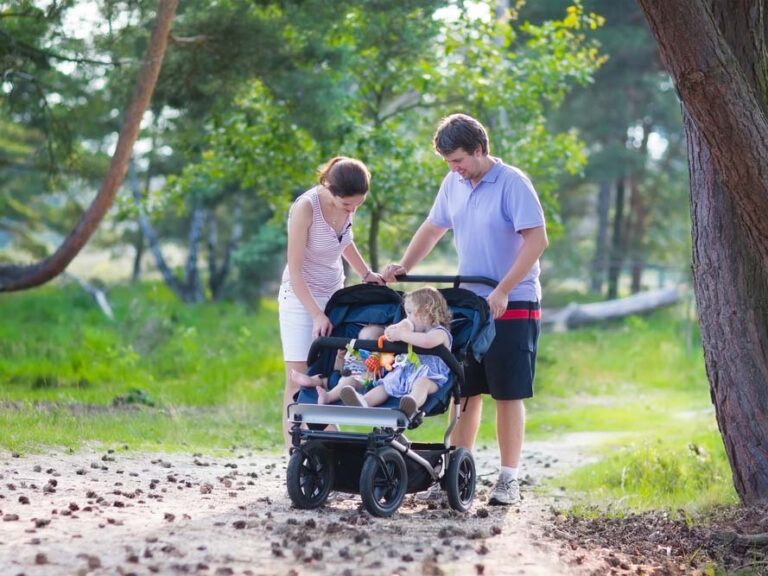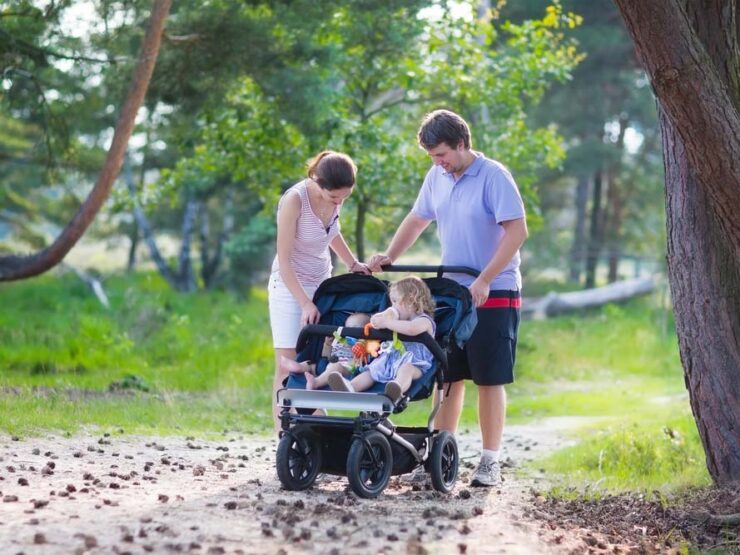 Travel System or Not
What are the ages of your children? If you have a toddler and a newborn, you may want a double stroller that can double as a travel system. Some strollers can take infant car seats if they are the same brand. Other brands require users to purchase an adapter. If you already have an infant car seat, make sure that it will work with the brand you have before selecting.
Weight
We are specifically looking at lightweight strollers, but how lightweight do you want your stroller? You might consider anything below 30 pounds to be lightweight, particularly as it is double the size of a standard stroller. If you have a sore back, you may want your stroller to weight no more than 20 pounds.
Reclining
If your babies are still young, you want a double stroller that can recline. Older infants and toddlers may decide to take a nap while on the go. Each seat should recline independently. If you are going to use it with a newborn, you want a stroller that can recline to near flat position. This feature can be hard to find with sit and stand strollers; the front seat doesn't typically recline all the way.
Storage
One child requires a lot of items. With two kids, it can feel as if you are bringing your entire house along for a trip to the store. You will want at least a large storage basket. Ideally, there would be other features as well, such as baskets behind the seats.
Additional Features
You may have other features you want in a stroller. My strollers always need to have a cup holder. Large, extendable canopies are ideal. Cup holders and snack trays for your kids are great as well, especially for days out and about. They need a place for their drinks and food. Look at what each stroller offers. The extra features could help your settle your decision between two great strollers.
Types of Strollers
There are four general types of double strollers. You can find strollers in all styles in all budget ranges. Here are the different options.
Side-by-Side Strollers can recline the deepest. Typically, they adapt with infant car seats. The storage baskets are great as well. The only negative is that, unless they are designed to be narrow, they won't always fit through a standard doorway.
Tandem Strollers always can fit through a door; they are the same width as a standard stroller. However, they aren't as easy to maneuver. You can adapt an infant car seat to these types, but the front seat won't recline as well.
Jogging Strollers are designed for active parents. If you like to take walks or go for a run, double jogging strollers are the best choice. They are the only safe option to use while running. However, they are designed just like side-by-side strollers and are too broad for many doorways.
Umbrella Strollers are the lightest option. However, they aren't always meant for all day trips. However, they don't typically recline as well, and they're more suited for older infants and toddlers.
List of 7 Best Lightweight Double Strollers Reviews
1. Zoe XL2 Deluxe Double Lightweight Twin Umbrella Stroller System
Features:
It is one of the lightest strollers available – weighing only 16 pounds.
Zoe XL2 offers great storage for kids and parents.
The maximum seat capacity is 50 pounds for each child.
The stroller is made of lightweight, aluminum, so it is durable and reliable.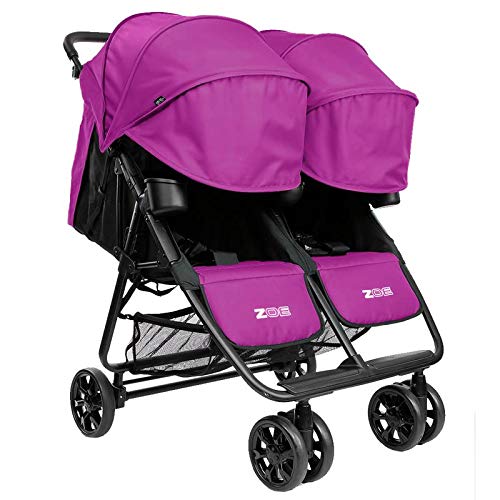 Our first double stroller is one of the lightest umbrella strollers on the market. Zoe makes a single and double stroller with some great features. It is very lightweight, weighing only 16 pounds. Yes, you read that right! It is lighter than some single strollers. Zoe crafted their stroller with lightweight, aluminum, adding stability and durability without the additional weight.
Zoe XL2 has a lot of fantastic features. Each child has a cup holder. There is only child snack tray, so you may want to purchase a second one. There is one parent cup holder, but there are other ones available for sale. The canopies are huge! They come with extendable parts, providing a lot of shade to your babies. Each canopy has a peekaboo window.
The features don't end there. Zoe added a great size storage basket, under the seats. You can bring a large diaper bag. There are 15 different color options to pick! Each seat can hold a child up to 50 pounds, making it perfect for older kids or families with larger babies. However, it is best to know that the stroller doesn't recline all the way, so don't plan to use it for infants who cannot sit up yet.
2. Thule Urban Glide Jogging Stroller
Features:
Each seat can hold a child up to 50 pounds.
Thule added different safety features for their sport stroller, making it ideal for taking your kids for a jog.
The handlebar is adjustable, perfect for parents of different heights.
The storage basket is water resistant and has a zippered close, so you will never lose an item.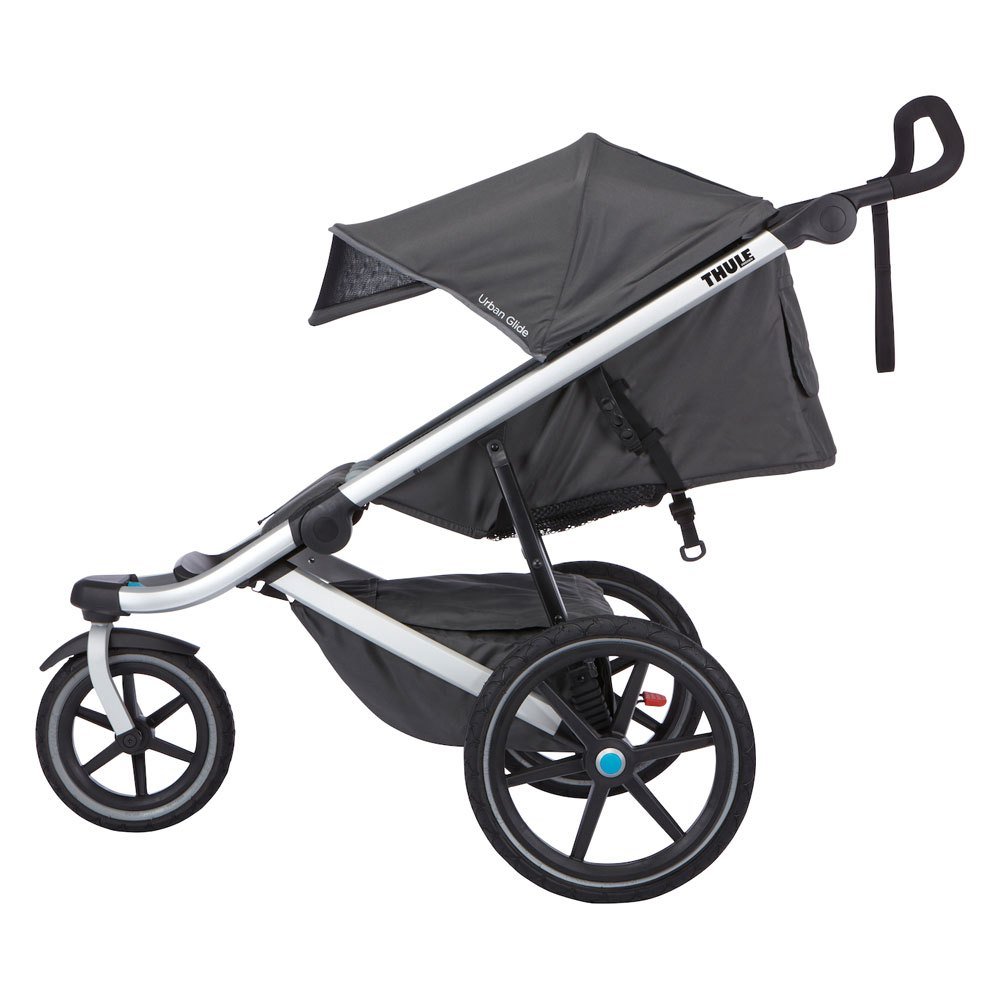 For parents with a higher budget, the Thule Urban Glide is a luxury stroller with many appealing features. It is lighter than standard double strollers, weighing 32 pounds. It may seem heavy, but some doubles can be upwards of 50 pounds! The Urban Glide has a total weight capacity of 100lbs, so it is perfect for two toddlers or a preschooler.
Thule added some convenient features for parents. There is a five-point safety harness on each seat. Instead of the standard foot brake, they added a hand brake and a parking brake. Each child has their canopy with multiple positions. Parents can see their napping baby through the peekaboo window. Your baby is likely to take a nap on the seats that recline almost flat. They added a vented top for a comfortable napping environment.
The front wheel swivels, but it can lock in place, allowing you to jog safely with both of your kids. The padded handlebar has many heights, an ideal feature for short or tall parents. They added a removable wrist strap for jogging. You don't want to lose grip on the stroller while on a slope! When you are done with your jog, it only takes one hand to fold the system. All you need to do is slide and twist the lever.
One of the unique features is the water resistant storage basket. It is quite large, and it has a zippered close. None of your items will fall out. Each child has a mesh pocket for snacks or other items. Parents also love that they can fit the stroller through a standard doorway because it measures 25.5 inches wide.
The Urban Glide is one of the best double strollers. However, the price is unattainable for many parents. Also, it doesn't have a cup holder for parents.
3. Kolcraft Cloud Side-by-Side Umbrella Stroller
Features:
It is lightweight, weighing only 21 pounds.
They added a cool-climate roll-up for the back of the seat, improving air flow. The roll-up converts into a head rest.
The expandable canopies are large and cover your baby very well.
The seats can independently recline and holds kids up to 35 pounds.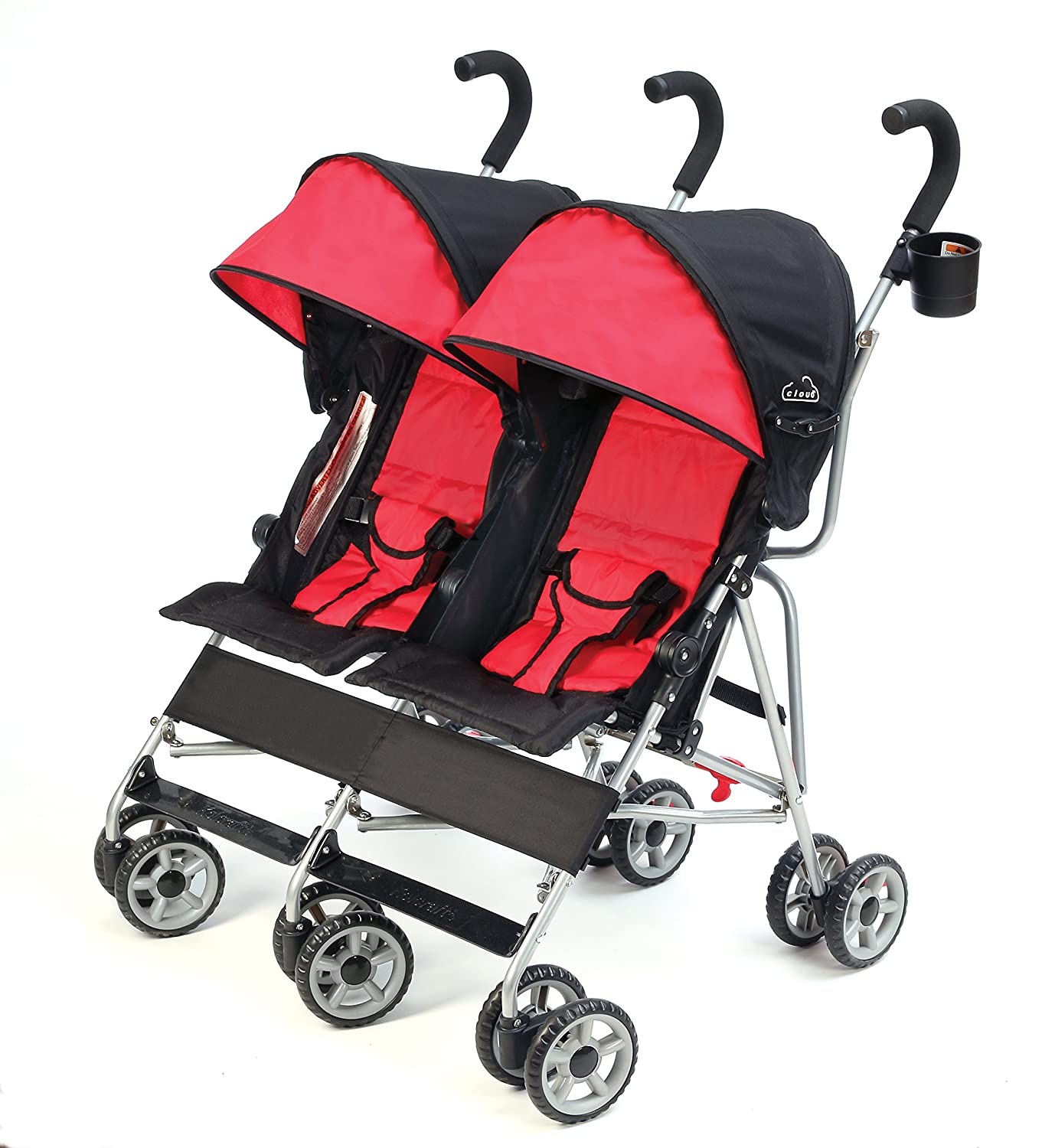 Kolcraft makes a lot of baby products, and their Cloud Stroller is one of their best-sellers. It has some amazing features. Parents love it! The name "Cloud" indicates that it is lightweight. The entire stroller weighs only 21 pounds. It folds up compactly, so you will have no issues carrying it or storing in the trunk of your vehicle.
Kolcraft Cloud Stroller has some unique features. For hot days, the seat pads can roll up, exposing a mesh set back. This feature allows for more air flow. It is one of the best designs for a beach vacation or hot weather. Each seat can recline independently, but it doesn't recline flat, so it's best not to use it for newborns. There is an included parent cup holder. It has an expandable canopy, giving full coverage, along with independent visors and a rear hood coverage.
If you want a budget-friendly double stroller, the Cloud costs less than $100. You can fit it through most standard doorways. However, there are a few negatives. The maximum seat recommendation is 35 pounds per seat. This capacity is in the lower range, not ideal for parents with older or bigger kids. Kolcraft didn't include any storage options, like a basket, which is disappointing. However, it is a fantastic choice for an umbrella stroller for quick trips around town.
4. Britax B-Agile Double Stroller
Features:
You can recline the seats to any position imaginable.
Parents don't have to re-thread the stroller. The harness is easily adjustable, along with the handlebar.
Britax added an activated braking system that will block to the front, swivel wheels, so they are stationed
The seats are padded with a headrest. Your baby will be so comfortable while traveling in the B-Agile.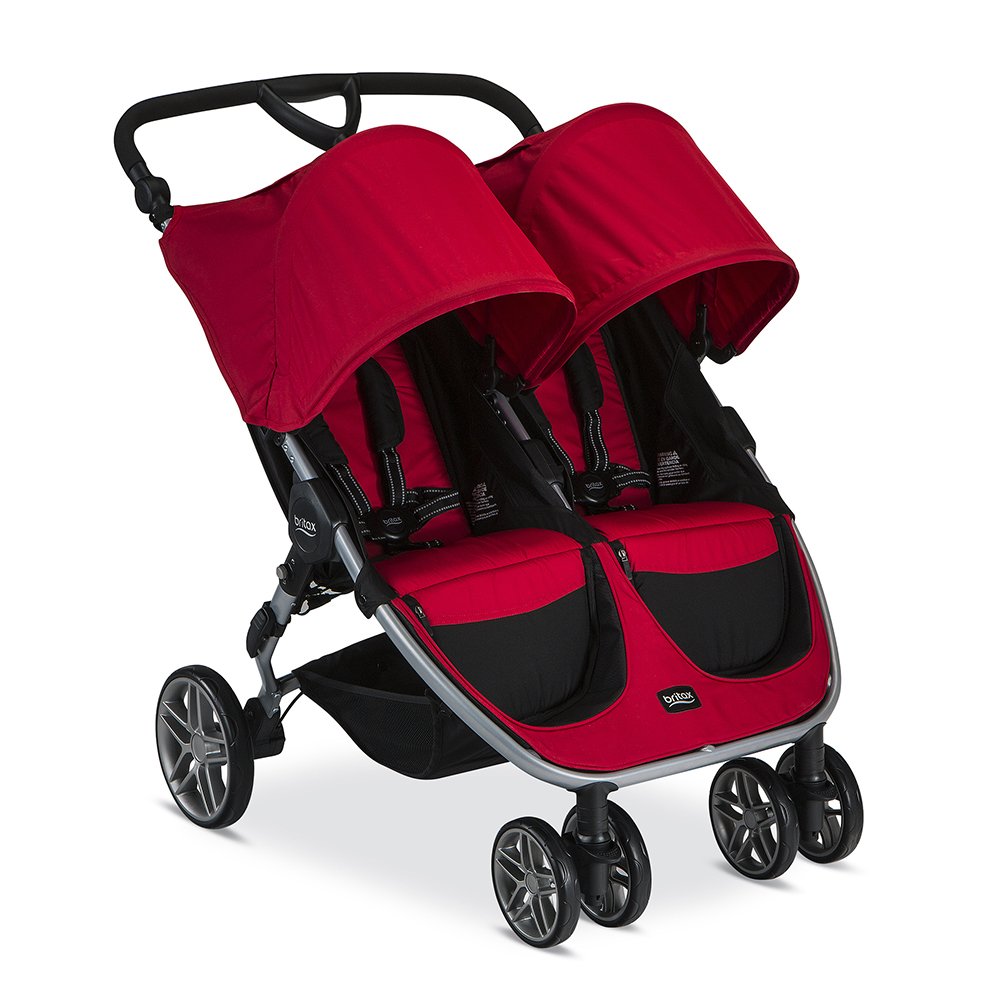 Britax B-Agile is one of the highest rated double strollers. It is a top seller and ideal for parents who want a lightweight stroller that can be maneuvered around anything. It makes traveling with two kids just a bit easier because you can go anywhere you want! The frame is lightweight aluminum, durable and sturdy. Overall, the entire stroller weighs only 26 pounds.
Britax created one hand, quick fold, perfect for busy parents. One of the best features is that you can use the B-Agile with any Britax infant car seat. It converts right into a travel system. If you use Britax car seats, you don't have to use an adapter. However, the adapter makes it so you can use any brand car seat.
Parents enjoy the B-Agile. It can fit through standard sized doorways, and it has an adjustable handlebar for a comfortable time pushing the stroller. It has a great sized storage basket, large enough for a diaper bag. However, they didn't include any cup holders or trays. They are available for purchase separately. However, the stroller can support a total weight of 100 pounds, making it an excellent choice for parents of bigger kids.
5. Chicco Cortina Together Double Stroller
Features:
It has three different ways to use the stroller, making it a versatile option.
If you have twins, you can use it with two Chicco Keyfit car seats.
The storage basket is accessible at all times and zips closed.
Both seats can recline to a flat position, which is an uncommon feature for tandem strollers.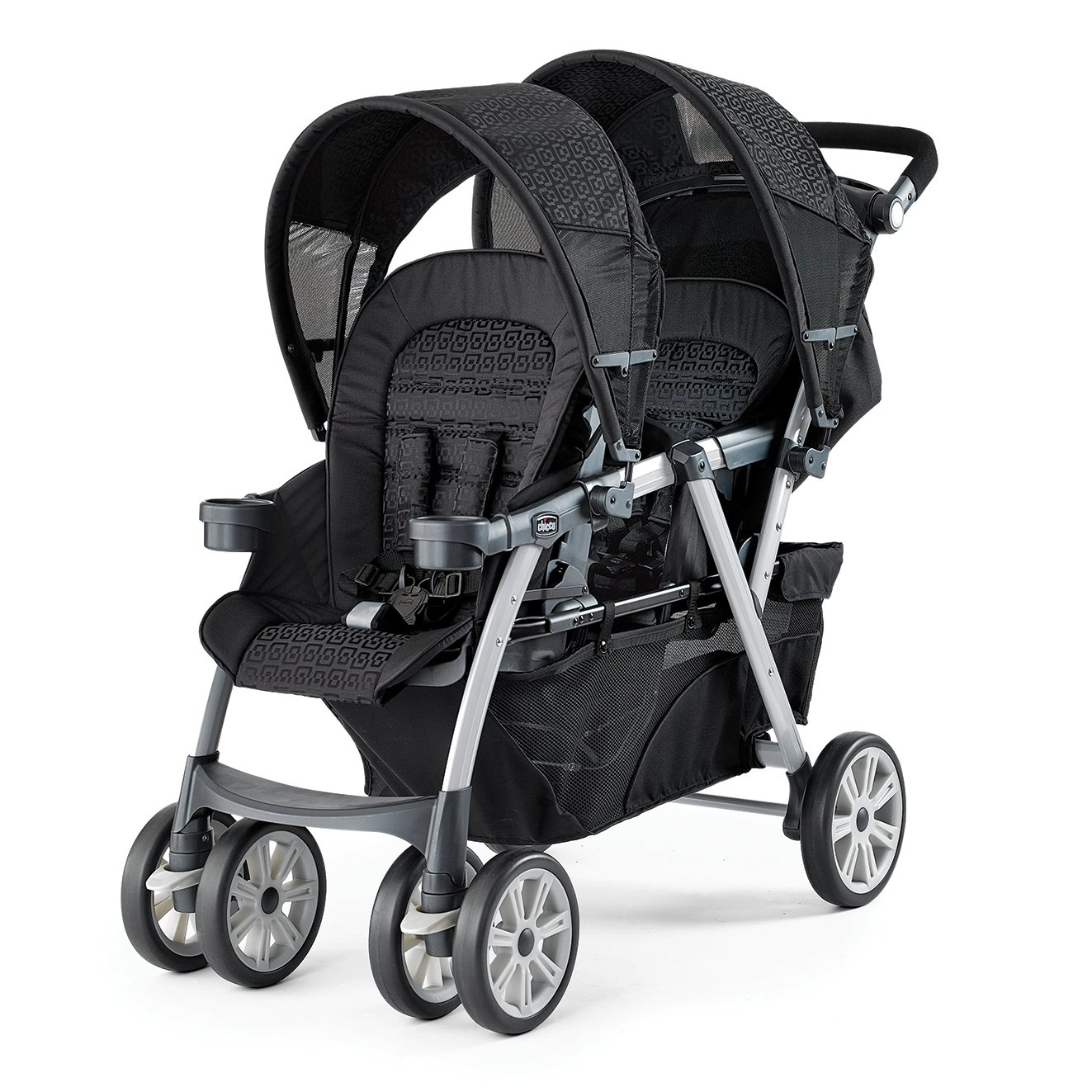 If you have the Chicco Keyfit infant car seat, the Chicco Cortina is an excellent choice for a stroller, if you have an infant. The Cortina can be used in many ways and is quite versatile. You can use it with two children, both seated. You can have two Chicco Keyfit car seats, or one Keyfit and one seated child. It will last you many years to come because it has a variety of choices.
The Cortina isn't the lightest option, weighing 34 pounds, but it is great if you have newborn twins. It is constructed of aluminum, elliptical tubing. The materials are strong and durable. Unlike the other choices, it is a tandem stroller, so one child sits behind the other. When you fold the stroller, it can stand by itself.
The storage basket is large, with a zippered close. Everything is easy to access! When the rear seat is fully reclined, you can still access the basket, a great detail Chicco added. Unlike other tandem strollers, each seat can recline fully to a flat position.  Each seat has their canopy that can adjust.
Chicco added some great additional features. There is an interchangeable armbar with a cup holder. You can purchase a second one as well. The push handle has three positions, and there is a one-touch brake system. This double stroller is highly rated and perfect for parents with twins or different aged children.
6. Baby Jogger City Mini Stroller
Features:
It is lightweight, weighing only 26.6 pounds.
Baby Jogger has a patented Quick-Fold technology that requires one step and one hand.
Parents can use the City Mini with newborns. Purchase the adapter for a travel system or recline the seat all the way.
It has one of the smoothest rides with suspension and locking swivel wheels.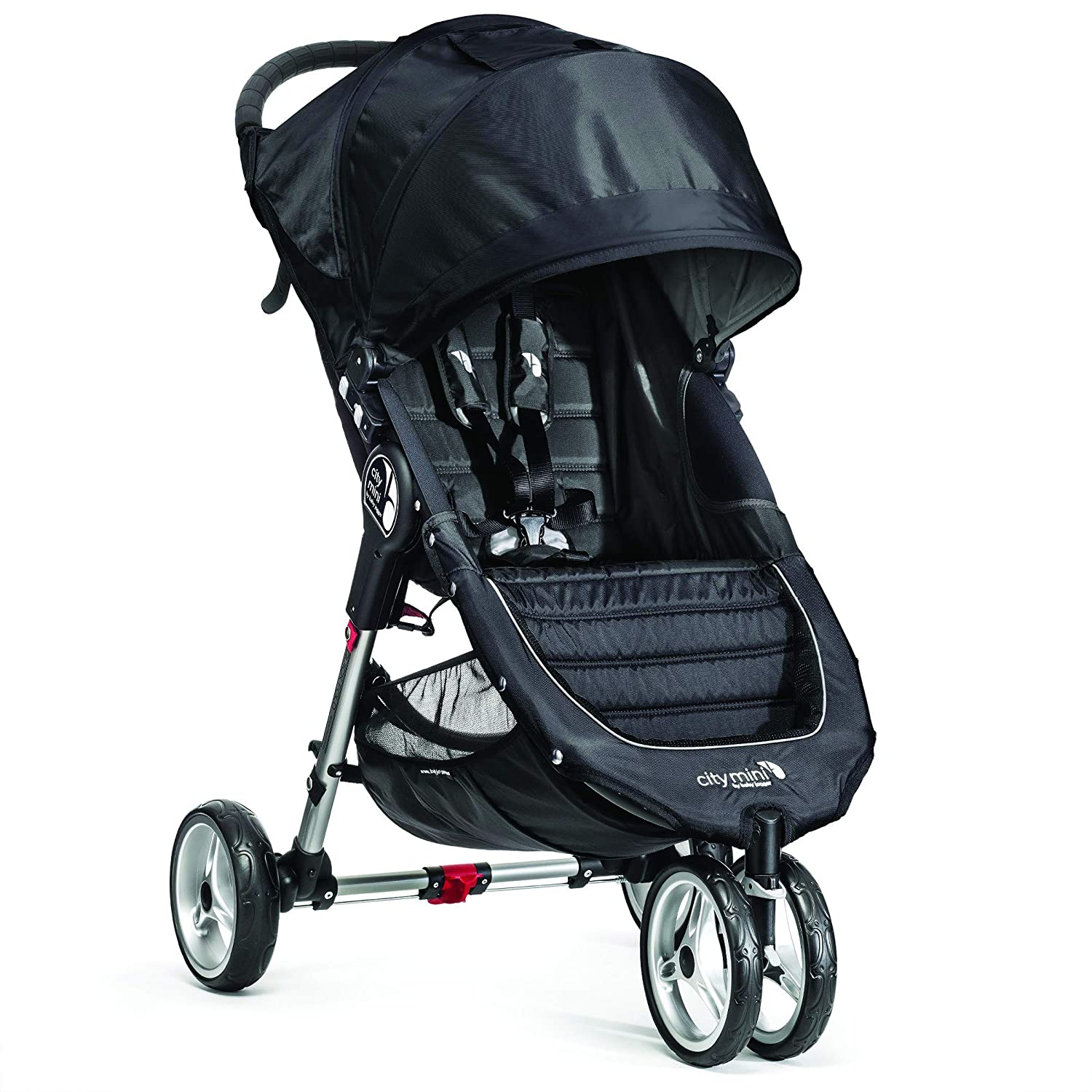 A favorite double stroller among city living parents is the City Mini. It is a lightweight, compact stroller with all of the essential features, along with some great additional ones. Baby Jogger designed their stroller for parents who may have to carry it up and downstairs. It weighs only 26.6 pounds, considering lighter than many other options on the market.
The ride is amazing for babies and parents. The front wheel suspension will absorb shocks and bumps while strolling on sidewalks or through the park. The wheels can swivel and lock. It is always best to lock the wheels for long distances and bumps. Swiveling is ideal for maneuvering around tight corners or through doorways.
Baby Jogger patented their Quick-Fold technology. Folding their City Mini takes only one step and one hand. It is pretty amazing. You can use the stroller for newborns because it reclines to a near flat position. You can also purchase a car seat adapter to make it a travel system!
The features don't stop there. Baby Jogger thought of everything. There are extra-large UV 50+ sun canopies with peekaboo window. They cover your child almost entirely. The seats are supportive with plush padding. Instead of the standard three-point harness, Baby Jogger added five-point harnesses with shoulder pads buckle covers.
There is one major negative – the price. It is on the pricier side, especially if you add accessories. However, it is lightweight, easy to use and perfect for city living.
7. Joovy Scooter X2 Double Stroller
Features:
The Scooter X2 can hold two 45 pounds children at one time.
Each seat can recline independently. The footrest also can adjust to fit your child.
There are two parent cup holders and two zippered pockets for your essential items like your phone and wallet.
The basket is huge!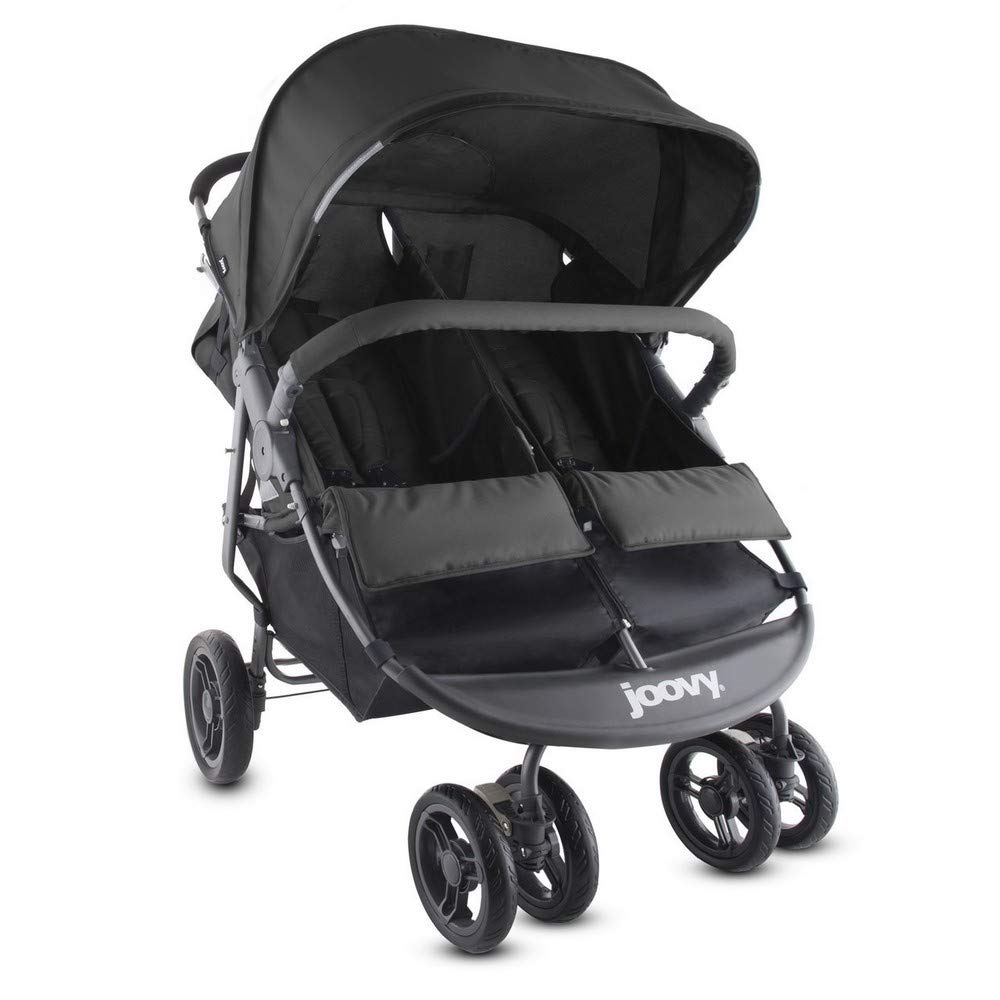 I am a huge fan of Joovy strollers. They are stylish, modern and functional strollers. Joovy always has innovative and attractive products. The Scooter X2 is no exception. One of the best features is you don't ever have to worry about fitting through doorways. They specifically designed the side-by-side frame to fit most standard doors. It measures 30 inches wide. The seats have a maximum weight capacity of 45 pounds. Each seat reclines almost entirely flat. You could use this stroller with a newborn, and it's perfect for your child that takes naps.
Joovy added a lot of great features. A five point harness and a removable bumper bar will keep your kids safe while on the go. One feature I love is the larger, sealed bearing wheels on the front and back. The ride is outstanding; it is always smooth, and maneuvering is a breeze. The canopies and storage basket are larger than normal. When you are done, you only need one hand to fold the stroller.
Joovy makes one of the best lightweight double strollers on the market! There are only a few negatives to consider. There is no way to attach a car seat for a travel system. Also, the handlebar doesn't adjust, so it could be uncomfortable for tall parents to push it. Otherwise, this stroller is just awesome!
Selecting the Best Lightweight Double Stroller
These are seven fantastic choices if you are looking for an excellent double stroller! If you have twins, the Chicco Cortina would be a fantastic choice because it is a travel system as well. For city living parents, the Zoe XL2 or B-Agile are great options. Both are lightweight and maneuver quickly. If you have some extra money to spend, the City Mini and Urban Glide are two luxury, lightweight double strollers. All of these strollers have impressive features and are rated highly by experienced parents.
Do you have a double stroller that you love? We would like to know what you think is great!