One of the many challenges parents face when caring for a newborn is whether or not to breastfeed. While breastfeeding is the natural healthy option, it isn't always an option for many parents. While this great debate is brought up time and time again among the parenting community, it comes to do personal choice and preference. There is no shame in going the baby bottle route when it comes to feeding your child.
If you have started out breastfeeding and then found that you need to transition to bottle feeding, for whatever the reason, a problem often arises. This is problem is getting your child to latch onto a bottle after getting used to the real thing. One great way to combat this frustration is to invest in a great baby bottle that has a more natural look and feel.
What is a Natural Baby Bottle?
A natural baby bottle sounds exactly like what it is.  These bottles are designed to have a more natural feel which will help breastfed babies be more likely to latch on a stay latched.  When shopping for the best natural baby bottles, there are a few things to keep in mind.  Here are some features you should always check for to help ensure that you have made the right choice: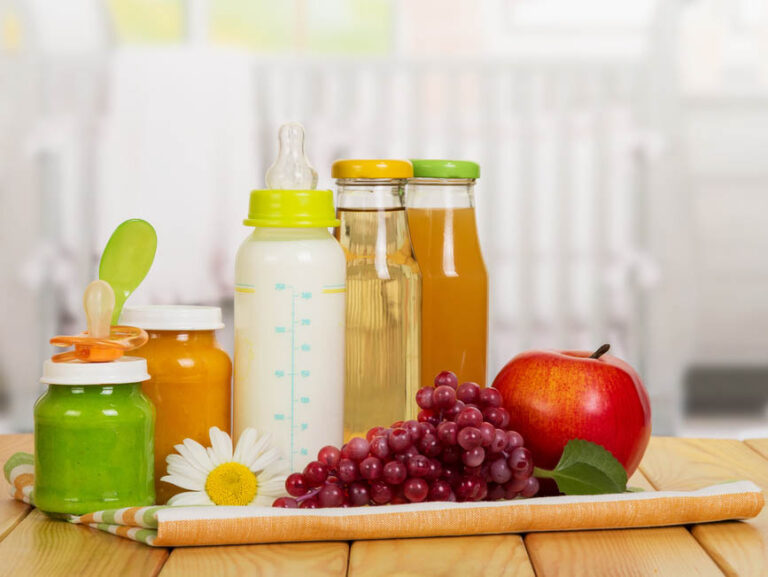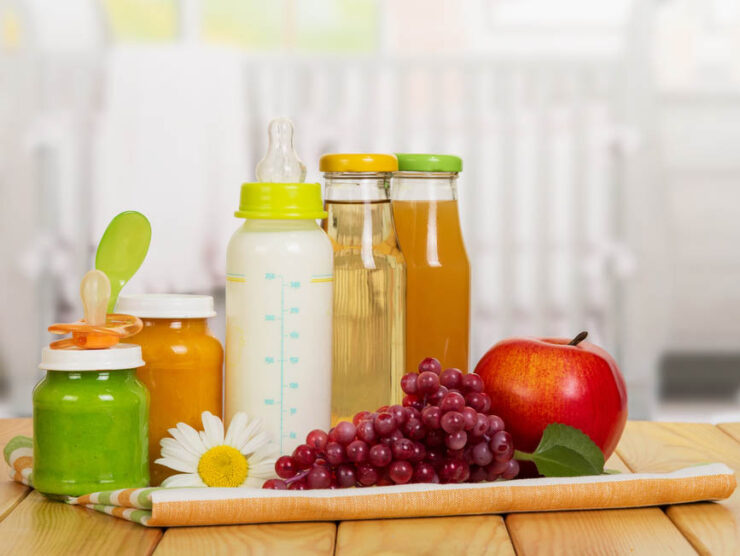 Bottle shape
Many natural baby bottles are shaped specifically for an easy hand held experience.  This not only will be a more comfortable hold for parents but will also actually help your child learn how to self feed.  This will help them with dexterity and fine motor skills over time too!
Natural nipple
The most important part about a natural baby bottle is the nipple.  This is the main reason why many kids won't latch.  Having a natural shaped nipple is extremely important for parents who are transitioning their child from breast to bottle.  Along with the shape, these nipples should also have a more natural feel and flow.
Toxic free
The natural baby bottle that you choose should be toxic free.  This means that along with the stuff you already know to look out for, make sure that the bottle is PVC and BPA free.  These nasty chemicals are found in plastic and release harmful toxins when exposed to high heat so keep them far from your little one's mouth.
When it comes to actually shopping for the best natural baby bottles, it is a good rule of thumb to check out what other parents think about them. Here are some great ones that you can find on the market today.
List of 4 Best Natural Baby Bottles Reviews
1. Comotomo Natural Feel Baby Bottle
The Comotomo Natural Feel Baby Bottle is the perfect little natural bottle when it comes to transitioning your child.  The first thing that stands out is the shape.  Unlike other bottles which are slimmer and taller, this bottle is short and stout.
This not only helps parents to comfortably hold the bottle during feeding time, it will actually make it easier for your child to hold the bottle on their own when they are ready. These bottles were designed specifically with breasting fed babies in mind. This is because not only is the bottle shape meant to mimic an actual breast, the nipple does too!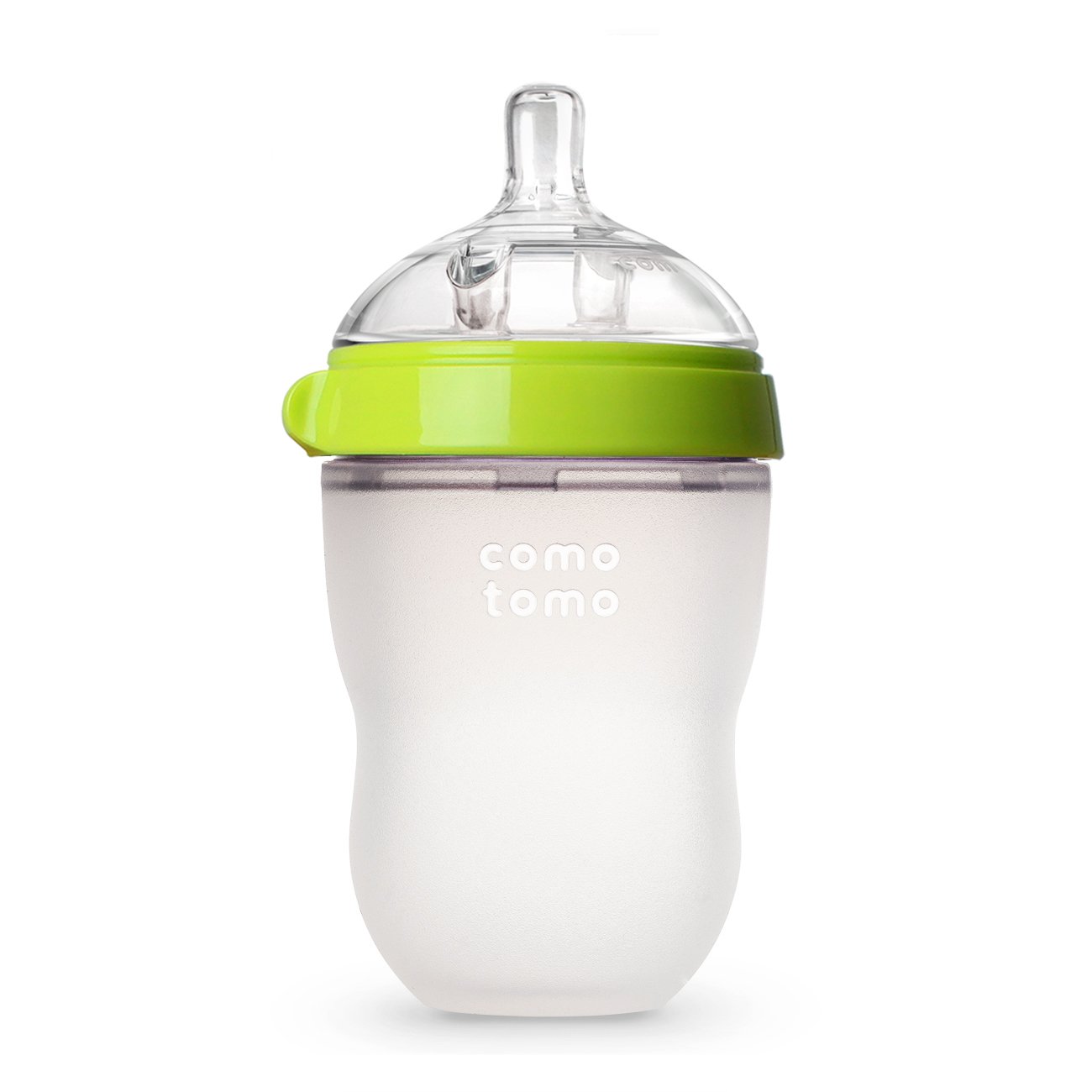 The extra wide nipple of the Comotomo Natural Feel Baby Bottle offers your infant a more natural mouth feel which will encourage them to properly latch on and stay there. This nipple is also made out of safe and hygienic medical grade silicone which lends itself to a more natural and softer mouth feel. Parents will love the extra large opening on the top which makes cleaning a breeze because you can easier fit in a bottle brush and reach each and every corner. A nice little touch that the Comotomo brand added when it comes to this bottle is the color selection. This allows you to customize the bottle set perfectly to match your personal style.
Why do other parents love the Comotomo Natural Feel Baby Bottle?
Pros:
Only bottle that baby would take
Easy to grip bottle
Super soft nipple
Cons:
2. Philips Avent Natural Glass Baby Bottles
If you are looking for one of the best natural baby bottles that are completely free of chemicals, then you should check out the Phillips Avent Natural Glass Baby Bottles. Glass is often times a forgotten about material for baby bottles because they seem old fashion.  This is especially true when it comes to all of the advances that have been made when it comes to plastic baby bottles. Sometimes the best way to go is with a classic. Glass bottles are a great option because they are naturally BPA and PVC free and are also more durable and well made than plastic bottles, and these bottles are no exception to the rule.  Best of all, with this set, you get three bottles which makes a perfect starter set for transitioning babies.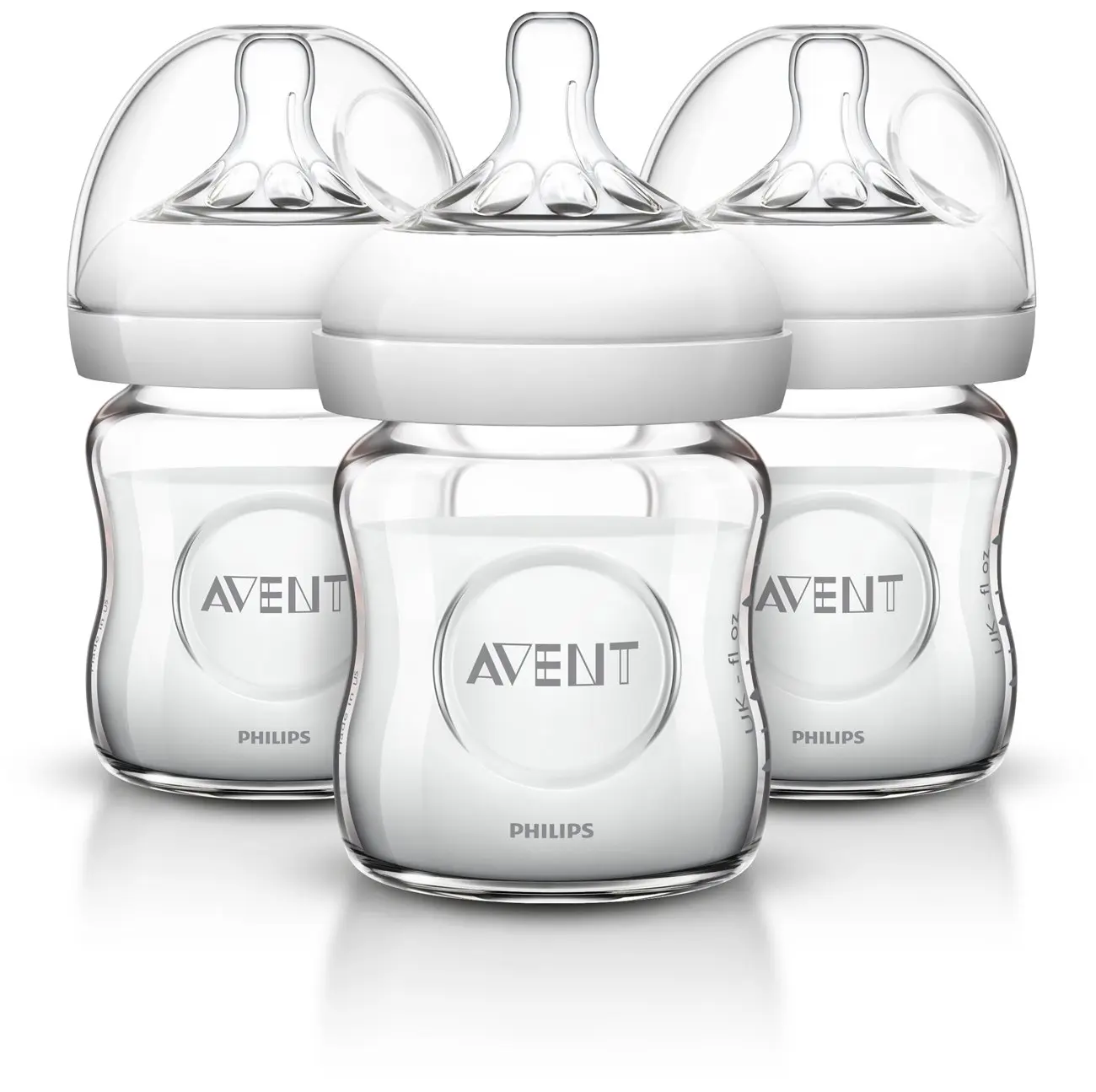 The Phillips Avent Natural Glass Baby Bottles have a little dip in the middle which gives them a slight hourglass shape which is very comfortable to grip onto. You will also love that the glass is heat and thermal shock resistant which means that it will never crack or shatter when exposed to various temperatures.  The secret to a great natural bottle is in the nipple, and these nipples are amazing.  These nipples use the advanced anti-colic system that not only helps your child latch but will also help to reduce gas and colic symptoms which is a major plus.
Here is what other parents had to say about the Phillips Avent Natural Glass Baby Bottles:
Pros:
Worth the price
Perfect milk flow
Baby latched right away
Easy to clean
Cons:
Top can leak
Nipple collapses
3. NUK Simply Nautral Baby Bottle
The NUK Simply Natural Bottles are some of the best natural baby bottles because they offer an amazing product at a low cost.  Natural products often times scare away families who are on a budget because of the high price tag. These bottles guarantee and amazing natural feeding experience for your child without breaking your bank.
What's better than that? The secret to a natural milk flow is in the nipples. Instead of having one hole, these nipples feature multiple tiny holes which provide a more natural flow and will help to your child from getting overwhelmed with too much milk too quickly. These nipples are also made from high quality silicone which is super soft to the touch which is exactly what your little one needs.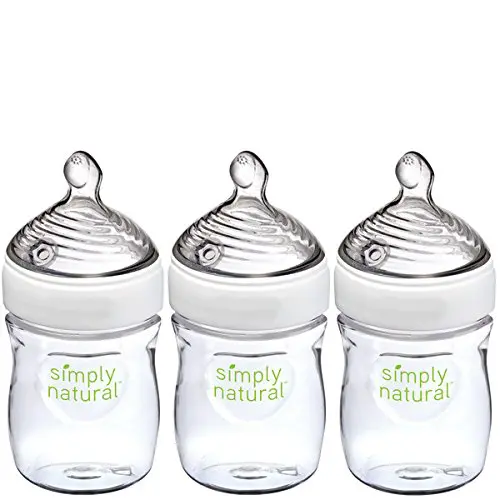 Along with the specially designed holes, the NUK Simply Natural Bottles also have an anti-colic air system which will not only reduce colic symptoms but can also relieve and prevent painful gas. Like many natural baby bottles, these ones also feature a very slight hourglass shape for a comfortable hold.  Not only are these bottles easy to clean, they are easy to customize too.  This is because when your child grows out of the slow flow nipples, all you have to do is simply pop out the old nipple and replace it with a faster flow.  This bottle will literally grow with your child.
Why should you buy it?  Here is what other parents thought about the NUK Simply Natural Bottles
Pros:
Not only for breastfed babies
Perfect nipple shape
Great price
Cons:
Too fast of milk flow
Nipples leak
4. Dr. Brown's Wide-Neck Bottle
Last on the list of some of the best natural baby bottles is the Dr. Brown's Wide Neck Bottles.  While the Dr. Brown's bottles are among some of the favorite bottles in the parenting community, there is often one big complaint, the shape.  With these wide-neck bottles you can now get the best of both worlds.  You can get the award winning, colic reducing anti- vacuum system of the Dr. Brown's bottles with the hourglass shape that you would hope to find in a great natural bottle.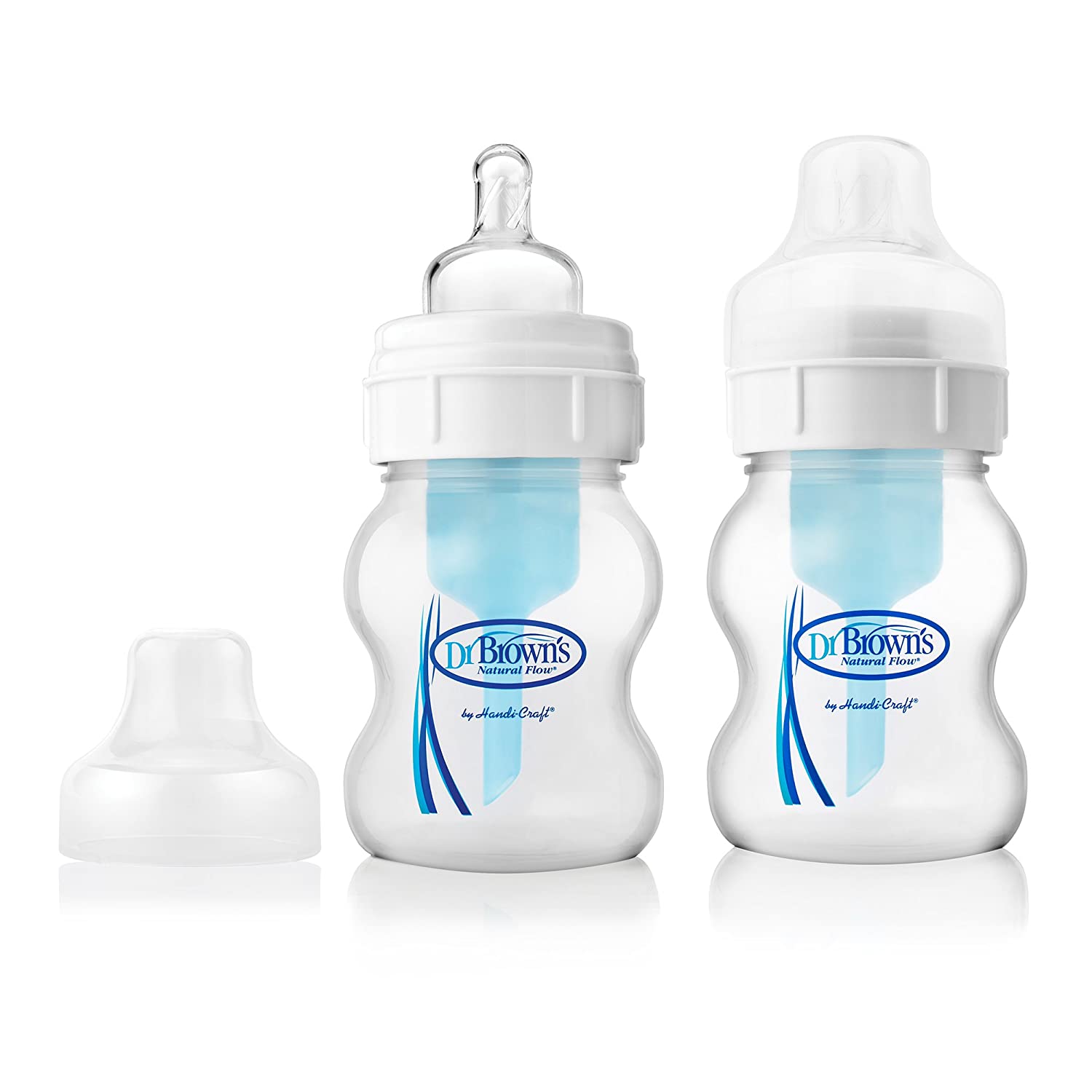 This shape will help to encourage your child to grasp on tight which will lead to them learning to self feed. Along with this hourglass shape, you will also love the extra wide opening which makes cleaning super simple. Of course with these bottles, you are also getting the amazing doctor designed straw like filtration system that parents love the most about the Dr. Brown's brand.
Here is what other parents think about the Dr. Brown's Wide Neck Bottles:
Pros:
See air bubbles leaving the bottle
Child latches with ease
Cons:
Conclusion
Whether you are transitioning your baby from breast to bottle or are exclusively bottle feeding, buying the best natural baby bottles is truly the way to go.  Not only are you getting high quality bottles, you are also getting peace of mind that the bottles you have purchased are the best when it comes to latching and overall bottle feeding. Good luck and take care!