Buying a diaper bag is one of the best purchases you get to make once you find out that you are pregnant. Technically, it is for the baby, but you can express your style and tastes. You will be the one carrying it, so it doesn't have to revolve around certain colors or have funny characters on it. In fact, most of the choices for the best baby bag are stylish and classy, exactly what a mother needs to feel normal when she is covered in spit-up after a long, sleepless night.
Qualities to Look for in the Best Baby Bag
I have gone through over a dozen diaper bags. After three kids, I finally figured out what features I needed, and I stuck with my decision. However, I picked quite a few that were terrible. To save you from my pain and misery, I'm going to let you in on some of the things to look for to help you avoid picking the wrong bag.
Size
Right off the bat, you have to look at the size of a diaper bag. Be honest with yourself; are you really a minimalist? We can save that we don't plan to bring the enough items for a week, but will it truly happen? Don't expect yourself to change, especially once you have a baby. If you prefer to be prepared and over pack, select a diaper bag that gives you ample space for all of your items.
If you have more than one child, you need a bigger diaper bag. Toddlers still require pull-ups or diapers, snacks, and a change of clothes. I typically carry along some entertainment items for my older children as well.
Easy to Clean
Diaper bags get messy. There is absolutely no way around that fact. Snacks tip over, bottles leak, diaper creams burst, and babies puke on everything. It becomes just a fact of life. Instead of fighting it, select a diaper bag that is easy to clean. It is great if the exterior can be wiped clean. Some add crumb catchers so you can dump out the nasty collection. I prefer a bag that I can also put in the washing machine.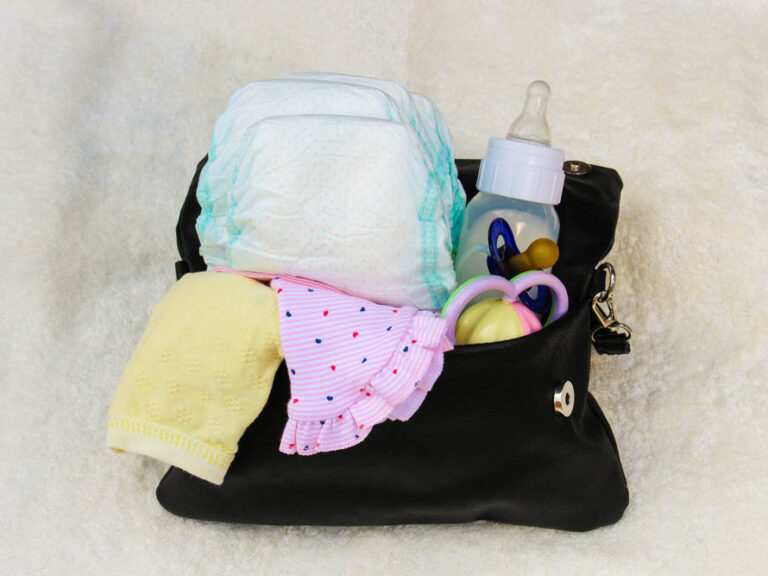 Sturdy Material
Check out the material used to make the diaper bag. You want a reliable choice, nothing that will break over time. Some companies add other finishes over the top to prevent stains or bacteria growth. Nylon is a good option. Polyester is easy to clean, but it will wear down quicker. However, it does come in better print choices.
Pockets and More Pockets
Unless you like to dig in a black hole, you need a baby bag with pockets. You can put medicines, creams, pacifiers, and other small items into their own They prevent the constant searching that happens when you toss something into a huge bag.
Insulated Bottle Pockets
If you opt to bottle feed your child, you want bottle pockets. As a breastfeeding mother, I still found insulated bottle pockets handy. I kept my water bottles in them and they are great for when you have to take baby to grandma's and want to keep their bottle cold. One pocket is ok, but two is definitely preferred.
Included Diaper Changing Pad
A lot of diaper bag companies include a matching diaper changing pad. It isn't a necessity because you can purchase them separately. However, it is a nice addition. I prefer a changing pad. They keep the area clean when I change my baby. Plus, the fabric is soft and a perfect place for them to lay for a few moments.
Durable Handles
You have to carry the baby bag somehow. Thin straps will break before long. They should have reinforced the stitching. If you opt for a backpack style diaper bag, the shoulder straps should have padding to prevent them from digging into your shoulders. It 'd be good if the carrying handles had some padding as well.
Extra Features
Some companies include little extras that might make a difference if you are stuck between two bags. I love a diaper bag that includes a mommy pocket. You might prefer to have stroller clips already attached to the bag. There are so many possibilities, so see what the bag has to offer you.
List of 6 Best Baby Bag Backpack Reviews
1. Ju-Ju-Be Right Back
Why You Need It:
It is a backpack style diaper bag.
The straps are padded with mesh fabric for air flow.
Teflon and Agion treatments were added to the fabric to protect the bag.
Ju-Ju-Be added plenty of pockets, and there is a lot of storage available.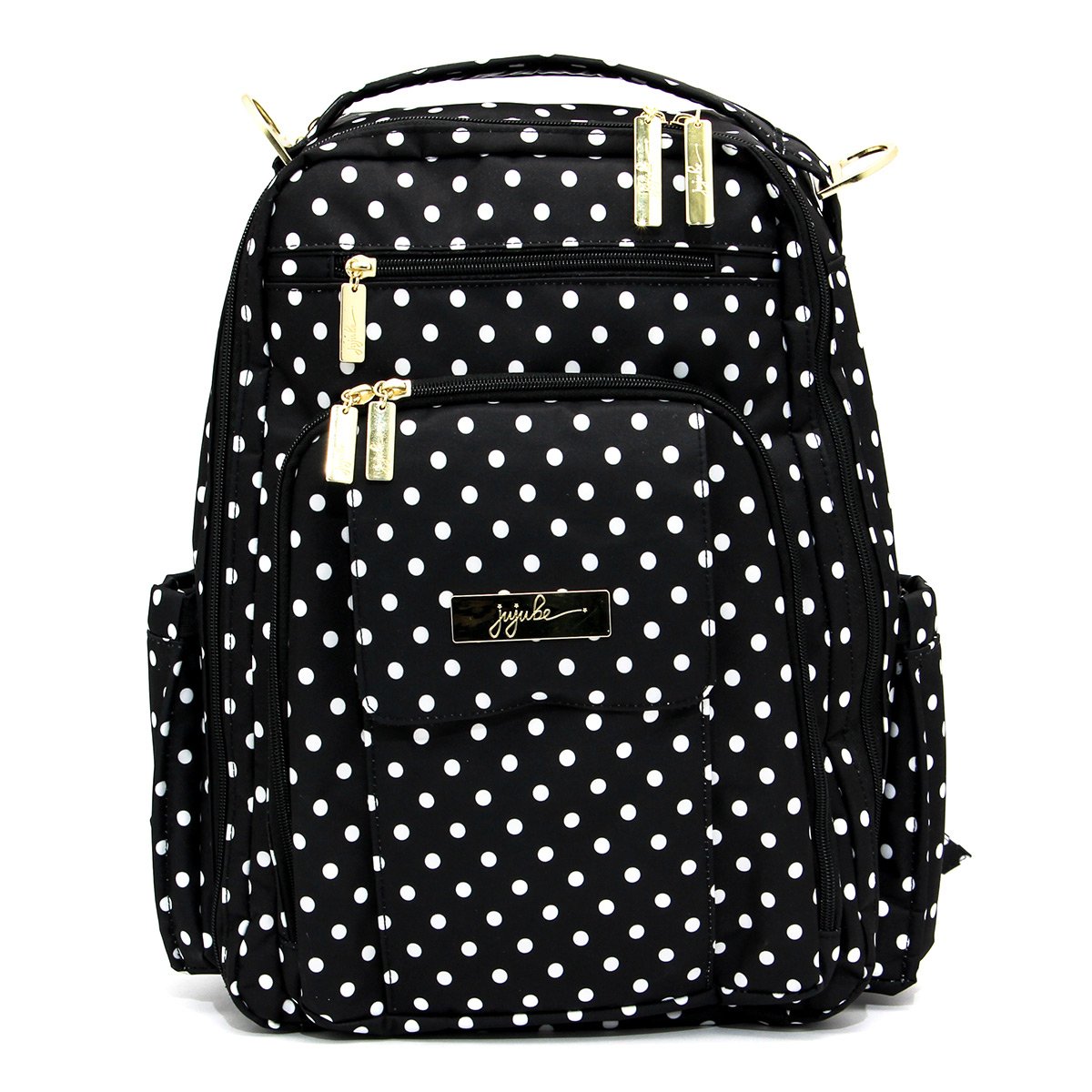 If you want a backpack style diaper bag, Ju-Ju-Be makes some of the best baby bags on the market! The Be Right Back comes in a variety of colors and patterns; there is something available for every occasion. The straps are ergonomically designed, and they added breathable mesh to prevent sweating during the warmer months. There is a texturized fabric on the bottom of the straps to stop them from sliding off of your shoulders, yet it is gentle on your skin. The back panel has mesh for extra air flow. Parents find it comfortable to wear the Be Right Back.
There is plenty of space available for items. You can fit all of your necessary items and some things you don't need, but will bring anyway! There are four main pockets, five zippered pockets, a mommy pocket and a memory foam changing pad that Ju-Ju-Be included. I love bags that include a mommy pocket! You can put your makeup, car keys, sunglasses and other essential items in there. Ju-Ju-Be added a stretch cord key fob and two smaller pockets in the mommy pocket. On the side of the bags, there are two insulated bottle pockets to keep the bottles or drinks warm or cold.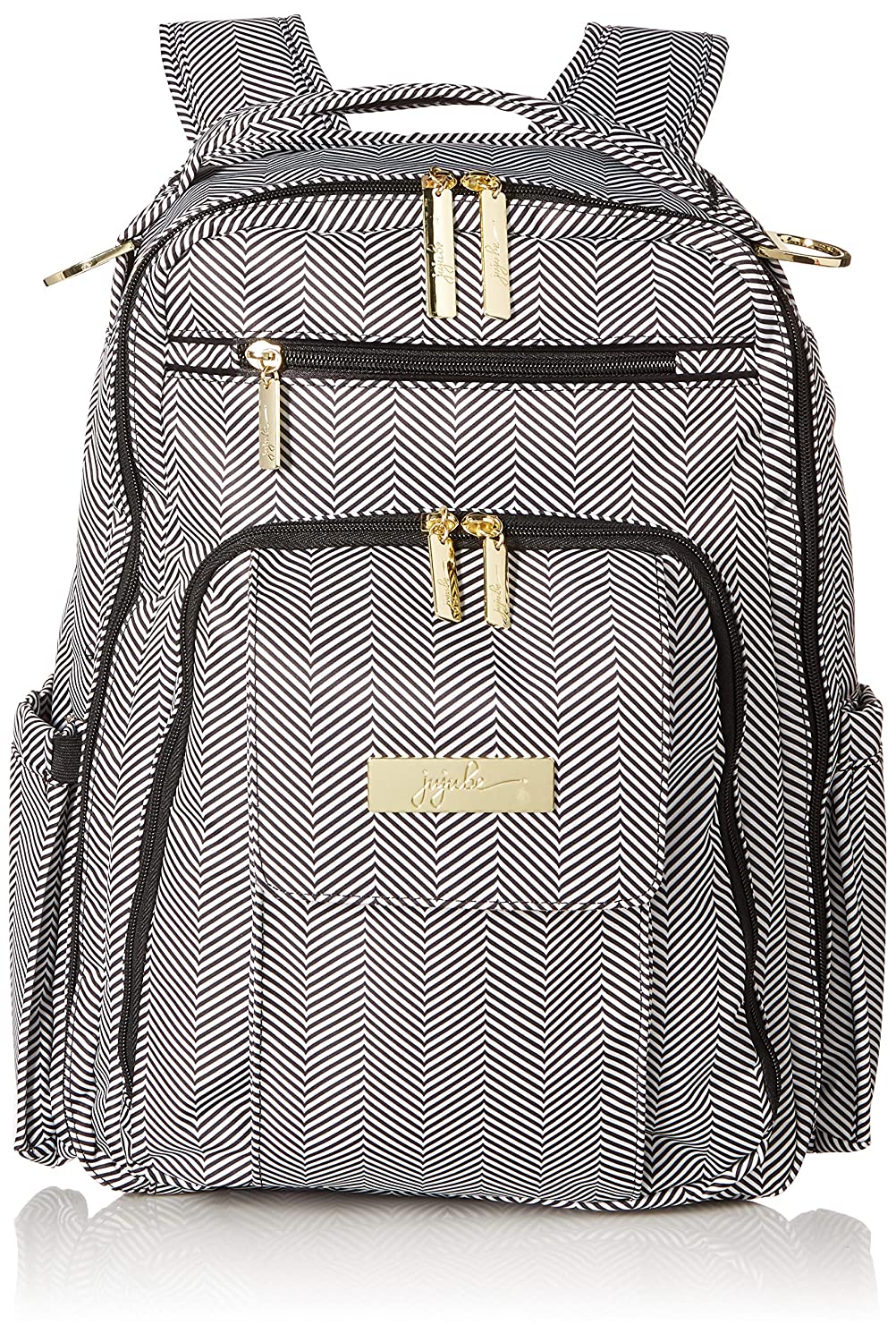 Ju-Ju-Be used great fabric for their diaper bag. They added a Teflon fabric protector and an Agion treatment for washing machine protection. The Teflon is added to the fabric to repel stains. The Agion treatment helps to reduce the chance of mold and mildew growth. In the corners, there are little crumb holes, which let them fall out.
One downside to the Be Right Back is the price. It costs over $100, but it is well worth the price. Ju-Ju-Be offers a 90-day warranty for manufacturer defects.
2. Skip Hop Forma Bag
Reasons Why You Should Buy It:
The Forma is a backpack diaper bag.
The design is gender neutral, simple and stylish, perfect for moms and dads.
It is polyester, which is easy to clean and water-resistant.
Parents have plenty of storage available for items.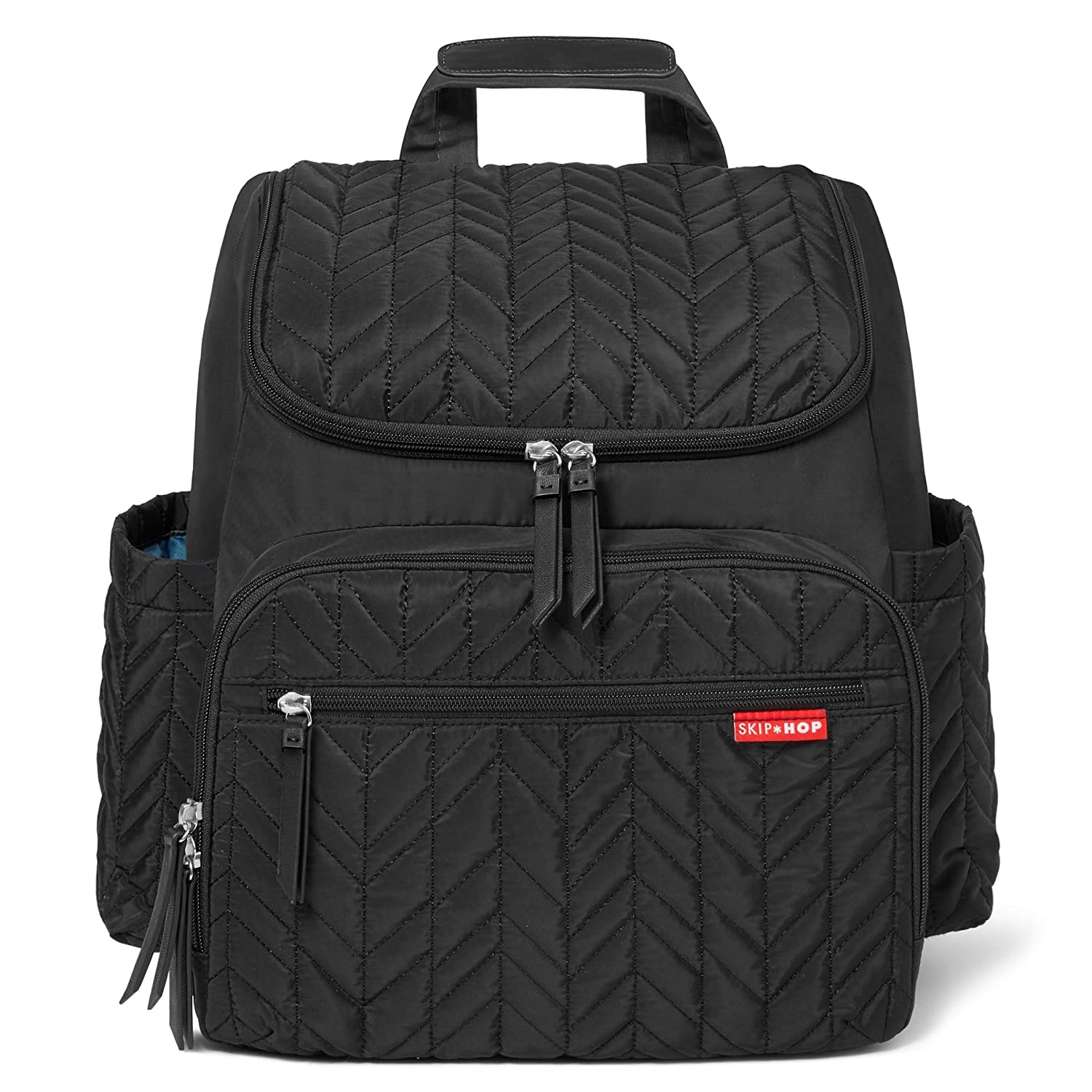 Here is another backpack diaper bag. I am a huge fan of backpacks, especially when dads want to take the baby out by himself for a shopping trip. Skip Hop makes some awesome diaper bags! Their Forma bag is gender neutral; you can use it with multiple children. It has a straightforward and sleek design. Dads and moms can enjoy this diaper bag.
Skip Hop made the bag with 100% polyester, which is easy to clean. You can wipe it clean. Plus, it is water resistant so that water won't seep in or out. Skip Hop integrated stroller clips. When you are out and about, you can hang it from the stroller handles. It gives you easy access to your bag.
The Forma doesn't lack in storage capacity. You can easily fit in all the clothing, snacks, diapers and more that you want to bring with you. In the front, you will find a pocket for mom's items. IT is a great place to put your keys or sunglasses. Skip Hop created a compartment for your tablet. Altogether, there are 11 pockets for organization. There are insulated side bottle pockets and multi-purpose packing cubes. You will find a changing pad pocket as well.
Skip Hop priced their Forma around $50, which is ideal for those on a budget.
3. Ju-Ju-Be Legacy Collection B.F.F. Convertible Diaper Bag
Why You Need to Buy It:
The B.F.F. is a very spacious bag with ample storage for mothers with more than one child.
It is machine washable, but it also has Teflon and Agion finish to keep away stains, odors, mildew, and mold.
There are crumb drains at the bottle of the bag.
It can be worn as a messenger bag or as a backpack.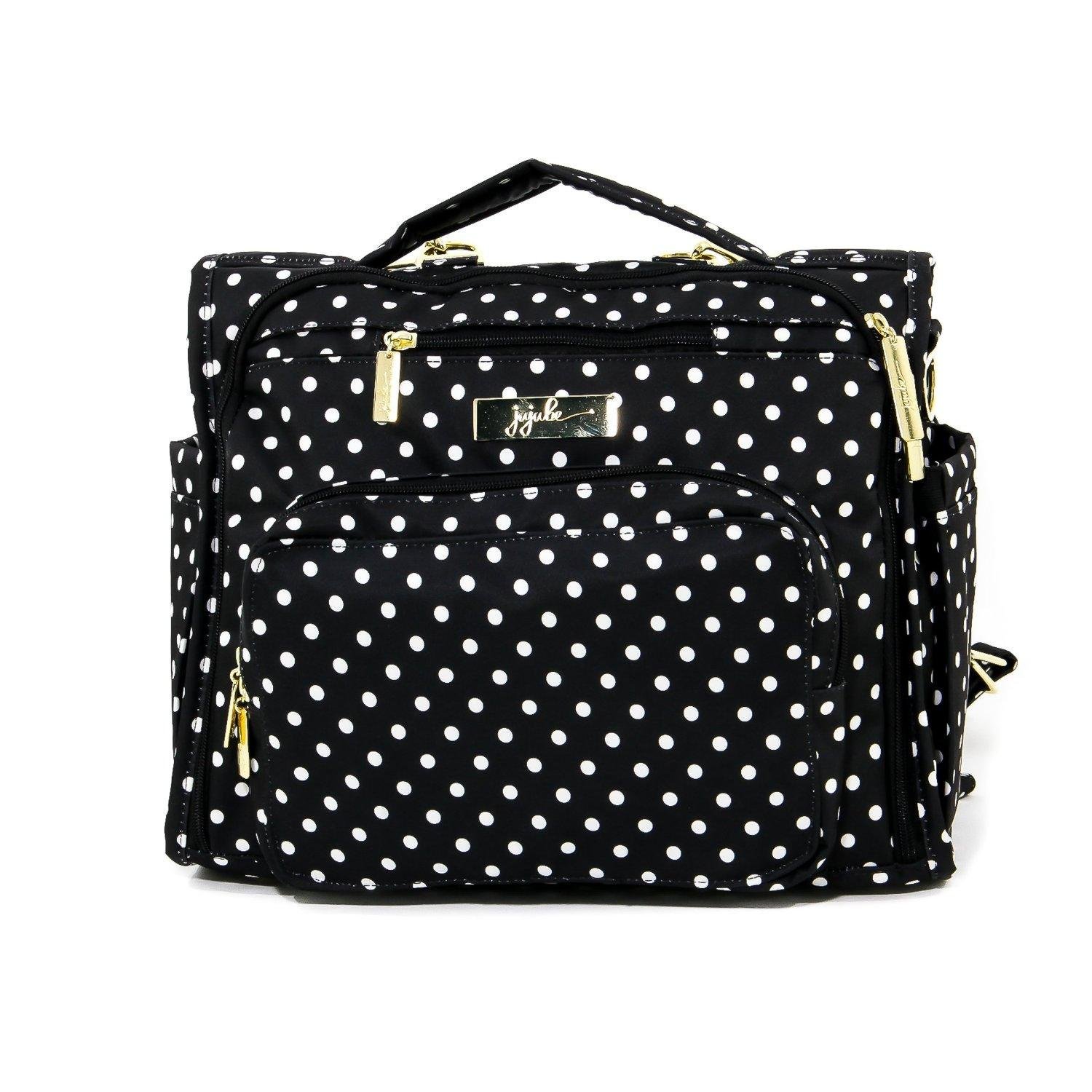 Our next option for the best baby bag is also by Ju-Ju-Be. Their designs are innovative, stylish, modern and functional. The B.F.F. is a pricier choice than some of the other options, but it has fabulous features. Mothers with love for the organization can appreciate the spacious compartments. They added pockets for diapers, wipes, and everything else. A mommy pocket was included for essentials. A great addition is a felt pocket for delicate items. On each side of the bag, two insulated bottle pockets will keep things cold or hot.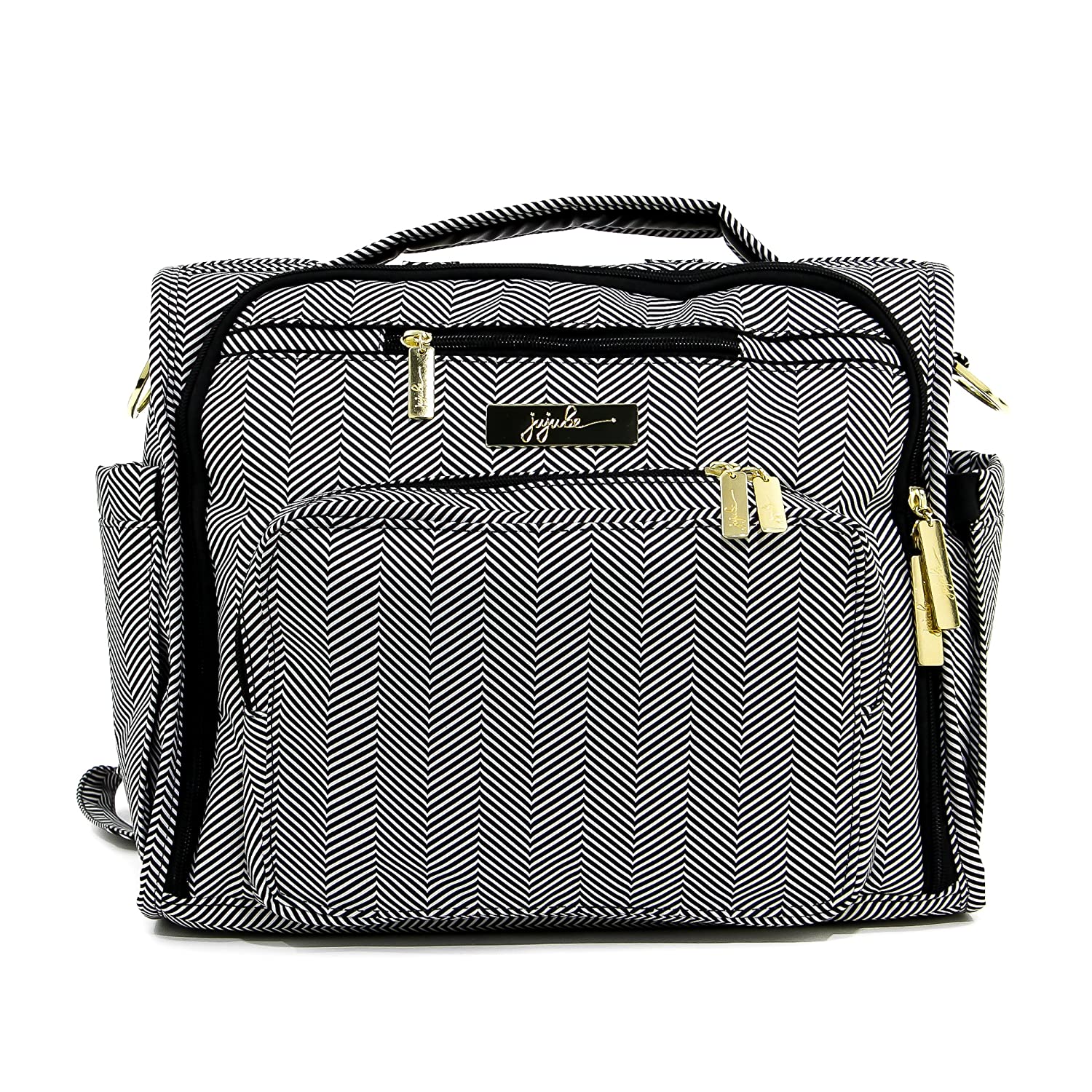 One of my favorite features of the B.F.F. is that you can put it in the washing machine. If your baby spills their baby food in the bag, all you have to do is put it in the machine. It will be clean in no time. The Teflon fabric protector prevents stains from forming. Another fantastic feature is the crumb drains on the side for cleaning. If you don't get those crumbs out in enough time, the Agion treatment prevents mold and mildew from growing. This feature isn't standard, and it is awesome!
Parents love a versatile diaper bag. You can wear it as a messenger bag or as a backpack with optional shoulder straps. There are multiple different color prints. If you are hoping for a very spacious baby bag and you like to stay organized, the B.F.F. by Ju-Ju-Be is one of the best baby bag choices on the market!
4. Petunia Pickle Bottom Altogether Tote Diaper Bag
Reasons Why You Should Buy the Altogether Tote:
It is a spacious bag with six interior pockets and one exterior, zippered pocket.
They included a Take Along Kit for quick diaper changes or trips.
You wear it like a messenger bag, with long and sturdy straps.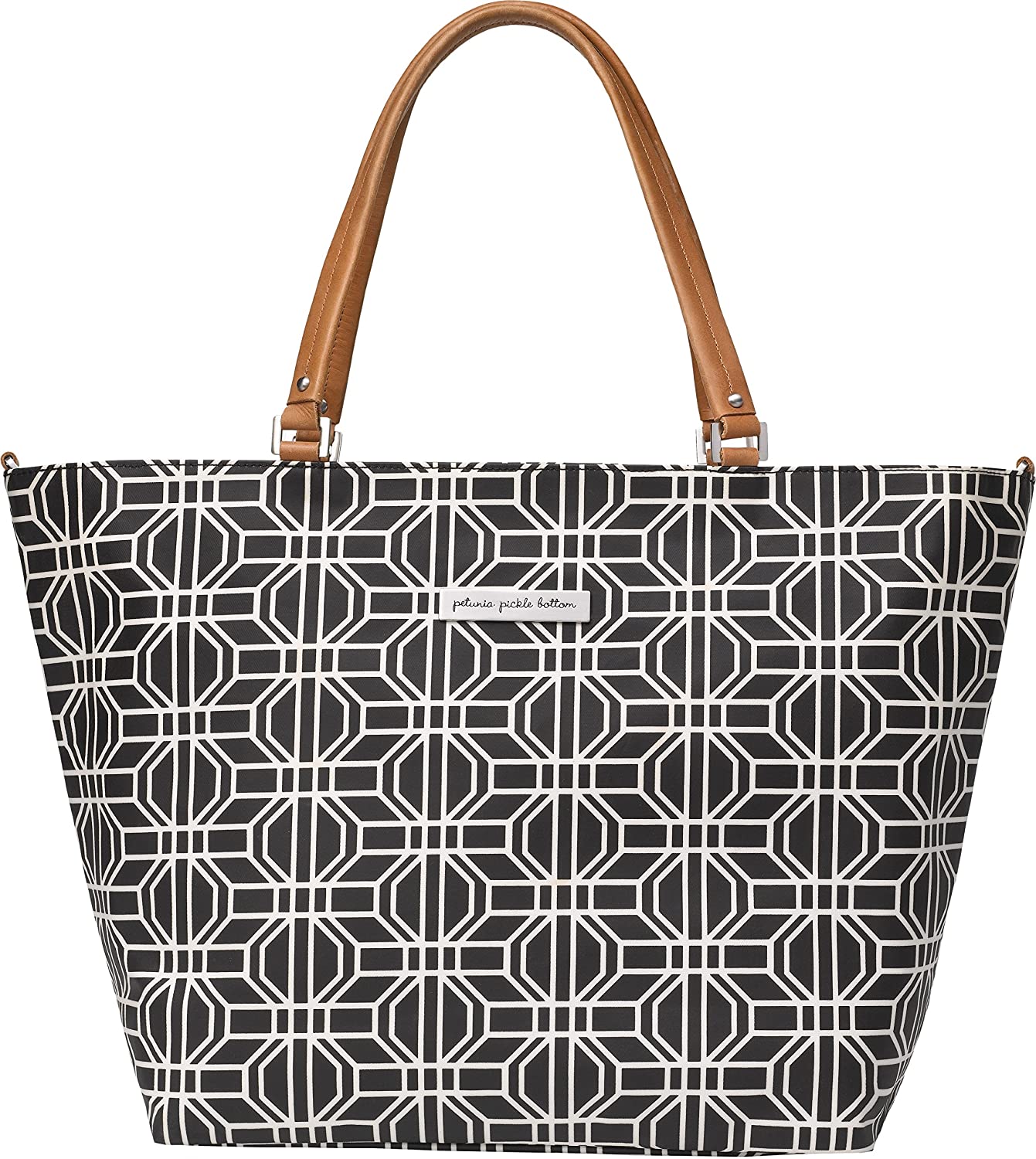 One of the best-known designers for a diaper bag is Petunia Pickle Bottom. Their bags are chic, but they are also practical and intended to be used each and every day. There are so many fabulous qualities to the Altogether Tote.
This bag is spacious. There are six, open interior pockets, so there are plenty of places to store all of those little items. You close the entire diaper bag with a zippered top, so when your baby knocks the bag over, nothing falls out. Petunia added an exterior, zippered pocket for your items, like keys or your cell phone.
Petunia Pickle Bottom included a coordinating Take Along Kit. It has a washable baby changing pad and a wipes case. There is enough space in the kit for two or disposable diapers and other changing essentials. You could fit one or two cloth diapers. You can send the kit to grandma's house or take it to the store for quick trips instead of the entire diaper bag. I love the Take Along Kit feature!
You will find that the Altogether Tote is convenient and comfortable. The straps are long and wide with durable material. Many parents wear it like a messenger bag. When you are out, all you need to do is wipe it clean. The material, even though it is durable and easy to clean, is also stylish and perfect for adults. The bags don't look like a diaper bag; that is a feature I love.
5. Skip Hop Chelsea Downtown Chic Diaper Satchel
Why the Chelsea is a Great Bag:
The bag looks like a large purse, which is ideal for chic and fashion inspired mothers.
Nylon and faux leather create an easy to care for surface.
There are six pockets in total, as well as the large main compartment.
There are included stroller straps for convenience.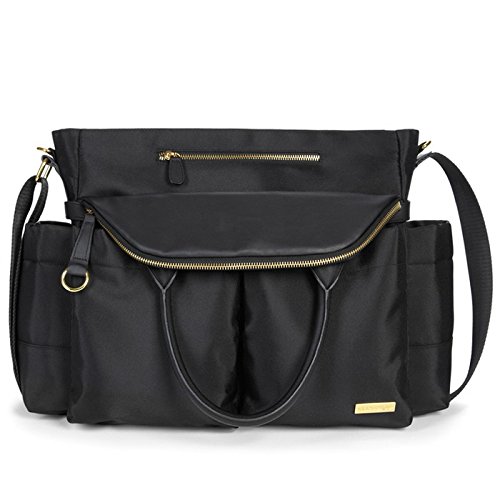 Sometimes, you need a diaper bag that looks more like a purse. The Chelsea resembles something you would see on the runway, and it is perfect for mothers who are fashion forward. Chelsea is a versatile diaper bag. You can change the look from day to dinner by simply flipping the front compartment down for another look. This feature is unique but perfect for mothers.
Skip Hop made their Chic bag with a lot of great qualities. The material is a combination of nylon and faux leather, creating a wipe-able surface. If your baby gets a mysterious, sticky substance in your bag, all you need is some water and soap! Chelsea is a generously sized bag, measuring 12 inches x 12 inches x 6 inches. However, it isn't huge enough for two kids.
There is enough storage for the items you need each day. They included insulated side pockets for a bottle or cup. In total, there are six pockets. The main pocket and four smaller ones are located inside. Then, the insulated bottle pockets are on the exterior. Skip Hop included built-in stroller clips for convenience.
Parents who use cloth diapers like this baby bag. It has enough space for a few diapers and other accessories. So, if you want a diaper bag that doesn't look like it's for babies, the Chelsea by Skip Hop is a fantastic option.
6. Ju-Ju-Be Legacy Collection Be Prepared Diaper Bag
Reasons Why the Be Prepared:
It is one of the largest diaper bags on the market.
There are 17 different compartments, so you will have no problem staying organized while on the go.
The material is easy to keep clean.
Our last option for the best baby bag is by Ju-Ju-Be. Even though we already included other ones by this company, I had to include the Be Prepared. If you like to pack everything or you have multiple young children, no diaper bag can match the storage that the Be Prepared will give you.
For organization lovers, the Be Prepared has 17 different compartments. Yes, you read that right – 17 pockets! There are color coded tabs as well as picture pockets. Ju-Ju-Be added a mommy pocket for your essential items; can you imagine digging in that bag for your car keys? Instead, use the key fob stretch cord provided in the mommy pocket. On the exterior, there are two insulated pockets, lined with 3M Thinsulate, which can keep drinks and bottles hot or cold.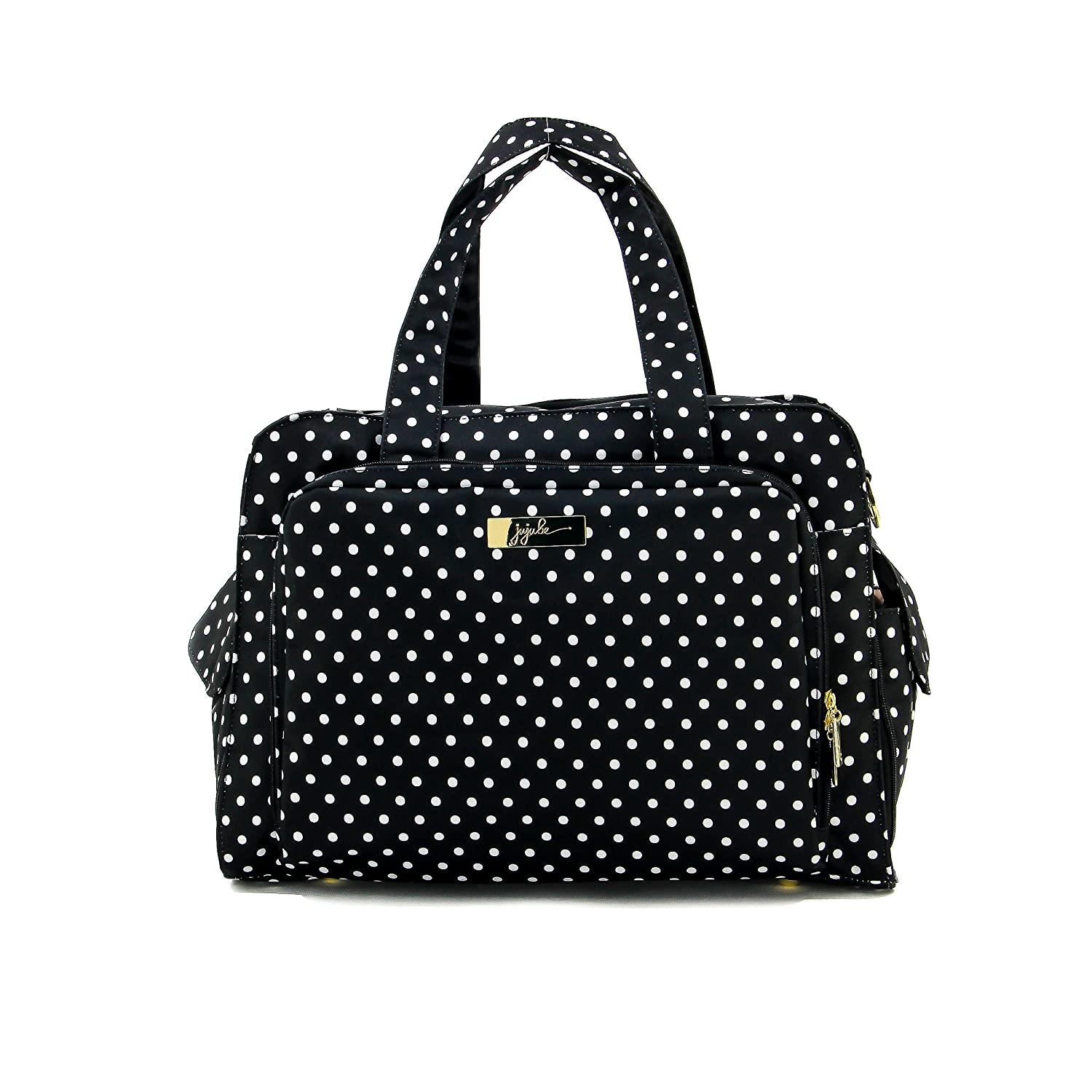 The material used for the Be Prepared is just like the other two bags we discussed. They used the Teflon and Agion treatments to repel stains and bacteria growth. There are crumb drains, and it can be machine washed.
If you have multiple kids, the Be Prepared is one of the largest bags on the market. Some parents even use it for a weekend bag! They didn't lack in features like a memory foam changing pad and shoulder pads. If you want a big bag, the Be Prepared is the way to go.
Deciding Which One is the Best Baby Bag
There are so many fantastic choices for the best baby bag. You have to decide which one is the perfect choice for your family. It is so hard! Before you do any shopping, always set a budget. If there is one place I could always overspend, it would be in a diaper bag.
Are there features that you want to have? Look for bags that have those first. I know that, as someone who takes along too many items, I need to have a lot of storage space. Some people are minimalist and would prefer to have less storage space for better shoulder straps. You might want a bag with as many pockets as possible because you love to organize everything. There is something for everyone; one of these nine awesome diaper bags are sure to impress you!
Do you have a favorite baby bag? I would love to know! Talk about it in the comments.