Being pregnant is a wonderful and magical time in any woman's life. From the very start when you're planning the tell your love ones the amazing news all the way to packing your overnight hospital bag, there are so many little important and exciting surprises that find their way to you along this journey to motherhood. One surprise that many mothers forget about is the discomfort that comes along with the changing of their bodies. Besides the obvious ever-growing baby bump that seems to have magically appeared over night, the rapidly expanding feet tend to catch women off guard.
Blood pressure naturally rises in a pregnant woman's body because of the increase of blood flow causing a variety of symptoms like swollen hands and feet. While you may think you'll be able to make it the whole nine months rocking your favorite shoes, chances are by the third month you will just want to give up and go barefoot.  You need to buy new clothes to fit your new frame so why wouldn't you expect to the same for your feet?  While looking for the best shoes that fit your needs and also help to keep you comfortable during an uncomfortable time, you should keep in mind what type of shoes to avoid.
Shoes To Avoid
At the top of the list of shoes to avoid are heels.  For the first month of your pregnancy you don't see too much of a change to your body so you may think that you can get away with wearing the highest of heels but this is not the case.  Even though you may not see an instant change, your body is indeed devolving.  Pregnancy puts a great deal of pressure on your back and hips and heels are not a great choice to relieve that pressure.
While heels do a great job of giving you height and making your body appears lifted and slimmer, it comes at a price.  The design on heels forces your weight to be pushed mainly onto the ball and toes of your feet pushing you forward.  Your center of gravity is already thrown off with the appearance of a baby bump, so your body is already pulling you forward.  By wearing heels you have both things working against you to throw you off balance and the last thing you want is to take a spill.  Heels also put a great deal of pressure on your back.  A common complaint among pregnant women is the back pain they experience throughout every stage of their pregnancy so throwing heels into the mix is an obvious no-no.
A simple go-to for many pregnant women when it comes to finding the best shoes for their pregnancy is ballet flats.  While there are many different types of flat shoes that are a great choice during your pregnancy not all flats are created equal.  Try to avoid ballet flats that offer no support.  Recent studies show that certain type of ballet flat shoes offer nothing when it comes to supporting your frame and actually can be harmful to your health.  To spot the ballet flats that will cause you extra discomfort look for ones with a cork like sole which is comparable to cardboard.  Those essentially mean that you might as well be walking on hard concrete barefoot and as pregnant woman with a growing amount of discomfort you absolutely need the extra support.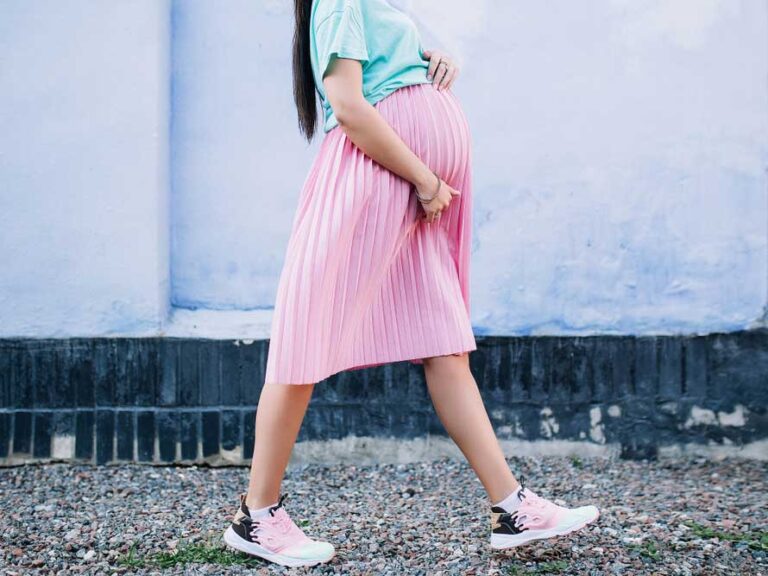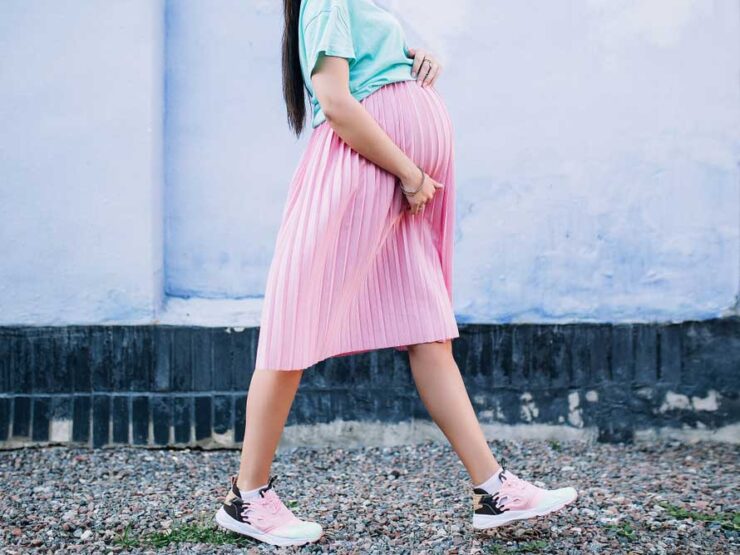 What to Look For In a Shoe
As pregnant woman you don't always have to compromise comfort for style because they are a lot of great options available to you.  Just make sure that when you are shopping for the perfect shoe to look for these key points to insure that you don't have any added pain.
Supportive: Check the sole.  Many times shoes might look like they will give you all the support you need but often they will be lacking when it comes to the sole.  The sole is most important part of the shoe in terms of comfort.  It can truly make or break the design.  Look for soles that have extra comfort throughout the heel and ball of the foot.  You should also understand what kind of support you need.  If you have a higher arch try finding a sole that has extra foam arch support.  Some shoes even come fitted with memory foam so it can conform to your feet like a surrounding cushion.
Easy to put on: With an aching back and a belly you can no longer see your feet over, bending down for long periods of time is out of the question for some pregnant women.  Try to find a shoe that is easy to put on so you can keep the time you're spending bending over to a minimum.
Growing room: You will find that your feet might go up at least one size during your pregnancy.  Don't worry this is completely normal.  With the added blood pressure in your body your feet will swell, there is no way to avoid it.  Try to embrace your new giant feet and size up.  Don't be discouraged by a larger foot, just look at it as if you now have a larger base to support your new frame.  If you buy shoes in the beginning of your pregnancy make sure to plan ahead and prepare for this.  Some shoes are a little more flexible than others allowing them to stretch with your growing feet and those are a great option.
Keeping these simple tips in mind while shopping for the best shoes for pregnancy will guarantee you that you can find something that meets your needs perfectly.  Just be patient and don't be afraid to step out of your comfort zone and try something new.  Stepping out of your comfort zone may actually mean you find some real comfort.
Now that you know what to look for and what type of shoes to avoid, here are the shoes that you should buy.  There literally is a shoe for you for every occasion.  Being pregnant doesn't mean you have to live your life in slippers or go to a special event in sneakers.  You do have options.  Many of these options not only deliver when it comes to easing your discomfort but are also really nice looking.  Being pregnant often times comes along with a great deal of self consciousness and self doubt.  Don't let this damper you from wearing a stylish shoe.  Comfort doesn't have to mean sacrificing style.
List of 5 Best Shoes for Pregnancy
1. Work Shoes
If you work in a business casual setting it isn't always acceptable to be running around the office in sneakers. Many businesses have dress codes in place and even though it seems unfair, they do also apply to pregnant women. Don't worry. There is a great deal of work appropriate shoes out there for you if you know where to look.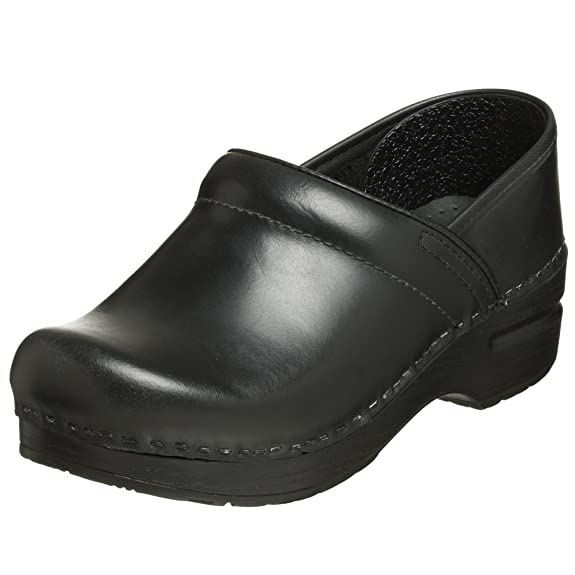 Dansko is a shoe brand that it a favorite among pregnant women. Their stylish clogs are fitted with foam inserts in the soles and durable leather on the outside. The Dansko Professional Leather Clog seems like it was basically designed with pregnant women in mind. They were specifically manufactured to withstand long work days while providing cloud like comfort to your swollen feet. The trick is in the revolutionary arch support that installs a foam cushion right on the arch of the foot. Priced at around $100 the Dansko Professional Leather Clog has a simple black design that can be paired with any outfit so these may be the only work shoes you will need.
2. Casual Shoes
When it comes to picking out the right casual shoe for you to wear during your pregnancy, keep in mind that these will most likely be the shoes that you end up sporting the most. Casual shoes will become your go-to shoes for quick trips to store and everyday errands and need to not only be an easy throw-on option for you but will also need to be super comfortable and supportive. These shoes need to hold up as they will be worn while you do a great deal of walking.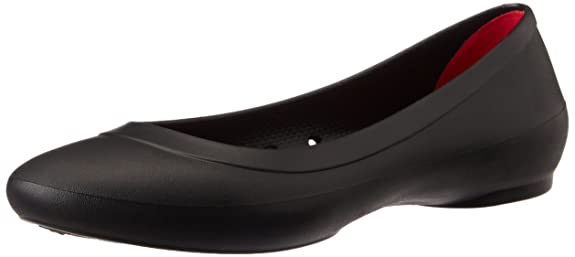 Crocs is a great brand for pregnant women. They have recently moved past their bulky and sometimes laughable design to showcase some really nice looking shoes. The Crocs Lina Ballet Flat is one of them and also a favorite with other swollen feet sufferers like you. Unlike ballet flats that you were told to avoid, the Lina Ballet Flats are made out of Crocs signature foam with is not only a dream on the feet but also is very lightweight. When it comes to style you won't be disappointed either. The Lina Ballet Flat comes in a variety of colors and prices start at $29.99 so feel free to spoil yourself and purchase a few extra pairs.
3. Athletic Shoes
While you may not be up for it, it is important to stay active during your pregnancy. Moving your body around promotes blood flow and can help relieve some of the swelling your body will experience. By staying mobile from even the beginning of your pregnancy you are promoting healthy habits that can stay with you throughout your whole pregnancy. Keeping your muscles and joints loose and moving also helps to relieve the strain on your back and you hips. When it comes to finding the best athletic shoes for pregnancy try to stick to the same basic guidelines of comfort to insure you and your feet will be happy.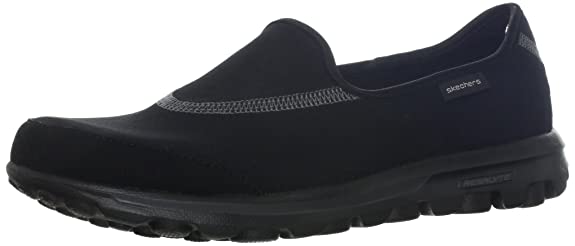 The Sketchers Performance Go Walk shoe line is a perfect choice to help keep your moving and motivated during those beautiful yet excruciating nine months. The best part about these shoes by far is that they are a slide-on shoe. That's right! This is a shoe that is designed to help you stay active while also sliding on with ease. Any woman who has ever been pregnant knows that struggle of having to bend down to tie their shoes. It is a pain on both your frustration and your back. By combining the capabilities of a work out shoe with the ease of a slide on you are guaranteed to have no excuses when it comes to getting your body moving. The Sketchers Performance Go Walk is reasonably priced at $45.00 and come in a ton of really cool designs and colors so you can not only get in a decent work out but also show off your personal style.
4. Winter Boots
You may be tempted to ignore the slippery winter weather and throw on a pair of flats but try to resist the urge. Your balance is already out of whack with the addition of a baby belly and the last thing you would want is to slide on a patch of ice and tumble over. This clearly isn't safe for your baby and will also cause havoc on your already sore back. So during the colder months put those flats in the closet and invest in a really great comfortable pair of slide on boots.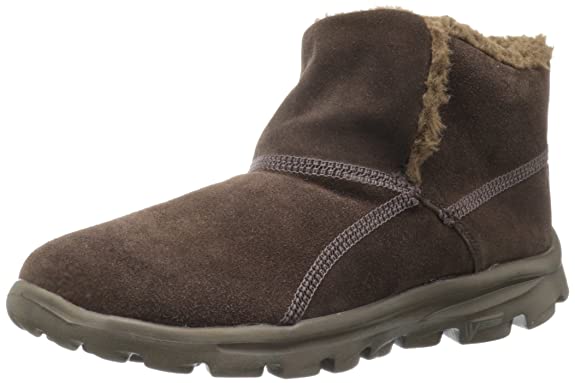 Winter boots don't have to be heavy with lots of straps and buckles to do the job. They just have to keep your feet warm while offering a no-slip grip on the bottom of your shoe to keep you stable and on your feet. This perfect product for you also comes from the Sketchers Go line in the form of a boot. The Sketchers Performance Go boot has the same great features that can be found in the athletic shoe. It's almost as if Sketchers had pregnant women in mind when creating this shoe line since they are so highly recommended among these women. These boots are easy to slide on and features a comfort sole as well as a tread bottom to keep you from slipping. Stay warm in winter with these boot's insulated lining and soft feel. Retailing a little high at just over $100 these boots will keep your feet in place on ice and snow and help the little life inside of you stay safe as well.
5. Summer Sandals
Any woman who has been pregnant will tell you that the most uncomfortable time during their pregnancy by far is the summer months. The heat is often unbearable and makes you want to just stay inside with a bag of ice on your face and the AC blasting. This isn't an option for everyone as obviously life gets in the way. Try to find a great summer sandal that will help to keep your feet cool. An important thing to remember is to not buy a sandal with too many tight straps because even though your feet may be a size seven today, tomorrow they may be an eight and lots of little straps will dig into your skin leaving painful marks.

Keep things simple and stick to a basic design of a thong sandal for the summertime. These types of shoes offer only a couple straps to keep your feet in place but leave most of your foot exposed so there is plenty of room to grow. A top seller among pregnant women is the UGG Kayla Sandal. Made out of suede and foam, this sandal is not only easy on the toes but easy on the eyes as well. The UGG brand prides itself in serving comfort and style so it is no surprise these sandals meet those standards. They can be paired easily with a summer dress for those hot days and are sturdy enough to hold up for a day on the beach. Selling for under $35 and coming with mostly five star reviews and rating, the UGG Kayla Sandals are sure to keep you feet cool and comfortable without breaking your bank.
Conclusion
The takeaway point from learning about what shoes are best to wear during pregnancy is that you should never have to sacrifice your personal comfort for your preferred style. Most importantly you should never have to compromise your health. Above all the health and safety of you and your child needs to be at the top of the list. Look for footwear that guarantees you both. Keep in mind the materials that the shoes are constructed with because they will be the determining factor in whether or not your feet will thank you. Stay away from heavy canvas and stick with a more breathable design.
Try to find the perfect shoe that is easy to put on and has the ability to flex and grow with your growing feet while still giving you all of the support you need. With such a high number of discomforts that come along with being pregnant, it is nice to know that you have control over something. So make the right choice when it comes to what you wear on your feet. Pain in the body truly does start from the base so by keeping your feet comfortable and supported you are guaranteed a smoother pregnancy. Good luck.