When shopping for a stroller many parents look for the best fit for their baby when it comes to comfort and style but sometimes forget that the right stroller purchase could benefit their lives as well.  Taking your child on walks in their stroller is not only a great bonding experience for the both of you, it also is a great way to induce exercise.  Routine exercise is important for a parent because it promotes a healthy lifestyle while producing endorphins which can heighten your mood.
While regular strollers do get your body moving, there are other better alternatives out there if you are looking for a little more activity in your life. A running stroller is one of these great alternatives because it combines the same comfortable ride your child would expect for a long stroll with the mobility and ease of a nice run for you.  While walking around with a traditional stroller does provide you with some great health benefits; it is proven that jogging with your child burns almost twice as many calories than a brisk walk.
If you have decided to do your health and your child a great service by going with a jogger stroller, there are a few things you should keep in mind before making the final purchase. By sticking with these guidelines and pinning down the features that are most important to you, you will be sure to find the best running stroller for you.
What to Look For In a Jogging Stroller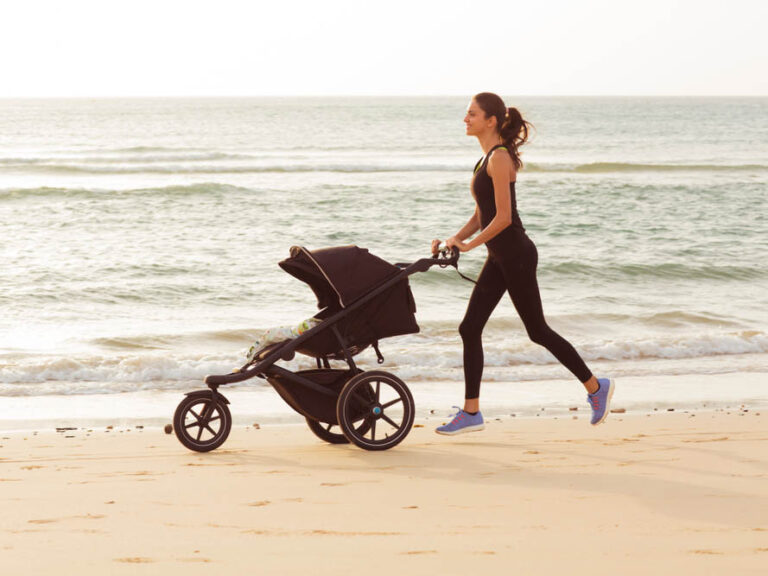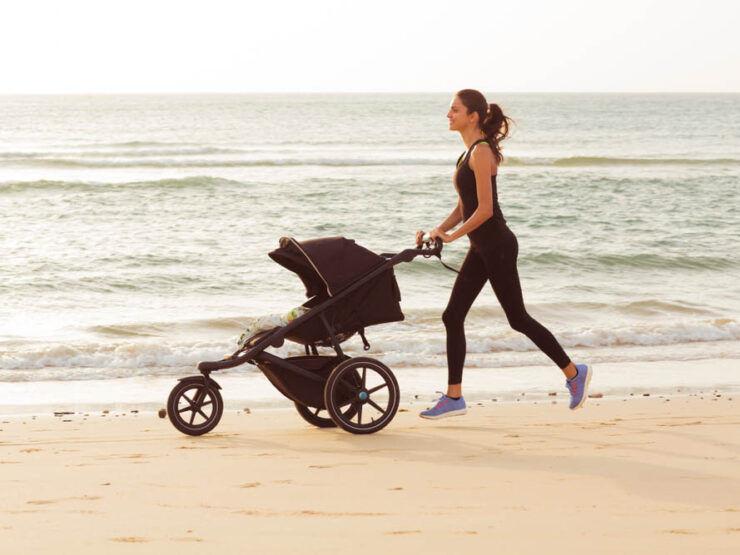 Smooth ride for your child
While you may think that a long jog means that your child is in for a rough bumpy ride, have no fear.  The best running strollers are fitting with amazing suspensions and shock absorbent frames that keep your baby riding in the best of comfort while you can still enjoy a successful workout.
Safety Features
Even though a running stroller is different from the traditions walk along strollers, they should still meet all of the same safety standards to insure your child has a safe ride.  Look for the designs that feature top notch harness systems since your baby will be traveling faster in a jogging stroller and safety should always come first.
Convenient add-ons
Because this stroller is great for exercise it is important that the one you choose offers some add-ons that will help keep you on a healthy path.  Look for cup holders so that you and your child can stay hydrated during your run as well as storage space so you have a safe place to keep your keys and wallet.
Sun protection
A nice jog through the park in the summer is a great way to up your fitness but remember that you should always protect yourself and your little one from the sun's harmful rays.  Running strollers with sun shades are a great option to not only keep your child cool but also keep them safe.
Adjustable Handle Bars
Running naturally changes your body's posture so it is important to find a running stroller with height adjustable bars so you can stay comfortable throughout your workout.  It is unhealthy and really uncomfortable to run while hunched over so using a high handle bar will promote you stand taller during your jog.
Now that you know that basics when it comes to choosing one of the best running strollers for you and your little one, it's time to start shopping.  Here is a list of some of the best ones currently available on the market and a breakdown of how they will work for you!
List of 6 Best Running Strollers Reviews
1. Baby Trend Range Jogger Stroller
First on the list is the Baby Trend Range Jogger Stroller which is a favorite among active parents who have tried and used this running stroller and give it high praises. This running stroller is top of the line when it comes to a comfortable ride both parent and child. The front swivel wheels means that the wheels turn with ease making it a great option for parents who like to run on long and winding trails.
No need to worry about your child while you're speeding along either. The seat is fully cushioned for safety and comfort by featuring an extra-wide design along with a fully adjustable recline seat so your child is free to enjoy an afternoon nap while you take on an amazing workout. Some of the stand out features of the Baby Trend Range Jogger Stroller is:
Swivel wheels that feature a lock system
Full recline seat
Easy one hand fold
Five point safety harness
Cup holders for both parent and child
Snack tray
Storage basket
Sun protection shade
Neutral grey color scheme
All in all the Baby Trend Range Jogger is a great choice when it comes to a simple no-fuss running stroller. It's light enough to lift and quickly unfold which means a faster, hassle free run. Priced at just under $100 this stroller is also perfect for families who are looking for a great workout without wanting to break the bank.
2. Chicco TRE Performance Jogging Stroller
The Chicco TRE Performance Jogging Stroller is another great option when it comes to a stroller and workout gear all in one. Chicco is a well known brand name among parents who put their trust in their products when it comes to safety and quality, so there is no surprise why this running stroller makes a high appearance on the list. The one feature of this running stroller that is by far the best is the deceleration brake. This special hand brake allows you to better control your speed which is perfect for those parents who are afraid of gaining too much speed downhill.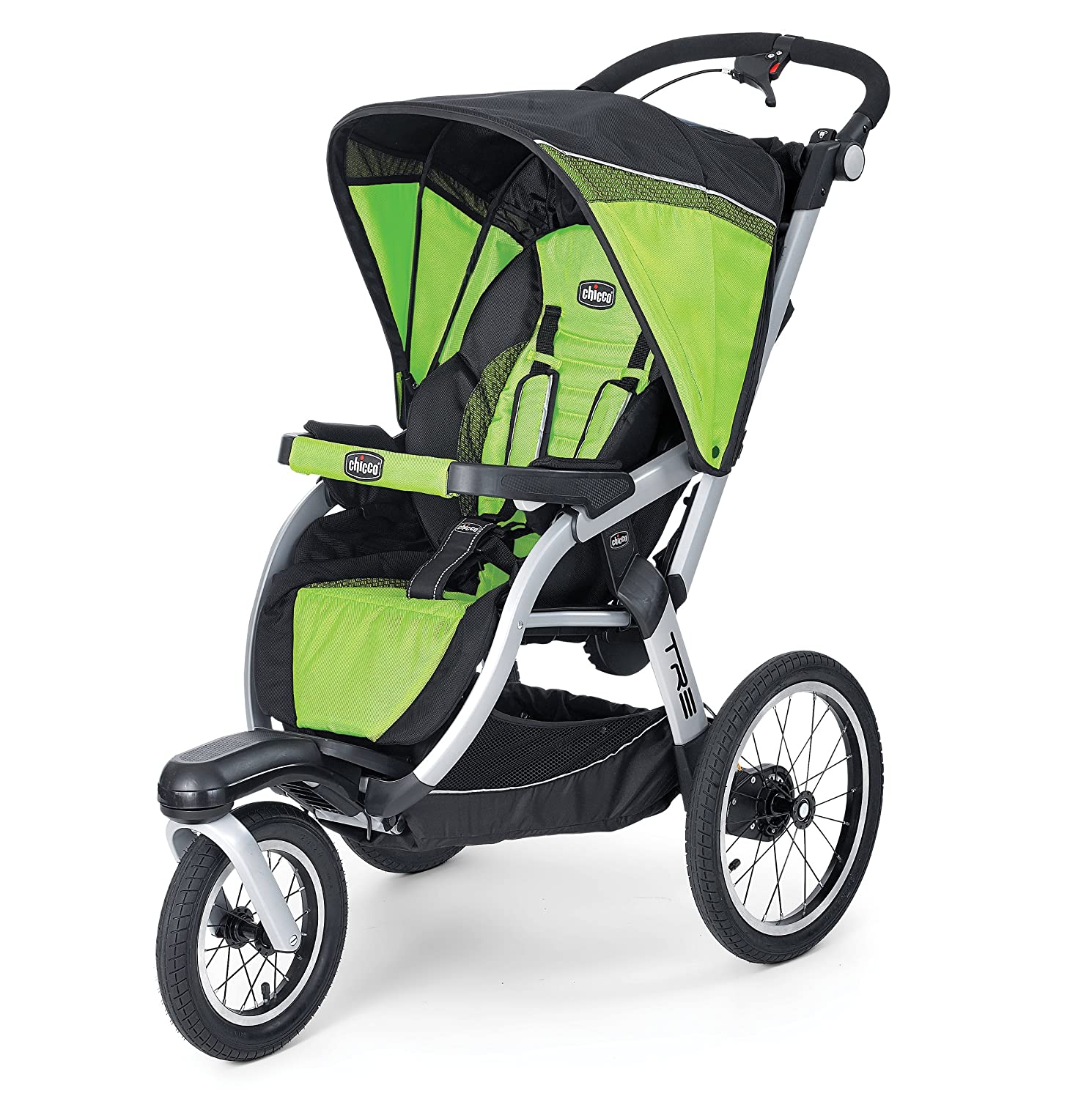 The hand brake system along with the aerodynamic wheels means that you can have a productive run while your child is safely harnessed in their seat. The Chicco TRE Performance Jogging Stroller also allows you the option to purchase a newborn car seat separately that fits right into the stroller so you can start your workout early on in their life. Some of the features that will help guide your decision are:
Fits with Chicco TRE infant seat
Extra large metal spoke rear wheels
Hand break for speed control
Five point harness system
Full adjustable push handle bars
Undercarriage storage
Sun shade
Bright color scheme
The Chicco TRE Performance Jogging Stroller is a great option for parents who have a little extra money to spare as this stroller retails from anywhere between $250-$400 depending on the model and add-ons you choose. It is also a great choice due to the bright color design which is great if you do a lot of running on trails making you and your child more visible. Over all, this stroller is an excellent option for you and your little one.
3. Joovy Zoom 360 Ultralight Jogging Stroller
The Joovy brand has been growing in popularity over the years in the baby gear market due to their innovative designs so there is no surprise that their ultra light stroller is making an appearance on this list. With the Joovy Zoom 360 Ultralight Jogging Stroller both you and baby are in for a beautiful ride due to the extra wide seat which offers your child comfort and a clear view of the world around them. Don't worry about the sun either. While this running stroller offers the best of sights for your child, the adjustable sun canopy gives them the very best in sun protection.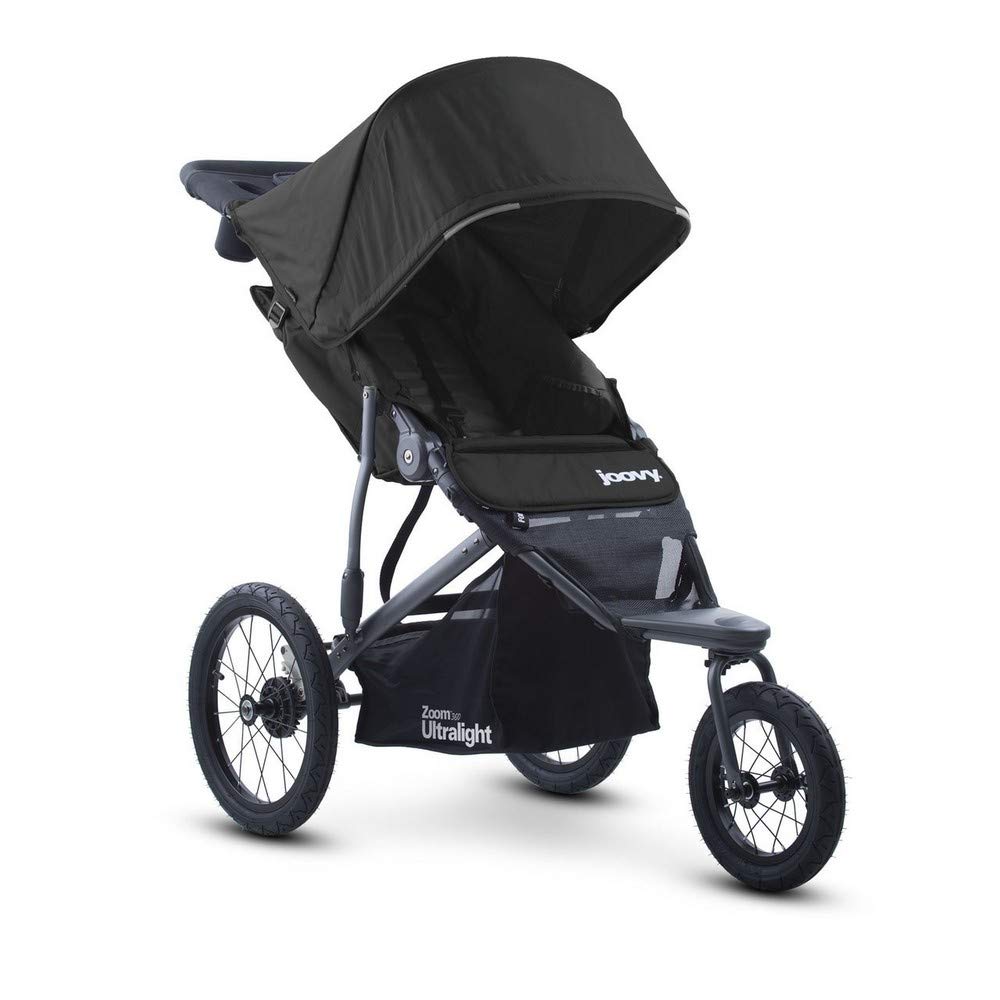 The smooth ride is due to the special wheels that swivel and lock in multiple positions depending on the trail you and child are blazing. The Joovy jogging stroller is a great choice for growing babies because of the adjustable multi-position seat which is perfect for curious little ones but also folds back for when you child drifts off to slumber.
The shock absorbent frame is great for little sleepers because it means that you will get the most out of a tough workout without your child feeling any of the stress beneath them. The mesh design allows your child to breathe easily even while the sun shade is fully in place ensuring you get the best out of your worry free workout. Features that make the Joovy Zoom 360 a great purchase are:
Shock absorbent frame
Sun protection canopy
Cup holders and snack tray
Storage basket
Mesh breathable fabric
Multi-position lock wheels
Adjustable seat
Lightweight easy fold design
Extra accessories
Joovy really thought of everything when designing this running stroller by including a running leash for your pets, a parent organizer to help keep your stuff safe while on the run and a tire pump to keep your tire pressure up for a more optimized run. While the price of the stroller will run you around $300 you do get a choice of colors from the simple black to the hot pink. With the style and comfort any parent would love it is obvious why the Joovy Zoom 360 Ultralight Jogging Stroller is a best seller.
4. Graco Relay Click Connect Jogging Stroller Travel System
The Graco brand has always been a front running choice for many families when it comes to reliable baby gear due to the quality of their trusted products. The Graco Relay Click Connect Jogging Stroller is no exception to this fact. Many parents choose Graco because of their built to last designs and durability.
This stroller is fitted with a tough as nails frame which ensures that your stroller will hold up for years of jogging while maintaining a lightweight feel which makes it easy to travel with. The premium stroller suspense system absorbs energy so that you can be sure that child doesn't feel any of the bumps that come along with running.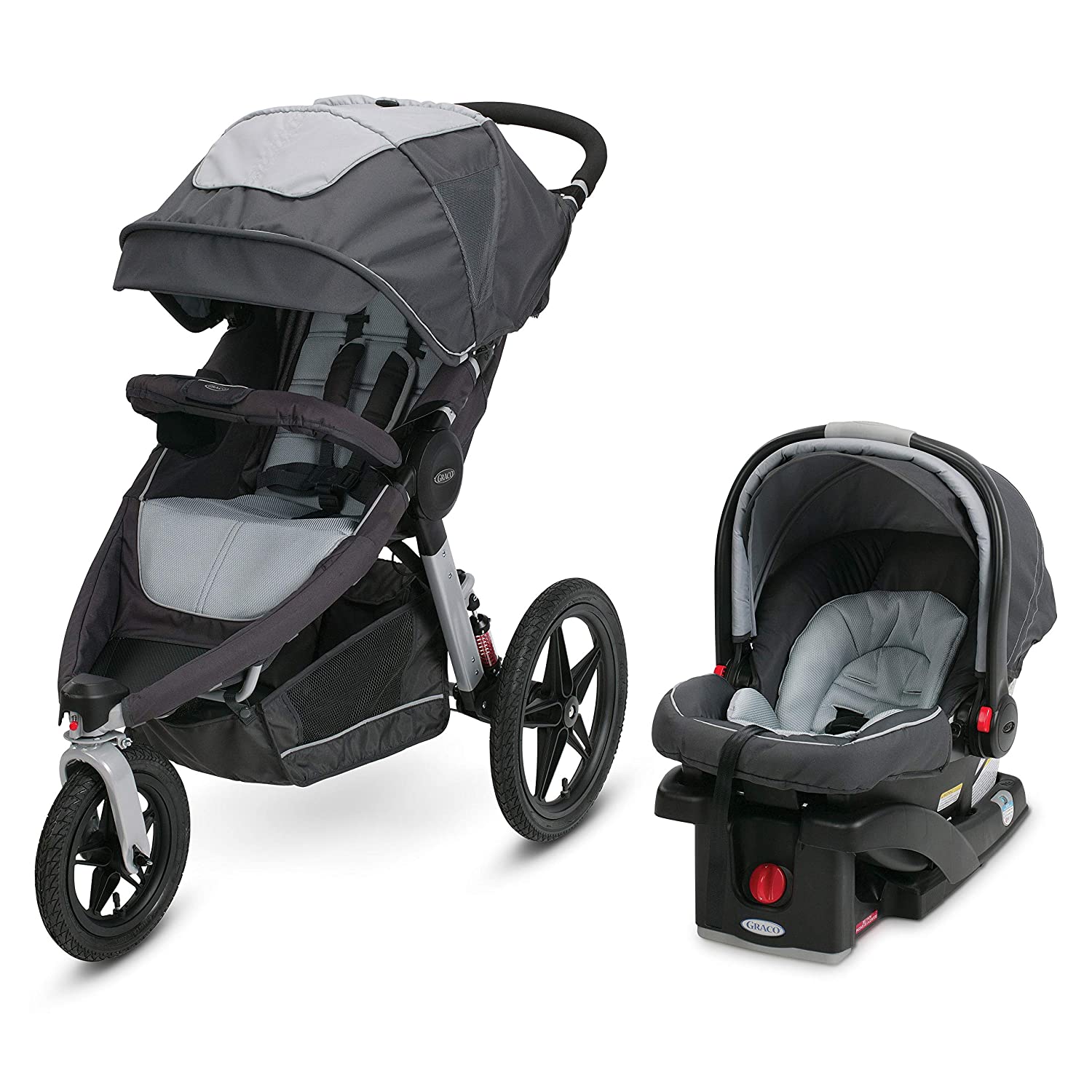 The styling of this product is also what helps to make it one of the best running strollers you can find. It is available in many different colors and styles like a forest green and a burnt orange so you can customize it to the rest of your baby gear. The material in the child's seat is 100% breathable and flexible so not only is the frame tough enough to last, the interior will hold up too. The Graco Relay Click Connect Jogger Stroller is a brilliant system that allows you to purchase the car seat so this could potentially be the only system you will need. Still not sure this is the right running stroller for you? Here is the breakdown of features to help you make the choice:
Shock absorbent suspension
Full adjustable seat
Quick lightweight fold
All-weather sun canopy
Works with other Graco infant seats
Cup holders
Storage basket
Removable arm rest
Five point harness system
Variety of bright colors
All in all the Graco Relay Click Connect has only your child's best interest at heart. Not only is the seat safely fitted with the highly recommended five point harness system, the fabric is also made with light reflective material which makes you and your child more visible during low light situations. All of these safety features can be yours for around $350 meaning it's never been easier for you to get a decent workout while also knowing your child is safe and enjoying the ride as well.
5. Schwinn Arrow Single Stroller
Next on the list is top of the list when it comes to a fun running stroller is the Schwinn Arrow. Schwinn is a name that may already be familiar to you. That is because Schwinn has been making some of the best quality family bicycles for years. So it isn't really all that surprising that a company that has been promoting a healthy family dynamic would extend their brand to baby gear.
Schwinn designed the wheels of this running stroller much like their bikes, with large air tires that are fitted with multiple shocks in both the rear and front wheels to absorb energy and keep the ride smooth for your child. The hand brakes are designed exactly like hand brakes on a bicycle as well to ensure the best when it comes to stopping power.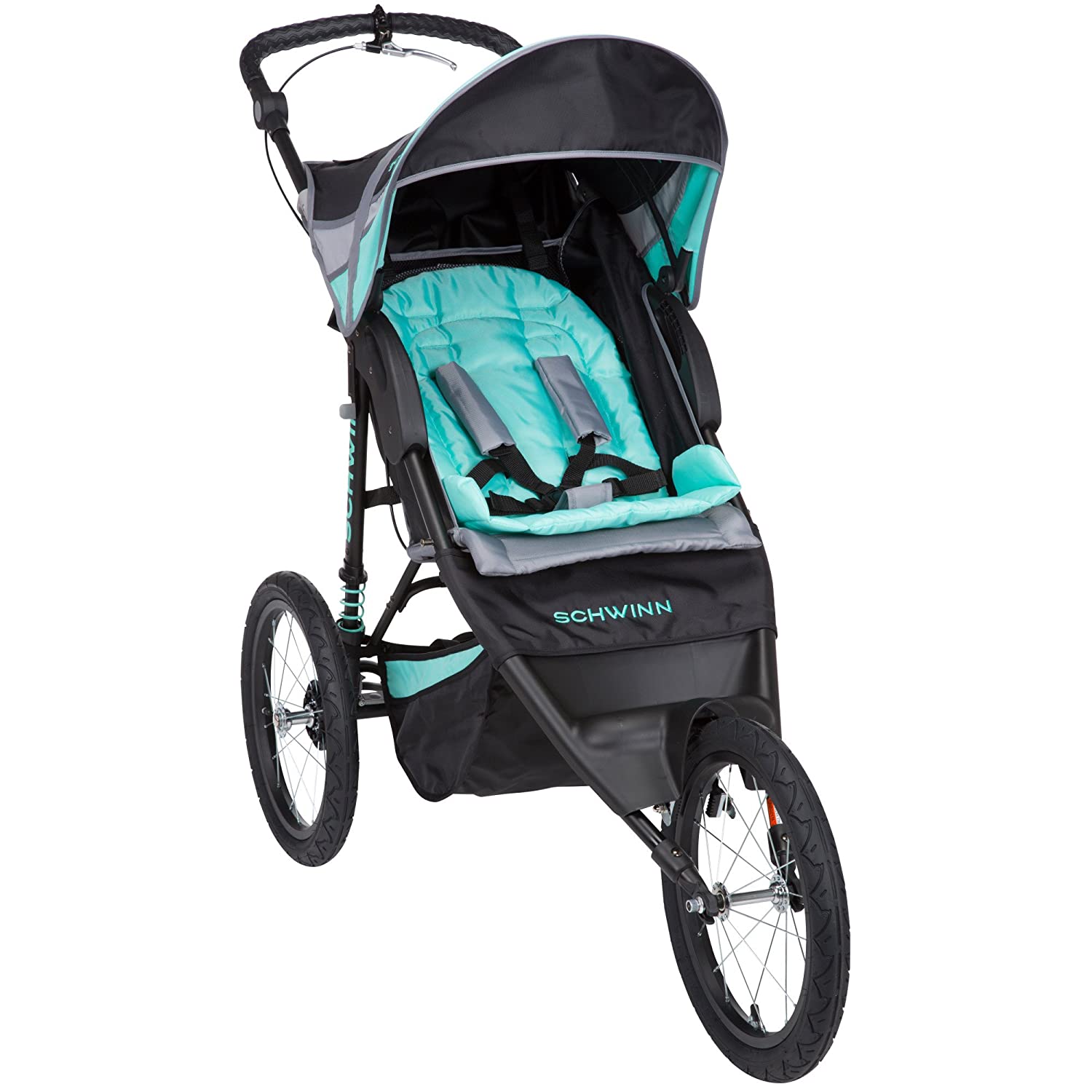 The sun protection canopy is fitted with a plastic water guard to keep help keep your child dry in case of a downpour while the no slip grip bar allows you to keep a strong hold on the stroller through any passing storm. This running stroller is built for longer outings with one of the largest storage baskets that can be found underneath the carriage meaning that you don't have to worry about rushing back to your car for each diaper change. The bright red styling of this running stroller stays true to the Schwinn brand and will leave you with a sense of nostalgia. Features that make the Schwinn Arrow Single Stroller one of the best running strollers are:
Cup holders for both child and parent
Extra large storage basket
Classic red styling
Multi-shock system
Soft grip handle bar
Sun canopy with water protection
Extra cushion in child seat
Bicycle hand brakes
Large air wheels with steel framed rims
The Schwinn Arrow Single Stroller is a great purchase for any running enthusiast who is looking for something a little more classic when it comes to a running stroller. The only real downside is that this stroller is not as lightweight and easily portable as the others on the list due to the extra large wheels. If you can look past the somewhat bulky design, this running stroller can be yours for around $200.
6. Baby Trend Expedition Double Jogger Stroller
While the Baby Trend brand has already made one appearance on the list, this running stroller is in a league of its own. The Baby Trend Expedition Double Jogger Stroller was specifically designed for either a family with twins or one with multiple small children. Many times parents who are caring for twins feel left out of all the newest innovative baby gear because not many of them are made to work with more than one child. With the Baby Trend double stroller a parent of twins can still get all of the benefits of a great work out while never having to sacrifice time spent with their children.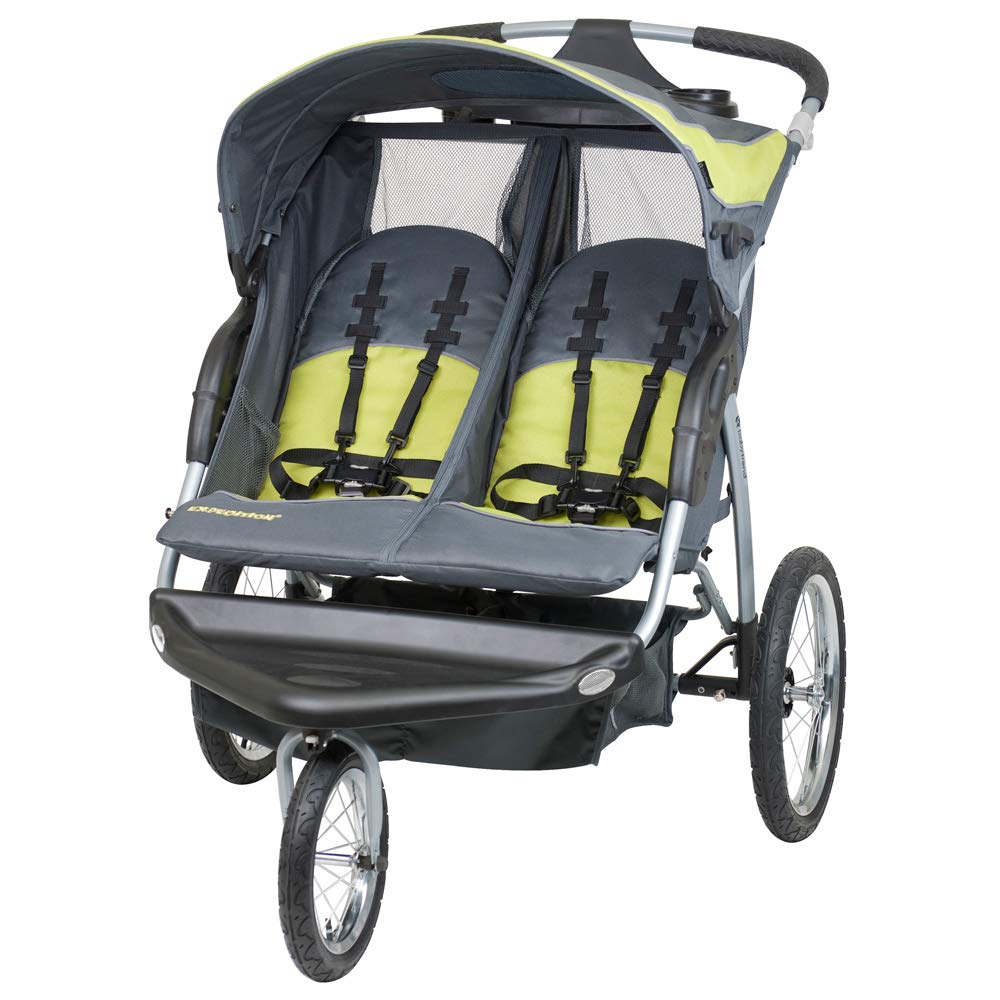 Each child seat is completely adjustable and can be set at different positions because rarely do you find two kids who want the same thing at the same time. Feel free to let one child enjoy the sights from your jog while letting the other enjoy a little nap in a more reclined position. The stroller does not skimp on safety features either.
Each seat is fitted with a five point harness system while the rubber bike tires and shock system allows each child to experience a smooth enjoyable ride. You may be surprised to know that while this stroller is large enough to fit two children it still maintains a lightweight feel and a quick fold design. Some of the amazing features of this two for one stroller are:
Two adjustable seats
Five point harness
All terrain rubber tires
Adjustable handle bars
Locking front wheel
Innovative brake system
Easy fold for storage
Colorful design
Large storage basket
Sun protection shade with peek-a-boo window
The Baby Trend Expedition Double Jogger Stroller is a perfect choice for families of multiple little ones and while you get double the product you won't pay double the price as this stroller retails for right around $200. The best selling feature for many parents who have owned and used this running stroller is the sun shade which is large enough to protect both children while still letting them experience the world around them. At the end of the day all three of you can enjoy a great time outdoors.
Conclusion
Many times parents of young children don't feel that they have any options when it comes to taking care of themselves but with the purchase of a great jogging stroller, life really does open up. It is important for a parent to take care of themselves so that they can take of their children. Not only are you doing a good thing for your health you are also teaching your child healthy lifestyle habits early on. The first step is really simple; just keep in mind what to look for in features while also looking for what fits best for your lifestyle. Good luck.