The battle of the diaper bags is always a tricky war between parents. While some dads don't mind toting around a bag that is wonderfully designed with bright pink butterflies, more often than not a dad would prefer to carry around a bag that is more tuned in to their style. Luckily for these forward thinking fathers there is another option out there! There is several great diaper bags available that are more geared toward a masculine style that still offer all of the conveniences of traditional diaper bags.
Sometimes it isn't only the pattern of the diaper that can be worrisome to a hip dad.  Sometimes the styling of the bag itself can be uncomfortable to carry due to shorter straps and bulky sizing.  If you know what to look for and what to avoid you are well on your way to not only finding some common ground but also get a great product that both parents can be happy with.
What to look for the dad's diaper bag
In order to find exactly what you need when it comes to finding one of the best diaper bags for dads, you should start by looking for the key features that will make your life a little easier.  Here are some things to keep in mind:
Color and pattern
It might be best to find a diaper bag for dads that fits into a more neutral color scheme pattern, like grays or blacks.  This way you can feel a little more confident dragging the bag around.  If you're a dad who doesn't mind a little bit of flare; don't worry you're covered!  There are a few bags that have "trendy dad" written all over them and come in a variety of cool patterns like camouflage.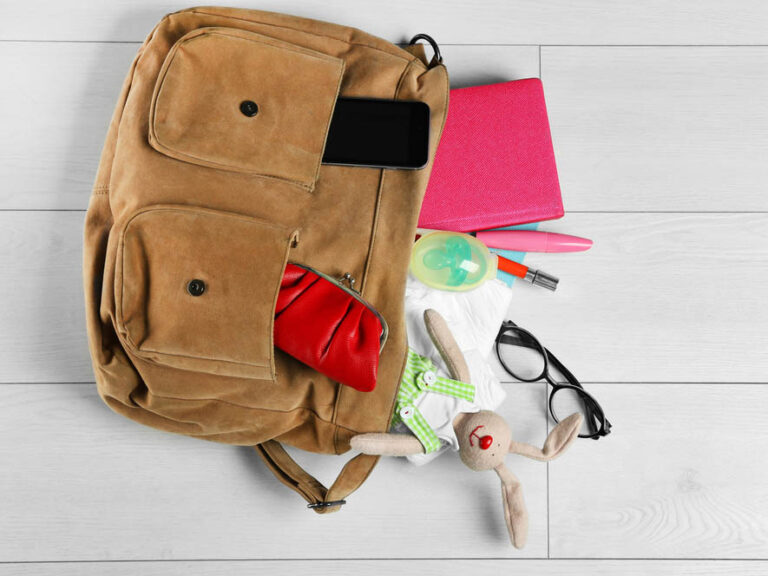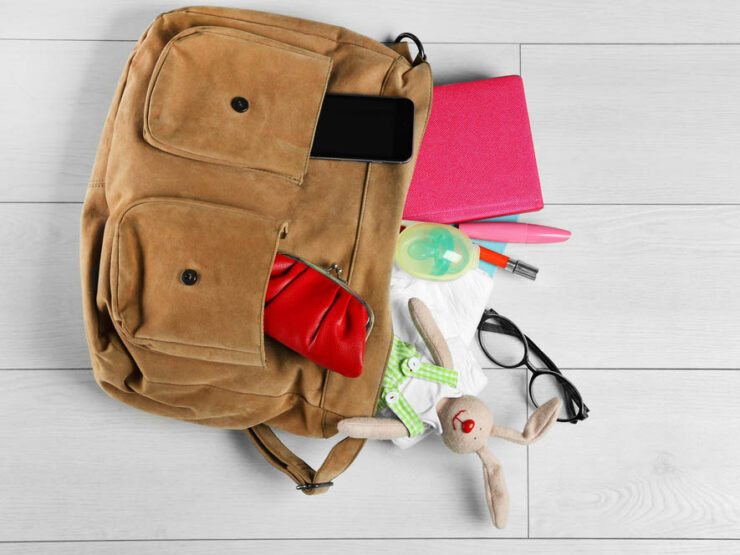 Style of bag
An important thing to keep in mind is the style of the diaper bag.  Traditional tote style bags should be avoided because they have shorter straps which may not be as comfortable for taller parents to carry.  Look for either a messenger style bag or a backpack style because both of those can be easily adjusted to fit your comfort needs.  A popular new choice among dads is a trendy cross body messenger style bag that not only looks cool but allows you to be hands free as well.
Functionality
While the bag needs to be stylish enough to fit your lifestyle it should function just as well as traditional diaper bags for dads.  Make sure you find a bag that not only offers not a great deal of storage space but also has little extras that will make life easier like a baby wipe pocket or a key ring.  Another great feature you should check for is either a removable or attachable changing pad.  These little pads can make all the difference in the world when it comes to emergent changing situations.
Now that you know what you should be looking for, you are well on your way to finding a diaper bag for dads that is better suited to your needs.  Here are some great diaper bags that are geared towards dads and are sure to make you comfortable.
List of 5 Best Diaper Bags for Dads Review
1. Lillian Rose Diaper Bag, Building The Foundation Daddy
Dads love this Lillian Rose Diaper Bag because it is built to resemble a tool bag, and that is essential what a diaper bag is.  A diaper bag basically is a tool bag that is meant to help you easily tote around all of your baby's needs.  From diapers to a change of clothes; you need to have enough room for everything.  With this bag, you are more than covered!
This amazing diaper bag features a total of seven exterior pockets for all of the baby essentials you need to grab quickly like wipes and bottles.  Each pocket is perfectly sized to fit exactly what you are looking for from a pacifier to a rattle, everything you need it right at your fingertips.  The center pocket is secured with a zipper so that you can store things that you don't want to get dirty like baby blankets or a change of clothes.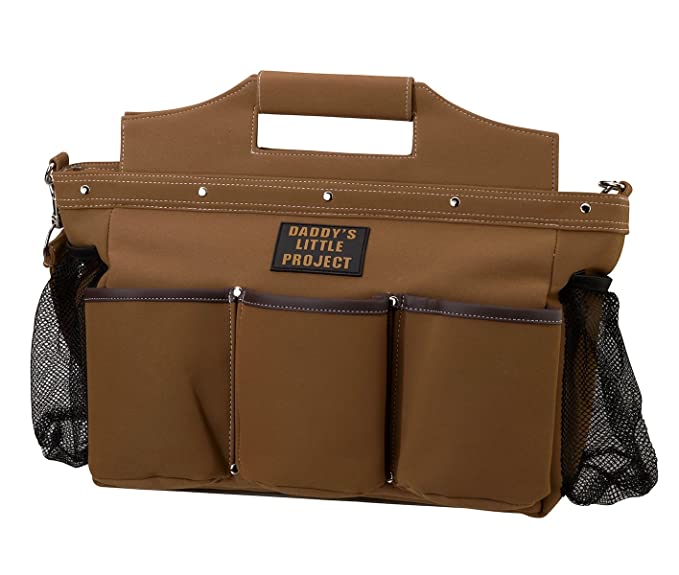 The construction of this bag was built to last and hold up all throughout your child's early years.  The exterior is made out of a soft faux suede and features rivets and metal details that make you feel like you are carrying round a tough tool bag.  Dad's love the adjustable carrying straps that allow them to expand the strap for a more comfortable carrying feel.
There also is two carrying handles for a quick grab which is perfect if you are not a fan of shoulder or chest straps.  While this bag may seem a little whimsical, it is perfect for fathers who love to work with their hands because it shows off a little bit of that craftsman pride.  Not only is the Lillian Rose Diaper Bag one of the best diaper bags for dads, it also would make a great gift for any expecting father who loves construction.
Why should you buy it?  Here are some of the awesome features:
Seven exterior pockets
Zippered center pocket
Adjustable strap
Carrying handles
Faux Suede
Unique design
Makes a great gift
Velcro closure
2. Skip Hop Baby Dash Signature Messenger Diaper Bag
The Skip Hop Baby Dash Signature Messenger Diaper Bag is an excellent choice for dads who pride themselves on having a more classic style.  The heather gray is a great neutral color scheme that is perfectly paired with the jet black piped detailing.  When it comes to storage, you will not be disappointed either.
This Skip Hop Dash bag has a total of 11 different pockets, each serving its own individual purpose which helps to keep your life a little more organized and well managed.  Among these 11 pockets are two separate side pockets which are meant to hold either baby bottles or sippy cups, depending on your child's age, which are perfect for long trips out of the house.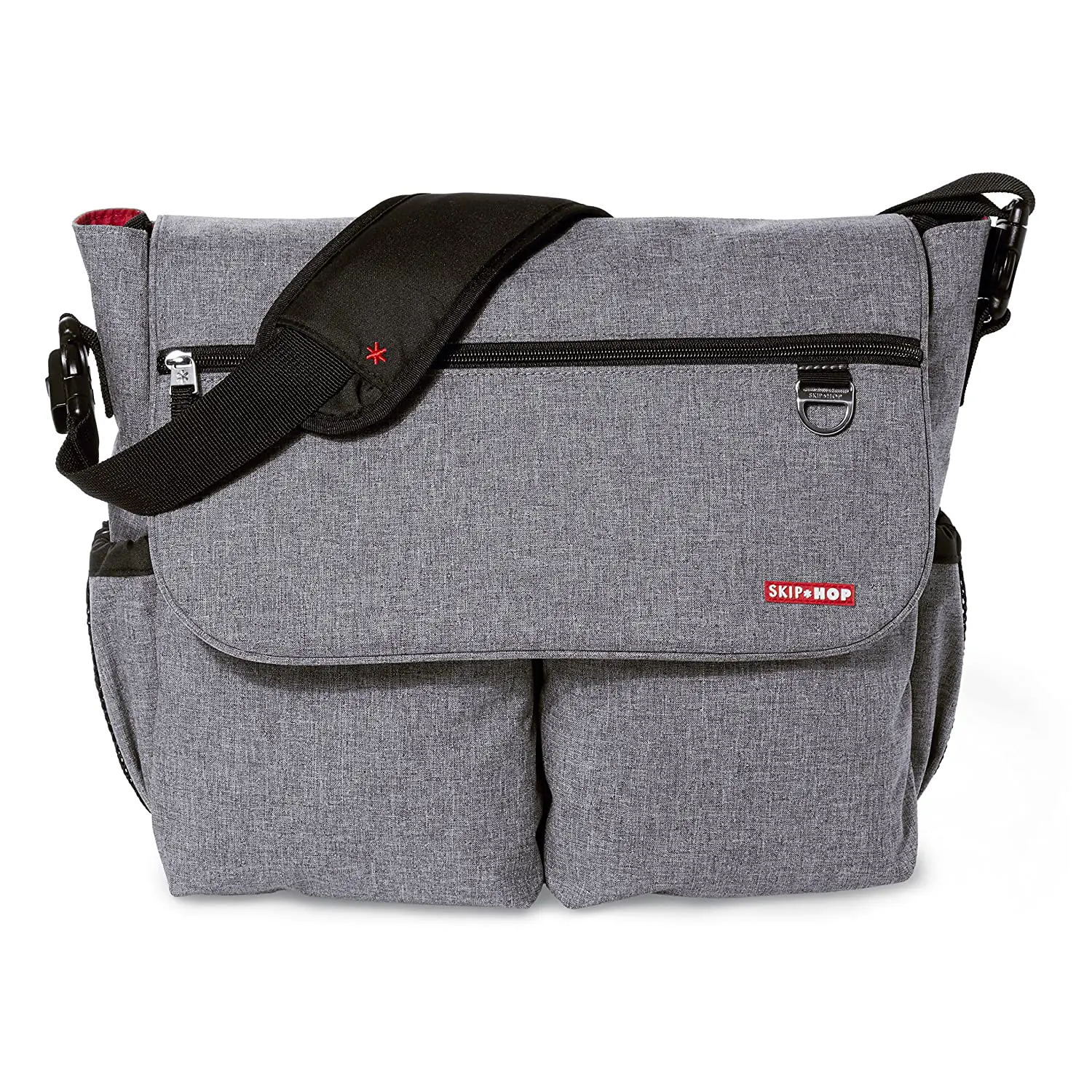 Taller dads will love the adjustable shoulder straps that allow you to either wear the diaper bag across your chest or over your shoulder comfortable without feeling too tight or restrained.  You will love the addition of metal clips that allow you to hang the diaper bag directly onto your stroller for a more hands free trip out of the house.
Best of all, the Skip Hop Baby Dash Signature Messenger Diaper Bag comes with a removable diaper changing pad that is perfect for the times that you need to change a diaper without a single changing table in sight.  You can easily wash down this pad with a wipe after each use to help keep it clean and ready for the next time you need it.  Not only will you feel secure carrying this diaper bag around, but your stuff with secure too!  This is because of the magnetic closures that latch to keep all of your things perfectly in place.
Here are some of the great features of the Skip Hop Baby Dash Signature Messenger Diaper Bag that help to make it a best seller:
11 total pockets
Side bottle pockets
Magnet closure
Adjustable strap
Messenger style bag
Heather Gray
Removable changing pad
Metal stroller clips
Quality fabrics
3. Bag Nation Diaper Bag Backpack with Stroller Straps, Changing Pad and Sundry Bag
If you're looking for a great diaper bag that is not only comfortable but also has a ton of extra features that any dad would love to carry around, then the Bag Nation Diaper Bag Backpack is perfect for you.  This diaper bag is a backpack style bag which is often most preferred by dads.  That's because backpack style diaper bags are the most natural to carry and allow you to guide your little one around completely hands free.  This backpack diaper bag has literally thought of everything when it comes to your child's diapering needs.
There is a ton of space which is there to perfectly hold all of your child's essentials like diapers and change of clothes and is even large enough to carry around some of your gear like books and tablets as well.  The comfort padded and adjustable shoulder straps allow you to carry all of these items without ever feeling any strain or stress on your back, neck and shoulders.  Dads love the addition of a baby wipe side pocket that allows you to have quick access to wipes at any given time.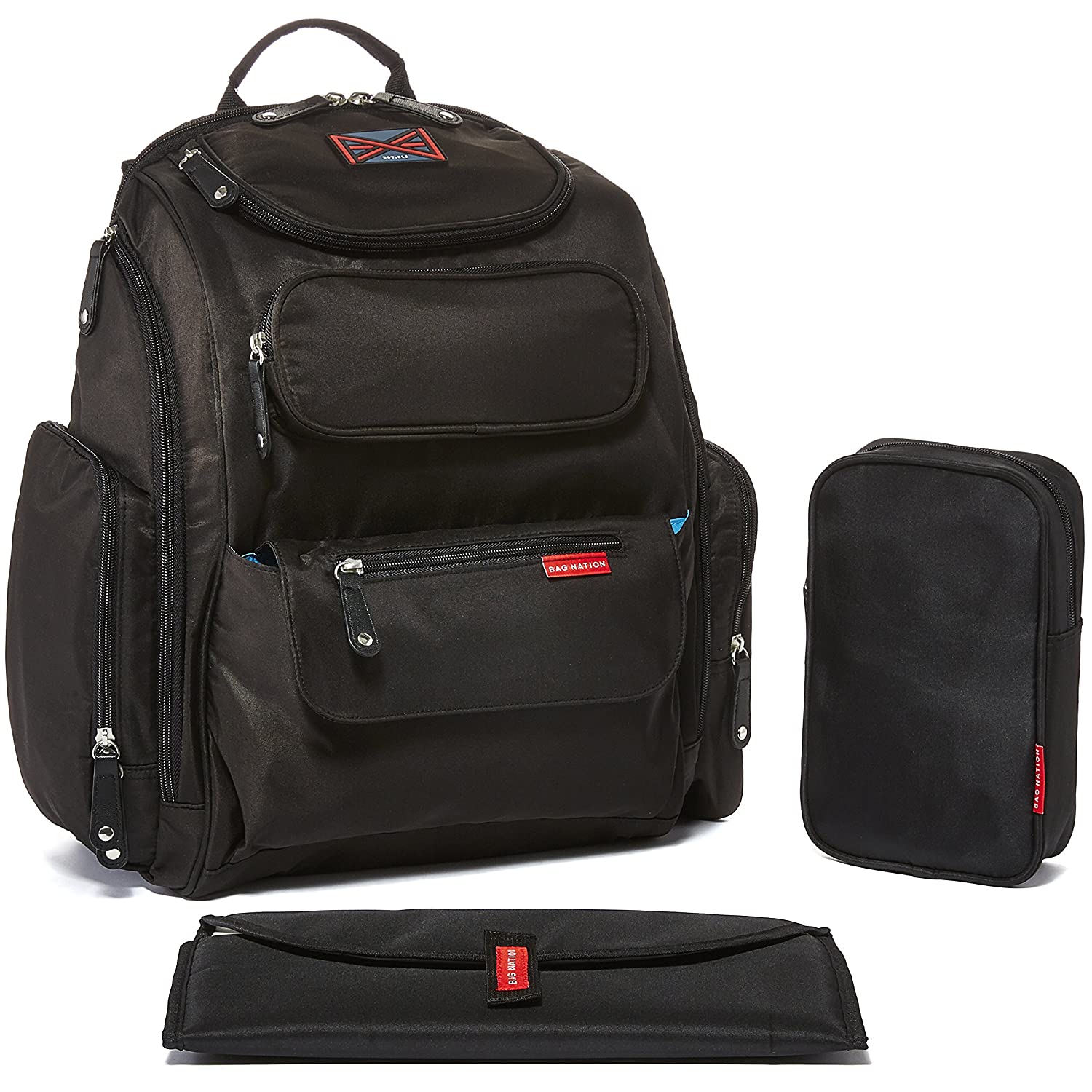 The thing that helps to make this bag one of the best diaper bags for dads is all of the extra add-ons you get.  There is a removable changing pad which is easy to wash as well as a completely separate sundry bag.  This extra little waterproof bag is perfect to store your baby's toiletries like lotions and soaps without worrying about them leaking and ruining your baby's things.
This neat little extra is a great addition for families who do a lot of traveling and find that they need to carry around more than just the everyday baby essentials.  You will love the classic black styling that offers a pop of color with the shaded interior.  Best of all, the Bag Nation Diaper Bag Backpack comes fitted with stroller straps that allow you to attach the bag directly to your stroller for easier access and traveling.
Is this the right diaper bag for you?  Here are some reasons to but it:
Separate sundry bag
Removable changing pad
Classic black styling
Backpack style
Adjustable comfort straps
Waterproof
Baby wipe pocket
Stroller straps
Storage space
Lightweight feel
4. Diaper Dude Sport "His Dudeness" Diaper Bag but Chris Pegula
You can be sure that this Diaper Dude Sport Diaper Bag is perfect for the manliest of men because it is right in there in the name!  This bag not only will safely and easily transport all of your little one's things, it will also please any rugged man in your life. This diaper bag is a great way to assert your dad style because of the different color combination options to choose from. While the brown and hunter green is a great choice for the outdoors dad, the blue and yellow combination is great for dads who love to show a little flare.
Best of all, this bag is completely affordable which is perfect for dads on a budget. This messenger style bag comes complete with an adjustable shoulder strap that features a padded insert for comfort all day long.  You will love the pop of color that comes through when you open the bag; it's like a little surprise each and every time!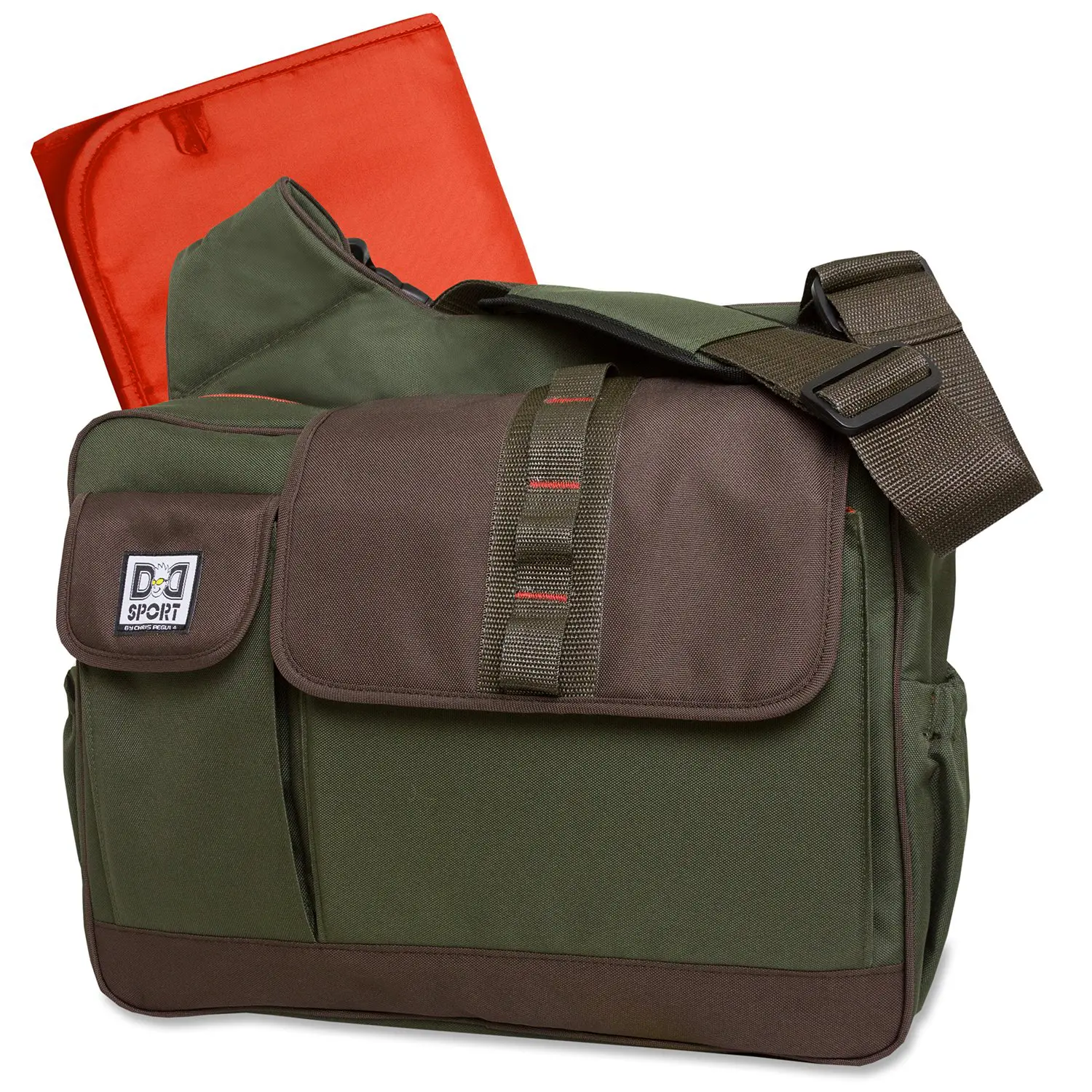 The front flap of the bag unfolds to reveal a colorful changing pad, which isn't removable like others on this list, but it will do the job just as well.  There are a wide variety of pockets to choose from.  Each pocket ranges in size so that you will literally have a place for everything. Dads love the Velcro secure front pocket which is a perfect place to keep your phone, keys and wallet safely out of the way from soiled diapers.
The main center pocket is large enough to hold a whole sleeve of diapers while also having room for a change of clothes and a bottle or two.  This bag is not only great for quick errands around, but is durable enough for families who love to travel and spend a great deal of time outdoors.
What makes this diaper bag so great?  Here are some of the top features of the Diaper Dude Sport Messenger Bag that you are sure to love:
Multiple pockets
Velcro secure dad pocket
Colorful changing pad
Adjustable shoulder strap
Messenger style diaper bag
Different color options
Budget friendly
Tough and durable fabric
High Quality
Makes a great gift
5. Ferlin Multi-Function Baby Diaper Nappy Bags Backpack with Changing Pad
Last on the list of the best diaper bags for dads is the Ferlin Multi-Function Baby Diaper Nappy Bags Backpack.  This diaper bag makes an appearance because it combines two things that dads love in diapers bags; backpack styling and neutral heather gray.  Not only does this backpack offer a great deal of space and style, it is also built to last.  It is made out of high quality materials that are waterproof which is a must in any diaper bag.
This is because you often times find yourself having to store soiled diapers in the bag, which can lead to a build-up of mold and bacteria.  So finding a great waterproof diaper is a great way to keep your baby's things, as well as your baby, safe and healthy.  You will love the stylish heather gray color that is paired with black detailing in the front as well as along the shoulder straps.  The dual straps are soft and comfortable and completely adjustable to fit any parent's height and size.  You will also love the breathable back fabric which helps to keep your back cool even after carrying around the bag all day long.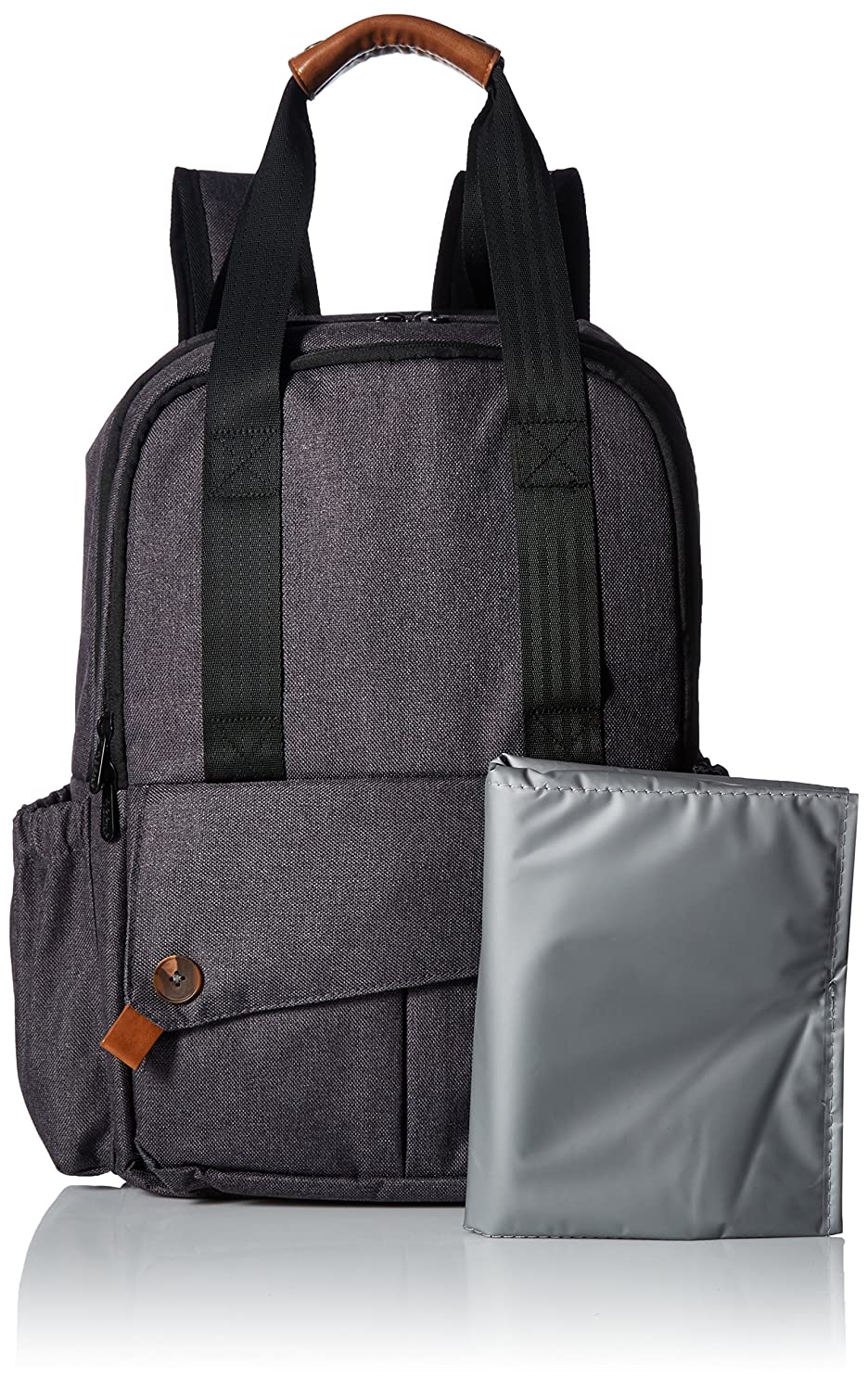 Besides being really trendy and cool looking, the Ferlin Multi-Function Baby Diaper Nappy Bags Backpack is a top of the line product when it comes to storage and organization.  Organization is the key because of all of the extra large pockets, each which is secured with a zipper.  There are also separate little compartments for your extra stuff like toys and pacifiers.  Along with this backpack diaper bag you are also getting a matching changing pad which is washable and portable for easy and quick diaper changes.  Dads who use this diaper bag boast about how lightweight it feels.  Even though it could be packed to the brim with all of your baby's things, it still carries like a dream which is perfect for dads who suffer from sore necks and shoulders.
Is this the right bag for you?  Here are some reasons why you should buy the Ferlin Diaper Backpack:
Separate organized pockets
High quality materials
Heather gray with black details
Adjustable comfort straps
Breathable back
Removable and washable diaper changing pad
Designer style
Extra large
Lightweight feel
Conclusion
There are so many baby gear items on the market that are geared toward women's needs so it is nice to know that there are some things that that are designed with dads in mind.  When you buy one of the best diaper bags for dads you are not only finding a product that suits your style needs, you are finding one that you can be truly comfortable with carrying around.  Any one of these bags would be a great addition to your life.  Just keep in mind that getting style doesn't always mean that you're getting quality and functionality.  Make sure to find a great diaper that offers you both!  Good luck.