Being a nine-year-old boy is not the same as it was for you while growing up. Of course, we all remember and reminisce about our childhoods, but the problem is, every generation is different. Therefore, what you would have loved as a birthday gift as a nine-year-old would be utterly different from your nephews and nieces, or any kid for that matter.
It is, therefore, a much better idea to explore the gazillion options available to you under your fingertips and figure out the perfect gift for that beloved nine-year-old kid.
Let's explore this list that will surely make you your nephews' favorite Uncle or Aunt and the kid's favorite pal.
Top Gift Ideas For 9-Year-Old Boys in 2023
1. Good Housekeeping Amazing Science Book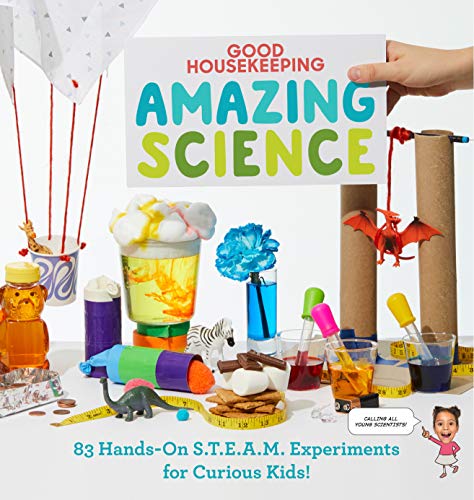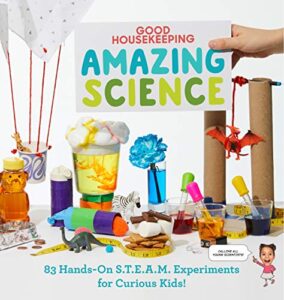 This fantastic book covers a whopping 83 scientific experiments you can do at home using materials readily available. This book is very much oriented towards the STEAM approach. Moreover, it teaches kids various scientific concepts by bringing interesting experiments that they can perform effortlessly. Thus, it is an excellent way of spiking kids' interest in science from a young age.
Features:
Contains 83 scientific experiments
Promotes STEM development
2. Monopoly Voice Banking Electronic Board Game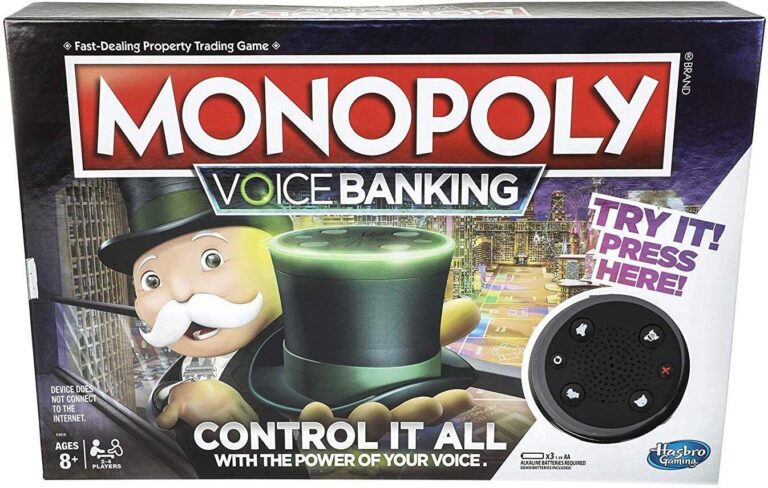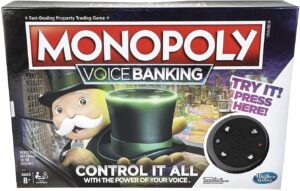 Our favorite Monopoly game has now been modernized into voice banking. It means that there is a voice recognition method that invests the money directly. There is no liquid money involved. Buy this gift for a new way to play monopoly.
Features:
Comes with voice control instructions
No cash is needed as a voice control feature can be used to transfer money
3. NATIONAL GEOGRAPHIC Play Sand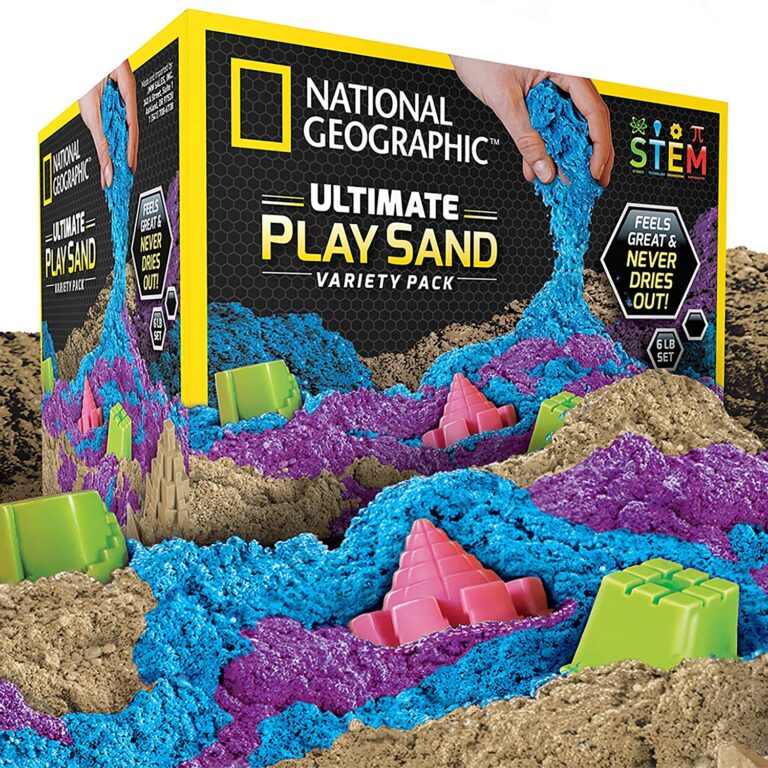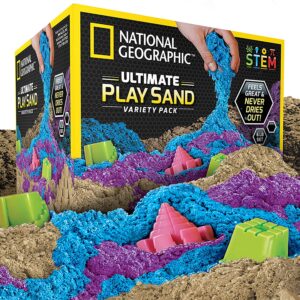 If you are thinking about the mess this play sand could create, think again. It is kinetic sand that does not stick to you. So it does not create a mess like natural sand, but it does ensure the same kind of fun. You can make castles, robots, statues, spaceships, and all sorts of exciting shapes. Thus this is a great way to invoke creativity in kids.
Features:
Kinetic sand that does not stick to your skin
16 pounds of sand
4. LEGO Gadgets (Klutz Science/STEM Activity Kit)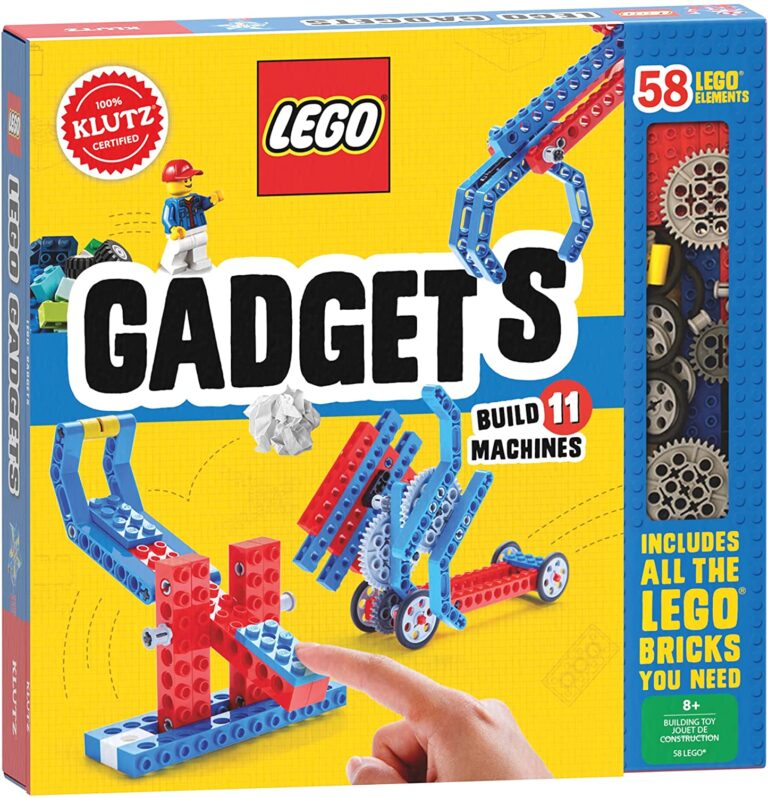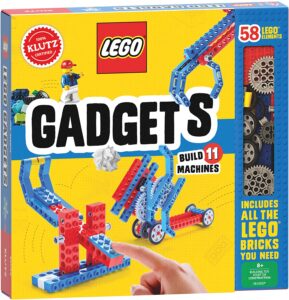 Legos are evergreen games for boys, and this one is quite interesting. This Lego promotes STEM growth and can easily be used to build about eleven different machines. That would intrigue a nine-year-old for sure.
Features:
Can be used to build 11 machines
Promotes STEM development
Promotes creativity
Has a total of 58 Lego Elements
5. Activ Life Kid's Flying Rings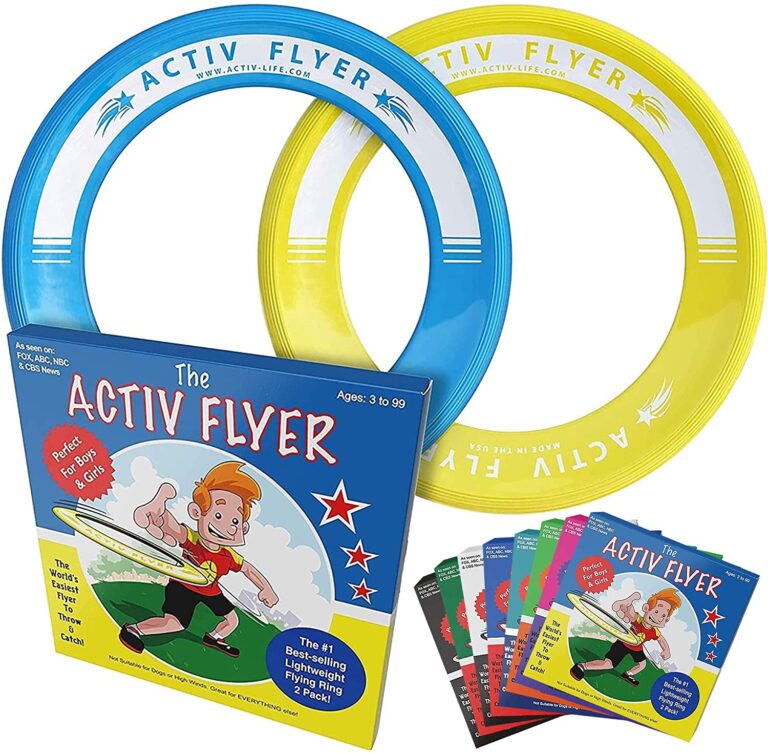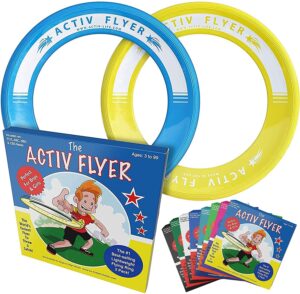 Sometimes the best gifts are the simplest ones, such as these flying rings that come in a two-pack. You can always count on these when going outdoors on picnics to have a great time. Sometimes kids can just start catching and throwing when they get bored. A budget-friendly great gift you might wanna consider.
Features:
Lightweight so doesn't hurt the arm
Outdoor fun for the whole family
6. MejorChoy Indoor Mini Basketball Hoop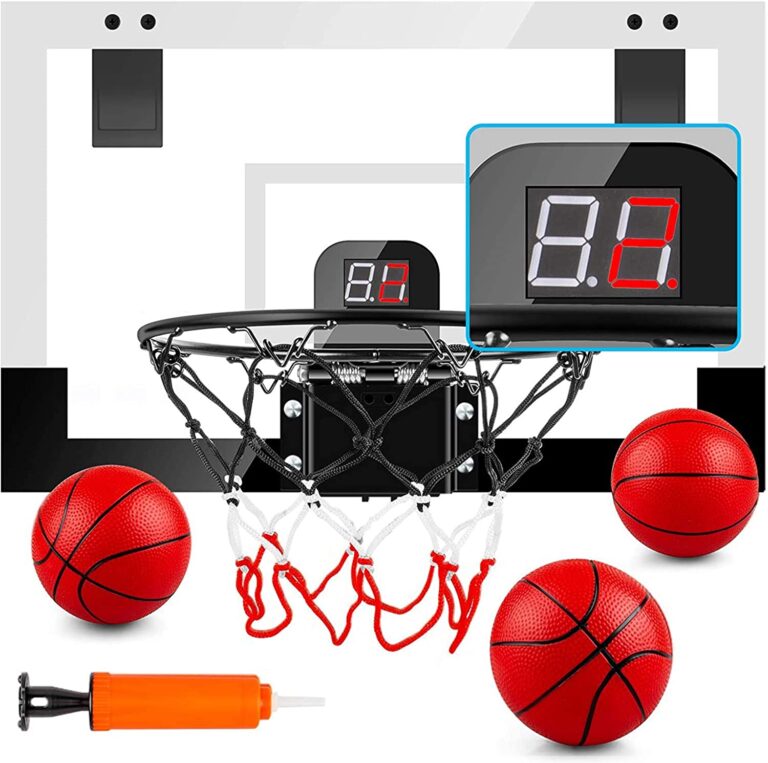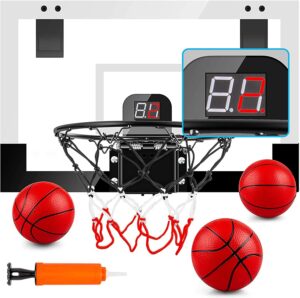 Every nine-year-old kid deserves a basketball hoop somewhere in his house where he feels free and can chill while throwing the ball through the hoop many times. It is an easy to install Mini Basketball hoop which could engage nine-year-olds now and then. What's more fascinating is the scoreboard that it comes with.
Features:
Digital Device on top to keep score
Designed with high-quality ABS plastic
7. Bill Nye's VR Space Lab – Virtual Reality Kids Science Kit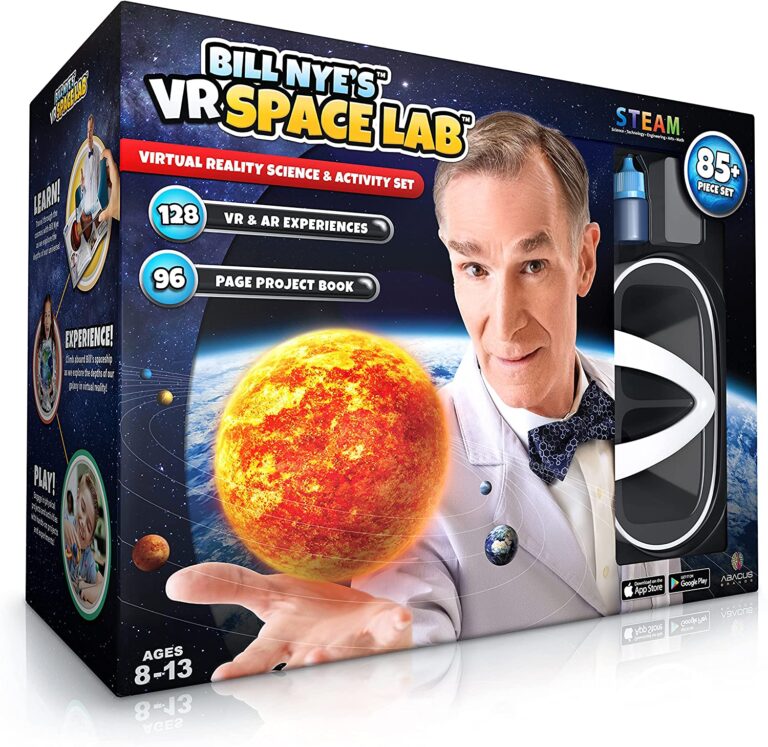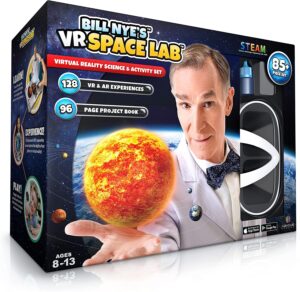 Here comes a different innovative way to immerse your kids into the world of science. This VR Science kit explains crucial scientific lessons in the voice of none other than Bill Nye, "The Science Guy". This way, kids explore the fun of immersing themselves in virtual reality whilst also being ahead in their science lessons.
Features:
85 pieces included that will be needed to build anything within the kit
Bill Nye's Voice to explain all the cool experiments
Builds scientific curiosity
8. 3Doodler Start Essentials (2023) 3D Pen Set For Kids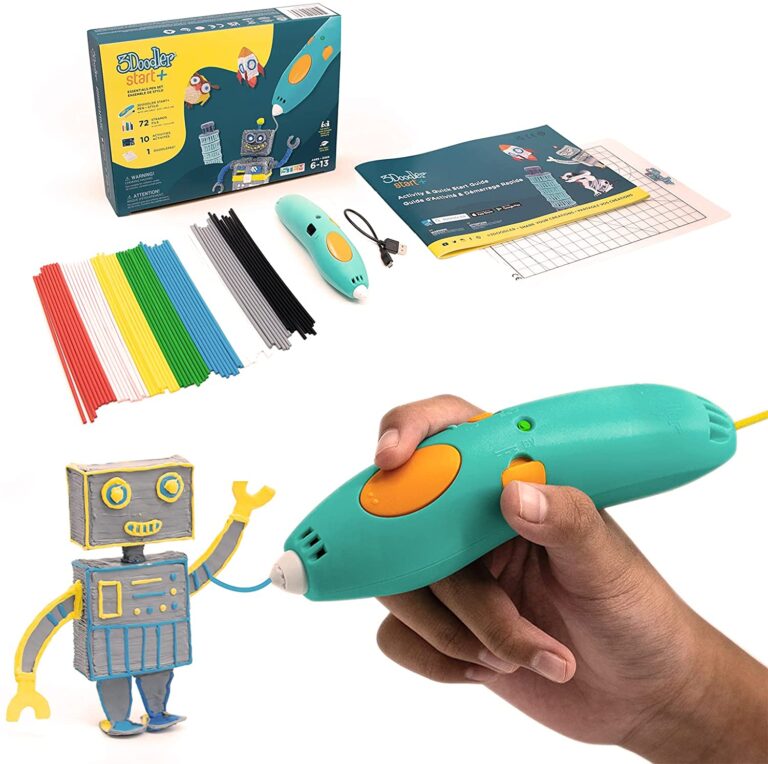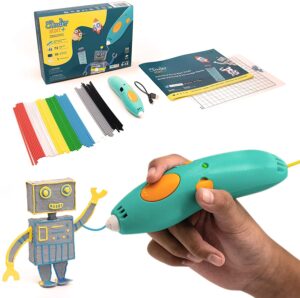 As the DIY trends have been setting in on Youtube, Instagram Reels and TikTok, more and more kids are interested in buying items such as the glue gun. Here is a very unique gift idea which the nine-year-old kid would love.
A safe 3D pen is a way to go when you don't know what to give anymore. This pen comes in a variety of colors and does not become hot to melt like a glue gun. Hence it is completely safe to be used.
Features:
Safe to Use for kids
Comes without the heating function hence easy to play with
Comes in different colors to experiment
Promotes creativity
9. ThinkFun Gravity Maze Marble Run Brain Game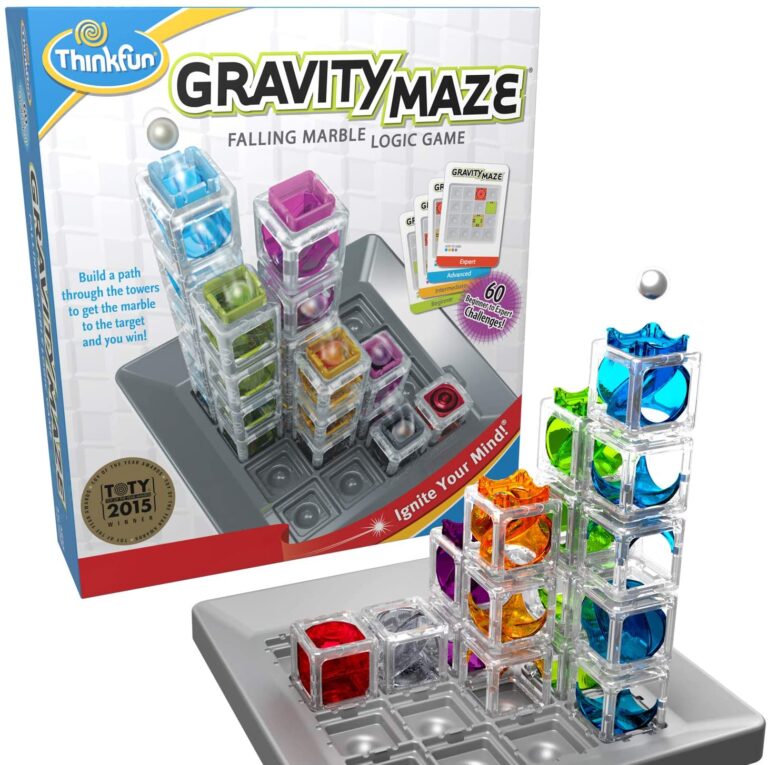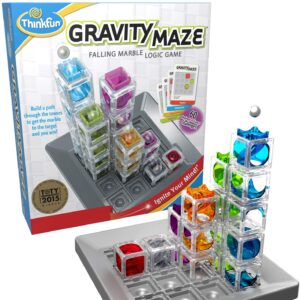 Here is a marble maze puzzle that has been sold in millions. It is a brain challenging game and has various levels. This gift is most suited for boys who love a good puzzle.
Features:
Develops Critical skills
Comes in Different Levels
Comes with clear instruction and manual to follow
Has a very colorful glass build to look attractive
10. UWANTME Electronic Shooting Target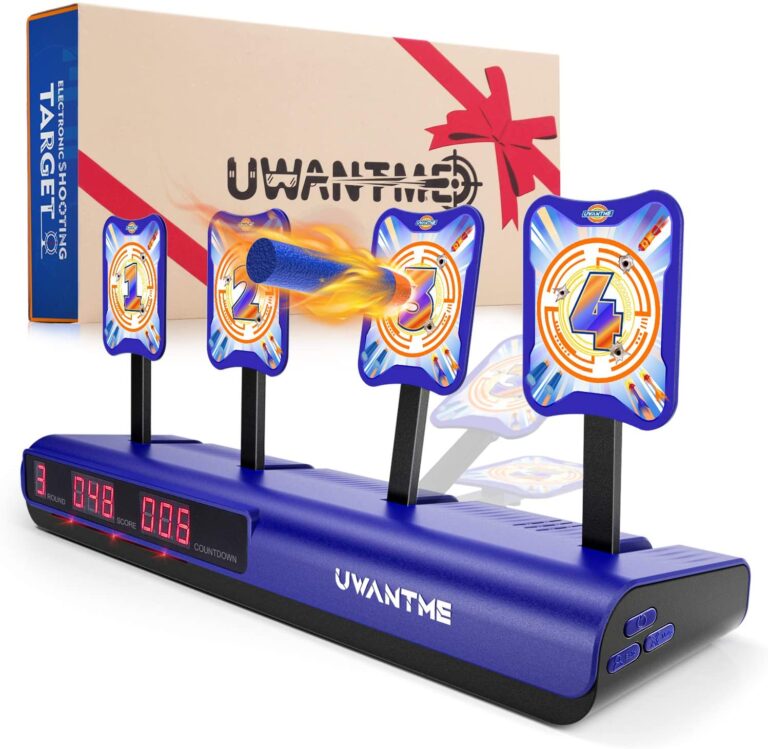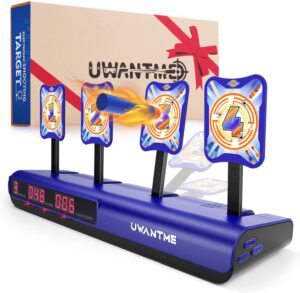 It is a very safe foam-made shooting toy. It is excellent to improve the concentration of nine-year-olds and encourage children to hit the bull's eye or the target. As the arrows are made of foam, they are pretty safe to use. The outside of the toy is colorful, and it could be an excellent pastime for nine-year-olds.
Features:
Has four targets
Contains 3 LED screens to show scores and rounds
Also Has Solo Player Mode
11. FAUX BOW – Shoots Over 100 Feet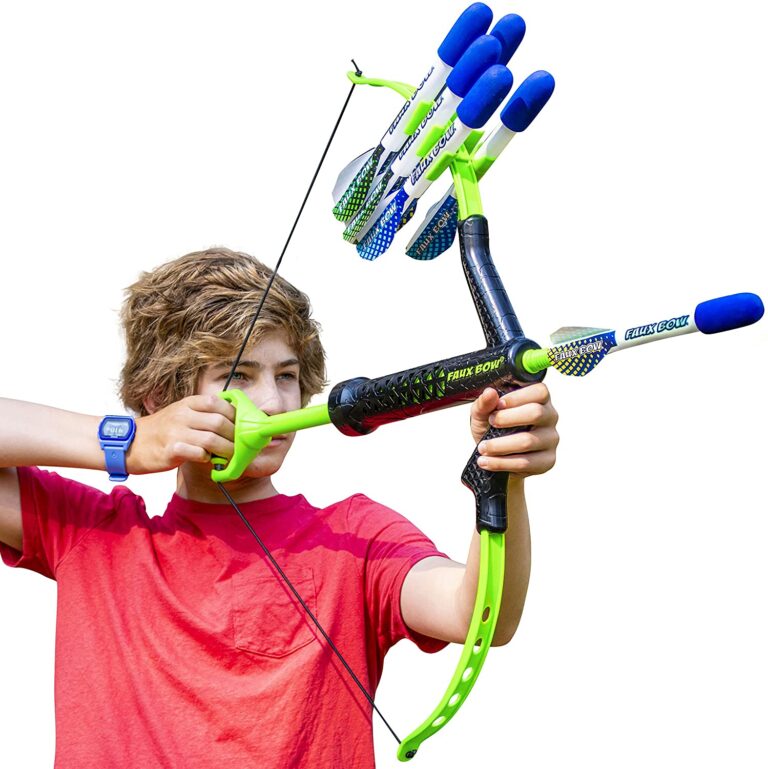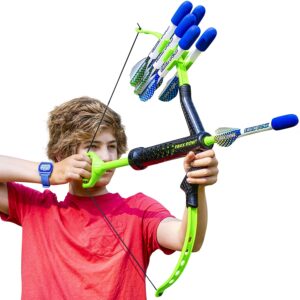 Ever thought of expanding your kids' extracurricular activities? It could be a great start. The Bow and shoots are very well designed and safe. The quill has about six arrows and one Bow. A great way to boost the kids' concentration. Also, this helps kids explore more variety of outdoor sports in a safe environment first.
Features:
Has Foam arrows hence safe to play
Made for quick play
Comes with 6 sets of arrows to be kept in the quiver
12. Reply Piggy Bank Cash Coin Can ATM Bank Electronic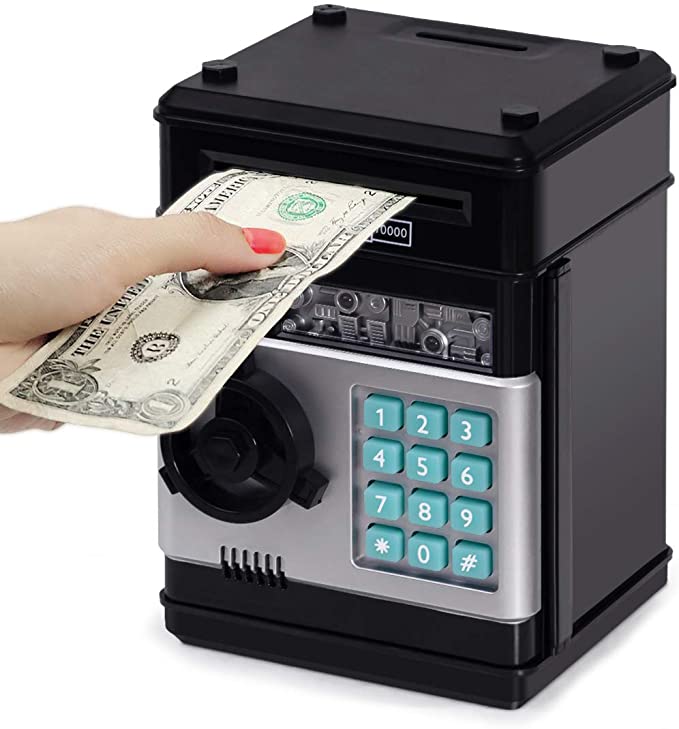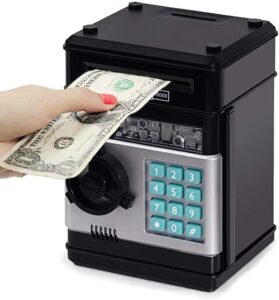 It is an excellent gift for all kinds of kids. Ever wanted your ATM? Your search ends here. It is a piggy bank that has an exterior similar to a bank. You can deposit and withdraw cash. The fun part is the transactions are password protected. As kids get money quite often, this is a fascinating and novel way of encouraging them to learn how to secure and save their own money.
Features:
Made of Environmental safe ABC plastic
Password Protected safe
Can store up to 60 coins and 60 notes
13. Smartphone Controlled Paper Airplane Kit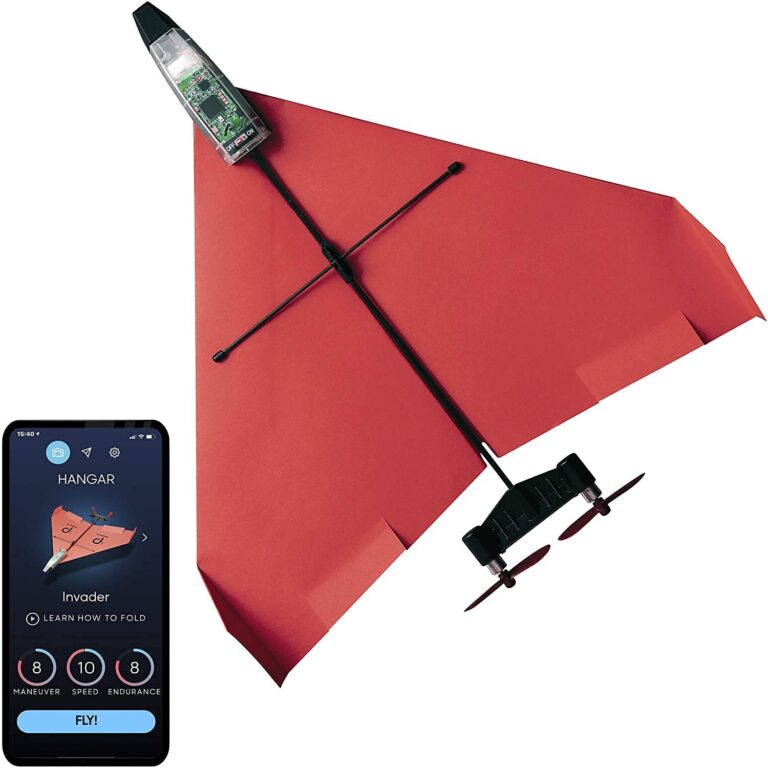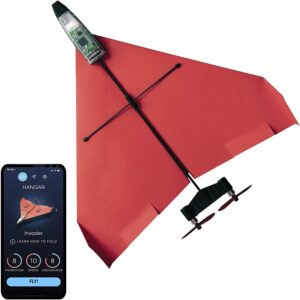 Gone are the days when the wind used to fly paper airplanes in the parks. With this Smartphone controlled paper airplane kit, you can connect any paper plane with your Smartphone via Bluetooth and fly the plane with your phone. There is even an autopilot mode. It is a gadget your nine-year-old boy would play for long as it also has high durability.
Features:
Has Autopilot mode
30 minutes of quick charge gives 10 minutes of flight
Any good quality sturdy paper can be used to fly
Heavy-duty carbon body makes the build sturdy and durable
STEM-based toy
14. LEGO Technic Chevrolet Corvette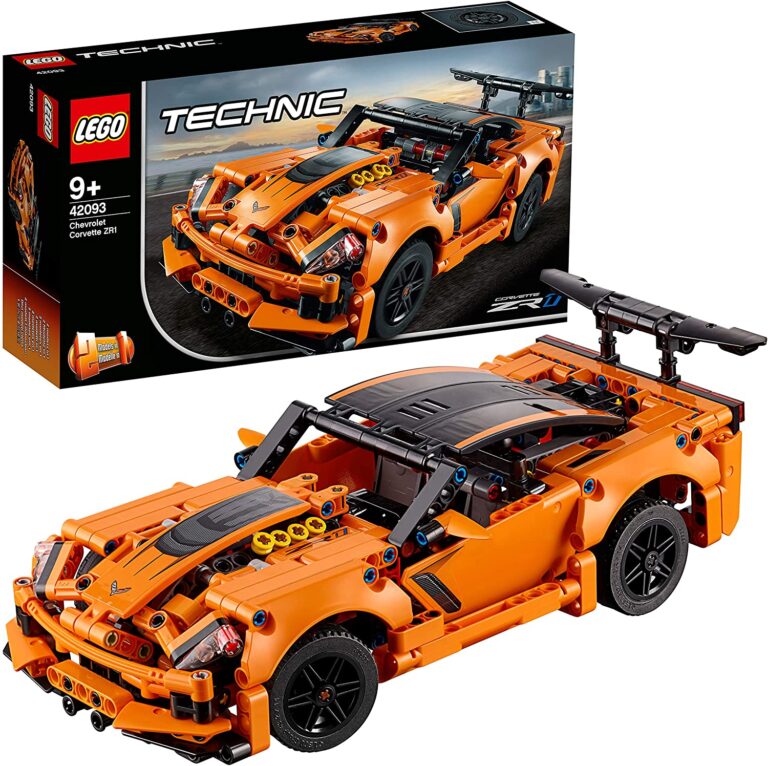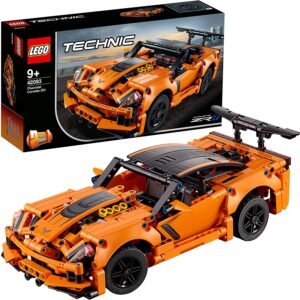 Now this one is a unique Lego as it converts itself into a Hot Rod replica model. So there is no way any kid would be bored playing with this one. It is also not on the expensive side and hence a worthy choice.
Features:
Material is Plastic
Converts itself into a Hot Red replica car
The fun of two cars into one
Sturdy build
15. Razor Spark Kick Scooter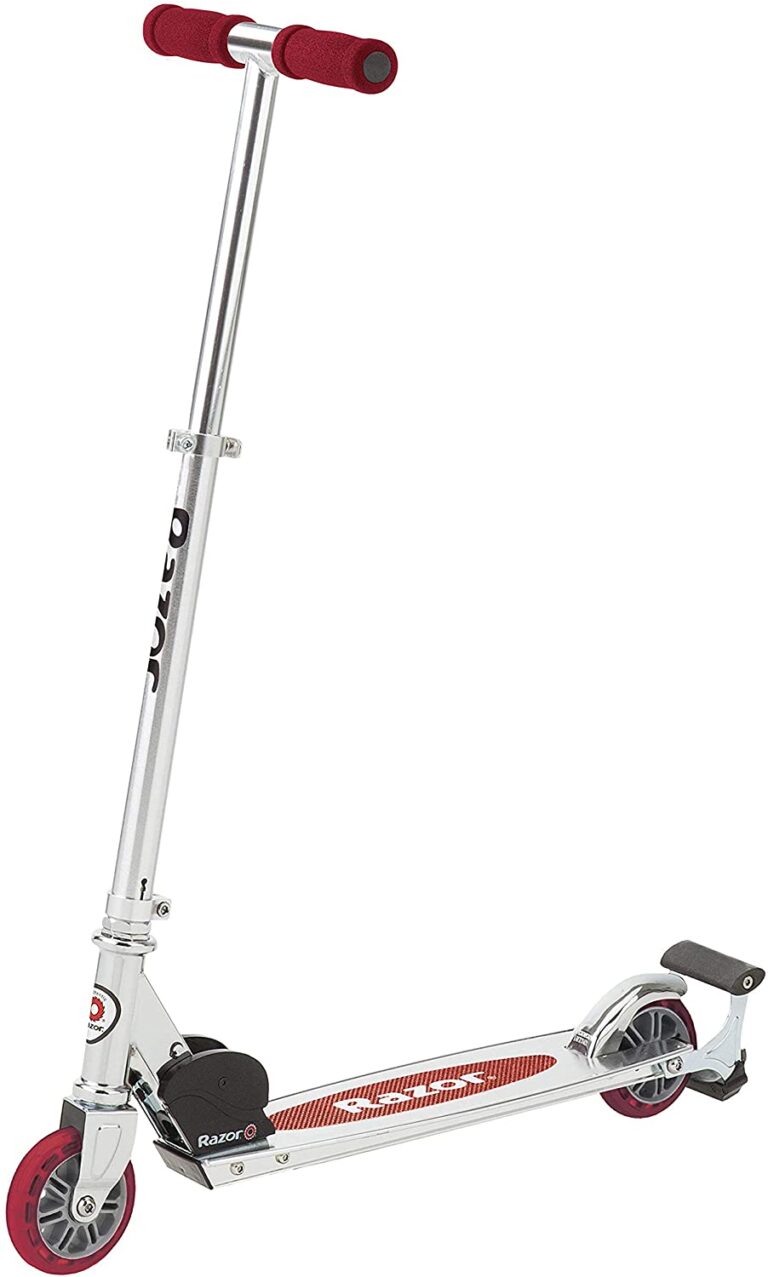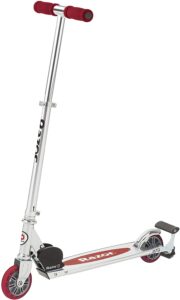 Many outdoor guys love a good scooter to move around in their neighborhood. It is one of those things that doesn't stop being exciting. The more you move around in your scooter, the more comfortable and athletic you become. Suddenly, you can pull moves others can't. Moreover, it makes you feel comfortable with yourself over time. Overall an excellent investment.
Features:
Sturdy build
The height, length, and Width of the scooter is 20 inches each
Aluminum Frame
A break is at the rear
16. Super Smash Bros. Ultimate – Nintendo Switch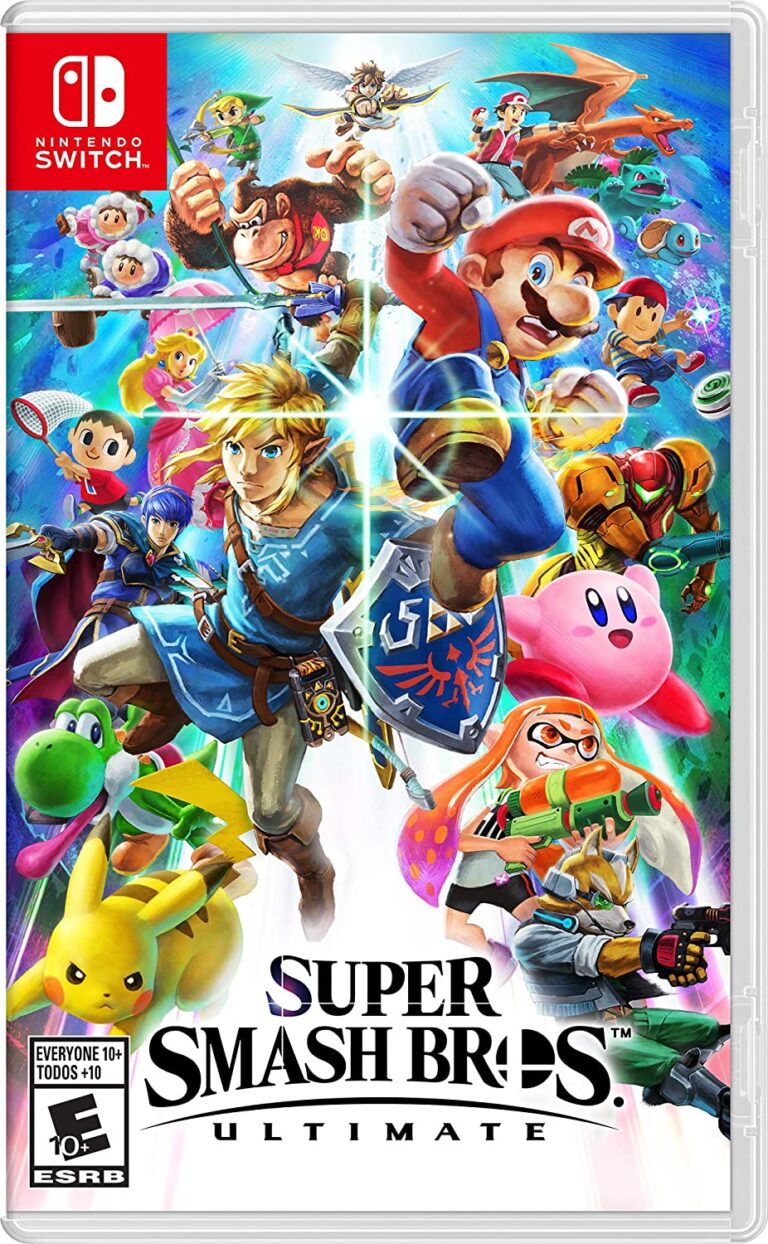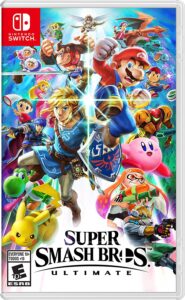 Nintendo is a kind of a staple for many young boys. This game is more attractive as it contains more characters and has various more advanced levels. And you can play it online, on TV mode and different other modes. It is a sure-shot way of becoming pals with the nine-year-old boy.
Features:
New stages and Fighters
Various modes are available to play such as handheld, on TV, Tabletop mode Etc.
New techniques such as directional air dodge or perfect shield
17. Altair #AA108 Camera Drone Great For Kids & Beginners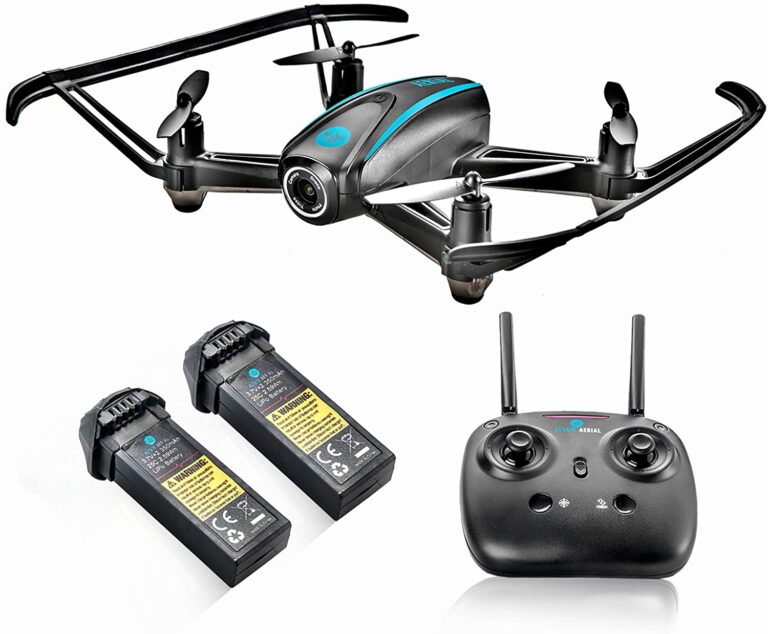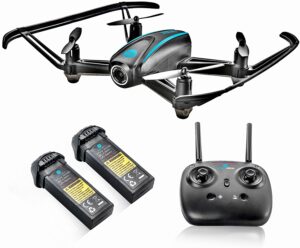 Every kid on the block wants a drone nowadays. And for nine-year-old kids, the drone must be safe, easy to use, and fun at the same time. Therefore, the Altair #AA108 Camera drone is presented to you, which gives a 720p video quality and is highly beginner-friendly. Moreover, it has multiple features, such as it provides a flight of 100 meters and provides a 120-degree range of view.
Features:
720p camera with real-time video features
100 meters flight capabilities
10-minute flight
Bonus battery to flu for extra time
Comes in three modes, Beginner, Mid-range, and Advanced
18. Polaroid Now I-Type Instant Film Camera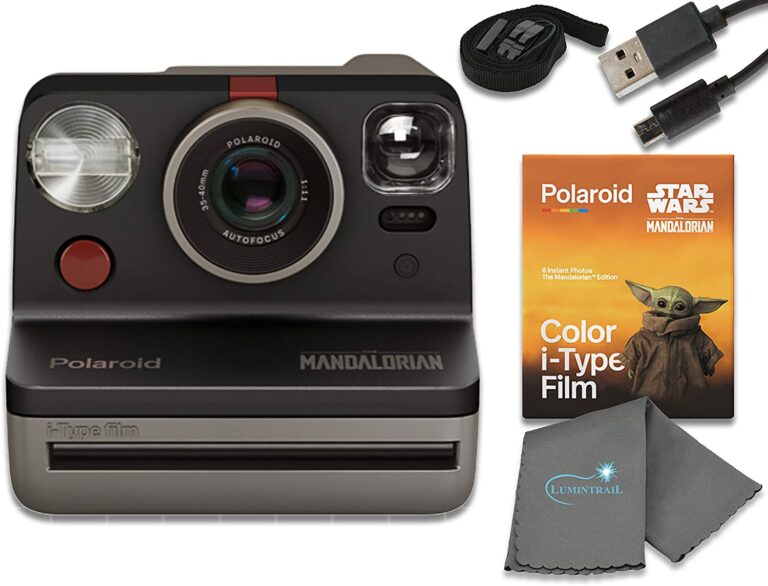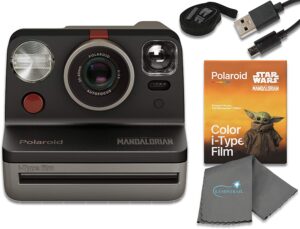 An instant camera from Polaroid can be a great way to boost creativity in kids. Photography is about cherishing and capturing moments, and it is about having the observation skills and patience to capture the right moment. Therefore, this could be an excellent gift to help the kid explore a whole new realm.
Features:
Two lens Autofocus system
USB Cable, Neck Strap, Polaroid Film Pack, and a Cleaning Cloth
Buyer's Guide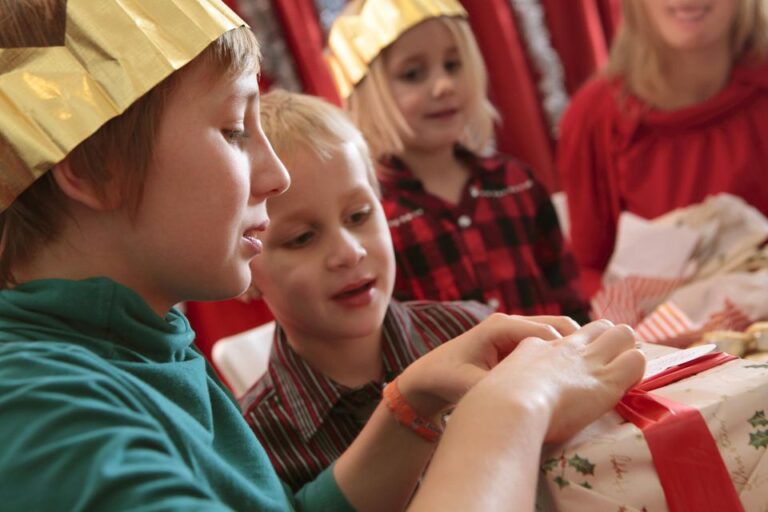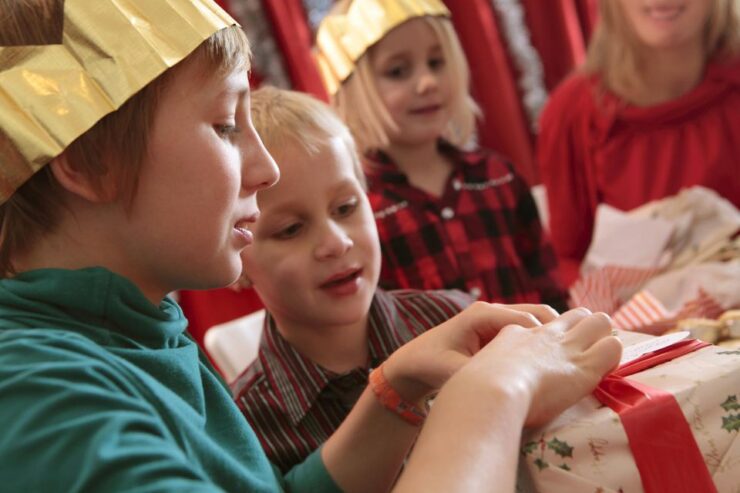 If you are going to put your hard-earned money into meaningful gifts, it is essential and crucial that you get the best gift for the nine-year-old. The gift choice must come from knowing something about the boy's likes and personality so that you hit the bull's eye with your gift choice.
You can try to figure out things such as his favorite sports, what activity he spends a lot of his time on, does he have some field of interest he wants to explore, such as learning a musical instrument or learning a new language. These could be the basis for buying the right gift, whether it's for Christmas or a Birthday present.
It is of paramount importance to remember that while this may be just a formality for you and gifts, in general, don't mean much to you, for kids of most age groups, it means a lot to them. It shows them how much they mean to you and how much you understand them. But, most importantly, it makes the kids like you more.
To make all these tasks more manageable for you here is a very resourceful list of gifts for nine-year-old boys. These gifts are in various ranges from indoor games to outdoor drones, from STEM (Science, Technology Engineering and Mathematics) based gifts to useful ones. However, there are other factors too that are equally important, if not more.
Durability
The durability of the item is of primary importance. You don't want your gift to be worn out or broken too quickly. Neither do you want the thing to have very few exciting aspects as there is a chance for kids to find toys monotonous very soon? So make sure your gift is interesting enough for him to enjoy for a longer duration.
Reviews Are Important
Reviews are the way for you to know how the toy looks in reality compared to the photo. How functional it is, and most importantly, do most people find it worth the money they spent on it. The pictures provided in the reviews can be a massive revelation about the quality of the product and can instantly make you realize whether you want to buy the product or not.
Therefore always go through the reviews. Furthermore, try to refrain from buying products, especially toys, as a gift from options where there are very few reviews. It's always better to go with products with at least a few hundred reviews, a few photos of the actual product, and more than four-star ratings.
The Brands Have Value
While many think that Brands are overrated, and sometimes it could be accurate, brands have value when it comes to toys. Toys are better bought by some well-reputed brands than the local brands to ensure they are worth the money. Also, most brands come with a good warranty which provides complimentary maintenance if the toy turns out defective in the future.
FAQ's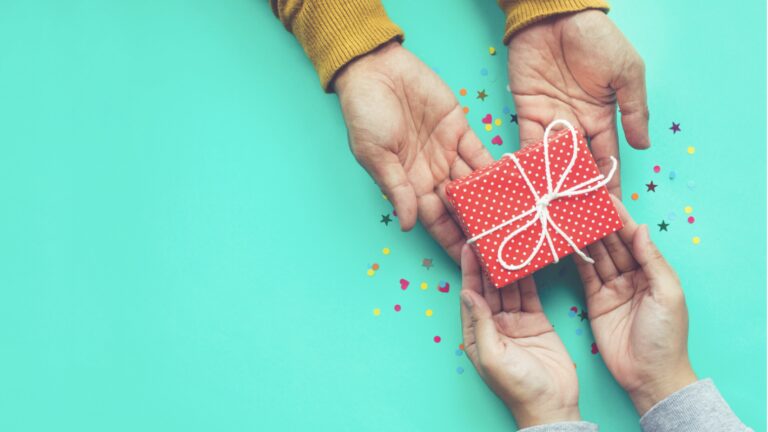 Should I buy an outdoor game or an indoor game for my nine-year-old nephew?
That depends on the personality and personal choice of the nine-year-old. If the child prefers to stay indoors, an indoor game could be a good idea. If the kid is into sports, figure out his favorite sports and then choose the gift accordingly.
I have to buy gifts for twin brothers who are nine years old. Should I buy the same present or a different one for both of them?
Even though the boys are twins and were born on the same day, they must have different personalities and likes. Therefore, it is better to find out each of their likings and gift them accordingly. Surely they will appreciate it more.
I want to buy a few Christmas gifts for my boys who are in their preteens. What presents should I buy to ensure they learn as well as play at the same time?
There are a lot of options for preteen boys to learn and play at the same time. You can go for puzzles or STEM-based games. Amazon has a variety of STEM-based games in their online store where you can check the reviews and choose optimally.
Conclusion
To sum up, nine-year-old boys are unique and must have the means to their proper growth and development. Therefore, giving them age-appropriate and sometimes STEM-based gifts can quickly boost their development and create stronger bonds with their elders.
Consequently, it is crucial to remember that gifts make them remember you in some way. Hence, try to give them the most suitable gift possible.
Check these ideas also: