Parents need to buckle up for a bumpy road as the preteens aka tweens are the toughest transition you and your kid are going to face, especially if you have a son.
While you would find it hard to accept the change and be unwilling to let them grow, your kid would be too eager to do everything a teen would.
Facial hair growth and deepening of their voice are too biological to get into but what changes is the innocent yearning for toys.
Before they get frozen by the screentime, you need to take action to get them engaged with toys and you might have a tough time as it's hard to fascinate tweens especially with a toy! So let us have a look at the best available toys that would turn your tween into a kid again.
Top 7 Toys And Gift Ideas For 12-Year-Old Boys 2023
1. Flashing Cube Electronic Memory & Brain Game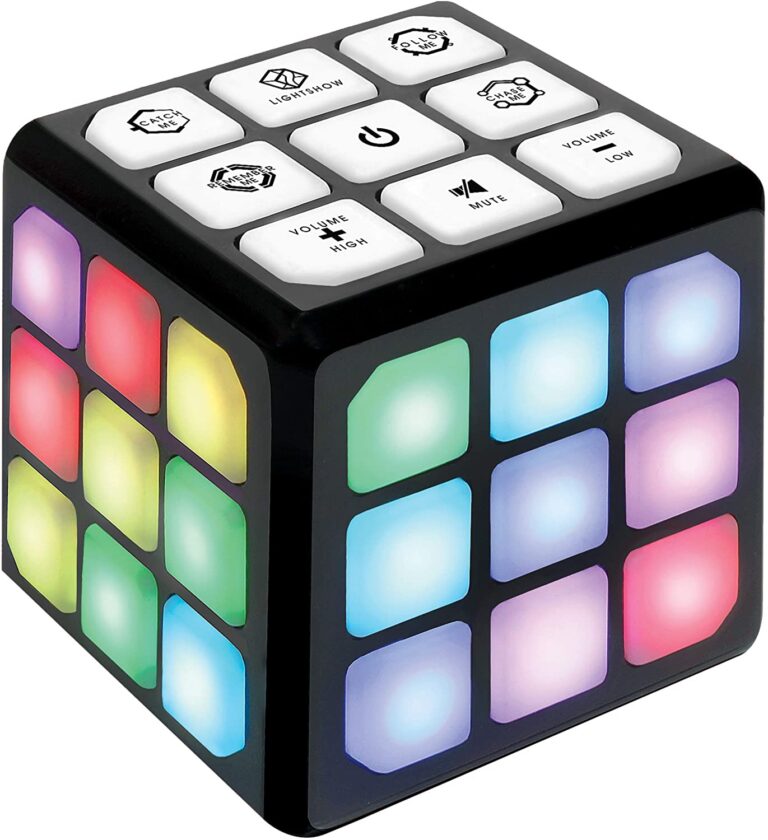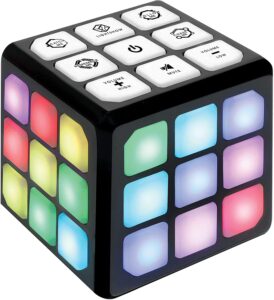 Preteens are generally very good at quick-fingered games due to their extensive exposure to PlayStations and mobile app games. So your smart son would find the memory game based on the lighted cube design quite fascinating and engaging.
It will improve brain skills and hand-eye coordination. Since it's handy, your son can play this game while carpooling to school. The game is divided into 4 types to keep your son's mind active.
The first one would be "Chase me" for which your son has to chase the lights by pressing the buttons and rotating the cube as the chase gets faster.
The second one would be to "Catch me" for which to press all the red lights as it keeps changing quickly while avoiding the green but not missing out the blue lights as they give bonus points. This is a timed game. The last two games are memory-based, one is "Follow me" while another is "Remember me".
For "follow me", the player will have to memorize the colors and patterns shown on one side and must follow suit on the other side.
Meanwhile for "remember me", it is almost like the game of "Simon Says", as the game will flash you a light sequence which must be memorized and played out. It may sound easy to follow but it's tough to win. The idea of a hard-to-get will drive your son to be occupied by this game.
Features:
Money-back guarantee – you can return it if your son does not love this game then you can return and get back your money.
Single Piece of Cube with dimensions: 3.5"x3.31"x3.19"
Light show mode with adjustable volume
Material: High-quality Plastic
Not suitable for children under six.
2. FAUX BOW – Foam Bow & Arrow Archery Set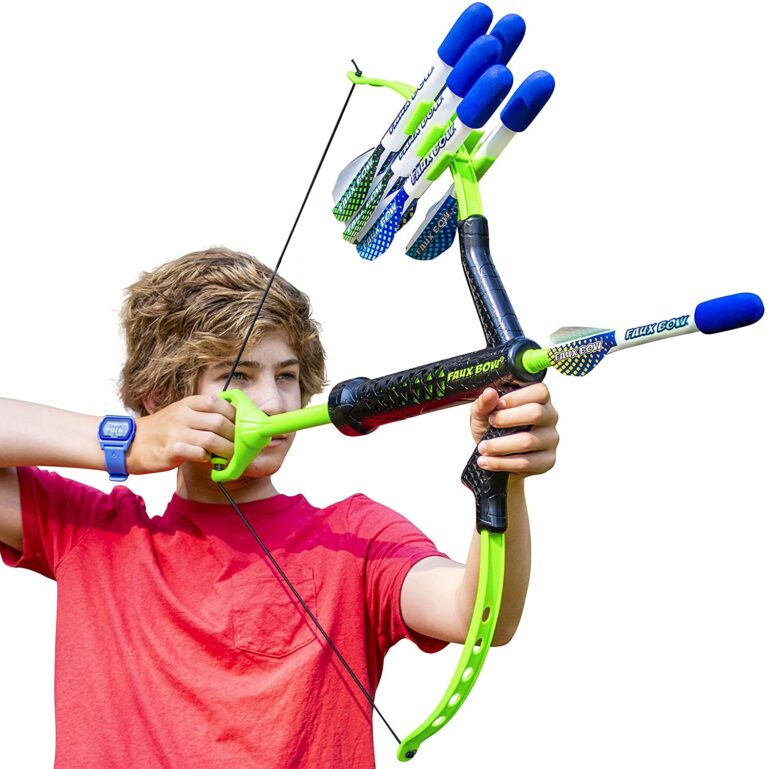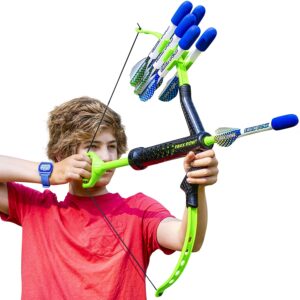 It is quite natural for your tween to love the outdoors more so why don't you give your son an archery set named Faux Bow. Don't look apprehensive, it is just a bow and arrow made of foam so that is why it is called so but it still teaches your son the nuances of archery as it shoots over 100 feet.
All he has to do is to "Look, Aim and Shoot" because the set is designed in such a way that the spinning handle allows quick release, while a "bow tip" quiver can hold up to 6 extra arrows and ultra-light arrows allow it to fly at an amazing speed and distance.
The manufacturers have kept in their mind that a tween would want a real adventure hence the real feel of archery so without any compromise over the performance and tweaked only for safety, this Faux Bow turns out to be an ideal outdoor toy.
Features:
One Complete Faux Bow
Six lightweight Faux Arrows
Innovative Hyper Gyrotonic Release for a clean launch and a straight shot
Dimensions: Bow – 18.2"x13"x2.5"
Quality: Latex or non-phthalate
3. LEGO Chain Reactions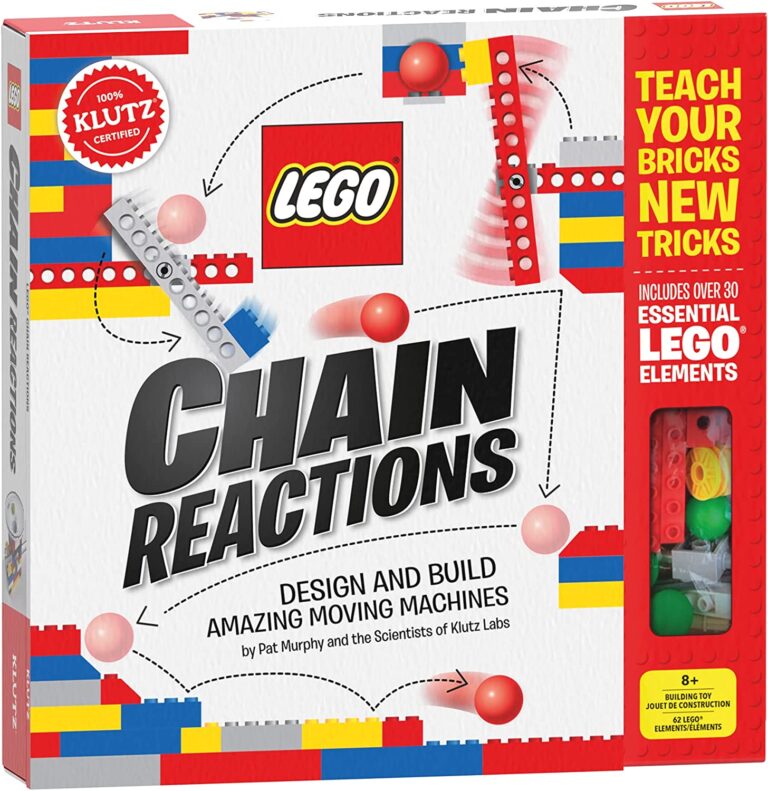 STEM Education has become a part and parcel of children's lives due to the competitive world they have to face as adults but your tween might not like the idea of studying while playing. However, if you say the word "LEGOS", the whole scenario changes, they would be ready to learn anything to play with legos.
With 72 pieces of lego blocks, your kid would get to build 10 different moving machines which could be used to cause chain reactions. If you have to ask what is chain reaction then you have to watch "Home Alone" movies to get the idea of having fun with chain reactions but if you haven't got the time then the gist is a reaction that occurs due to an action which in turn causes another reaction, so on and so forth.
Machines that could be built based on LEGOS are Quintopple, Dominoes, Seesaw and Ramp, Pop-up Flag and Falling Hammer, Board Bouncer, Slow Spin, Elevator Ramps, Pulley, and Bucket. Thus, these machines will be the forefront for simple activities like swing, pivot, roll, lift and drop and these can in turn cause a chain reaction such as tossing a gum wrapper into a trash can or ringing the calling bell.
Features:
The pack includes 33 LEGO elements, 6 LEGO balls, 2.2 yards of string, 8 paper ramps, 2 paper pop-up signs, 1 paper funnel, 1 paper flag, and 1 paper bucket
Klutz Crystal Clear instructions – read to build machines ranging from easy to advance
Videos available for a better understanding of the usage of the toy
STEM activity kit
Dimensions: 9"x1.06"x10"
4. Ninja Warrior Obstacle Course Kids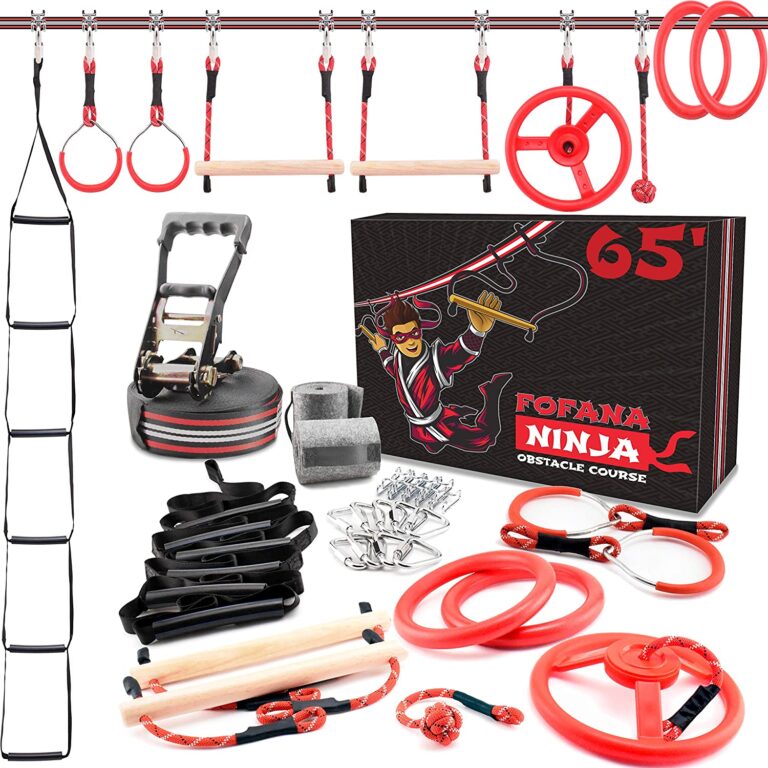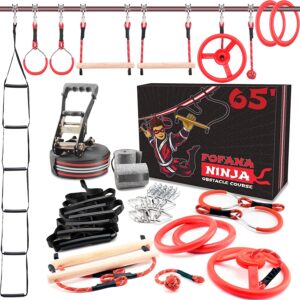 Kids tend to aspire to many, few are real but most are surreal. Among those surreal aspirations is to become a ninja, most probably they must have got this idea after watching the movie "Teenage Ninja Mutant Turtles". Why spoil their dream, when you have a chance to provide your son with a course kit.
Features:
The package includes Climbing Net, Climbing Ladder, 360-degree spinning wheel, 2 freestyle rings, 2 Gymnastic Rings, 1 monkey bar, 1 monkey fists, 1 slackline plus ratchet, 2 tree protectors, guide cum ruler, carry bag, giftable box, and 13 connectors including 3 extra for future use
Easy, quick, and safe installation
Adjustable for all levels
The weight limit for usage: 250 lbs
Weight: 16.5 pounds
Dimensions: 17.09"x 13.39"x7.13"
Slackline: 48 feet long, ratchet: 6 feet long, total slackline: 50 feet
5. National Geographic Earth Science Kit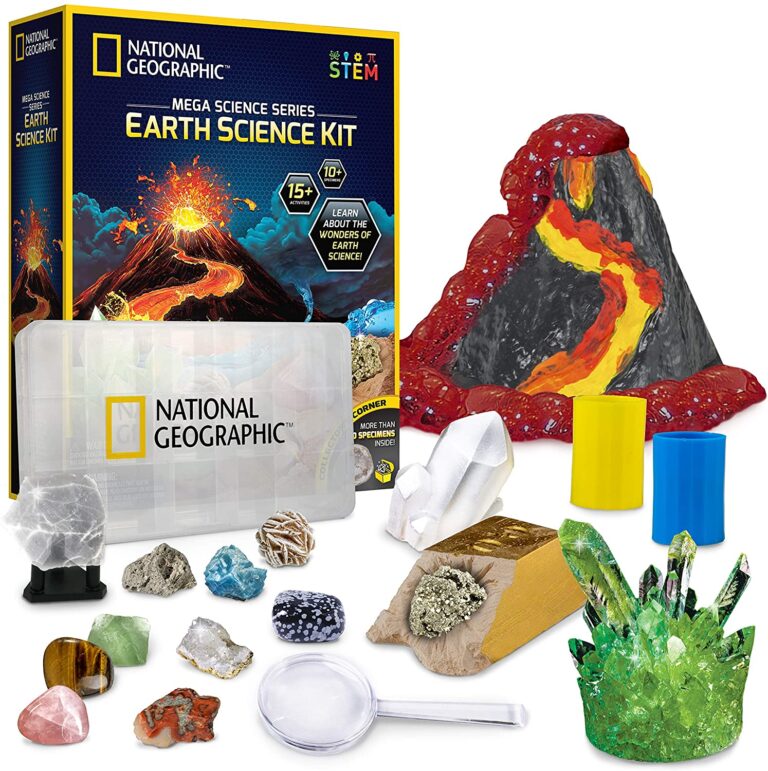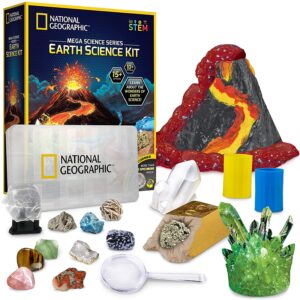 Your kid need not be a child prodigy to conduct the 15 scientific experiments present in this kit! Numerous experiments such as growing a crystal, building an erupting volcano, dueling water tornadoes, experimenting with a dish soap vortex, and many more like these, are available for the little scientists at your home.
The most important part of this game apart from learning is safety. Since National Geographic always gives its best in the quality of educational toys hence the parents can feel at ease when it comes to safety.
Kids get to read the detailed instruction manual, learn and experiment with the unique STEM project with or without the help of their families. This will provide them with first-hand knowledge instead of just being a book-worm;
Features:
Safe-proof and hassle-free experiments
Exclusive STEM series released by National Geographic
Multiple instruction manuals based on the experiments
The package includes different types of rocks, excavation materials, silicone cup as the growing chamber for crystals, 10 genuine specimens, 2 dig kits
6. Dig A Dozen Dino Egg Dig Kit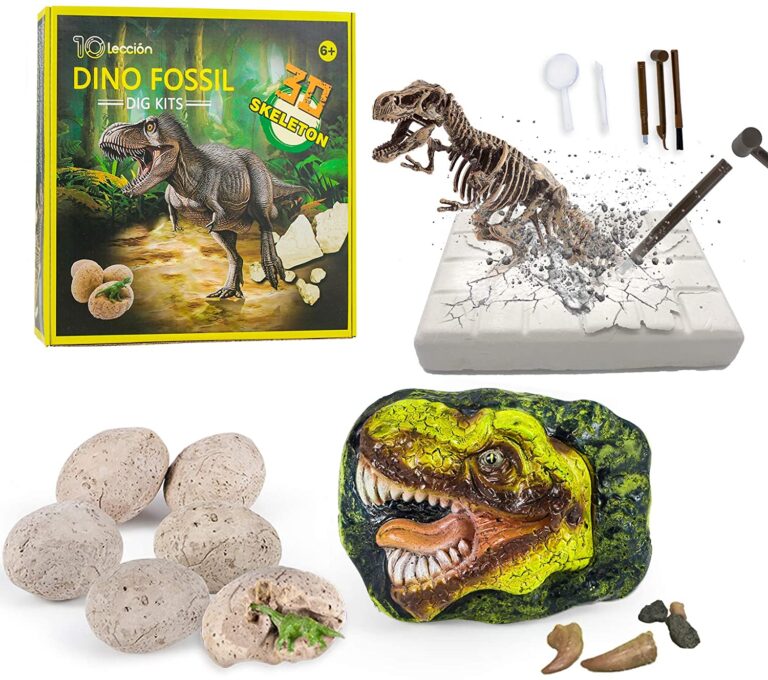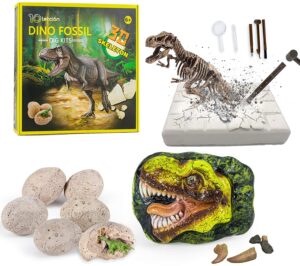 Children love to search for easter eggs because they get the feel of a treasure hunt but imagine if you could conduct such a hunt every day and that too with dinosaur eggs! Most of the kids love the prehistoric period, thanks to Steven Spielberg and his introduction into the world of dinosaurs.
Children learn the names of all the prehistoric reptiles at an early age so these kids will enjoy digging up 12 dino eggs and opening them up to find 12 unique dinosaur models. Your son will feel like a paleontologist trying to excavate the prehistory.
Features:
The kit includes 12 Dino eggs with a unique toy dinosaur in each, 12 Chisel/brushes, 12 colored learning cards, and 12 instruction guides.
Excavate an egg, open it to discover a dinosaur model, and match it with the flashcard to learn about it.
STEM project
Weight: 2.07 pounds
Dimensions: 14"x5.51"x4"
Material of the egg: Gypsum (soak in water to break easily)
Material of the dino models: Plastic
7. Kids Against Maturity – Card Game For Kids And Families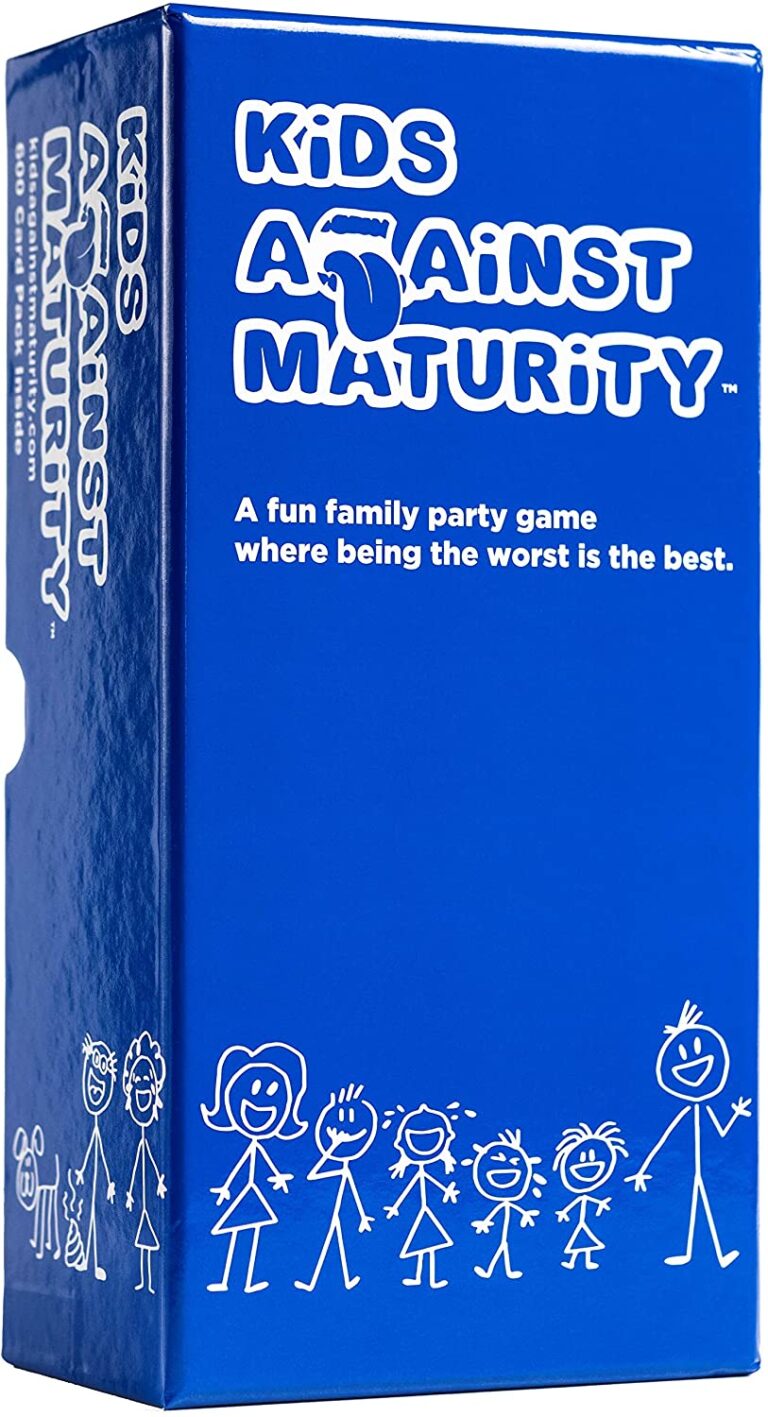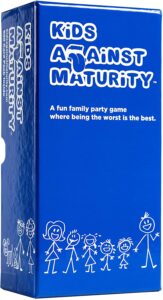 Last but never the least is the game played during family time. Set aside as the game cannot be played by an individual and it requires a group, it could be your family or friends.
It is super fun and hilarious party game as the cards contain funny innuendos and toilet humor but please note it is age-appropriate so can be played with your preteen son.
He would also feel inclusive as he is heading towards maturity and by inviting him to this game, he would feel you have finally accepted that he is ready to grow up. Isn't that the whole point of having family time, so that everyone in the family could bond?
So how is this card game played? Just like any other card game, each player gets 10 white answer cards and then each player has to take turns in asking the blue question cards. The player with the highest amount of funny answers wins the game. The funnier, the more the merrier.
Features:
Several players required 4 or more.
Card games could be played anytime at anyplace
Bridges the generation gap when played during family time
Age-appropriate questions and innuendos
Award-winning game with 500 Q&As
Dimensions: 2"x6"x4"
Weight: 2.77 pounds
Buyer's Guide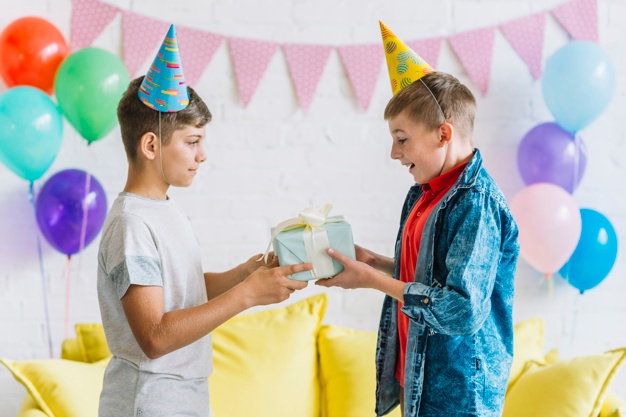 It is important to make an informed decision before any kind of purchase and in this case, it is buying a toy for your preteen son, so it makes it all the more crucial.
Kindly go through our impartial and balanced guidelines before you decide on the right toy for your son because not only are they choosy but they tend to criticize too, blame the age.
Brand Quality
LEGOS is the best example to prove how much a brand matters when it comes to quality and durability. If a branded toy is expensive, it is only because of the material and hardship put in to improve the usability of the toy.
The longevity matters to our kids as they grow attached to the toy and also they tend to manhandle the toy when left unsupervised.
Fun To Learn
Every toy has something to teach our kids so why don't we focus on toys that claim in their description that they improve hand-eye coordination, brain activity, creativity, fitness, and last but never the least STEM (Science, Technology, Engineering, Mathematics). Children love to observe and learn new concepts but only if taught in a fun way so which is more apt than a day-to-day used toy?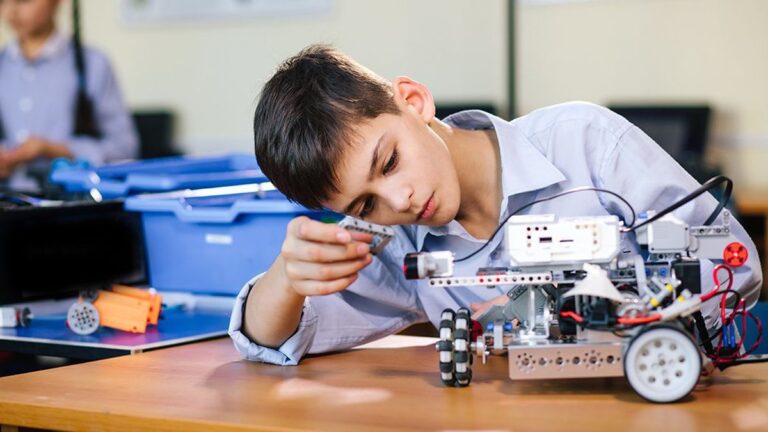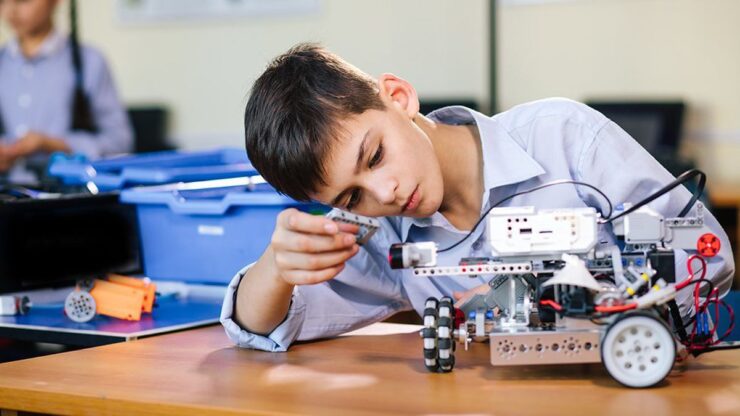 Reviews Matter
As soon as you choose a product, scroll down to read the review and if only satisfied then go ahead and check the price and other details because the review says it all. Reviews are opinions expressed by concerned parents who had allowed their children to use that toy so they always trust another parent's opinion but beware of few reviewers who tend to go astray on their honest opinions so the trick here is to believe the majority.
Conclusion
The above article highlights the market options open for a parent with a preteen. It is quite difficult to impress your son who is entering the confusing stage of teenage but hopes the above toys will be enough to lurk a smile on his face. Our humble request is to go through a buyer's guide at least once before purchase.
FAQs
What to buy for a 12-year-old boy who uses too much screen time?
Unfortunately, kids are more addicted to the digital world than adults, so they widen their real world with plenty of STEM toys that will keep their brains active and occupied.
Looking for a programming activity that will keep my children occupied for 1 hour or less?
LEGO Chain Reactions will keep your children occupied for an hour or even more as it is engaging and innovative.
Confused about what to get my 12-year-old son for his birthday?
Depending on your son's preferences you could go for an outdoor game like Faux bow or you could gift your son a National Geographic Science kit if he prefers to remain indoors.
Check these also: