If you have a 7-year-old then you must be quite exhausted mentally with their constant question, "Why?" and if you have a 7-year-old son then you must be also physically exhausted with their hyper activeness.
This is natural for a kid of that age because they are right at the brink of exploration, let it be with their intellectual or with the outside world. So to escape from such a draining routine, you need to introduce toys that will satisfy their innate curiosity about the world around them. Keep them physically and mentally occupied with the toys suggested here.
Unique Toys And Gift Ideas for 7-Year-Old Boys
1. YEEBAY Punching Bag for Kids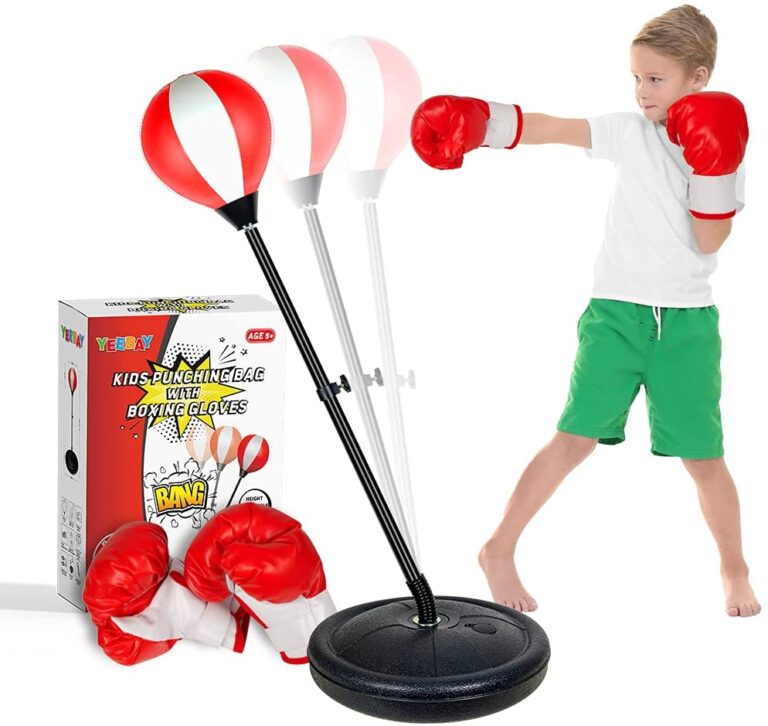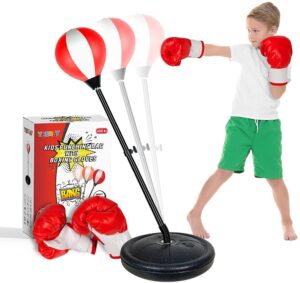 7-year-old boys generally have a lot of pent-up energy and emotions too. A toy that can help to balance mind and body, as well as that, could make the children sweat it all out, what more do you want? It is the perfect combination as it improves gross motor skills, hand-eye coordination, strengthens the muscles, and most importantly this fitness regime will increase your kid's confidence level.
The kit comes in an easy-to-assemble box containing an inflatable punching ball, boxing gloves, a sturdy base with a suction cup, an adjustable stand, and an inflating pump. The instruction manual will guide you to set up the punching bag for your kid.
Tips during set-up: fill the base with sand or water for better performance, don't expand too much on the first use, more you have a boxing bag now that will bounce around in 360 degrees. Bet your kid will find this as the best gift you have ever presented him.
Features:
Can be played safely indoors and outdoors without any adult supervision.
Material: High-quality stainless steel conduit stand, thickened PU leather for the punching ball, and fabric buffer for the gloves.
Suitable for boys with height ranging from 27.5" to 43.3".
2. Taco vs Burrito, A Strategic Card Game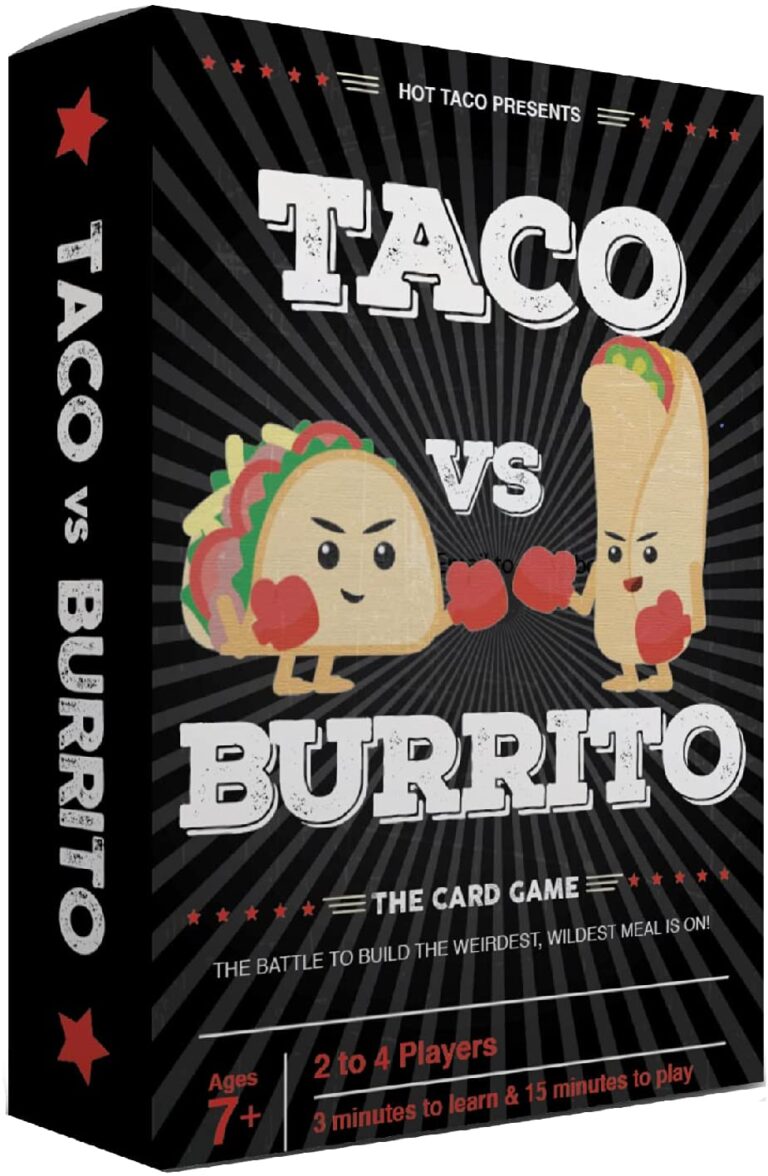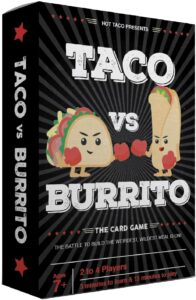 You might have heard of this popular card game as the manufacturing decisions were made by a 7-year-old boy just like your son. An invention at this age, quite astounding right? Your son could be next if we as parents can guide him in the right manner. So this game will bring out the competitive nature of your son.
It won't bore him either as unlike the poker type of adult card game, this ends in 10-15 minutes. Quick to learn as it is estimated that it takes only 3 minutes for a kid to learn the game. All you have to do is deal out the cards and if you get an action card follow its instructions.
It is a legitimately hilarious game that has 24 Ingredients cards, 32 Action cards, and 4 Cardholders. In case you have any further clarifications then the instruction booklet will clear it all. Get ready to explore with your kid the unexplored territory as this is officially a family-time card game.
Features:
Requires 2-4 players
Dimensions: 6.75 x 4.75 x 1.5 inches
Material: Paper
All-aged family cum friends card game
Weight: 9.06 ounces
3. FWFX Dance Mat for Kids and Adults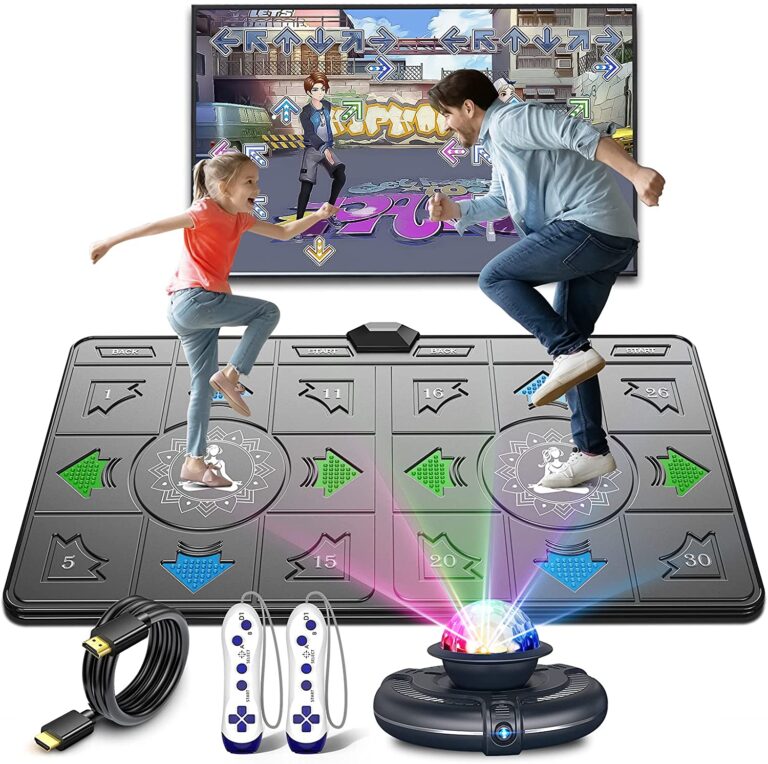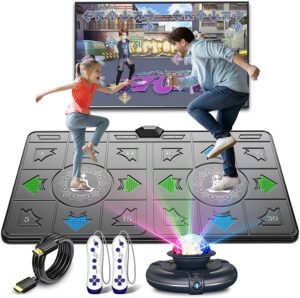 Burn up the dance floor with your son with this electronic dance mat, as it supports 56 dance songs! Apart from dance, it also has 37 leisure sports games, 6 unique camera games, 3 running games, and 45 sets of yoga/aerobic exercises. This is the type of screen time that as adults we can permit as it allows them to jump and dance around!
The mat has advanced technologies called a four-core chip which enables high-definition pictures both on TV and computers. There are modes supported through 4-key, 6-key, hands and feet, MTV, cartoon, yoga, aerobics, motion-sensing gamepad, and 3D camera sensing.
Not just the smooth pictures but there will be no flickering or blackouts too. Thanks to the high definition smart camera, 2.4G Double wireless controller, and disco ball lamp. In simple words, the real-time experience will allow you to chop the fruits in the game Super Fruits by just swinging your hands.
Now enough of the technicalities of the game, all you got to know is your son can have maximum fun time not just alone but with the family too. Let it be a chess game with the elderly or dance-off with a sibling, it is all in there. You might have a lookout for the price but it is completely worth it as it is a one-time investment and with multiple purposes for all ages.
Features:
Easy to use and to clean
For visual effects – a 7-color strobe light flashes in various colors
Free dancing socks
2.4G wireless handle, sensitive within 10 meters
4K ultra-clear image and large-capacity TF high-speed memory card allows smooth HD
Highly sensitive pad for a better gaming experience
Materials used are PU+EVA, raised silicon massage pads, a 3D waterproof blanket
4. Create a Dinosaur World Road Race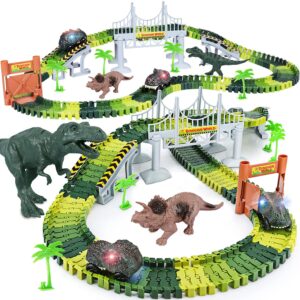 For quite a few years kids have been fascinated by dinosaurs, maybe it is curiosity as the appearance is uncommon or rather extinct. Parents support the fascination as learning the names of the dinosaurs will make their kids smarter.
This toy is a Dinosaur-themed race track – a perfect combination of cars and dinos- which the 7-year-old boys will love. The track pieces are flexible so they can be easily assembled, twisted, and turned as the kid wishes, just letting their creativity flow, bringing out different layouts each time with different variations. So what's more, go ahead and buy this racy toy for your kid and let him have the fun of his life.
Features:
The pack contains 144 track pieces, 1 door, 1 bridge, 2 slopes, 4 trees, 2 LED dinosaur cars, and 2 dinosaur models.
Light-weighted
Easy to assemble and disassemble and store
Require 1xAA battery
Highly attractive, durable, and non-toxic
5. Amphibious Remote-Controlled Car for Kids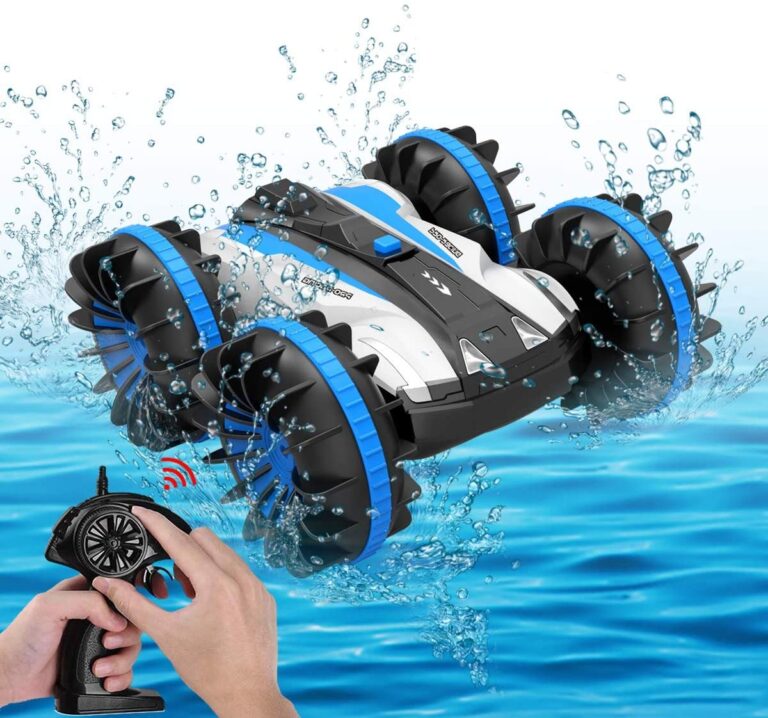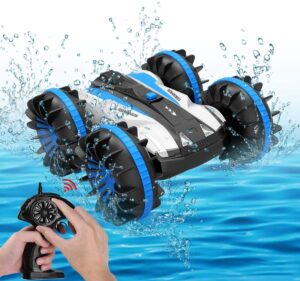 First things first, amphibious means both land and water so surprise, surprise, gifting your boy a remote-controlled car that speeds up on land and water is the creme de la creme of gifts! This amazing car can do front and backflips, 360-degree rotation, and many more, just not on land but also on the water.
The built-in motor has a powerful engine so it can reach up to a maximum speed of 12 km/hr (7.5 mph). Racer cars are not just a toy for adrenaline-pumping excitement but also for increasing the creativity and learning science behind the movement of motor cars.
The manufacturers have provided the car with a USB line and battery to charge anytime. The hyper-sensitive remote control of 2.4 GHz will help your kid to have precise control of the car on both land and water.
Thanks to the Acrylonitrile Butadiene Styrene, commonly known as ABS, the aviation plastic helps the car to navigate through all kinds of terrains including lakes, beaches, and grassland. Your kid can zoom it through a stony road but still, the car will not break as the manufacturers have protected it against wear and tear, vibration and it is waterproofed.
Features:
Adjustable speed and rechargeable battery
Material: Plastic, Acrylonitrile Butadiene Styrene, Rubber
Completely safe, durable, protected against wear and tear, vibration, and waterproof
Dimensions: 11.46×9.49×5.2 inches
Weight: 2.23 pounds
6. LEGO Gadgets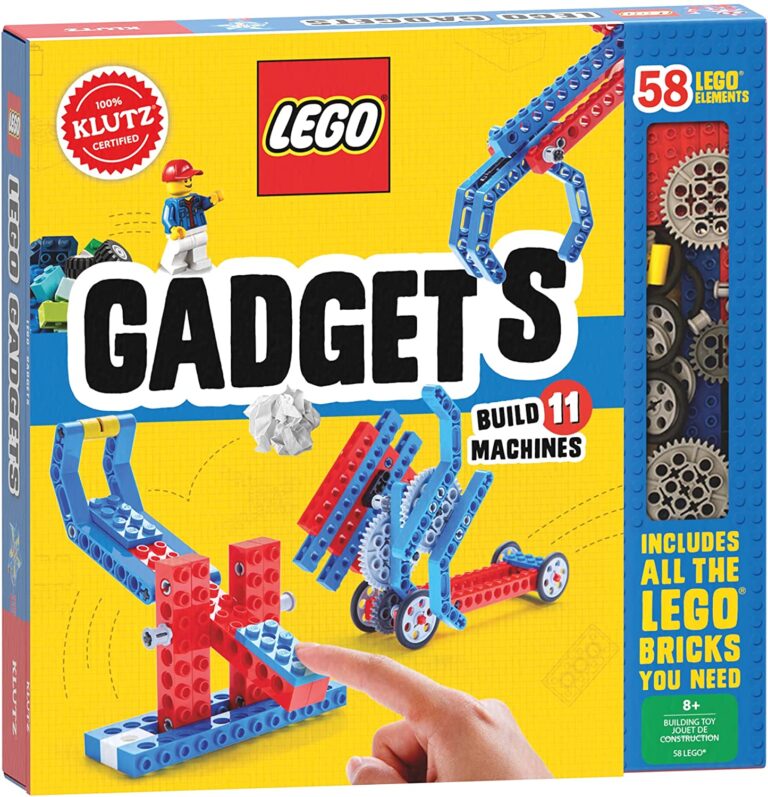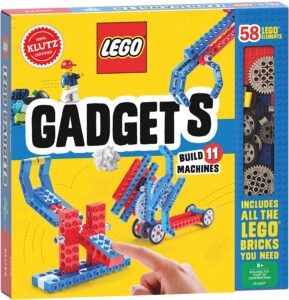 If you want a geeky but cool toy, go for LEGOs! Not just the LEGO gadgets but there are other products of LEGOs like chain reactions and gear bots that could be combined to make a perfect present. LEGOs gained fame for their promotion of innovation.
If you give a kid a few blocks, the parents need to stand aside and watch them create something amazing. Kids have a great sense of creativity and LEGOs not just enhance it but also encourage it.
In LEGOs gadgets, as the name suggests your child can build up to 11 machines that can whirl, flip, punch and cruise too! The 58 items provided in this LEGO box can help your kid to build The Claw, Classic Catapult, Spin-O-Vision, Ghost Guzzler, Rollin'Rex, Flywheel Cruiser, Your Own Personal Fan Club, Mix Master 3000, Micro Movie Maker, Robo-Boxer, and finally Gravity Drop Coaster.
All canvas is now boring but painting on the water will make your child super excited. All these could be built with the 58 elements such as cross axles, technic bricks, plates, pegs, and gear wheels.
Features:
6 pages of papercraft
Materials: Plastic, cardboard, paper
Promotes STEM and creativity
Weight: 1.25 pounds
Dimensions: 10 x 0.75 x 10 inches
Buyer's Guide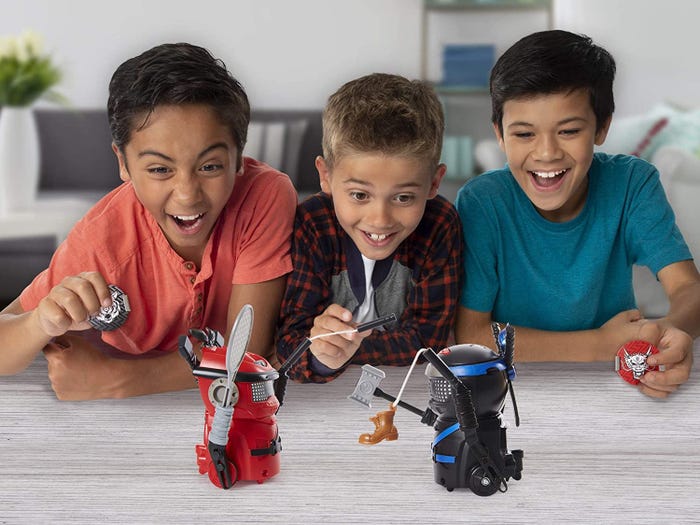 Pleasing a 7-year-old boy is quite easy as any new toy will fascinate him. In the search for learning new concepts, they tend to jump around with multiple toys at the same time. But we need to be careful that the toy you buy will endure wear and tear but at the same time keep your boy engaged for a long time and also make his return back to the toy again and again.
Combine Education And Fun
All fun and no study can make any Jack, a dull boy so make sure that your toy serves its purpose of education too. Unless it provides exclusive talents like for instance, a punching bag helps in improving the boxing skills.
So the main focus of every toy manufacturer is STEM, hand-eye coordination, brain activity, and other similar skills. Just be sure that you give that opportunity to your boy.
Duration Of Usage
Our kids tend to throw away a toy as soon as they get bored and at times they would chuck it just after one use which is something we need to consider. If the cost of the toy is high then make sure the duration of the usage is high too. For example, the FWFX Dance mat is expensive but it has multipurpose usage for all ages so the cost is directly proportional to the usage.
Reading Reviews And Decision-Making
When it comes to online shopping, reading others' views is crucial in decision-making. So don't skip the reviews, you might come across a reviewer who has a similar situation to yours and might be able to help you decide on the purchase or even give a solution.
But also remember that every child is unique. Just because a toy or gift or product does not suit one person or child, does not mean it might not be a good fit for you. Reading reviews are important but make sure that the final decision is yours and yours alone.
FAQs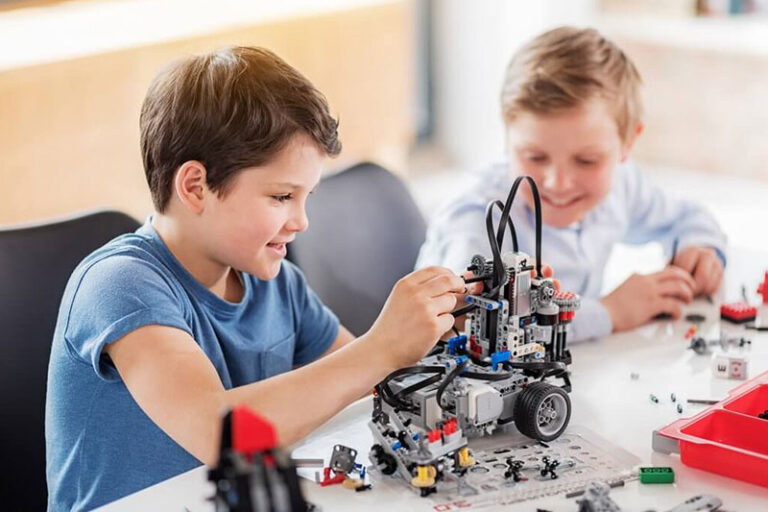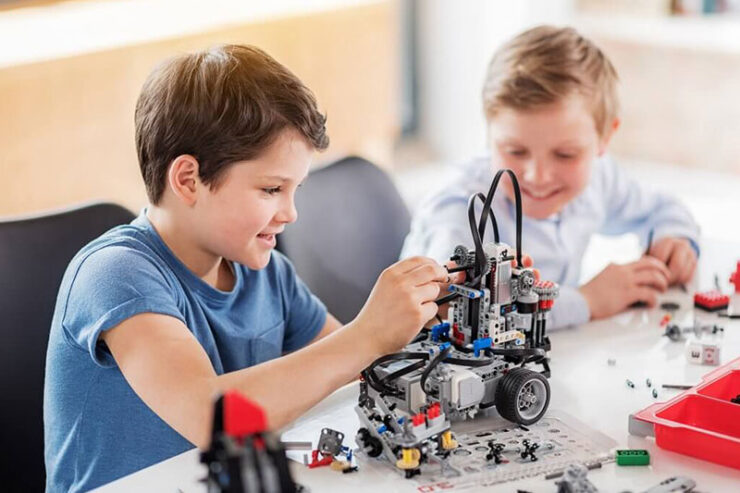 Is my 7-year-old son ready to use an electronic dance mat?
All most of all the boys love to dance and the current generation is more updated on technology so you can go ahead and present him FWFX Dance Mat which could also be used by all the members of the family.
Need a toy suggestion for an outdoorsy kid?
The best suggestion would be a Punching Bag.
How safe are LEGOs for a 7-year-old boy?
LEGOs are structurally constructed as non-hazardous blocks so they are safe. Moreover, the only concern is choking, which a 7-year-old boy is quite aware of.
Conclusion
Toys are important for children not just because they love them but because they need them. Young children, especially boys, need good toys that are educational, and at the same time allow them to expend their energy and imagination.
The focus of this article has been on 7-year-old boys because the toys suggested must not only help in generating new information but should also be engaging enough to keep them physically active.
Boys at this age tend to be hyperactive due to their curiosity to explore and learn. Be mindful of the toys you give your kids because these toys will shape how they see the world in one way or the other. These toys are perfect for such children, so go ahead and gift your kid to open a whole new world for him.