Children, when they reach the age of five, start school. There they are with children of their age and experience various developmental and emotional changes. This helps them to develop cognitive learning and increase their physical growth.
They are learning at this time; therefore, it is crucial to find suitable toys; nevertheless, this does not imply they require only educational toys. There are plenty of options available that can enhance their creativity. In this article, we will look at some of the best toys for your little boy.
5-Year-Old Boys – Amaizng Toys & Gift Ideas
1. Melissa & Doug Smarty Pants Kindergarten Card Set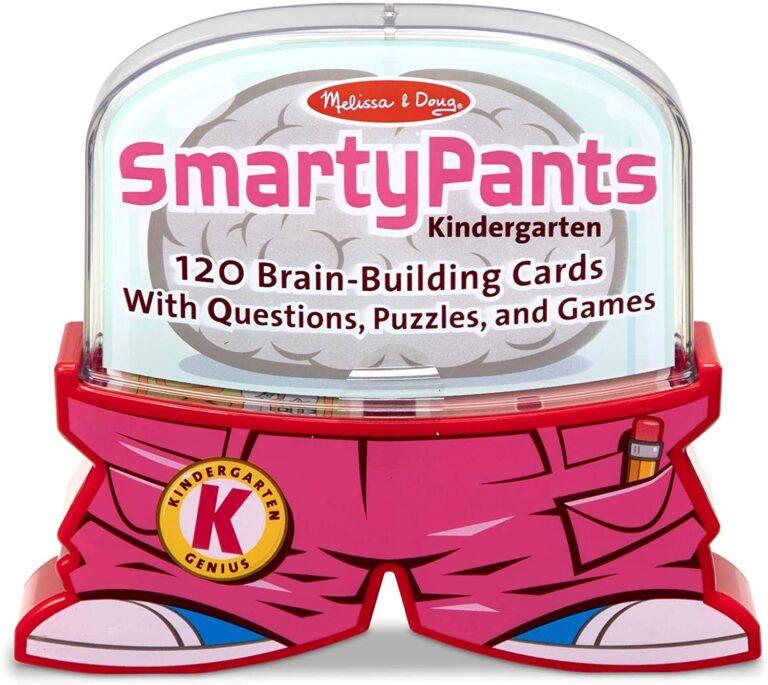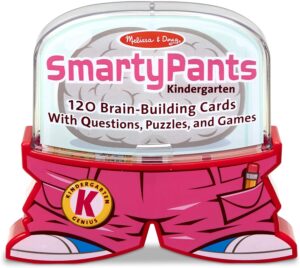 This toy is one of the best toys for five-year-olds. For the kids in kindergarten, it will provide them an excellent way to be engaged and learn in a fun way. This is a card set that has several riddles, teasers, and many more fun activities. He will be busy for a long time and will not get bored. Your little man will love completing the one hundred twenty tough cards in this amusing set.
Also, the answers are written at the back of the cards. SO, after solving the puzzle, he can quickly check whether he got it right or not. After completing his set, he can challenge you or other family members too. In a way, it is a fun family activity. Keep an eye out for some hard ones. If you are looking for a way to engage your kids and increase their brain activity, you can opt for this game set.
Features:
Educational set
Whimsical design
Creativity sparking toy
2. Hot Wheels Super Speed Blastway Track Set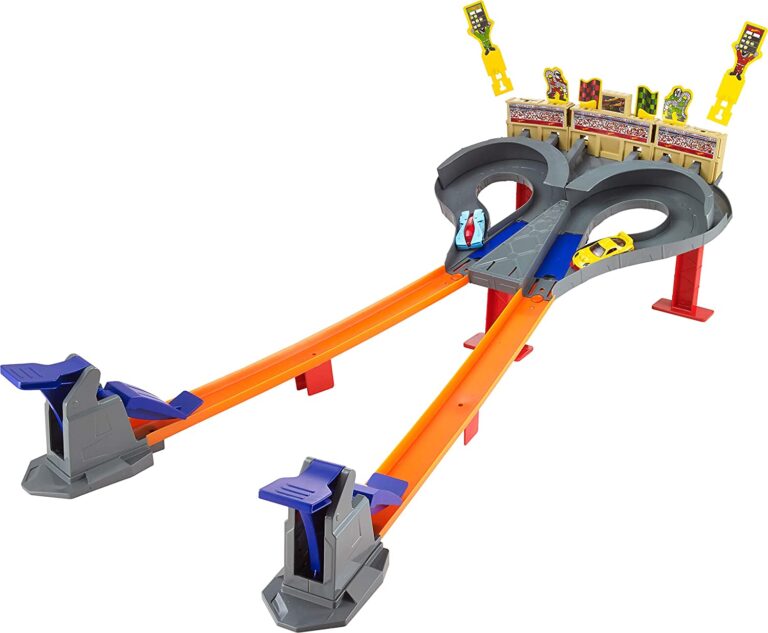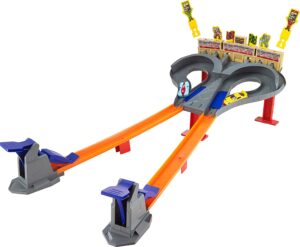 For years hot wheels have been one of the best toys for kids. It is timeless and one of the most iconic toys ever! In this toy, your five-year-old will get hot wheels to track set, and there is a new version that your young man will enjoy.
He will love to build this track; in this toy set, he will get four cars. These four cars will race in several loops. There is no issue with storage as it can easily be folded; it makes storage easy and very easy to transport. It is compatible with other hot wheels, allowing your child to create his massive racetrack.
Features:
High speed
Pop off characters
Two-slam launchers
3. Playmobil Novelmore Grand Castle of Novelmore Playset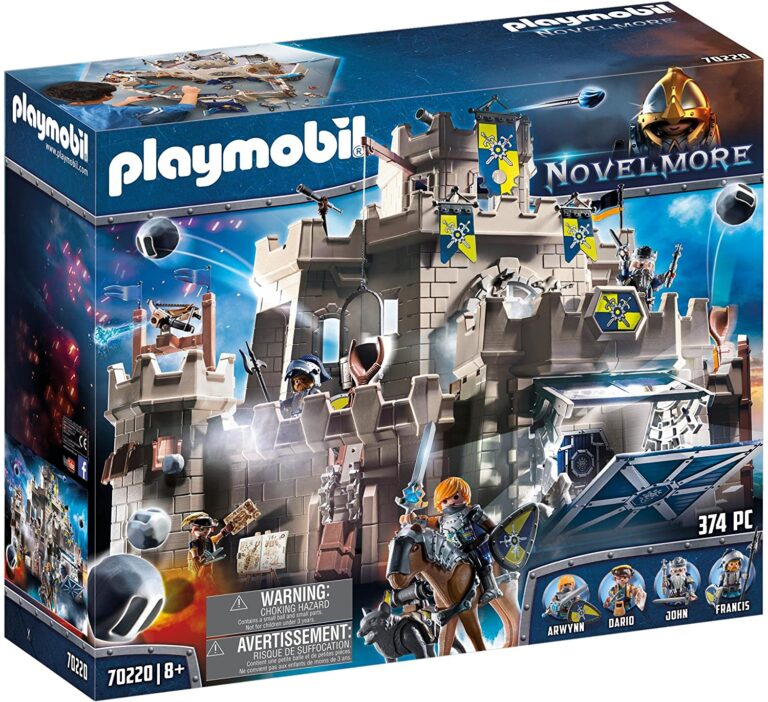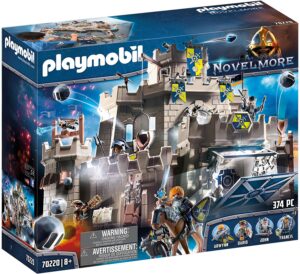 This toy is vast in size as it has several accessories and features. Your boy will love to play with the crossbows, cannons, and several knight figures. It is one of the perfect ways to instill historical knowledge and interest in your child. With this toy, his imagination and creativity will be at their peak.
The best way to improve the child's imagination is via role-play games. It not only is fun but also plays a significant role in a kid's healthy development. With the help of this toy set, the five-year-old can easily explore the historical world and enhance his sense of society.
Any five-year-old loves to do some building activities, constructions, and put things together; for them, this toy set from Playmobil is the best choice. It is perfect for giving a gift or a toy to tiny builders.
Features:
Different accessories
Working crossbows and cannons
4. Vivibyan Walkie Talkies For Kids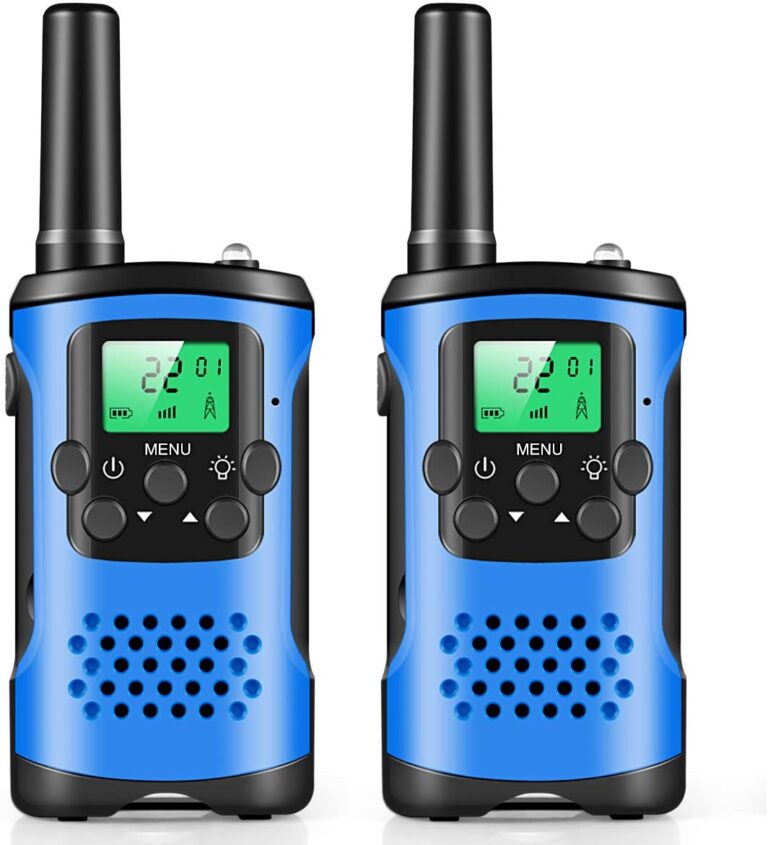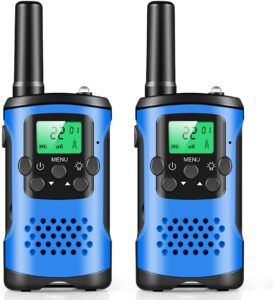 Children, especially those at the age of five, love to mimic the elders or see others doing it on television or in movies. If your child enjoys military-themed activities and shows, then these walkie-talkies will give a fantastic and authentic experience. He can have lots of fun playing with these walkie-talkies, enacting some movie scenes, and enhancing his imaginative play.
The set comes with easily rechargeable batteries. It makes continuous play with these walkie-talkies so simple. The working of these fabulous sets of toys is also simple; your little one has to press the button two times to hear the beep. Once there is a beep sound, then he has to speak.
The most exciting part of this game is that there are twenty-two channels that can broadcast the message. The range is three miles, so your child can easily play distance games with his friends. The features don't end here. It comes with weights too, which means your kid can carry them easily without any hassle, as it doesn't feel heavy to them.
Features:
Chargeable batteries
Crisp and clear voice
Ergonomic design
Easy to use
Multiple channels
5. VTech Kidizoom Smartwatch DX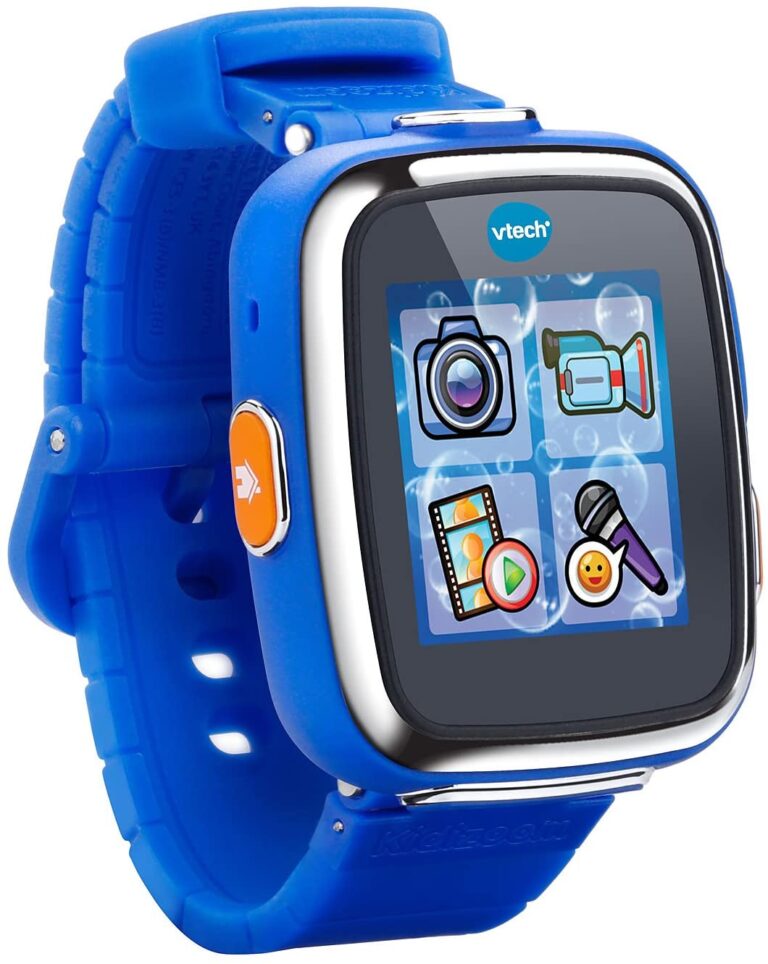 Kids should be able to understand a little bit at this age. That is why an outstanding gift or a toy that you can give to a five-year-old is this smartwatch from Vtech. It is one of the reliable gadgets that is also pocket-friendly.
Your kid can click pictures, play games, and even watch videos on this smartwatch. It's like the whole world is set inside this tiny watch. There are two cameras present in it; these cameras have some cool filters too. Also, it contains up-to-date technologies, and the design is also long-lasting and looks stylish too.
Apart from teaching the kid how to see time, it also teaches him several other things. The watch comes with a pre-installed battery. Charging is an easy process; just connect with the USB cable to a source or a computer.
It is genuinely a smartwatch with five fun games: three exciting activities, and many more. Your kid can easily see the date, too, with the help of the calendar present in the watch. Maths can never be easier with this smartwatch. There is a calculator too that will help the five-year-olds to do some mathematical operations.
Features:
Different games and activities
Digital and analog clock
Durable
6. Geospace Original Walkaroo Stilts by Air Kicks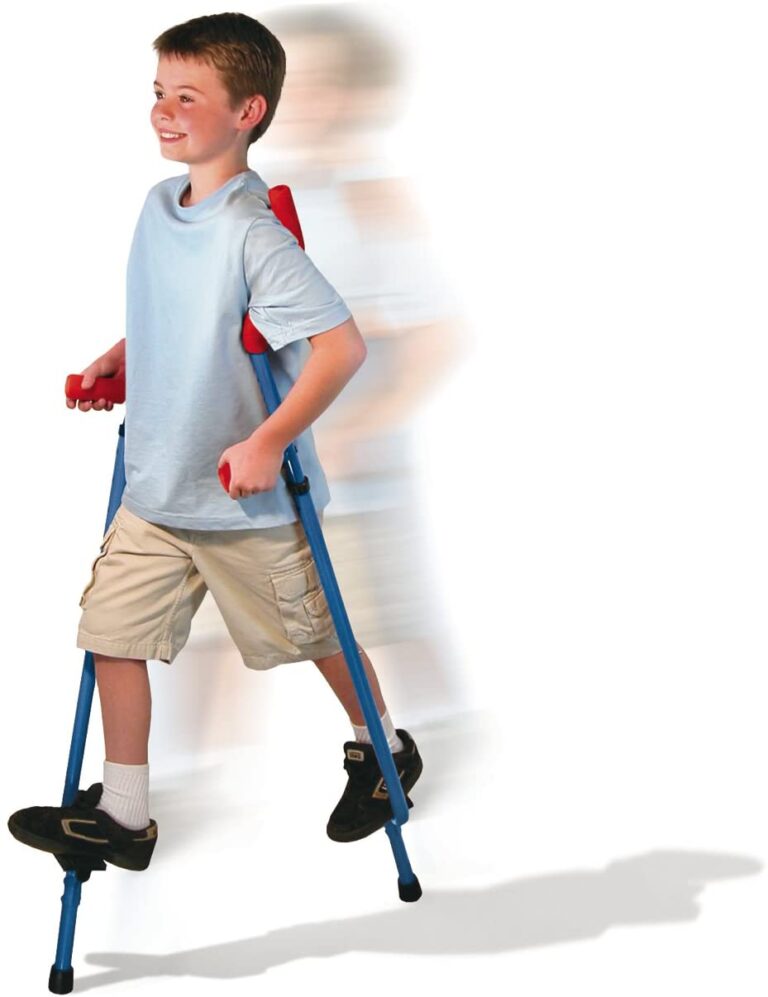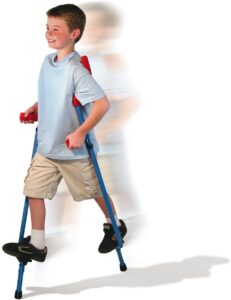 Parents love when their children become self-sufficient and accomplish tasks. If that is the case, then it is a perfect toy. This toy helps the kids become independent and helps balance, so it only provides freedom to kids and maintains their balance and coordination. It has an ergonomic design that will not cause any fatigue or sprain in children's tiny hands and feet.
Also, with this toy, the kid will feel fantastic when they stand high, and they can invent their game and immerse themselves in imaginative play. He can easily play by himself and even use this toy to reach places he can't reach, such as putting a cup in the kitchen sink and so on.
The area where they will put their feet is simple. There is also a firm grip hand; so that they won't fall. You can also adjust the height so that you can make it fit for your boy. It also includes an adjustable height option that allows you to alter the height.
Features:
Easy to use
Adjustable height
Superior design
7. RAD RobotsMiBRO – Interactive Remote Control Robot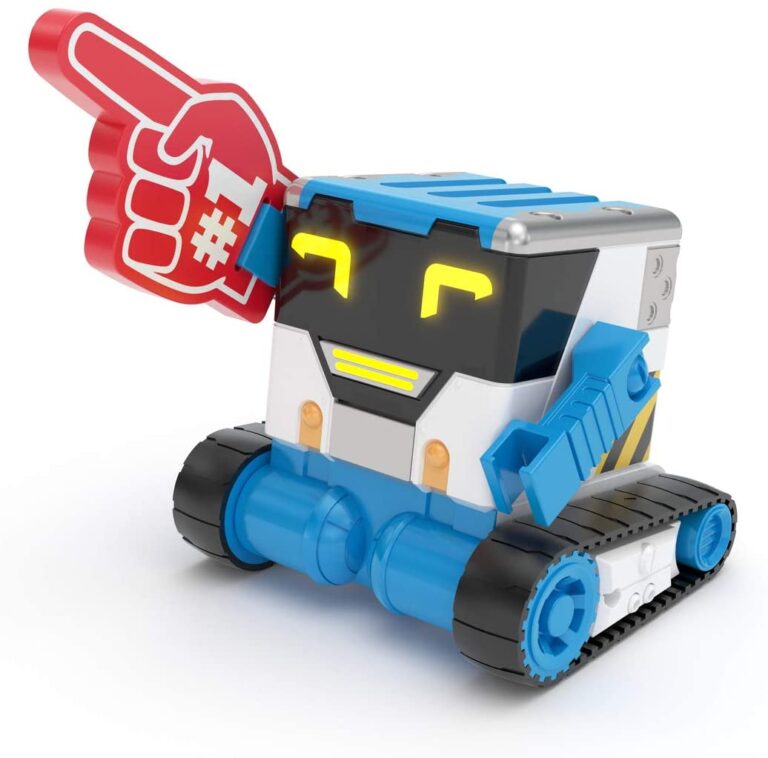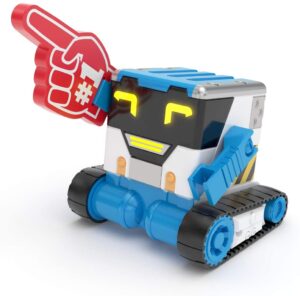 Kids will love to play with this funky robot. In a few minutes, they will be able to learn the working of this robot. It also has more than fifty sounds and phrases. Your kid drives it around, and he will have a blast playing with it. This robot can be his buddy and accomplice.
He can play different games with his friends, and they can also transfer messages to each other. This toy will also help children to grasp some knowledge about technology and how things work. MiBro is the best personal assistant you'll ever have.
MiBro's tray can be used to deliver the fun drinks and hold his toys as well. To put the ball talents to the test, he can be in a team with Mibro and use the tray as a goal. When he scores the game-winning goal, the audience erupts in applause.
Features:
Easy to learn
interactive
Buyers Guide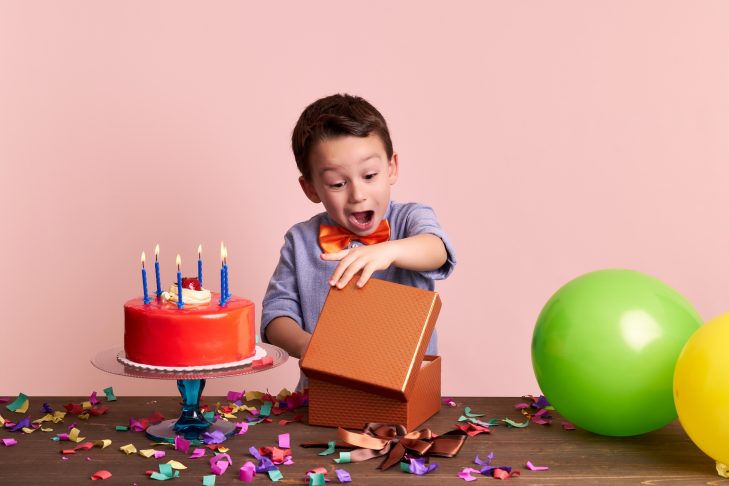 You must use caution while purchasing a toy or present for a child of this age. It would be best if you also considered the usefulness and safety of the item. To help you decide which factors you should consider, we have brought you a buyer's guide. There is all the additional information included. You will have an idea as to what for the little one.
Enhancing Imagination And Creative Play
At five years old, kids' imagination and creativity are high. As their brain develops, they are gasping for knowledge. So, you should always get the toys that will help the little boy develop his creative side.
It is essential for overall growth and an important characteristic. The focus is on creativity as it allows the kids to learn faster. Their ability to think also enhances, and children will be better equipped to find new solutions for any problem.
Development Of The Mind
Kids need to develop coordination, hand-eye coordination, balance, problem-solving ability, and fine motor skills. Toys should be in a way that they help kids to learn all of the skills. Building and construction toys are the best examples. They have joined blocks and use their thinking ability to build something.
Open-Ended Toys
It is common for children to get bored with toys quickly. They will play for some days, and then they discard the toy. For that reason, you should opt for toys that are flexible and open-ended. A toy that can be played with and used in several ways is the best way.
They're not restricted to a single type of game. A child's creativity can be sparked with an open-ended toy. This encourages their development of talents and inventiveness.
Personality Traits
Kids must learn how to develop their social skills. Toys that help them to socialize are perfect. Team spirit, playing together with friends allows kids to enhance their ability to mix with people. So, you should get gifts and toys that include role-playing so that many of his friends can play together.
Check Out The Feedback
Before purchasing a toy, always make sure that you have read the feedback and reviews from other parents. Parents knew better what was best for their kids. SO, take the help of other parents and determine if you should buy this toy or not.
FAQs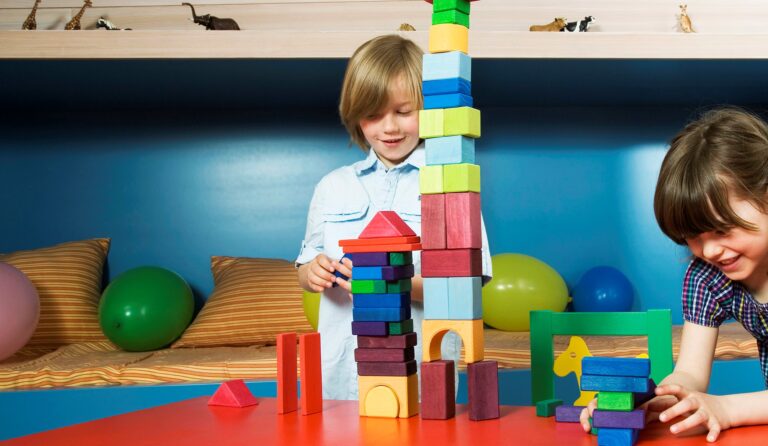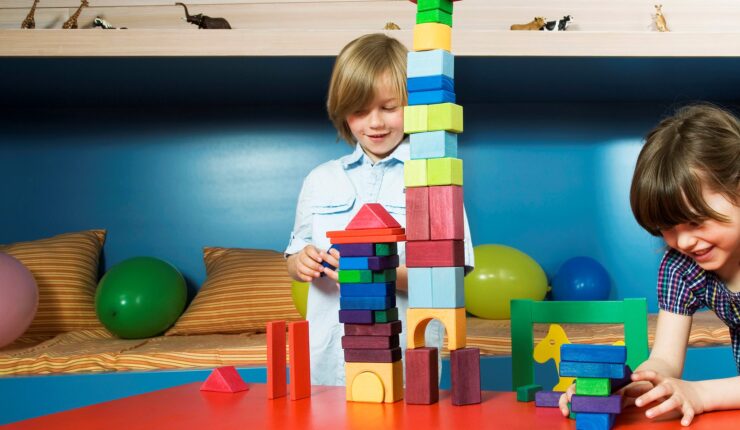 What is a 5-year-old supposed to do?
By the age of five, most children can replicate triangles and other geometric figures using their fingers and hands. They can dress and undress, though they might still require assistance with tying shoelaces.
Your kid is more at ease with a bit of freedom and independence. It means he enjoys spending time with friends and family. Your kid enjoys pushing limits and may even insist on doing things on his own.
What is the maximum amount of time a 5-year-old should be allowed to play alone?
Let's begin by determining what is developmentally acceptable for a kid to play alone. Many kids aged two to four years old can focus for up to a half-hour on an activity. Children aged five to seven can focus for extended periods, sometimes up to an hour or even more.
Are video games Ok for 5-year-olds?
Even small children like video games, but some famous titles are not always suitable for their age. At this age, a kid should be playing more development games. Sitting in front of a screen for long hours is not recommended.
Conclusion
We have seen several options available when looking for a toy or a gift for any five-year-old boy. Fortunately, kids have various interests, so you can get him whatever he likes. In this article, we have mentioned some of the toys that are best for any five-year-old.
These will help you to get a perfect toy for your young man. 5-year-olds still have a wide range of interests, so the suggestions below may help you choose a gift by giving possibilities you hadn't considered or weren't aware of. We believe that this checklist has so far helped decide which gift to choose for the little boy in your life.
Here are more interesting gift ideas for your 5-years-old boy: