Sound quality is an important aspect to look for in headphones. However, when buying for children, you should look for more than just the sound. Of course, the sound is a must but you should also pay attention to the design and colors. Because for kids, the fun part is the appearance of a thing.
If the design is boring and unappealing, they will not like it. So whether you are buying it as a gift for your kid or because they want it, you should always look for what is best for them.
Top Picks for 2023
There are a lot of options available in the market that you can choose from. Therefore, it might be difficult for you to make the decision. You can either choose to Check here
Or have a look at the list, here is a list that will be of your help.
1. Noot Products K11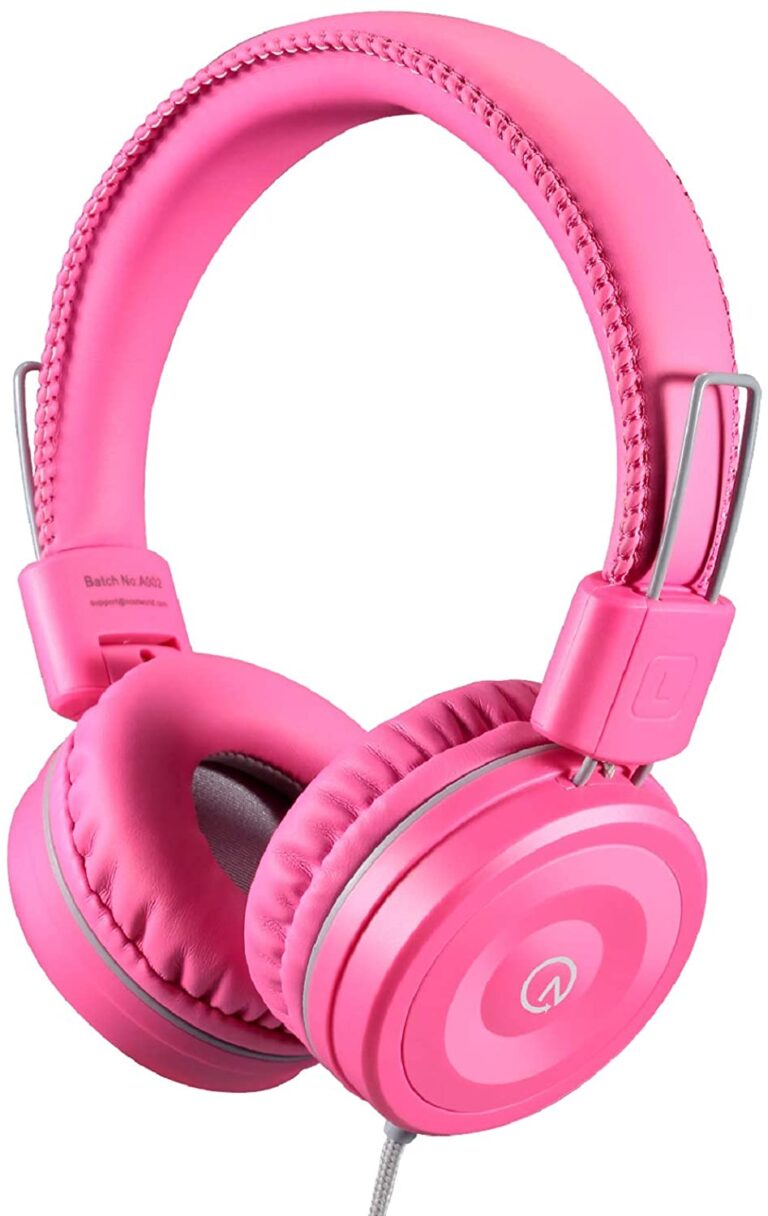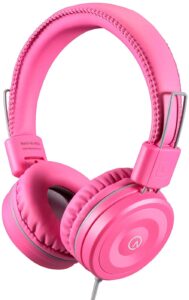 K11 from Noot products is available in 2 colors. The first one is flamingo pink and the other is blue. So if you have a boy and a girl and you want to buy it for both of them, this would be a good option. This is designed for kids between 3 to 16 years of age.
Moreover, they have a wired design, you can connect them to any device with the 3.5 mm plug. They are also comfortable to wear with their padded earpieces and headband. Furthermore, the headband is adjustable so you do not need to worry about the size.
But there is no microphone either volume control. So you have to adjust the volume through the connected device.
2. Hatchanimals over the ear headphones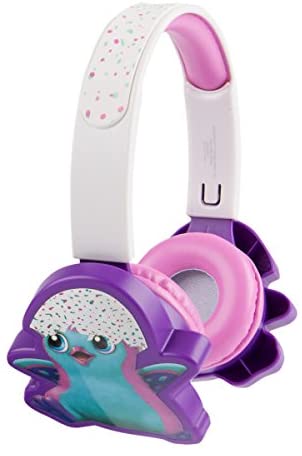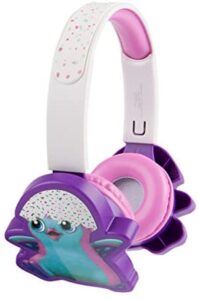 This headphone is suitable for kids of 3 to 9 years of age. You will get different designs in this set. The first one is Barbie pink with earpieces having Barbie stickers. The second one is hatchanimals and the third one has a bow on the headband. All these designs are suitable for girls.
Apart from the attractive designs, this headphone also had a volume limiter. This is beneficial for children so that they won't make the volume too high to damage their ears. In addition to this, they have a wired design that makes them suitable for all devices. The 3.5 mm plug can fit in a range of devices including pcs and mobile phones and tabs.
Although the design is quite attractive you need to be careful with kids. Because they might detach the bow and stickers.
3. Elecder i37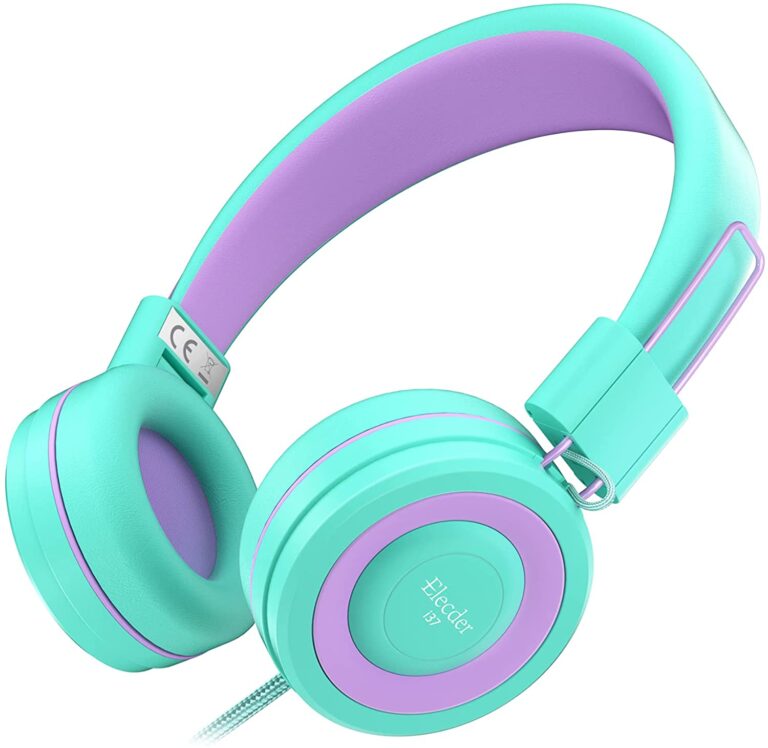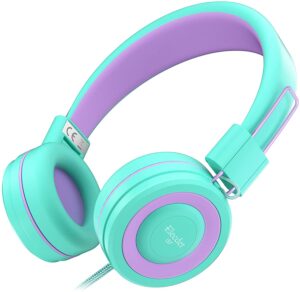 Elecder i37 also has a wired design and is compatible with all 3.5 mm jack devices. Furthermore, it is quite durable and suitable for kids. The color range is quite vast. Whether you are looking for a girl or a boy, you will get a wide range to choose from. There are even gender-neutral colors that anyone would like.
Another interesting thing about these headphones is that they have a foldable design. So the kids can put them in their bags while going out for trips and outdoor activities. And for your satisfaction, you will get 1-year protection support. So if there is anything wrong with the gadget, you can simply get support.
The headband and earpieces have padding that will make the headphone comfortable to wear. And they have a decent design that won't get damaged easily. This makes it better for children.
However, there is no microphone in this set neither will you get volume control. So you will have to manage it through the device.
4. Philips K4206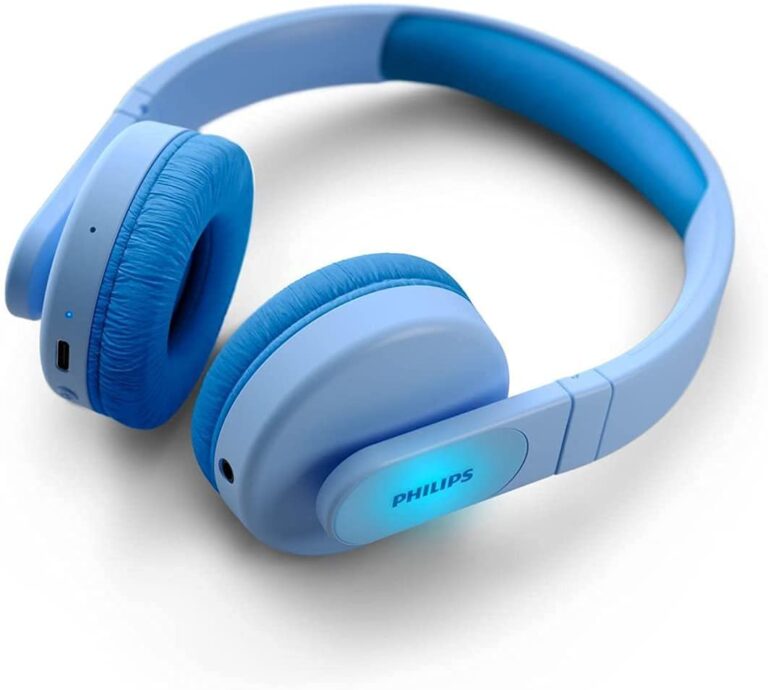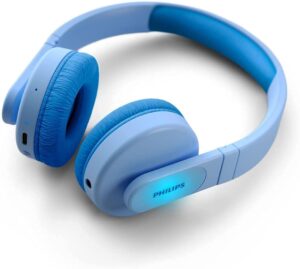 Philips has a name in the world and you can trust their products. This children headphone is also simply amazing. Unlike many others, you will get a wireless design. Therefore, kids can use it anytime and anywhere they want. It won't be a problem if they are running around while wearing them. But you will also have the option to connect a cable if you need to.
Furthermore, you will get a volume limit so that kids only get a safe sound limit. And 4 lightning modes that make them a fun experience to enjoy.
The design is quite decent and you get two color options for both boys and girls. The pink is not a complete pink, it has more black in it. Therefore, it is likable for everyone. The design does not have anything that could break off easily, so they will last for a long time.
Unlike many other kid headphones, this one has a microphone. So if they are connected to the phone, kids can take calls. Another worth mentioning thing about these headphones is the parental control feature. You can install the app on your mobile phone and control volume and playtime.
Buying Guide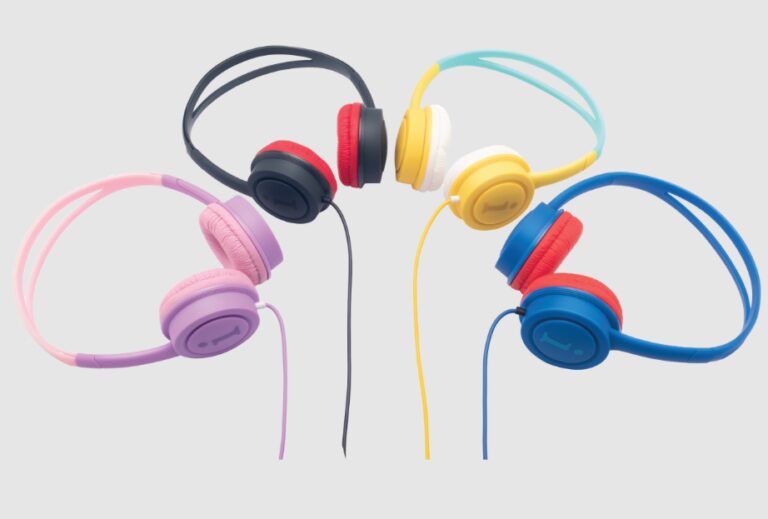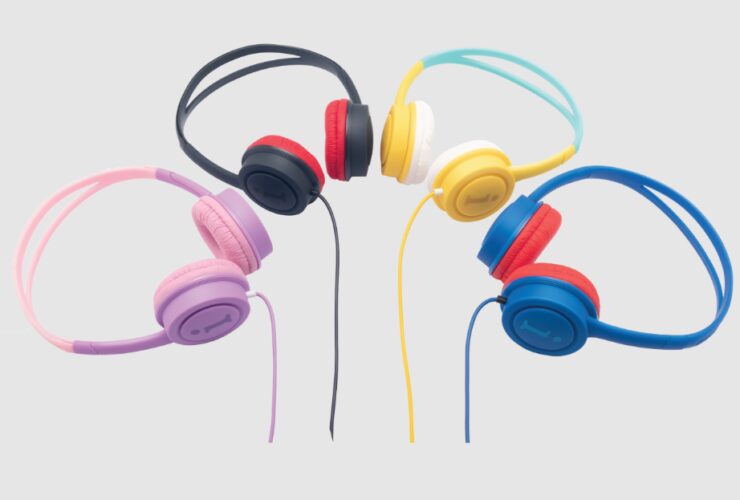 When buying a headphone for kids, you should pay close attention to these features;
1. Design
This is something that attracts children. So if you are buying for the girl, you can ask about her favorite colors. Usually, girls like pink things but not always. Therefore, if your girls do not like pink things, you can go with blue or black ones. Likewise, there is a variety of color and design options for boys. But most of them are gender-neutral.
2. Wired or wireless
Using wired headphones might not be comfortable for children because they won't sit back in one place. Children are always running around. But this also depends on their use. If the kids want a headphone for their computer games, a wired one is good. However, if they need to use it with their mobile phone, a Bluetooth set will be the best choice.
3. Adjustable headband
The headband of the headphones should be adjustable. Kids are always growing and therefore, things might get small for them over time. Moreover, it is also possible that the headband does not fit perfectly. That is why it is best to get an adjustable headband.
FAQ
At what age should I purchase my child's first headphones?
There is no precise age threshold for kids to use headphones. However, you should make sure that your child does not listen to music too loud to keep its hearing intact.
Are headphones safe for kids?
Absolutely. They provide your child with comfort and high-quality sound. It is important to ensure that your kid does not listen to music too loud. Your child's hearing and health largely depend on the volume of the music and the size of the kid's ear canal, so it is best to supervise the amount of time your kid spends listening to music on headphones.
Some models come with a volume-limiting system to help parents limit sound intensity. Experts recommend that you should limit headphones usage up to 2 hours daily.
Are wired headphones better than wireless ones?
It depends on the needs your child has. Wireless is a better option if your child likes to listen to music during some physical activities since the cord will not bother him during the run or walk in the park. On the other hand, if your kid prefers to use headphones indoors, wired might be a more practical solution.
Are headphones safer than earbuds for kids?
Typically, headphones are a safer solution than earbuds for children. Headphones create more separation between the sound and the child's ear canal, making it a less risky option. They generally come with a noise-canceling feature that provides clearer sound, reducing the child's need to increase the volume on unsafe levels.
Which headphones should I purchase for my child?
All the products we have listed above are top-notch. You should opt for a comfortable solution for your child. Also, consider picking the headphones with noise cancelation feature for high-quality sound and safety. Some of the products have volume limitations which will ensure parents' peace of mind. We recommend you Philips, K4206. These wireless headphones offer your child comfort, safety, and four lighting modes making them more visually appealing for kids.
If these weren't enough, check out some other picks from Amazon also: