The demand for organic bath products for babies is on the rise. Parents are learning that not all shampoos and body washes are created equal, and they want the safest option for their newest family member.
Unless your baby has long locks at birth, there isn't any reason to use a separate body wash for your baby. A baby shampoo equals a body wash, so you just need to find the best organic baby shampoo for your family!
List of 9 Best Organic Baby Shampoo
---
1. Puracy Natural Baby Shampoo and Body Wash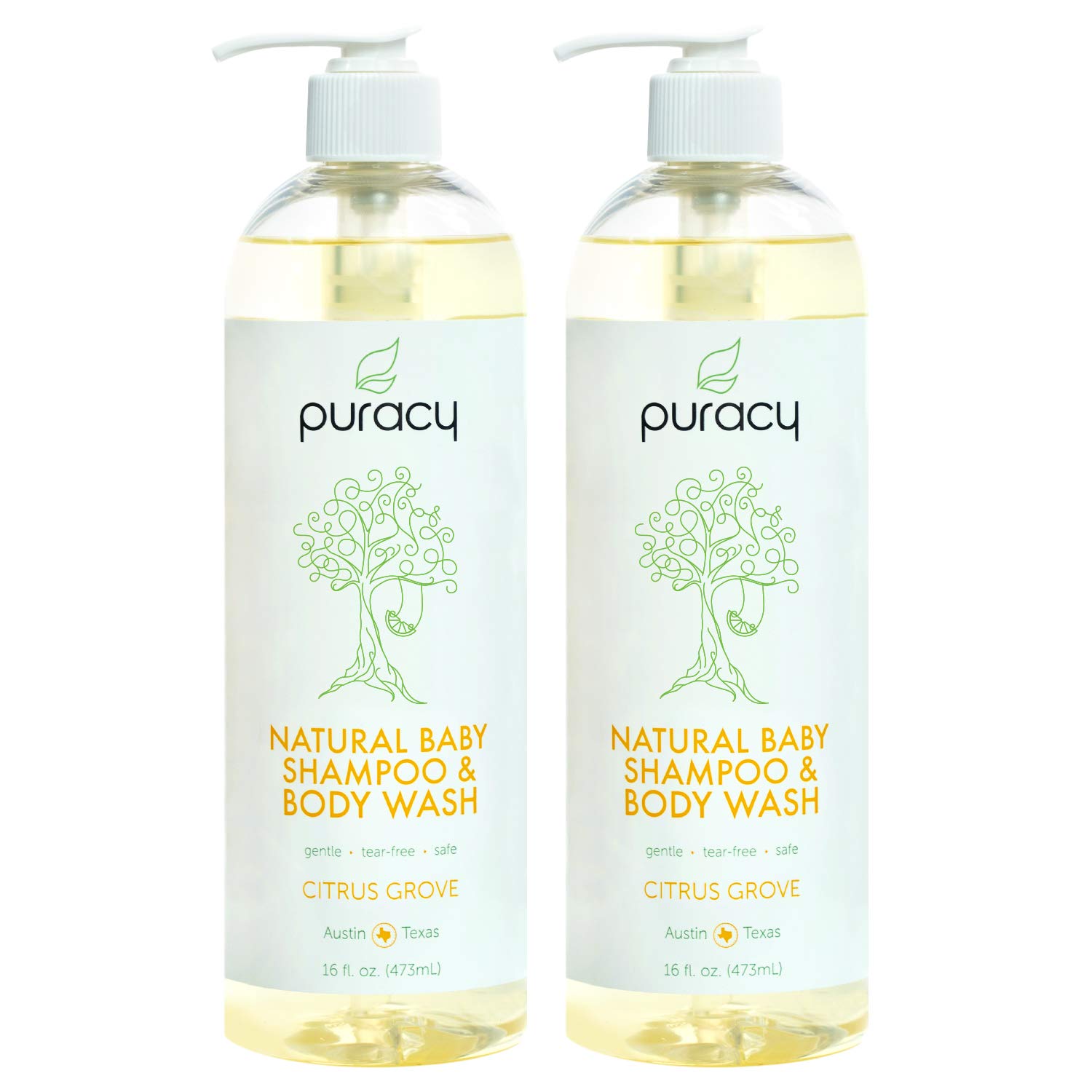 The first product in our review list is the Puracy baby shampoo and body wash. One thing to check before making a purchase is the product rating by the Environmental Working Group (EWG).
The EWG is an organization that specializes in the advocacy of toxic chemicals. They list ratings because of the toxicity of products, so always make sure to give it a look.
The Puracy Natural Baby Shampoo gets a green rating, which means it is in clear and very safe for your baby. Let's take a look at some of the points to remember about Puracy.
It contains absolutely no sulfates – SLS, SLES, SCS.
Puracy uses only natural preservatives.
It is free of harsh chemicals such as sulfates, triclosan, formaldehyde, salicylates, parabens, phosphates, petroleum-based products, perfumes, and dyes.
Puracy was created by a team of doctors and is safe for your child. Instead of artificial fragrances, Puracy uses a subtle blend of pink grapefruit and natural botanical extracts for a delicious scent.
Another significant factor to remember is Puracy contains no animal by-products. In fact, it is a vegan and gluten-free product. The product is never tested on animals and is cruelty-free, which is important. Overall, Puracy is a great option and checks most of our boxes when it comes to containing little to no harmful chemicals!
---
2. Babo Botanicals Moisturizing Baby Shampoo and Wash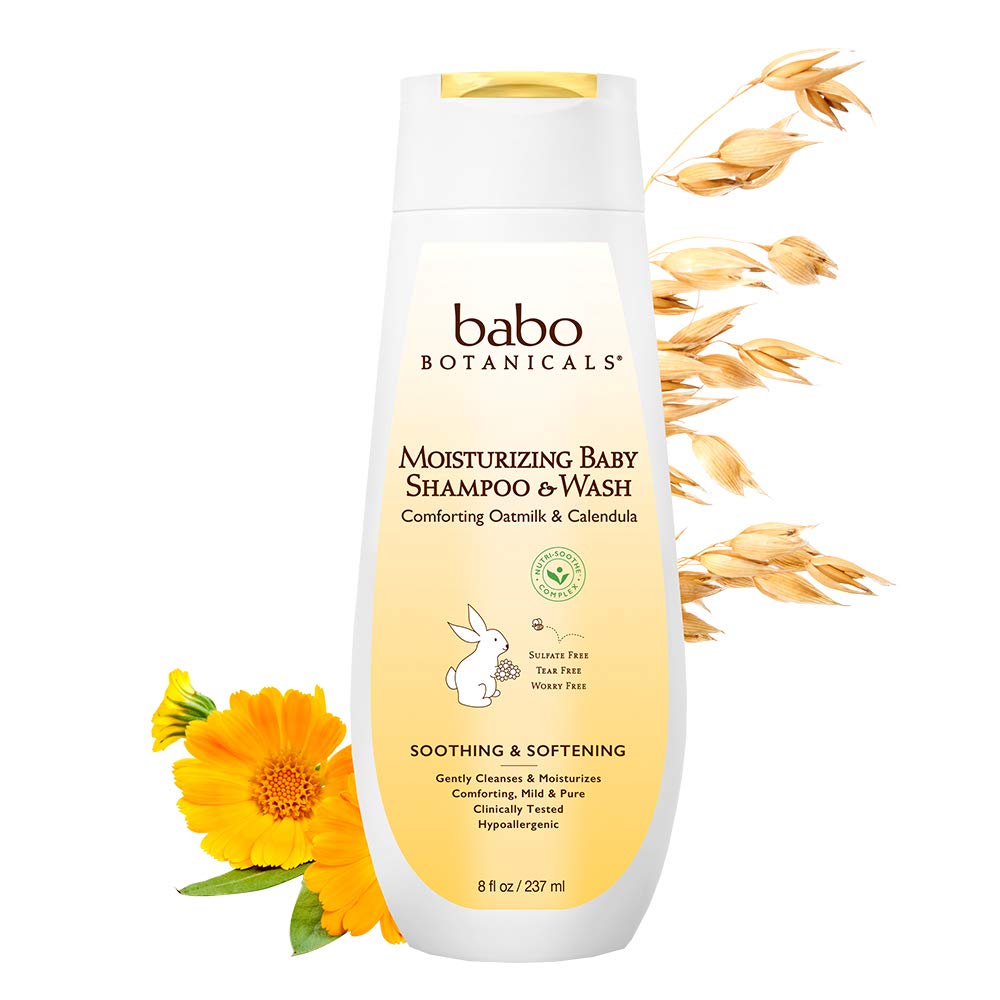 The Babo Botanicals shampoo is made with a good oat milk and calendula mixture, creating a lovely, subtle scent for your child. On EWG's website, Babo Botanicals also receives a green rating, ensuring parents that this is a very safe product.
Pure flower and plant extracts
Sulfate-free
Formaldehyde-free
Paraben and phthalate-free
If you are looking for a sensitive soap for babies with dry or fragile skin, Babo Botanicals offers a very gentle, plant-based baby wash. For children with eczema-prone skin, finding the right solution can be difficult.
However, the Babo Botanicals make it slightly easier because they offer a product with no chemicals, synthetic fragrances, and artificial colors. All of those things lead to a harsher product and more reactions.
There are some other great details about the Babo Botanicals products. They are dairy and soy-free, which is especially ideal for babies. Soy is linked to many disorders as well.
There are no nut oils used in production. The shampoo and body wash are vegan products. With BPA-free packaging, you are significantly decreasing the number of chemicals introduced to your children.
---
3. Era Organics Baby Wash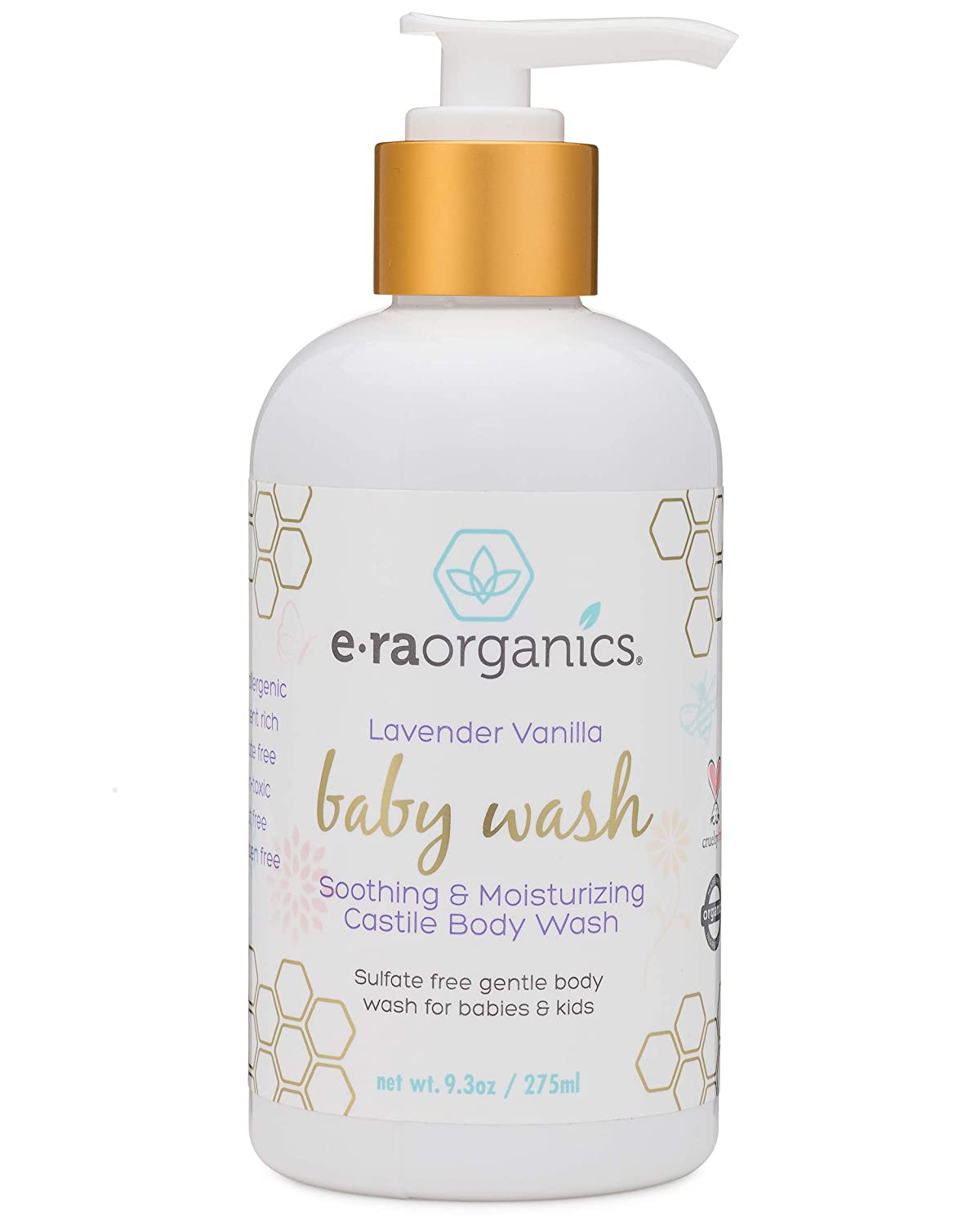 Here is another great option for the best organic baby shampoo. Era Organics created an awesome product. Let's look at some of the details that you need to know.
Hypoallergenic
Paraben-free
Alcohol-free
Perfume-free
Contains no phthalates, petroleum-based products, or mineral oil
One of the nicest details about the Era Organics baby wash is the soothing ingredients used to make their products. The baby soap contains organic chamomile tea, coconut oil, olive oil, hemp oil, raw honey, sea salt, and other great ingredients. The chamomile tea is gentle, soothing, and should help your little one sleep that evening!
With all of the gentle ingredients used, the Era Organics products are a great option for your babies with delicate skin. It is perfect for infants with diaper rash, baby eczema, cradle cap, and rashes. With the ingredients, you can help heal your child's skin as well. Their ingredients can reduce inflammation and soothe itchy skin.
Overall, Era Organics has great ingredients, few harmful chemicals and can help your baby's skin if it needs to be healed.
---
4. Burt's Bees Baby Bee Shampoo and Wash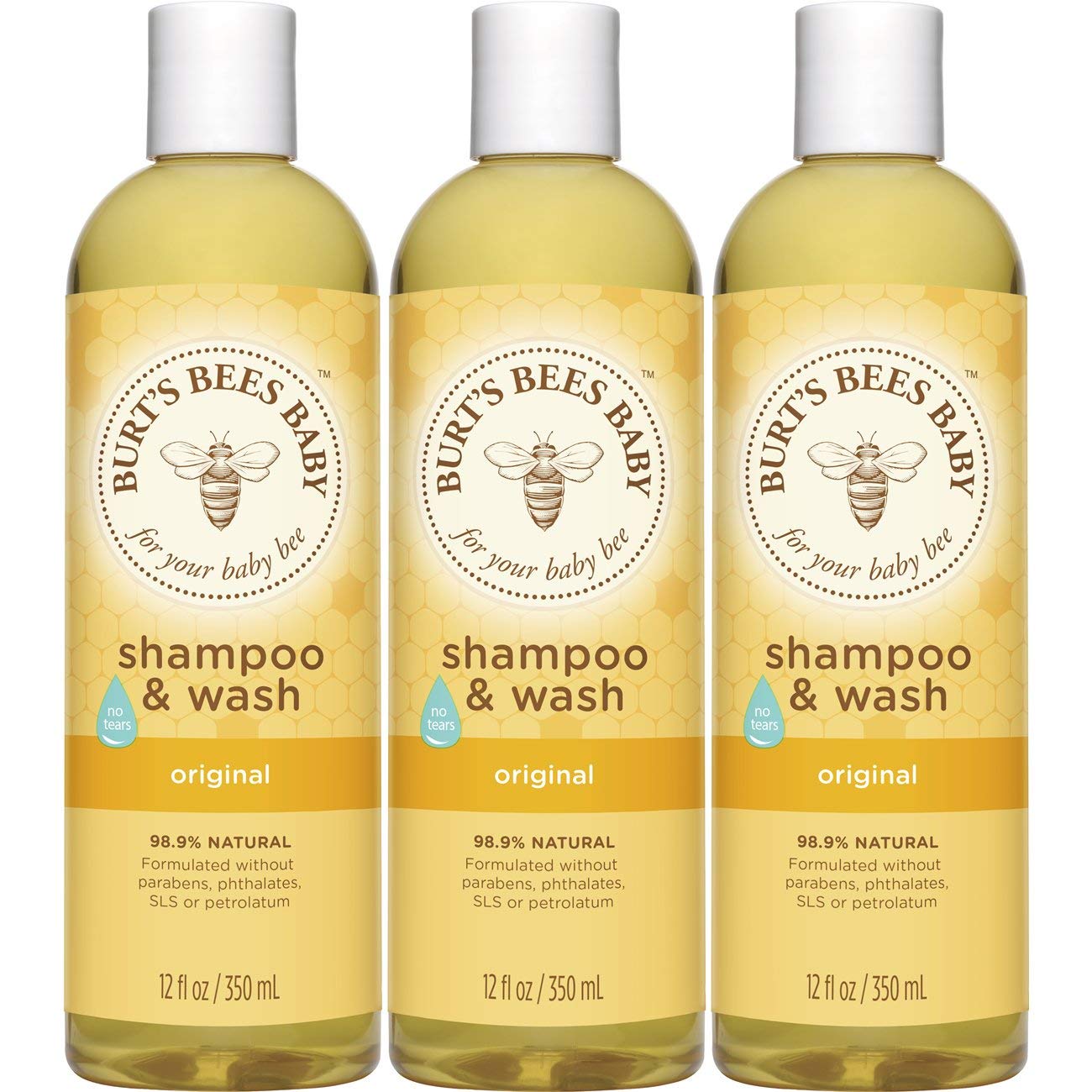 When it comes to natural care products for your baby, Burt's Bees will come to mind for many people. They focus on making safe products and want parents to be able to take care of their baby's skin with ease. Here are some of the great details.
No parabens and phthalates
No petroleum-based products or SLS
Tear-free
No formaldehyde
Parents can trust Burt's Bees products, in particular with a rating from the EWG as a 2 out of 10. That is a fabulous rating that you can feel confident using. With their shampoo and body wash for their babies, it is made with soothing vanilla and lavender, which are great ingredients to relax your child before sleep.
The shampoo is fragrance-free because Burt's Bees uses natural scents for their products, such as rosewood, sweet almond, coriander fruit oil, and other ingredients.
However, something to note is that the Burt's Bees shampoo and body wash contains sodium benzoate. Many parents prefer to avoid this chemical as well. Overall, it does score well and smells lovely for your baby.
---
5. California Baby Calming Shampoo and Body Wash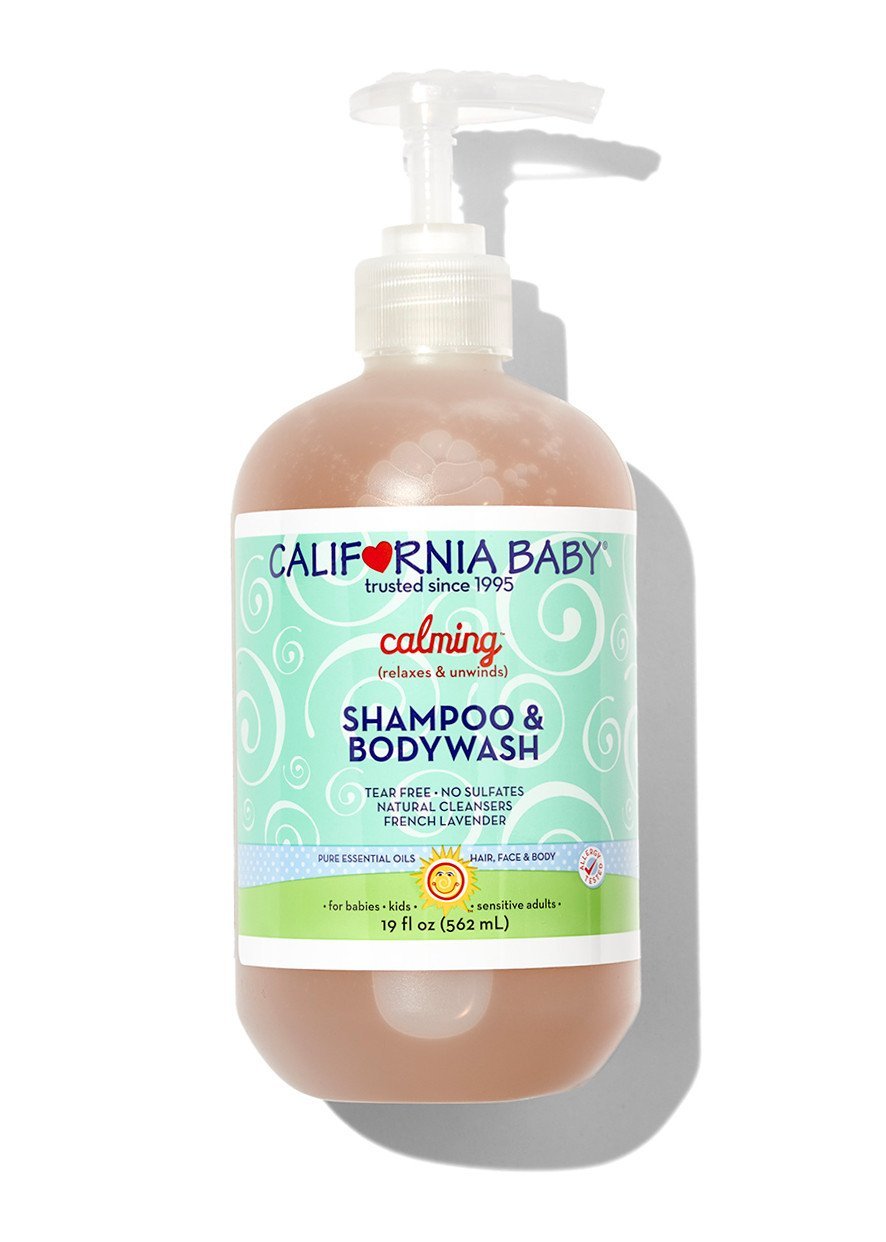 California Baby is developed by a mother, who cared about the chemicals in the products for her children. Their calming shampoo and body wash are made with a lovely French lavender scent. Here are some important details that you need to know!
Tear-free
No Sulfates
Contains no gluten, soy, oat, dairy, or nuts
Tear-free is often a concern for many parents because it requires a toxic chemical to make the products tear-free. However, California Baby doesn't use a 1,4-dioxane. It also does contain sodium benzoate, which is a controversial food-grade preservative.
The calming version is made with natural fragrances; they use French lavender and clary sage essential oils. California Baby does make an unscented shampoo called their Super Sensitive version.
Their organics are made from sustainably grown vegan ingredients made in the U.S.A. Despite some disadvantages, California Baby is an attractive option for many parents. You can also get the shampoo in bulk sizes if you love it!
---
6. Weleda Calendula Baby Shampoo and Body Wash
Weleda is one of the most popular natural baby shampoo companies in Europe, and they are making their market in the U.S.A. now. Containing organic calendula grown in Germany, Weleda makes lovely product parents are sure to love. Here are the details about what ingredients they use!
Tear-free
Free of sulfates
No parabens and phthalates
Contains no mineral oils
Their baby shampoo and body wash are two-in-one products so that you can clean and moisture skin and hair at the same time! This product contains a gentle surfactant made with sugar and coconut. Weleda also uses almond and sesame seed oils to help moisturize and nourish skin and hair.
The ingredients used by Weleda are great! They are gentle enough to protect your baby while still cleaning their body. You don't have to worry about drying out their skin or burning their eyes! Also, calendula is great as an anti-inflammatory ingredient, so you can reduce reddening and swell with its use.
Weleda is gentle for babies with eczema and dry skin issues, while also being gentle on your pocketbook. Try and see why so many parents love Weleda!
---
7. Baja Baby Citrus Shampoo and Body Wash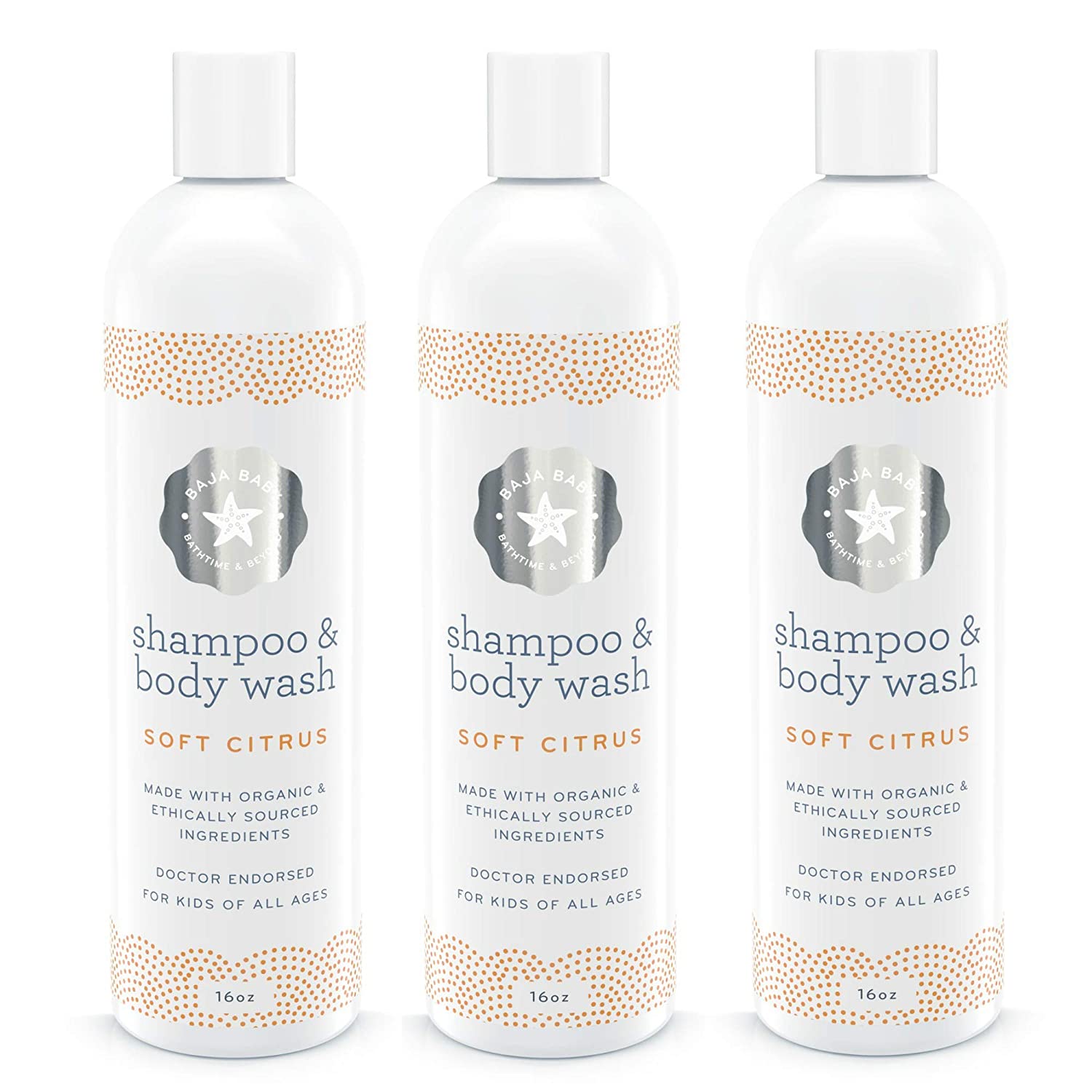 Baja baby makes great baby personal care products from fabulous, natural ingredients, such as calendula, burdock root, nettle leaf, and hemp seed oil! The ingredients are full of vitamins, helping to nourish and enhance your baby's life, which is what your best organic baby shampoo should do!
Contains absolutely no sulfate
Paraben-free
Phosphate-free
No animal-derived ingredients
Because of the lack of toxic chemicals and healthy ingredients, Baja Baby makes a shampoo that is great for babies with sensitive skin and eczema. In fact, natural calendula is great for healing damaged skin and used to soothe irritated skin.
The Baja Baby citrus shampoo contains nettle leaf, which has high levels of Vitamin A and C fatty acids. These vitamins are essential for healthy hair because it ensures deep cleansing while softening the hair.
Burdock Root is perfect for irritated scalps. If your baby has a cradle cap, the Baja Baby citrus products can improve your child's scalp issues. Also, it can lead to thicker and stronger hair with a beautiful shine.
Parents love products that can help maintain and protect their children. Baja Baby has one of the best organic baby shampoos that can lead to stronger and softer feeling hair. You will love it!
---
8. Shea Moisture Raw Shea Butter Chamomile and Argan Oil Baby Head to Toe Wash and Shampoo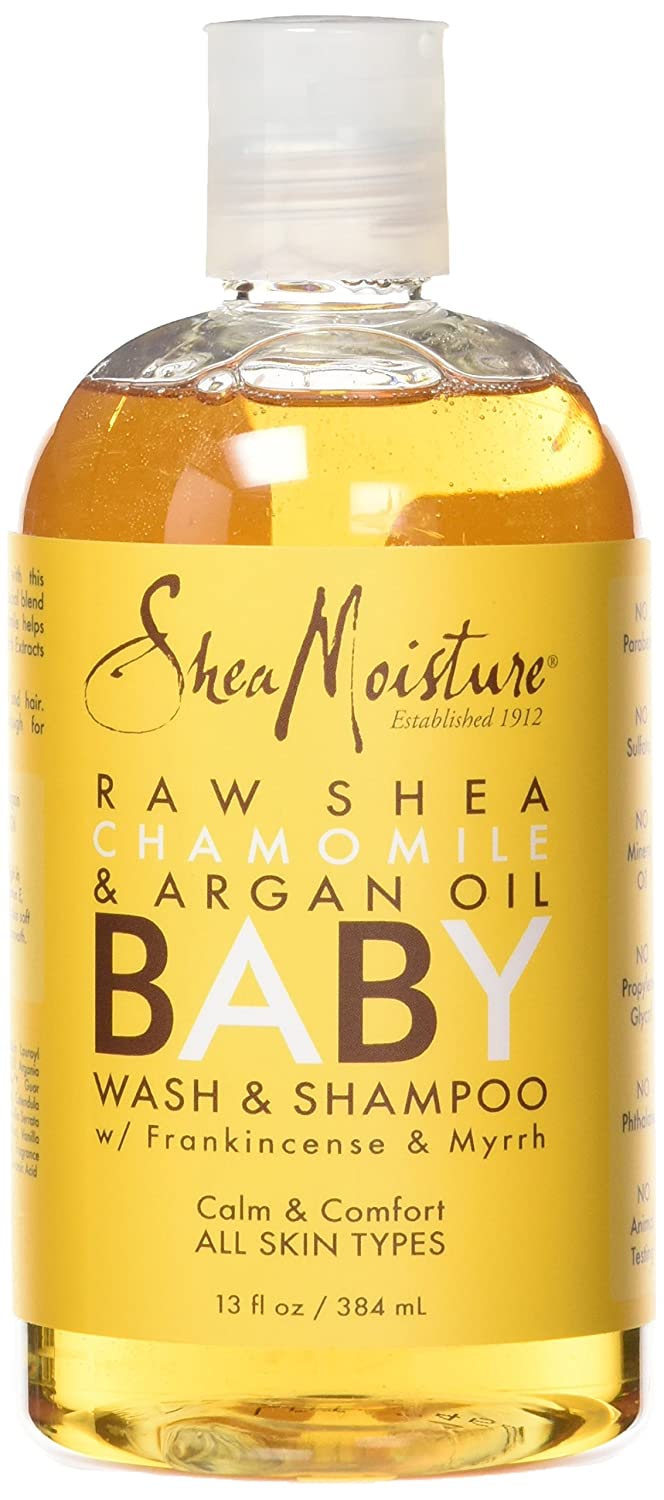 Shea Moisture started off in Africa over a century ago. Their Baby Head to Toe Wash and Shampoo is made for baby's delicate skin with a lovely blend of ingredients.
No Parabens and phthalates
No paraffin
Gluten-Free
No Propylene Glycol
No Mineral Oil
No added fragrance
Absolutely no sulfates
No animal testing
As you can tell by the extensive list of eliminated chemicals, Shea Moisture prides themselves in using some of the best ingredients for their products. The Baby Wash and Shampoo is no exception.
The Shea butter is perfect for moisturizing and repairing damaged skin with vitamins and essential fatty acids. Chamomile has anti-inflammatory properties, so you can soothe your baby's skin as well as help them sleep that evening. Argan oil has high levels of Vitamin E for softening and smoothing skin.
The Baby Head to Toe Wash and Shampoo also contains frankincense and myrrh extract. They are used to help protect and soothe skin. The ingredients are perfect for a soothing and calm experience for your baby. There is no doubt that Shea Moisture is one of the best organic baby shampoos you can buy for your child.
---
9. Babyganics Baby Shampoo and Body Wash, Fragrance-Free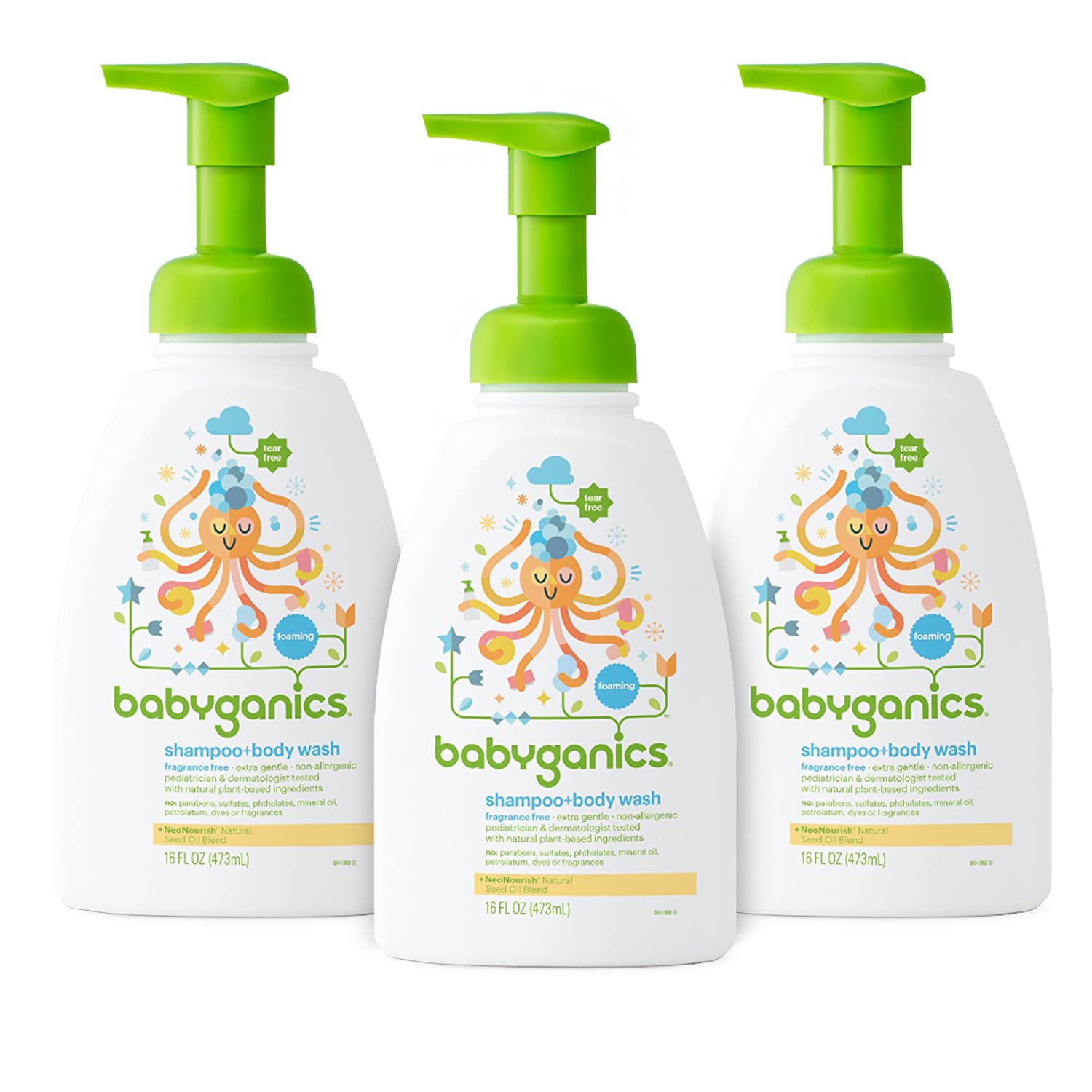 Babyganics makes a number of products for young babies, including one of the best organic baby shampoo. Made with non-allergenic ingredients, you can use it on the most sensitive babies without reactions.
Babyganics ensured their product is pediatrician and dermatologist tested to guarantee they have a great product. Here are some of the great details.
Absolutely no parabens
Sulfate-free
Contains no phthalates
No mineral oil and petroleum-based products
No artificial fragrances or dyes
Never tested on animals
The ingredients for the tear-free foaming shampoo and body wash are awesome. Even though they are natural ingredients, you can be sure your baby is getting clean as a whistle. Babyganics made their shampoo with their NeoNourish seed oil blend, created with a blend of 5 essential oils – tomato, sunflower, cranberry, black cumin, and red raspberry.
Babyganics also has some other personal care products for babies including a chamomile verbena scented as well. No matter which scent or non-scented version you pick, the bubbles and soap are safe for your child's delicate eyes. Parents all over enjoy using Babyganic products for their children. The ingredients and safety are top of the line!
---
Buying Guide for the Best Organic Baby Shampoo
Over the last decade, numerous studies have focused on the dangers of chemicals in the world around us. In fact, some of the results can be downright scary as a new parent. The last thing we want to do is expose our precious new babies to harmful chemicals. Many of the bath products millions of parents use contain chemicals with certain side effects.
Mainstream products contain toxic ingredients that will enter your baby's body when you use them. The best solution is to use products containing natural ingredients. The products you choose should have ingredients such as olive or sweet almond oil, and they should ideally be fragrance-free. Here is what to know.
Fragrance
Yes, the smell of baby soap can be intoxicating, but it isn't safe for your baby's developing system. The chemicals used to create the fragrances can cause skin irritation, eczema, and allergies, along with being toxic.
To create fragrance products, the companies have to add coal and petroleum-based synthetic chemicals. They may just need to mask the smells of the other chemicals! The fragrance is in a lot of baby products, like disposable diapers, baby powder, baby shampoo, and lotions. It is a wise idea to check the labels before you make a purchase.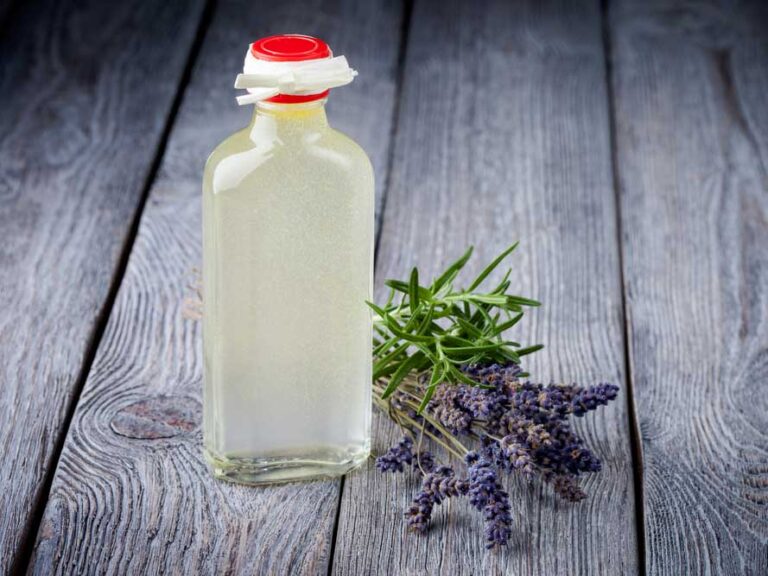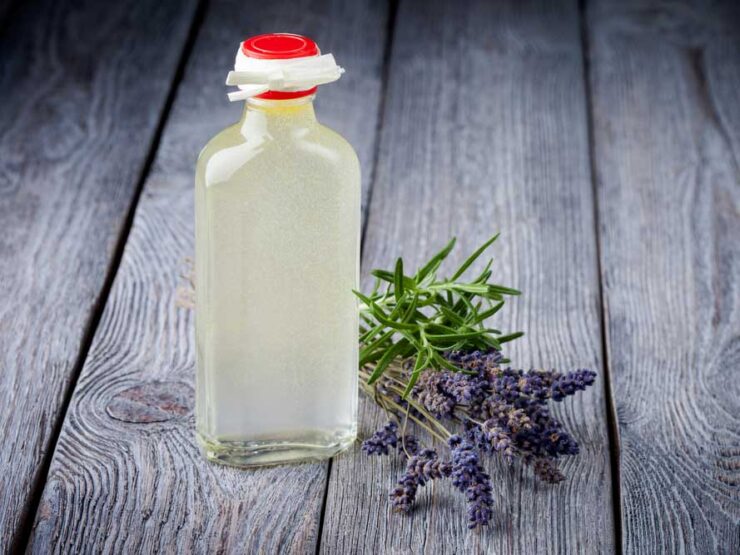 Phthalates and Parabens
If you read the label, you can find these two chemicals in most mainstream personal care products. They are used as a type of preservative. Phthalates are considered an endocrine disruptor. It can cause problems with reproductive systems like decreasing sperm motility and other problems such as asthma and even cancer.
Parabens are also endocrine disruptors. Studies show that they can cause reproductive problems, endometriosis, skin irritation, and even developmental disorders. It is best for parents to avoid any product containing phthalates, DEP, DBP, DEHP, and anything ending with the word "paraben".
Formaldehyde
To prevent the formation of mold, companies add formaldehyde to their water-based products to act as a preservative. It is a scary chemical; despite being a known human carcinogen, it is still consistently added to personal care products. Not only can formaldehyde lead to cancer, but it can also cause allergy-like reactions, respiratory problems, nausea, and headaches.
Avoiding all the goods containing formaldehyde can be difficult. Here are some ingredients you may notice listed on the bottles:
Quaternium-15
DMDM hydantoin
Imidazolidinyl urea
Sodium hydroxymethyl glycinate
Bronopol
Glyoxal
Propylene Glycol
This helps the product absorb easier into your skin, a kind of chemical referred to as a penetration enhancer. It is considered a carcinogenic chemical. Propylene glycol works by opening up all of your pores and allowing the chemicals into your skin. You can also find this product in wiper fluid, along with baby wipes. On labels, it can be listed as PEG or PPG.
Triclosan
We live in a world that loves all things antibacterial. However, your young baby doesn't need antibacterial products; they need to create natural resistance and immunities so they can decrease their likelihood of allergies. Most antibacterial products contain triclosan, which is an endocrine disruptor as well as a carcinogenic chemical.
FAQ
Which shampoo is the best for a newborn baby?
Babies have delicate and young skin, so it is crucial to use organic and natural shampoos. These are the best the money can buy and way healthier than any other chemical-rich product. Many organic shampoos are close to being tear-free, so this will significantly ease every bubble bath your child takes.
What to avoid when buying shampoo for a baby?
Regular non-organic shampoos, even when they are produced for babies, often contain huge amounts of damaging chemicals. These include detergents and fragrances, and as your child's skin health is a priority, you should avoid them. This also includes all substances that end with -eth.
Do tear-free shampoos even exist?
There's no precise answer to this question. Though many companies will avoid using some ingredients and claim that their products are tear-free, babies will still cry if the soap gets in their eyes. Babies have this reflex, and often you can't really avoid it.
Which baby shampoo should I choose?
One of the best clinically approved shampoos worldwide is Cetaphil. This product is not only good for babies but for adults too. It contains calendula extract, which is great for hair hydration and against dandruff. Also, it is anti-inflammatory and healthy for your baby's skin. Another great option that you can go for is Weleda Calendula. It is also rich in organic calendula and sulfate-free.
Conclusion
As you can tell, there are some fabulous options for the best organic baby shampoo. Whether you want scented shampoo or not, you can find an option for your family and your budget. While organic baby shampoo tends to be more expensive, it is worth the price because it will ease your mind. Exposure to all of the chemicals can be dangerous for such young systems.
Any of these nine best organic baby shampoos will leave your child feeling clean while still protecting their fragile systems. We would love to hear about your favorite products. Do you have a favorite organic baby shampoo? Let us know in the comments!
Take a look at these products from the same price range, that are available right now on Amazon: