Natural disposable diapers are a great option for parents who want a more eco friendly diaper like cloth diapers with the convenience of a disposable diaper. While disposable diapers make life a little easier when it comes to changing time, they are also treated with many chemicals that would make any parent nervous.
Not only are natural disposable diapers easy on the environment, they are a great choice for little ones who suffer from sensitive skin. Regular disposable diapers are often treated with bleach to color them which can irritate already irritable skin.
What to Look For in Natural Disposable Diapers?
If you have made the choice to primarily use natural disposable diapers there are a few things that you should keep in mind while shopping around.
Eco Friendly
Natural disposable diapers are better for the environment than regular disposable diapers. This is because natural diapers are made more naturally without the use of any unwanted chemicals or treatments. Some natural disposable diapers even are made out of biodegradable materials which means that they will naturally break down as oppose to just sitting in a landfill.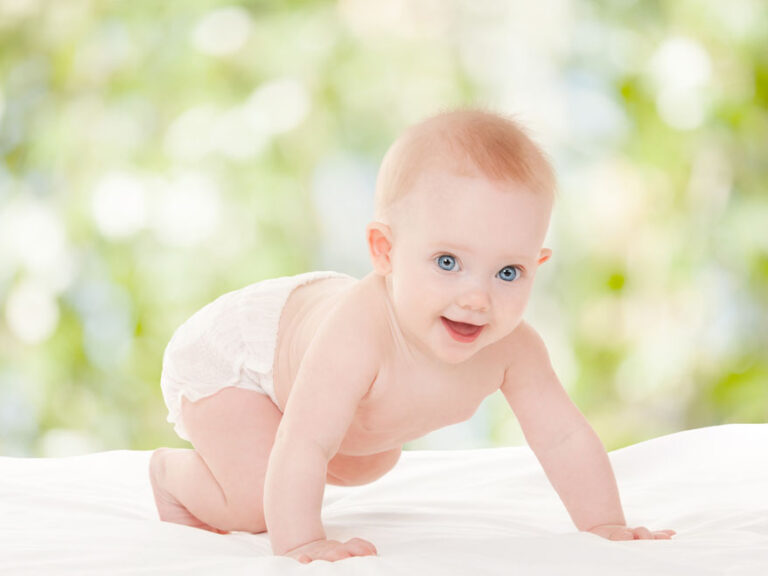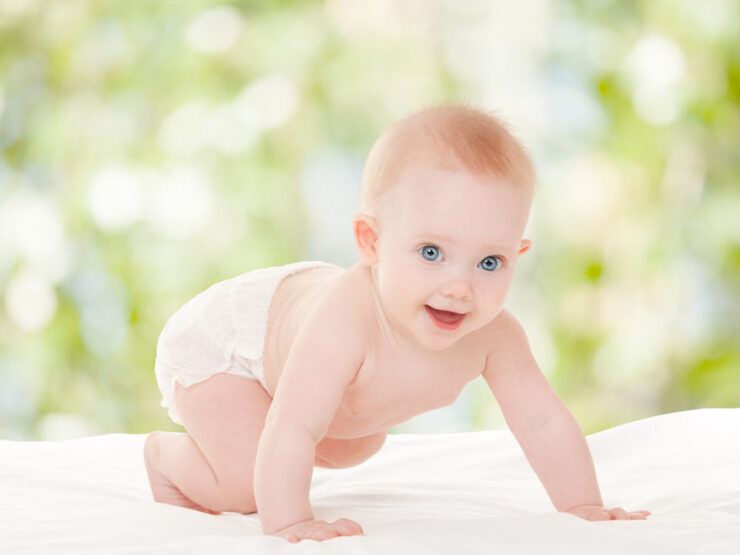 Cost
Natural disposable diapers will be more expensive than regular diapers.  This is due to the way that they are processed and made.  If money is a concern then try looking into finding natural disposable diapers that available to purchase in bulk because this will save you money.
Fit
Much like regular diapers, the fit of natural disposable diapers should be something to keep in mind. These diapers will be sized depending on your child's size and weight so make sure to pay attention to the weight limit in order to be sure they will be a secure fit.
Now that you know what to expect and what to look, here are some of the best natural disposable diapers that will not only make your child happy and secure but will make you feel good about this earth friendly purchase.
List of 7 Best Natural Disposable Diapers Reviews
1. Naty by Nature Babycare Chlorine-Free Eco Diapers
The Naty by Nature brand has set out to not only create some great eco friendly products but also created a philosophy to improve the world one product at a time. The Naty by Nature Babycare Chlorine-Free Eco Diapers are made with GM free corn based materials which are not only great on the environment but also break down naturally overtime which reduces waste. The special material also is completely durable and provides a leak proof barrier that makes this little diapers super high in quality.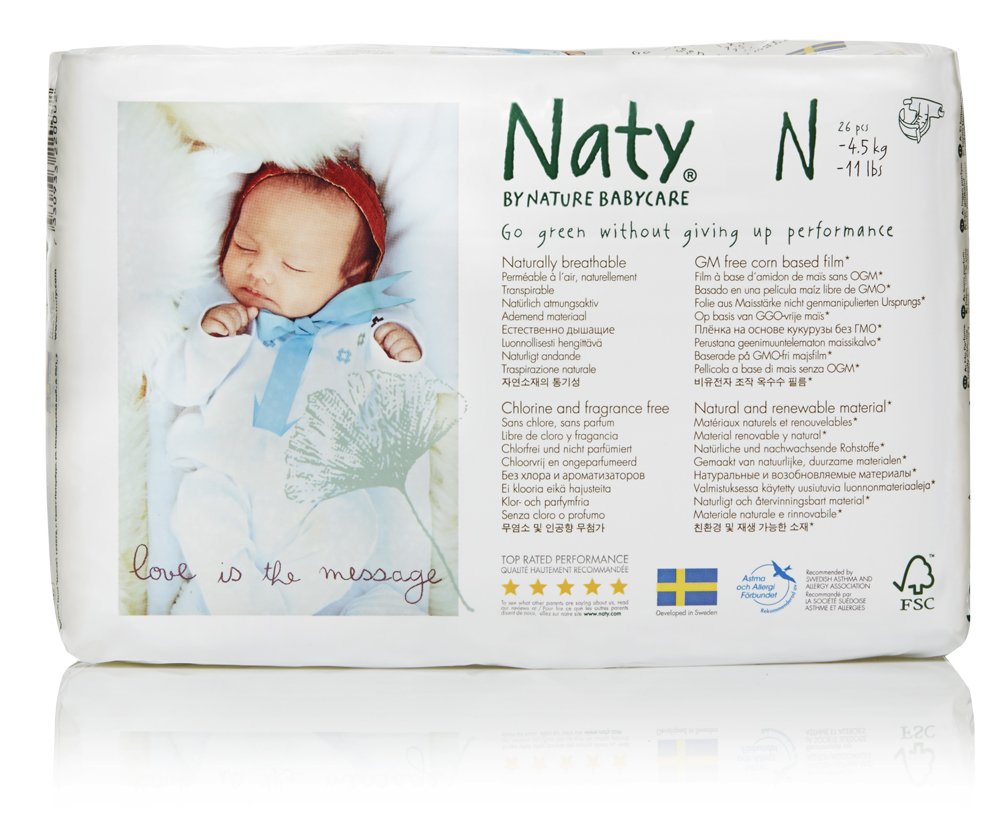 While the corn based diapers help to make them biodegradable, the GM free corn starch film is there to make the diapers naturally breathable. Unlike traditional diapers which are fitted with plastic barriers, the corn starch layer allows for air to flow through the diapers which will reduce the risk of skin irritations like diaper rash and eczema. While this layer is great for air flow it also naturally helps to keep bacteria out of the diaper and off of your child's skin.
When it comes to chemicals, you're in the clear! The Naty by Nature Babycare Chlorine-Free Eco Diapers are 100% chlorine and fragrance free. By limiting the amount of chemicals that are coming in contact with your child's skin, Naty by Nature is insuring that your child will be surrounded by the all natural protection that you would hope to find in a natural disposable diaper.
The Naty by Nature Babycare Chlorine-Free Eco Diapers come backed by the guarantee to reduce the risk of future health problems that are associated with harmful chemicals like asthma and other common allergies. These all natural diapers will run you around $40 for a case of 104 and are sized perfectly for newborns up to 10lbs.
2. Seventh Generation Baby Diapers, Free and Clear for Sensitive Skin
Seventh Generation has been making amazing eco friendly products for years.  From their laundry detergent to their baby wipes, they have you covered. The Seventh Generation Baby Diapers are made specifically with baby's sensitive skin in mind. The secret is the ultra absorbent, non-bleached natural core that not only provides perfect leak protection but also always for optimal air flow to keep your child's skin dry. These natural diapers are free from any fragrance, perfumes or lotions that will guarantee to keep chemicals off your little one's skin.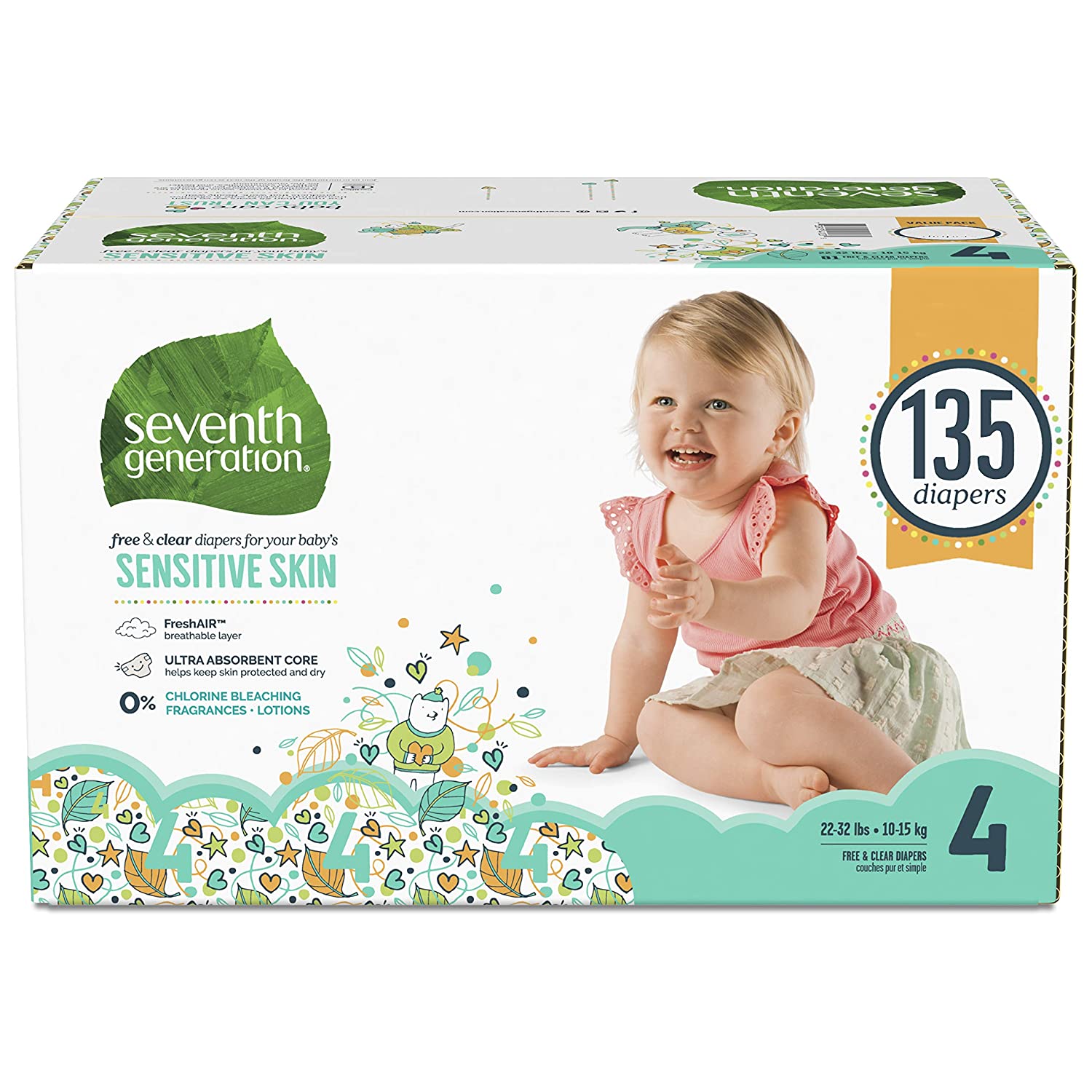 The Seventh Generation Baby Diapers are made out of wood pulp which works are a natural absorbent.  It you're worried about the footprint these diapers leave on the planet, have no fear! The wood is responsibly found and sourced so that there will be no impact on animal's natural habitat in forests. While these diapers remain natural they still are adorable and stylish. You get a choice of either the plain diapers or the new and improved animal print. The Seventh Generation Free and Clear Baby Diapers are priced at around $40 per package and are available in multiple sized depending on your child's weight so you can me sure of a perfect fit.
3. Earth's Best Chlorine-Free Diapers
Earth's Best Chlorine-Free Diapers have been used and loved by parents who want to live a more natural lifestyle for years.  Parents love the chlorine and latex free construction of these natural diapers. While having them free of chlorine will help protect your child's skin, having no latex will protect your baby from harmful allergies that may appear. The absorbent layer inside the diaper is made out of corn and wheat which are easily renewable products so that there is little no effect these diapers cause on the environment. By specially sourcing these diapers this way, Earth's Best has actually worked to reduce the amount of petro chemicals in the air and ground.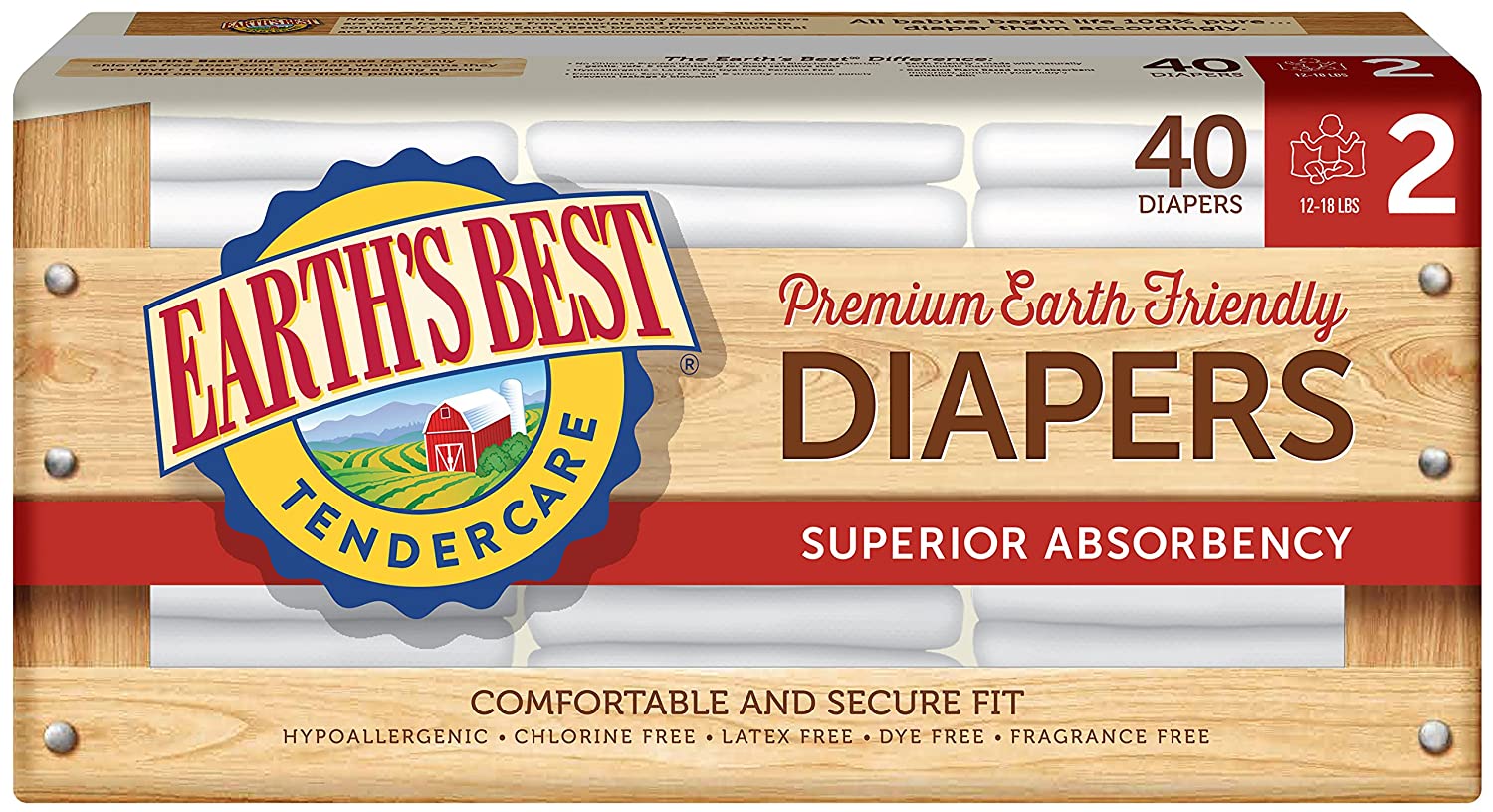 While the Earth's Best Chlorine-Free Diapers are made and sourced naturally they still maintain a soft and flexible feel which is perfect for babies who are on the move.  The stretchy panels which fasten to adjust perfectly to your child's waist are specially designed to prevent leaking.  This means that your child's cloths and bedding with be safe through even the harshest of accidents.  The Earth's Best Chlorine-Free Diapers will run you around $35 for a case of 116 and are one of the best natural disposable diapers when it comes to helping your child live a clear and natural lifestyle.
4. Bambo Nature Premium Diapers
Bamboo has been a great choice when it comes to the construction of baby diapers. Bamboo has been the main material in many reusable diapers and has been trusted to protect baby's sensitive skin for years.  Not only is bamboo strong enough to absorb life's little messes, it is soft enough to keep baby's comfortable and dry. The Bambo Nature Premium Diapers have been the number one choice for natural diapers because of the amazing overnight protection they offer. There are little things worse than dealing with a messy and leaking diaper during late night changes.  With these special little diapers you are sure that your child will stay dry all night.  Not only does this mean that your child will be sleeping through the night but also that you will be helping to promote healthy sleeping habits that they will carry through their diaper years.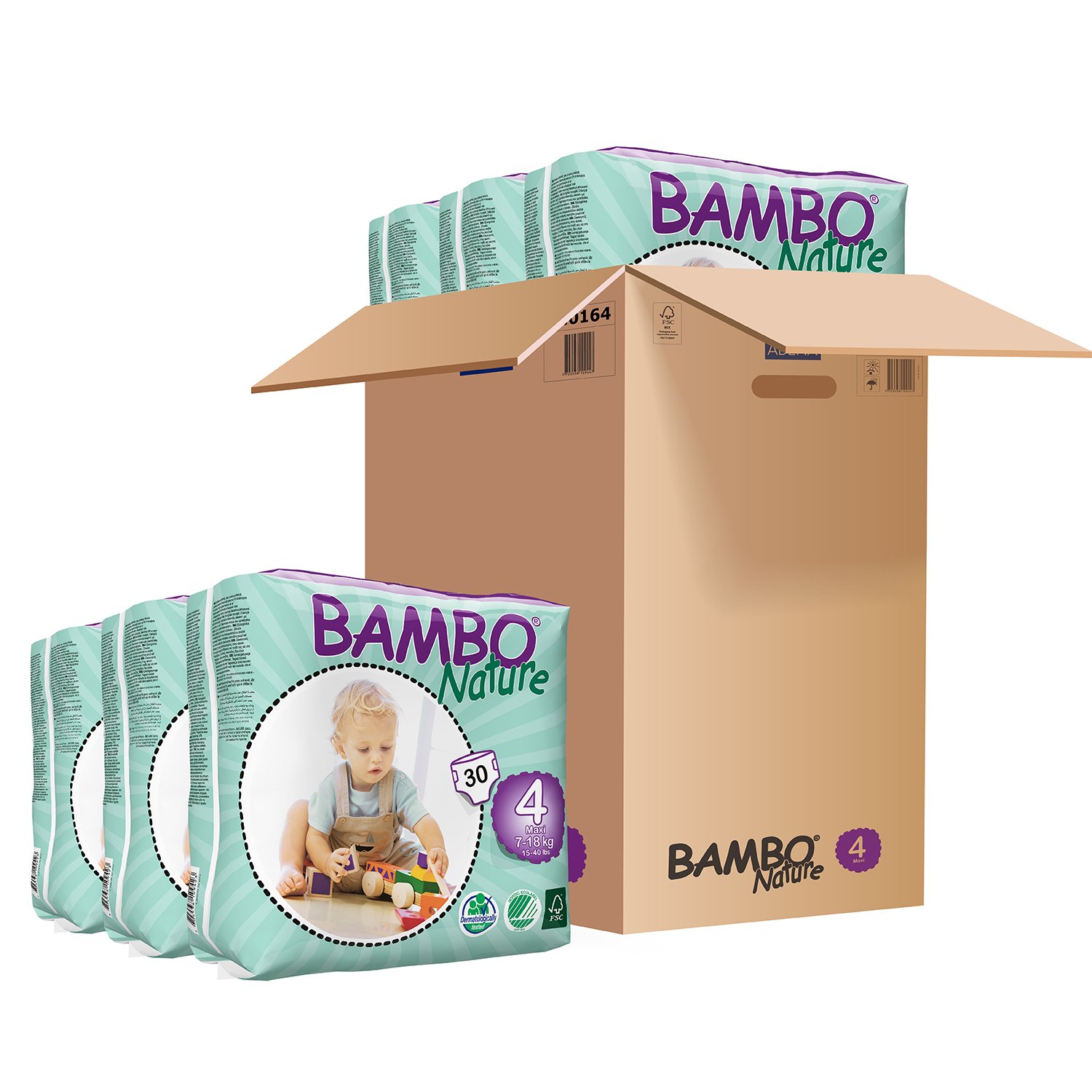 The Bambo Nature Premium Diapers have been tested and certified by nationally recognized centers for asthma and allergens meaning that these diapers will not only protect your child's skin but their little lungs as well.  If you have a child who suffers from painful skin irritants like diaper rashes, don't worry!  These bamboo strong diapers have been dermatologist tested and approved to not only protect but also to improve your child's skin.  So not only are these diapers backed by medical professionals but have been voted as the number one natural diaper on numerous baby sites.  The only downside to the Bambo Nature diapers is that they don't come in bulk packs so you might want to stock up early.  A package of 28 perfectly sized diapers will cost you around $15.
5. Andy Pandy Biodegradable Bamboo Disposable Diapers
These amazing eco-friendly diapers are manufactured and processed with the highest quality of natural products and with the best of care. The Andy Pandy Biodegradable Bamboo Disposable Diapers are hypoallergenic to help not only protect your child's skin but their lungs as well.  The best part about the materials that are used to construct these natural diapers is that they are made to be antibacterial.  This feature makes sure that harmful bacterium stays off of your skin which will help with their overall health and well being.  The fact that these natural diapers are biodegradable means that you are doing your best to help keep trash from building up in the landfill.  The material of the Andy Pandy diapers will break down natural over time without depositing harmful chemicals into the earth's ground.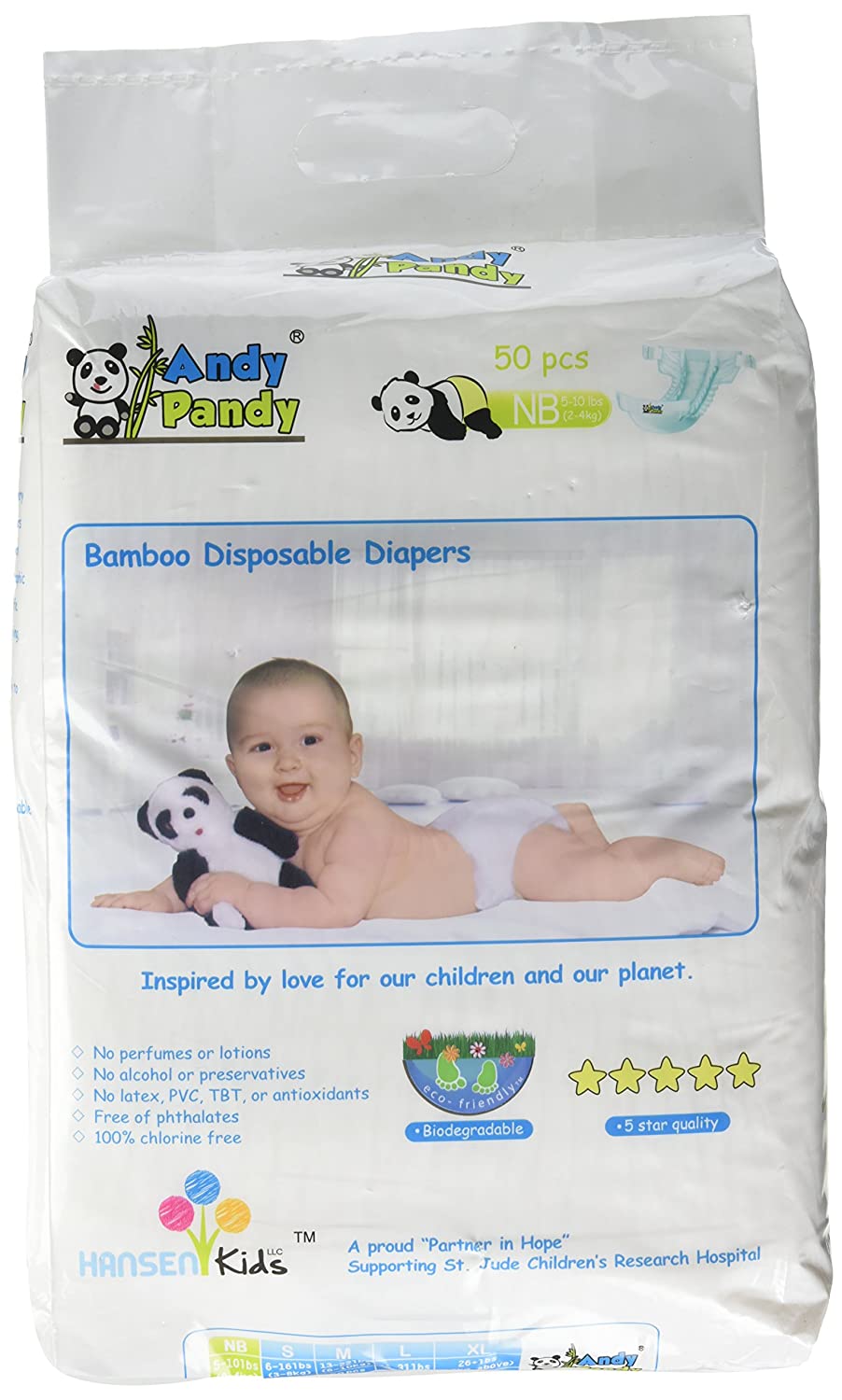 While the bamboo makes the diaper strong and absorbent it also remains soft and flexible to move and grow with your child. The secret to keeping your child's skin dry and soft is in the moisture wicking capabilities that work to regulate the internal thermal temperature that will keep your child's skin from overheating which can cause painful rashes from the moisture that builds up. If you want a diaper that will work to soften and improve your child's skin but are weary about diapers that have lotions built in because of the fragrance, consider a more natural approach. The Andy Pandy Biodegradable Bamboo Disposable Diapers have features aloe in the lining which is a natural and safe way to soften and improve baby's skin without the fear of drying out.  All in all the Andy Pandy diapers are one of the best natural disposable diapers when it comes to care of your child's skin.
6. Nurtured by Nature Environmentally – Sensitive Diapers
The Nurtured by Nature Environmentally – Sensitive Diapers are one of the best natural diapers available today. They claim to heave not only a better construction, but a better overall effect on the environment than other leading diapers on the market. The secret is in the material that they are constructed out of which is only sourced from annual renewable resources so that you can be sure you are not only using responsible products but you are helping to improve things for the environment in the long run.
This is backed by the fact that their products are made out of almost 40% more natural and sustainable materials than other natural diaper brands. The top and back lining of these diapers are constructed out of a plant based material while they have also have never been treated by chlorine or dyes. Many natural diapers still need to use a synthetic gel to help keep the diapers leak free and safe so the Nurtured by Nature brand set out to guarantee that their brand of diapers are made with less of this gel and more of the natural good stuff.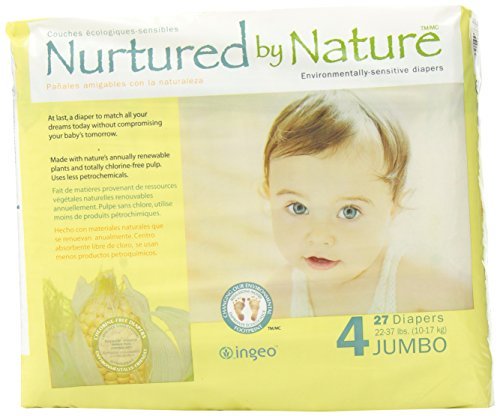 When it comes to comfort, Nurtured by Nature has your child covered. The stretch fit panels on the sides of these diapers are fitted with little adjustable wings that wrap around your child to provide comfort and security. This same flexible stretch is found at the back and waist band on the diaper which will help when the time comes to sleep train your child. A big frustration while trying to get a child to sleep through the night is not only the wetness but also the fit of the diaper. When a diaper is too tight or doesn't move easily it can be frustrating to a baby causing them to wake up often. By having ultra comfortable flex panels, Nurture by Nature guarantees a smoother sleep transition. These environmentally friendly diapers will run you around $40 for a four pack of forty and come in sizes 1 to 6 meaning you will always have a perfect fit.
7. The Honest Company Diapers
These ultras soft and absorbent diapers are only made out of naturally sourced and derived plant-based materials  that are amazing on the environment while still remaining soft to a baby's touch. The Honest Company Diapers are produced without ever coming contact with harmful chemicals like chlorine or perfumes and are proven to be hypoallergenic. The ultra absorbent core is made from plant based fluff which is sourced from only sustainable materials which are found in self preserving forests.
The leak free protection comes from the moisture barriers which are little cuffs that are located around the waist and the legs of the diapers and help to keep waste where it is suppose to be. While these diapers are scent free that doesn't mean that you will smell your little one's happy little accidents. The Honest Company Diapers are fitted with a natural odor blocker than is made out of citrus so you can be sure to live an odor free life.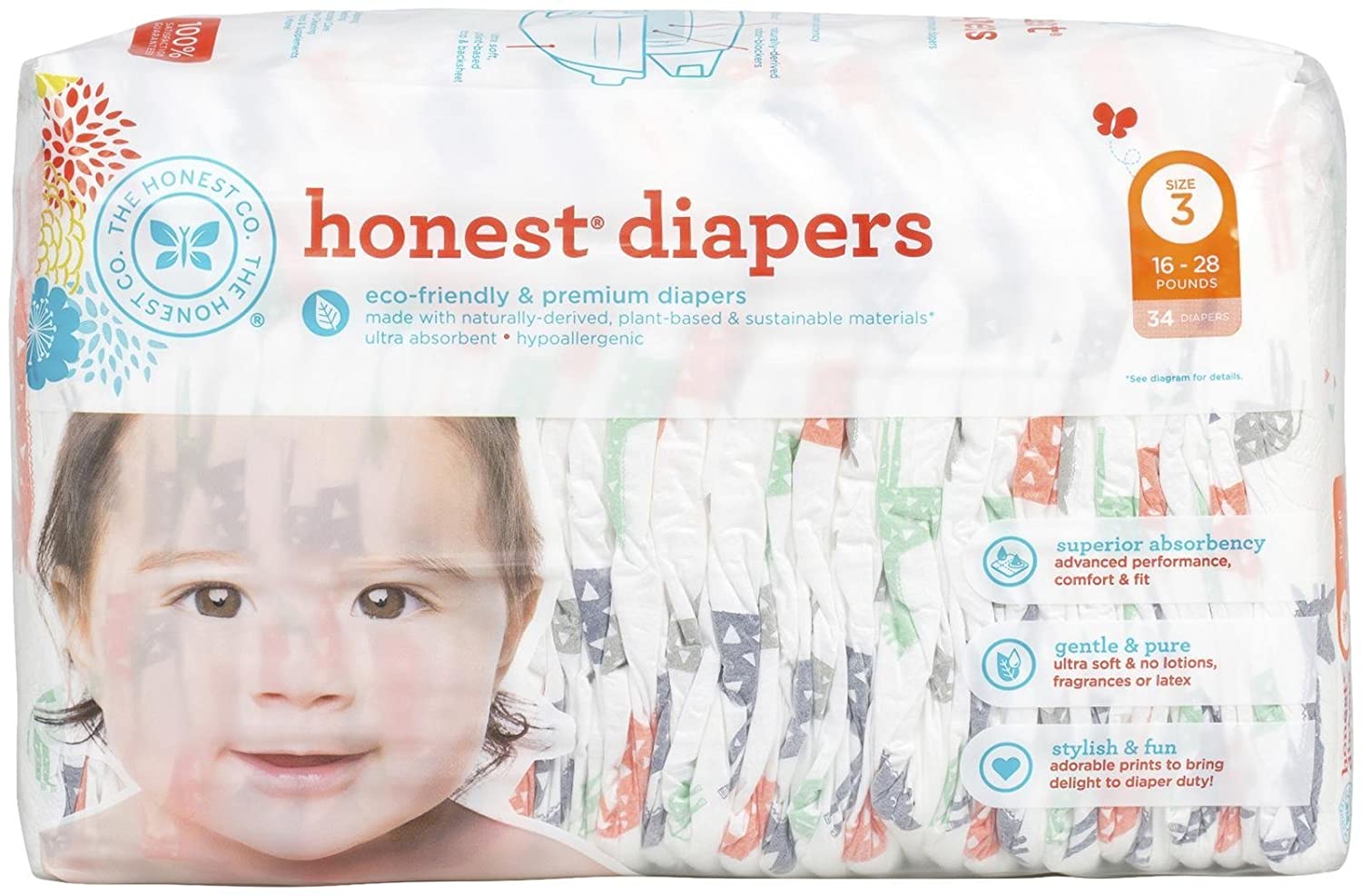 Besides all of the amazing environment friendly aspect of these diapers you are also getting some amazing patterns.  Many times natural diapers are pretty basic when it comes to style because they are not processed with any dyes. The Honest Company Diapers comes in over a dozen different trendy styles and patterns to satisfy any sense of style you and your child may have.
From the light gray elephants to the adorable blue anchors, you are sure to find a diaper that will bring a smile to your face.  The Honest Company Diapers will run you around $25 for a pack of 44 and come in sizes newborn to 6.  Whether you have been using natural diapers for years or are just starting out on the natural trend, you are sure to find the right natural diaper to fit your child.
Conclusion
If you're still not sold on the natural baby diaper trend consider all of the amazing benefits you will be gaining from this simple switch.
Poisonous effect of disposable diapers
Disposable diapers have been well known to leave a lasting effect on the world.  Not only due to the chemicals that can cause harm to sensitive baby's skin but also the lasting effect that these diapers can have to ground after sitting in a landfill for long periods of time.  By introducing harsh chemicals directly into the soil not only the ground is becoming toxic but the air is too.
Chemicals can have a long lasting effect on baby's skin and overall health.  By eliminating these chemicals from their lives you are helping to prevent future problems.
Manufacturing disposable diapers cost a great deal of money because of the way they are mass produced and treated.  This also means that they don't always get made with the world's health in mind.  Many of these large factories omit harmful toxins into the air.
At the end of the day everyone wants the same thing, a healthy and safe world for their children to grow and play in.  By purchasing one of the best natural disposable diapers you are taking the first step to planning a great environmentally safe future for generations to come. Take care !