Organic baby wash is a great alternative to normal baby wash for parents who want to do their best to help their child lead a more natural life.  Not only are organic baby washes made from earth friendly ingredients but they are never composed with chemicals or artificial perfumes which may irritate baby's skin.
This is a great option for little ones who suffer from sensitive skin which is often irritated by heavy perfumes and scents.
The best organic baby wash will be made out of essential oils and natural moisturizers that will work to properly clean your child while keeping their skin soft.  Not only is this type of wash gentle on your baby's skin but it is easy on the environment as well.
Washes that are loaded with silicones and perfumes can do damage to the world over long periods of time once they are washed away down the drain.  So do your child and the planet a favor and give one of these amazing washes a try.
List of 13 Best Organic Baby Washes Reviews
1. Puracy Natural Baby Shampoo & Body Wash: Sulfate-Free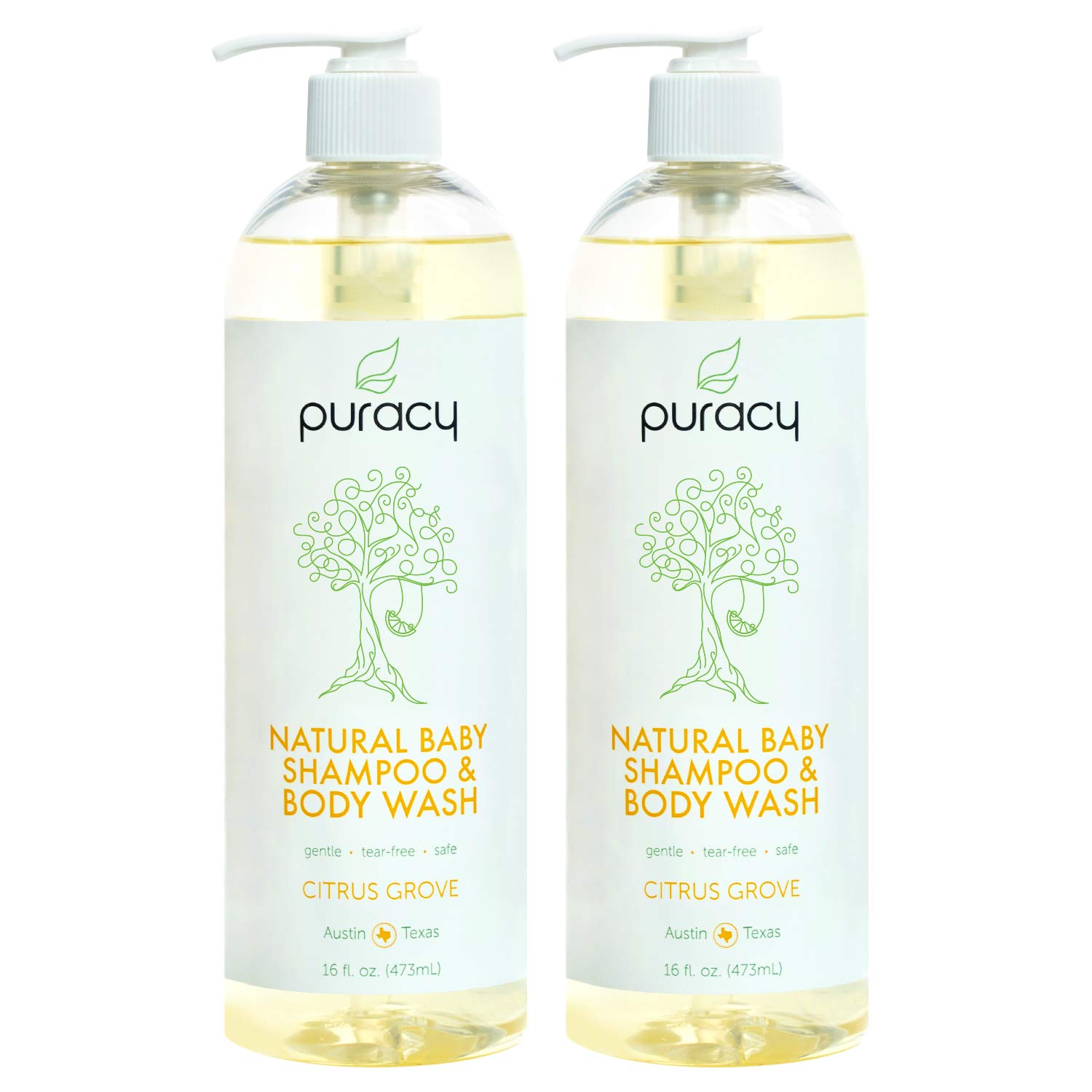 This organic baby wash provides an amazing clean for your child while also remaining gentle and nourishing.  The secret is in the special blend of ingrediants which include essential oils and natural citrus juices like pink grapefruit and botanical extracts.
The wash is 100% chemical free so it is safe to use on all baby skin types especially those who suffer from eczema and cradle cap.
The best part about the Puracy Natural Baby Wash is the fact that it is 100% tear free.  Little ones tend to wiggle, especially in the bath, so sometimes getting some wash in their face is unavoidable.
Feel free to wash your child knowing that their little eyes are safety out of harm's way.  Not only is this baby wash organic and natural, it also is vegan and cruelty free meaning that you are doing the best for your baby and the world they live in.
2. Burt's Bees Baby Bee Shampoo and Wash, Calming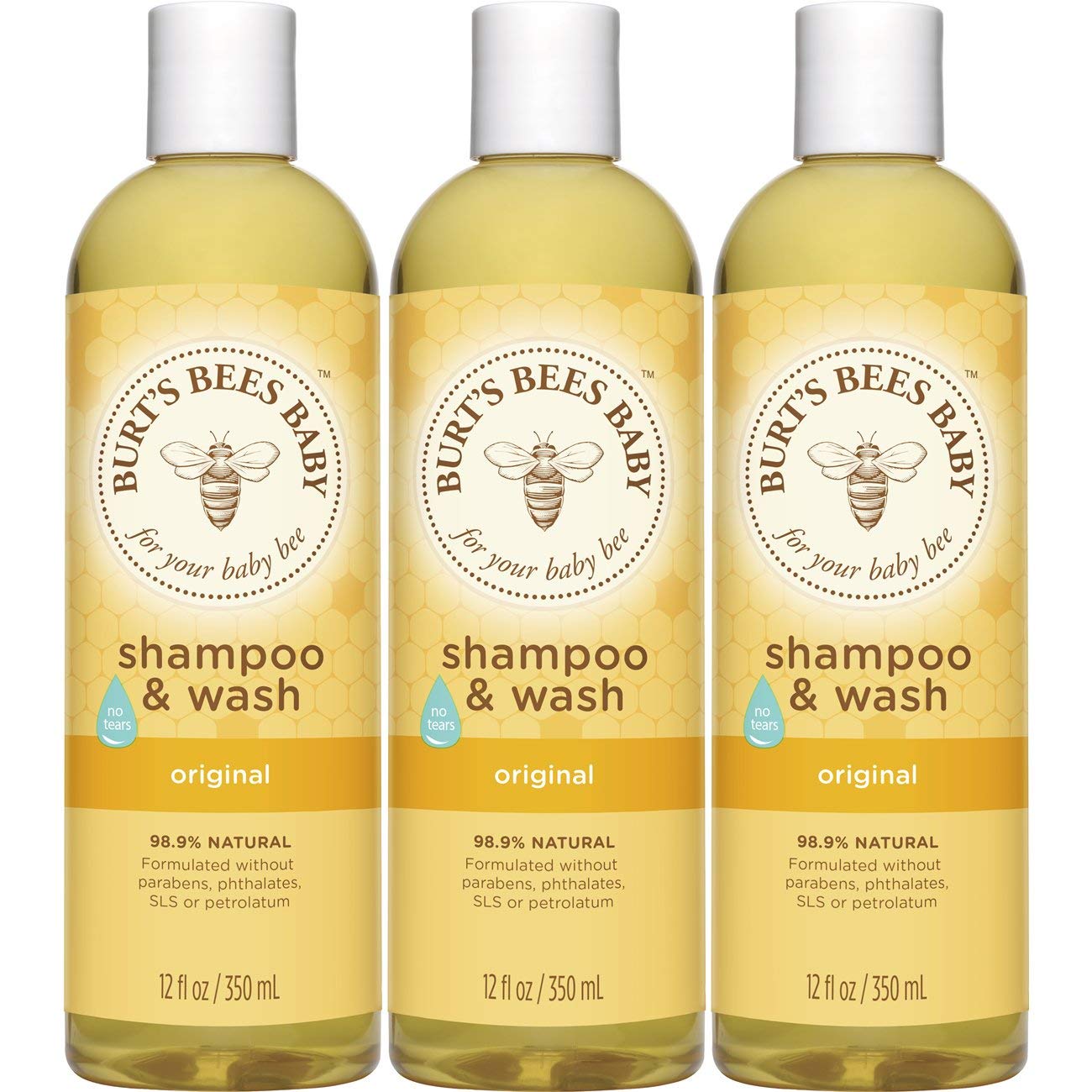 This Burt's Bees product is the best organic baby wash which is backed by the trusted Burt's Bees name.  With the Burt's Bees Baby Bee Shampoo and Wash you get the best of both worlds.  You can get the amazing benefits from an all natural baby wash with the calming effects of a soothing bath.
Lavender and vanilla are the two main ingrediants that help to sooth you baby at bedtime.  Even the fussiest of babies can relax in a bath surrounded by soothing lavender bubbles.
This natural baby wash also comes highly recommended by pediatricians especially when it comes to safety.  The natural ingrediants in this wash means that there will be no tears if the wash gets into the baby's eyes.
While the lavender and vanilla will calm your child to sleep, the buttermilk will keep your baby's skin soft to the touch and protected them from rashes and other skin irritations.
3. Babyganics Baby Shampoo and Body Wash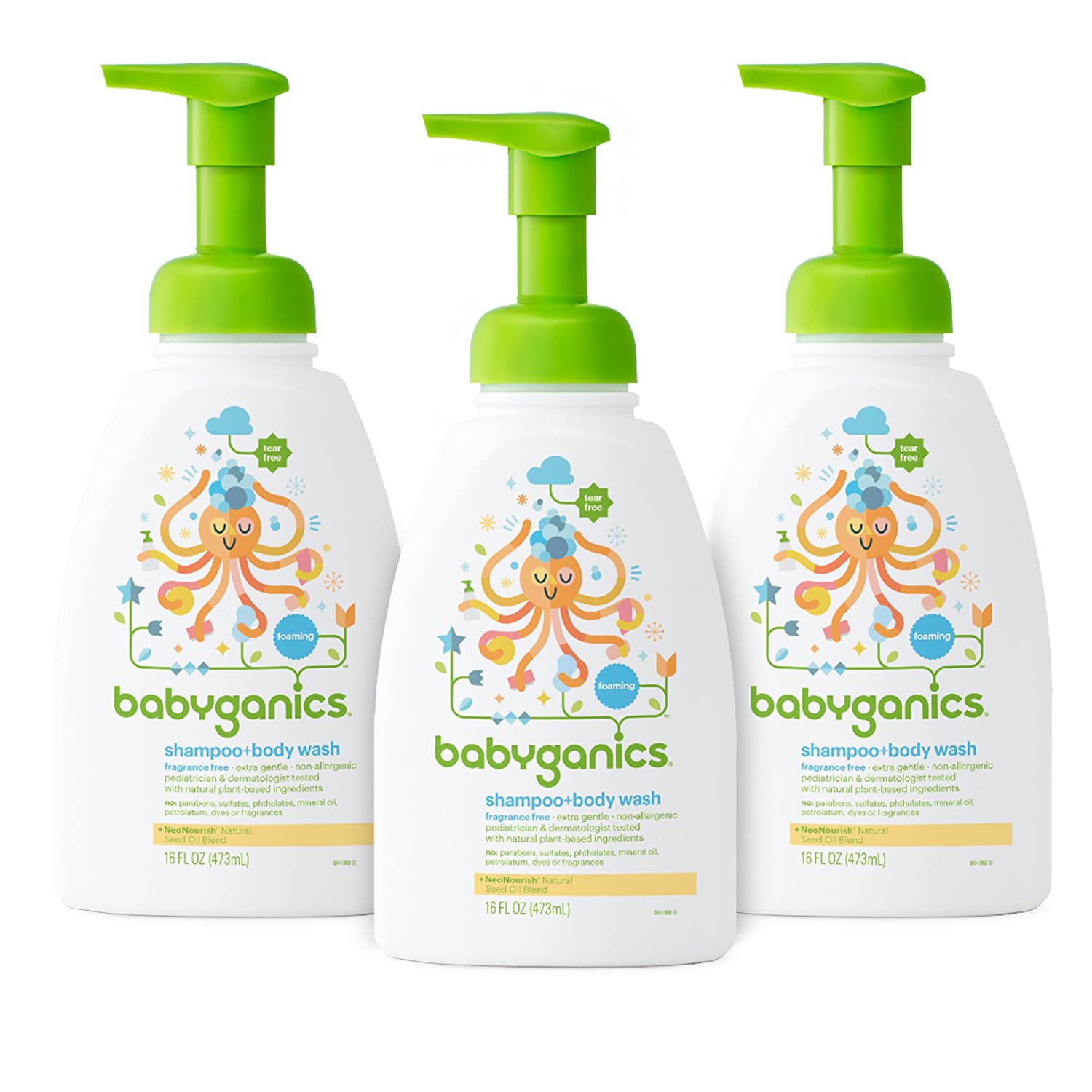 The Babyganics Baby Body Wash is a thick and rich wash which offers a smoother lather for a fun and clean bath time experience.  This baby wash is packed full of amazing natural ingrediants that work in perfect balance to sooth your child while softening their skin.
The sunflower oil is there to smooth the skin while the tomato and cranberry offers nutrients that are vital to your child's skin health.  This with the addition of the black cumin insures that your child's skin will be clean and protected.
The Babyganics brand has set out to not only offer some amazing natural baby products but they also strive to give children a great start to a healthy and natural life.
So feel free to sooth you calm your child softly with the orange blossom which gives this organic baby wash a fresh citrus scent.
4. Little Twig All Natural, Hypoallergenic Baby Wash

This amazing natural baby wash with gently cleanse your child's soft skin with an incredible combination of ingrediants like lavender and tea tree oil.  While the lavender soothes your baby to sleep, the tea tree oil works as a natural cleaner which also heals most skin irritants.
Because the Little Twig All Natural Baby Wash is free of sulfates and parabens your mind can be at ease knowing that is safe to use daily.  Not only is it free of chemicals, it also it nut, wheat and soy which is great for little ones who suffer from allergies.
The best part about this organic baby wash is the scent.  A small hint of citrus with the addition of lemon helps to release happy endorphins in your child which means a more enjoyable bath time.
5. Baja Baby Citrus Shampoo and Body Wash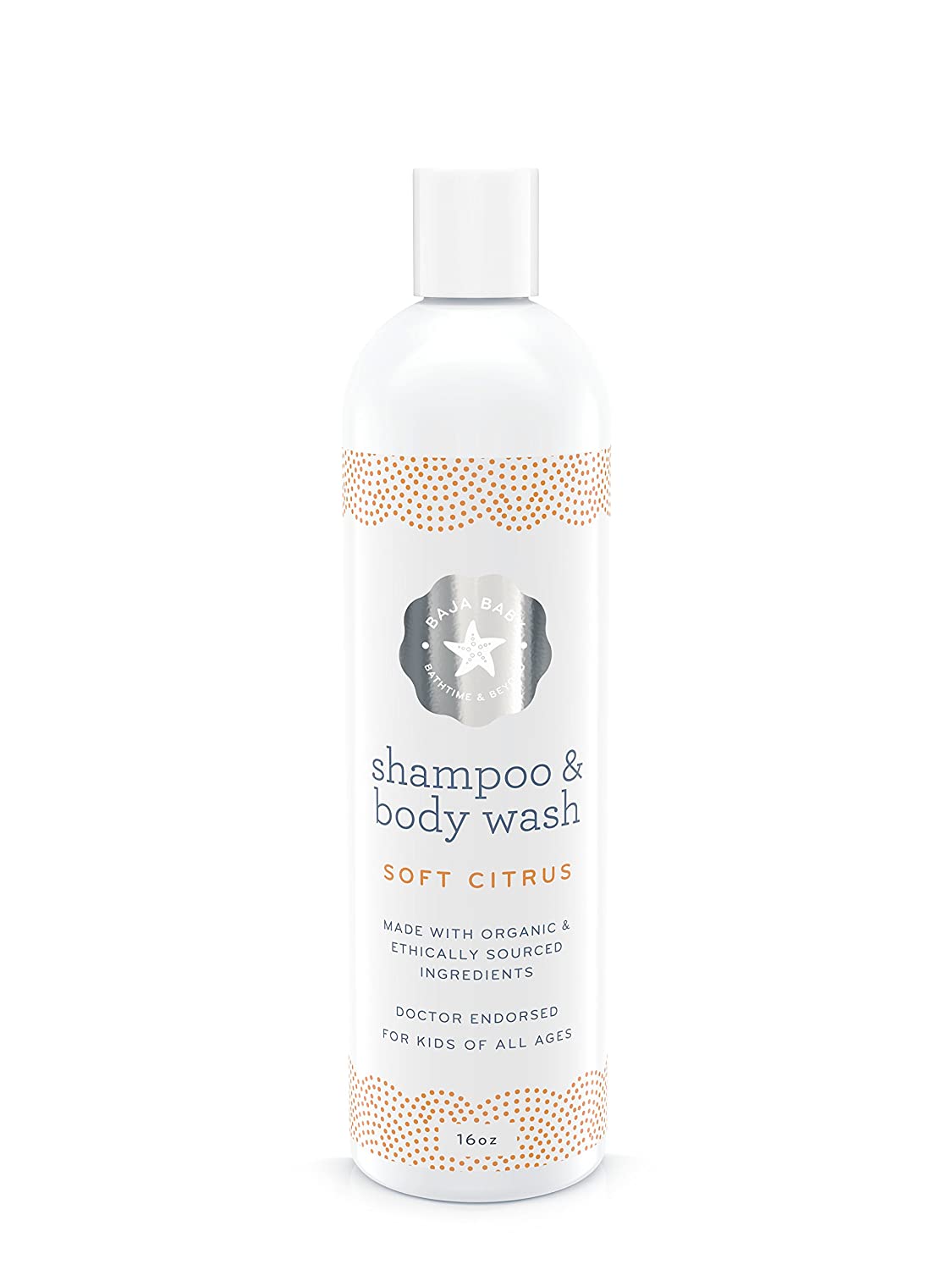 The Baja Baby Citrus Shampoo and Body Wash is the best organic baby wash when it comes to a completely chemical formula that offers a sweet citrus scent.  The scent comes from the pink grapefruit, orange and lemon natural oils that are found in this special wash.
Citrus not only is a pleasant scent, it is full of vitamins which work to soften and repair the skin.  Along with the citrus you are getting a nice blend of other natural oils like hemp seed oil and burdock root.  All of these work in a perfect balance to sooth and heal sensitive skin issues like cradle cap and eczema.
6. Babo Botanicals Moisturizing Baby Shampoo and Wash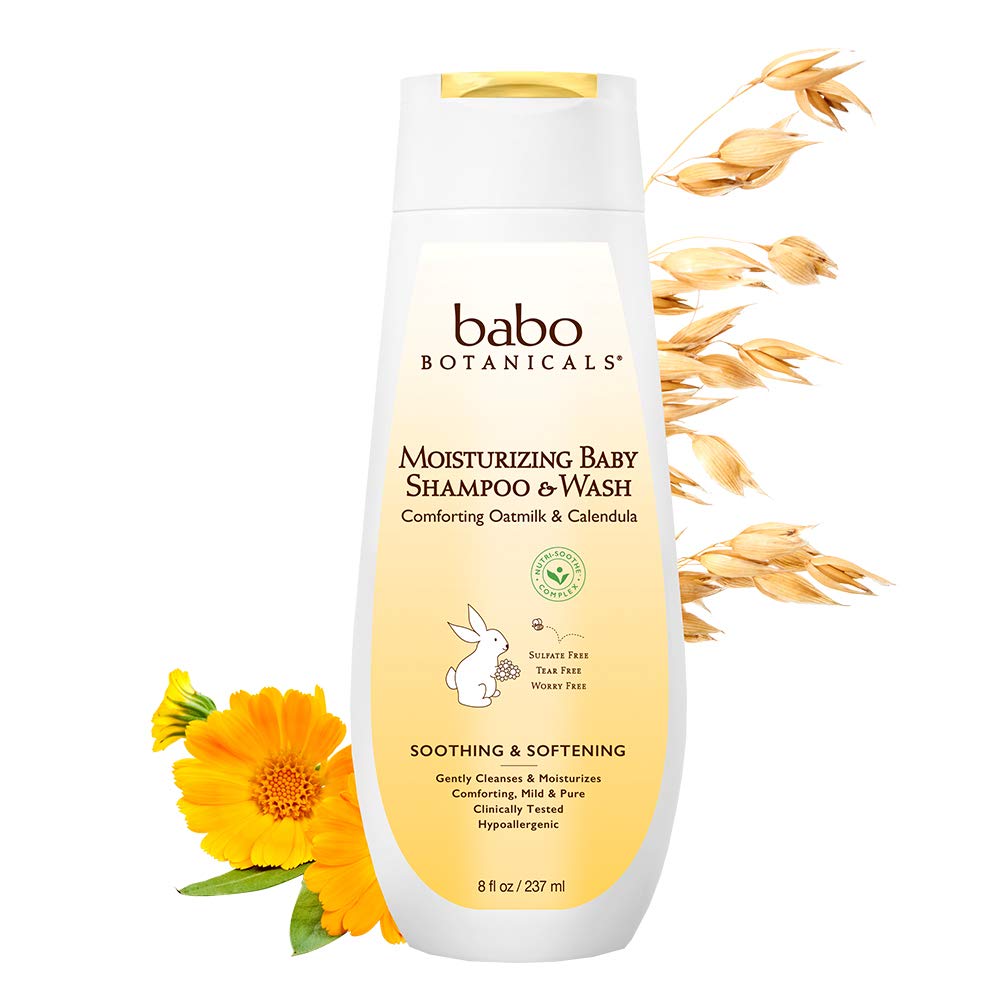 This organic baby wash is a top rated and reviewed product even receiving the rating of #1 in Safety when it comes to baby washes. This is a plant based cleanser which means no chemicals or perfumes have never been used in the process of creating this wash.
Along with the essential oils and plant seed oil, there is the addition of oatmeal. Oatmeal has been used as a natural skin healer for years. It not only works wonders on rashes and allergies, it also heals cradle cap and general dry skin patches.
Not only does the Babo Botanicals Moisturizing Baby Shampoo and Wash heal and sooth irritable skin, it does wonder for your baby's hair too! The vitamins and antioxidants work to keep their hair soft and shiny which is great to help keep their hair tangle free.
This organic baby wash is great to use directly on the skin or even into a tub of warm water as a bubble bath.
7. Earth's Best Sleepytime Shampoo & Body Wash: Chamomile

Earth's Best has been making some of the best organic baby products for years. From their diapers to their formulas, they have constantly been bringing family trusted and pediatrician products. The Earth's Best Sleepytime Shampoo & Body Wash is no exception.
This chamomile body was made to calm babies before bedtime to help promote better sleeping habits. The formula is not only great to calm children but does it in a pain-free way due to the tear free formula.
The Earth's Best certified organic baby wash was made 100% fragrance and paraben free and is also hypoallergenic so you can be sure that you are doing your best for your baby.  All of these amazing ingrediants guarantee that your baby's skin will be left soft and clean for a happy baby and parent.
8. Weleda Calendula Baby Shampoo and Body Wash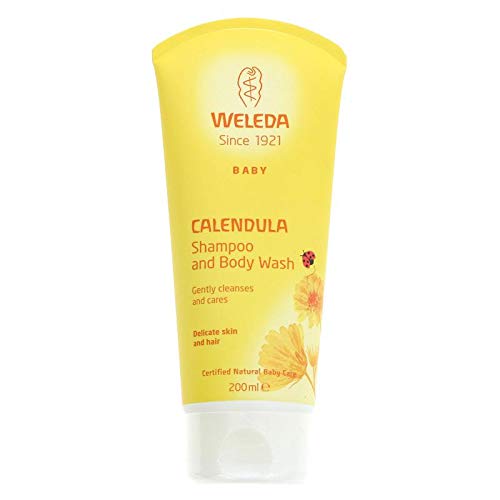 The Weleda Calendula Baby Shampoo and Body Wash sets themselves apart from others on this list due to the process that the wash is made.
All of the ingredients are hand harvested from certified organic farms so that you know that you are not only getting the best ingrediants but you are also helping to support more fair trade businesses.
While this baby wash is free of sulfates and parabens it is packed full of essential oils and natural skin healing nutrients.
This Weleda baby wash works as a natural scrub for your baby's sensitive skin with the addition of coconut oil and sugars which gently exfoliate away dead skin allowing for softer skin to develop.  This tear free body wash also is naturally scented with essential oils that is sure to sooth any fussy baby.
9. Baby Mantra Newborn Shampoo and Body Wash
This 2 in 1 body wash and shampoo is an amazing choice for parents who want their babies to have a more natural start to life.  The Baby Mantra baby wash is completely free sulfates and dyes that my only irritate your child's skin but can do damage to your drain system.
Coconut oil has been used more and more recently as an alternative to many healthcare products like lotions and soap.  This baby wash is made from organic coconut oil as well as olive oil.  When it comes to healing, your child's skin is covered!  The addition of aloe will help the sooth and soften skin with ease.
This certified organic baby wash is also recognized by PETA as a 100% cruelty free product so your mind can be at ease knowing that it was never tested on animals.
Not only will your child's skin be protected and soft but the Baby Mantra Newborn Shampoo and Body Wash is also made with lavender which will help sooth your baby to sleep.
10. The Honest Company Shampoo & Body Wash , Sweet Orange Vanilla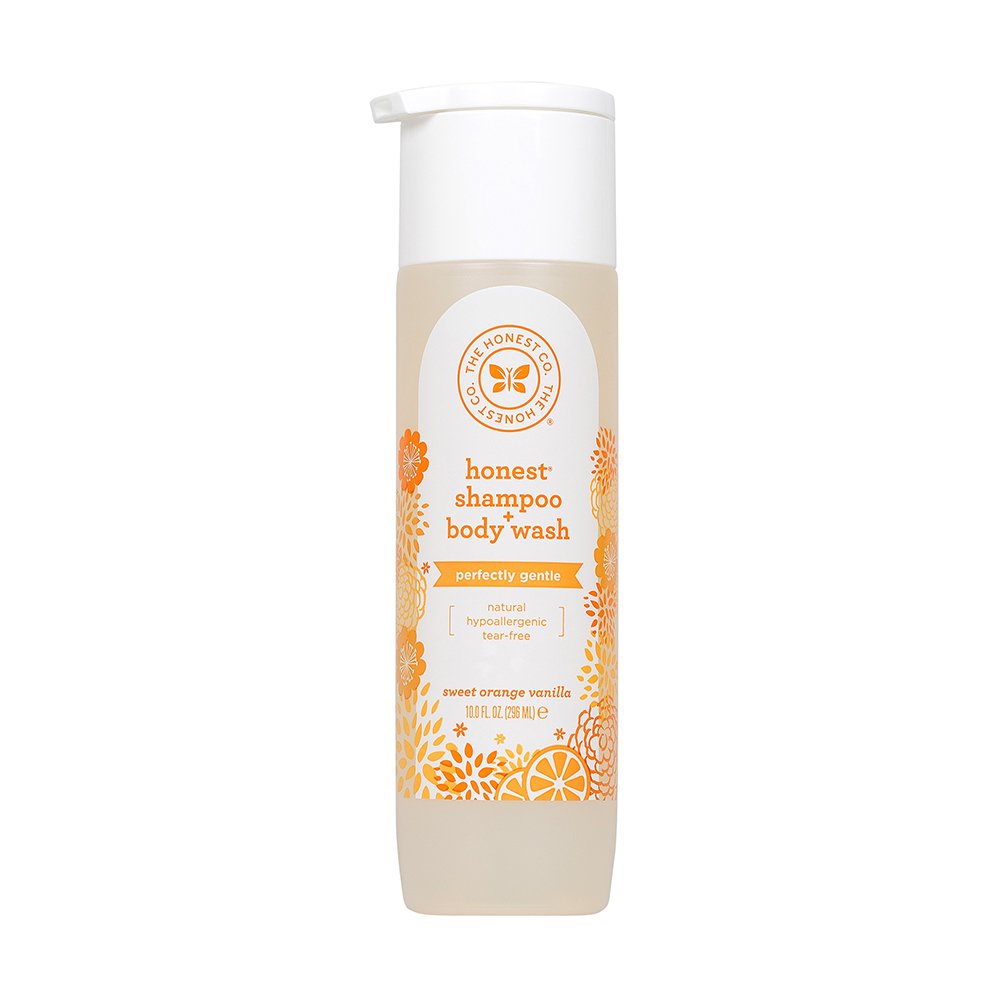 The Honest Company has been a very trendy brand among families who prefer to lead a more natural life.  Parents love their adorable diapers and their amazing smelling baby care products.  This shampoo and body wash combo not only delivers when it comes to organic skin soothing ingrediants but parents swoon over the smell.
Often times a child's first memory is associated with their sense of smell.  This sweet citrus orange essential oils mixed with the calming vanilla will guarantee a pleasant bath time for your child and a memorable bonding experience for the both of you.
Not only are The Honest Company Shampoo and Body Wash certified organic but is also hypoallergenic for ultra sensitive baby skin.  So go ahead and enjoy bath time knowing that this tear free formula will sooth your baby without bringing them any discomfort.
11. Baby Mee Baby Shampoo and Body Wash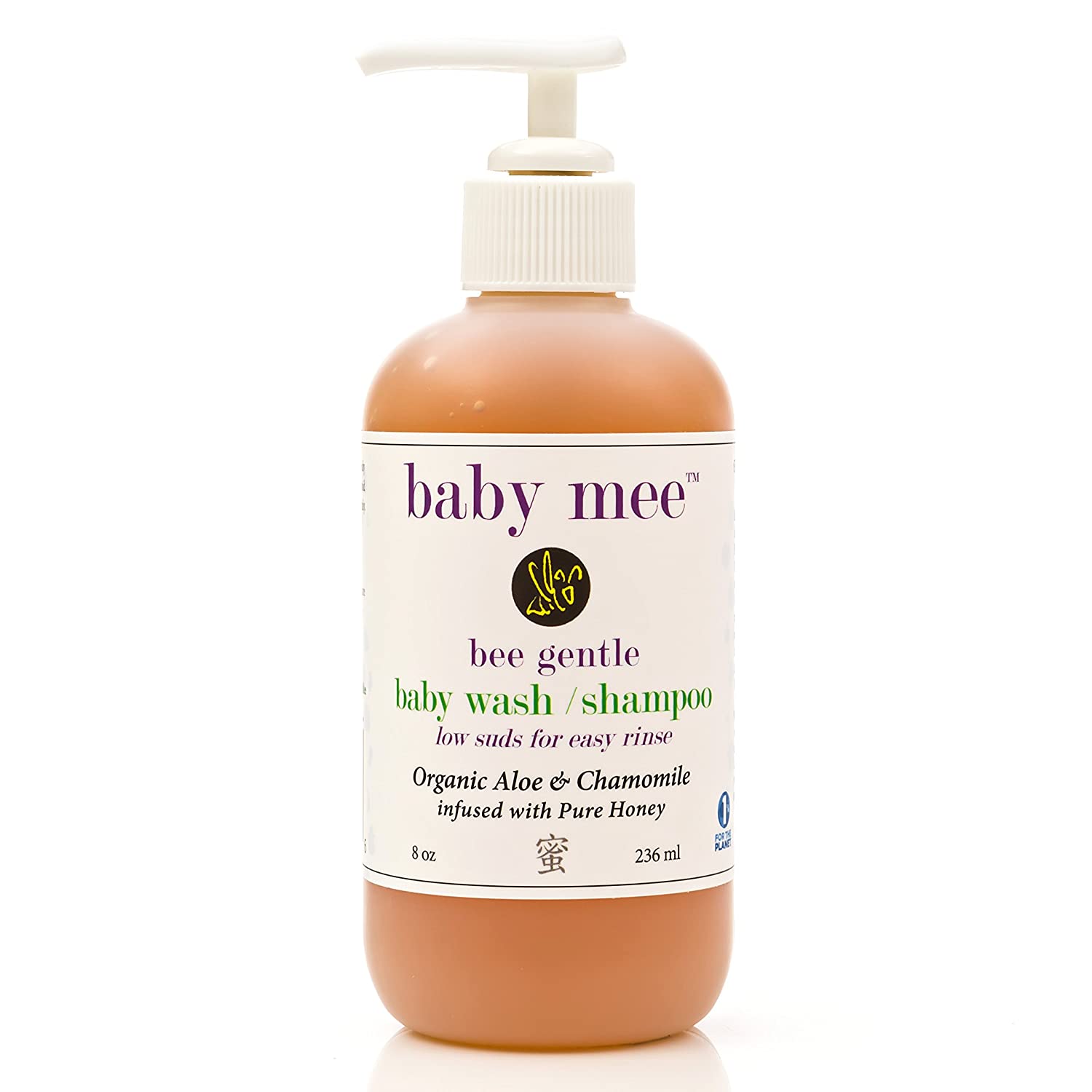 This natural baby body wash offers the health benefits of an organic soap with the convenience of a pump.  This means that there is no messy bottles to deal with because the soap comes out with just a light push on the pump.
Feel free to pump directly onto your baby's washcloth or right in the bath for an amazing bubble bath experience.  The secret ingredient in this awesome body wash is the organic aloe leaf juice which works to soften your child's skin as well as protect it when it's irritated.
While this product is organic, it is not vegan.  The Baby Mee Baby Shampoo and Body Wash are made with pure organic honey with makes it not suitable for vegan households.  If you don't mind the addition of honey then this is the best organic baby wash for you.
Honey not only contains amazing vitamins and minerals it is also a natural antibiotic so it works naturally to kill germs and bacteria living on your baby's skin.
12. Cetaphil Baby Wash and Shampoo with Organic Calendula

The Cetaphil brand has been used and trusted by parents for their skin care needs for years so it's no surprise that the brand has an amazing choice for your baby's care as well. This baby wash works to gently cleanse your baby's skin without drying it out which is very important when it comes to caring for your baby's well being.
Some baby washes, including organic ones, do a great job of washing dirt off of a baby's skin but also removes important nutrients from the skin that will cause it to dry out.
The Cetaphil Baby Wash and Shampoo will not dry out your child's skin due to the organic calendula which replaces vital nutrients that may have been washed away.
This body wash and shampoo is highly recommended by pediatricians and parents who have used and loved it.  The Cetaphil Baby lathers like a dream while rinses away clean to reveal soft and smooth skin.
13. California Baby Super Sensitive Shampoo and Body Wash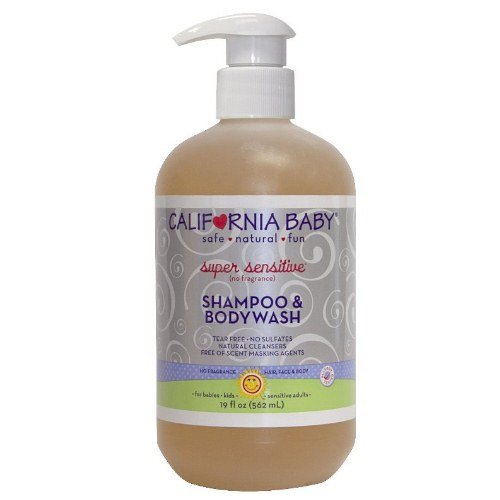 The California Baby brand sets itself apart from others because the whole company was developed by a real mother who was striving to find a more natural alternative to baby care.  This way you can be sure that your child is the number one priority as far as this brand is concerned.
The California Baby Super Sensitive Shampoo and Body Wash have not only the baby's well being in mind but also yours as a parent.  You can sleep easy knowing that only the best of ingrediants is coming into contact with your child's skin.
This baby wash is a plant based formula that is made from 100% botanicals without any addition of wheat or nuts making it perfect for kids who suffer from dangerous allergies.
Parents who use this baby wash love that it is a low foam formula which doesn't drag or dry out their little one's skin while still offering an amazing clean.  You will love this California Baby Super Sensitive Shampoo and Body Wash for their tear free guarantee that your child will have an amazing bath time experience.
FAQ
Are organic baby washes safe?
Yes, they are. Organic products contain various natural ingredients that are important for a baby's delicate and gentle skin, especially during the first couple of months of its life.
What ingredients to avoid in baby washes?
You should avoid toxic chemicals that can dry out and harm your baby's skin. Common ingredients to avoid are phthalates, parabens, sulfates, formaldehyde, alcohol, and all substances whose names end with -eth or -oxynol.
Which ingredients are best for organic baby washes?
The best ingredients for organic baby washes are 100% natural. You should always go for coconut, olive, castor, or avocado oil which are all-natural moisturizers and healthy for a baby's delicate skin.
Are there hypoallergenic washes on the market?
Absolutely. There are various hypoallergenic options for baby washes. It is best to use products that contain tea tree oil, wheat, or soy which are all great for skin irritations and allergies.
How often should I use baby wash?
Since babies, especially newborns, spend most of their time sleeping and do not get dirty, there is no need to bathe them every day. A general recommendation is to give them a bath two or three times during the week.
Which baby wash should I purchase for my baby?
When choosing the right product for your baby, you should choose the healthiest possible solution. All products we have listed are baby-friendly, organic, and 100% natural. We recommend you to go for Puracy Natural Baby Shampoo & Body Wash which is non-toxic and great for your baby's skin.
Conclusion
Bath time is not only a time to clean the day off of your busy child but is also a great time for parents and child to bond.  Using the best organic baby wash means that you can bond with your child worry free knowing that you are only allowing the best of ingrediants to come in contact with their skin.
Switching to an organic baby shampoo is also a perfect option for children who suffer from painful skin irritants.  This is due to the lack of chemicals and sulfates that are used in the manufacturing process.
So sit back and relax and enjoy this bubble bath bonding time.  In the long run, your child's skin and the planet will thank you.  Good luck and take care.
Here are some other interesting models that you might like: