Equip your Nerf Blasters with the best Nerf Scopes and sights to improve the aiming accuracy and enhance the fighting power of the weapon.
A Nerf gun equipped with the best Scope and sights offers the real feel of a battlefield. Improving the aiming accuracy and target acquisition can add much more fun and thrill to the game. You can modify and upgrade your Nerf guns and blasters with unique and versatile Nerf scopes and sights.
Our Pick
Good Choice
Don't Miss
Also Consider
Nerf Modulus Day/Night Zoom Scope
Nerf Modulus Stealth Upgrade Kit
Xximuim Scope Sight for Nerf Gun,Plastic Kids Gift Tactical Scope Sight Attachment with Reticle...
Nerf scopes and sights will increase your fighting power and help you put your enemy on the back foot. If you want to modify your Nerf blaster with the best scopes and sights, give a read to this article. We've listed and reviewed the seven best Nerf Scopes and sights you can buy today. Plus, a buying guide, in the end, will make it easy for you to find your perfect match on the list.
Top Nerf Scopes and Sights
1. Nerf Modulus Day/Night Zoom Scope – Nerf Guns With Scopes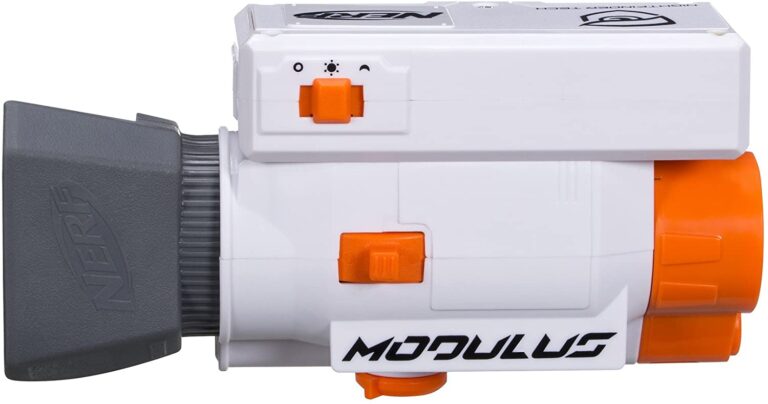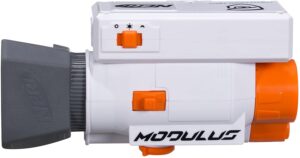 If you want to increase your sniper's accuracy or customize your modulus blaster, consider Nerf Modulus Day/Night Zoom Scope. With the unique set of Nerf Modulus systems, 5X magnification power, and infrared light feature, Nerf Modulus Zoom scope offers a thrilling experience in both day and night battles.
The most impressive part of the Scope is its ability to switch from low to bright light. You can quickly shift from night mode to daylight or neutral position through an easily accessible switch. Plus, a toggle button on the top lets you adjust the magnification easily without losing your target.
Nerf Modulus zoom scope is equipped with seven infrared LEDs surrounding the lens that makes the view clear and helps you find the target. Also, there is no distortion in excessive sunlight or infrared light, thanks to the firm rubber shroud screen. The shield on-screen minimizes the glare and normalizes the amount of light entering by blocking its excessive part.
The Fields in which this Scope lacks are the range and low-resolution camera. The shorter range and low resolution put a limitation on its usability in long-range battles. The Scope is attachable with a tactical rail, and its locking mechanism ensures accuracy and protection. Remember, it works with 4AA batteries that are not included in the package.
Pros
Infrared LEDs for low light
5x magnification lens
Tactile rail attached
Easy to shift mode
Locking mechanism
Cons
Short-range
Low-resolution camera
NERF modulus Zoom with an incredible magnification power and infrared light feature is undoubtedly the best NERF scope you can get your child today. We found the Scope pretty easy to attach via tactical rail, and its locking mechanism prevents the Scope from falling.
2. Nerf Modulus Stealth Ops Upgrade Kit — Nerf Snipers With Scopes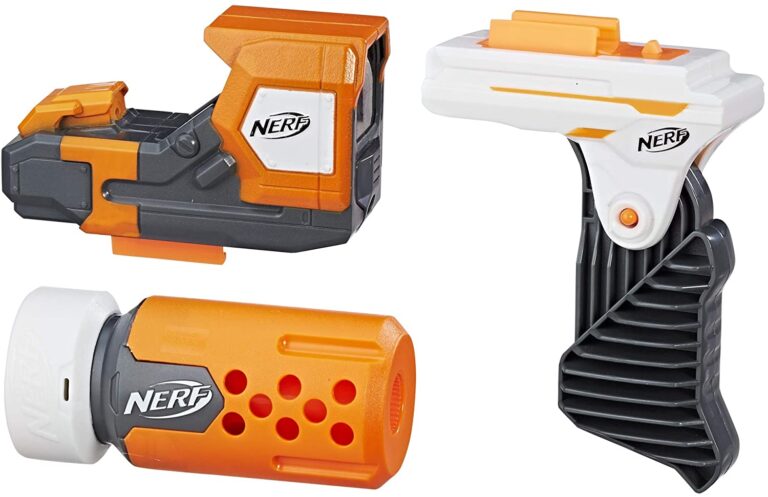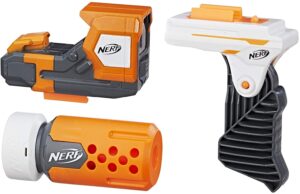 Nerf Modulus Stealth Ops is a 3-in1 upgrade kit that helps you modify your gun for an unbeatable experience. For those who love undercover operations, this kit is the perfect option. The kit includes a red dot sight, a proximity barrel, and a pivot grip.
When combined with a red dot sight and proximity barrel, Nerf blaster offers maximum accuracy and precision in target acquisition.  The proximity barrel's diameter is greater than darts, so it will not affect the firing accuracy. The red dot sight is quite helpful in focusing the target in the night and low light conditions.
Although plastic lens offers a classic view of the battlefield, it doesn't offer the magnification feature, which is probably its major drawback. Then comes the folding grip. It is quite helpful for those who don't own a bipod to support their weapon.
The folding foregrip is of standard size and is pretty easy to hold. Plus, an orange switch on the side lets folds it down easily when not in use. Finally, we found it pretty easy to mount the foregrip on the Modulus. It is attachable with a tactical rail and requires minimum effort to get perfectly fixed.
Pros
3-in-1 toolkit
Accuracy and precision
Foldable foregrip
Quality build
Cons
Scope lacks magnification
Stealth Ops Upgrade Kit with three useful accessories helps you get the maximum precision and accuracy in the field. The best part is that this kit offers you the Industry's best Nerf Scope and sights at a very reasonable price.
3. Nerf Modulus Long Range Targeting Upgrade Kit – Nerf Gun With Scope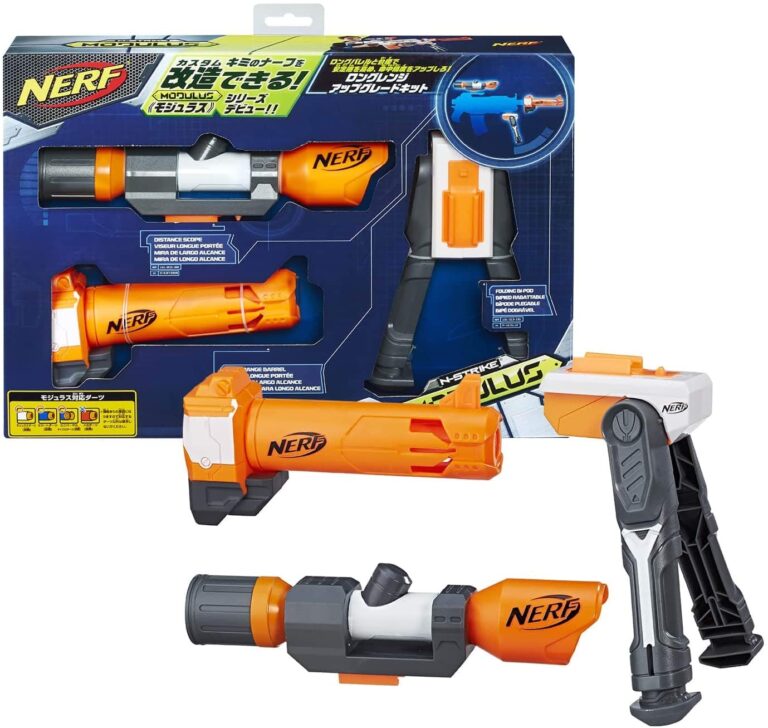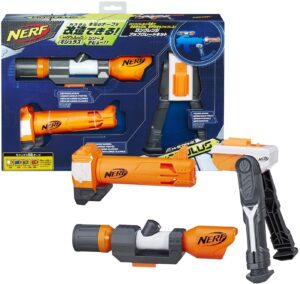 This long-range targeting kit is designed to make your blasters immensely powerful and fight the long-ranged mission. It's a long-range targeting kit that includes 18 elite darts and three 6-dart clips. You can fire the six darts in a row, and it offers a quick reloading mechanism.
The maximum firing range is around 70 feet which is pretty impressive at this price point. It comes with a long barrel featuring precision engineering for maximum target acquisition. A spiral tube inside the long barrel guides the drags towards the target with maximum precision and accuracy.
The best part is that the barrel is compatible with other NERF blasters also. If we talk about the optics, we didn't like it pretty much—the Scope lacks magnification or laser features, limiting its performance on the battlefield. The third accessory in the kit is a bipod stand. Although not very sturdy, we found it pretty helpful while firing. It supports the blaster and lets you stabilize the weapon to minimize the miss shots.
Pros
Spiral barrel for maximum accuracy
Bi-bod for maximum stability
Includes 18 elite drats
Lightweight and affordable
Nerf Modulus Long Range upgrade kit is lightweight and comes packed with useful accessories like Scope, bi-pod, and barrel extension. With all these accessories, you get the maximum accuracy and precision and can outperform your enemies in undercover missions.
4. NERF Rival Red Dot Sight – Nerf Guns Sniper Scope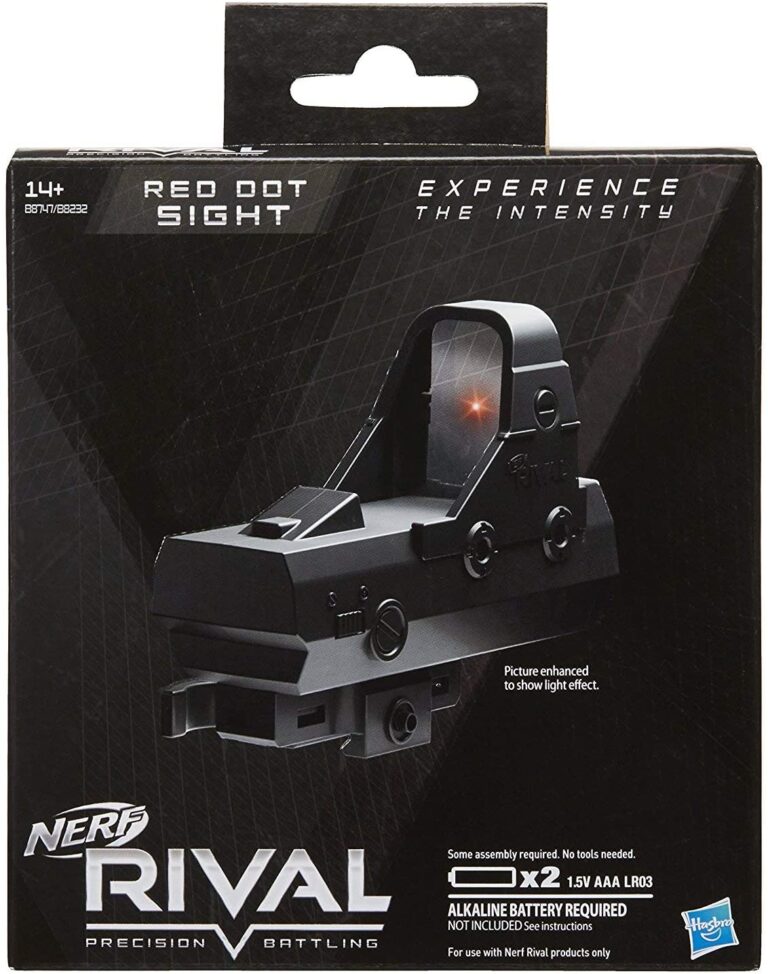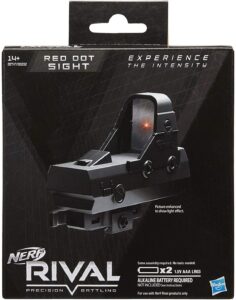 While looking out for the best Nerf Scopes and Sights, we found out that there are many options other than traditional Nerf scopes. Nerf Rival Dot sight is a unique scope with laser features and red dot alignment to maximize target acquisition accuracy and precision.
It makes use of high-quality anti-reflective lenses. The anti-reflective lens lets you align the red dot sight for accurate aiming. However, the efficiency of the red dot sight is limited to only dark and low light conditions. We found a bit of distraction in the sight path in daylight due to the red dot sight.
Additionally, we really loved the range mounting mechanism of the sight. You can quickly lose or tighten the range to mount and align the red dot sight. Remember, it is a lightweight plastic structure, but the die-cast details and the black-orange combination make this Scope visually appealing.
Pros
Anti-reflective lens
Adjustable red dot sight
Easy to mount and unmount
Ultimate precision and accuracy
Compatible with all Nerf Blasters
Cons
Wobbles due to plastic construction
Not ideal for daylight
Nerf Rival Dot Sight features a unique design and adjustable red dot sight for ultimate precision and intense activity. Though its activity is limited to dark and low light conditions, its impressive performance and efficiency help it make its way to the best Nerf scopes and sights list.
5. TEANTECH Scope Sight for Nerf Gun – Nerf Attachments Scopes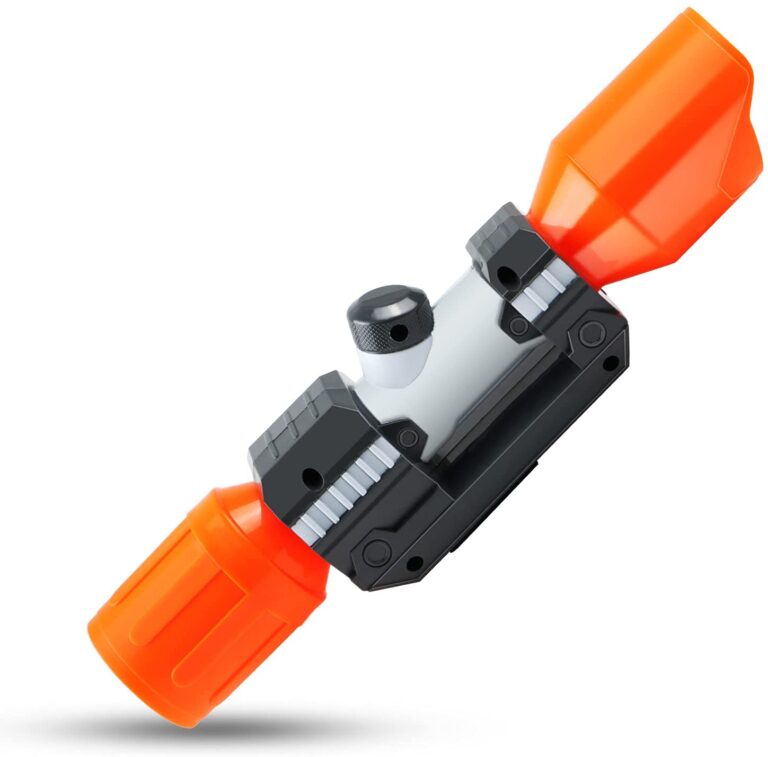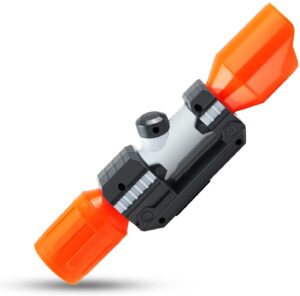 www.amazon.com/TEANTECH-Tactical-Attachment-Targeting-Accessory/dp/B07VSXFCYK/ref=sr_1_9
TEANTECH scope sight for NERF gun is designed to upgrade Kid's Nerf gun collection. It is a simple, lightweight, plastic-made structure available at an affordable price. Kids would love this Scope since it makes the target acquisition accurate and precise for a thrilling and full-of-fun experience.
The reticle on the Scope improves the aiming accuracy during the battles. It is one of the perfect entry-level Nerf scopes to help young fighters enhance their shooting and aiming skills. TEANTECH sight comes with a clip attachment mechanism for mounting.
The clip is sturdy but takes some time to get properly fixed. Also, it sometimes gets over-tightened, which results in clip damage during the scope removal. The only thing we found a bit unfortunate is its flimsy plastic construction. Also, it doesn't offer that magnification feature which is pretty okay considering the affordable price.
Pros
Simple to use
Reticle for aiming accuracy
Lightweight and affordable
Kids would love this simple yet highly useful modification to their Nerf Guns collection. With a reticle feature and clip mounting mechanism, TEANTECH scope sight delivers incredible efficiency and adds more fun and thrill to the battles.
6. Nerf Modulus Targeting Light Beam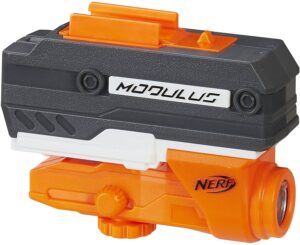 www.amazon.com/Nerf-Modulus-Targeting-Discontinued-manufacturer/dp/B01B4NMHL6/ref=sr_1_56
Next on our list is Nerf Modulus Targeting Beam. It is one of the best sight accessories for those who love playing Nerf war on the target. With a laser beam inside, this sight will help you locate and shoot your target with incredible efficiency and precision.
The Scope mounts easily onto the Nerf Guns and blasters, and we found it fully compatible with all our Nerf collections. Since it is engineered to help you aim the weapon, it comes with a green light beam that is turned on by twisting the knob underneath.
Similarly, you can turn the light off with some knob when not needed. The only downside of the Scope is its bulky structure. Unlike regular Nerf scope sights, it features a giant structure that might be difficult to handle and affect the weapon's stability.
Pros
Easy to switch on and off
Straightforward attachment
Wide range of compatibility
Ideal for night Nerf battles
Equip your blaster with Nerf Modulus Targeting beam to get the perfect aiming and shooting result on the battlefield. We found this accessory pretty easy to attach, and also, it doesn't wobble or shake-thanks to the locking mechanism.
7. Xximuim Scope Sight for Nerf Gun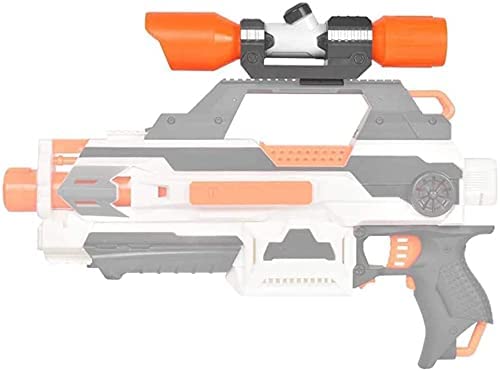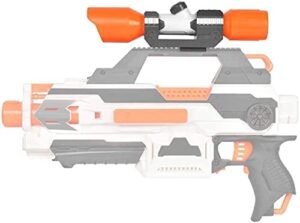 Xximuim Scope Sight is another incredible attachment for Toy Nerf Blasters. This scope sight is designed to enhance the aiming accuracy and shooting experience during daylight battles. It is a toy gun attachment that comes with a reticle aiming accessory.
The reticle will enhance the aiming and shooting efficiency and lets the kids take down their enemies in the battle. The best part is that it is robust enough to minimize wobbles and withstand accidental falls despite the plastic construction. The item measures around 9.84 x 3.39 x 2.05 inches and weighs around 0.81 oz, making it perfect for small NERF toy guns.
Additionally, it comes with a clipping mechanism for attachment with guns. Since it doesn't offer magnification, the efficiency of the Scope depends upon how accurately it is mounted. Therefore it requires some time to fix the scope accurately. You need to be careful while taking off the scope since the clip is slightly flimsy and highly prone to damage.
Pros
Lightweight and robust
Reticle aiming accessory
Simple to use
Compatible with all Nerf guns
Xximuim Scope sight is the best way to upgrade the toy Nerf gun collection for your kids. The easy-to-use reticle accessory and lightweight structure will help young Nerf battlers practice aiming and polish their shooting skills.
Buyer's Guide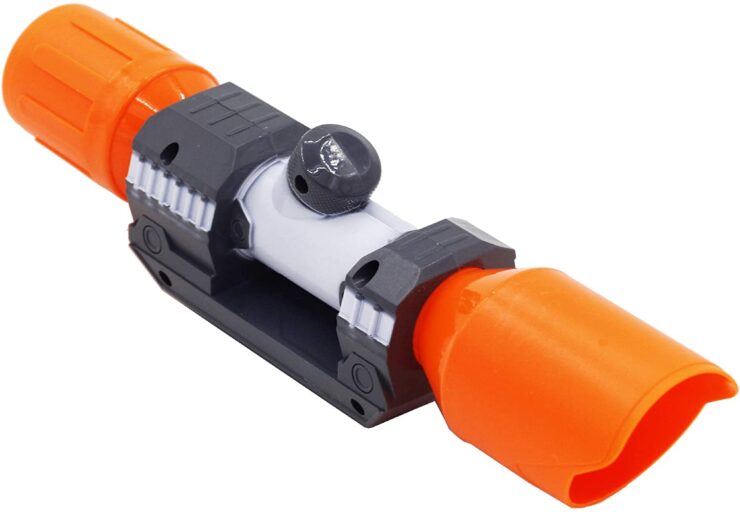 We all know that we can modify and upgrade our nerf guns and blasters with some best nerf scopes and sights. However, even the best scopes and sights will not work for you if they are not fully compatible with your nerf gun or blasters.
Knowing some key features and essentials will help you understand whether a particular scope will work for you or not. So here is a simple guide explaining the key features of a Nerf scope and sight you must consider before making a purchase.
Day and Night Vision
This feature totally depends on your needs. If you play in daylight, a regular reticle scope with adequate magnification will work for you. However, if you play at night, also you will need a scope with night vision features.
These scopes are equipped with laser-based red dot sights, flashlights, or infrared LEDs. The night vision feature in the Scope will help you quickly find and focus the target, even in dark or low light conditions. It is better to find a scope offering both daylight and night vision modes like Nerf Modulus Day/Night Zoom Scope.
Magnifying Feature
Not all the Scope and sights on the market offer the magnification features. The scopes without magnification will provide you a clear view and let you aim the target with accuracy from a shorter distance.
However, if you shoot the target from a long distance, you will need a magnification glass. It will let you zoom in and zoom out the target for precise and accurate aiming. For serious gaming and battles, it is recommended to find a scope offering at least 5x magnification.
Anti-Reflective Lens
The anti-reflective mode is a critical feature of any scope or sight. The performance of lenses largely depends on their anti-reflective ability. The anti-reflecting mode will help you center the light at a point and aids in perfect red dot alignment. Also, it blocks extra light to minimize sunlight or LED Light glare that may hinder your sight path otherwise.
Attachment Mechanism
The tactical rifle is an important accessory for all nerf guns and blasters. All the additional accessories are attached via tactical rail. Always try to find the scopes offering quick and straightforward attachment mechanisms.
If the accessory is not compatible with tactical rail, it will remain unstable and also may fall off during the battle. Some entry-level scopes made for toy nerf games offer clipping mechanisms. The locking mechanism is another crucial factor to consider. Advanced nerf scopes and sights come with range locks to prevent shaking and ensure stability.
Weight and Dimensions
The weight and size of the scope and sight attachment should be according to the size of your Nerf guns and blasters. For example, if you buy an attachment heavier than the weapon, it will result in instability. You won't be able to hold the weapon properly and shoot the target accurately. Similarly, too lightweight scopes tend to wobble and also affect your performance.
Construction Quality
Since Nerf guns and blasters fall into toy categories, all their accessories are made with plastic. Therefore it is critical to find accessories that are robust and long-lasting. Accessories made with flimsy plastic are damaged easily and last only for two to three battles. However, it is advised to pay a few extra dollars to find robust construction and avoid cheap plastic cramps.
FAQs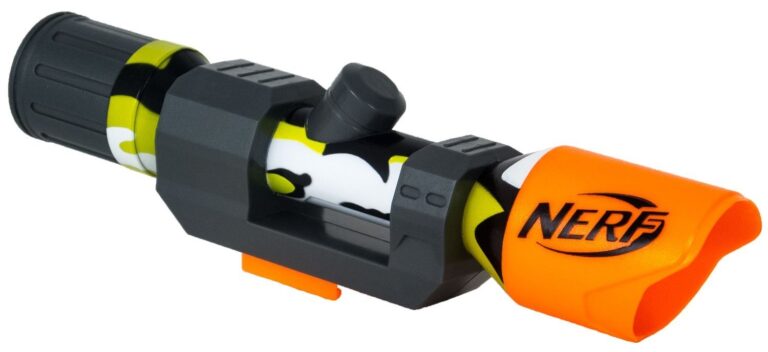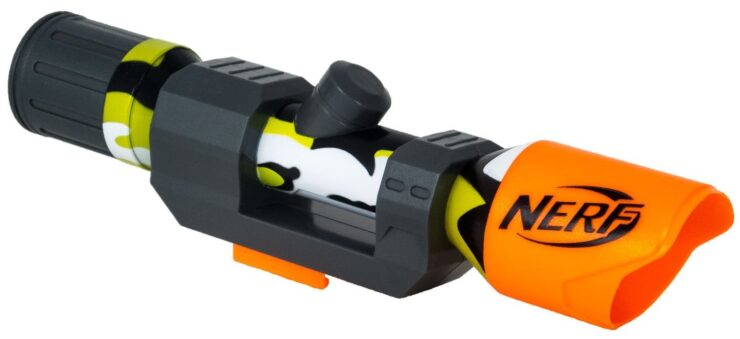 Do Nerf scopes actually work?
Yes, Nerf scopes enhance your aiming accuracy for better target acquisition. Modifying a Nerf Blaster with a nerf blaster will add more power to your fighting ability and lets you put your enemy at the backfoot.
Do Nerf scopes magnify?
All Nerf scopes available on the market do not offer magnification features. However, some scopes like Nerf Modulus Day/Night Zoom Scope lets you magnify the target up to five times.
Is Nerf scope expensive?
No, Nerf scopes are not expensive. You can find a regular nerf scope sight with a reticle feature under $15. Plus, you can find highly versatile Nerf Scopes with magnification and night vision features between $30-$40.
Wrapping Up
Kids are always thrilled to get the modification accessories for their Nerf guns and blasters. All the products on our list are tested for quality performance, and they would not disappoint you too. Here are our top three picks from the list.
Nerf Modulus Day/Night Zoom Scope for its ability to magnify the target upto five times, daylight and night mode, durable construction, and straightforward attachment mechanism
Nerf Modulus Stealth Ops Upgrade Kit for its bi-pod accessory, foldable foregrip, precision and accuracy, and quality construction
Nerf Modulus Long Range Targeting Upgrade Kit for its ability to hit long-range targets, precision spiral barrel, bipod accessory, and quality build
To get the best out of a Nerf scope, it is critical to ensure that it is fully compatible with your weapon and fulfills your gaming requirements like magnification and night vision.
Check out some other picks from Amazon also:
NERF Elite 2.0 Phoenix CS-6 Motorized Blaster, 12 Official Darts, 6-Dart Clip, Scope, Tactical...
UPGRADE-READY BLASTER: Customize the blaster for every battle or mission by taking advantage of 5 tactical rails and stock and barrel attachment points (stock and barrel extension not included)
INCLUDES 12 NERF DARTS: Comes with 12 Official Nerf darts and a 6-dart clip, giving you 6 darts for the clip and 6 more darts so you're ready for reloads. Fire, reload, and fire some more!
MOTORIZED DART BLASTING: Fire 6 dart fast from the motorized blaster! Hold down the acceleration button and pull the trigger to fire 1 dart at a time. Batteries required (not included)
FIRES DARTS UP TO 90 FEET (27 METERS): Go the distance with this blaster that fires darts up to 90 feet (27 meters)
INCLUDES REMOVABLE SCOPE: Comes with removable scope so you can customize your blaster during battle
Sale
NERF Fortnite AR-L Elite Dart Blaster -- Motorized Toy Blaster, 20 Official Fortnite Elite Darts,...
Dart-blasting Fortnite blaster replica: this ar-l blaster is inspired by the blaster used in Fortnite, capturing the look and colors of the one in the popular video game
Motorized 10-dart blasting: blast 10 darts from this motorized blaster that has an acceleration button to power up the motor (batteries required, not included)
20 darts and 10-dart clip: Includes a 10-dart clip and 20 official Nerf Elite darts
Flip-up sights: includes 2 flip-up sights and an acceleration button to power up the motor
To ensure proper use of ar-l blaster ensure access door is fully closed before use. Make sure clip is inserted fully into the blaster. Hold down acceleration button down & Press trigger.
NERF Halo MA40 Motorized Dart Blaster -- Includes Removable 10-Dart Clip, 10 Official Elite Darts,...
DART-FIRING HALO BLASTER REPLICA: This MA40 blaster is inspired by the one in Halo Infinite, capturing the look of the blaster from the next chapter in this legendary video game franchise
MOTORIZED DART BLASTING: Scorch the battlefield with motorized dart blasting! Hold down the acceleration button to power up the motor, and press the trigger to fire
INCLUDES 10-DART CLIP AND 10 NERF DARTS: Includes a 10-dart clip and 10 Official Nerf Elite foam darts that are tested and approved for performance and quality
RAIL RISER FOR NERF GEAR AND ACCESSORIES: Attach the included rail riser to the blaster's tactical rail, to add customizing Nerf gear and accessories (not included)
GAME CARD WITH UNLOCK CODE: It includes a game card with a code to unlock a digital asset in the Halo game*
Sale
Nerf Modulus Tactical Light
N-Strike Elite blasters and Elite darts deliver the ultimate in blaster performance
Mega Series blasters feature Mega Whistler Darts that scream through the air
Defend against a zombie invasion with ZombieStrike blasters
Ignite the night with FireVision sports gear that glows when thrown
Raise your game with the Pro-Grip Football and Nerfoop basketball set
Sale
Nerf Elite 2.0 Commander RD-6 Dart Blaster, 12 Nerf Elite Darts, 6-Dart Rotating Drum, Nerf...
NERF ELITE 2.0 COMMANDER RD-6 BLASTER WITH 6-DART DRUM: This Elite Nerf blaster has a rotating drum with 6-dart capacity. Blast 6 darts in a row with this toy blaster
SLAM FIRE: Launch 1 dart at a time, or unleash all 6 darts in rapid succession with slam fire action. This Nerf pump action dart blaster fires darts up to 90 feet (27 meters)
INCLUDES 12 NERF ELITE DARTS: Comes with 12 Nerf Elite darts. Load 6 Nerf darts into the drum and keep the remaining 6 darts nearby for quick reloads
TACTICAL RAILS, STOCK AND BARREL ATTACHMENT POINTS: Use the rails and attachment points to customize the foam blaster with Nerf accessories (each sold separately, subject to availability)
FUN KIDS OUTDOOR TOYS: Nerf toys for boys and girls can be used for indoor or outdoor games for kids!
Nerf A3700 Centurion Mega Toy Blaster with Folding Bipod, 6-Dart Clip, 6 Official Mega Darts, & Bolt...
Mega-sized dart blasting: size up your Nerf battles with the Nerf Mega Centurion blaster that measures 40 inches (1 meter) long and includes a 6-dart clip and 6 Nerf Mega darts designed for power
Comes with a folding bipod to stabilize shots: stabilize the blaster to set up the perfect shot with the folding bipod that attaches the Centurion Nerf blaster's tactical rail
Fires darts up to 100 feet (30 meters): kids, teens, and adults can shoot darts up to 100 feet (30 meters) from this long-range blaster that's powered by bolt-action priming -- no batteries required
Includes 6-dart clip and 6 darts: includes a 6-dart clip and 6 official Nerf Mega darts that are tested and approved for performance and quality and constructed of foam with flexible, hollow tips
Easy-open, recyclable package: Ships in simple recyclable packaging that's easy to open and frustration free
Sale
NERF Zombie Strike Hammershot Blaster -- Pull-Back Hammer-Blasting Action, 5 Official Zombie Strike...
PULL-BACK HAMMER BLASTING ACTION: Pull back the hammer to prime this Nerf Zombie Strike Hammershot blaster then pull the trigger to fire a dart. Features special "stripes" color scheme
ROTATING 5-DART FRONT-LOADING DRUM: The Hammershot blaster has rotating drum that holds up to 5 Nerf darts. Load the darts into the front of the drum and get ready for some zombie-fighting fun
INCLUDES 5 DARTS: Includes 5 Official Nerf Zombie Strike Elite darts that are tested and approved for performance and quality and constructed of foam with flexible tips
SUSTAINABLE PACKAGING: Ships in simple, recyclable packaging that's easy to open and frustration free
Sale
NERF DinoSquad Rex-Rampage Motorized Dart Blaster, 10-Dart Clip, 20 Official Darts, 10-Dart Storage-...
NERF DINOSQUAD REX-RAMPAGE BLASTER: Blast into battle with the power of a T-rex with this blaster that features awesome dinosaur details, capturing the look of a Tyrannosaurus Rex dinosaur
MOTORIZING DART BLASTING: Fire darts fast with motorized blasting -- power up the motor and pull the trigger to send dart flying fast toward targets (requires 4 AA alkaline batteries, not included)
10-DART CLIP AND TARGETING SCOPE: Fire 10 darts in a row from this blaster that comes with a removable 10-dart clip – the blaster includes a nonremovable targeting scope to line up your shots
20 NERF DARTS AND DART STORAGE: Comes with 20 Official Nerf Elite foam darts -- the blaster has onboard storage for 10 darts, to keep them within easy reach for reloading
Sale
Nerf Rival Charger MXX-1200 Motorized Blaster -- 12-Round Capacity, 100 FPS Velocity -- Includes 24...
MOTORIZED NERF RIVAL BLASTING -- Power into Nerf Rival battles with the motorized Charger MXX-1200 blaster -- rev the motor and fire a dozen rounds in a row from this 12-round capacity blaster
INCLUDES 24 ROUNDS -- This fast-firing motorized blaster comes with 24 Nerf Rival rounds -- load 12 rounds into the blaster to take on challengers -- and you have 12 backup rounds for reloading
100 FPS -- Fire rounds at a velocity of 100 feet per second and overwhelm the opposing team with Nerf Rival precision and accuracy from this Team Blue blaster. Batteries required (not included)
The motorized charger mxx-1200 has a 12-Round capacity so you can pound your opponents