The age of two is very confusing for parents as well as children, as babies tend to develop likes and dislikes and understand the concept of good and bad. They will know if they like what you got for them or not, and if they don't like what you got for them they might get cranky and shout.
So the process of gift buying especially for children must be done with care otherwise get ready for a few hours of an angry baby in the house. This article has 7 amazing toys you can check and also a buyer's guide to help you find the right gift or toy.
Top Gift For 2-Year-Old Boys
1. iHaHa 236PCS Construction Race Tracks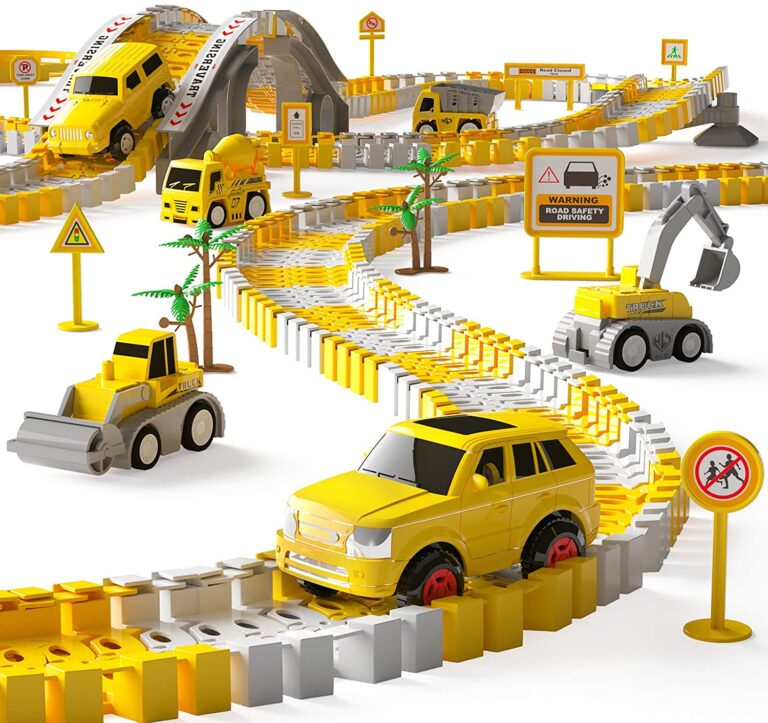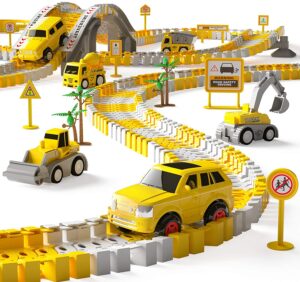 We can never know what's going on in the mind of a little boy who is just two in age. But the development of that mind is important. With this construction, race tracks set your toddler will use his imagination and create the most wonderful tracks. The set will not only enhance his imagination but will also keep him occupied and away from phone or television screens.
This set by iHaHa includes a total of 236 tracks and 6 cars which include two race cars and 4 small construction cars. All the construction cars are different and are a great way to teach your little kid about vehicles. The set also includes different types of tracks, a Y-shaped one to create an intersection in the tracks and a crossing bridge as well!
An amazing thing about this set is that it can be used in several unique ways and not just like a traditional track set. The cars are completely safe from dirt and water which makes them a great toy to take on the beach. These cars can be used as cake toppers as well for a theme cake and cleaned and reused.
The set looks good as a decoration as well and will not make the room look messy. All the cars including the construction cars can be driven on the tracks and while making new tracks with this set you can have a bonding time with your little one.
The tracks are super flexible and your child can use his imagination and vision to create all the types of paths he wants to for his race.  For Decoration, the set also includes trees and traffic signs.
Features:
Two hundred pieces of tracks.
6 cars and 30 other pieces of intersections, bridges, traffic signs, and trees.
Easy to operate.
Easy to assemble.
Made of sturdy material.
No small pieces.
2. Kids Bubble Blower Machine Lawn Games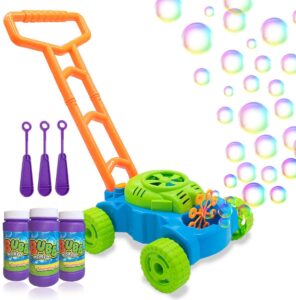 Colors and flying things of course fascinates all children especially when they are just two in age. While your toddler is developing motor and cognitive skills this bubble blower machine might come in handy. By the age of two children practice or learn their walking skills and coordination between their hands and legs. Bubbles are a great way to help your kid increase his movement and keep him occupied for long.
Kids these days tend to stick to the screens and rarely go outside, it's not their fault but with the pandemic and so many facilities, kids have forgotten to play in the outdoors. But such facilities can also be used positively, with this bubble lawn machine your little one will love going outside to play with all the bubbles.
You can take this machine to parks and gardens as well. The whole set is very easy to assemble and use daily. Your kid will not get bored of it soon. While you are mowing your kid might get fascinated so using this lawnmower he can have his fun time with his dad and as a bonus, it will be filled with beautiful bubbles. The machine can be disassembled easily so you don't have to worry about storage issues.
Features:
3 bubble solutions.
3 bubble sticks.
Sturdy material used.
Value for money.
Easy storage.
3. VTech Touch And Learn Activity Desk Deluxe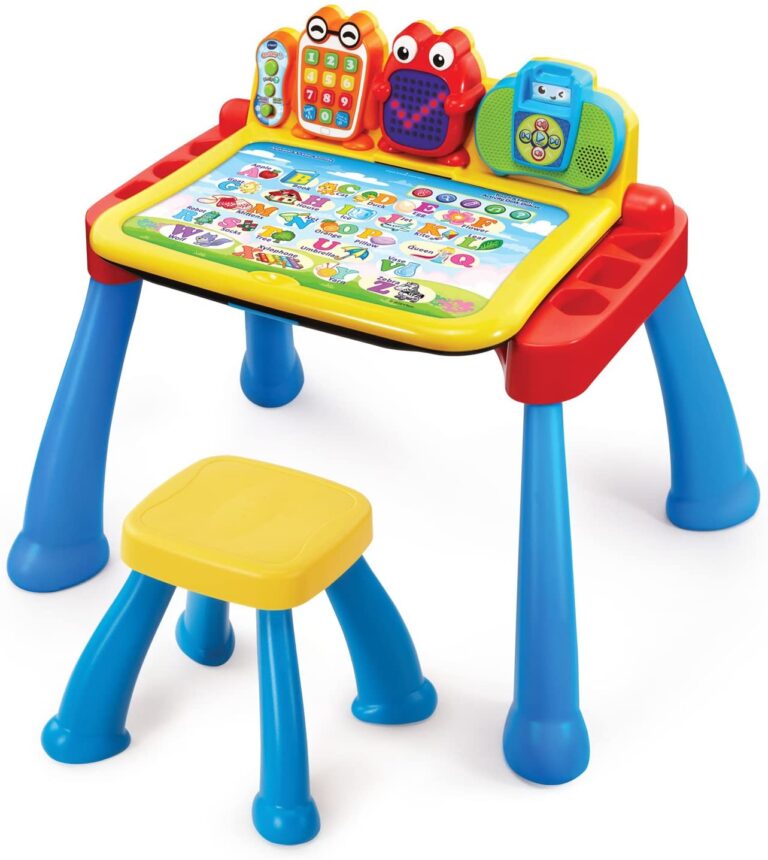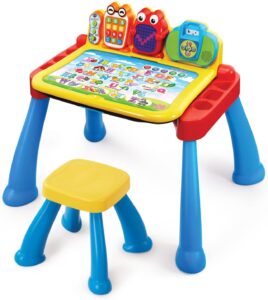 Learning is a big part of growing up, and your little one will soon start going to preschool. This touch and learn activity desk will be a great toy for your toddler. Several extensions are also available for the Desk which you can purchase to extend your baby's knowledge. The desk has three different modes and all of them can be used to enhance your boy's skills.
The first mode is of an interactive desktop, it has 4 learning modes and about two hundred touch buttons which he can click on and with every button, he will learn something super new and it will keep him busy for long learning things. Maintaining your child's interest in studying can be a task but interactive methods like such will help you a lot.
The second mode is a chalkboard, you can use it in several ways like your kid can get artistry or you can teach him something like the alphabet or numbers. The third mode is an art station and he can be creative there. This desk is full of features, and one amazing feature is that there is a light-up display that shows how to write alphabets one step at a time. It also has a music player which has about twenty sweet sounds. You can get him to learn everything before he enters the life of preschool and he can become the teacher's favorite. With this desk, there are endless possibilities and you can use it in more ways than you can imagine.
Features:
This desk has more than a hundred vocabulary words.
LED display of letters.
Good quality material was used to make this desk.
Multiple activities.
4. Large Magnetic Building Blocks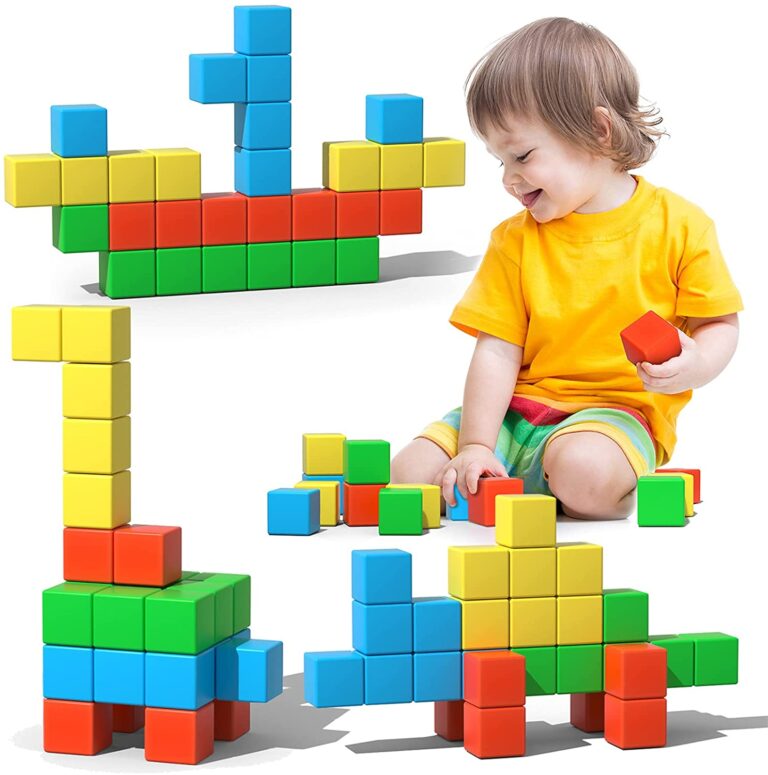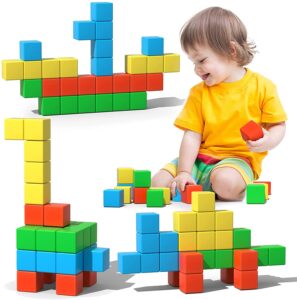 Almost every kid loves to play with blocks and they are not just fun but also educational for them. They enhance children's motor skills and also help their imagination to grow. All the blocks are large so you don't have to worry about your little one swallowing small pieces because that is something kids tend to do a lot. These blocks are magnetic and they stick together pretty nicely and will not fall off easily, so your kid can make his tower with the comfort of it not crumbling down.
This set is great to improve your toddler's STEM skills, that is Science, Technology, Engineering, and Maths skills. To prevent scratches or injury because the corner of each block is smoothened out. All the blocks are very strong and will not break easily curbing any issues in case of breakage. As if the block breaks your kid can hurt himself or swallow the pieces but it's very sturdy. The material used to make the blocks are free from latex and phthalates.
These blocks will be great for playdates and bonding times with your child as creating things together will be a good way to socialize with friends. The magnets are also a hundred percent washable. You just have to pour some water, dry them with a piece of cloth and they are clean. The magnetic field is super strong and makes a click sound when struck together. The perfect way to keep your little boy away from the screen.
Features:
Great for STEM skills.
Magnetic blocks.
Big in size.
Unbreakable and washable material.
Free from toxic raw material items.
5. Just Smarty Interactive Abcs And 123s Learning Poster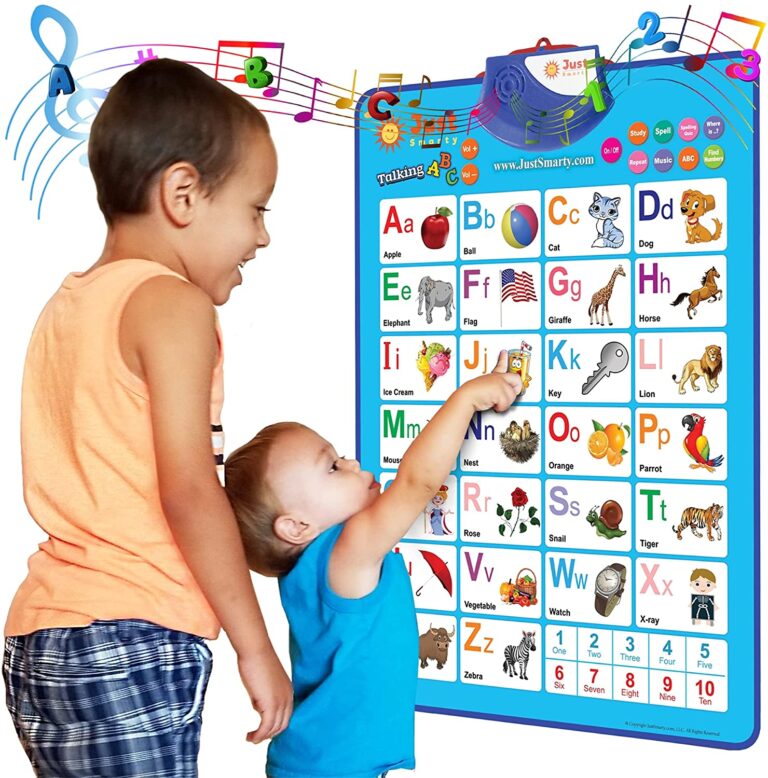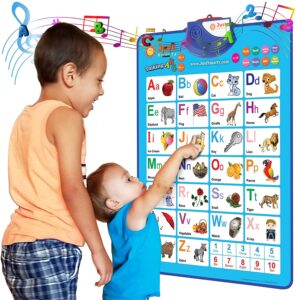 Learning with children never stops and you have to find interactive and interesting ways to keep them engaged in studying. Keeping them happy and active towards studying can be a tough task. With so many things available today because of technology you can find something that will help you through the teaching process. With this Poster By Just Smart, you can make learning ABCs and 123s simpler than ever. Nothing can be better than getting this poster for your little one as it will be a win-win situation, he will be happy and you can help him learn.
The poster has many features like the alphabet, numbers, and even spellings which you can teach your growing child. A great thing about this poster is that it also has fun games which are educational at the same time and several. It also includes songs to keep him from getting bored.
It can also be cleaned easily with just a damp cloth and then later hung back on the wall. I would suggest hanging it near your kid's bed or cot so that it's easier to interact with. There are several quizzes as well and modes where your baby can follow along with the tunes and learn better. This product is Amazon's choice and parental reviews are great. It's a complete value for money. Before preschool, this product has helped several parents in building the interest in their kids towards school.
Features:
Easy to clean and hang.
Good quality material used.
Has several modes to enjoy.
An interactive way to study.
Buyer's Guide To Buying Best Toys And Gift Ideas For 2-Year-Old Boys 2023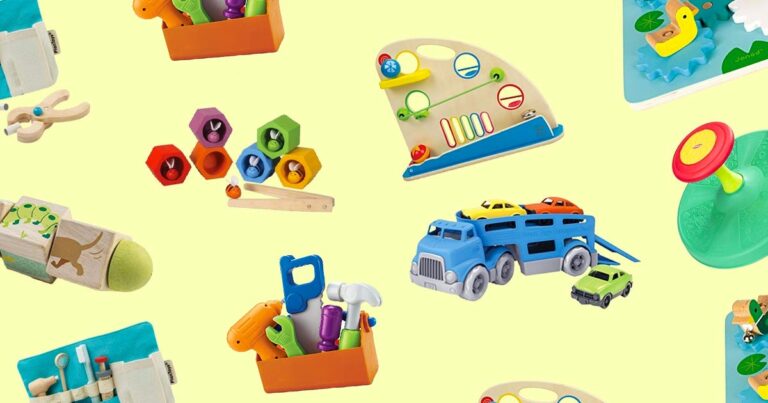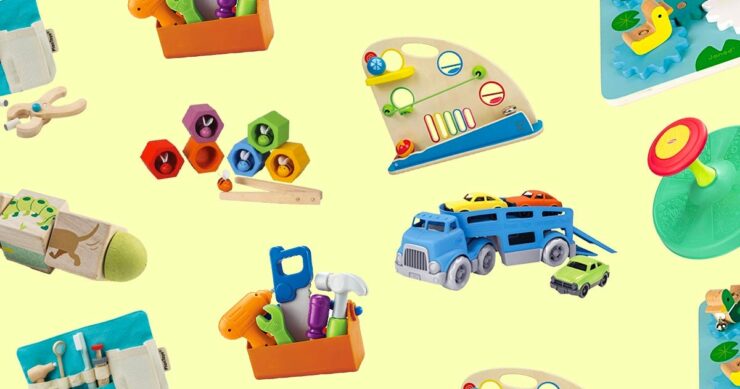 This buyer's guide has all aspects that one needs to know before buying a toy for a small kid. Children at the age of two tend to be confusing and we never know what their next action will be so going through this guide will smoothen out your shopping process.
Safety
At the growing and learning age of just two ensuring safety for children is important, toys can lead to severe injuries but they can also be prevented in case your little one tends to get wild. Before making a purchase always check for pointy corners or similar things which can hurt your kid's soft skin. The material should be free from toxic chemicals and must be of good quality.
Usage
Usage is a very important aspect of toys or gifts before you decide to purchase something for your little one. Make sure you check for customizations and interactive features. Buying a toy that your kid will stop using after a week of fun will not be good. Later you will just find that item which you bought with money you earn after hard work lying around in the house like garbage.
Preventing Boredom
The attention span of kids who are just 2 in age is very less, toys with sounds and beautiful displays might be a good option. You boy will get bored if the toy that you got for him is not attractive enough. So before deciding what to purchase I would suggest thinking it over and ensuring that your kid won't be bored easily.
Small Pieces And Durability
Taking care of small pieces and the durability of the toy is also a necessary thing before making a purchase. Children tend to swallow small items and if the toy breaks it can hurt your little boy, the broken pieces can be put in the mouth by them as well. Check the material, sturdy ness, and small items before deciding to buy a toy or a gift.
Parent Reviews
Other parents who have experienced the toy with their kid are the best way to understand the toy for themselves. Going through some reviews online or taking advice from experienced parents will be of great help.
Conclusion
I hope you found what you're looking for. Shopping is anyways a big task but shopping for a small kid can be harder as they are not aware of their needs and what they would like. So getting any toy will be a major risk. The top five toys mentioned above will be a great option for any occasion and going through the guide once will also help you.
FAQs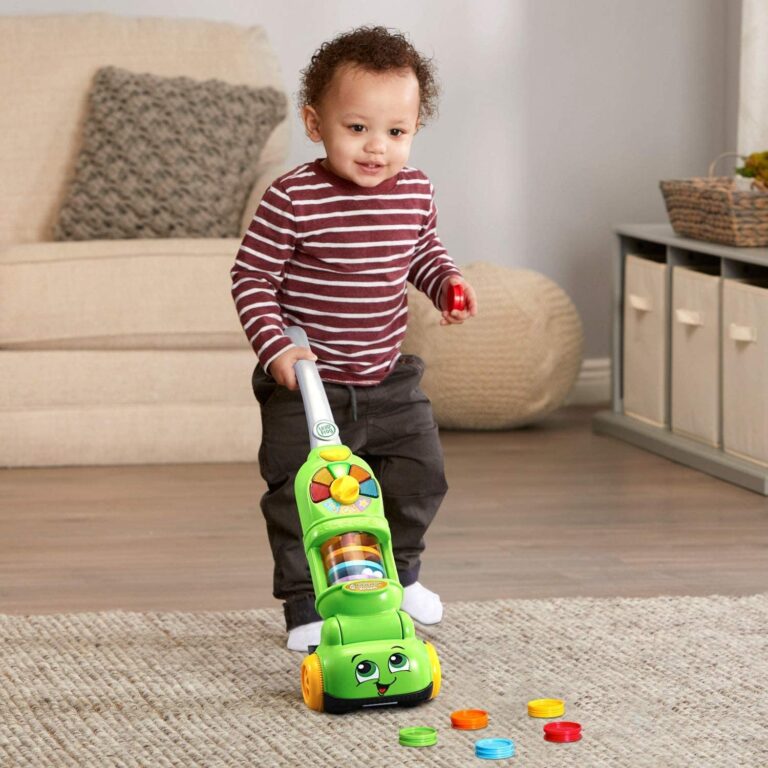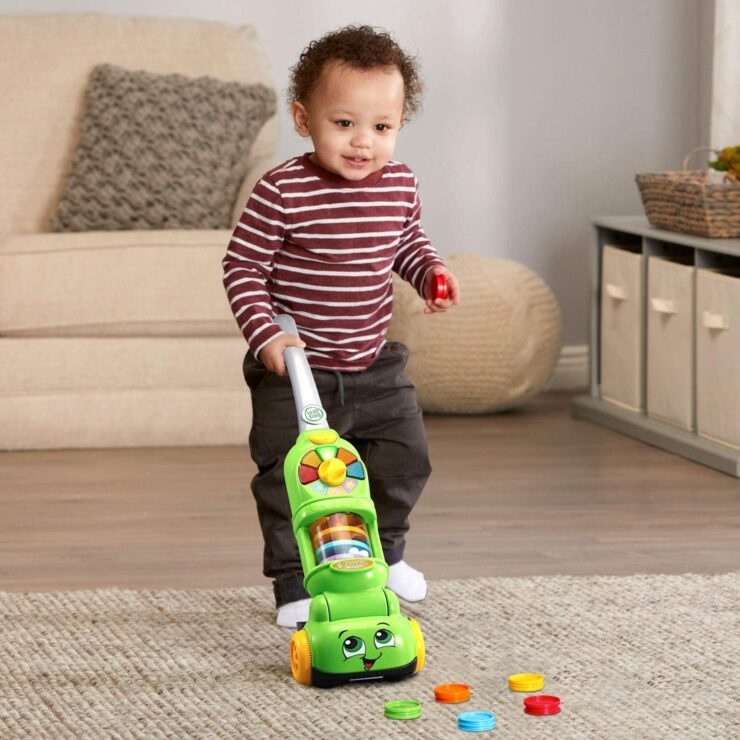 Are having educational toys important for a child who is just two?
Well, they are kind of important as kids start preschool in the next year or so. Having an interactive way to study can help him in the future as well because he might start liking studying.
What can be the best gift to keep the kid away from the screen?
With technology developing every single day there are several options that you can go for which will keep the child busy for an hour or so like the desk or the building blocks mentioned above.
If these weren't enough, check out some other picks from Amazon also: