Buying gifts for young kids is a challenge on its own. 6-year-old boys have a very limited attention span, so shopping for something which would hold their attention is the key. There are many choices readily available in the market, however, you have to decide on the right one based on the requirements of the child, their interests, and also the practicality of the product.
But bear in mind, the product should be eye-catching enough to be wanted by the kid. Here are some of the most helpful choices for you:
Top Picks Gift Ideas for 6-Year-Old Boys
1. Hot Wheels Criss Cross Crash Track Set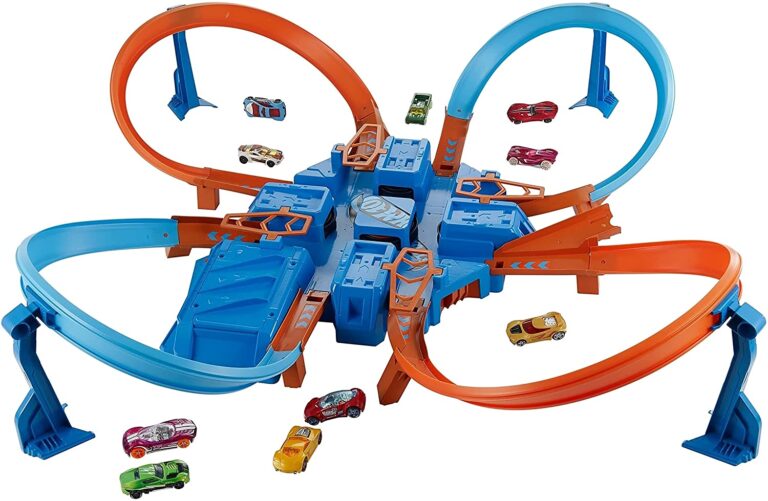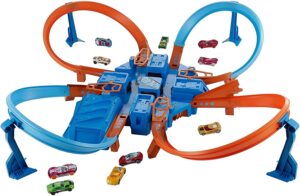 Hot Wheels is well known for its dynamic toys. From its cars to its track sets, each Hot wheels toy brings with it an adventure of its own. Since this is a brand that has been catering to children's needs for a long time, the quality of its products ensures that they can be used for years without any damage. This toy is the whole package as it combines your child's creativity and curiosity.
Since this is a track set, this toy has to be first assembled to be used. Of course, you can help the child with the assembly for a bonding experience. But as a 6-year-old, the child would want to feel capable by assembling it on his own. This will allow the child to work on his problem-solving skills. This toy set is excellent whether the child plays alone or with friends.
Features of the product:
Includes a Hot Wheels vehicle
Includes motorized boosters
Includes parking spaces for storage of the vehicles
Perfect for holding the attention of kids for hours on end.
2. Educational Insights Design & Drill Bolt Buddies Recycling Truck Toy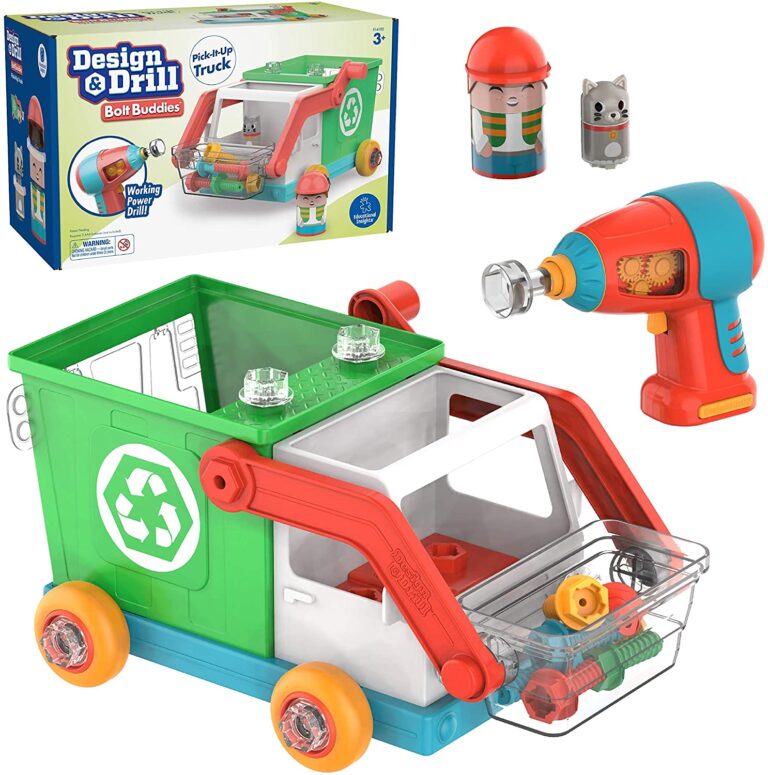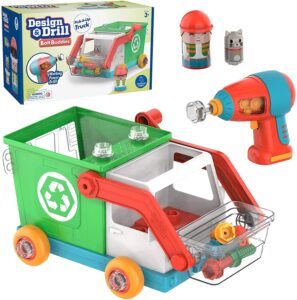 The brand Educational Insights brings to you the perfect educational toy. Has your kid always been curious? Always interested in building things? Do you feel that there is a creative streak that is seeking an outlet within your 6-year-old? Then this might be the right gift for you to buy.
The child first designs a recycling truck and then uses drilling for moving the truck. The toy is designed in such a way that the kids can learn the fundamentals of engineering without getting overwhelmed. The toy is designed in such a way that it will not compromise the safety of your child and keep him occupied, possibly even interested in STEM.
Features of the product:
Ideal for playing alone and with friends.
This toy comes with sustainable packaging. The box of the toy turns into a playhouse or a part of the toy set which can be played with.
Works on the child's motor skills.
3. Little Pretender Walkie Talkies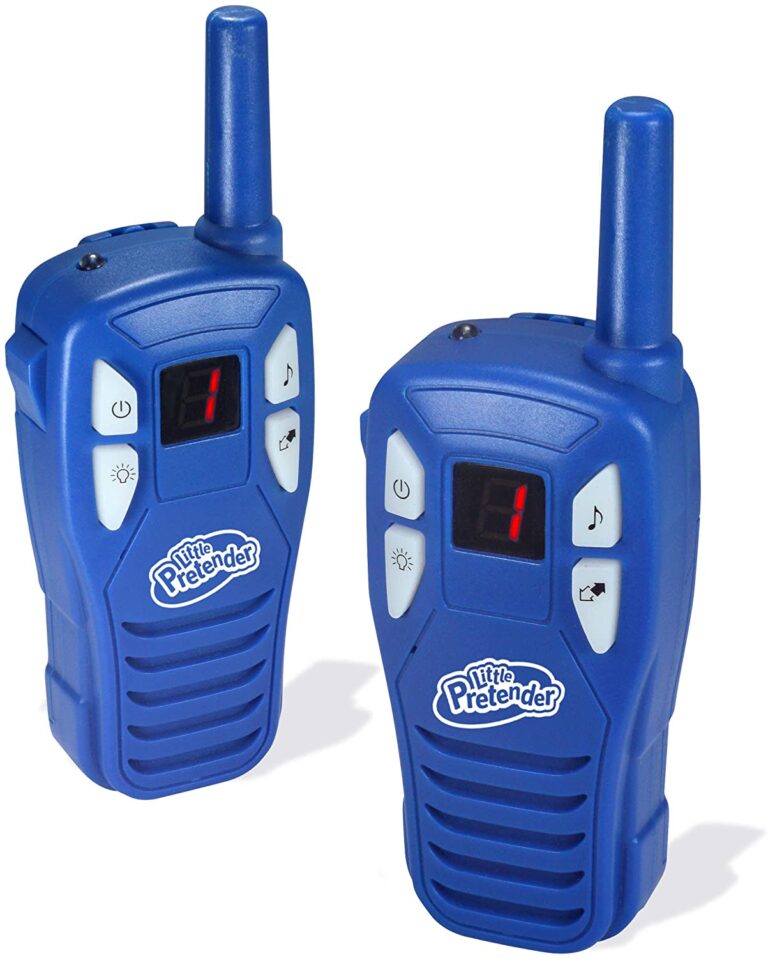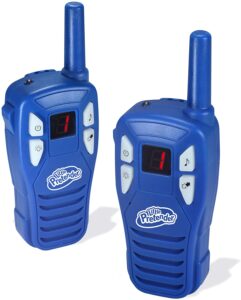 Are you wondering how to keep kids engaged without a screen in front of them? This might be the answer you were looking for! With the advent of the pandemic, children were suddenly confined within the walls of their homes, and that restricted their physical activity as well as their interaction with their friends. But worry no more! This toy will help you find a way around that.
This set of walkie-talkies is an ideal gift for a 6-year-old boy who wants to return to playing with his friends, even if it is from a distance. If your child's friend lives within a 2-mile radius, all you have to do is to get them one of these toys, and voila! You have opened a channel wide open for communication and fun.
Features of the product:
LCD display
Call alert function and push to talk button makes the use of this device uncomplicated for a young child.
Inbuilt flashlight to add to the effect of being on a secret mission.
Good quality and design.
Clear sound quality over the 2-mile distance.
4. Flybar My First Foam Pogo Jumper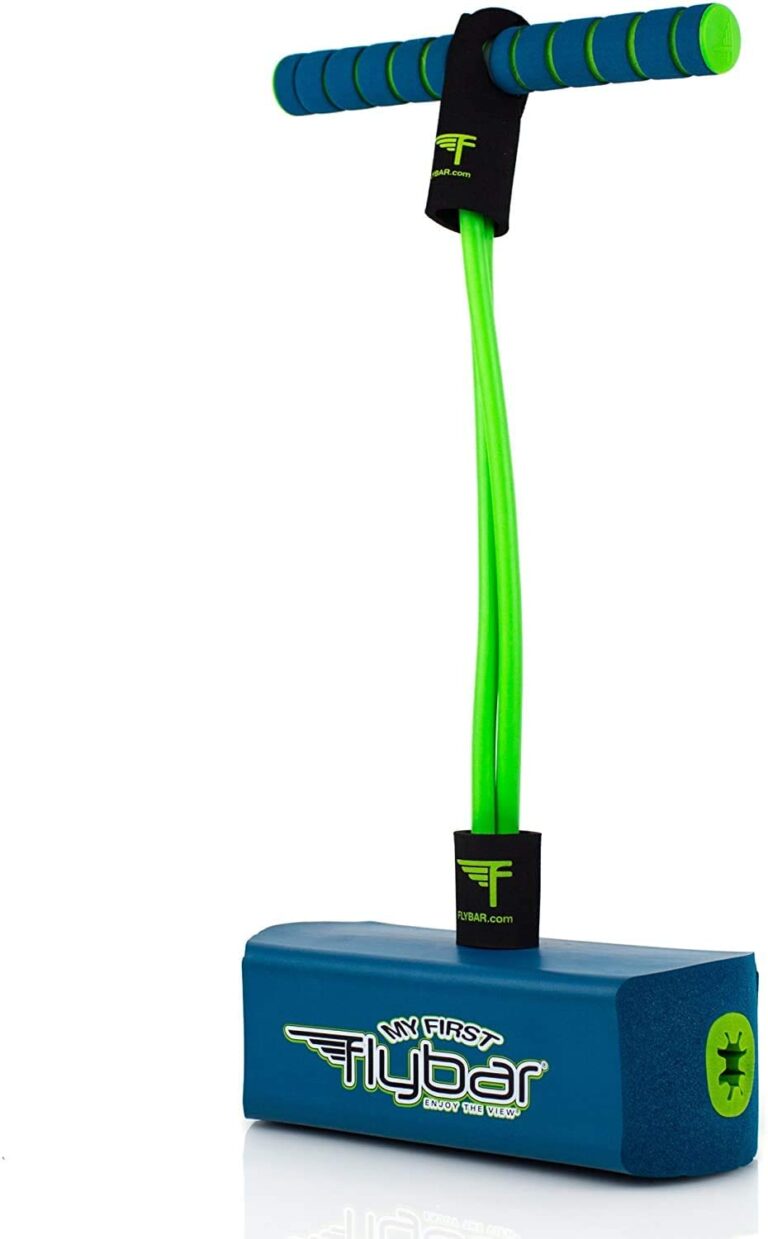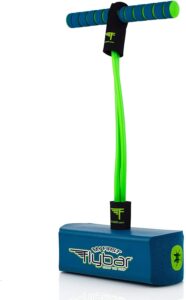 No parent wants their kid just sitting on a couch with their eyes glued to a digital screen. If you are looking for a way to get your child interested in physical activity, then this is the right gift for him. Flybar's pogo jumper is made so that your child can get interested in physical activity, whether it is indoors or outdoors.
This is a toy that is made so that your child can gradually work on their balance while enjoying themselves. The freedom a pogo jumper can give a 6-year-old boy is unparalleled. So, if you want a dynamic option that can ensure some much-needed exercise for your child, this pogo jumper is for you.
Features of this product:
Good quality, which will keep your child safe.
Refund and replacement policy of 30 days.
Encourages the child to work on their motor skills and keep their balance.
5. Treasure X Sunken Gold Treasure Ship Playset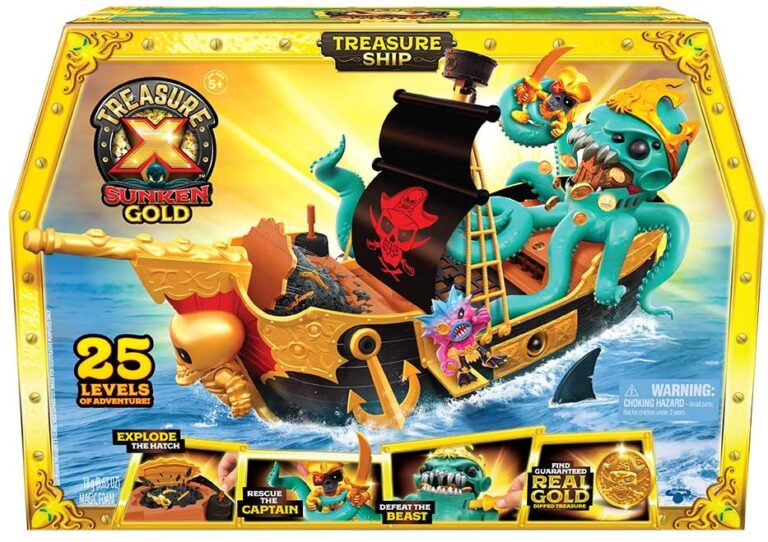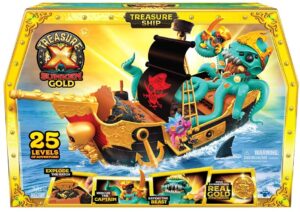 This toy is the ultimate answer for every child who likes to solve puzzles and wants something new to keep them entertained. If your 6-year-old has a creative streak, fuel it with this playset. This is a playset that has 25 levels that your child will have to complete in order to reach the treasure. The functionality of this playset does not end with the treasure being found.
You can reverse the steps and begin again in the quest for the treasure at sea. There is fun and adventure mixed in one as the child crosses all the hurdles presented in front of him and discovers real gold. There is artillery to find and a Kraken to defeat. The level of adventure increases with each step, ideal for an imaginative child.
Features of the product:
Attention-grabbing
It can be played with again and again
Guaranteed Real Gold to be found.
6. Learning Resources Beaker Creatures Liquid Reactor Super Lab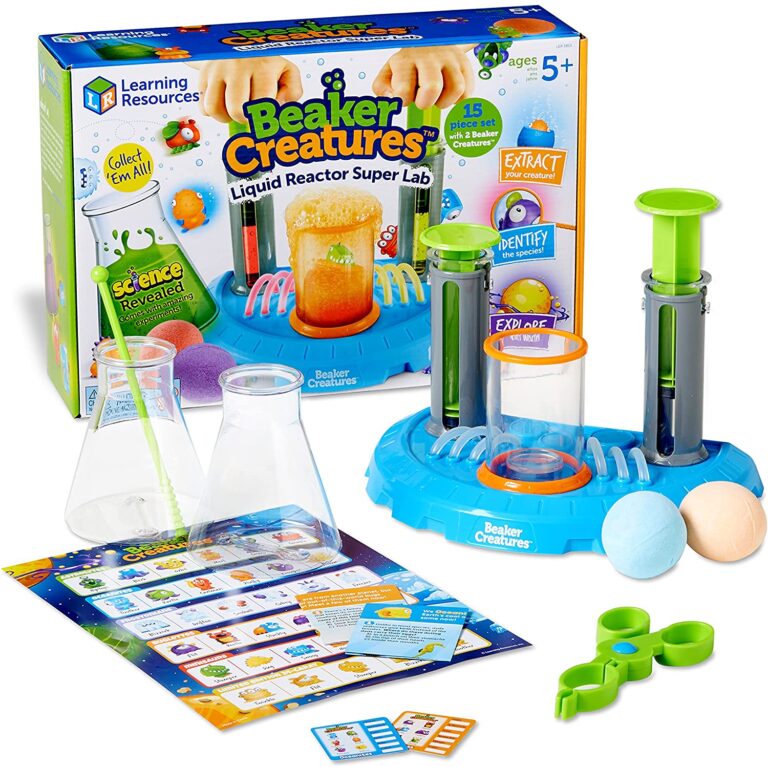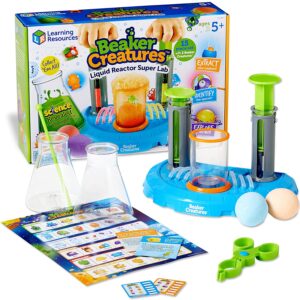 This is a purely educational toy meant to engage the curiosity of the child and propel him towards a career in Science. This is a creative way to approach chemistry made to keep a 6-year-old boy occupied.
Beaker Creatures should be extracted through chemical reactions, teaching the child the results of controlled experiments. There are 35 Beaker Creatures to explore and as many chemical reactions to learn about.
Features of the product:
Perfect for playing alone or with friends
Discover elements and compounds after extracting the Beaker Creature
Safe lab experiments for kids to get them interested in STEM
7. Crazy Forts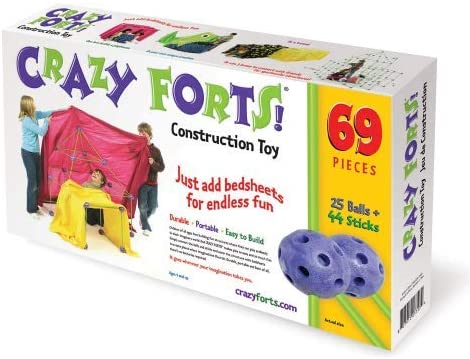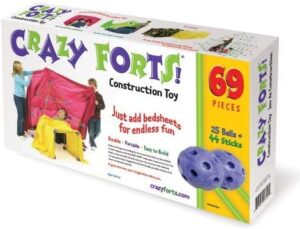 This is a toy which can be fun for the whole family. This is a set that comes with 69 pieces to help the kids build different types of forts. It can be a bonding experience for parents and kids if they build the fort together. The best part about gifting a 6-year-old boy this as a gift is that it does not have a limited purpose. This fort can be turned into a castle, a tunnel, an igloo, or a house.
Perfect for night-outs with friends, this playset is made while keeping fun in mind. All you would have to do is cover the structure of the fort up with a bedsheet, and it is good to go. Engage the child's problem-solving skills by gifting them this product.
Features of the product:
Encourages creativity
It can be used to make different structures
Perfect for playing alone and with a group of friends
8. Crayola Light Up Tracing Pad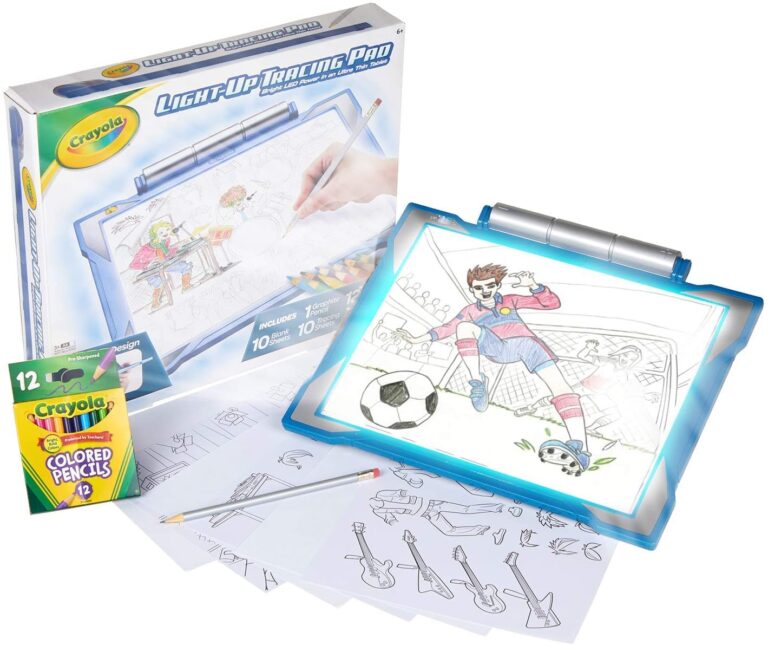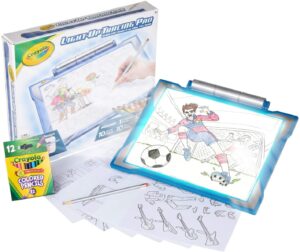 Some toys are made to get the child out of the house, while others are made to engage the creative side of their brain. This is one such toy. Crayola brings a tracing pad for all the budding artists to encourage drawing and to create new things. This tracing pad lights up with an image which then has to be traced by the child either as it is or with certain changes made as per the imagination of the child.
This light-up tracing pad makes sure no line is missed while tracing and that each traced work turns out to be a masterpiece. Crayola's colored pencils and a graphite pencil will help the young artist bring life to his artworks.
Features of the product:
Over 100 images are available for tracing
Safe for the use of children
Children can even find images they like and use them for tracing.
Buyer's Guide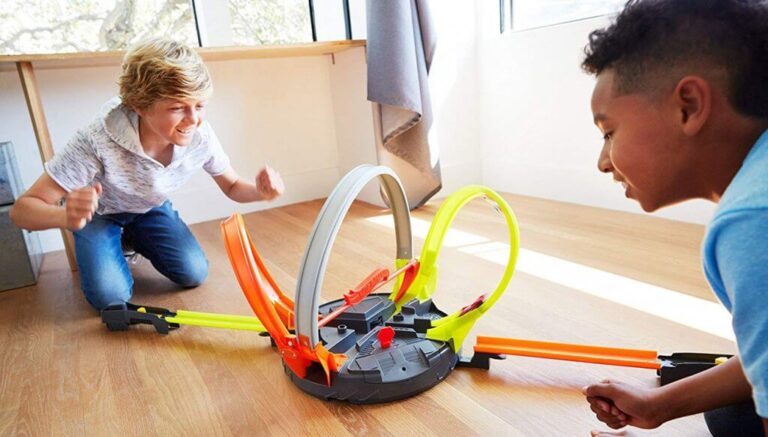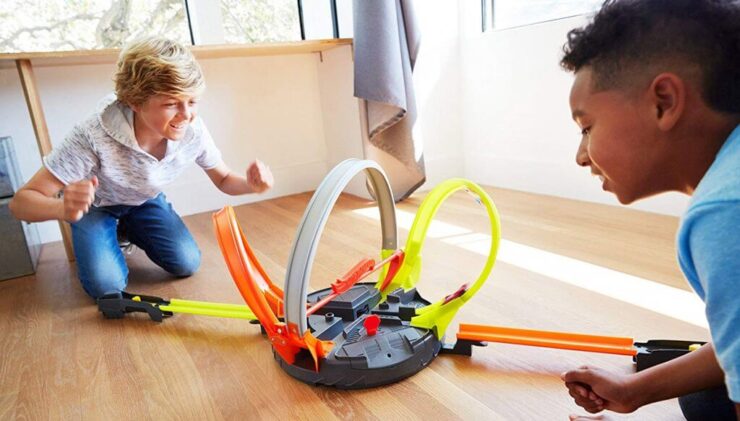 As someone looking for toys and gifts for 6-year-old boys, you need to keep certain specific factors in mind. Apart from knowing what the boy likes, you would have to know whether it is sound quality and safe for children to play with. Luckily, we have a detailed description of all the factors that need to be kept in mind while buying toys as a gift.
Know the Usage
You might think that the look of wonder in the child's eyes is enough when they open the gift. But practically speaking, you will have to make the purchase based on the usability of the product. If you are investing your money into buying something for a child, you need to keep in mind that it needs to serve a certain sense of purpose.
It can be educational or recreational. Also, consider how useful it would be in the long run. If you feel like the child would be able to use this toy for more than a few months, then you know that you are making the right choice in buying it.
Education or Recreation?
Adult buying something for a child, you are faced with a choice. Should the toy be something educational, or should it be purely for fun? Many toys are created with the idea of making a child interested in a particular field of education from a young age.
Others are made purely for fun and entertainment purposes. Now that you are in charge of getting something for a child, ask yourself, should it be educational or recreational? And if possible, why not both?
Ratings and Reviews
Any credible product of good quality would have reviews that stand testimony to the same. Look at the ratings a particular product has got on an online shopping site. Read the reviews, both good and bad, to better understand the use of the product and whether it will suit your purpose or not.
After seeing the ratings and reading the reviews, if you feel that this would be the ideal product for gifting, then you should make the purchase.
Reliable Brands for Reliable Products
There are some brands whose names you have been hearing for a long time. These brands have made their mark because of their good quality products. If you are unsure about purchasing toys, then you should stick to gift items that are made by reliable brands that have been in the business for a long time. You are less likely to be disappointed if you choose a brand you are familiar with.
FAQs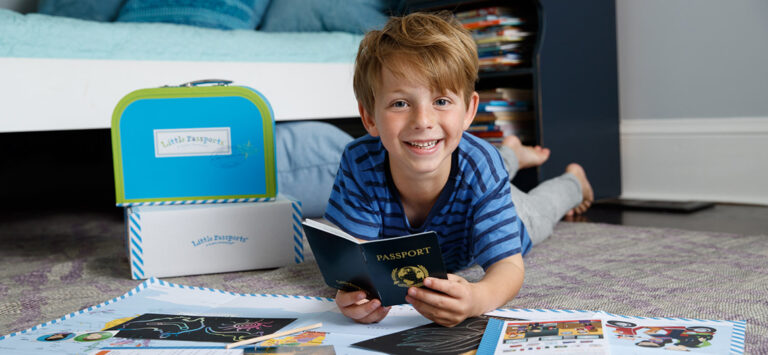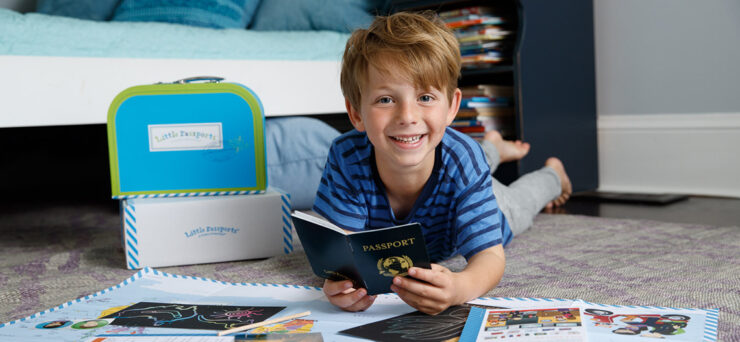 What if the 6-year-old boy does not like to play with cars?
There is no hard and fast rule that a boy would like to play with cars. If you are confused about what to get the child, just ask them what they like and buy that for them.
Are educational toys better gifts?
Educational toys are made to cultivate an interest in a particular field of a subject from an early age. They are meant to engage the child without letting them feel burdened with the educational aspect. An excellent educational toy would be a chemistry lab set.
Can 6-year-old boys play with dolls?
Of course! If a 6-year-old boy wants to play with dolls, then, by all means, you should gift him one.
Conclusion
If you are stuck in a bind about what to buy for a 6-year-old boy, this article has listed all the products that will help you choose the correct item. Based on your budget, the interest of the child, and the usability of the gift item, you can easily pick one which would sit well with the child.
If this wasn't enough for you to find a perfect gift for your boy, check out the following list: