Have you ever gone shopping for gifts for Christmas or birthdays and came back home empty-handed? I understand your struggle of buying gifts and it gets even harder when you have to shop for a growing child who is just four in age.
He has already started school and kids do talk about toys and flaunt their good ones. So you have to be careful while you make a purchase. The toy should be fun and at the same time educational for your child. In this article, I have given a list of options that you can check and a buyer's guide, in the end, to help you through the process.
 4-Year-Old Boys Amazing Gift Ideas
1.Toyvelt Kids Golf Club Set Golf Cart With Wheels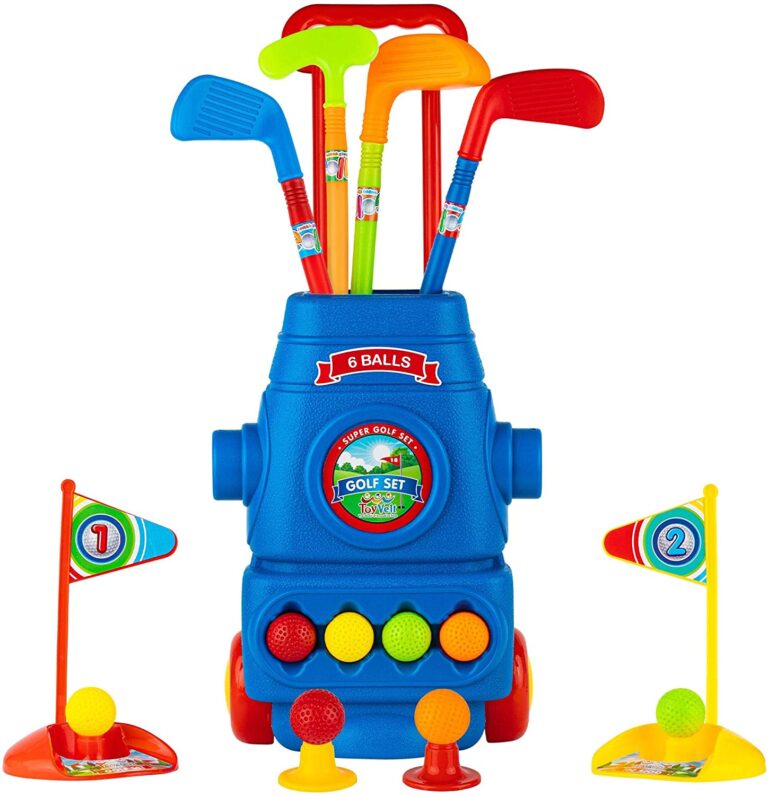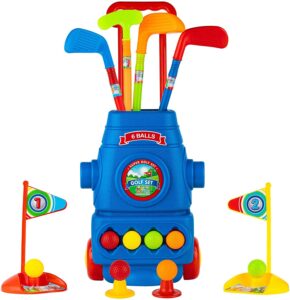 Exercising is important for a growing child to become healthier and better. Finding fun and exciting ways to make your little one work out can be difficult. But toys and friends combined can easily make your little one run around and play.
Number one on our list is this golf club set. If you are a lover of golf you can teach your little one at home before taking him to the harsh fields. This set will give your little one a feeling of reality.
The set is light in weight and can be carried around easily by a child. It can be used indoors as well as outdoors. You can have hours of fun with your guy and have a bonding time with him playing golf together.
It will make him spend less time watching television and more time playing and enjoying the outdoors with you or his friends. It is great for physical development and working out at the age of four.
He will develop several essential skills, like hand and eye coordination, problem-solving skills, and motor skills. It is completely age-appropriate for a child who is four and the material is hundred percent toxic-free. Good quality plastic was used in the manufacturing of the product.
Features:
Perfect set for young beginners.
Specially made for kids, light in weight, and free from toxic materials.
Realistic experience of golfing.
Great for an outdoor workout and improving motor skills.
2. Matching Game for Kids, Alphabet Reading Spelling Games for Kids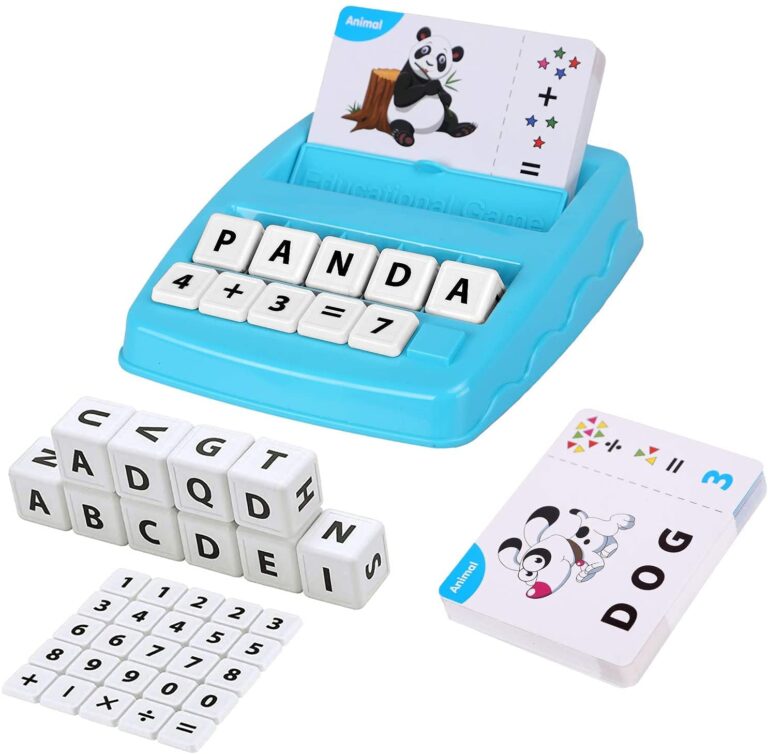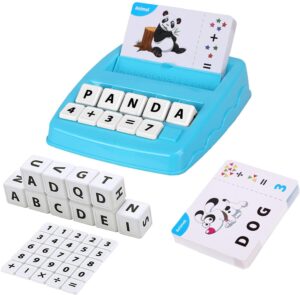 Spelling and maths become an important part of educational life. Kids tend to get bored of studying very quickly and to keep them engaged you gotta work hard. This game will help you do that. It can be played in very simple steps.
Step one is choosing a card from the deck and then putting it in the holder and then covering the word. Followed by step one is step two where your little guy has to look at the object shown in the picture and then spell it out on the holder. This way you can teach him spellings in a fun way.
The game is not over yet after spelling the word your kid has to solve the math equation and then look for the correct number to match the equation. After that in step four, he can look at the card to check for the correct spelling and answer to the math problem. It is an amazing game to boost your child's confidence for school and prepare him with spelling and numbers.
It has been rated four-plus stars online and parents have recommended this game for other children after having a good experience themselves. You can also tell your guy that if he wins he gets extra time watching TV or chocolate maybe, you can decide the award.
Features:
Simple to use.
A fun way to make kids study.
32 cards in total in the set.
3. Digital Shooting Targets With Foam Dart Toy Shooting Blaster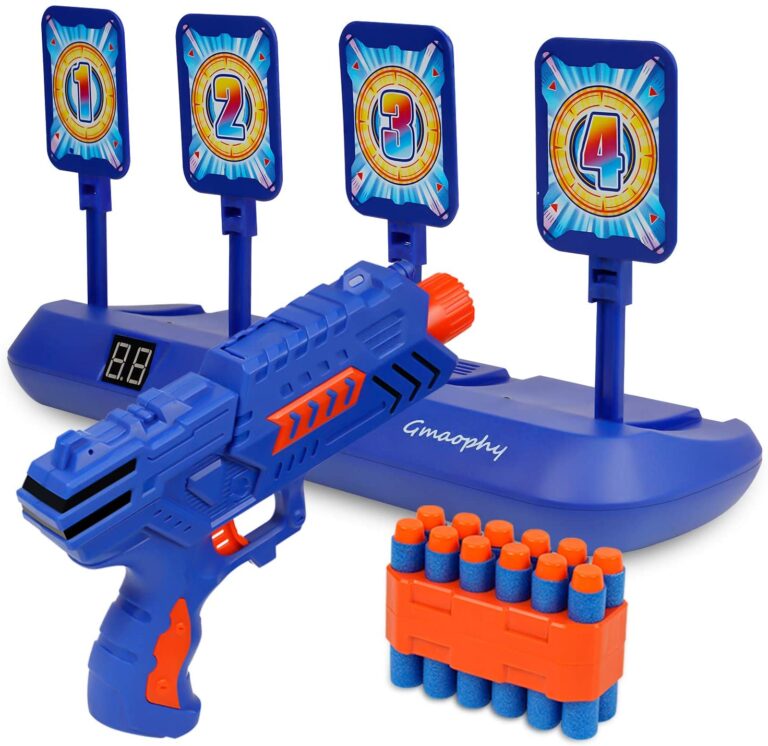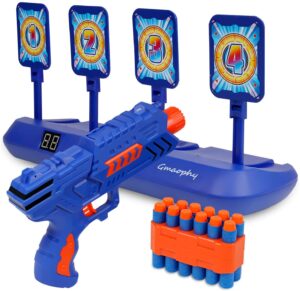 If your little one loves shooting and playing shooting games online, you can make him switch from wasting hours on his phone to real-life shooting games. It is not easy to keep your little one away from the screen of the tv or mobile phone.
This fun game will be great! Using this you can help your little guy improvise his brainpower, memory, confidence, and develop better motor skills. Your baby can play with this set alone as well as with his friends to increase his social skills. You can also use it to have a good time with your little angel and have a fun afternoon playing together.
The set includes all accessories that your little one will need to have a good play session. There is one foam dart gun, four targets to hit on, and about twelve darts to hit the targets with. After hitting each target a digital scoreboard will appear and after falling down the targets stand back up after two to three seconds so that they can be hit again.
It also has sound effects to make the shooting experience more realistic and better. Several amazing sound effects are there including breaking glasses, explosion, and electric scoring.
Features:
Compatible with a series of nerfs.
Light and sound effects.
AA batteries are required but not included.
Improved hand-eye coordination and motor skills.
Comes with nonslip mats to prevent issues in between the game.
4. Franklin Sports Kids Teeball and Baseball Batting Tee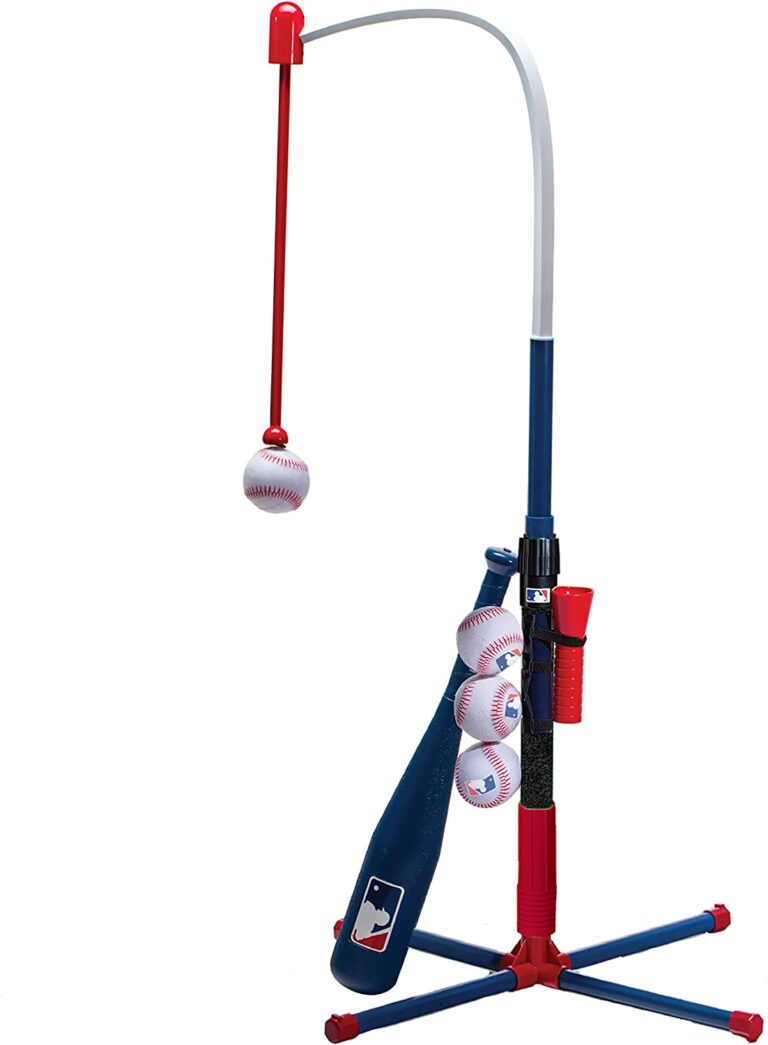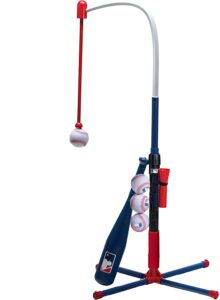 For a single child, it might get boring sometimes and when you are not around he might want something other than screens to keep him busy. This baseball and tee-ball batting set is an amazing gift option for him. It is a perfect way to help your little sportsman practice his skills.
The hanging ball can be adjusted according to the child's height and your young batsman can later practice and become the best player in his team. The set includes a plastic bat made with good quality raw material, 4 baseballs that have a self-stick cover so you don't have to worry about replacing the hanging ball.
The customer rating online is more than four stars and people have loved this product for their little one.
Features:
Good quality material.
Adjustable height.
Perfect for practicing alone.
5. Kick Scooter For Kids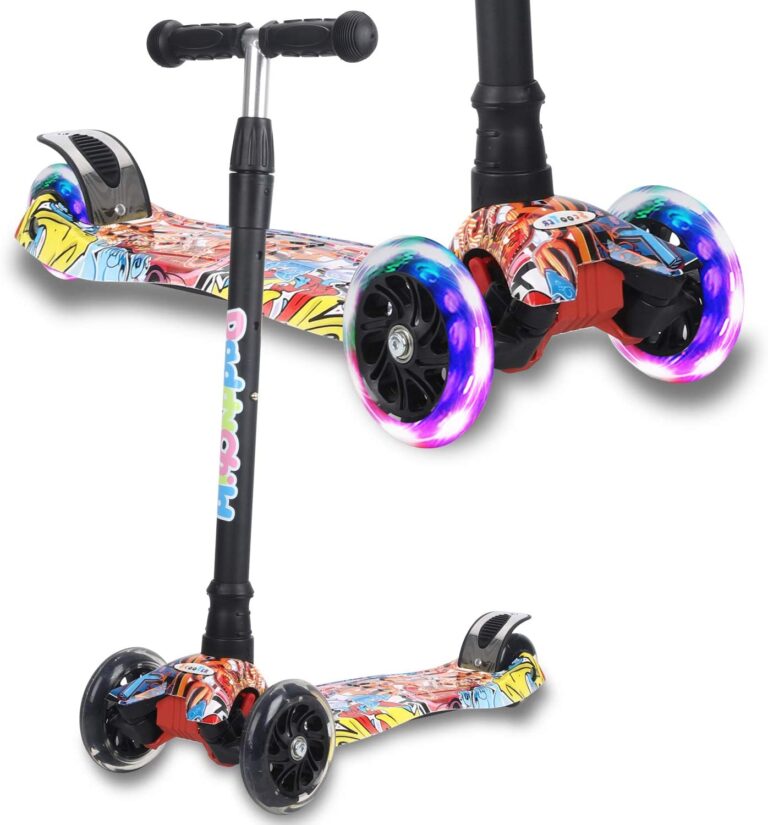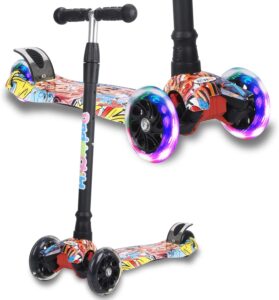 A scooter is something every kid loves and has despite their age. You can get your little guy his first scooter and make his fourth birthday super special. This kick scooter by Daddy Child has three wheels for smooth rides as your little guy will have more fun and he won't have to focus much on balancing.
A great thing about this scooter is that the wheels have lights and whenever he rides the scooter they will shine! It is foldable so you can easily store it without having to worry about things.
The whole scooter is made with high-quality premium material and the traditional way of going left and right has been replaced by a more fancy and easy way of leaning left and right. The brand provides a two-year warranty. The metal is stainless steel and will not get rusted easily.
Features:
Smooth and soft rides.
Durable and sturdy material.
New technology to change the path.
Good quality and premium built.
Two-year warranty.
6. Mitcien Kids Camping Play Tent With Toy Campfire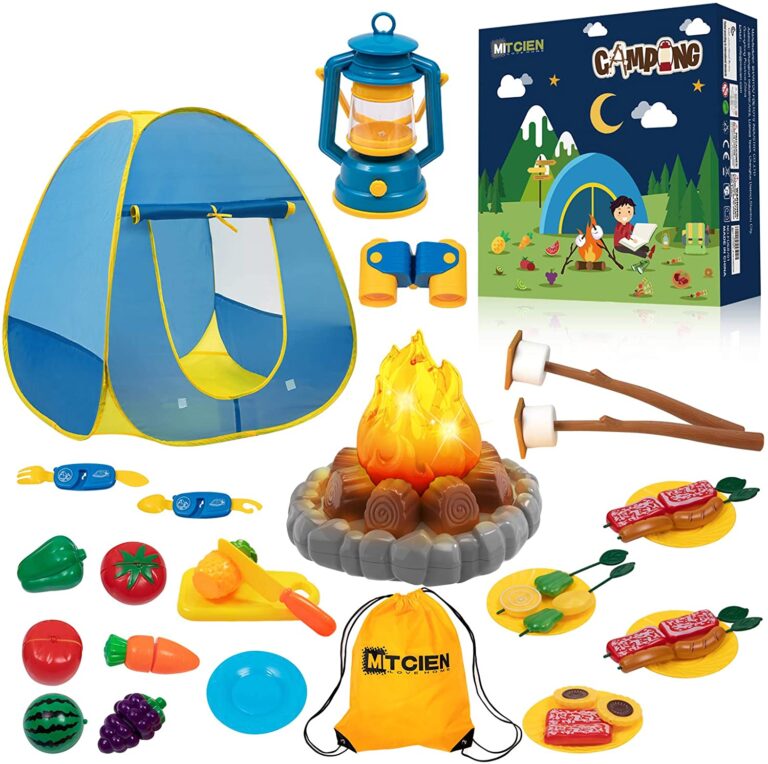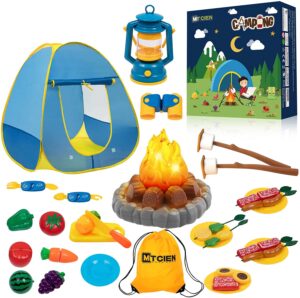 Camping in cities is not possible so to give your little one a camping experience this set will be great. It will give a realistic experience with fire sounds and marshmallows. The set includes a stick and a marshmallow and to heat your Marshmallow a fire comes with the set.
An oil lamp is also included and you can turn it on and off easily. Several vegetables and a cutting board with knives also come with the set to complete the camping experience. Above all, an amazing tent comes with the set and you can turn off the lights, make some tasty hot chocolate, and arrange the whole set in your living room or backyard. It's a great way to make your family time interesting!
Features:
Realistic camping experience.
Includes all necessary things.
Kid size tent included.
Buyer's Guide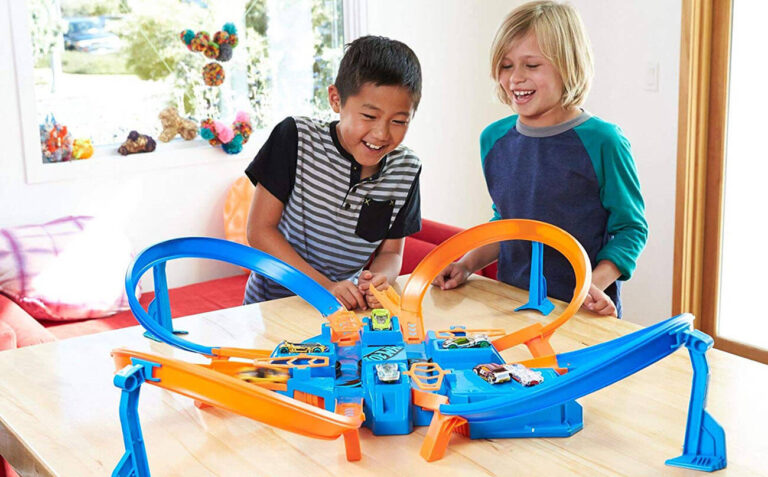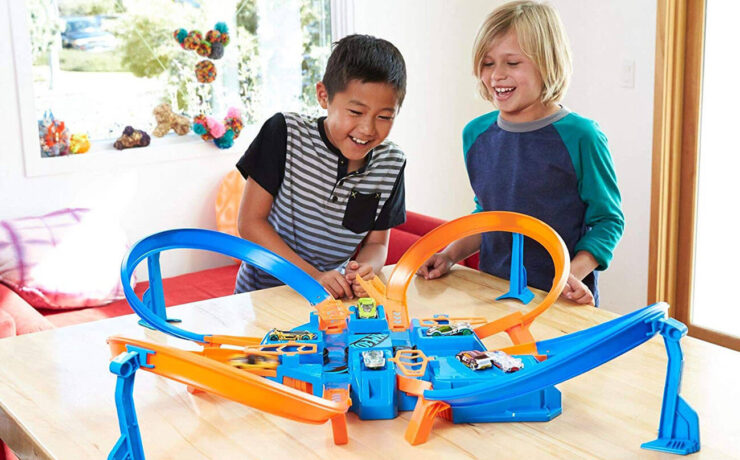 This buyer's guide has been written after detailed research and analysis. All the aspects which are mentioned in this guide are important to consider before you purchase a toy for your little guy.
Safety
Safety is the biggest aspect to consider before you buy a toy for your guy who is just four in age. The toy must be sturdy and durable because broken pieces can hurt or injure your little boy. Small pieces can also be an issue if you think your child hasn't stopped trying to swallow or eat things.
Toys should be made of good quality material which is safe for the kid and his skin. Plastic can be of bad quality which will break and can also cause skin irritation on your baby's sensitive skin. Checking for high-quality Plastic is important.
Brand
Purchasing from good and trustworthy brands will give you security about several things like the quality, warranty, durability, etc. All the toys manufactured by good quality brands have been created taking care of the safety of a child. High-quality Branded toys can be more expensive than low-quality ones because of the major difference in the use of plastic.
Warranty
Kids have fragile hands and things fall from their hands very often so you don't want your money to go to waste. Having a good warranty on the product will pay off when the toy ends up getting damaged and your guy will feel disappointed and sad. With the warranty, you can get a replacement for the product and prevent a bad mood.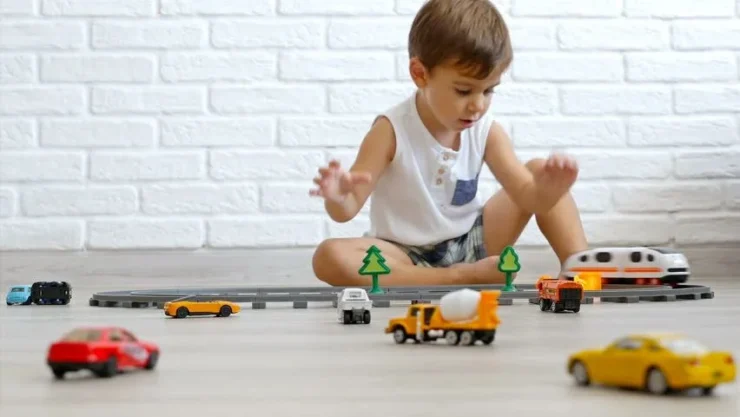 Reviews By Other Parents
Parents have to trust other parents. Reading reviews written by parents and posted online will be of great help when you buy a toy. Before purchasing anything you must go through the reviews and the ratings available online. It will help you understand the toy better and whether or not it matches the other aspects in the guide.
Educational
Now as you know your kid has started schooling, he has to learn and gain knowledge every day to stay on track with his studies. Having fun and educational toys around can be of great help in making your guy interested in studies.
Creativity
Children aged four years are inquisitive. They get different ideas, and they learn new things pretty fast. So, it would help if you gave them creative gifts to help them bring their imagination and innovative ideas to work. Having to Do It Yourself kits will do wonders to enhance their imagination and skills. Even role-playing toys can help.
FAQs
What is the best educational gift for my child who is four?
Anything related to spelling and maths will be good but make sure it also focuses on creativity and engagement otherwise your guy could end up getting bored and losing interest in studies.
Should I choose fun toys above educational toys?
No, you should not choose fun toys over educational toys. You should keep a mix between both. Toys which will teach him something and at the same time make him have fun will be good for a child who is at age four.
What to do if my kid doesn't like educational toys?
It is fine if he does not like educational toys, you can switch to toys that improve STEM skills. Science, Technology, Engineering, and Mathematical skills, such toys will also work well with enhancing your little guy's mind.
Conclusion
Creativity and curiosity are crucial, and any of the finest toys can help kids develop theirs. The top toys mentioned in this article focuses on the qualities your kid has prioritized. Using toys you can do much more than you can imagine, keeping them busy, interested in studies, motivated, and along with all that you can help to build his imagination, memory, motor skills, and so on.
If none of the above-mentioned toys bring out to you, you can go through the buyer's guide, it has all the necessary details that you need to know before you buy a toy.
Also, take a look at these gift ideas available on Amazon: