It can be quite difficult to find the perfect gift for children but finding a gift for a 1-year-old is actually easier than you would think.
Editor's Pick
Good Choice
Amazon's Choice
Don't Miss
Also Consider
Hape Elephant Wooden Push and Pull Toddler Toy ,L: 5.7, W: 2.4, H: 4.5 inch
Fisher-Price Corn Popper, classic push-along toy with colorful popping balls for infants and toddlers ages 12 months and up
iPlay, iLearn Bouncy Pals Unicorn Hopping Horse Plush, Outdoor n Indoor Ride on Animal Toys, Inflatable Hopper, Activity Riding Birthday Gift for 18 Months 2 3 4 Year Old Kid Toddler Girl W/ Pump
Kiddieland My First Minnie Ride On
VTech Pull and Sing Puppy
They probably don't care too much about the gift because it's that age when the box is more exciting than what's inside the box. But what can you get them that will excite them? Keep reading to find out!
Top Gifts For 1-Year-Old Girls
1. Hape Elephant Wooden Push And Pull Toy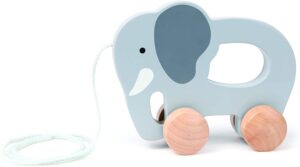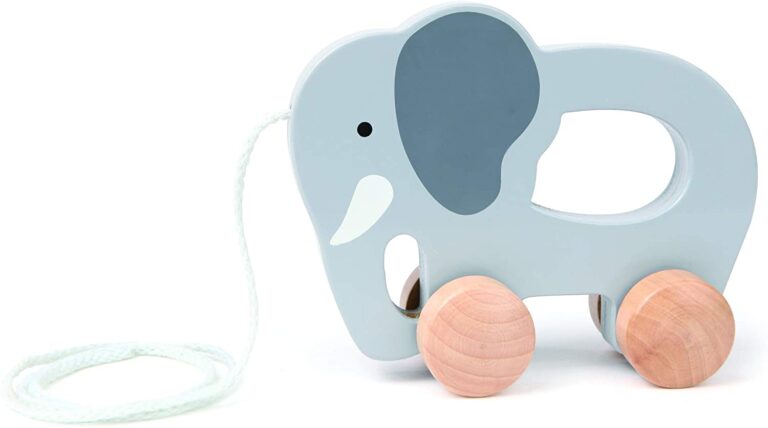 Pushing and pulling are two of a 1-year-old's favorite activities. This is a cute little long trunked friend to accompany your kid around the house. And it's fun for them to push around especially because it has wheels and moves. Not only will this toy boost your child's hand-eye coordination but it will also help with their balance and creativity. And if you're worried about them putting the toy in their mouth then you can stop worrying because all the materials used are child-safe and it has a non-toxic finish. Hape also has other animals available if you want to make a little zoo for your child!
Features:
Comes with a pull-along cord
Conveniently spaced back handle
All materials used are non-toxic and safe for children
Improves development skills
2. Fisher-Price Corn Popper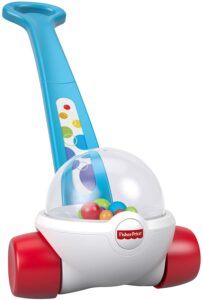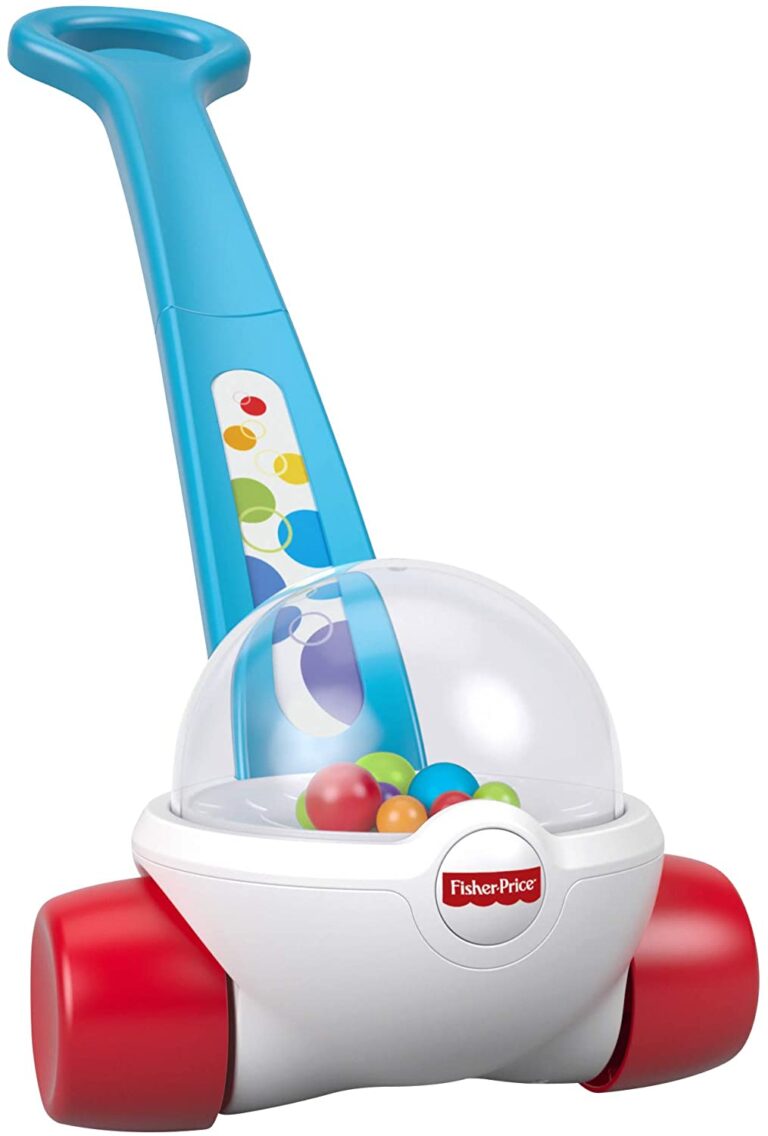 This is another toy that can be pushed and pulled around but there's a bit of a twist to the one. While it's being pushed around the colourful balls pop around inside and that is quite a thrill to children and encourages them to keep going and walk around more. The faster you push it, the faster the balls pop around.
Features:
Strengthens baby's gross motor skills
Introduces child to cause and effect
Encourages child to walk more
Helps in developing baby's auditory and visual senses
3. Fisher-Price Chatter Telephone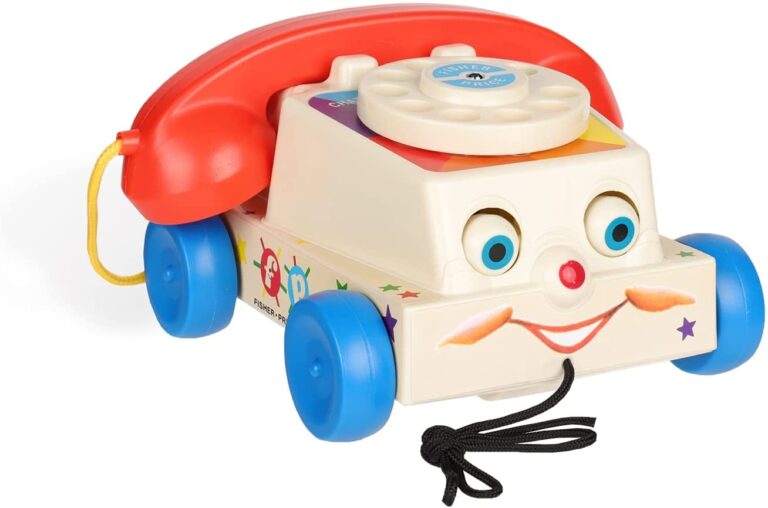 This toy has been around since the 1960s. It's got a friendly face, a spinning dial and even some fun ringing sounds. Once again, a toy that encourages your kid to walk around more as the eyes move up and down when you pull it along with the leash. It's like their very own pet! They can also sit around and play with it. The chatter phone also lets the child have fun with their imagination and can pretend like they are on the phone with a friend or a family member.
Features:
The dial introduces numbers 1-9
Teaches children responsibility and how to take care of things
Eyes roll up and down
Rotary dial rings
This toy has been a huge hit since 1961
4. Fisher-Price Classic Xylophone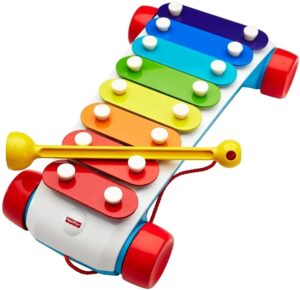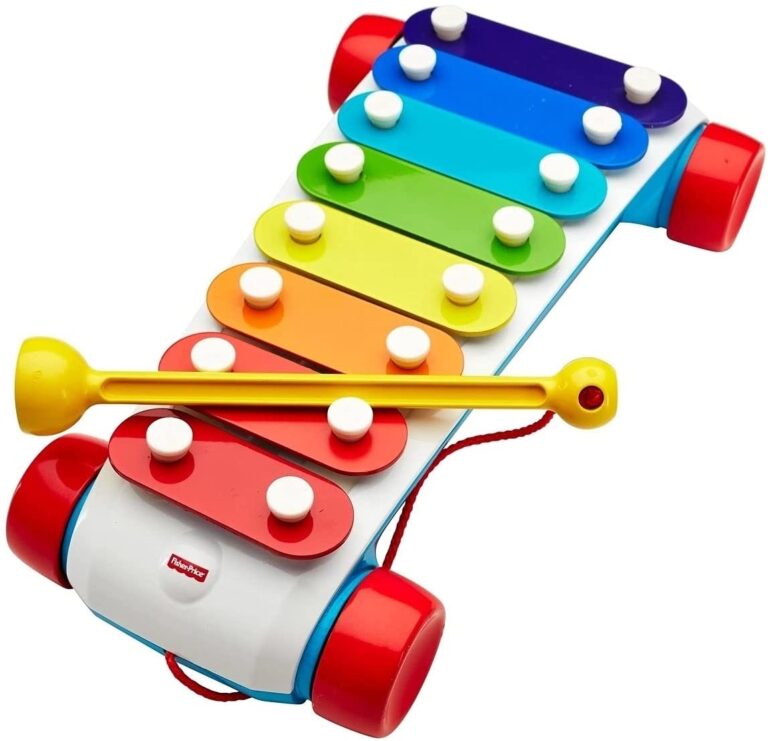 Now, this is a favourite among all babies. With its 8 colourful keys, it helps children tap into music-making at a very early age. All they have to do is tap the keys with the mallet to make their very own songs. It also helps kids accommodate fine motor skills and improve their hand-eye coordination.
Features:
Can be pushed and pulled around with the string and the wheels
Comes with a tethered mallet
Make music by tapping the 8 colorful keys
The mallet is attached to the xylophone so it doesn't get lost
5. Lodgby Magnetic Drawing Board Doodle Sketch Pad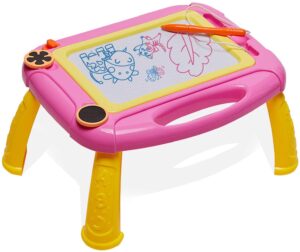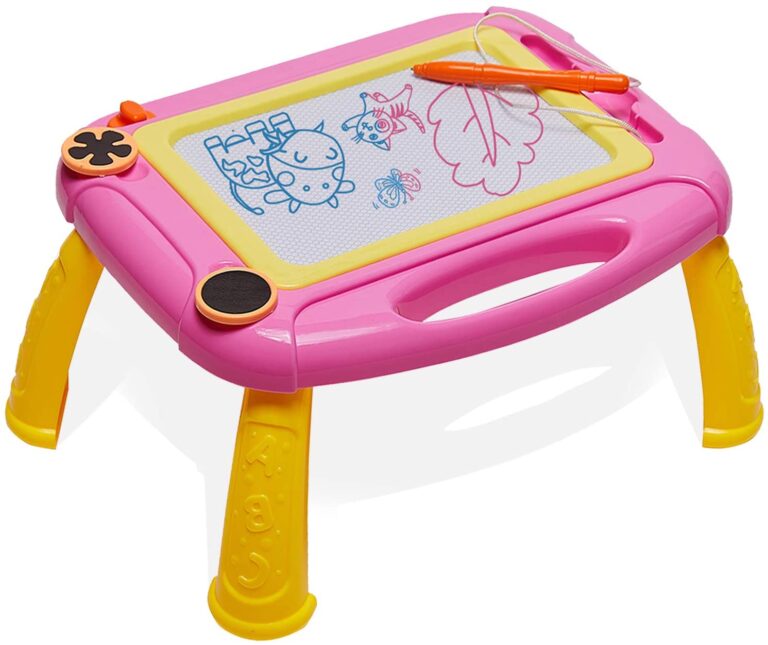 It's a cute magnetic drawing board with 4 colour zones, a magnetic pen and even some attachable/detachable legs so it can be like a drawing table too! It also comes with a few stamps that you can use on the pad to make certain shapes. It's fun and educational for your kid!
Features:
Board is made with durable plastic
Completely safe and makes no mess as it has no pigments, no dust and no ink
The doodle board displays 4 colors making the drawing more colorful and vivid
6. Piano Mat, Musical Keyboard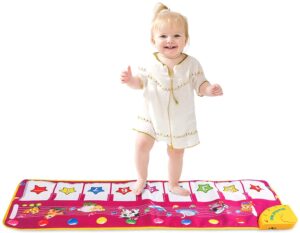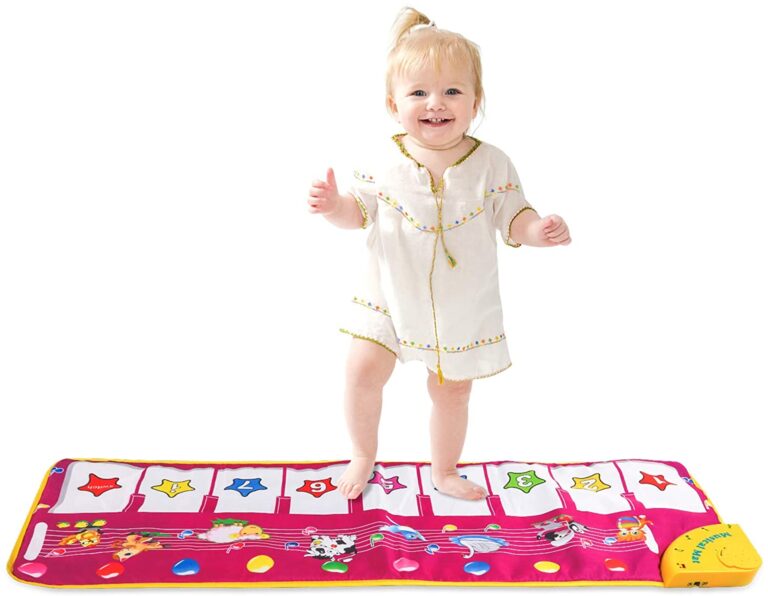 Another great musical toy for your 1-year-old! It makes the sound when lightly tapped or stepped on the keys.  It can help develop the child's logical skills by seeing the music and sounds coming out of the piano mat. The music can also help improve the child's hearing and improve sports ability as the child has to move around to make sounds.
Features:
40 inches when opened up but can be folded into a super-compact 7 inches
The mat has 8 piano keys
Each of the keys make a different animal sound
7. Bouncy Pals Unicorn Hopping Horse Plush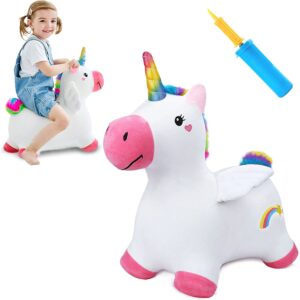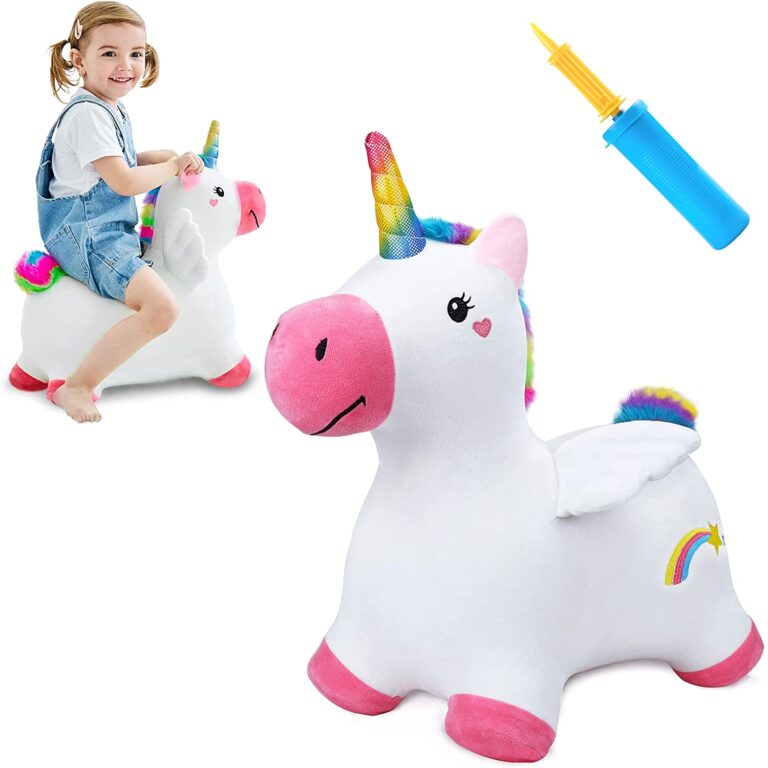 It has a unique design with astounding features. It's a great companion for your child that they can play with anytime and anywhere. It's great for indoors, outdoors, parties, and even classrooms. Your kids will just fall in love with this toy. Just jump on, grab the unicorn's long ears and have fun!
Features:
Made with beautiful eye-catching features
Has four study legs
Stimulates child's desire to ride a real horse
Can be easily inflated
8. Kiddieland My First Minnie Ride On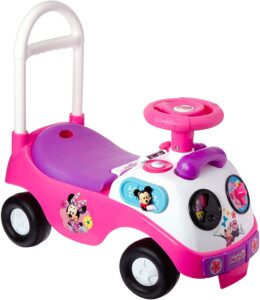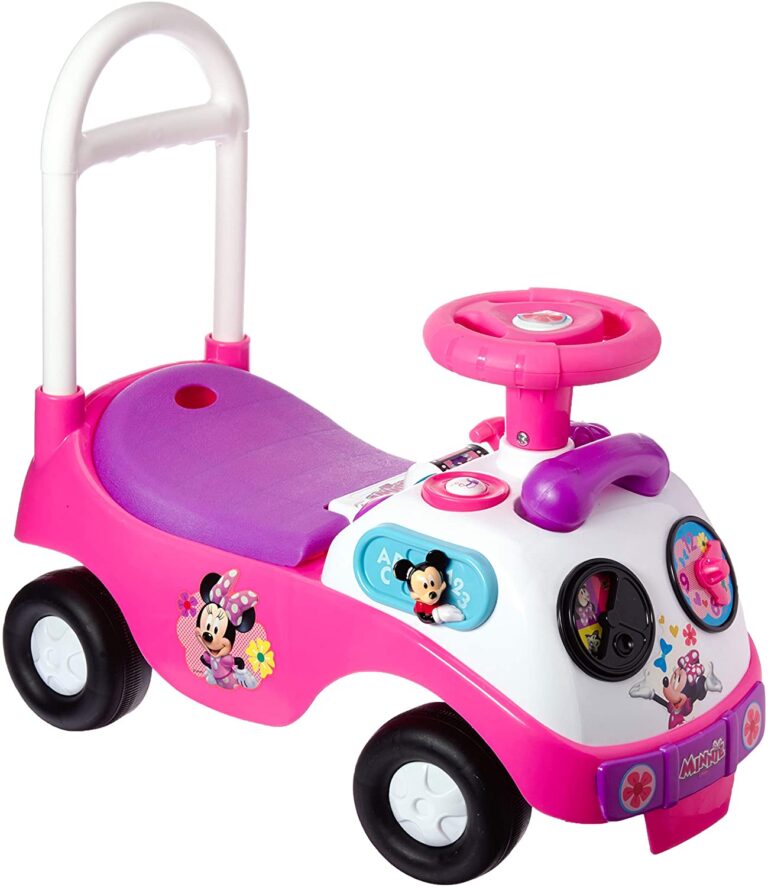 Hear Minnie Mouse play her favourite music while you ride along with Mickey on the side. You can steer the wheel and honk the horn to have real driving pleasure. Kids will love scooting along on the Ride On toy. It's also super lightweight at just 5 pounds and your kid will have a blast riding around the house on the Ride On.
Features:
Slide Mickey on the side and turn dial for sounds
Flashing signal lights
Beeping horn
Revving engine sounds
Moveable steering wheel
Ignition key and gear shift
Clock face
Peek a boo window
9. Busy Learners Activity Cube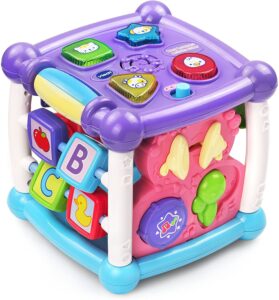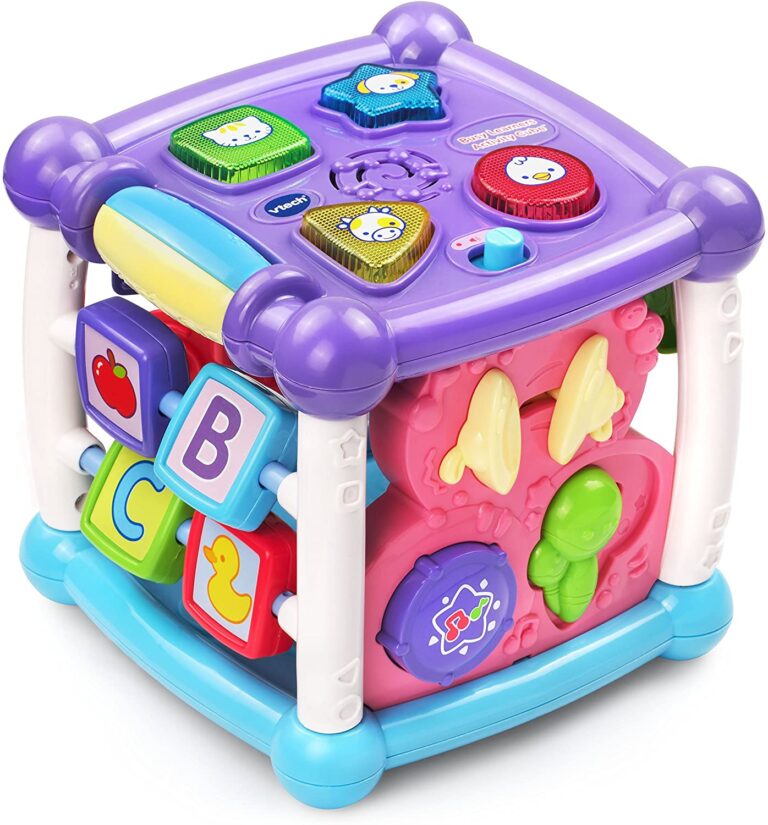 Complete with 14 interactive features, this toy cube has 5 sides of play that encourage discovery and observation. Helps babies to sit up and play as well as develops fine-motor skills at an early age.
The built-in motion sensor turns on fun sounds when the cube is moved. The sound attracts attention and motivates babies to crawl towards the cube.
Features:
4 light up buttons
Introduces child to animal names, animal sounds, and shapes
Helps in language development
Can play 25 different songs and melodies
Parent friendly with auto shut off and volume control
10. Mellisa And Doug Mine Love Doll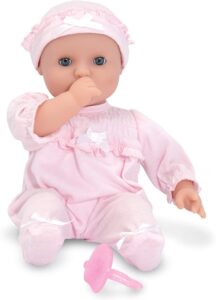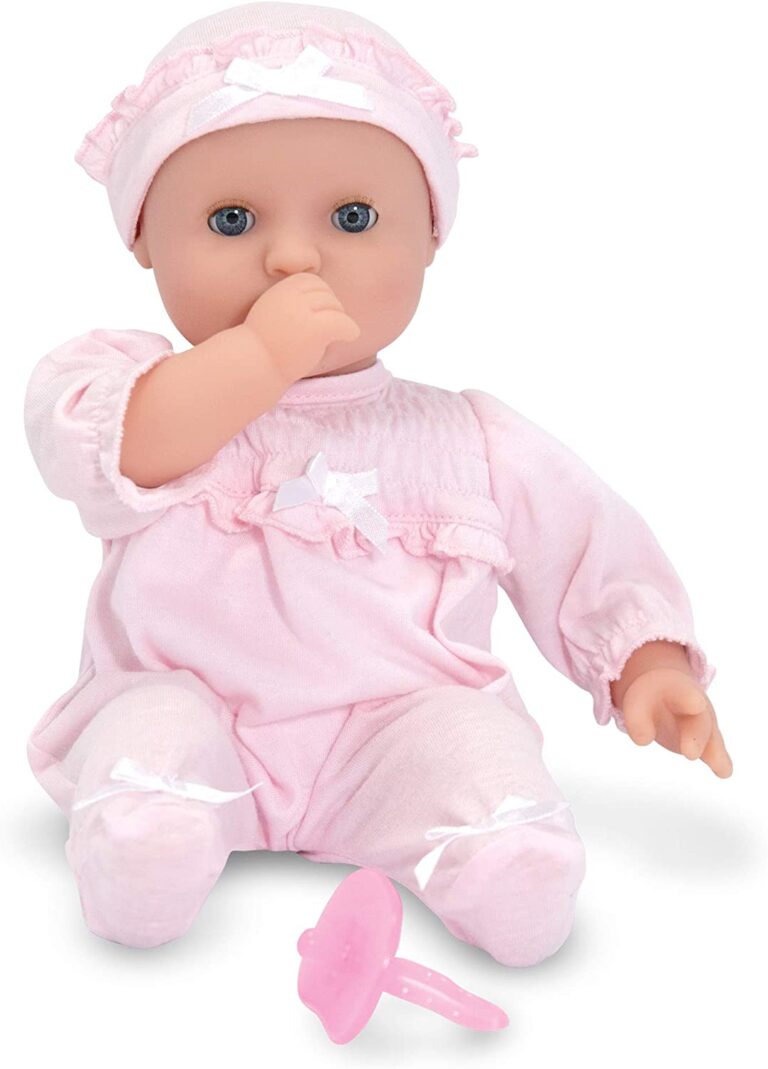 It comes with a pink smock outfit and a matching hat. Experts say that the best toys for children are those that motivate interaction and this doll not only does that but it also helps children learn how to care for things and teaches them responsibility and allows the kid to use their imagination and pretend like they are a grown-up.
Features:
Comes with a pink smock outfit and a matching hat
Perfect size for a 1-year-old at 12 inches
Blue eyes that close when laid down to sleep
Can suckher thumb or pacifier
11. Sassy Stacks Of Circles Stacking Rings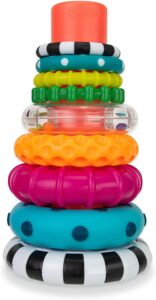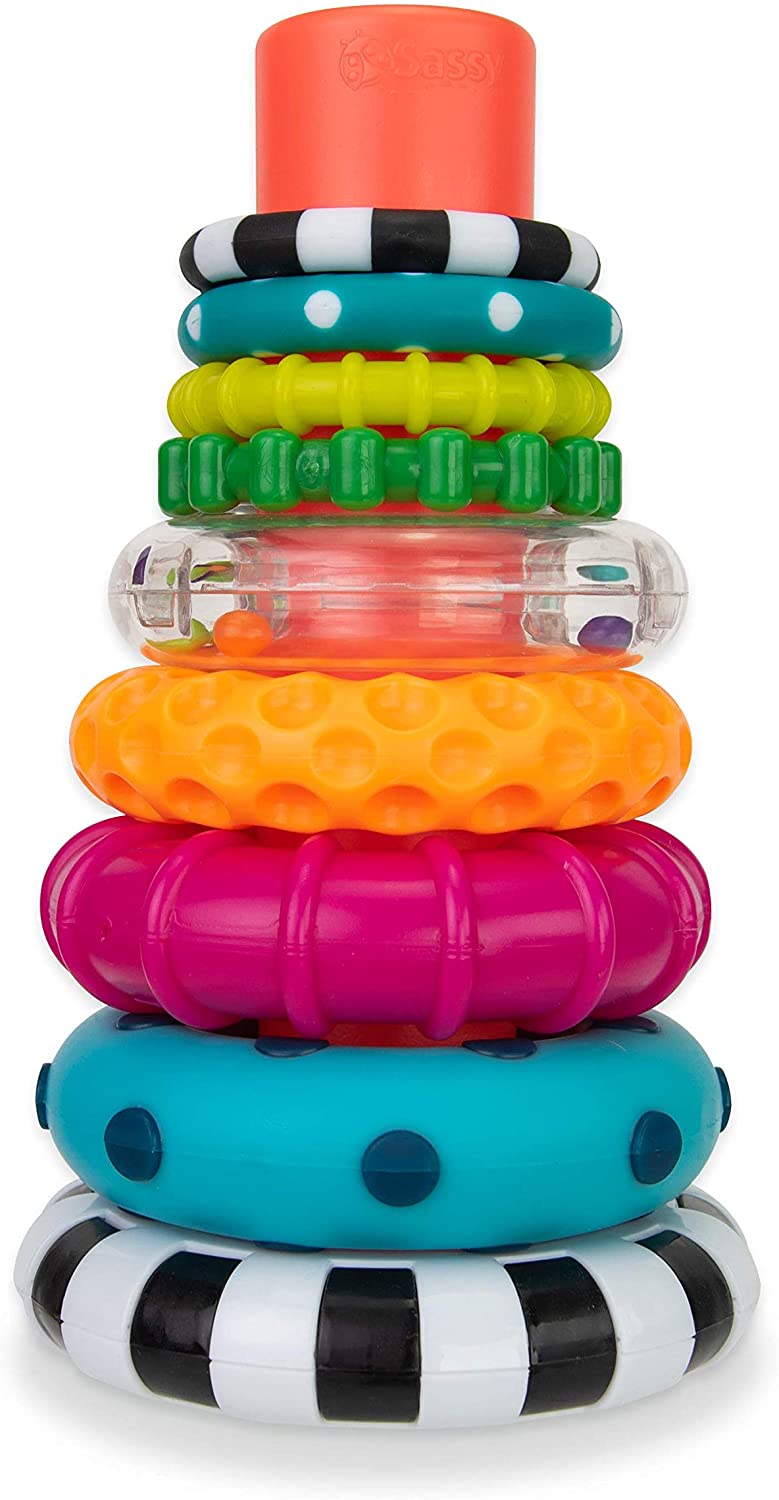 It assists children in understanding, big & small, sorting, arrangement and building. And the center of all the circles is the same size allowing the child to build in any regulation. It also prompts STEM learning at a very young age which will help them a great deal in the future. It also strengthens hand-eye coordination. On top of all this, it satisfies curiosity and the tangible experience.
Features:
The bully rings make it easy for eh children to hold on to them
Each ring is numbered to help in counting to 8
The Center of all circles is the same size
12. Vtech Pull And Sing Puppy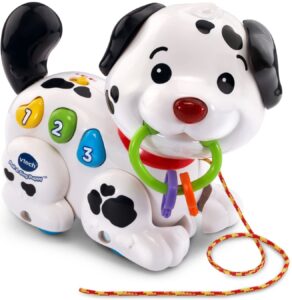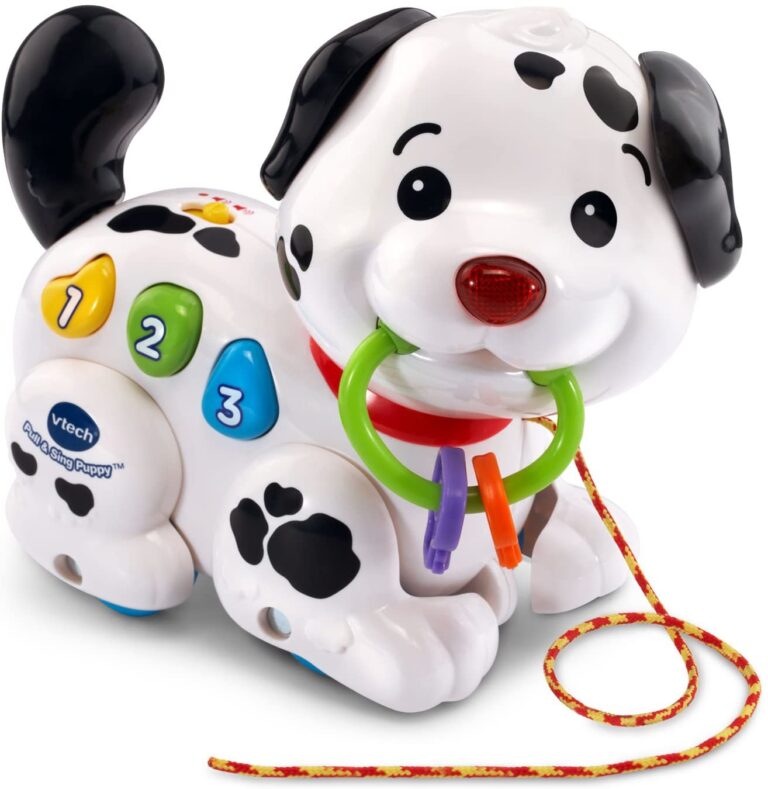 This is once again a toy that the child can push and pull around with them. When you push and pull around the jesting puppy, it initiates music and increases the child's fine motor skills alongside that. This is another toy that helps the child learn how to take care of things and at the same time is fun to play with.
Features:
Plays music when the puppy is pushed and pulled along
Nose lights up and flashes along with music
Press the number buttons to learn numbers, colors and objects as well as hear a song or a question
13. Warmies Microwavable Scented Plush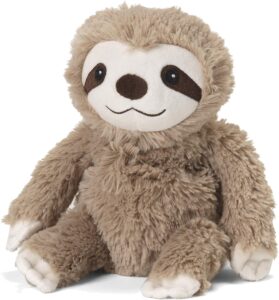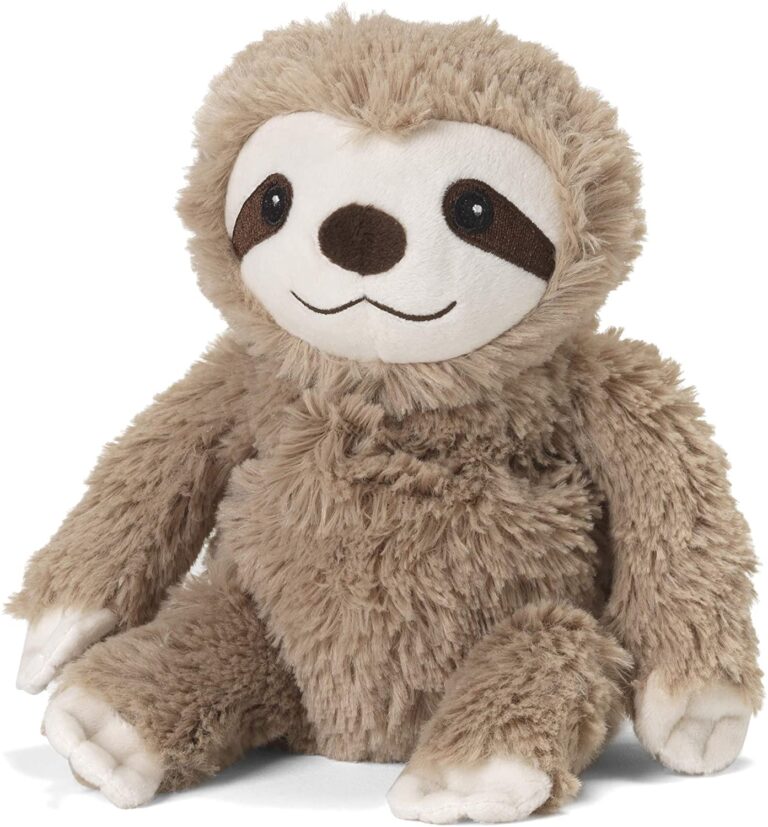 It's a soft plush toy that your child can cuddle with and it can even be microwaved to make it nice and warm for your child. Any 1 year old would love to have a warm plushy to hug! This little furry guy is a great friend and a bedtime buddy and a comforting companion. And if you want it to be cold then you can put it in a bag and store it in the freezer and use it as a cold pack for your child.
Features:
Made with materials that meet all safety standards for all ages
Filled with French lavender
Manufactured with high quality, soft, and durable materials.
Super lightweight
14. Wood City Rainbow Stacking Toys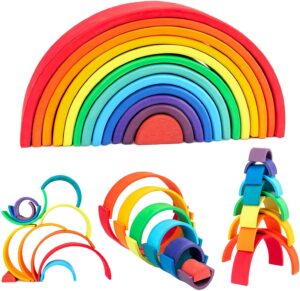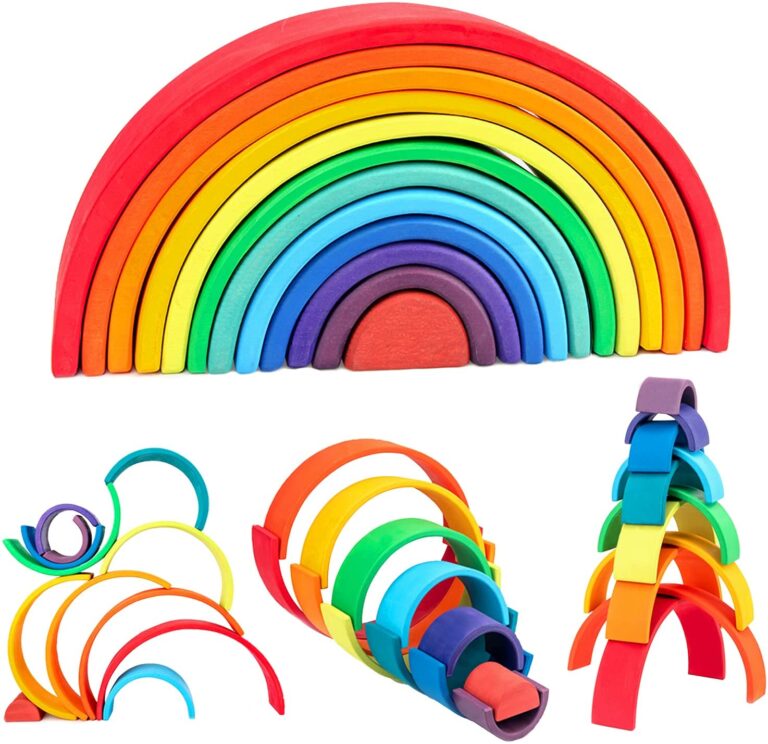 This rainbow toy is interactive, colourful and helps with head-hand-eye coordination. Skyrockets a child's creativity and problem-solving skills as well as provides lots of focus and fun! It also looks great in your child's room or classroom. These arched stacking blocks are based on the Waldorf concept. The Waldorf concept is a concept that says that the learning process is primarily based on engaging the head, heart and hands or you can say, thinking, feeling and doing. This amazing toy does all three of these things making it both educational and fun for your child!
Features:
Made with 100% natural pine wood
Sturdy and stackable
Completely splinter-free
15. Hape Pound and Tap Bench With Slide Out Xylophone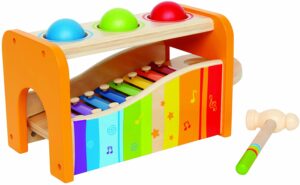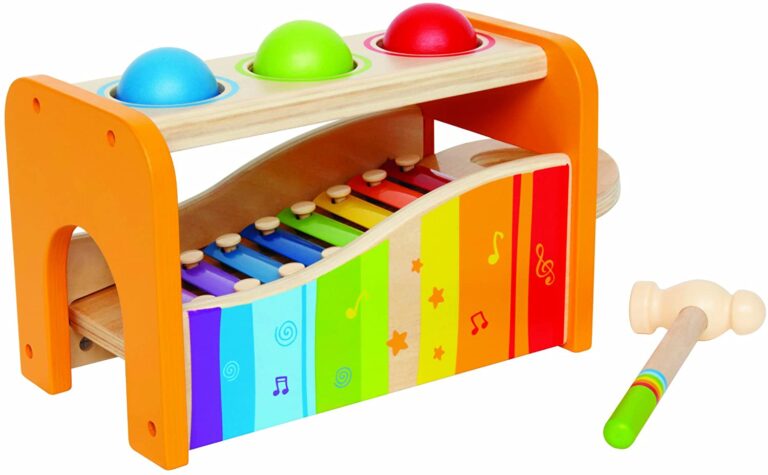 This musical instrument can be played in a number of ways. They can use the mallet given with the toy to strike the balls on top or you can use the slide-out xylophone It develops fine motor skills and encourages musical development, audio identification and play.
It also helps children learn colours as the balls on top and the slide-out xylophone are made of multiple colours. This is one of the best toys out there for your 1-year-old. It even won the Crisbie award for the favourite first musical toy in 2018!
Features:
Comes with a mallet
Can make music with the balls on top or the slide-out xylophone or both!
Made with non toxic paints to make it safe for children
Buyer's Guide To Buying Toys And Gifts For 1-Year-Old Girls 2021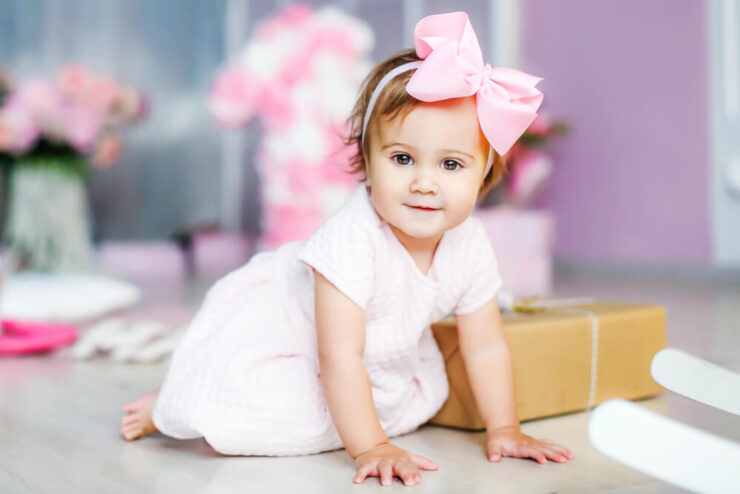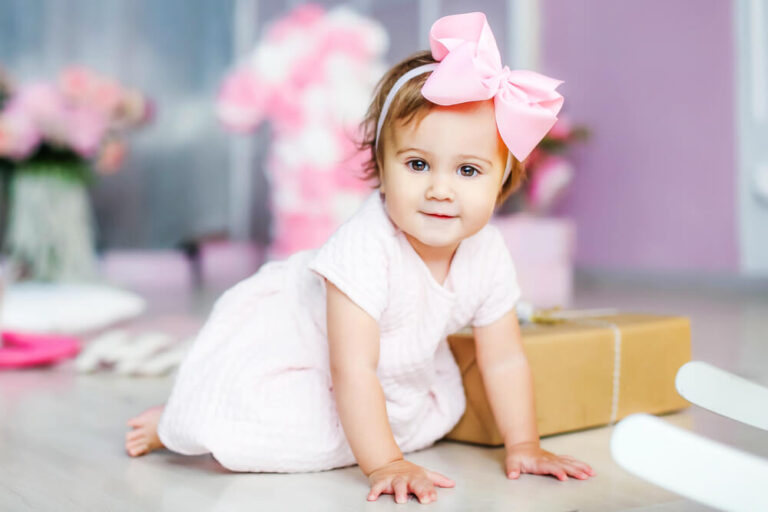 Make sure that any products you buy for your child are made with non-toxic materials and if it helps them learn something like hand-eye coordination, problem-solving, or cause and effect then that is just a great ad-on!
Usage Time
Children have quite low attention spans so make sure you get something that your child will use for a while rather than just something that they will mess around with for a few days and completely forget that they have the toy. Toys that have a lot of customization options help with this a lot. Fortunately, most of the items in this list fall under this category.
Educational Aspect
It's not always necessary but it really is great when the toy is also educational along with fun to play with. Toys that improve the child's STEM skills and develop things like hand-eye coordination, drawing, painting, problem solving, etc.
Read Reviews
Before buying any product online, read the reviews. See what people who have already bought the product thing about the product. Reviews can help you find out if your child will like the toy, whether it's durable or not, and even if the product comes in a good packaging.
Stick With Good Brands
Try your best to buy products from good, reliable brands. Sometimes you may have to pay a little extra to get the better brand but it is definitely worth it. Buy from brands that you know and trust so you don't have to worry about the durability and the material, etc. about the product.
Conclusion
At the end of the day, any of the products will give your 1-year-old a lot of fun! Some more than others but all are enjoyable for sure and educational as well! Your child will absolutely love and adore any toy that you get them. Especially if it's from this list!
FAQs
How do I know whether the product is made with good materials or not?
Check the product description. The materials are usually mentioned there. If not, it's safer to just find a different product.
What if my child does not like the toy or gift?
If your child doesn't like the toy then you can always return it and get them something else. You can get the different types of toys and see what kind of things they like.
What type of toys will keep my child occupied?
Toys that have a lot of options to play with and multiple customization options as well as toys that let them do things they enjoy.
Check out some other picks:
Baby Balance Bike - Baby Bicycle for 6-24 Months, Sturdy Balance Bike for 1 Year Old, Perfect as First Bike or Birthday Gift, Safe Riding Toys for 1 Year Old Boy Girl Ideal Baby Bike (Pink)
PREMIUM QUALITY FROM TOP TO BOTTOM + FULLY CERTIFIED for SAFETY – The infant bike is THE BEST baby riding toys for 1 year old that creates a smooth, easy ride for young toddlers. With a WINNING combination of a STURDY lightweight frame and a IDEAL HEIGHT designed seat, the baby balance bike walking toys for 1 year olds gives a natural upright position by centering the baby weight over their hips.
PERFECT DESIGNED for 6 TO 36 MONTHS TODDLERS to build CONFIDENCE, INDEPENDENCE and COORDINATION. The push bike for 1 year old is designed as a PRE BALANCE BIKE for on-the-go toddlers who are too small to a ride a proper balance bike. The 1st birthday boy girl gift creates an easy SMOOTH RIDE for young toddlers and makes this your top picks for the best ride on toys for 1 year old
EASY TO ASSEMBLE - NO TOOLS required - The baby bike has a MODULAR DESIGN and comes 95% already assembled which makes it easy to throw in the trunk of a car for use at the PARK, mall or wherever your toddler would rather ride than walk. It is suitable for 1 year old boy gifts as well as 1 year old girl gifts. The four widen and durable wheels are strong enough for both INDOOR or OUTDOOR play
STURDY CONSTRUCTION + EASY TO RIDE - The Baby Balance bikes are ideal as 1ST BIRTHDAY boy gifts. The LIGHTWEIGHT DESIGN is perfect for ALL DAY USAGE that develops key cycling skills, active healthy routines and independence. The extra SAFE EVA foam handle bar grip KEEPS the TODDLER IN UPRIGHT POSITION and trains them to keep balance using their feet. Limited Handlebar turn to avoid side falling
SHOP with confidence: 2 YEARS WARRANTY & RISK FREE PURCHASE for your Baby Balance Bike. As your first bike balance bike if for any reason you are not satisfied with your purchase or something happens with your product, WE WILL CHANGE IT immediately with No Problems
Sale
Fisher-Price Laugh & Learn My Smart Purse
Interactive toy purse with 5 play accessories: rattle phone, compact mirror, credit card, clacker keys & bead bracelet
Activities like sliding the zipper, opening the handle & pressing the light-up heart activate fun songs, sounds & phrases
50+ songs, sounds & phrases introduce counting, colors, opposites, greetings, Spanish words, and more
Learning content changes with baby's age and stage with Smart Stages technology
For babies ages 6-36 months
Tikolus Pop Up Princess Tent, Toddler Girl Toys Baby Ball Pit with Colorful Star Lights, Foldable Kid Play Tent with Carrying Bag, Indoor Outdoor 1 2 3 Year Old Girls Gift (Balls Not Included)
🌈[Comfortable and Safy Design]: Tikolus is a professional toy company with 16 years of history. This toddler toy 1 2 3-year-old girl kid play tent featuring colorful LED star lights, mesh windows, a removable sunroof, and a door with a roller curtain, it comes with anti-scratch-designed velcro is very safe for kids to use. Our baby girl toys meet all USA Toy Safety Guidelines. Note: balls not included in the toddler ball pit! We recommend 100 or more ball pit balls.
🌈[Indoor & Outdoor Toddler Girls Toys]: The princess toys for 1, 2, 3-year-old girls are the best gift for girls, also great for dogs, cats as well! The kid ball pit play tent unfolds size is 49.3 x 49.3 x 36.3 inches, fold-up size is 20 x 13.4 x 1.2 inches. This toy for girls uses the set at parties, picnics, parks, daycare, school, carnivals, sleepovers, or simply keeps the dream tent at home! Note: children aged 0-3 years old should play under their parent's accompany.
🌈[1 Second Pop Up or Fold Up]: This Toddler baby girl toy can pop up in one second. No need to struggle with complicated assemble, as you open the box you can get a beautiful kids' tent immediately. The princess toy can twist storing for flat-folding, it comes with a lightweight zipper carrying bag convenient for storage. The girl gift is portable, durable, foldable, and easy to set up. Note: please keep a safe distance when opening the pop-up play tent to avoid bring pain to your children.
🌈[Durable and Easy To Clean]: Our princess tent for girls is made of soft thick fabric (polyester) that easily wipes clean for a long life of entertainment. Thickened fabric is much better in crease-resist and not easy to fade. Toughened steel wires are completely enclosed in fabric with solid stitching, much more tight and tough. This toddler toy kids' ball pit can help develop kid's hands-on ability, intellectual development, visual sensitivity, and more.
🌈[No-Risk Purchase]: We ensure for this 1 2 3-year-old toy for toddlers' play tent provides a 90-day money-back, we also offer you a complete 18 monthly replacement! Any unsatisfied with your purchase please be free to let us know! We will provide a helpful solution in 24 hours!
oathx Baby Girl Gifts /Toddler Musical Instruments Ages 1-3 /Baby Music Toys 6-12-9-18 Months Infant /1st Birthday Girl Gifts for 1 2 Year Old/Kids Preschool Educational Learning Toys Drum, Xylophone
🎵Oathx baby musical toys are great for babies, toddlers and young children. The baby musical instruments are great fobaby girl gifts, as well as older children aged 1-3. These baby instrument toys can inspire creativity for 1- year-olds, whether a one year old girl or boy. It's never too early to inspire a love of music and children's musical instruments are sure to be enjoyed by any children that have them.
🎵Oathx musical toys for babies 6-12 months are perfect to get your little ones moving, grooving and enhances creativity . These musical instruments for toddlers 1-3 also help build up motor skill development, hand-eye coordination and creative expression for your young child. These small and cute baby instruments are helpful to develop your children's musical talent.
🎵All oathx baby instrument parts are made of the highest quality-durable wood, non-toxic plastic material, fine workmanship ensures smooth surface, nice polish and compact size.They are safe and reliable music toys for 1 year olds , children as young 6 months old can enjoy our toddler instrument set.
🎵Oathx toddler instrument sets are educational toys that encourage group play! The set includes xylophone for toddlers, drum set for kids, learning toy for babies. Playgroups will enjoy this toddler instrument set, with 16 pieces to choose from, everyone will be able to play. Oathx children's instrument set is an ideal birthday present or Christmas gift.
🎵Oathx baby musical toys offer vibrate primary colors. Our colors, tones and pictures are designed to attract the attention of young children. Our toddler musical instruments allow for hours of play while developing your child's motor skills.
Sale
Crayline Pop Up Princess Tent with Star Light, Toys for 1 Year Old Girl Birthday Gift, Ball Pit for Toddlers Girls Toys, Easy to Pop Up and Assemble
1.SPECIAL GIFTS FOR GIRL: A wonderful toy for baby girl, she will definitely enjoy the time playing with her toys and friends in her tent. This pink princess tent can help make every little girl's princess dream come true.
2.POP UP IN 1 SECOND: Fully automatic pop-up tent in one second with no assembly required, saving a lot of time and effort to build and store.
3.STAR LIGHTS INCLUDED: A string star light is included to make the tent more lovely and shining during night. A great decoration gift for birthday, Xmas day and ect.
4.SAFE AND DURABLE MATERIALS: Designed with top-quality Polyester material, thickened fabric to highlight waterproof performance and wrinkle resistance, breathable mesh style on the side.
5.LARGE SIZE: This tent measures 49" L x 49" W x 36" H, 49" width in bottom & 29" on top. It offers enough space to accommodate toy supplies or serves as a ball pit for girls.
Amy&Benton Toddler Piano Toy Keyboard Pink for Girls Birthday Gift 1 2 3 4 Years Old Kids 24 Keys Multifunctional Toy Piano
【Lovely & Elegant】: Great gift for kids birthday; perfect for family time & party. Mini Size: 10.8*10.8*8.85 in, weight:28.85 ounces;
【Educational】: Develop kids' musical talent at an early age, especially suit for babies and toddlers. The first step to become a music star.
【Multifunctional】: 24 keys, 8 percussion instruments, 4 musical instruments, 22demo songs, different volume and rhythms, "play & record", Karaoke, LED, external MP3 and mobile phone, equipped with microphone.
【Developmental】: Enhance hearing ability, exercises hands-eyes coordination, boost brain memory development.
【Note】: Powered by 4 AA batteries of 1.5 V (not included); 3 legs are folded together. If microphone doesn't work due to the shipping, please directly contact seller for a replacement .
LeapFrog Scout and Violet 100 Words Book (Amazon Exclusive), Purple
Meet Scout and violet who will introduce more than 100 age-appropriate words chosen by learning experts
Word categories include: pets, animals, food, mealtime, colors, activities, opposites, outside and more
Touching the words on the pages plays the words, sound effects and fun facts; hear the Learning Friends theme song and My Favorite Word by pressing the light-up star button
Words, songs and instructions can be heard in both English and Spanish for a full bilingual experience
Intended for ages 18+ months; requires 2 AA batteries; batteries included for demo purposes only; new batteries recommended for regular use. Product dimensions: 9.4" Wide x 9.4" Height x 1.9" Depth
Sale
LeapFrog Shapes & Sharing Picnic Basket, Pink
Features 15 brightly colored play pieces including plates, forks, cups, food and a tablecloth, perfect for a pretend picnic for two
Match the shape of the food pieces with the interactive shape sorter to hear the basket recognize the food and say the shape and color of each one
Press the butterfly button to hear music or polite snack requests from the picnic basket. Feed the basket The correct food for rewarding responses
Choose from three play modes including music, shapes & colors and picnic Time modes for a wide range of exciting and interactive activities
Picnic basket lights up and all the play pieces fit inside for easy storage. Picnic basket requires 3 AA batteries (batteries included for demo purposes only, new batteries recommended for regular use); intended for ages 6 months to 4 years
VTech Musical Rhymes Book, Pink
Interactive kids book has big easy-to-turn pages; nursery rhyme book comes with 6 classic nursery rhymes
Early education learning center build fine motor skills by sliding and twisting the fun play pieces; Pre-K reading book has 40+ songs, melodies, sounds and phrases
Talking book features 5 colorful piano buttons that make sounds and introduce colors and instruments; 2 modes of play: music mode and learning mode
Interactive toddler book is visually stimulating with bright pages and a light-up Star that flashes with the sound; early learning toy is great for babies and toddlers
Baby book is intended for kids 6 months to 3 years of age; 2 AAA batteries included for demo, use new batteries for regular use
VTech Care for Me Learning Carrier, Pink
VTech care for me learning carrier, includes an adorable plush puppy for role-play fun; interactive pet carrier that lets little ones take their plush pet anywhere
Open and close the door to hear playful phrases and learn opposites; light-up buttons introduce colors, shapes, pet care and more
Sliding the letter beads introduce letters and play music; Features 100+ songs, melodies, sounds and phrases
Pet care accessories include a bowl, ball, comb and bottle to encourage role play; carrier features handle for on-the-go-fun
Requires 2 AAA batteries (batteries included for demo purposes only; new batteries recommended for regular use); intended for ages 9 months to 3 years
Learning Resources Spike The Fine Motor Hedgehog, Fine Motor and Sensory Toy, Educational Toys for Toddlers, Ages 18 months+
FINE MOTOR GAMES FOR KIDS: Build fine motor skills with chunky, peg-shaped pieces that fit to the back of this friendly hedgehog. Also use Spike as for occupational therapy exercises
DEVELOP: Colorful quills help kids build color recognition, sorting, and counting skills through fine motor skill games. Spike is also a great toy for visually impaired children!
TODDLER TOYS: Now fine motor intrinsic toys come with easy to grasp pieces that are just the right size for little toddler and preschool hands to hold. Fine motor set includes 2-piece hedgehog about 6" in diameter, 12 quills, and activity guide
EASY STORAGE: When playtime over the quills easily fit in the Hedgehog
GIVE THE GIFT OF LEARNING: Whether you're shopping for holidays, birthdays, or just because, toys from Learning Resources help you discover new learning fun every time you give a gift! Ideal gift for Halloween, Christmas, Stocking Stuffers, Easter or even for Homeschool.