Finding a great baby wipe that is not only tough enough to pick up even the biggest messes but also is soft enough for sensitive skin is a challenge. This can be even more challenging if you are on the hunt for amazing babies wipes that are also free of harmful chemicals.
If you are one of these lost parents, have no fear! There have been dozens of new all natural baby wipes that have hit the baby market hard. These specially designed wipes will do the job of your ordinary wipe without any unneeded additives.
Why make the switch?
There are many different reasons why you should consider making the switch to some of the best all natural baby wipes.  Here are the advantages that you can find with this simple change:
Better for baby
All natural baby wipes are usually processed without any extra additives or chemicals.  You may actually be surprised to learn about how many additives are found in them. By eliminating these sometimes harmful ingredients, you are giving your little one's skin the best shot possible. This is especially great news for children who are predisposed to common skin irritations.
Better for the planet
There have been more and more reports coming out about the effect that certain chemicals have on our planet.  This is especially true in landfills and garbage dumps where these chemicals are sinking into the ground and potentially contaminating water. Because all natural wipes are free of these chemicals you are doing one small part to keep pollution down. Some natural wipes are even made out of biodegradable materials so that the wipes can naturally break down over time instead of just adding to the trash build up.
Better diaper changing experience
If you notice that your child gets fussy during a diaper change, it could be one of two common problems. One of them being that their sensitive skin is not reacting to common found additives like bleach and perfumes. Not only can perfumes dry out their skin but the smell can sometimes be overwhelm for a little one's senses. Another reason for a fussy changing time can be due to the texture of the wipe itself. Both of these common problems can easily be remedied by using an all natural baby wipe. Natural wipes are sometimes made out of softer materials like organic cotton which will feel soft and gentle against your child's sensitive skin.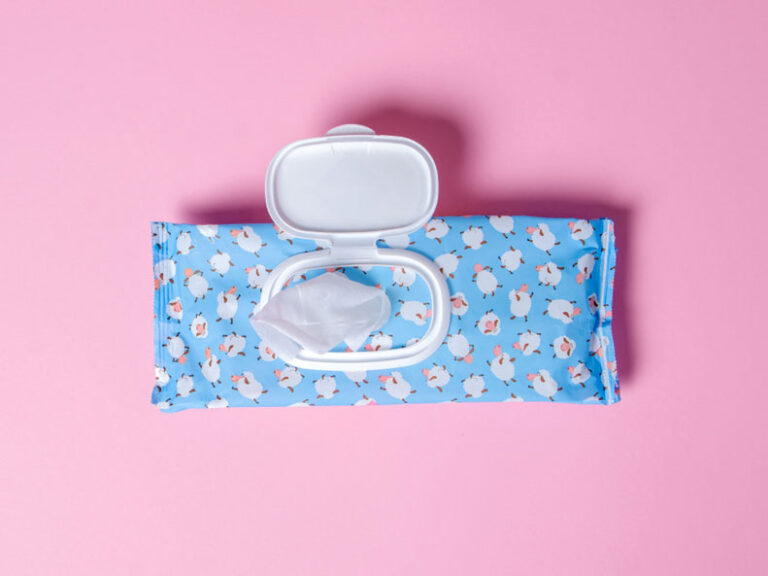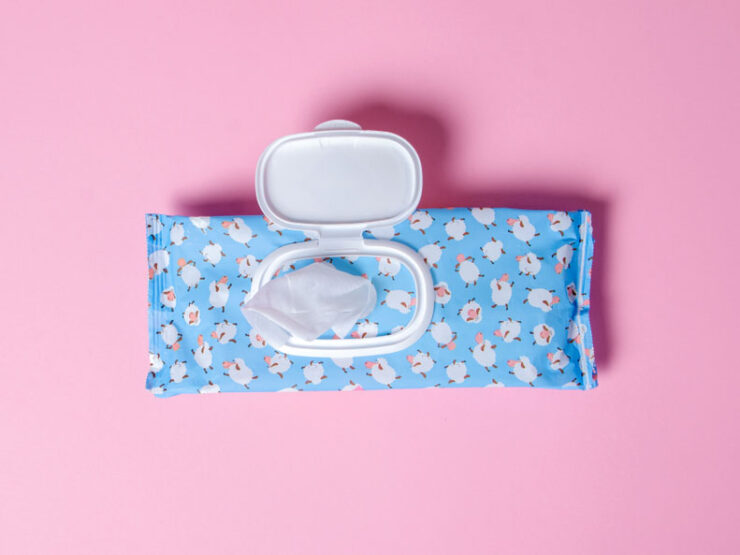 How do you Know if the Wipe is Natural?
If you are not sure where to start when it comes to purchasing one of the best natural baby wipes, check the label!  It should tell you directly whether or not they comprised of all natural ingredients.  If you still want to be sure for that extra little bit of peace of mind, here is a list of some additives that you should try to avoid:
Bleach
Perfumes
Dyes
Formaldehyde
Dioxane
Methenamine
Parabens
These are just a few additives you should consider avoiding in order to do your part for not only your child's health and skin but also the environment.  Now that you know what to avoid and what to look for, it is time to start shopping.  Here are some great all natural baby wipes that you should consider adding to your child's diaper changing routine.
List of 7 Best Natural Baby Wipes Reviews
1. Seventh Generation Thick & Strong Free and Clear Baby Wipes
Ingredients:
Aloe
Water
Citrus
Plant based cleaning agent
Plant derived skin softener
Soft wipe material
The Seventh Generation brand has consistently been turning out amazing skin saving all natural baby products for years. So there is no surprise that the Seventh Generation Thick & Strong Free and Clean Baby Wipes are making a top standing on this list. When it comes to ingredients, it isn't only what is taken away, but what is added in their place. Instead of packing their wipes with alcohol to disinfect and clean your child's skin, Seventh Generation has chosen to use a plant based skin cleaner.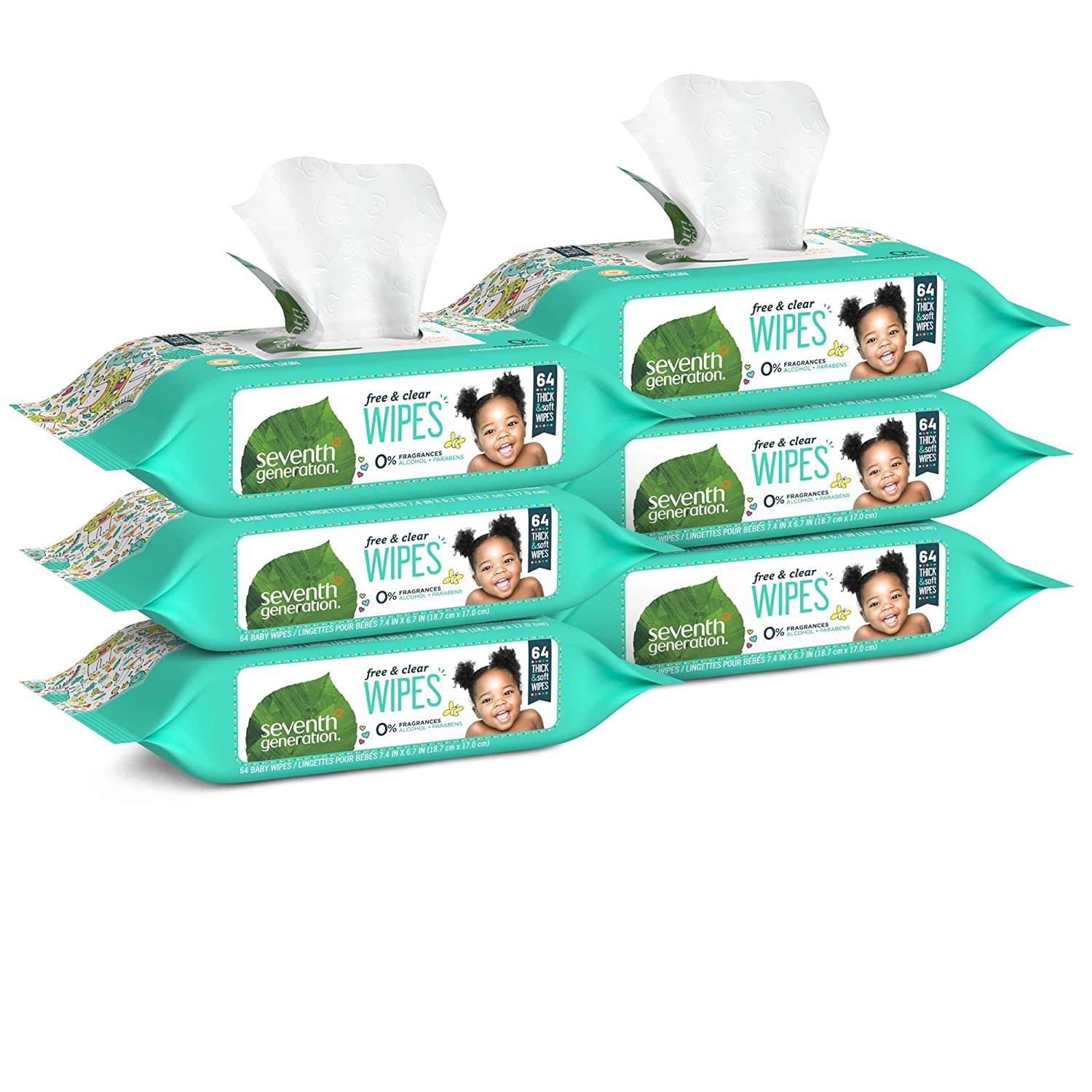 This is great news because alcohol is often times the number one culprit when it comes to common skin problems like dry skin and diaper rash. This is because; while alcohol does clean the skin it also does a good job of drying the skin out all together. With skin saving additives like aloe, you can be sure that your child's skin is soft and happy all day long.
Don't take their word for it either!  Here is a couple of things that other parents had to say about the Seventh Generation Thick & Strong Free and Clear Baby Wipes:
Thick but soft wipe texture
Doesn't have an unpleasant smell
Perfect for everyday messes
Great on the go
Re-sealable package is a must have
Very pure and toxic free
Affordable price
Love the bulk purchasing options
2. Babyganics Face, Hand & Baby Wipes, Fragrance Free
Ingredients:
Tomato seed oil
Sunflower oil
Cranberry seed oil
Black cumin
Red raspberry seed oil
Chamomile
While many all natural wipes don't claim to be organic, that is not the case for the Babyganics Face, Hand & Baby Wipes. These fragrance free baby wipes use the power of plants to deliver a soft and perfect clean each and every time.  They even do this without ever drying out of harming your child's sensitive skin. This is because of the special blend of oils and fruit extracts that are used to comprise these amazing baby wipes. The tomato seed oil contains vitamin E which has been known to be the most effective when it comes to soothing and healing skin, while the sunflower oil will naturally add moisture and softness.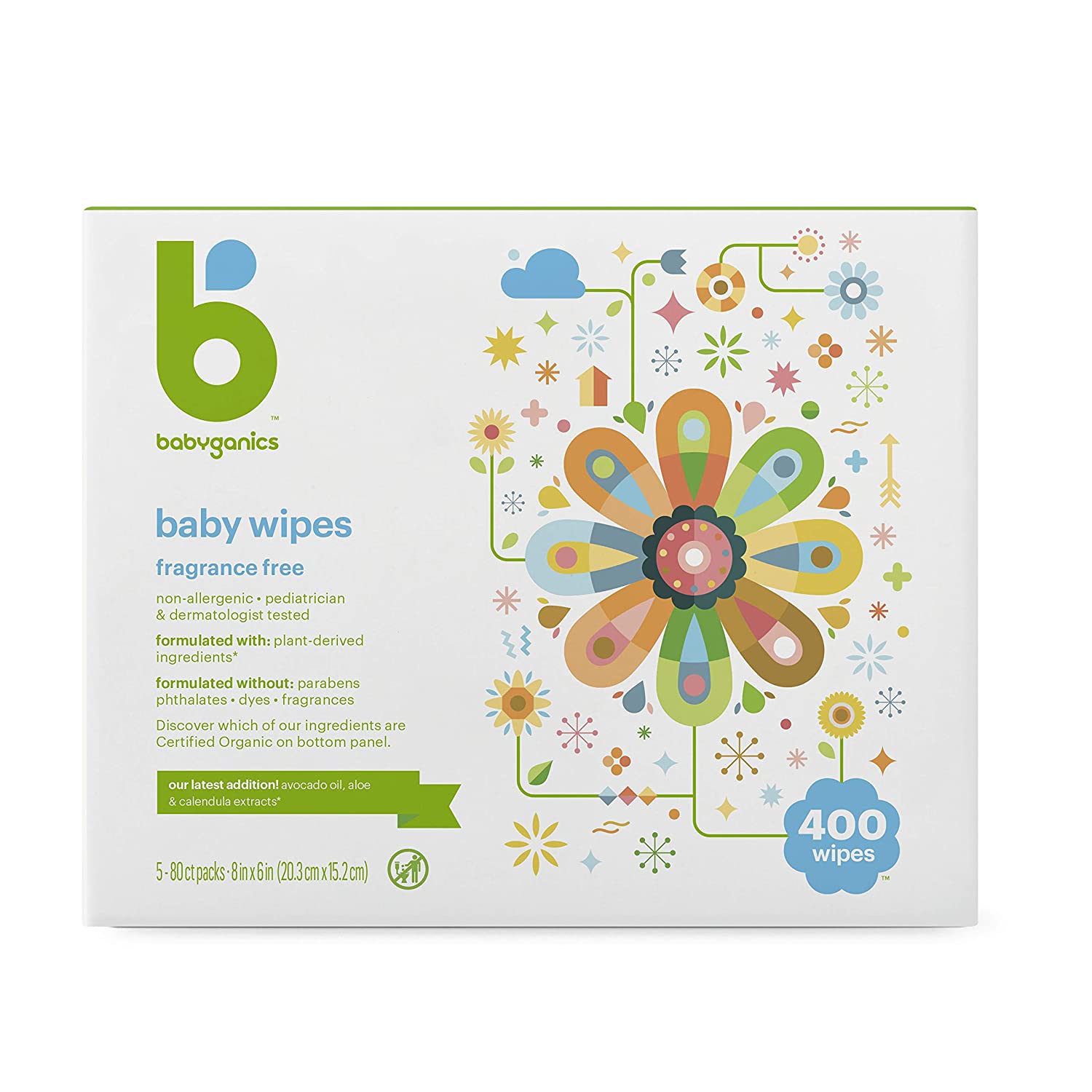 Best of all, by adding chamomile to the mix, Babyganics has made a product that can help to calm your child down at bedtime which is perfect for those late night diaper changes. Babyganics number one business motto is to offer safe and effective products that will sooth and protect your child while also doing their part to help keep the planet clean.
Here are some of the raves that other parents had to say about the Babyganics Face, Hand & Baby Wipes:
Pleasant smell
Great texture compared to other organic wipes
No chemical residue
Perfect amount of thickness
Oil blend feels soft against skin
Eliminated child's diaper rash
Great to throw in purse on the go
Parents can use them too
3. Huggies Natural Care Baby Wipes
Ingredients:
When it comes to simplicity, the Huggies Natural Care Baby Wipes cannot be beat. Huggies prides them on having created a wipe that is made 99% of only three natural ingredients. These three ingredients are aloe, water and vitamin E. It has never been simpler.  This means that these natural baby wipes are completely free of parabens, alcohol and other perfumes so that you can be sure that your child is getting the safest and gentlest clean possible. This is great news for parents who worry about having to pay a high cost for expensive organic brands.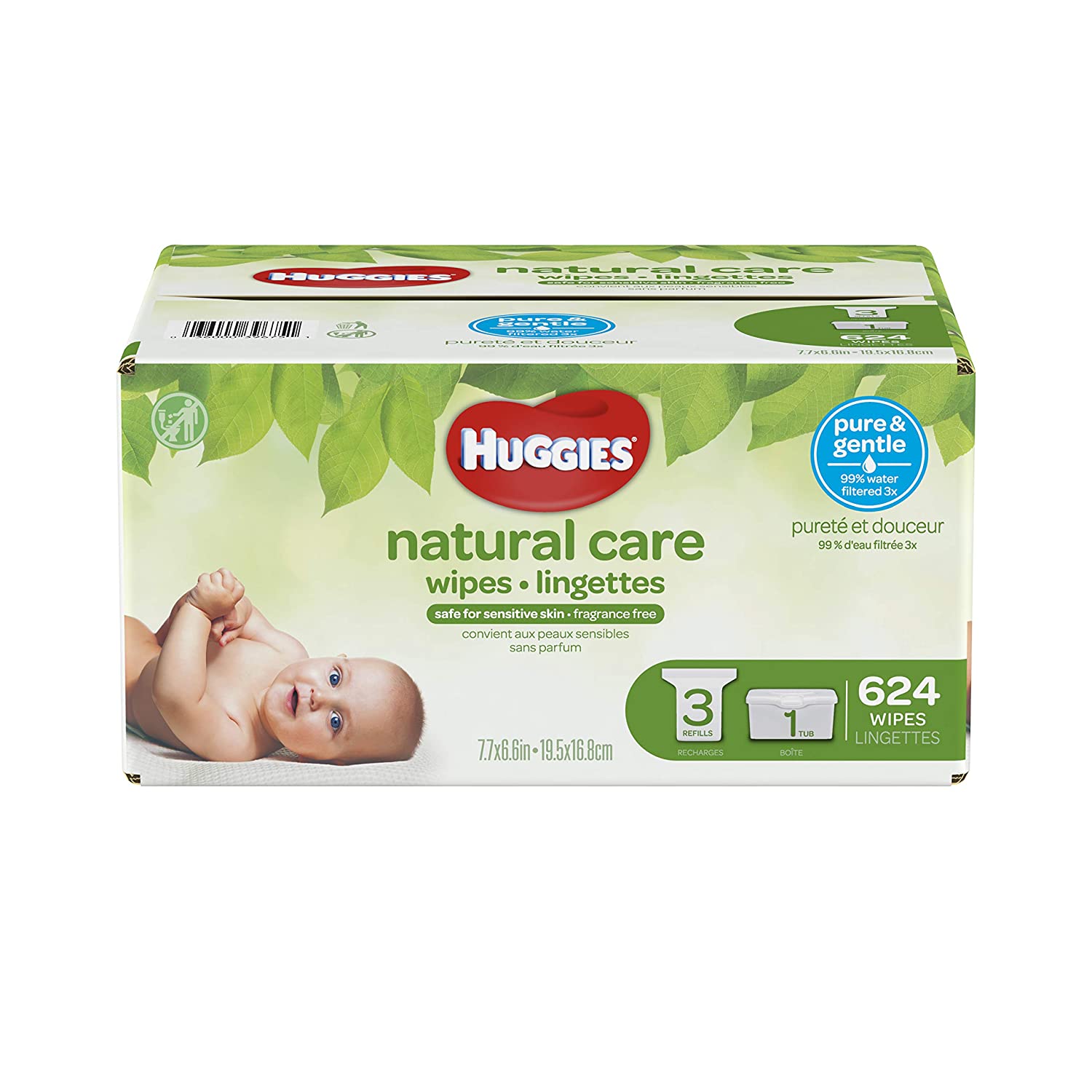 This is because the Huggies brand has consistently been turning out great products for years without hurting your budget. Also because you are buying from a well known and trusted brand you have many more options when it comes to the actual purchase. Huggies offers some amazing bulk purchasing deals which allow you to buy your entire baby wipe needs in one big swoop so that you don't have to worry about running out at inconvenient times. Along with the plastic pouches you can also purchase these wipes in travel form, soft packs as well as hard cases.
No need to take Huggies word for it either!  Here are some key points that help to make the Huggies Natural Care Baby Wipes one of the best natural baby wipes available on the market today:
Soft packs are perfect for travel
No fragrance
Nice and thick texture
Perfect for big and little messes
Great for quick surface cleaning
Extra strong feel
Can handle any job
Feels like an actual washcloth
Bulk options save money
4. Amazon Elements Baby Wipes
Ingredients:
Purified water
Chamomile
Flower extract
Coconut oil
Citric acid
While the Amazon Elements Baby Wipes are not 100% natural, they do have a lot of natural additives that work with your child's natural PH balance to deliver them a comfortable and pain free diaper changing experience. This is because Amazon added some amazing skin soothing ingredients that are sure to tackle and job gently.  You will also love that these wipes were specially designed for little ones with sensitive skin so that you can be sure that you are doing your best to keep their skin irritant free. So many times common skin problems like diaper rash can easily be prevented by using a baby wipe that uses natural skin soothers.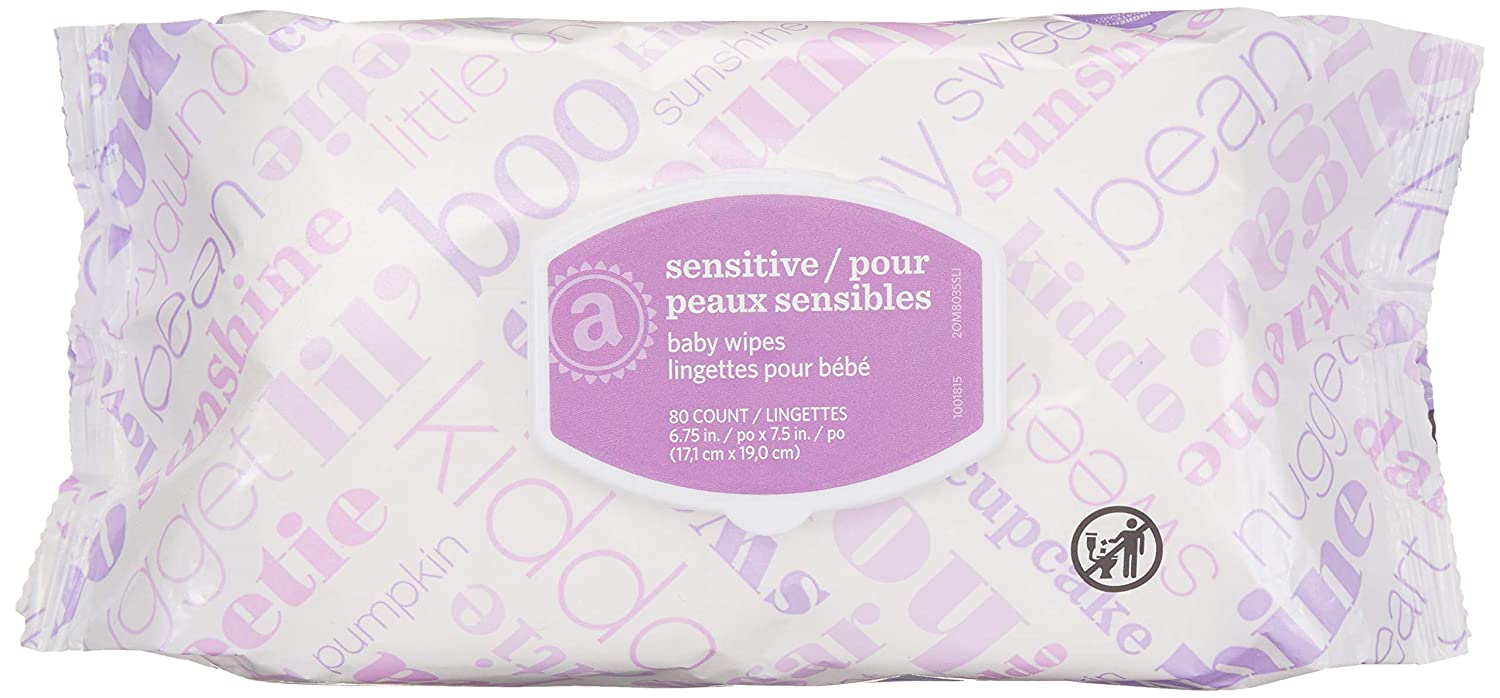 The chamomile works to sooth and calm down inflamed skin while the coconut oil will work to replenish moisture. Replenishing moisture is the key to keeping your child's skin happy and healthy. They lose so much of the natural oils on their skin during a diaper change so it is nice to have a product that actually works to replace these important oils. If you are afraid of your little one's PH levels getting to high, have no fear! That's what the citric acid is there for. This helps to keep those ultra sensitive areas soft yet strong and rash free.
Here are some of the features that other parents who have used and loved the Amazon Elements Baby Wipes love:
High quality wipes
Very affordable
Love the bulk purchasing options
Soft yet strong
Rivals other top brands
No weird smell
Gentle and perfume free
Never irritated child's skin
Re-purchasing options are a major plus
5. WaterWipes Sensitive Baby Wipes, Natural & Chemical Free
Ingredients:
These wipes are called WaterWipes for a reason! That is because they are comprised 99.9% out of pure water. By eliminating all other additives, the WaterWipes Sensitive Baby Wipes can absolutely guarantee a product that is not only safe enough for everyday use but also will never damage or irritate your child's sensitive skin. It has never been safer and easier to tackle diaper messes. If you are worried about these wipes not being able to hold up against other bigger names natural wipes on the market, have no fear. They guarantee to be just as tough as those other baby wipes. This is because while the additives and extras are left out of the equation, they still are backed by an ultra strong texture.
The WaterWipes Company's motto is that if your child doesn't need it, there is no need to put it in a product.  By completely removing any chemicals like alcohol, perfume and chlorine you can be sure that you have truly found the purest, all natural, baby wipe available.  While the price for these baby wipes may seem a little high, you have to consider all of the skin benefits your little one will receive from just this simply little change to their every day routine.
Here are some of the advantages that other parents who have used and loved these wipes have found:
Surprisingly thick
Smell great
Never irritate child's skin
Feel soft and gentle
Trusted supplier
Nice big supply in one box
Easy to order
6. Burt's Bees Baby Chlorine-Free Wipes
Ingredients:
Aloe
Vitamin E
Fabric
Beeswax
Buttermilk
Shea Butter
While sometimes less is more, that is not the case when it comes to the Burt's Bees Baby Chlorine-Free Wipes.  While these wipes do stay true to a natural lifestyle, that doesn't mean that they haven't added a great deal of skin soothing ingredients that will benefit you and your child.  Much like other Burt's Bees products, these baby wipes contain beeswax which may seem like an odd additive, but it is actually full of amazing advantages, especially for little one's skin.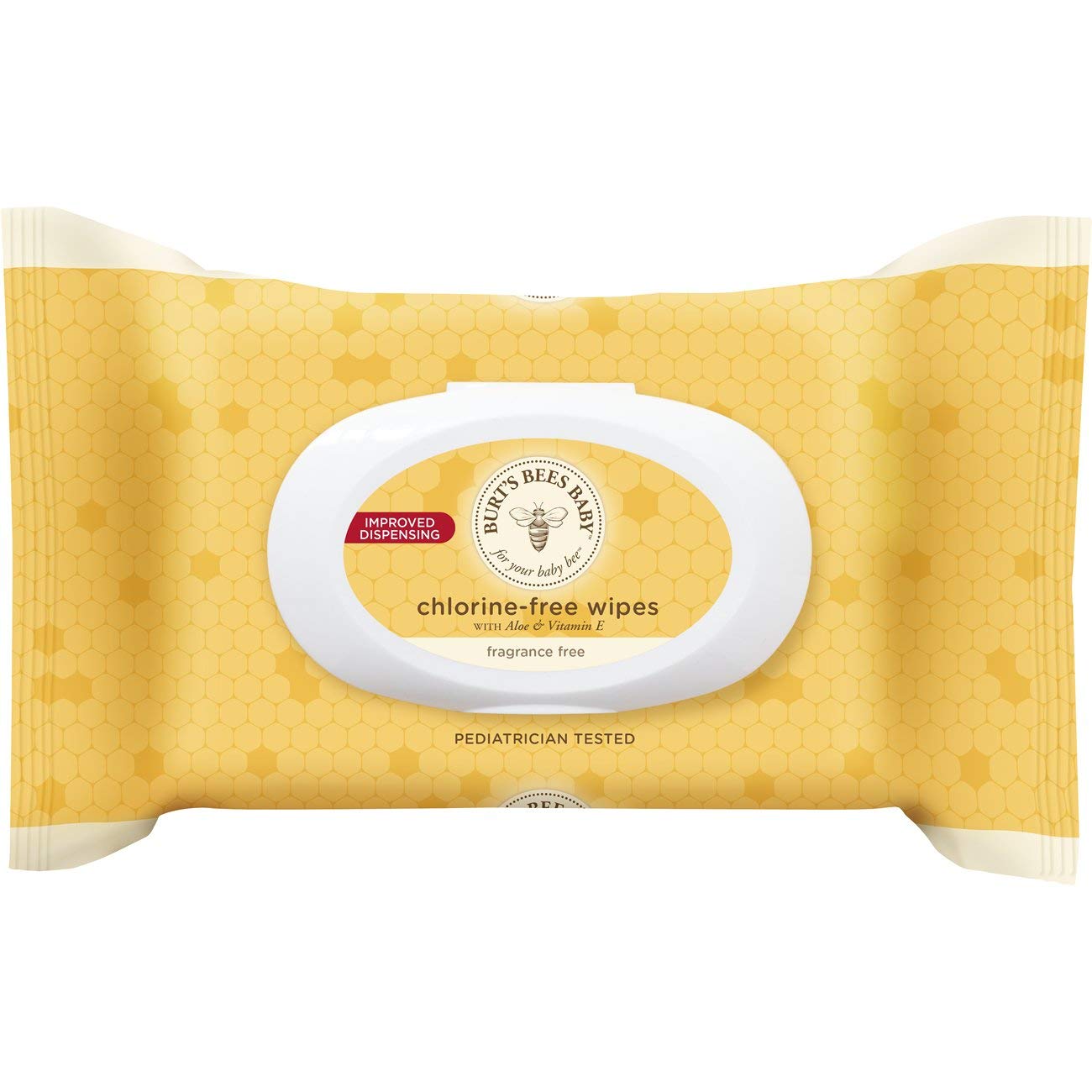 Beeswax works to lock in moisture deep into the skin instead of leaving it to sit on top. This not only will help to keep your child's skin soft but will also allow it to breathe and heal itself over time. The extra ingredients like shea butter and buttermilk work as natural lotion as well as a healer for common skin irritants. You can have some peace of mind knowing that this product is 100% chemical free because they are never produced using harsh additives like bleach, perfumes, petrolatum, and alcohol.
Still not sold on them?  Here is what other parents had to say about the Burt's Bees Baby Chlorine-Free Wipes that make them one of the best natural baby wipes:
No scent
Really moist
Perfect for all types of clean ups
Fits perfectly in a diaper bag
Parents love to use them too
Feels high quality
Tough enough to handle larger messes
7. Aleva Naturals Bamboo Baby Wipes
Ingredients:
Bamboo
Organic aloe vera
Chamomile
Tea tree oil
Lavender essential oil
The Aleva Naturals Bamboo Baby Wipes are a great option for you if you are having a hard time getting your child to calm down at the end of the night.  That is because while these wipes are natural, they are made out of some really amazing ingredients that will benefit your little one. The addition of lavender oil is what really sets these baby wipes apart from others on this list. Lavender has been used for years and years as a type of aromatherapy. Lavender not only works to calm down inflamed skin but also busy bodies and minds that can't seem to get some relief.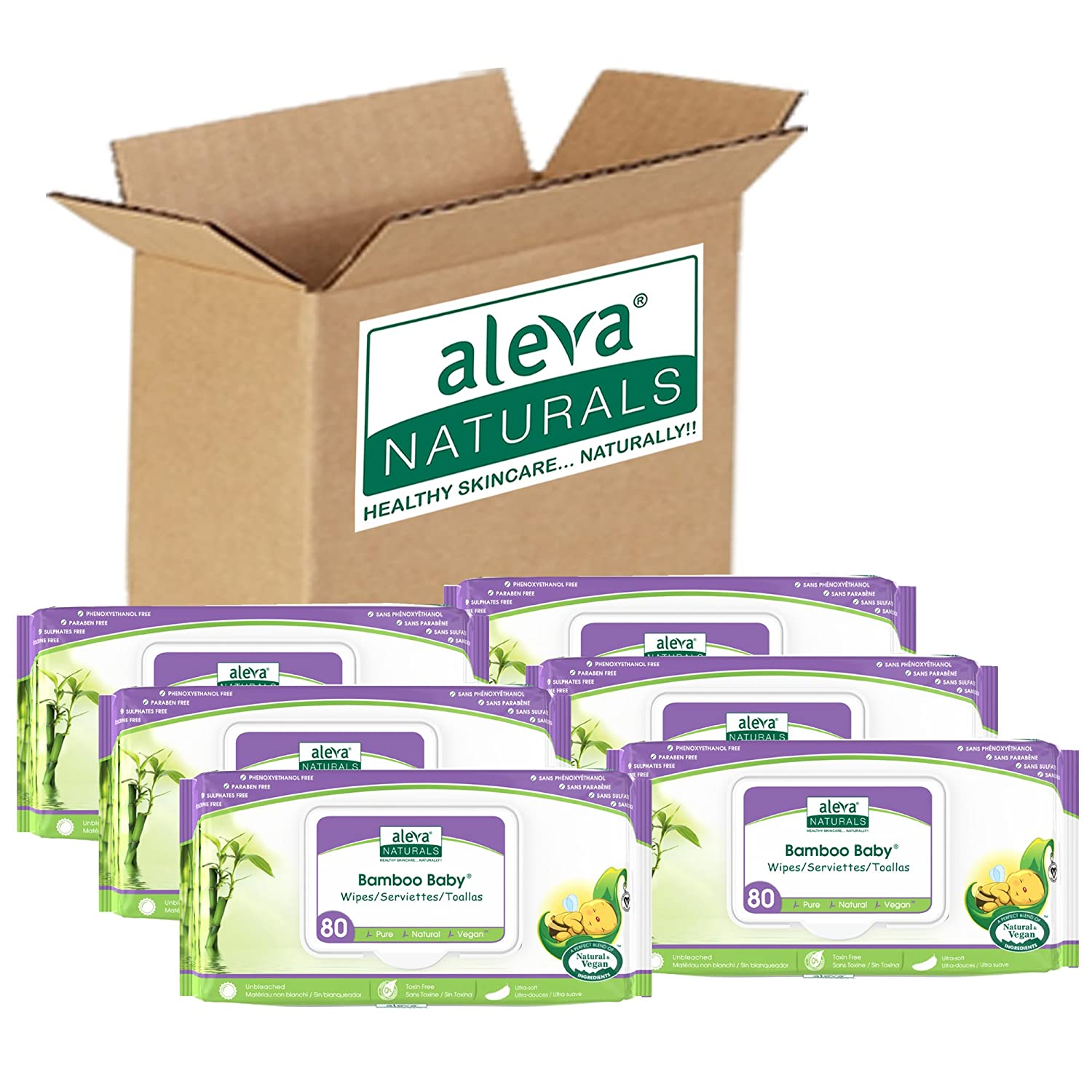 By adding in lavender into your child''s nighttime diaper chancing routine you are actually helping to sooth and calm them right before bed time which may actually result in them getting a better night's sleep, and there are few things better than that. The secret to a strong, yet flexible baby wipe is in the materials. The Aleva Naturals Bamboo Baby Wipes are made out of bamboo which works to give the wipe some serious strength while also helping to absorb and clean messes up more thoroughly.
You can rest easy knowing that these wipes were designed and created by a pharmacist and an herbalist so you know that you are getting the best of both worlds when it comes to the health and care of your child.
Here are some of the things that other parents love about the Aleva Naturals Bamboo Baby Wipes:
Large surface area
Wipes stay moist
Smells great
Very sturdy and strong
Gently calms child down
Cleans even the biggest of messes
No awkward plastic or artificial smell
Conclusion
Making the switch to one of the best natural baby wipes can not only bring your some peace of mind when it comes to your lasting impact on the world, but also on the lasting impact on your child's skin. Before you settle on the natural baby wipe that you love the most, there are a few things to consider! Here are some lasting key points to help you be sure that you have found the right ones for you and your little one:
Price point
Natural and organic baby wipes will come with a higher price tag than ordinary wipes. This is because they are processed very carefully so that they never come in contact with and harsh chemicals or additives, which makes them natural. Prepare yourself ahead of time because baby wipes are one of the baby items that you cannot do without! If you are planning a budget, make sure to factor in the extra cost so that you don't feel blindsided when it is time to make the purchase.
Purchasing options
One way to cut down the cost of all natural wipes is to explore the different purchasing options that may be available. Some natural baby wipe brands allow you to purchase the wipes in bulk. Bulk purchasing is great because it not only ensures that you won't run out of the wipes but also saves some serious cash.  Another option when it comes to purchasing is automatic repurchasing. Some brands have this option that will automatically replenish your supply once a month, or whenever you need it. This is perfect for busy parents who have a hard time remembering to re-order.
Texture and feel
One thing that is often overlooked when it comes to all natural baby wipes is the way they will feel against your child's skin. This is an important point to remember, especially if you have a child with sensitive skin. Sometimes natural wipes can feel a little dry or rough because they haven't been chemically treated, but if you do your research and check out what other parents had to say about the ones you are eyeing, you can certainly find a great natural baby wipe that feels just as soft, if not softer, than other popular brands.
No matter which one of the best natural baby wipes you choose to go with, you are making an important first step towards a happy and healthy baby. To be sure that you have found the right ones, just be clear about what kind of natural additives, if any, that you would want touching your child's skin. If a calming experience is what you are in the market for, look for a natural wipe with lavender. If your child suffers from really dry skin and bad diaper rash, look for a natural baby wipe that uses aloe or shea butter. You can truly customize your child's experience to fit their needs, and even better, you can do it naturally. Good luck!