Throughout the day, mothers need a safe place to keep their babies while doing things. If you want to sweep the floor or wash the dishes, a play yard allows you to leave your child with some safe toys. Once your child is mobile, buying one of the best play yards for children is important; they are known to find items they shouldn't have. Even a quick trip to the bathroom gives a toddler enough time to cause havoc.
Before you buy a play yard, you should read some reviews to get an idea of the best options out there. They are a safe place for your baby; it is an area only for them. It gives you peace of mind as you walk away from your child. Some parents also use it as a comfortable place to let their child take a nap.
What to Look for in the Best Play Yard for Babies?
Not all play yards are created equal. Before you take a look at the great options I list below, you need an idea of what features you should want. Your family's needs are individual; some parents need a gate that will stretch between two rooms and secure to a wall. Others may require something that they can take along to various soccer games. Here are some things to check out before buying.
Portability
Is the play yard in question easy to take traveling? A heavy one will be cumbersome to carry. You will want it to fold compactly, allowing you to place it in your trunk with other items. An ideal play yard would have a carrying strap; they can be awkward to carry from one location to another.
Bassinet
Some parents desire a play yard with a bassinet, allowing you to use it for an infant sleep space. It is perfect for traveling as well or just a convenient space for your baby to nap. I loved these when my children were little; I took them with us to relative's houses, so my kids have a space to nap.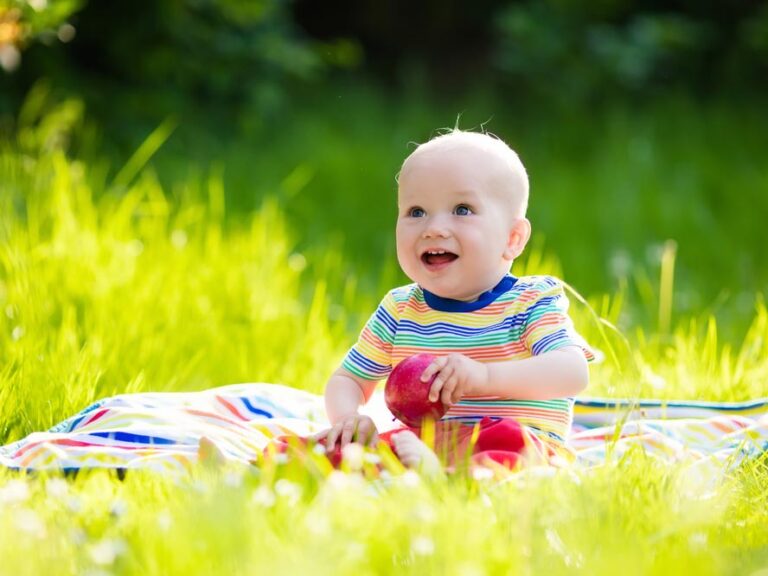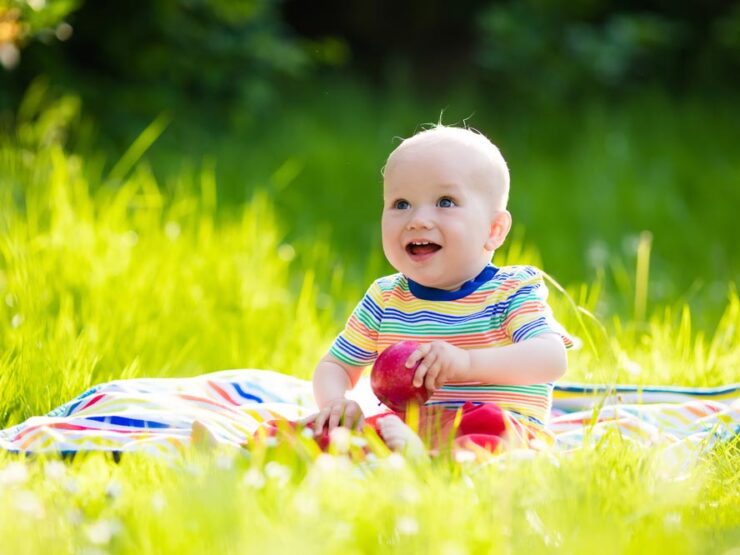 Storage
Some play yards include storage such as cup holders and snack holders. Some include spaces to store diapers and wipes. This feature may or may not make a big difference to you!
Height
If you are short, a very high play yard may make it difficult to reach your child. For the play yards that are a connected gate, you may find it hard to step over a very high It would be nice if they had a gate to entering and exit.
Setup
You don't want a play yard that takes too much time to put together. When you arrive at your destination or when you want to clean up, it should take a few seconds to get it ready for use. Avoid ones with multiple steps.
Toddler or Newborn
Your needs for a newborn are different than those with a toddler. If you want to use it for your newborn, it would be ideal to find a play yard that has a spot for your baby to sleep and a changing area. Storage is perfect. It would later convert to a play yard. For a toddler, you would just need a play yard that is simple!
Wheels
For easy moving, many parents want their play yards to have wheels. You can wheel it around your house, taking your child with you. They also tend to fold up with the wheels exposed for simple traveling.
Toys
Check out to see if the play yard includes any toys for children. There are a few on the list that has built-in activities or removable toy bars for infants.
List of 9 Best Play Yards for Baby Reviews
1. Regalo 192-Inch Super Wider Gate and Play Yard
Regalo creates one of the best-selling play yards. It is huge! Eight panels can configure to any size and shape, opening up to a massive 192-inch wide gate. If you have a vast space between your kitchen and living room, it can block your child from leaving their safe space.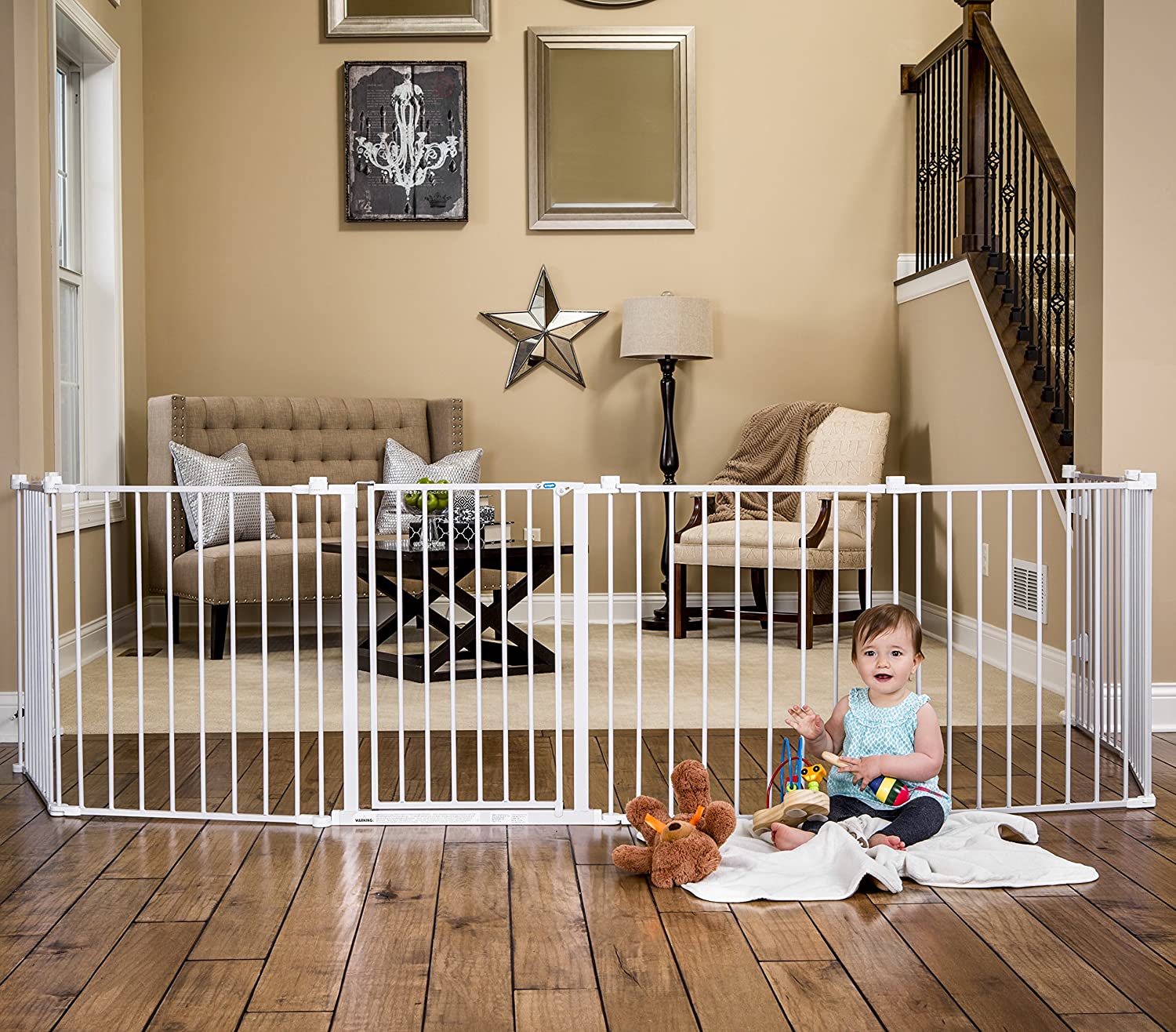 Even if you block off part of a room, there is a convenient walk through area with a safety locking feature. Regalo includes mounting hardware so that you can attach it to your walls for security. If you need an even larger gate, you can add additional panels to make it wider. You also can remove panels for a smaller space.
The Regalo play yard is constructed with all steel; it is durable and reliable. You will be pleased with the high quality! In fact, it receives the Juvenile Product Association Approved. When you need to head on vacation or want a play yard for grandma's house, the gate folds flat for traveling or storage. This gate by Regalo is one of the best play yards for babies, and it comes up in under $100!
2. North States Superyard Colorplay 6 Panel Play Yard
If you want a brightly colored play yard for outdoors or the game room, the Superyard Colorplay has six panels, creating an enclosed space of 18.5 square feet. It is 5 ½ feet corner to corner and 26 inches high. It is large enough that your child cannot climb out, but you can easily step over the gates to reach your child. There is also a Colorplay two panel extension kit available to purchase if needed.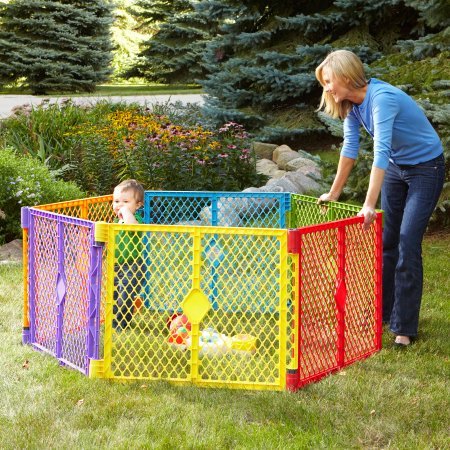 Parents have no issues setting up the Colorplay play yard. The six panels interlock and are pre-connected. Upon purchase, you remove the gate from the box, unfold and connect the pieces together to make an enclosed circle. If you opt to use it indoors, they added skid-resistant pads to keep the play yard where you want it. The pads also stop it from scratching your hardwood floor.
Traveling with the Colorplay is easy. Once folded, there is a convenient carrying handle. It is lightweight, weighing less than 20 pounds. It folds flat and can easily fit into a trunk or vehicle to take with you anywhere. Made in the USA, there are so many great features to the Superyard Colorplay. The price is under $60, and traveling with it is a breeze.
3. Summer Infant Pop N' Play Portable Playard
Does your family spend a lot of time outdoors or camping? It is important to have a safe space to keep your baby while outside at the park or even the beach. The Summer Infant Pop N' Play is an ultra-lightweight play yard that can compactly fold. Parents can set it up and take it down in a few seconds. All you need to do is pop it open and secure the floor buckles. To take it down when you are finished, all you need to do is unclip the floor buckles and push inward. The play yard will return to its compact fold.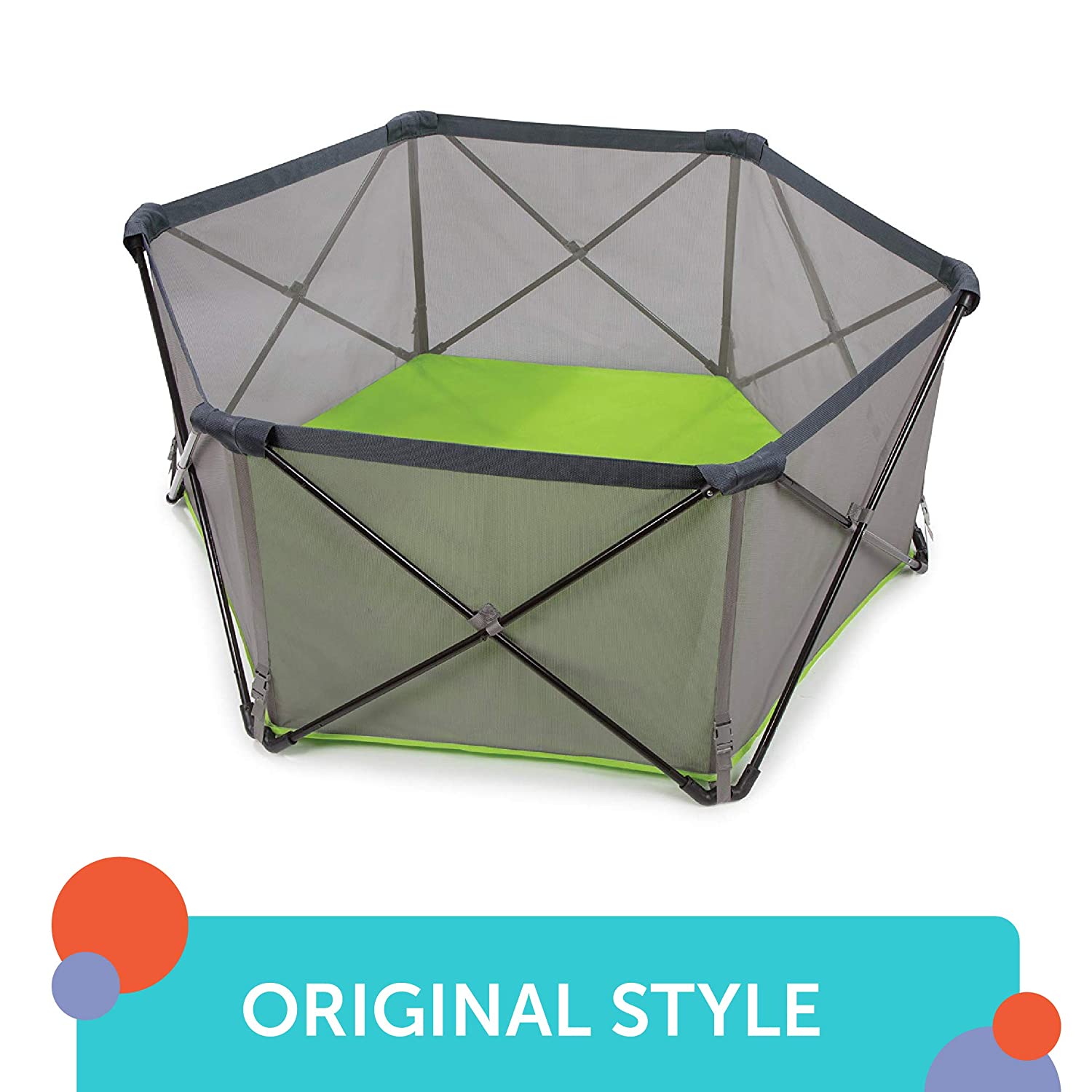 There are a lot of great features! There is water resistant floor, allowing you to use it on damp grass. You can even use it on sand or dirt without worry that your baby will end up with a mouthful. The floor means you can use it indoors while protecting the floor from spills and messes.
The Pop N' Play weighs only 12 pounds; it is the perfect choice for a day at the park or the soccer field. A compact fold makes it easy to store it in your vehicle. Summer Infant included a convenient, small bag for storage. For younger babies, you can purchase a canopy separately. Their canopy protects your child from harmful UVA and UVB rays. It is an excellent idea if you have a young baby with sensitive skin.
For well under $100, you get a great sized play yard, standing 14 square feet. It means 26 inches high and 48 inches wide. Because of its easy setup and innovative design, the Summer Infant Pop N' Play is one of the best play yards for babies.
4. Graco Pack N' Play Play Yard with Reversible Napper and Changer
Graco is a respected manufacturer of all things baby. This play yard is one of the better models created by Graco. There is everything you could want for your child. They created a play yard with a reversible napper, for a safe napping spot, which changes into a changer. I love versatile products! You can use the changer and napper for babies who are 15 pounds or less and unable to roll over.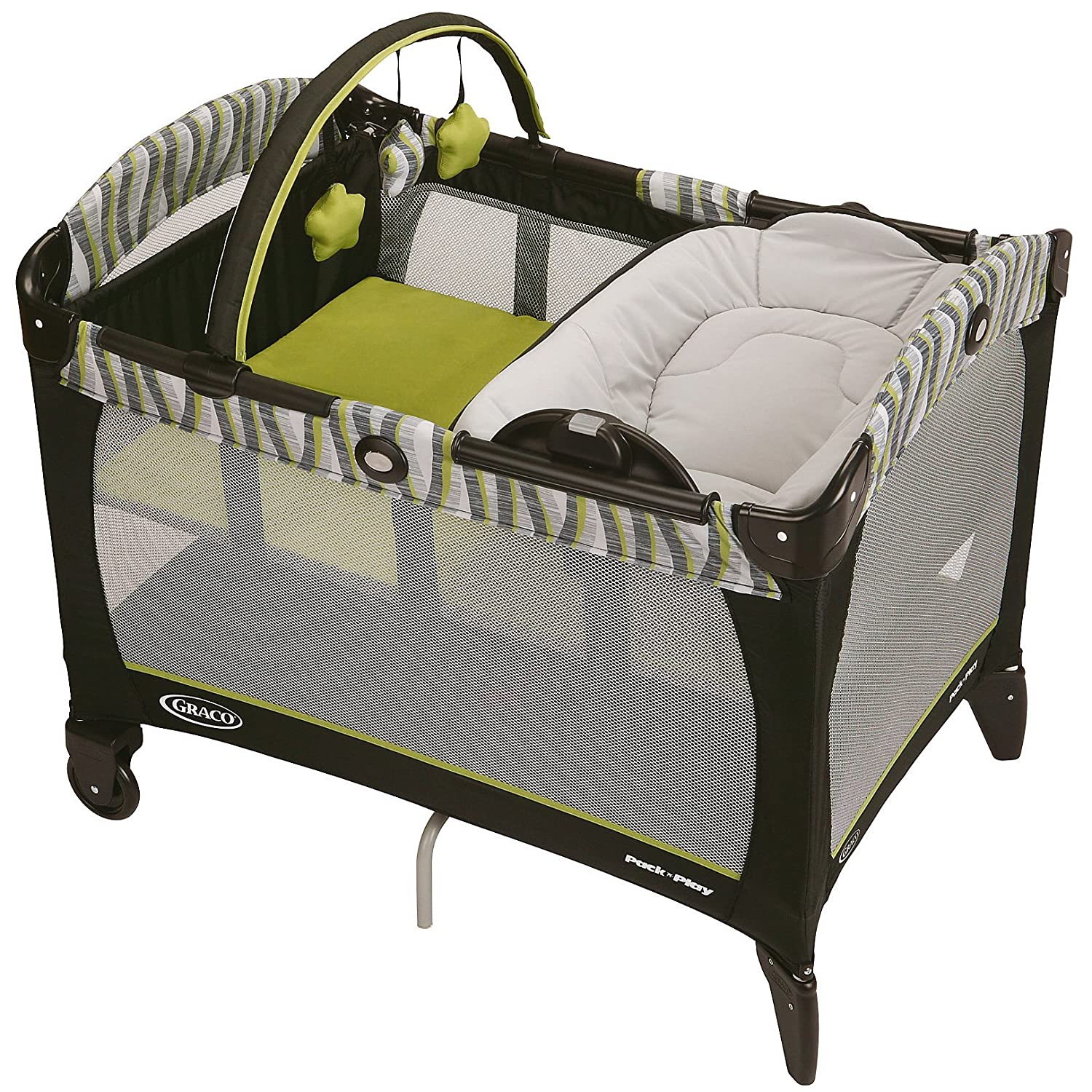 The play yard gives your child a clean and safe place to play. The fabric can be wiped clean with soap and water; it resists stains very well. Graco added an adorable, removable toy with soft toys to catch the eye of your baby as you are changing their diaper. Parents can use this as a place to sleep and play. You can use it as a play yard for children who are less than 35 inches tall and unable to climb out.
All of the sides have mesh fabric, providing maximum ventilation. Your baby will stay comfortable while playing or napping. Another great feature I love is its compactness. To set it up, you just need to push a button; it unfolds and folds easily. Graco included a convenient carrying bag so that you can take it to family dinners with ease. There are wheels for easy moving.
It does weigh more than the other options, 28 pounds. However, it will last from infancy through toddlerhood. You can trust the quality of Graco; it is worth your money!
5. GoPlus New Baby Blue PlayPen Kids 8 Panel Safety Play Center Yard
Do you want a play yard that is brightly colored and has included toys to entertain your young toddler? The GoPlus center is huge! The dimensions are 31 inches wide x 23.5 inches high x 1.5 inches thick. It weighs 35 pounds, quite a bit more than the other choices for the best play yard for babies.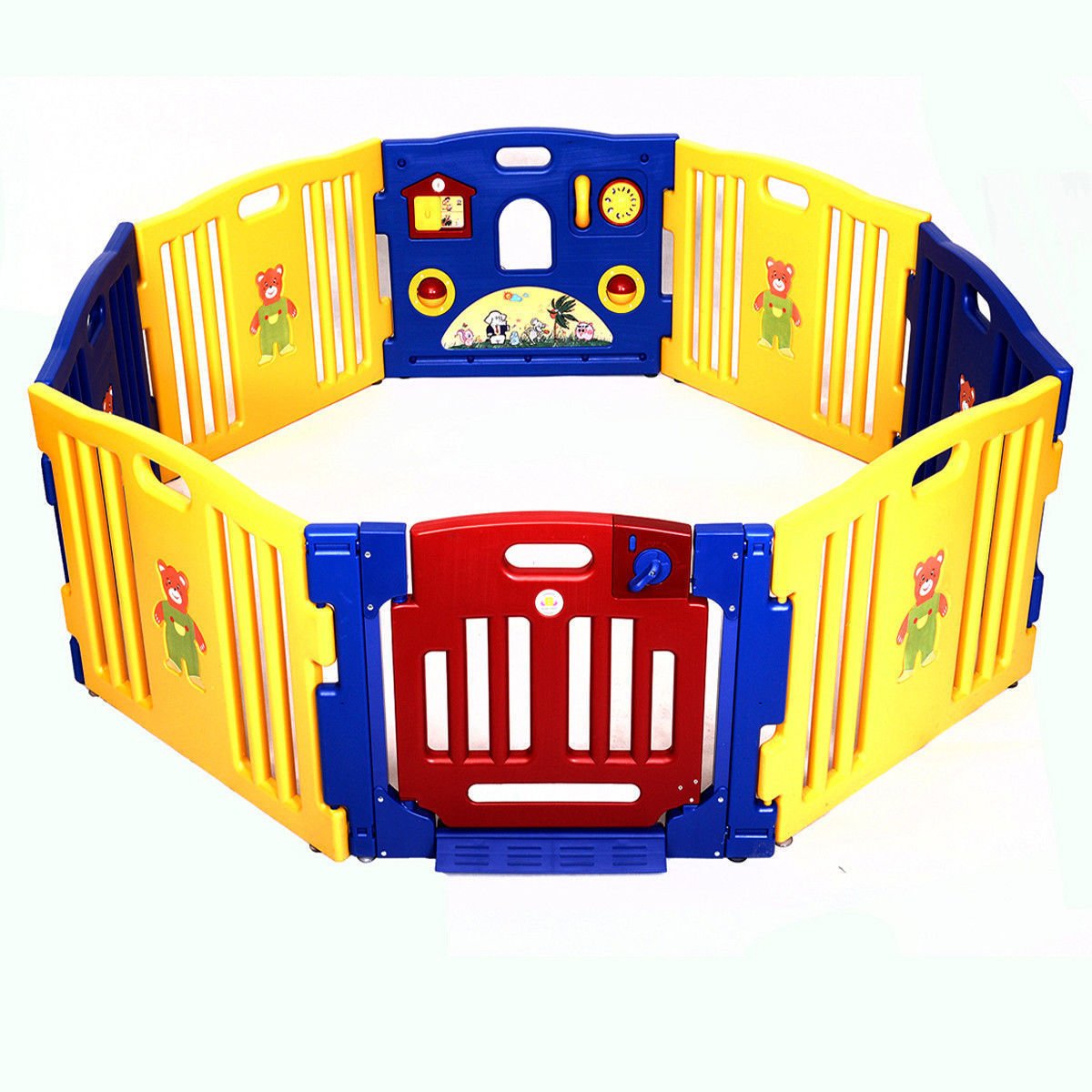 This play yard has eight panels. You can remove or add as many as you need for the perfectly sized space for your child. They used non-toxic, safe plastic. To entering and exit, there is a convenient, swinging hinged door, equipped with a safety lock. You can come and go, but your child stays secured inside.
Unlike the other selections, the GoPlus has included toys! There are a picture house, ball spinners, and a pretend telephone. The play yard will interest your child; they will enjoy their time in their space. However, it is a bit more expensive than the other choices, priced closer to $100 than the other play yards. The GoPlus is worth the money. It is sturdy and huge!
6. Fisher Price Ultra-Lite Day and Night Play Yard
When you see the name Fisher-Price, you know the product is going to be awesome. Their play yard is a versatile, uniquely designed product. First, it is an inclined sleeper. Then, you can use it as a diaper changer and a large, padded play space! The inclined sleeper is removable, with a supportive seat back and a cushioned head support. An incline is great for babies with reflux.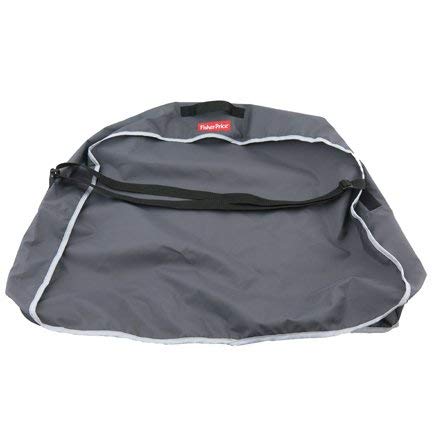 The best part of the Ultra-Lite is its weight! It weighs only 18 pounds. You can take it anywhere with you including vacations. It comes with a handy travel bag that has a shoulder strap. The bag also keeps it nice and clean while not in use. However, if you do want to clean the play yard, the pads and head support are machine washable.
Fisher Price included a travel diaper clutch and an easy clean vinyl changing pad. There is storage that keeps diapers and wipes right where you need them. Parents love that it is easy to fold with no additional pieces. The bottom of the play yard measures 37 inches long by 26 inches wide.
If you want a lightweight, portable play yard, the Fisher Price Ultra-Lite is an excellent option. I love the inclined sleeper and the diaper changing space. It is an excellent choice for vacations; I would consider this one of the best play yards for babies.
7. Graco Pack N Play with Automatic Folding Feet
If you want an affordable play yard for your child, this play yard will keep your child safe and comfortable anywhere. It is designed for children who are less than 35 inches tall and still unable to climb out. One of the best features is the ultra-easy fold, which is common for Graco play yards. All you need to do is press a button, and it will collapse. Setting up is the reverse! Anyone can do it without hassle.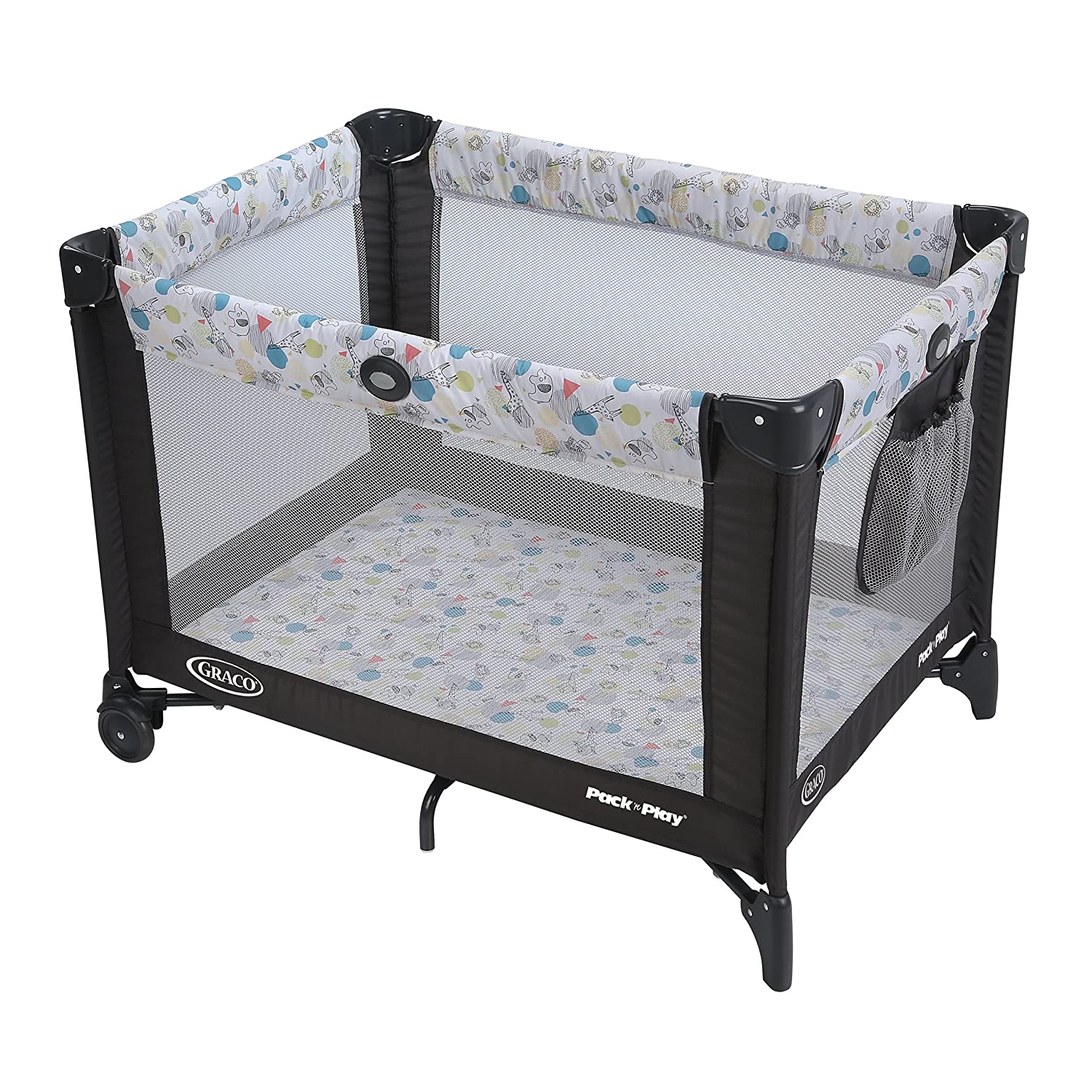 Once it is folded, there is a convenient carrying bag. Using a bag also stops dirt and grime from your trunk or storage. It is made to stand up to any plans. The frame is durable, able to withstand traveling and packing. The feet automatically fold when you pull up on the tag in the center of the floor. The tags draw in the feet.
The Graco play yard weighs 18.5 pounds. It measures 29 inches high x 28.5 inches wide x 40 inches length. You won't find it hard to carry it from place to place. Another nice feature is the mesh sides, adding ventilation to your child's area. However, the best reason to purchase this play yard is the price. Costing less than $50, it is a fantastic choice for parents that need to watch their budget but still want a nice play yard for their baby.
8. Joovy New Room2 Portable Play Yard
Joovy makes several innovative and stylish baby gear items, including one of the best play yards for infants. The New Room2 is nearly 50% larger than other traditional ones, measuring 39.8 inches x 39.8 inches x 31 inches. It does weigh more than other play yards – 29.6 pounds –, but it is also larger. Your child will have plenty of space to crawl and move around with toys. There are a total ten square feet of space for play.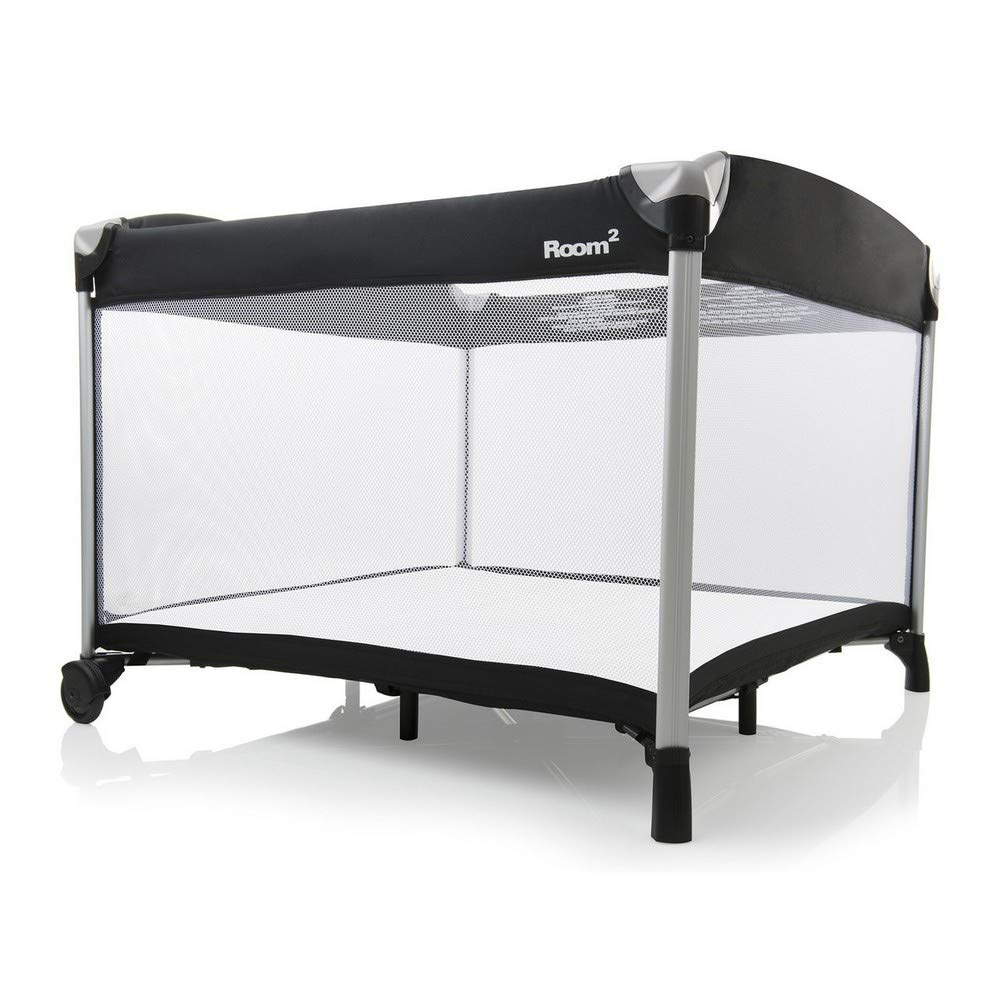 Parents with twins love the New Room2. Typically, a play yard isn't big enough for two babies. Joovy created one you could use for both children at the same time! Both of your kids will be safe, up off the floor, in a cozy place. Joovy made sure the New Room2 is sturdy and durable, able to withstand multiple kids and rough playing.
The Room has a low center of gravity and a heavy duty mattress, designed for newborns up to children measuring 35 inches tall. Joovy includes a soft, 100% cotton fitted mattress sheet. Parents can also purchase extras. They also added larger, mesh windows for ventilation, allowing your baby to keep an eye on the things around the room.
Overall, the Joovy is an excellent choice. It is priced a little above $100 and is quite heavy. However, space and durability are great. Parents give it high ratings, and it deserves your consideration.
9. Lotus Travel Crib and Portable Baby Play Yard
The Lotus Crib is meant to be taken everywhere. It is light, portable and easy to set up. You can use it at home, your friend's house or in the airport. Parents love its design as well. It has clean lines, without any childish colors or characters. The colors are modern. Children love the soft, texturized fabric.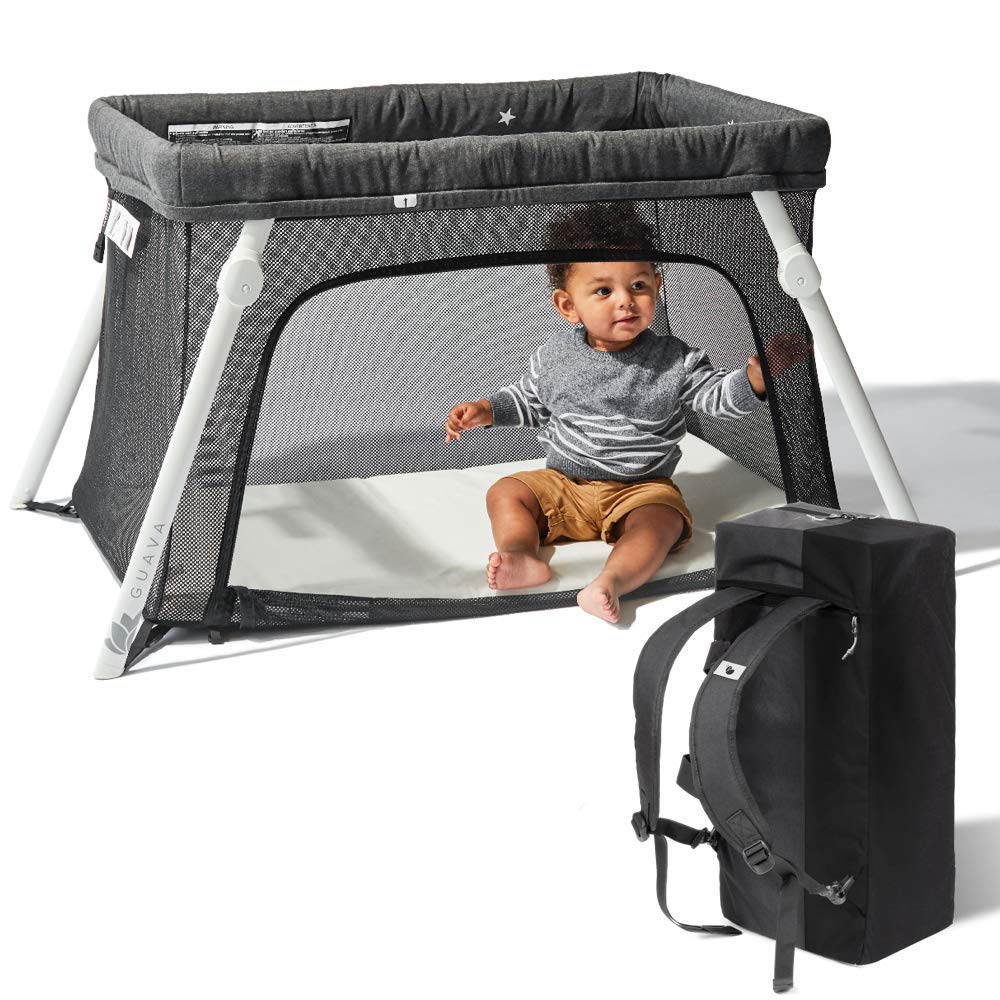 Are you a parent concerned about the chemicals surrounding your child? The Lotus Travel Crib underwent thorough testing for chemical emissions. They have the GreenGuard Gold certification, meaning it is safe for you and the environment. It is the only travel crib in the world that has this certification! Many parents are concerned about chemicals, and they don't have to worry when using the Lotus.
There are no flame retardants, PVC, phthalates, lead, and heavy metals used in the creation of this play yard. It is entirely breathable with a ClearView Mesh down all the way around the sides down to the mattress. There are full airflow and a clear view of your child at all times. There is a side door, with a zippered close, that allows your child to exit and enter as they want. Instead of feeling stuck all the time, let your child come to view the Lotus as a safe and fun area to spend time.
Weighing only 12 pounds, the Lotus Crib is hassle free. You can take it anywhere. It folds into a lightweight backpack, keeping your hands free. It is one of the only travel cribs that can convert into a backpack. We love the Lotus Crib! It is the lightest choice and the best play yard for traveling. If you decide to jet off around the world with your baby, make sure you have the Lotus Travel Crib with you.
Conclusion
These were nine of the best play yards for babies. They all have unique features and reasons why you may want to purchase them. Before you do, figure out what price range is ideal. There is no need to spend more than you can afford because there are choices in all budget ranges.
One of the best choices is the Lotus Crib if you love to travel. For parents that want something easy to take from place to place, it is lightweight and converts to a backpack. If you want a large play yard for twins, the Joovy New Room2 is ideal. It is big enough to fit more than one child.
However, if you want a play yard created with individual panels, the Regalo is the best choice. It is massive! You can easily use it to divide rooms in half. You could purchase more panels or remove panels to ensure it fits into your room. The Regalo also includes screws so it can be secured to the walls, and there is a handy gate so parents can exit and enter with ease.
What plays yard for babies do you love the most? Let us know in the comments what you use and why!