Life as a parent is a constant stream of juggling and multitasking, especially when it comes to baby items.  You find yourself having to buy this accessory for one thing and this piece for another. So when you find something that offers convenience in a complicated world, that's a game changer.  One of these little conveniences is AIO or all in one cloth diapers.
Cloth diapers are a great option for babies but often times get overlooked because some people find the process too complicated. First you need the cloth diaper, then the cover and inserts.  It is so much easier to run to the store and pick up a quick box of disposable diapers.
With AIO cloth diapers, however, all of the guesswork has been removed.  These neat little sets come with everything you will need to get your child on the right path when it comes to changing time. Cloth diapers are more affordable in the long run and great for the environment so not only are you doing your wallet some good, the planet will also thank you.
What to Look For Cheap AIO Cloth Diapers
If you're thinking about making the switch to cloth diapers but don't know where to begin, don't worry. Here are some of the standard things that you will find in most AIO cloth diaper sets.
Cloth diaper
This one is a no brainer. The cloth diaper is the actual piece of fabric that touches your child's delicate skin. This piece of fabric is usually made out of cotton and features different variety of folding methods.
From the pre-fold design to the flat fold design, you can find the right style to match your comfort level. While some sets haven eliminated the need for this piece of cloth all together, you will still find that some brands still prefer to stay the old fashion way.
Diaper Insert
The diaper insert is what you will find the does most of the absorbing and holding of liquids and waste. These are sometimes constructed out of heavy duty cottons but many people claim that the ones that are made out of strong bamboo are by far the best.
The inserts either slide into a slot in the cloth diaper that is specifically designed to hold the insert, or can be placed directly underneath your child's bottom.  Inserts may seem a little unnecessary but you will learn that not having to completely replace a cloth diaper and its cover after every tiny little accident is a great time saver.
Diaper cover
While the cloth diaper is there to protect your child's skin, the diaper cover is there to protect your child's clothing. This is the last piece of the cloth diaper puzzle and it holds all the other elements together.
These diaper covers are usually made out of water proof materials are designed to keep moisture inside the diaper. They are often times fitted with size adjustable snaps or buttons so that you can keep reusing the covers the whole time your child remains in diapers.
Parents not only love the convenience of these diaper covers but also the looks and design. You can find a diaper cover with almost every single print you can imagine. So don't be afraid to show off a little more style.
Now that you know what you may find in these sets, it's time to start doing some shopping! Here are some of the best all in one cloth diapers to get you started on your journey.
Best Cheap AIO Cloth Diapers Reviews
1. bumGenius Freetime All-in-One One-Size Snap Closure Cloth Diaper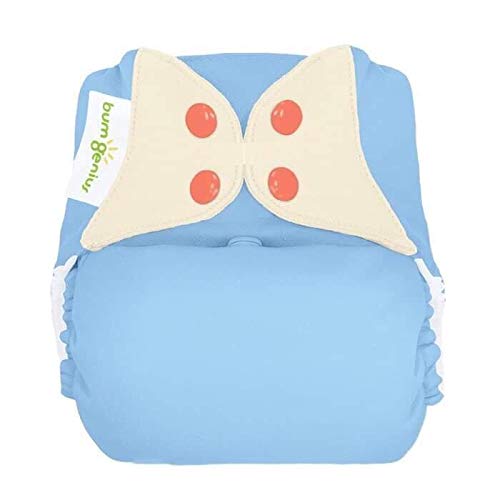 The BumGenius brand has been a top seller among parents who prefer cloth diapers for the children for years. Many people prefer their snap closure on these Freetime All in One Cloth Diapers as well as the secure fit wrap. This cloth diaper is strong enough to hold all of your child's happy little accidents without the need for any additional padding or inserts making it some of the best AIO cloth diapers.
Less inserts means less bulk.  Some parents complain that reusable diapers feel a bit bulky underneath their child clothes. This is because they were made to absorb more waste, unlike disposable diapers which are meant to get tossed after each leak. If you're concerned about bulkiness then the BumGenius Freetime All in One Cloth Diaper may be perfect for you.
Just because you don't have to use these cloth diapers with any additional inserts doesn't mean you can't. The BumGenius Freetime cloth diapers come with semi-attached stay-dry inserts that can be added for overnight use or for times when you know you will be out all day and want a little extra protection.
These diapers were made to wrap completely around your child's body and snap close with four secure snaps. No fuss and no stress. You're just four little snaps away from a perfect cloth diaper fit for your child and a little extra piece of mind for you. The BumGenius Freetime All in One Cloth Diaper will run you around $20 and are available in many child friendly colors.
2. Imagine Baby Products Stay Dry All-in-One Snap Diaper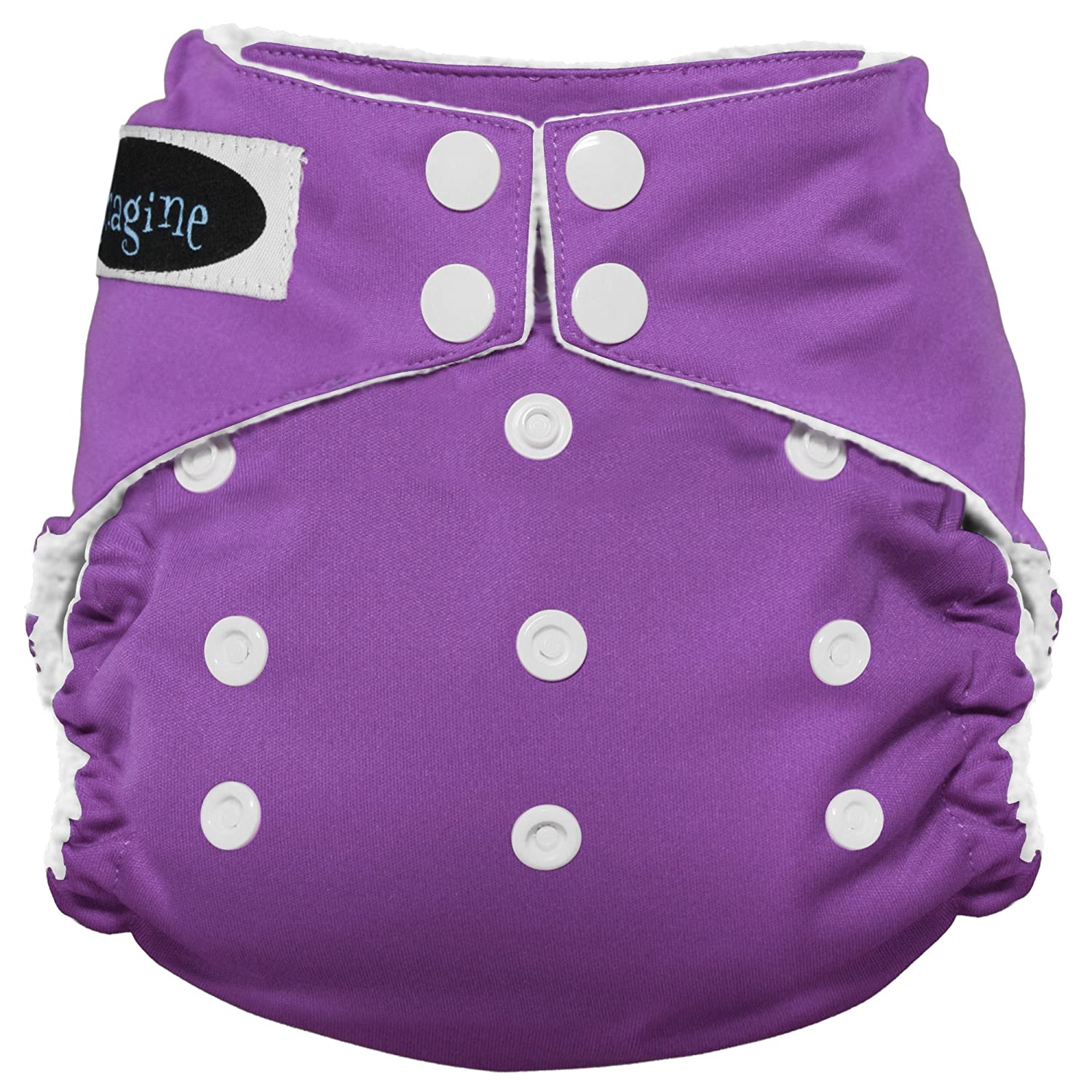 Unlike other AIO cloth diapers on this list, the Imagine Baby Products Stay Dry All-in-One Snap diaper features a completely removable soaking pad which snaps in and out with ease. Not needing a special pocket to fit the soaker pad into means that there is less fuss and struggle when it comes to changing time because all you have to do is literally snap the wet insert out and snap a fresh one in.
This also reduces the need to change the actual cloth diaper as often as you would with other cloth diaper systems. This cloth diaper is also made out of waterproof materials and is surrounded with a no-pill fleece which means they are durable to last and reuse for your next child.
You don't have to worry about pinching your newborns sensitive skin either because the elastic on these cloth diapers was made to gently press against baby's soft skin without feeling restricting or uncomfortable. Like all cloth diapers sets, the Imagine Baby cloth diapers are completely machine washer safe and are even durable enough to hold up through a low tumble dry.
The best part about these AIO diapers is that the snaps allow you to customize them to your child up to 23lbs. The snaps are placed in a set of rows and the first row is a secure fit for a baby from 8 to 15 pounds while the second row fits any child from 15 to 23 pounds. These diapers are priced at under $15 and come in 12 different patterns and colors.
3. Thirsties Snap One Size All In One Cloth Diapers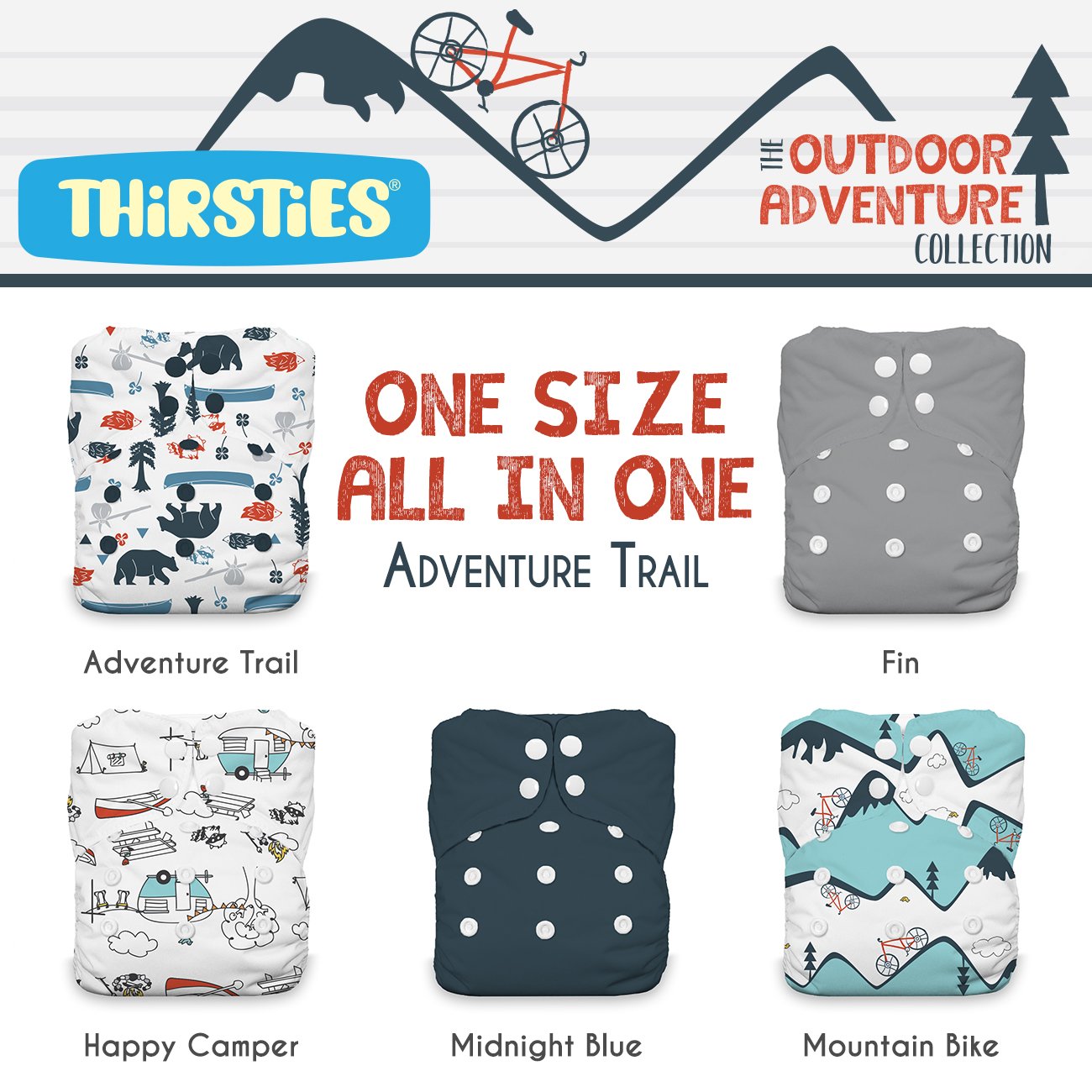 Chances are that if you are new to cloth diaper systems that most of the brand names on this list are unfamiliar to you. Thirsties is more than likely one of those, but what they lack in notoriety they more than make up for in quality. The Thirsties Snap One Size All in One Cloth Diapers is another great option when it comes to simplicity and ease.
These one size fits all diapers were made to last from the newborn stage all the way until you're ready to start potty training. The trim-fit design also means no extra bulk or no extra fabric ridding up your baby's tummy which makes I easier for them to sit up comfortably without any pinching. The sizing works the same most all in one diapers do, with a quick easy snap system.
The actual construction of these cloth diapers is amazing as well! They are made out of ultra absorbent microfiber terry cloth with a fleece lining so not only is your child getting the best in wetness protection but they are surrounded by some of the softest materials for their sensitive skin.
The Thirsties Snap One Size All I One cloth diapers also made strong enough to hold even the heaviest of accidents without the need of any extra lining pads. The diapers are priced at under $20 and come in some adorable on-trend designs like the cute blue mountain range or the yellow honey dew.
4. Nora's Nursery Baby Cloth Pocket Diaper Set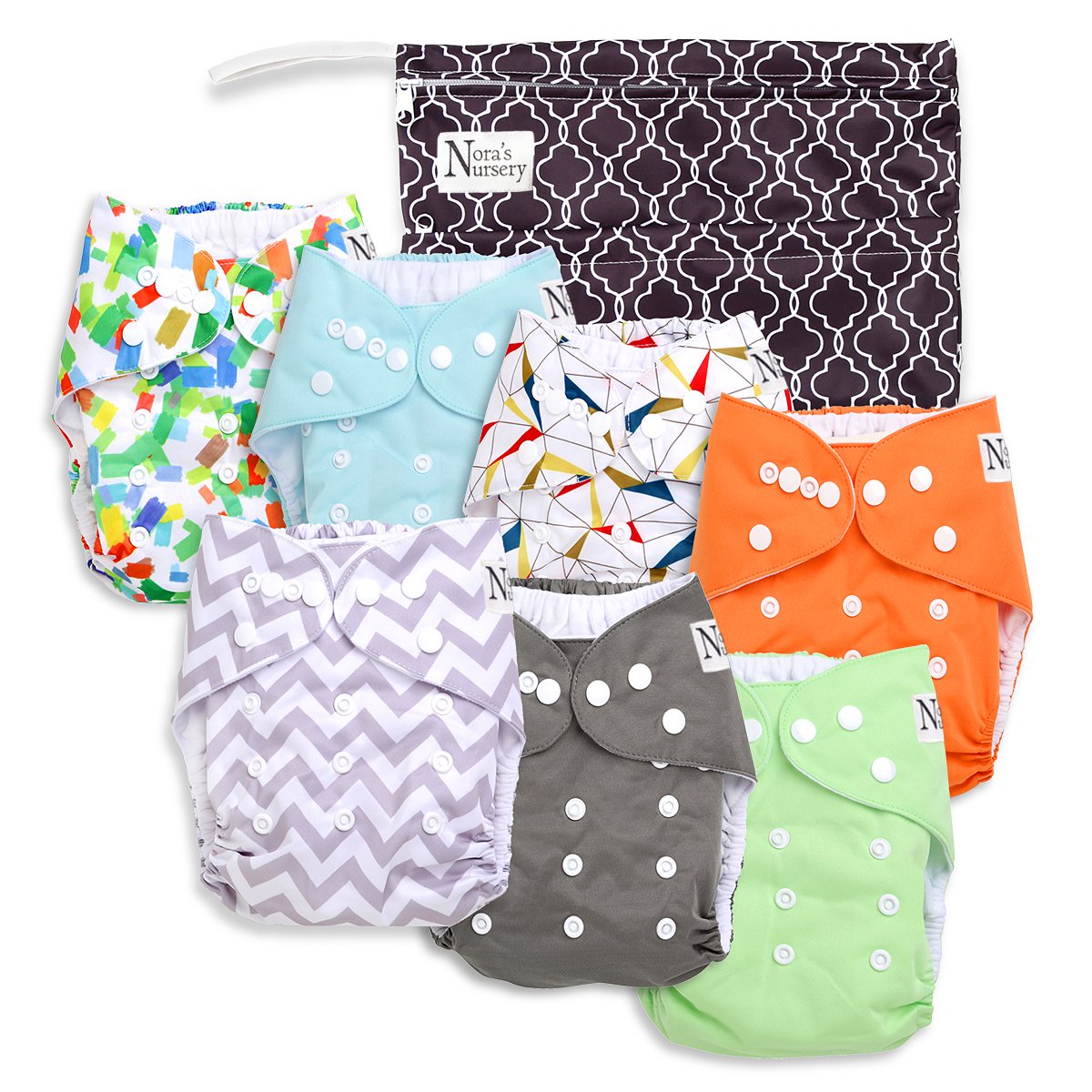 When it comes to style and quality of a great cloth diaper set, the Nora Nursery's brand cannot be beat. They offer some of the most adorable as well as affordable cloth diaper packages which are truly some of the best all in one cloth diapers available today.
While other cloth diapers boast about having great leak protection, Nora's Nursery guarantees a leak free night. The secret is in the fit of these cloth diapers.
The leg openings are fitted with strong but flexible elastic which locks in moisture which the suede cloth remains breathable and sturdy. This is another set that requires soaking pads.
The Nora's Nursery Cloth Diaper Set comes with 7 bamboo inserts that feature four absorbent layers for the best possible protection. Unlike other cloth diapers that may wear over time, these ones actually get stronger overtime and absorb more the more your child breaks them in.
Along with the 7 bamboo liners and the 7 cloth diapers you also get wet bag for storage. Using these diapers is a breeze as well! The snug fit pocket is located at the top of the diaper so you can quickly pull out a soiled pad and replace it with a clean one in a matter of seconds.
The diapers are also fitted with a multi-fit snap system which works to support your baby from birth up until they grow out of diapers all together. This 15 piece set is a perfect purchase for around $100 and will be the only set of diapers you will ever need.
5. ALVABABY Cloth Diapers Pocket Washable Adjustable Reusable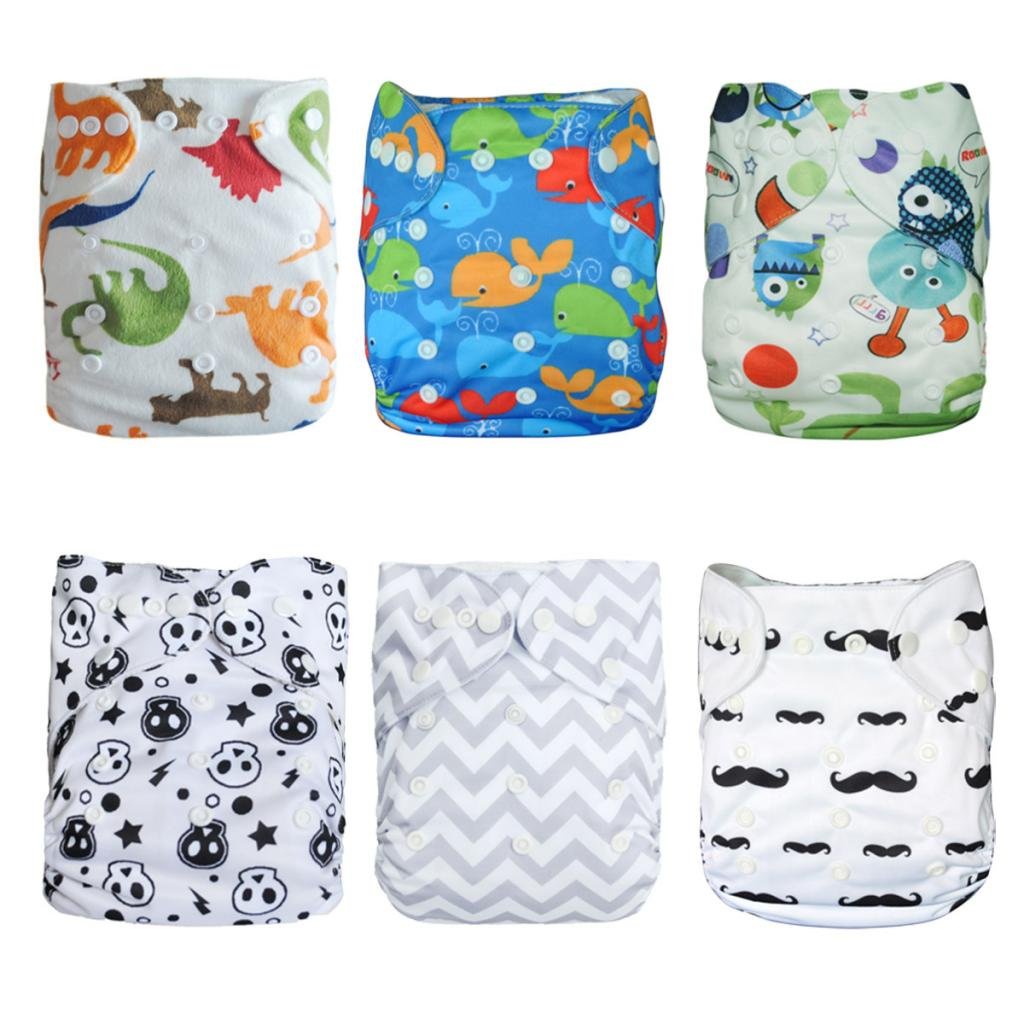 If you're looking to purchase individual diapers that are AIO as oppose to buy a huge set, the Alva Baby Cloth Diaper is perfect for you. While it doesn't have much to offer when it comes to extras, it does stand out as a high quality cloth diaper that can hold up through even the heaviest of accidents.
They come highly recommended by parents and the biggest compliment is that these little diapers are so durable that parents reuse them again for each child.  This means that you are actually saving twice the money. Unlike other diapers which fit a larger newborn, the Alva Cloth Diaper is meant to fit a child starting out at 6 lbs all the way up to 33 lbs.
The diaper itself is made out of comfortable materials and is crafted with the highest of care and quality. This guarantees that even the fussiest of babies will be happy and comfortable all day long. The insert pads are also made with care out of ultra absorbent microfiber terry cloth.
This is the same type of material that can be found on super soft baby bath towels, so you know that they will not only absorb unwanted wetness, they will also be super soft on the skin. Washing these cloth diapers is also a breeze.
Alva suggests that you wash the cloth diapers and the liners separately with just a little bit of salt and soap and let them line dry. These diapers come in a very neutral color scheme and are prices at around $50.
6. EcoAble Baby Charcoal Bamboo All-In-One Cloth Diapers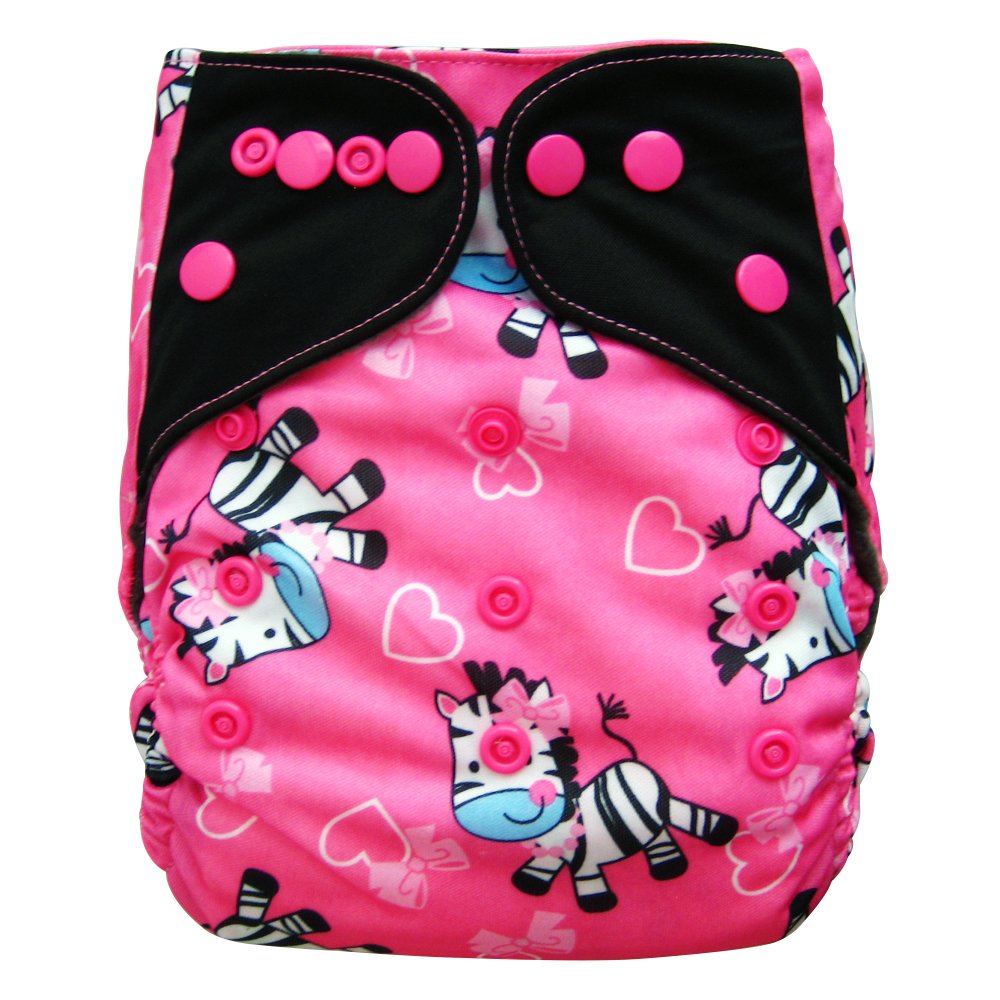 The EcoAble Baby Charcoal Bamboo Cloth Diapers are fully adjustable reusable cloth diapers that feature a multi snap system. By fitting the diapers with a system of snaps that resemble a grid you can truly customize the diaper perfectly to fit your child not only depending on weight but also by their height as well.  May times with cloth diapers you do see some staining even after a couple uses.
The EcoAble cloth diapers are made with stain resistant charcoal and fleece so not only are they absorbing life's little messes, they are repelling stains so that you don't feel like any waste is being deposited permanently into the fabric. While the bamboo is there as a sort of reinforcement wall of leak protection it still helps the overall feel of the cloth diaper stay soft and cozy.
You don't have to use to EcoAble AIO cloth diapers with a liner but you can if you want to. Because of the pocket slip, you can easily slide insert pads in and out.   This means that if you're trying to sleep train you baby to get them resting comfortably throughout the night, you can add liners for leaking support to insure that they stay dry. A dry baby, means a happy sleeping baby.
The name EcoAble is no accident either!  These cloth diapers were tested and approved to meet many eco friendly guidelines so you can feel good about using them over and over again. You certainly won't be disappointed when it comes to style either! These cloth diapers are available in over 25 different patterns each one as adorable as the next like the forest scheme or the construction site design.
Conclusion
With a great AIO cloth diaper set you no longer after worry about how much extra time will be needed to care for them. Many of these sets were specifically designed with these worried parents in mind. If you're still not sure that cloth diapers are the way to go, keep these things in mind:
Saves money
Good for the environment
More sanitary
Helps baby sleep at night
Comfortable
Easier to potty train
Because cloth diapers allow your child to feel wetness, it makes it easier to potty training them in the future. So not only are you doing your wallet and the planet a great service, you are also helping to promote milestones and healthy habits.
When it comes to selecting the best all in one cloth diapers for your little one, just keep in mind all of the things you are hoping to get out of the system and the rest will fall into place. Good luck.
If you are looking for more diaper products, check out our reviews on:
Take a look at these products from the same price range, that are available right now on Amazon: