There have been so many advances when it comes to the everyday products you need to care for your child.  While many of these new and shiny baby items offer many great things, sometimes sticking to what is traditional is best. This is the case when it comes to glass baby bottles. Using glass bottles for your baby's feeding needs may seem old fashion and out of date. However, you may be surprised to learn about all of the advantages of using glass bottles verses using the very popular plastic bottles.
Why use Glass Baby Bottles?
If you are still not sold on making the switch to traditional glass baby bottles, there are a few things to consider.  Here are some of the advantages of using glass baby bottles:
Durable and long lasting
While you may be worried about glass bottles shattering and breaking, they are actually a lot stronger than you think.  This is because these bottles are usually constructed with multiple layers of temped glass that offers the bottle amazing structure and support.  Because of this, glass bottles are not only perfect for everyday use but also for traveling.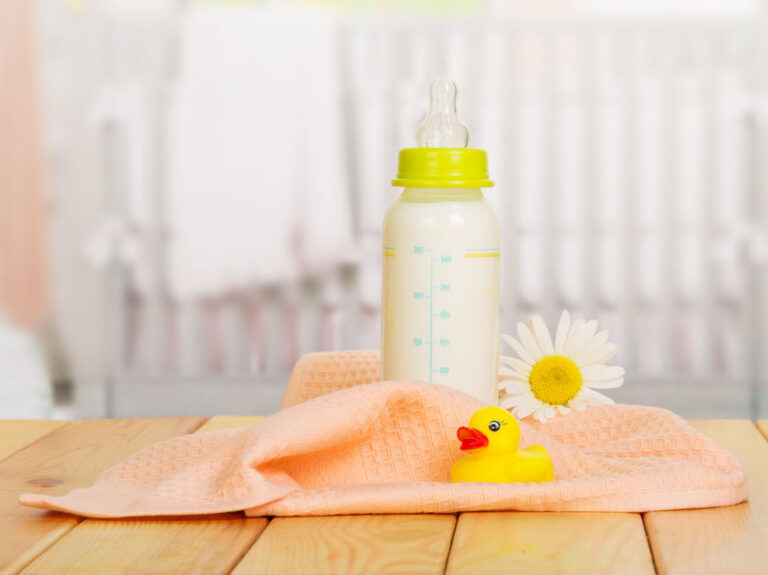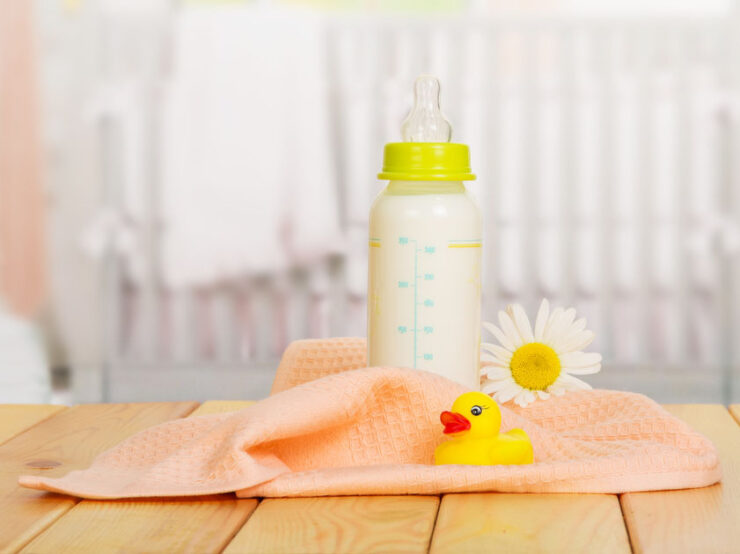 Easier to clean and sanitize
Because these bottles are made with tempered glass, they are meant to hold up through all types of extreme heat. This includes microwave sterilization, boiling water cleaning and even can withstand hot steam cleaning that you would find in the dishwasher. Also, unlike plastic bottles you don't have to worry about the bottle becoming stained or cloudy over time. You also don't have to worry about a permanent film growing on the inside of the bottle.
Chemical free
The number one reasons that many parents choose to switch to glass bottles as oppose to plastic bottles is due to the amount of chemicals that plastic bottles are processed with. While most plastic baby bottles are BPA free, there is always the worry about other toxins. Many of these toxins can be released into the bottle when exposed to extreme heat like those found in the dishwasher or microwave. Glass bottles completely take away any fear of harmful chemicals and potential toxins.
Eco Friendly
Because glass baby bottles are so durable and long lasting, many families choose to reuse the bottles for their next child or even pass them on to expecting family members and friends. Reusing a baby bottle is simpler than you think. All you have to do is simply replace the nipple and nipple ring and you are good to go.  Also because glass bottles are cleaner and clear without any nasty build, you can feel safe using them time and time again.  This also helps to keep waste down which is good for the planet.
If you are interesting in finding one of the best glass baby bottles for your feeding needs but have no idea where to start, you are in luck!  Here are some of the best ones available today.
List of 6 Best Glass Baby Bottles Reviews
1. Lifefactory Glass Baby Bottle with Silicone Sleeve
Features:
Three 4oz glass bottles
Colorful silicone sleeves for protection
Toxic free
Stage one silicone nipples
Perfect for travel
Three bottle caps
The Lifefactory Glass Baby Bottles with Silicone Sleeve offers all of the structure and stability that you would hope to see from a great glass bottle, with a little bit more. The one feature that sets this bottle kit apart from other glass bottles is the addition of silicone sleeves. These brightly colored sleeves do so much more than just look cool. They offer a great grip for both parent and child.
Having a no slip grip allows you as the parent to feed your child in multiple positions, like an upright position, without worrying about unexpectedly dropping the bottle. Having a special grip allow helps to promote your child to learn how to self feed. This is because little fingers can have a better grip and holds on the bottle which will help them build up not only strength but also dexterity which will lead to better fine motor skills.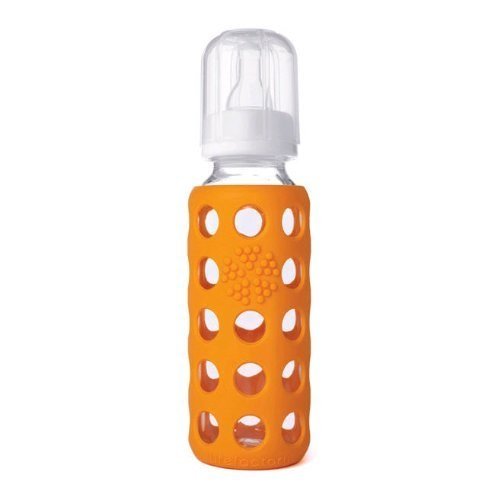 Best of all, the Lifefactory Glass Bottles with Silicone Sleeves were designed to withhold all types of extreme temperatures.  Even with the specially design silicone grip, you can easily throw these bottles directly into boiling water without worrying about doing damage to the bottle of releasing any dangerous toxins.
This kit comes standard with three stage one silicone nipples that are meant to be used for little ones from ages 0 months to 3 months. Once your child outgrows the newborn stage simply replace the smaller nipples for a more age appropriate size. The fun and useful silicone sleeve is what helps to make this product one of the best glass baby bottles available on the market today.
Here are some features that other parents love about the Lifefactory Glass Bottles with Silicone Sleeves:
Super easy to clean
Works with other brand nipples
Feels high quality
Provides great safety and grip
Don't break
Perfect size for newborns and younger infants
2. Doctors Recommended "Healthy Smart Safe" Natural Glass Baby Bottle
Features:
BPA and EA Free
Doctor Recommended
Easy to assemble
Easy to clean
Slow flow nipple
Temperature tested
Flutter flex vent
Designed for babies with colic
Reduces gas and spit up
If you are in the market a great glass baby bottle that also works to relieve painful gas and colic symptoms, then the Baby's Healthy World Natural Glass Baby Bottle may be perfect for you.  This bottle was specially designed to not only reduce the chance of spit up and acid reflux but to prevent this problem all together. This is because the special technology that is only unique to this specific bottle.
The Flutter Flex Vent is a specially designed feature works to control the air flow between the threads located in the ring and the neck of the bottle. This works to keep air from mixing in with the milk or formula which can cause painful gas. This feature also works to keep air out of your child's mouth which will keep them from swallowing air which will irritate their colic and trigger acid reflux.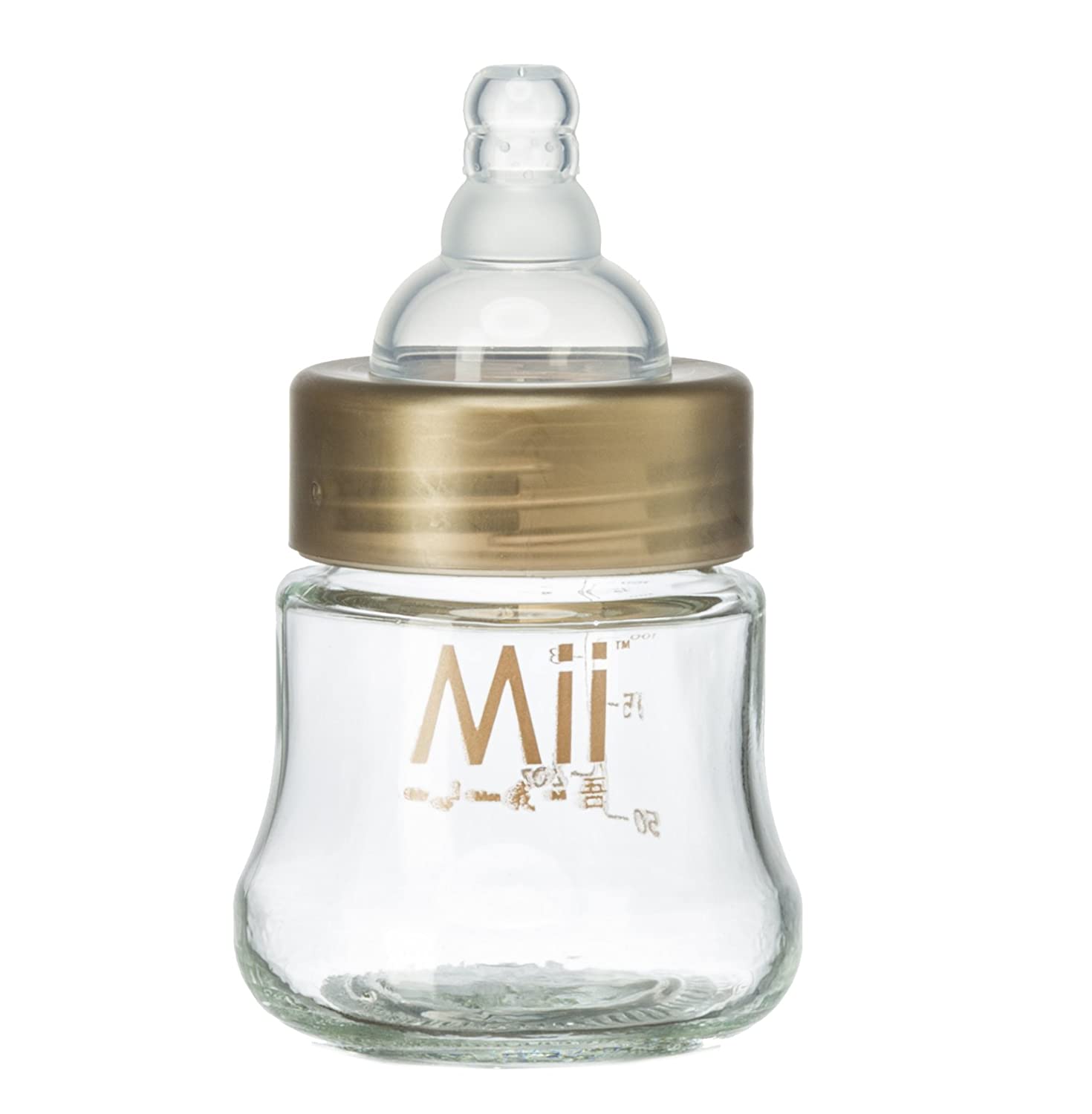 The nipples on the Baby's Healthy World Natural Glass Baby Bottle are special and only found in this bottle as well. The nipple conforms to your child's mouth for a perfect fit each and every time.  This not only guarantees a perfect latch each and every time but will also help your child feel more comfortable during feeding time. This helps to make this bottle a great option for little ones who are making the sometimes difficult transition from breast to bottle.
Lastly, there are raised bumps located on the base of the nipple which not only will simulate the look and feel of a natural breast but will also help to sooth their painful gums during teething time. While this bottle does tend to run on the high end of the price scale, the amazing health benefits help it be well worth the cost.
Here are some raves that other parents who have used and love the Baby's Healthy World Natural Glass have:
Easy to hold
Feels high quality
Breast fed baby latch on right away
Easy to clean
Flat top cap makes storage simple
3. Philips AVENT Natural Glass Bottle, 8 Ounce
Features:
Made of high quality glass
Wide silicone nipples
Heat and shock resistant
Anti-colic system
Three 8oz bottles
BPA free
Slow flow nipple
Easy to clean parts
Philips AVENT bottles have been trusted and used by families for years.  Whether you are buying their plastic or their glass bottles, you know you are getting a high quality and affordable product. The Philips AVENT Natural Glass Bottles are one of the best glass baby bottles around and you are guaranteed to be satisfied.  Because of the structure of these glass bottles as well as the shape you are getting the most natural feeding experience for your child short of actually breastfeeding.
To achieve this, AVENT has designed a special nipple that is shaped like a natural nipple which features a wide mouthed base that helps your child to latch on more quickly and stay latched for longer.  The high quality glass that these bottles are made with is premium, pharmacy grade borosilicate glass.  This also means that these bottles can be exposed to extreme temperatures without shattering.  This glass also acts like a natural shock absorber so that they won't shatter if dropped.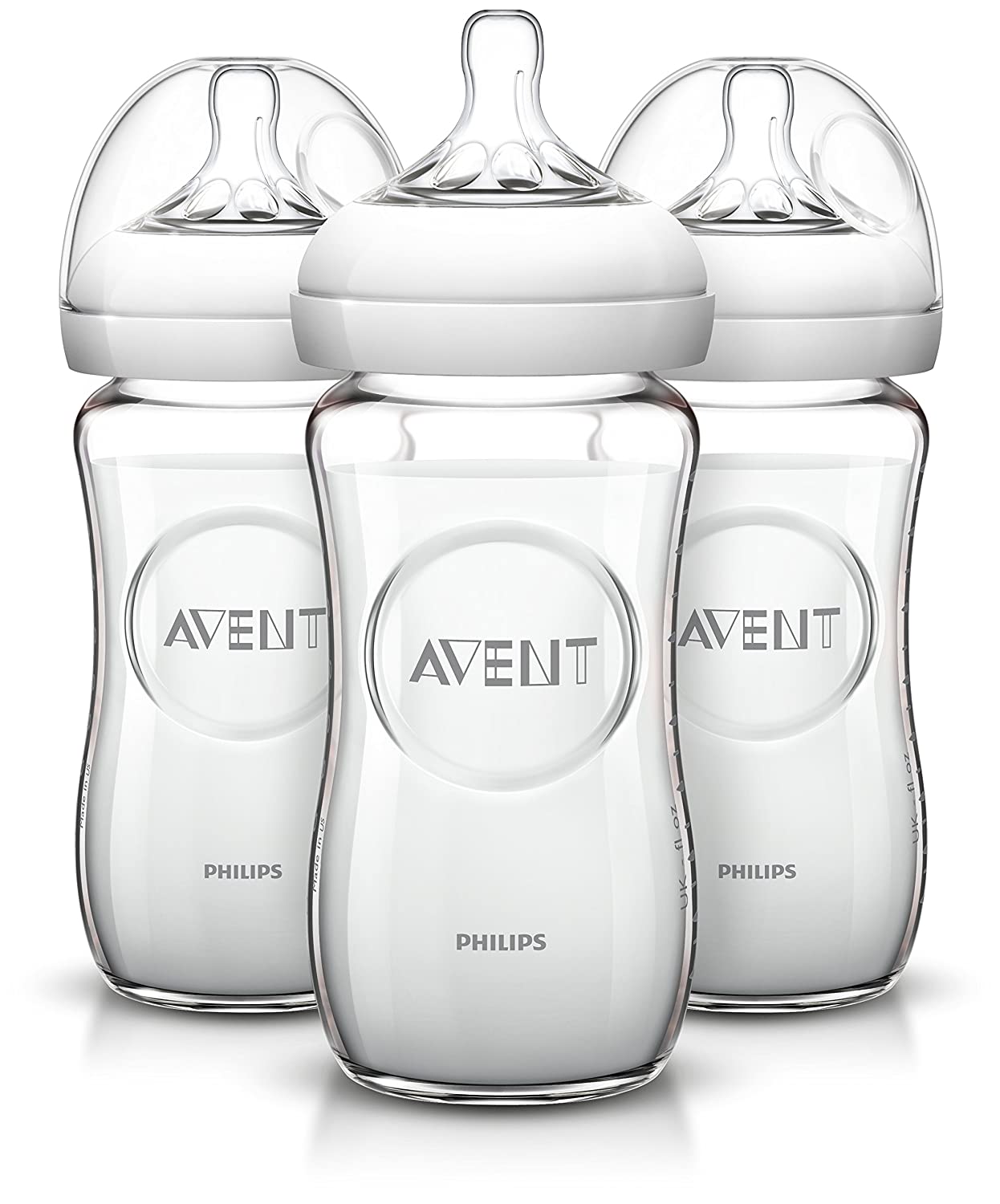 When it comes to the actual health of your child, the Philips AVENT Natural Glass Bottles have got you covered. This is because these bottles are designed with an advanced anti-colic system that is structured directly in the bottle without the need for any extra straws of venting components. The vent is located directly in the nipple which forcefully pushes air away from the milk as well as pushed air pressure away from your child's mouth so that they can enjoy a feeding gas free. Because there are no extra venting parts, this glass bottle is super easy to clean which is great news for busy parents who are already overwhelmed with dishes.
Still not sold?  Here is what other parents had to say about the Philips AVENT Natural Glass Bottles:
Nipples are great for preemies
Chemical free glass leaves no weird smell
Really easy to clean and sanitize
No film or dirt build up
Nipples are easy to replace
4. Evenflo Feeding Classic Glass Twist Bottles, 8 Ounce
Features:
BPA free
Silicone nipples
Micro air vent
Reduces gas and colic
No-collapse nipple
Natural bottle twist
Easy to clean
Comes with bottle caps
Budget friendly
Set of six 8oz bottles
The Evenflo Feeding Classic Glass Twist Bottles may look familiar to you.  This is because these special glass bottles feature a signature curved glass design running up the sides of the bottle. This curve is not there only for looks either! This special design allows for a more comfortable hand feel as well as allows for better air flow within the bottle.
This helps to keep the milk or formula from mixing with air which can lead to air bubbles. Air bubbles are the main culprit when it comes to gas and acid reflux. It isn't only the shape of the bottle that is working for your child either. The soft silicone nipples that come with the glass bottle set features micro air vents located right in the nipple that vents the air away from your child's mouth. The special nipple also keeps the structure from collapsing in on itself which helps to keep your child latch throughout the whole feeding.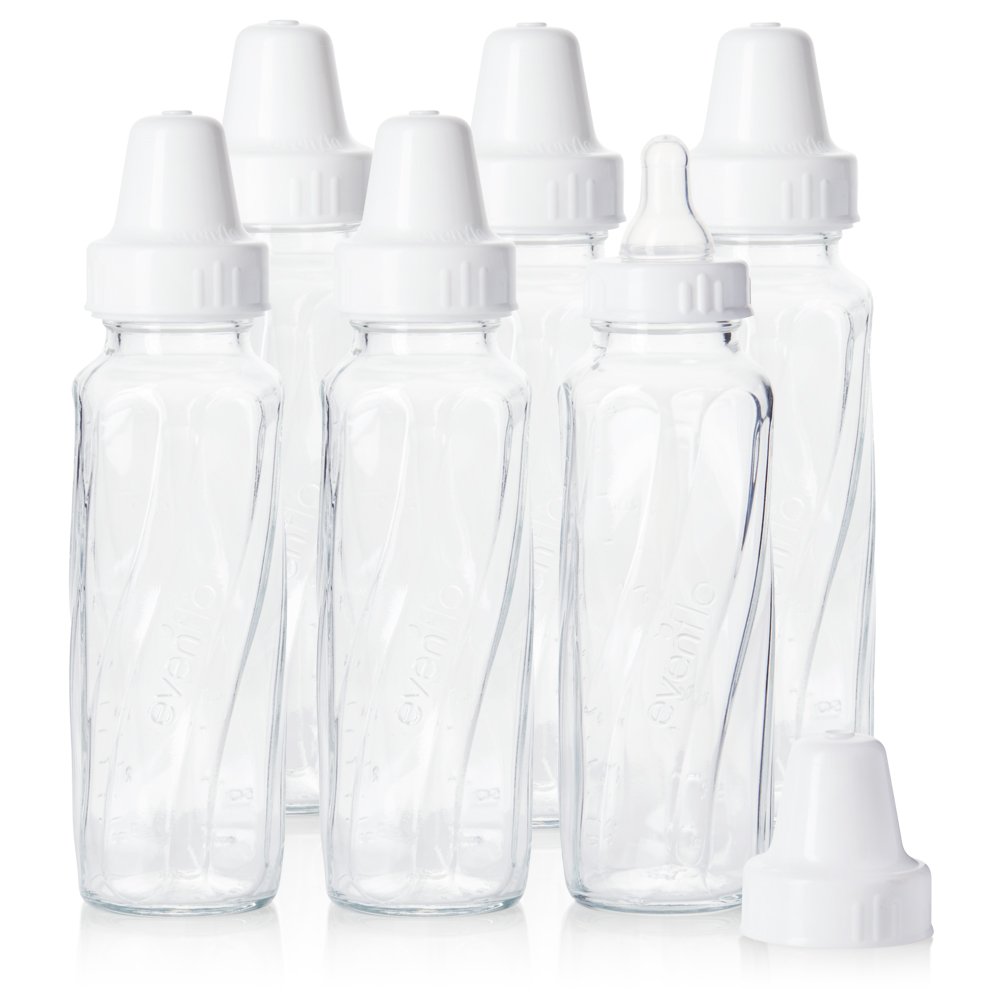 The Evenflo Feeding Classic Glass Twist Bottles are one of the best glass baby bottles because of how easy they are to clean and sanitize.  This is because this specially structured glass is tempered proof which means that you can feel free to boil the germs and bacteria away without worrying about the glass cracking or shattering.
You can even use these bottles in a microwave steamer which is one of the most popular ways to quickly sanitize bottles and pacifiers safely and quickly. Evenflo has been known to make some top notch baby products that are also easy on the wallet.  This bottle set is no exception to this high standard.  The whole set of six bottles will run you less than $20 which is a deal compared to some of the other glass bottle prices.
Here is what other parents had to say about the Evenflo Feeding Classic Glass Twist Bottles:
Feels high quality
No extra pieces and parts to clean
Perfect sized bottles for all ages
Feels strong and durable
Perfect for babies who have severe gas
5. Born Free Breeze 5 oz Glass Bottle, 2-Pack
Features:
ThermaSafe glass
ActiveFlow anti- colic vent
Safe to put in freeze
Comes with slow flow nipples
Includes bottle caps
Hourglass design
Natural style nipple
Voted best bottle 2016
Hitting this list hard is the Born Free Breeze Glass Bottles. These bottles have been a top seller among families who use glass bottles and they also have the awards to back them up too.  This bottle claims to be the easiest glass bottle ever to clean. That is because they keep it simple.  No complicated parts or tubes, just a high quality glass bottle, nipple and cap.  The hourglass shape to the Born Free Breeze Glass Bottles helps in the cleaning process because they are perfectly shaped to fit any sized bottle brush with ease.
This means that you can now easily reach all of those little creases in the bottom without ever worrying about any leftover milk or residue. The shape not only helps when it comes to cleaning and sanitizing your baby's bottles. This shape is also the most natural way to hold a bottle with a slight curve right towards the top. The nipple design of these glass bottles also stay true to the natural feel of the rest of the bottle. This is because these nipples are wide based and soft to give the illusion of a natural nipple which will encourage your child to latch on faster.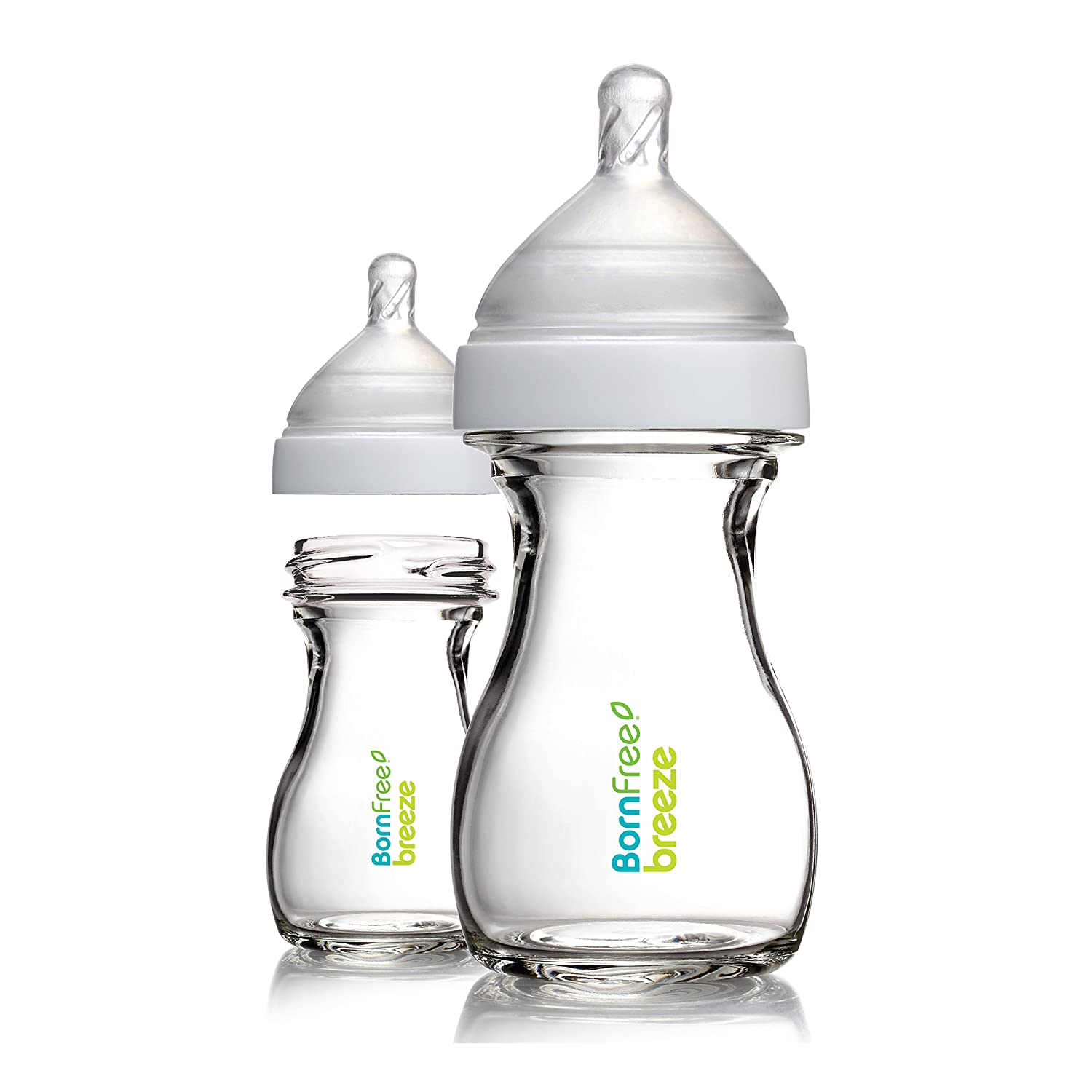 The Born Free Breeze Glass Bottles set out to make the easiest to use glass bottles ever. They did this by using the advice and research with thousands of actual parents. This way you can be sure that you are not only getting a top of the line quality product, but also one that is trusted by many parents just like you. When it comes to the actual glass of this bottle, no other one beats it. This is because this bottle is constructed using special ThermaSafe glass.
While most glass bottles are tempered to stand up throughout extreme heat, this bottle also works perfectly against extreme cold conditions. This means that you can easily store milk or formula directly in this bottle into your freezer to help keep it fresh. Once you're ready to feed your child, simply remove the bottle from the freezer and heat up in a bottle warmer or boiling water without ever worrying about cracking or breaking the glass.
Why should you buy it?  Here is what other parents who have used the Born Free Breeze Glass Bottle Set had to say about them:
High quality glass
Slow flow nipples work great
Venting system keeps gas down
6. JOOVY Boob Glass Bottle 3-Pack, 8oz
Feature:
Natural shape
No-collapse nipple
Silicone sleeve
BPA and PVC free
Three 8oz bottles
Bottle caps
Includes stage 2 nipples
Tempered glass
The JOOVY Boob Glass Bottle claims to be the most innovative baby bottle in both design and function that is available today. This is because this bottle was designed with breastfeeding mothers in mind. Not a breastfeeding mother? No worries! This bottle will work perfectly with formula too. The vent system is unique to this bottle only so you will not find it anywhere else. The CleanFlow vent system works to better circulate the air in the bottle which will help to reduce colic, acid reflux as well as gas.
The nipple is the most natural looking and feeling nipple available in any type of baby bottles, including glass baby bottles. These nipples promise to never collapse. When a nipple collapses during feedings it can lead to your child swallowing too much air as well as cause them to lose their latch. Improper latching is the number one problem that many parents have when trying to transition their child from breast to bottle.
The JOOVY Boob Glass Bottle is made to withstand any sudden change in temperature which means that you easily go from fridge to hot water without worrying about damaging the glass in any way. The silicone sleeve serves two very important functions. It helps with grip which will help to keep the bottle in place during feedings while also promoting health milestones like self feeding. This sleeve also works as a protective barrier for the glass bottle itself.
While the bottle is durable enough not to break when dropped, this silicone sleeve gives you just that little bit extra peace of mind. This makes this bottle not only perfect for your everyday life but also makes it safe enough for travel. This is also because of the bottle caps that are included; you can feel free to toss them in your diaper bag and hit the road without worrying about broken glass or spilled milk.
Here are some of the advantages that other parents found by using the JOOVY Boob Glass Bottle:
Perfect for breastfeeding babies
Easiest bottle ever to clean
Never breaks when thrown
Bottle is very sturdy
Love that they are eco friendly
Conclusion
With the amazing new advanced made in glass baby bottles, there is a way to get all of the amazing features of modern plastic bottles in a more structured and durable product. Here are a few last things to keep in mind before you set out to buy the best glass baby bottles:
Glass bottles tend to come with a higher price, so try to find a set that comes with multiple sizes.
While a silicone sleeve isn't necessary to have, they do make things a little easier. Look for a great glass bottle that either comes with a sleeve or has the option to purchase them.
Glass bottles, like regular plastic ones, need to have the nipples replaced for size and age. Try to find a glass bottle that easily allows you to pop the nipples out and replace them with ease.
With these amazing glass bottles, you never have to worry again about harmful chemicals or having to spend all day washing and sterilizing bottles again. It has never been easier and better for both you and child to have an amazing feeding experience. Good luck.