Skateboarding has long been dismissed as a strange pastime, but because it was included at the 2023 Summer Olympics, it has exploded in popularity and become a must-do activity for children. If you have a youngster who's shown interest in skateboarding, you're probably looking for the most beginner-friendly skateboard available to give them!
Have no fear! You've come to the right place. If you're looking for a skateboard for your child, whether it's their first or next, we talked to specialists to get advice on what to look for when purchasing a new board and compiled an inventory of entire skateboards that we think are fantastic. They all include wheels and trucks, which are ready to go out of the package, and they're all under $100. You can get your child a great skateboard that will last for years to come without overdoing it financially at all!
It's important to know what components make up a complete skateboard before you make a purchase. The deck is arguably the most important component because this is where your child will stand. Boards are usually constructed from wood, bamboo, fiberglass, carbon fiber, or a combination of materials. Each material gives the board different qualities and performance characteristics.
Skateboard decks typically measure between 7 and 10 inches in width and between 22 and 24 inches in length (or longer for bigger riders). Width is important because it determines your stance. One board may offer more foot space than another, which will feel different. Your child should choose a width that feels comfortable to them. If you are an adult buying for yourself, make sure the board is long enough to support your weight and wide enough for your feet without cramping. If your child is larger, make sure their food doesn't hang off the edge.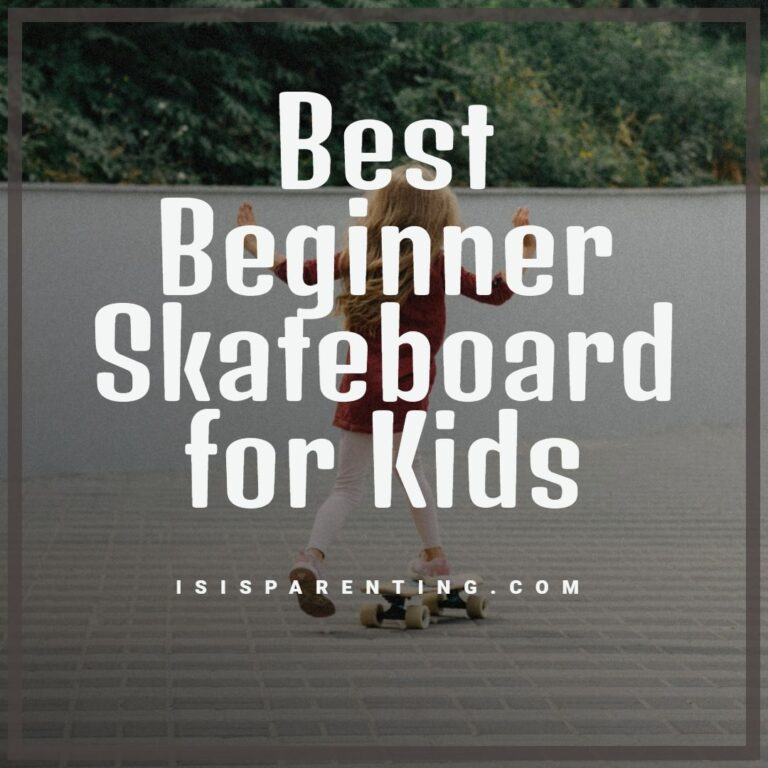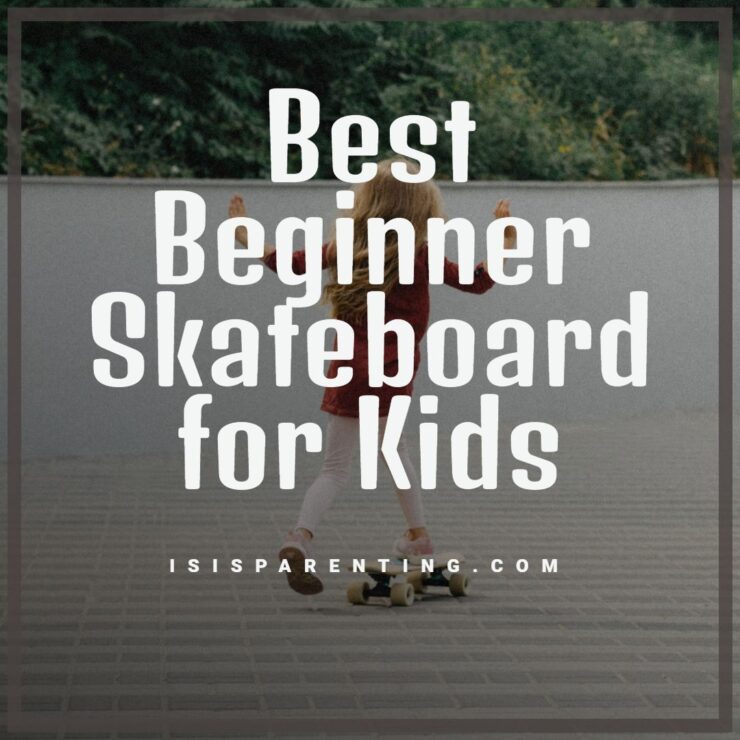 In addition to choosing a length and width, be aware of how the board's concave—the curved portion between its rails—feels as well as its rocker (flatness). The concave affects your feet while you ride. A deep inward curve means your feet will sit in the center of the board and offer great stability, but a flat or shallow concave might be more comfortable. You need to find a balance between stability and comfort.
For beginners, look for a standard-style skateboard with slanted nose and tail kickups that's relatively soft—not too hard, not too soft! The nose and tail will help your child control the board as they learn to take on and off the ground.
So let's list our top skateboards for kids:
1. Smibie Skateboards Pro 31 inches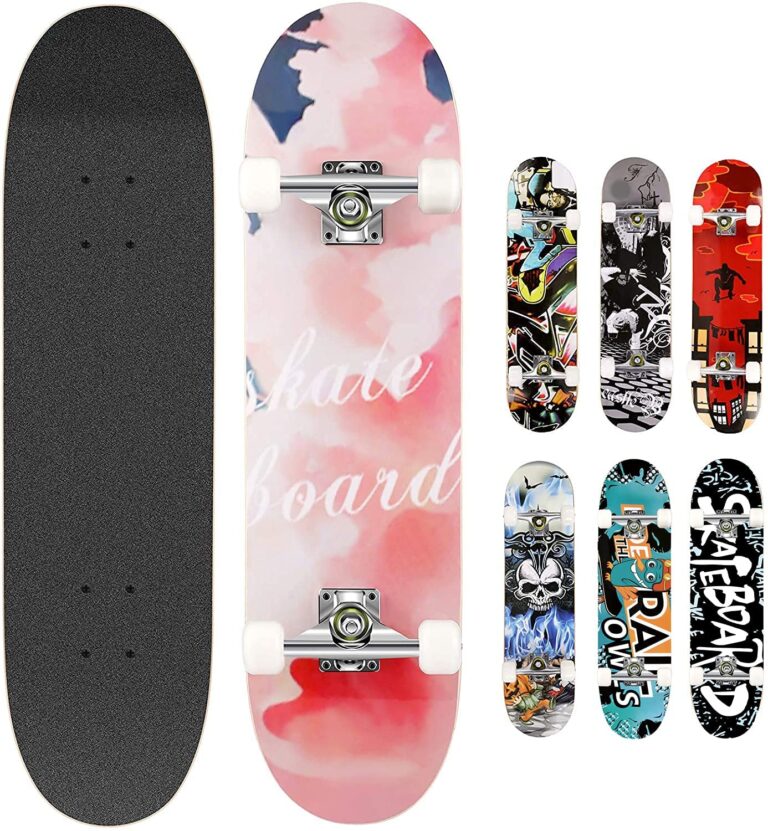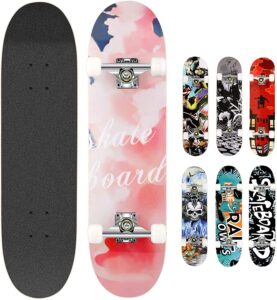 The Smibie Skateboards Pro 31 inches is a full-size double kick concave design skateboard with high density 7 layers of hard Canadian maple deck. It has a max load of up to 220 lbs and comes with 85A PU wheels, ABEC7 bearings, and High rebound PU bushing. Our skateboard is constructed of waterproof heat transfer printing design and is appropriate for any skill level skaters to enjoy outdoor leisure.
Features:
Super smooth PU Wheels that easily go over rugged surfaces
Super precise bearings and high build quality
Thing alloy truck that is super strong
Added grip tape and the skate is completely non-slip
Great price
330 lbs load capacity
2. METROLLER Skateboards for Beginners 31 inches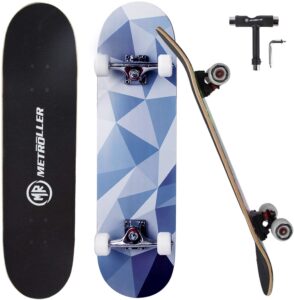 The METROLLER Skateboard for beginners is a good option if you're just starting off learning how to skateboard.  It even comes already assembled so you don't have to worry about setting the deck up yourself. It is also made out of maple wood with a 5 inch reinforced alloy truck that gives tremendous support. It is equipped with anti-shock Rebound PU car line wheels and carbon steel high-speed mute bearings matching with PU bushings for ultimate support and grip.
Features we like:
7 layers give support toughness
Classic kick concave design with a sandpaper mesh that is anti-slip
Nice designs to chose from
Comes with a repair kit
Also has great bearings
330 lbs load capacity
3. WhiteFang Skateboards for Beginners 31 inches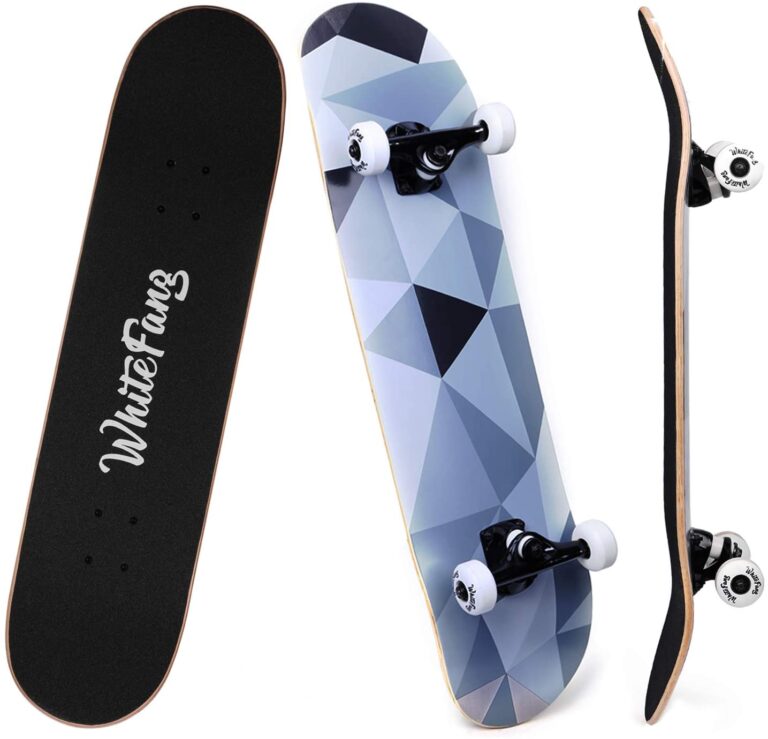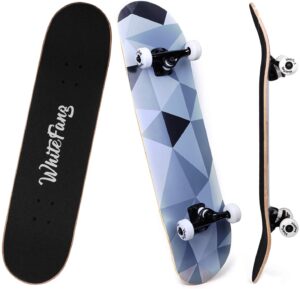 Looking for a great skateboard that is tough and lightweight? Look no further than the WhiteFang Skateboard 31 inches. This board is made of 7 layers of Canadian maple, can support up to 330 pounds, and comes with 5-inch magnesium alloy trucks. The smooth (52mm,95A)High rebound PU wheels are perfect for commuting, skate parks, ramps, pools, and other smooth surfaces or even rough ground. Super responsive and great for tricks. We especially like the designs and colors.
Features:
Top build quality
Super cool aesthetics and prints
Ideal for most surfaces
Classic concave design and sandpaper emery
Great price
330 lbs load capacity
4. Merkapa Skateboard 22 inches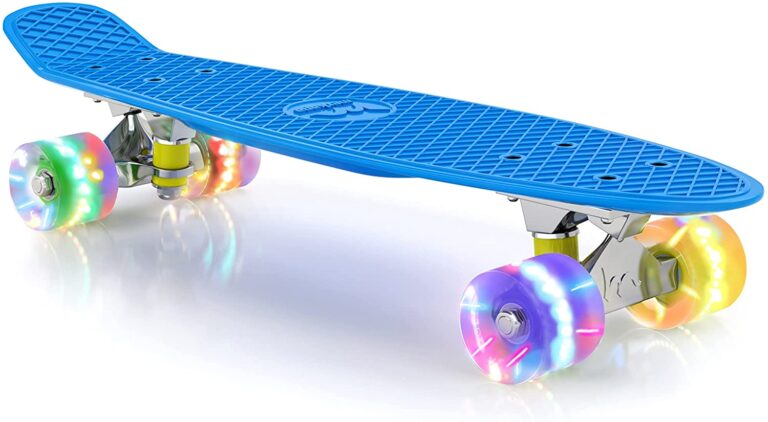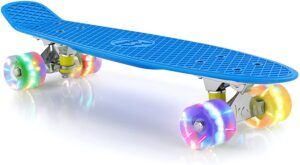 Merkapa Mini Skateboard is a great gift for kids, teens, or adults up to 220 lb. The skateboard features soft 60 mm PU wheels and ABEC-7 bearings that feature shock absorption, fine abrasion resistance, and great grip to increase speed while ensuring a smooth and comfortable ride.
LED wheels are rotary-powered and light up while riding without batteries or chargers for fun and safety at night. A super cool skateboard for smaller kids!
Features we love:
The LED lights look amazing
Durable and good on all surfaces
Great shock absorption
Ideal for any level of experience
Smooth edges so less chance for injury
220 lbs load capacity
5. Magneto Kids Complete Skateboard 27.7 inches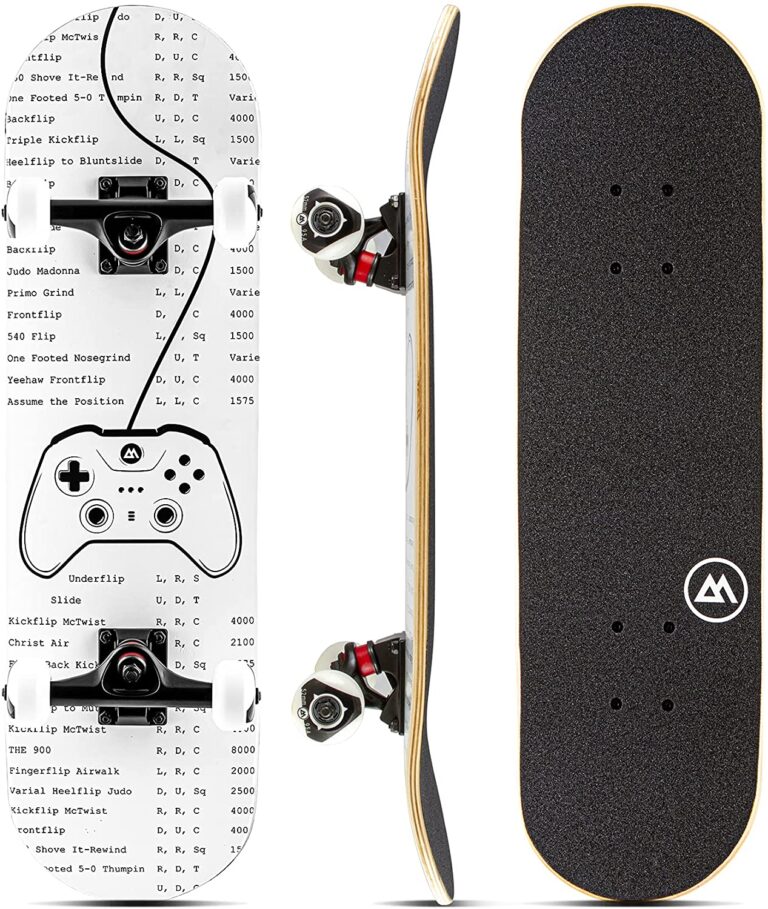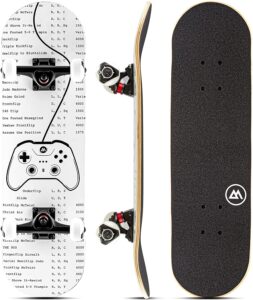 The Magneto Skateboards are designed by skaters and inspired by Southern California. Many of their design cues come from the local surf culture and natural materials. These colorful skateboards feature a very cool and modern design. We discovered that the classic size and form, which is 31 inches long and 8 inches broad, was too lengthy and heavy for kids. So they state that this is the ideal first skateboard!
Features we love:
Super soft, high traction 52mm 95A SHR wheels for ultimate stability
7 plies maple wood with classic concave design
5-inch aluminum tracks
Perfect for tricks and cruises
200 lbs load capacity
Made by skaters
6. KO-ON Skateboard / Mini Cruiser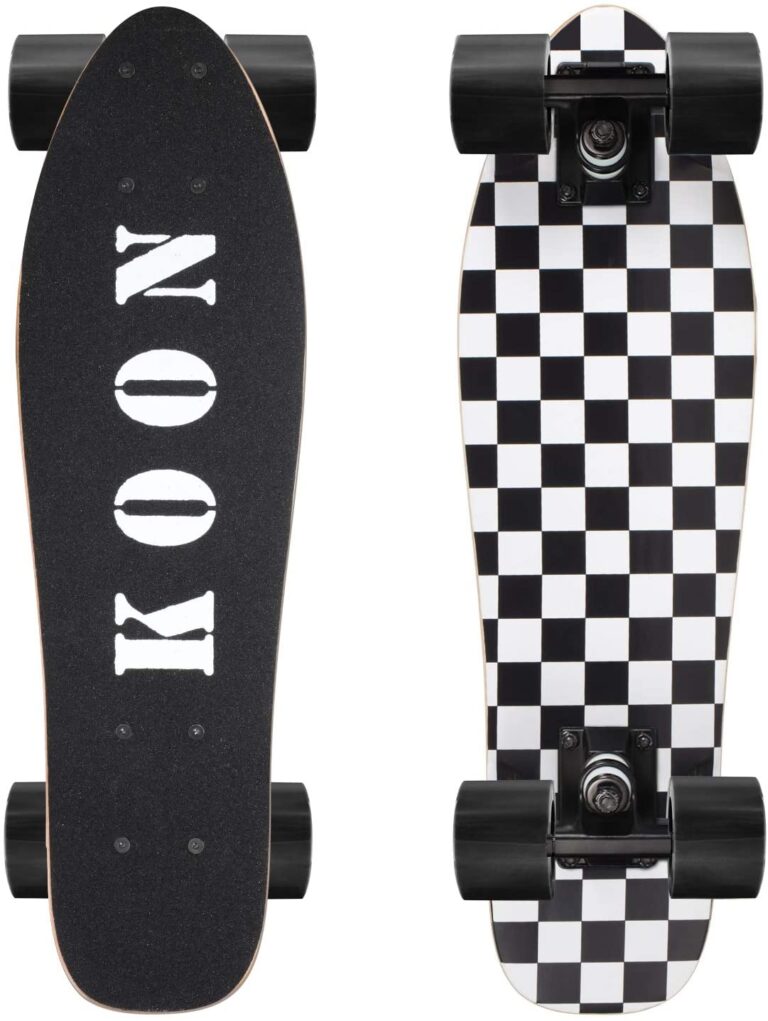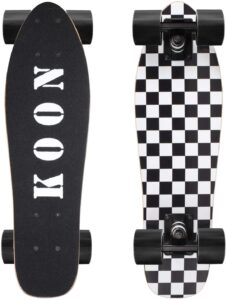 This skateboard is perfect for cruising around and has a full-size 22.05×6 inch Canadian maple deck that supports up to 275 lbs. It has 6 layers, non-slip emery paper, and waterproof/fastness heat transfer printing technology. The 90A PU wheels with bearings and 95A High rebound PU bushing provide a smooth ride, while the different fun designs and colors are perfect for boys and girls. Our tests show that it is super sturdy and has great build quality.
Great mini skateboard
Not plastic but maple wood
Ideal for a starter skateboard
High-quality trucks
Amazing designs, really super fun
7. FlyFlash Skateboard 31 inches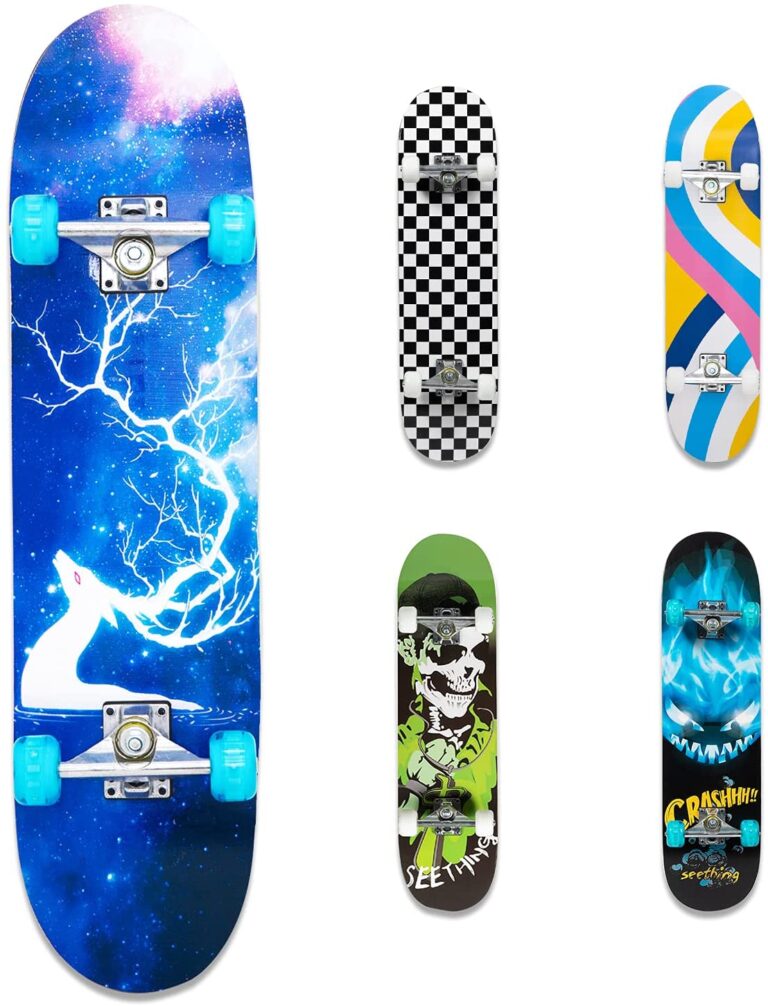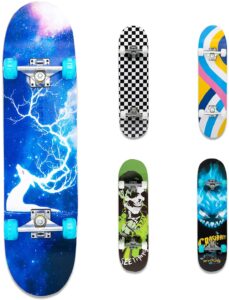 FlyFlash skateboard is a great gift for kids and teens, it's made of 9 layers maple deck and 5 inch reinforced aluminum alloy trucks. It has a maximum load weight is up to 220 Lbs. FlyFlash skateboard with 55mm 100A high rebound PU wheels with ABEC-3 precision bearings, offering a perfect balance between toughness and weight. Anti-shock surface design, ideal for doing some basic skill action, great for beginner kids and teens.
Features we like:
Comes with a repair kit
9 layers of maple which make it even more strong
Great wheels and bearings
Works great on any surface
220 lbs load capacity
What should you be looking for when purchasing a children skateboard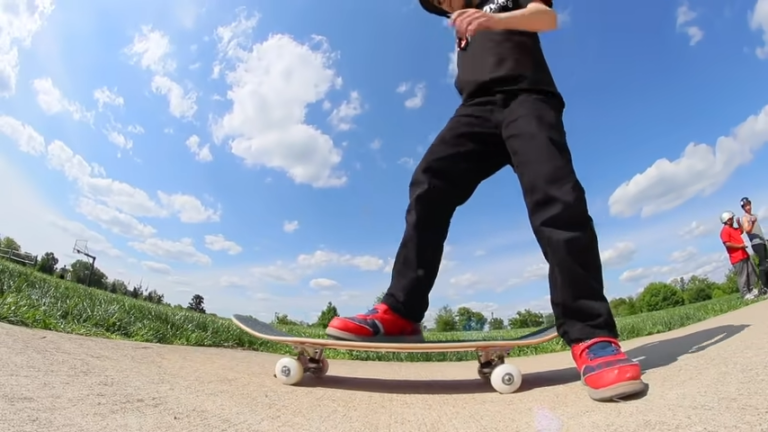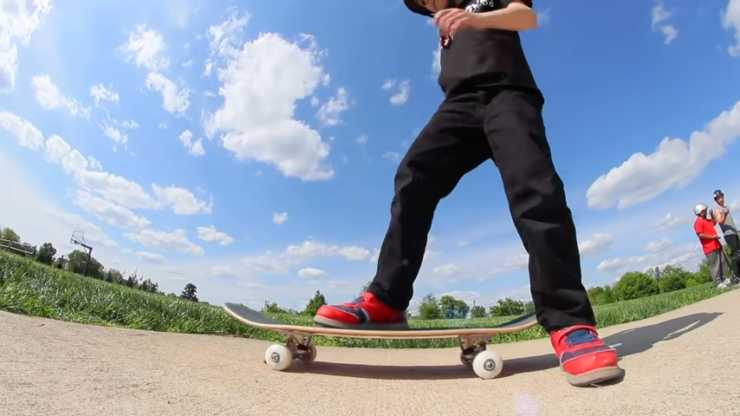 Protective Gear
It's negligent if I don't remind you to acquire the best protective gear, such as a skateboard-specific helmet and knee pads, wrist guards, and elbow protectors. Once you've done your safety check off your list, here are some pointers for shopping for an entry-level skateboard.
Types of Skateboards
If you're looking for a children's skateboard, you'll notice you have two kinds of wheels available that are soft and hard. Hard wheels are made from plastic, while soft wheels are made of the chemical PU (polyurethane).
We have confirmed this with experts, but honestly, anyone who's ridden a skateboard more than once will inform it is the best option.
Imagine it this way the soft wheels are similar to riding in a car equipped with high-quality tires. They're like taking a ride on the rims of your car. The plastic wheels can create a rough experience, and make any move more challenging. Soft wheels help absorb bumps that occur on roads to provide a more comfortable ride. They can also facilitate a smoother stop, as well as a more effortless turning. If you are looking for an entire board (one with trucks, wheels, and deck) Make sure to purchase one that has PU wheels.
Differences between child and adult skateboards
There's not much difference between a kid's skateboard and an adult's. The majority of skateboards for kids are 6-" wide but, truth be told, it's going to be easier for kids to learn on a wider, standard 7.5″ board. A larger board provides them with more stability and something to build on.
Skateboard decks and other surfaces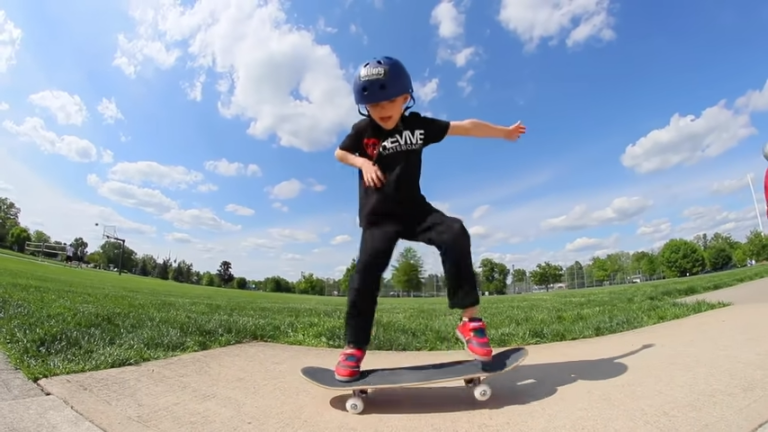 Decks are the portion of the skateboard that you ride on. Plastic or wood is used to make the majority of skateboards, with Canadian maple being the most popular. On wooden boards, you'll generally find "grip tape," similar to sandpaper tape, which covers the surface. This tape is meant to prevent your feet from sliding off and
We would definitely recommend using grip tape for youngsters who are learning to ride, bear your eyes on the ground if have a child of a smaller size who would like to practice riding their bike by riding on their bellies or bums It can be quite uncomfortable and can even lead to injuries. For kids younger than 10 it is recommended to search for an aluminum deck, but make sure that it's well-textured to avoid accidents.
Stability
The stability of the board beginning to learn how to ride the board, it's going require some effort for children to master how to keep their balance on a board that is moving. When you're looking for a new board, ensure that you look for one that has been assessed and classified as solid and stable. A board that is not stable can lead to an uninspiring ride and can be a deterrent for new riders.
Adjustability
When your child is able to take off their board and the wheels seem to be unstable or are turning too fast or slow, remember that skating is a physical sport that is all about personalization and personal experience. It's all you have to do is adjust a few things with the skate key to achieve the perfect size.
The skate key can be described as a tiny wrench that may not come with your skateboard but it's an essential tool for making adjustments. Be aware that a faster turn makes a skateboard easier to learn on. When your child is confident and is keen to practice your tricks, you can ease the turn to suit their needs.
Shoes
Make sure you have the right shoes after you've bought an exercise bike, ensure that your child has the appropriate type of shoes. A pair of good flat-soled sneakers are suggested. The soles of sneakers often aren't enough thick or the large treads have an excessive grip on the board to allow ease of movement.
If you've bought a board with hard plastic wheels, you will need to wear flat-soled shoes that have thin soles. Be sure to check the options with your skateboard before purchasing them or they could end up wearing two different types of shoes if the board has PU wheels and your child is riding on it without any grip tape.
Tricks
Kids can learn tricks from all walks of life while standing in one spot. It's ideal for building strength and balance while getting ready to take off on their own skating adventure once they feel fully comfortable with the grips, turning speed, bearings, size, etc. To start out using an exercise bike at home or taking it outside for some time every day just like other sporting gear although it's best to put your kid on an exercise bike for 5 minutes in the beginning and gradually increase it over time.
The trick is to allow them to be creative in their pursuit of skating, while also taking into account that they can sustain some damage when learning new tricks. So if you're looking forward to buying a skateboard for children or teens, ensure that you set them up with a great board and other equipment. Skateboarding has become the top choice for young individuals who want to express their personality and style by utilizing it as an art form or an activity.
Check out some other picks from Amazon also: