Today we're looking at the Syma X5C as part of our top beginner drones series. From our beginner drone recommendation list, the X5C is the closest to a Phantom look-alike, but don't expect the stability or features such as altitude and GPS hold, like you would on the Phantom. This is a basic, lightweight drone that is good fun for beginners to fly around. In this Syma X5C Explorers review we'll cover everything you need to know when considering your next big drone purchase.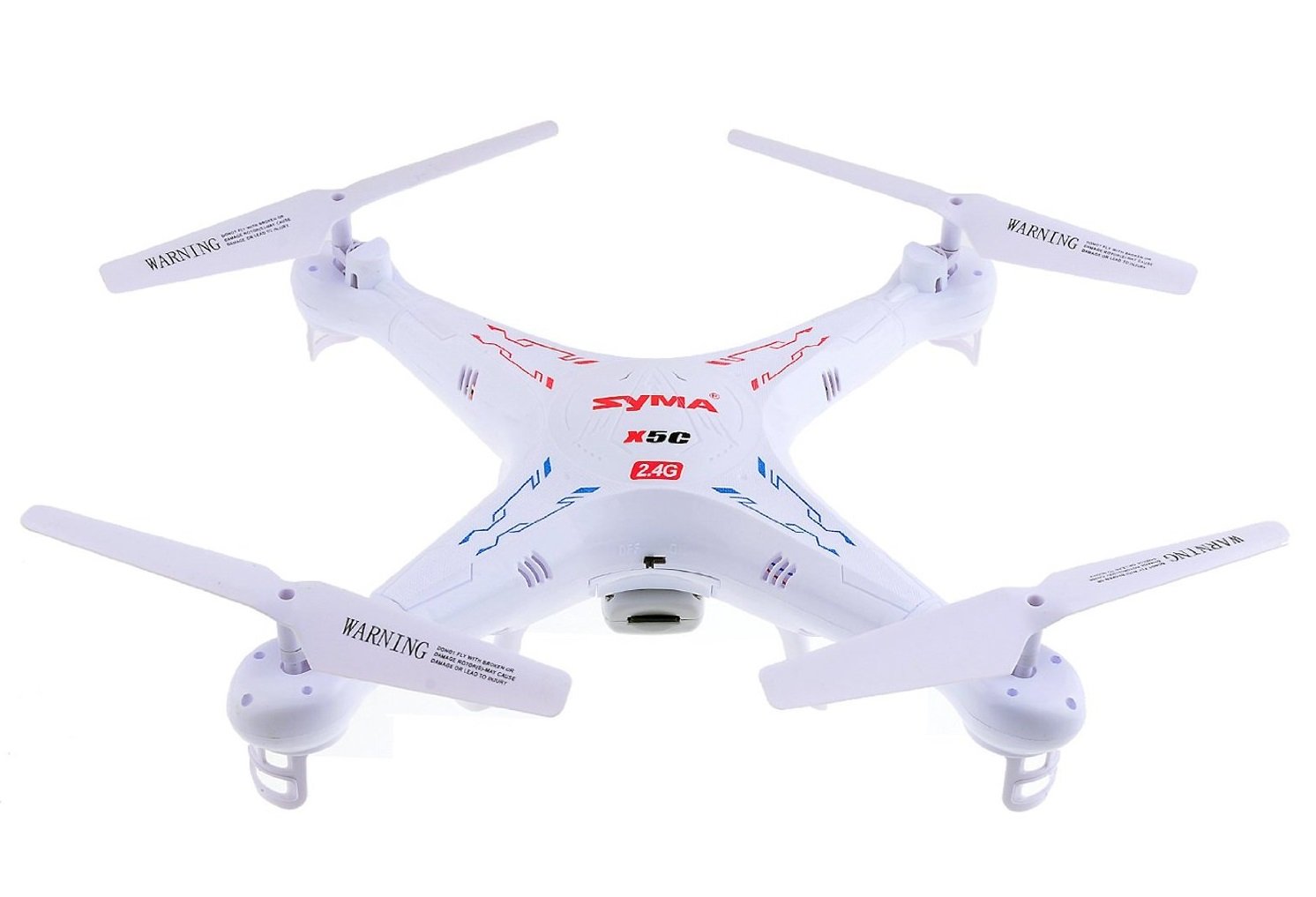 Syma X5C Explorers Review
X5C Specs:
Camera – 2.0 M Pixel
Video – 720p (1280×720 @ 30fps)
Pictures – 1280×720
Flight time (hover) – 7 minutes
Flight time (normal use) – expect around 4-5 minutes
Battery capacity – 500 mAh
Weight (with props and battery) – 96 g
Check it out on Amazon here
The Good:
Remote photo/video recording start/stop
Larger than other budget drones, making it easy to see from a distance
Lightweight
LED lights help with orientation
Comes ready to fly
Suitable for flying outdoors in a breeze
Stable video
The Bad:
Not quite large enough to carry a higher quality camera
No headless mode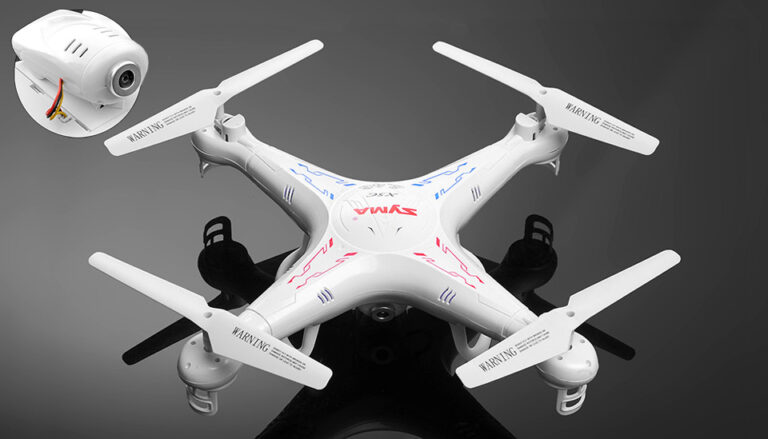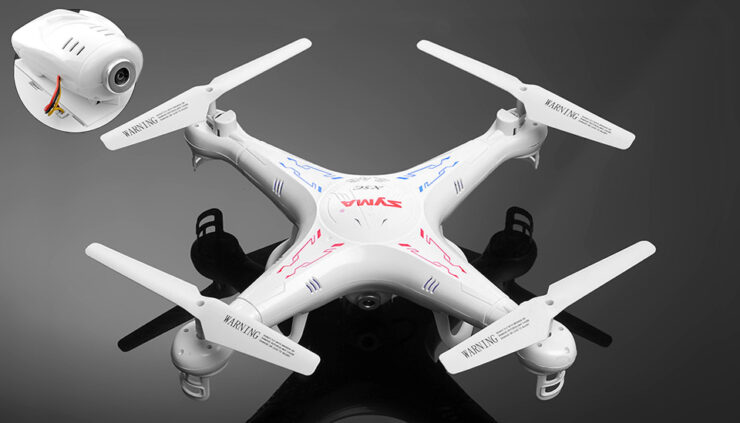 The frame is lit up on each arm with LEDs, so you have no problem knowing the orientation unless the drone is a long way away. The LEDs flash to warn you when your battery is running low, so you can bring it in to land.
The X5C is a bit big for flying inside the house, which is a pity for beginners who benefit from having a calmer environment to start off in. This does mean that it can handle conditions outdoors a bit better than the other options in our beginner drones list .
The lack of headless mode for a drone pitched closer to those wanting a better camera experience is disappointing. Headless mode allows you to use the control stick to fly the drone left/right/forwards/back based on your viewpoint, regardless of the drone's orientation.
See more:
Tips for flying your Syma X5C
You will crash at some point. Buy extra props and other spares so that you can quickly swap these out.
Once you are more comfortable with the controls and flight characteristics we recommend removing the prop guards from each corner, as this will let you fly longer and faster because of the reduced weight.
Batteries can take an hour to charge, so make sure you get extra batteries for your drone so that you aren't constantly waiting for a battery to charge. We recommend a multi-battery charger, which often comes with 4-6 batteries as well. These will allow you to fly almost non-stop!
Verdict
The Syma X5C is a very affordable, easy to control beginner drone. The camera provides good enough quality video and stills for those who want to see the scenery from the sky, but the drone is not powerful enough to carry a higher quality camera. This is to be expected from a drone of this size and cost; if this is important to you then the a model from the larger X8 series is a good budget alternative. Because of its size, the drone is a lot slower and less agile than our other recommendations. For more experienced pilots, this fairly sedated flight may be underwhelming, but for a newcomer the docile craft provides an ideal learning platform. Crashes happen, but when they do the prop protectors and lightweight frame help to reduce damage on impact.
If you are looking for something to fly before upgrading to a specialised camera drone like the DJI Phantom 4, then the Syma X5C will give you invaluable experience. Hopefully this Syma X5C Explorers review was useful to you – let us know if you liked it in the comments or if you want any other drones reviewed.