The Hubsan X4 is an ideal first drone. Whether you just want something that is fun and fast, or would like to get a bit of practice in before flying something more powerful, this drone should be given some serious consideration. The model we are looking at today is the Hubsan X4 107C, which has an on-board recording camera. There are also versions without camera (H107L & H107P) and an FPV version (107D), which has a controller mounted FPV screen providing a pilot's eye view. Let's get into the review of this sweet little quadcopter.
---
Hubsan X4 Review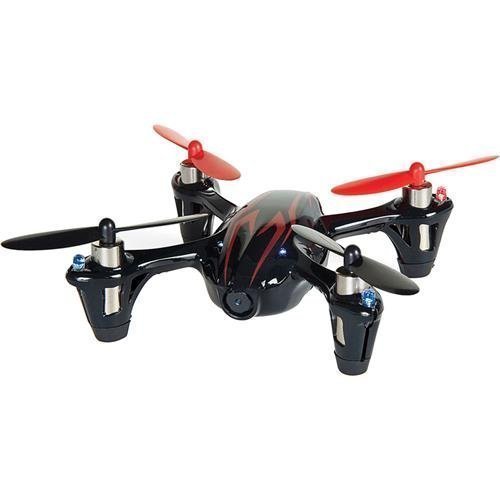 Hubsan X4 107C Specs:
Camera – 0.3 M Pixel
Video – 640×480
Flight time (hover) – 7 minutes
Flight time (normal use) – expect around 3-4 minutes
Battery capacity – 380 mAh
Weight (with props and battery) – 50 g
The Good:
Rubber feet and flexible arms take the impact when hitting the floor
Fast
Lightweight
LED lights help with orientation
Comes ready to fly
Replacement parts are easy to find
The Bad:
Low quality video camera
Video is lost if quadcopter is powered off before stopping recording
Video is very jerky, even when flying in a straight line
Can 'feel' the weight of the prop guard when flying
Not suitable for flying outdoors when windy
See more: 
Looking at the X4 in more detail, it is clear to see that a lot of thought has gone into making the drone durable. The prop protector (which you will find sellotaped to the back of the plastic packaging) is a must when starting out; it will prevent you from crashing if you have a gentle bump into a wall and save you from breaking too many props. The legs are made from two pieces which break apart in a hard landing, to prevent any real damage, and can simply be squeezed back together. The feet are rubberised, providing an extra layer of protection against those heavy landings that beginner drone pilots can expect.
Props simply push onto the top of the motors and are reasonably durable, the downside being that over time the push-fit becomes looser and props have a tendency to fly off; once this happens they need replacing.
The sleek frame is lit up on each corner with LEDs, so you have no problem knowing the orientation unless the drone is a long way away.
We started by flying ours through the house, wandering from room to room with the noisy mosquito sound heralding our approach. The X4 has much more to offer than this though and once it is outside you can pick up some real speed. The expert mode is accessed by pressing down on the right stick and allows you to tilt the drone at a greater angle, going even faster! Expert mode also unlocks flips, but in our opinion these are a gimmick that often leaves you with a crashed drone… Beware of the wind when flying outdoors, especially if flying up above trees, the X4 gets pushed around very easily because of it's light weight and often the only option is landing.
---
Tips for Flying the Hubsan X4 and Simliar Micro-Drones
You will crash at some point. Buy extra props and other spares so that you can quickly swap these out. There is a crash kit available and this also has an extra battery.
Once you are more comfortable with the controls and flight characteristics we recommend removing the prop guard, as this will let you fly longer and faster because of the reduced weight.
Batteries can take an hour to charge, so make sure you get extra batteries for your drone so that you aren't constantly waiting for a battery to charge. We recommend a multi-battery charger, which often comes with 4-6 batteries as well. These will allow you to fly almost non-stop!
---
Verdict
The Hubsan X4 is great fun to fly and very affordable. The basic camera provides a bit of fun for those starting out in the hobby, but you will quickly get bored. We recommend going for the H107L, which is lighter and has a marginally longer flight time because of the removal of the camera. Whichever variant you decide on, the Hubsan X4 is a good choice for beginners and experienced pilots alike. Hopefully our Hubsan X4 review has helped you – if you have anything to add to the review please let us know in the comments below. If you want a specific drone reviewed we also take requests!