With so many options, the best mini quadcopter or drone can be difficult to find. We aim to solve this problem by narrowing the options down to a few models with our easy to digest reviews. Mini quadcopters are also referred to as micro, nano, and even pocket quadcopters. A lot of other reviews of the best micro/mini quadcopters out there will just list off 10 Amazon products but that's not the aim here. Why wade through 10 products when there are 3-4 that fit the bill?
As their popularity continues to skyrocket, so too does the number of potential drones for you to choose from. Micro drones are becoming increasingly popular because of their small size and low cost. Anyone can pick one up and most will be fairly proficient pilots after a few flights. Let's start the outline of our top picks for the best mini quadcopter and drones in 2019.
The Best Mini Quadcopter & Drone
---
1. Cheerson Cx-10 Mini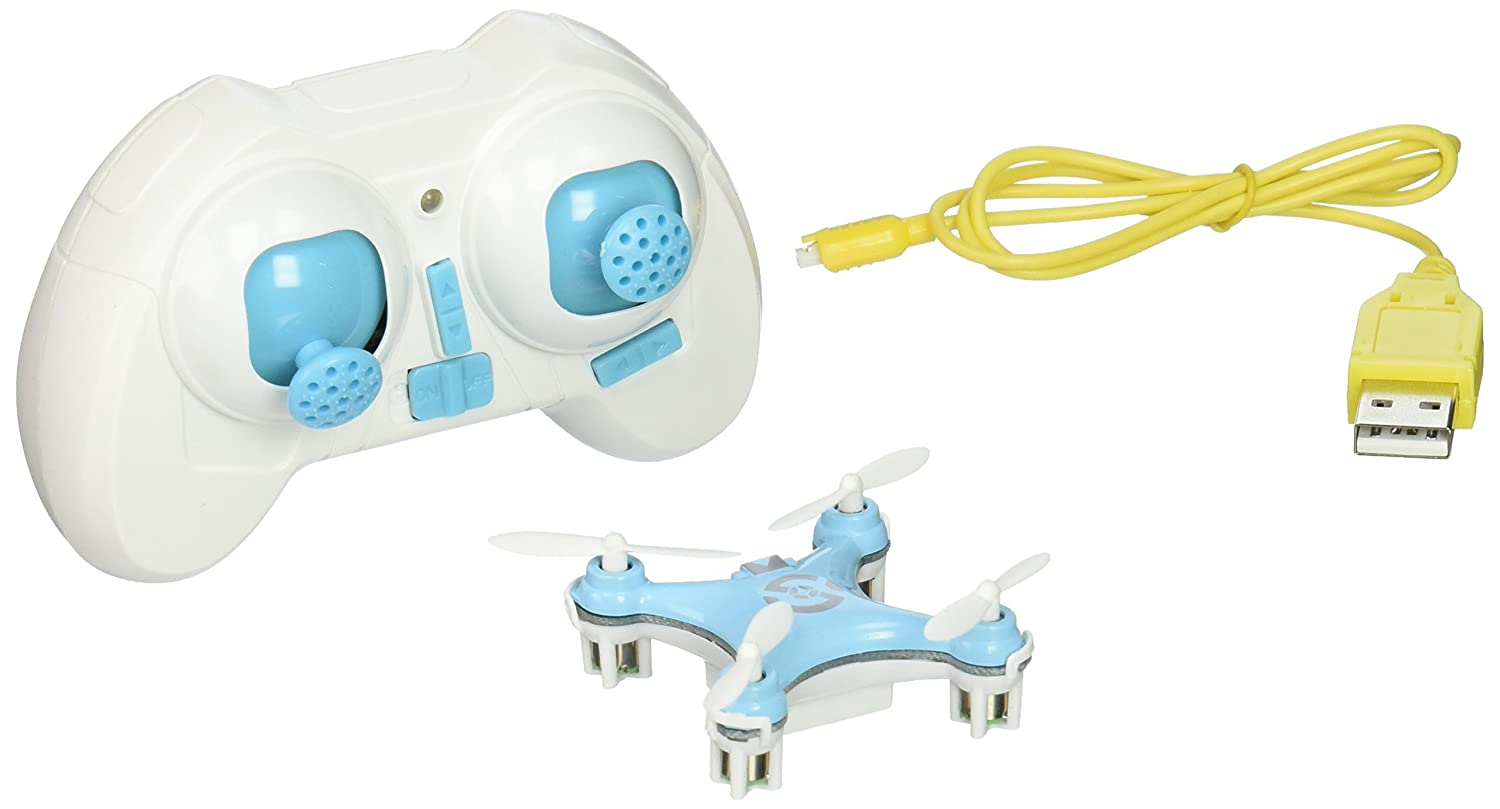 If you're looking for the cheapest, smallest and arguably most impressive (just look at the level of technology Cheerson have packed into the tiny frame), then you've found it. The Cheerson CX-10 is so incredibly small, at just 4cm x 4cm, the biggest downside of this drone is how easily you can lose it.
Flight is surprisingly stable for such a small lightweight drone and it doesn't feel underpowered unless you are flying outside in a breeze. Slip it in your coat pocket and take it anywhere you go.
Convince some friends to buy one each as well and you can have an aerial battle in the living room, great fun!
Who do we recommend it for? Anyone! If you want a fun, indoor quad that will entertain you and your friends then this is a great choice. Overall we think this is the best mini quadcopter available right now in terms of performance and price.
---
2. Hubsan X4 (H107L) 4 Channel 2.4GHz RC Quadcopter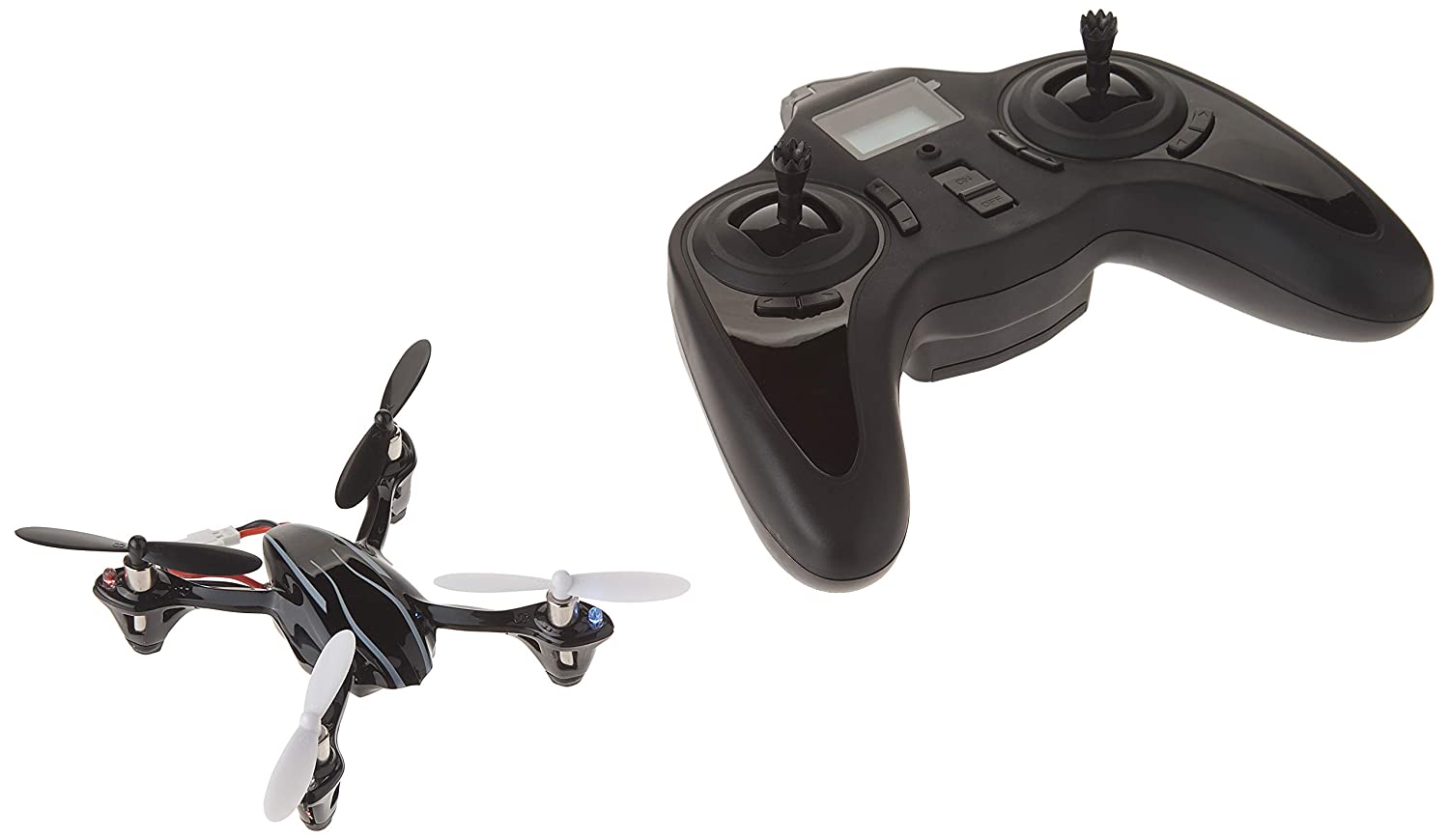 The X4 is larger than the CX-10, but still easily fits in the palm of your hand. It has a bit more grunt behind it and handles outdoor flying better than the Cheerson, it also flies a bit faster thanks to more powerful motors.
The agility of the drone is great and allows you to pull off tight turns and maneuvers with ease. The X4 is sturdy and designed to handle a hard landing or bump into a wall without falling apart.
Who do we recommend it for? This is an ideal first quad for people interested in drone racing. The agile flight characteristics will get you used to how a racer feels, without breaking the bank. The "Expert" mode will have you whizzing around your local park and there are even FPV versions for those who want more of a taste of drone racing before committing to a full-scale racer.
For a full run-down on this drone, check out or Hubsan X4 review.
---
3. Syma X5C 4 Channel 2.4GHz RC Explorers Quad Copter w/ Camera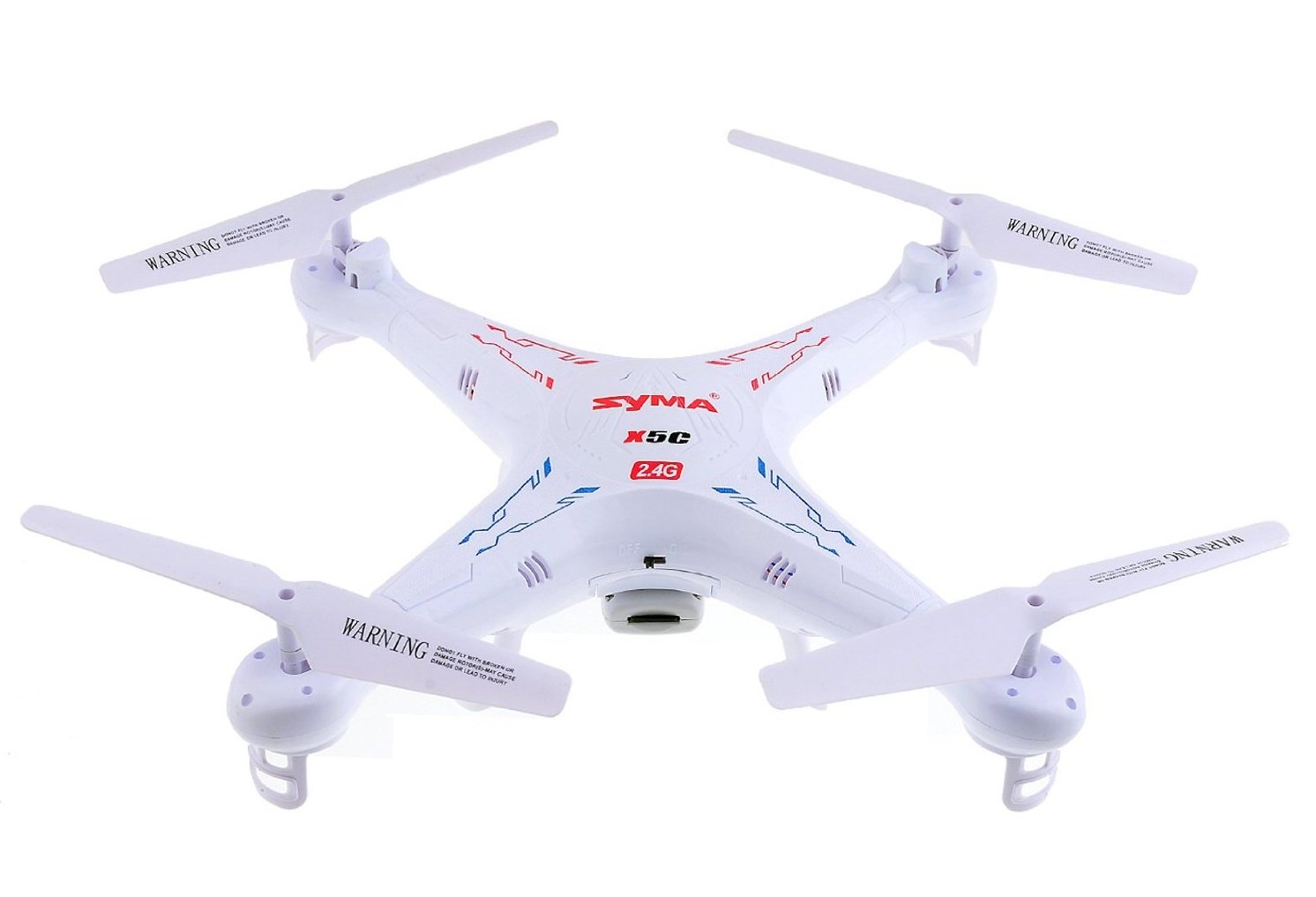 Of the three top picks here, the X5C is the largest and most capable of filming reasonable video. For pilots considering the likes of a DJI Phantom, this is a good first choice to get used to how a larger drone handles. This won't be beating anything in a race, but will provide a more stable platform for videoing and shooting outdoors.
Reasonable flight times mean that you can get a decent amount of flight time in and an in-built HD camera gives pretty good footage.
Who do we recommend it for? New pilots and those looking to upgrade to a proper camera drone in the future.
For a full run-down on this drone, check out or Syma X5C review.
---
4. Blade Inductrix FPV BNF Ultra Micro Drone with Safe Tech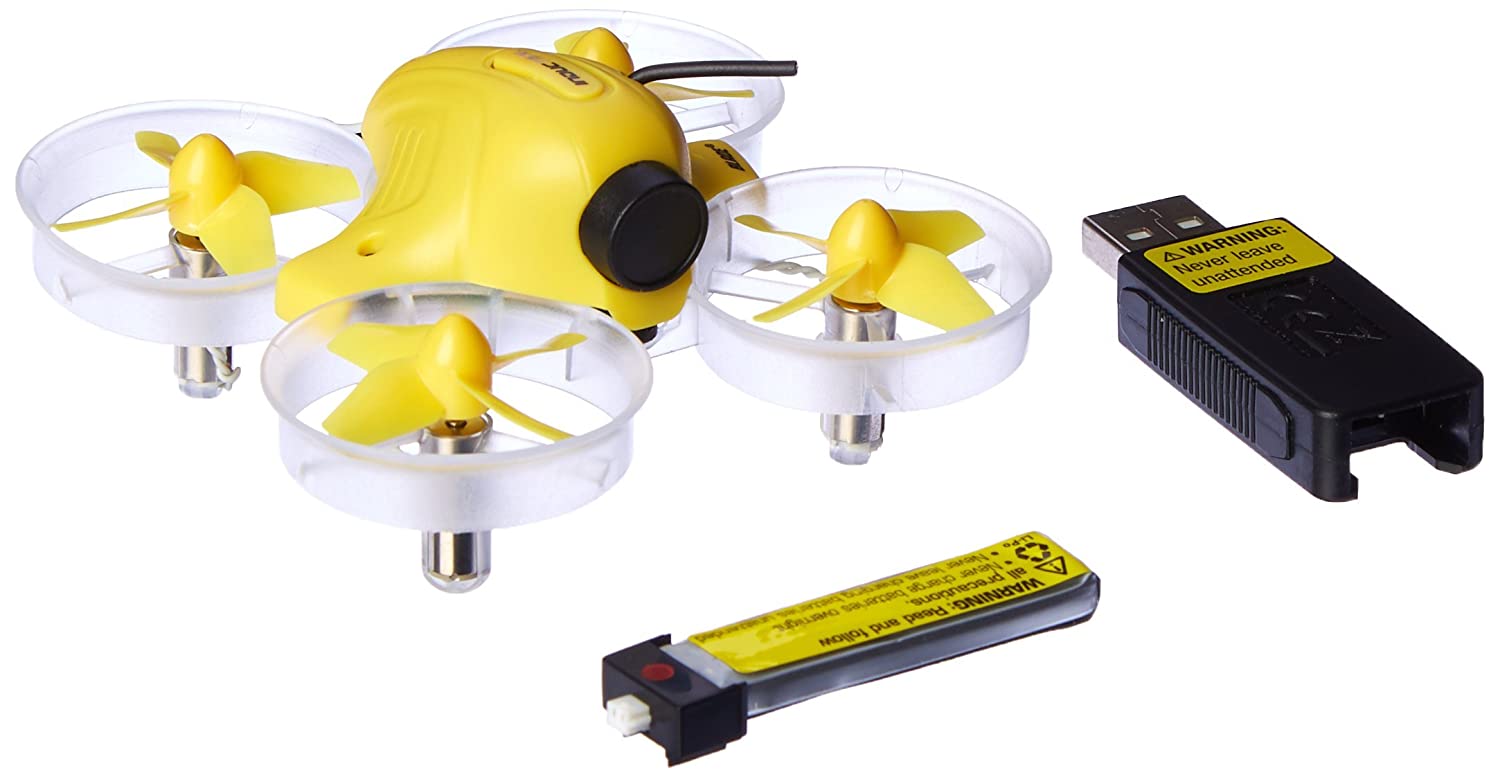 This combination of a Blade Inductrix and Micro FPV pod is taking the drone world by storm! The Blade Inductrix is a great beginner drone, but is a fair bit more expensive than the other options in our list. What makes it unique are the fan casings, improving efficiency and providing protection to the props. There are ready to fly versions out there, or for those who already have a Spektrum or DSMX/DSM2 compatible transmitter, you can buy the drone by itself and use your existing transmitter.
What we like is that lots of people are now mounting an all-in-one FPV pod (containing camera, transmitter and aerial in a neat package) to the top of the Inductrix and using the drone for great indoor FPV fun. This is ideal for beginners, who can get a budget set of FPV goggles (see our top picks (link)) and experience FPV on the cheap.
The modification does involve some soldering, but don't let this put you off, you will be left with the experience you need to build more advanced custom drones.
Why do we love it? Like the other micro drones on the market, the Inductrix is great for those wet or windy days that mean flying outside is off the cards. By adding the FPV pod, you can now have all the fun of FPV, without worrying about the weather! Set up an indoor track, racing around household obstacles like chairs and tables; challenge your friends to a race or take turns, fastest time wins!
If you would like to know more about the Tiny Whoop, let us know. We might just consider doing a detailed build guide, so that you have step-by-step newbie-friendly instructions to follow.
---
Tips for flying a micro quadcopter/drone
You will crash at some point. Buy extra props and other spares if they are available so that you can quickly swap these out. We also recommend flying with prop protectors the first few times you use your drone, as these will help reduce the likelihood you will need to replace the props.
Once you are confident flying, remove your prop protectors. Any additional weight will reduce your flight time.
Batteries can take an hour to charge; make sure you get extra batteries for your drone so that you aren't constantly waiting for a battery to charge.
---
Before you fly your new mini quadcopter
Make sure you read up on your local drone/UAV laws. Flight is typically restricted to line-of-sight (you must always be able to see your drone) and below 400 feet. Never fly near an airport/airfield or over roads, buildings and people.
Check your transmitter is powered on before you power your drone.
Check your drone battery is charged.
Check your drone for any damage and ensure props, prop protectors and any camera are attached securely.
---
Conclusion
Whilst the level of detail presented here enables beginners to make an informed choice, we are aware that experienced users will be on the lookout for a broader review. You'll find reviews for every one of our best selections on the website, simply follow the hyperlinks below. When you have questions about any of the best selections, please contact using the"Contact us" page. Thank you for reading and hopefully this best mini quadcopter review page can assist you in choosing your next small drone!