Finding the right diaper bag for you can be a hard decision. There are so many choices and so many different styles. You can buy a small diaper bag or one large enough for an entire weekend. Parents that like to over-pack will want a huge bag, but minimalist parents might just prefer one of the best small diaper bags.
If your child is a bit older, you may want to switch to a smaller sized bags. As your baby ages, you need to take less with you. My third child is nearly one-year-old, and the number of things I bring with us when we leave the house have significantly decreased. In the beginning, you feel like you need to bring the entire nursery. As they age, you typically need to bring diaper supplies, one change of clothes and a few toys to keep them entertained.
What is a Small Diaper Bag?
The definition of a small diaper bag can differ based on what size you think is reasonable. In general, a small bag is assumed to be 13 inches x 18 inches with a width of 2 to 3 inches. A bag this size doesn't allow you to take everything, but it is practical enough to fit all of the essential items. You don't want a bag that can't hold the necessary things.
If you want a small diaper bag, you may want to purchase a set with multiple bags. Sets include a large diaper bag, a smaller bag, and other accessories like an insulated bottle bag or clutches. You could just purchase a smaller diaper bag if you don't want all of the other accessories.
If you want to buy a set, I highly recommend this one:
The SoHo Grand Central Station diaper bag is one of the best-selling diaper bag sets. It includes seven different parts for everything you may need while on the go. Here is what you get!
A large, main bag with multiple pockets for storage and a zip-top closure
A smaller bag with a zipper closure and a carrying strap
Matching changing pad
Two accessory cases for carrying smaller items
An insulated, zippered bottle bag that fits most sized bottles
Stroller grips that let you attach the bag to a stroller
There are seven pieces in total, making it a great value and worth the money! It is one of the best ways to get both sized bags you will need throughout infancy.
List of 9 Best Small Diaper Bags Reviews
1. Petunia Pickle Bottom City Carryall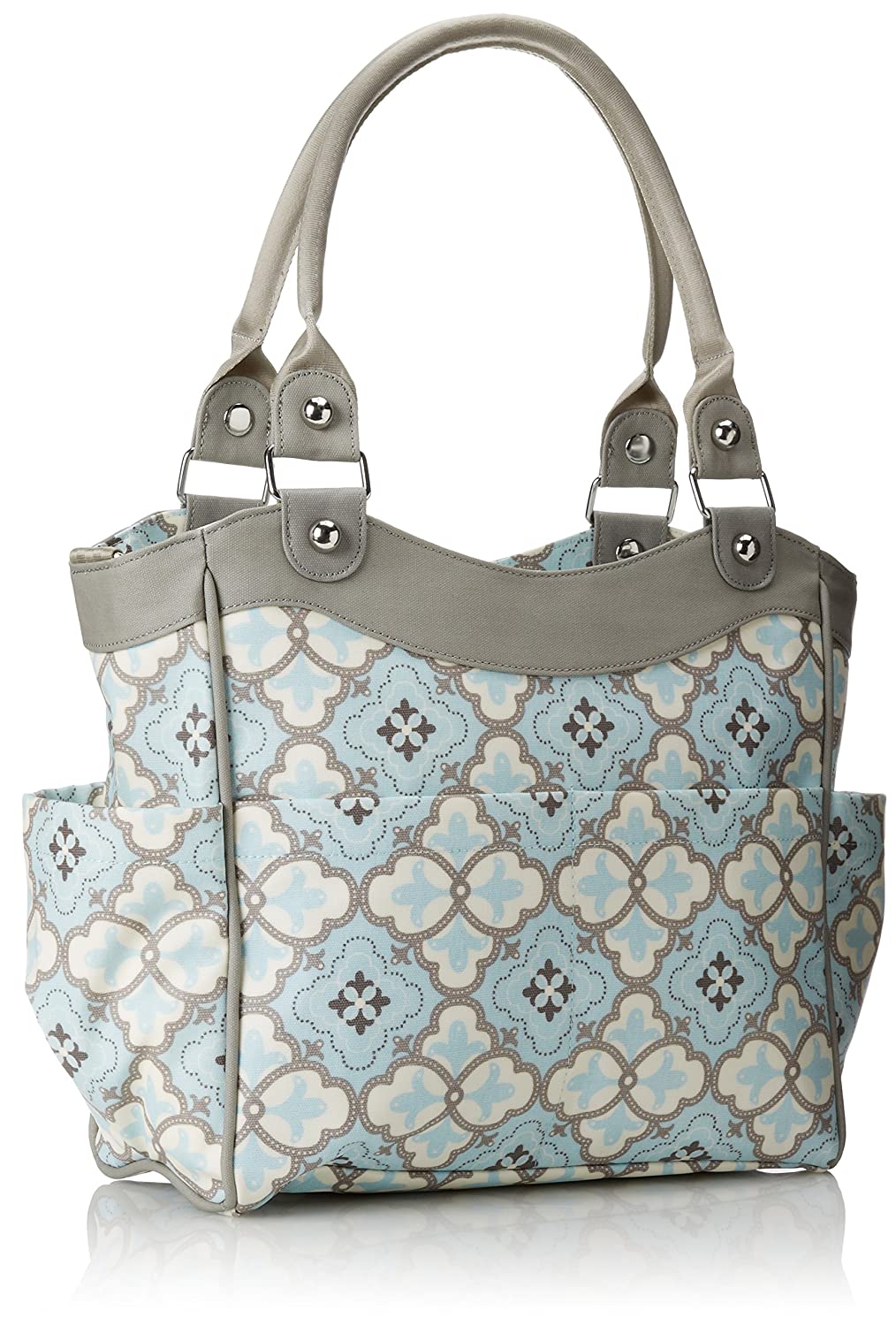 Petunia Pickle Bottom makes impressive diaper bags. They are high quality, stylish and functional bags that mothers love. The bag measures 13 inches long x 11.5 inches high x 5.5 inches wide. For a small bag, it provides a large interior with two bottle pockets, one zippered pocket, and two organizational pockets for smaller items.
There is a built-in changing station with a removable changing pad. The pad has an organizational pocket and a small pacifier pocket; you never want to lose that! On the exterior of the bag, there are two bottle pockets along with two pockets for additional storage on the back. You can carry the bag either with the padded tote handles or the removable, long strap to carry it cross-body.
The City Carryall is a bit pricier than the other small diaper bags because Petunia Pickle Bottom is a designer. However, you can rest assured that the bag is worth the money. The quality of the bag will allow it to last for years to come.
2. Ju-Ju-Be MiniBe Small Backpack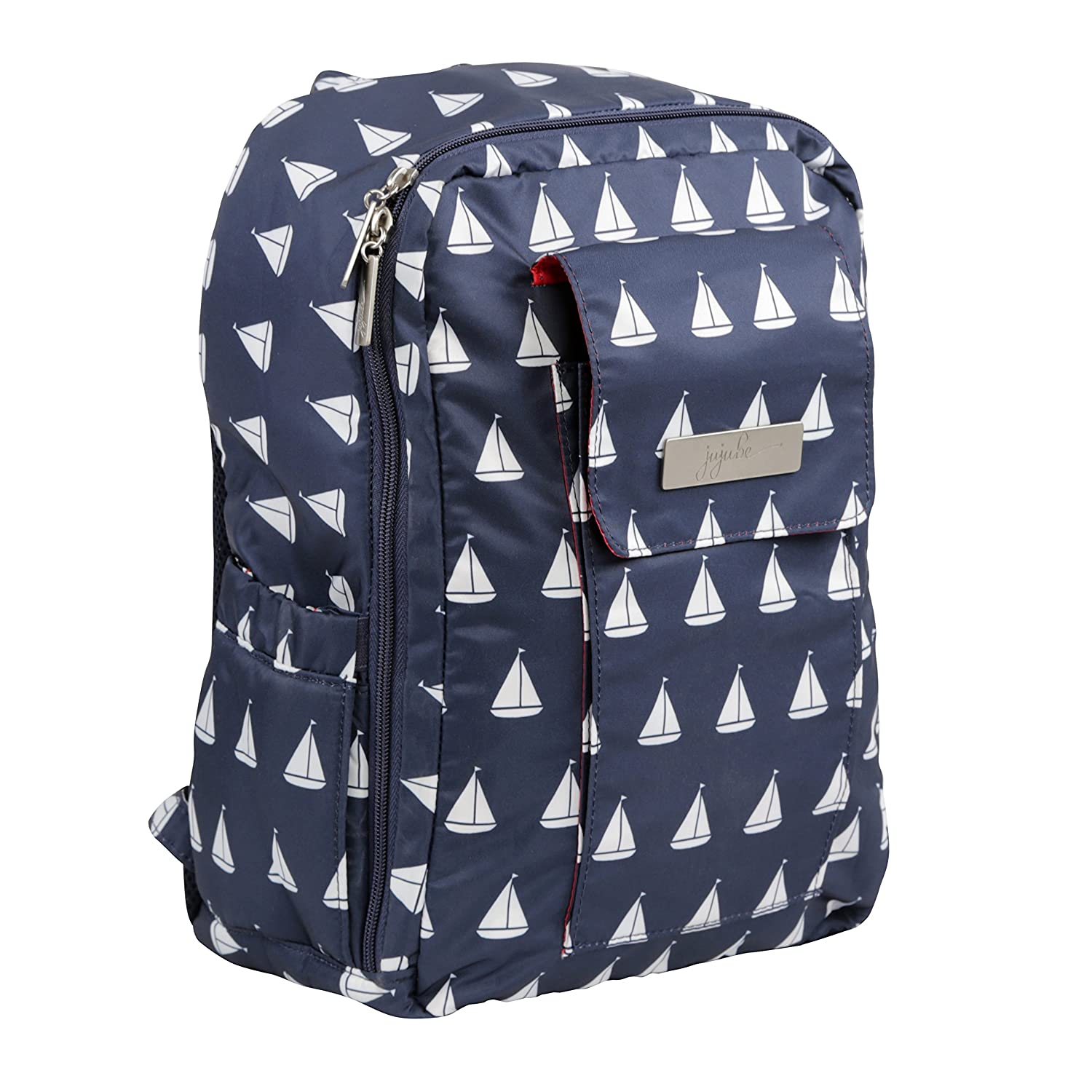 Another excellent choice for the best small diaper bag is the Ju-Ju-Be. The MiniBe is perfect for short trips around town with your children. However, they do offer a larger version if you want a similar, but larger, bag. On the exterior, there is a large, magnetic pocket for items you want to be able to access quickly.
Ju-Ju-Be treated the MiniBe with their standard Teflon and Agion treatments. Teflon handles the outer fabric and helps to repel stains. The Agion treatment gives the bag an antimicrobial protective lining. It wards off bacteria, mold and mildew growth. If it gets dirty, you can place the bag in the washing machine. Ju-Ju-Be offers a lifetime, limited warranty against any manufacturing defects.
3. JJ Cole Satchel Diaper Bag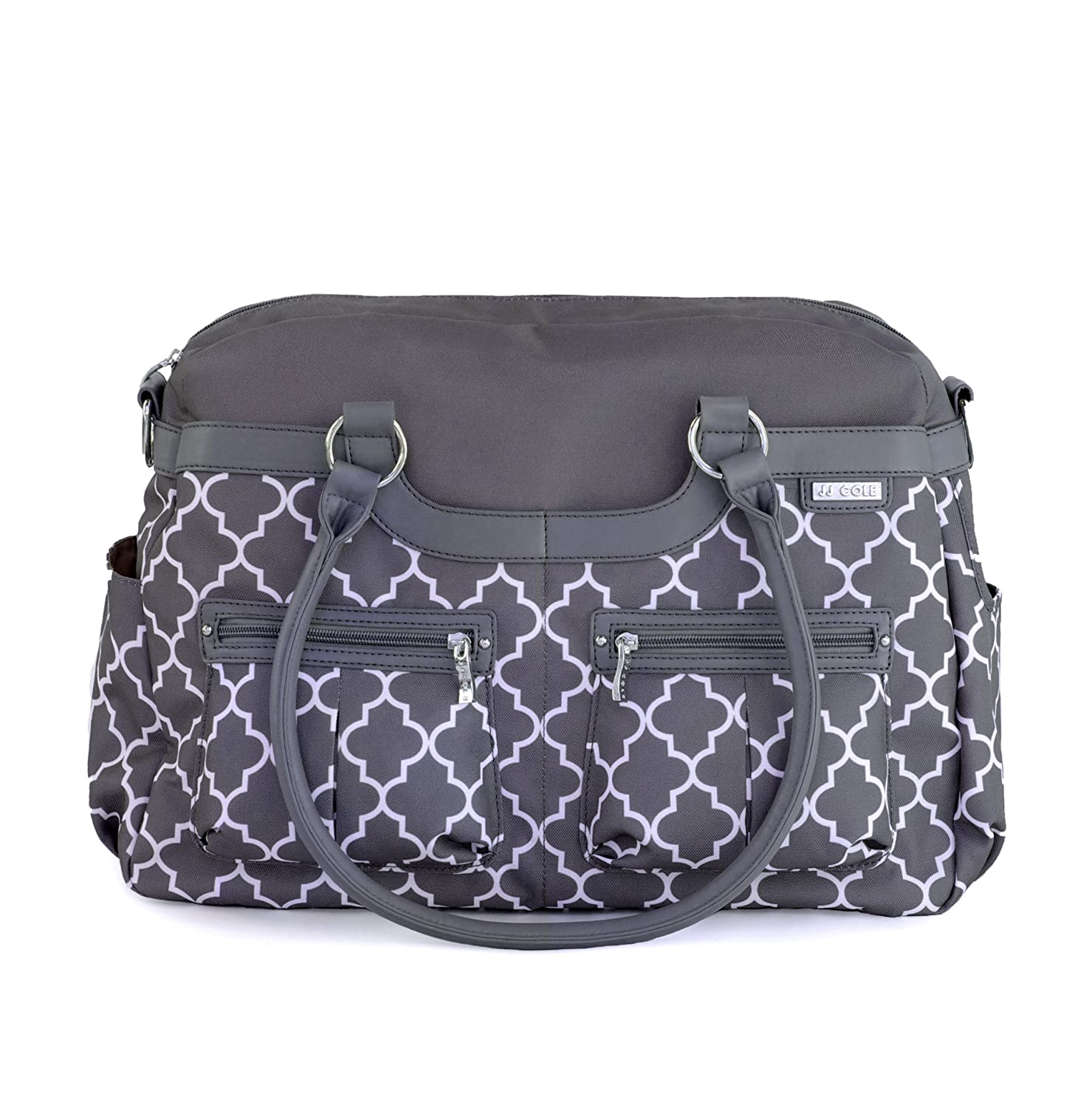 Another one of the best small diaper bags is by JJ Cole. The Satchel provides you ample space for all of your baby's essential items. A spacious interior gives you four organizational pockets along with a large, center section for the bigger items. On the exterior, there are seven exterior pockets, perfect for all of the necessary items you want to access throughout the day. There are two side pockets for bottles and front pockets for items you want to keep secured.
If you need a clean place to lay your baby, JJ Cole included a changing pad. It folds up when finished and fits right into a pocket. The pad will coordinate with the bag. If you prefer to carry the bag over your shoulder, there are optional, detachable padded shoulder straps for comfort and convenience. There are also grips that let you attach the bag to the stroller.
The Satchel measures 18 inches high x 12 inches wide x 7 inches thick. It is a bit larger than other small diaper bags, but it offers a lot of storage space.
4. Okiedog Genie Flower Power Changing Bag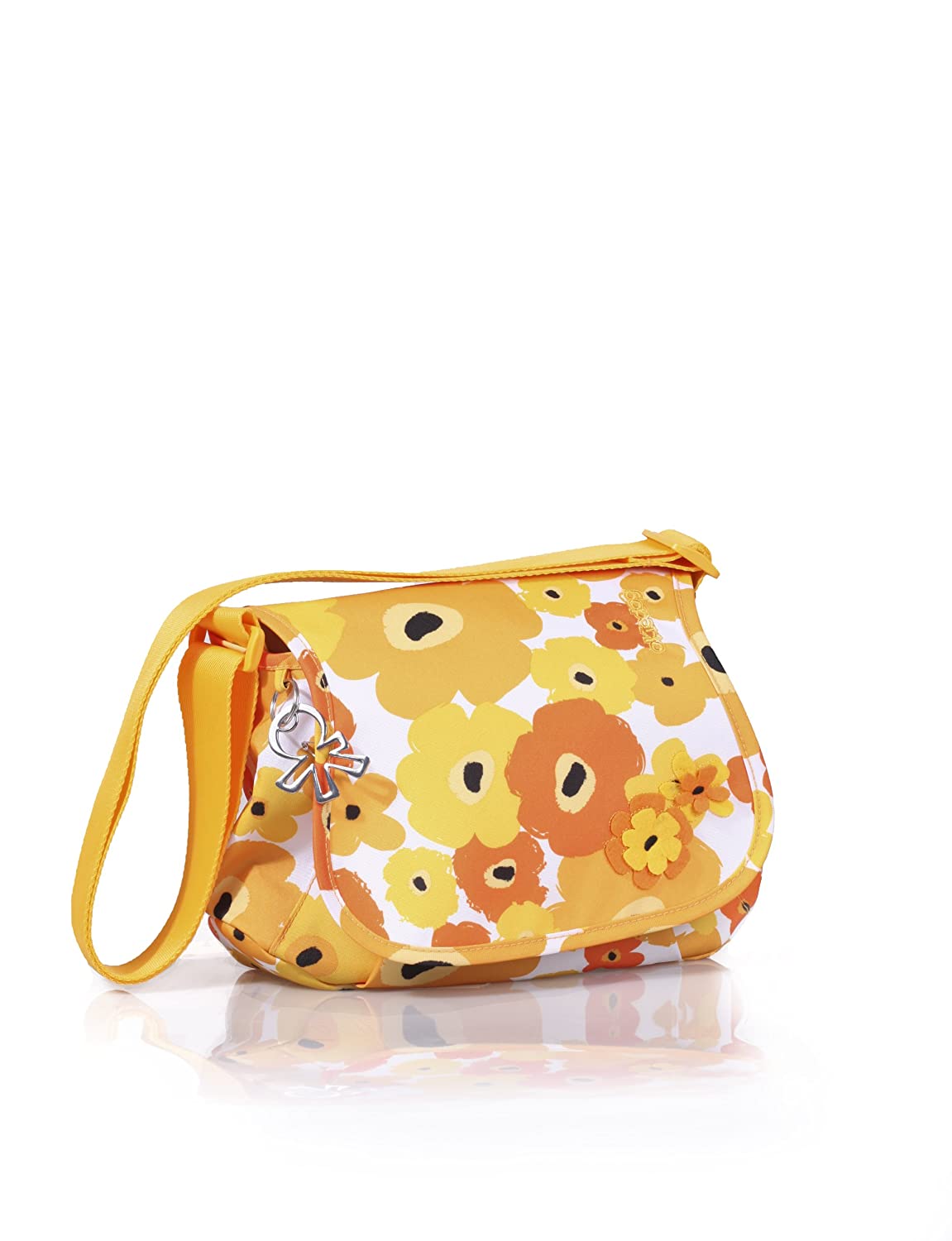 Every mom wants a cute diaper bag! Even if their bag is small, there is no reason why it cannot be adorable. One of the best small diaper bags available on the market is by Okiedog. The exterior is a bright yellow with colorful flowers. It offers separate pockets for smaller items. There is enough space also for your wallet, makeup essentials and cell phone. Altogether, you will find six individual pockets.
The Flower Power diaper bag is 13 inches x 9 inches x 3.9 inches, the perfect size for a handy diaper bag on the go. It only weighs 8 ounces! The bag is PVC free, BPA free, and AZO free. For a small, compact bag, Flower Power offers a lot to mothers! Best of all, there is a shoulder strap for hands-free carrying!
5. ALLCamp Diaper Bag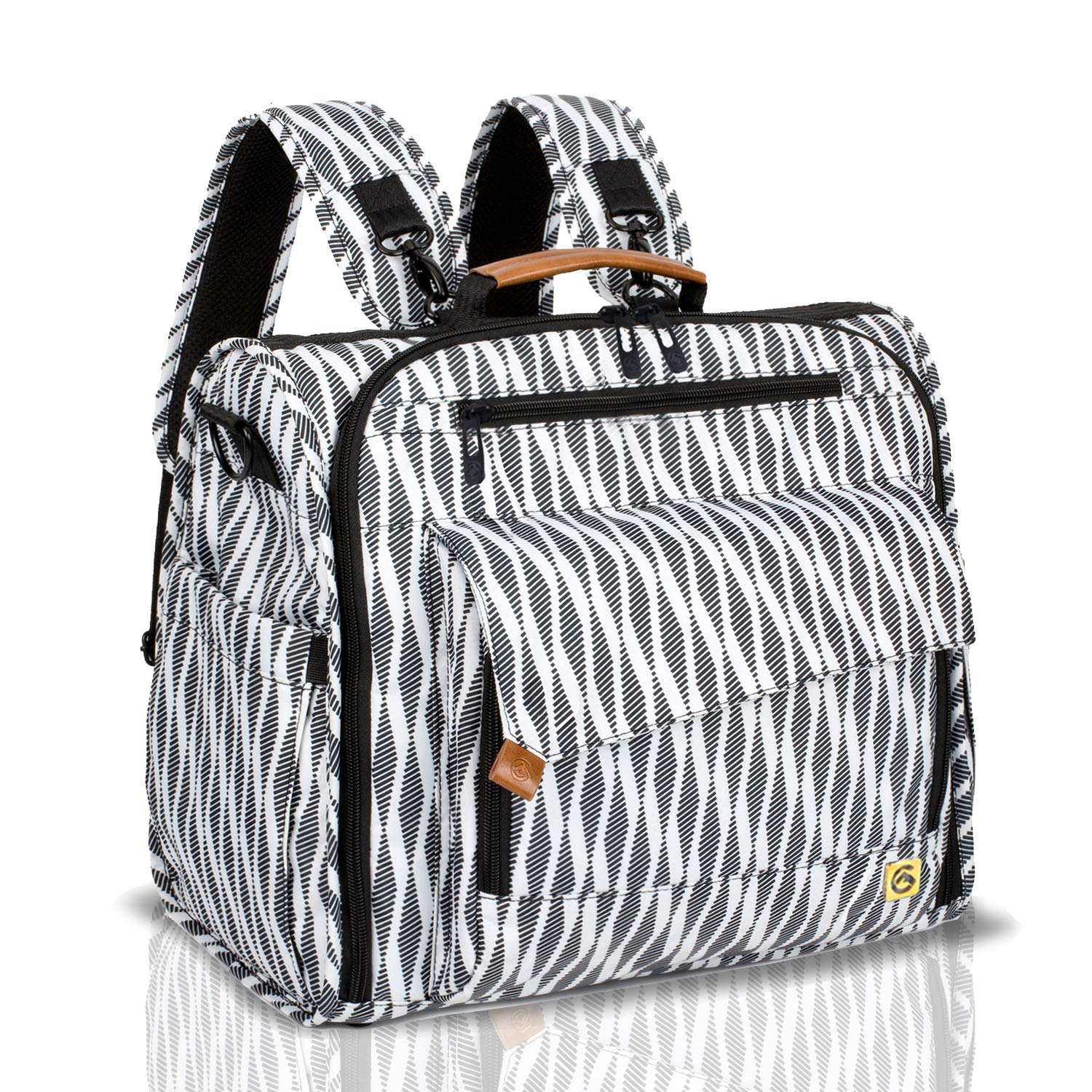 With the ALLCamp, you get plenty of storage options, convenience, and comfort that you would get with an expensive, designer diaper bag. The bag measures 13 inches x 4.7 inches x 13.8 inches, the perfect size for a smaller sized diaper bag. In total, you will find there are 18 pockets, one of the largest number found in diaper bags. There are 13 internal pockets, along with three insulated bottle pockets and easy access, large front pocket. There are also two easy access side pockets for wipes and sippy cups. ALLCamp also included grab handles, stroller straps, and padded shoulder straps.
All of the storage space would make you think the bag is larger than it truly is. However, it is the size of a great purse! There is enough room for all of the essentials. You also get a matching changing mat for sanitary diaper changes. It comes with a 100% lifetime satisfaction guarantee, so you can get your money back if you aren't pleased.
6. Skip Hop Baby Versa Expandable Diaper Bag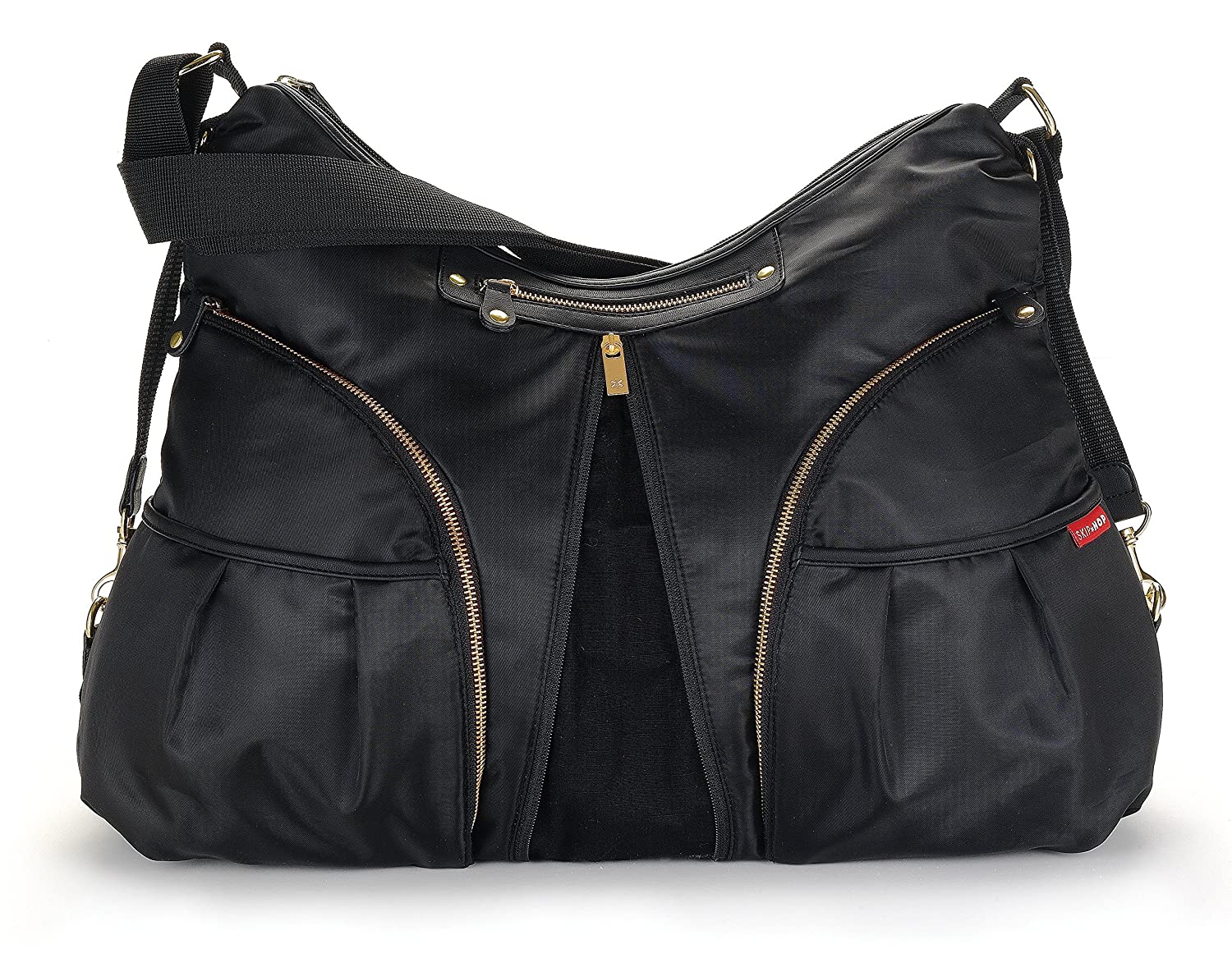 Skip Hop makes fantastic diaper bags. The Versa is a high-style diaper bag that is perfect for errands, playdates and anywhere that you need to go with your baby. If you require more space, the Versa has an expandable center that makes the bag 20 percent larger. Skip Hop included 11 pockets. There are two insulated front pockets for baby's bottles or snacks, plus a front zip phone pocket. Nine more pockets hold all of your child's essential items.
The Versa measures 13 inches wide (expands to 16.5 inches) x 14 inches high x 4 inches deep. Inside the bag, Skip Hop used water resistant lining. The top of the bag has a zip top closure, preventing items from spilling out. You can hang the Versa on a stroller with non-slip stroller straps. Or, you can wear the bag over your shoulder.
This diaper bag is an incredible value and sophisticated. The black exterior makes it a choice you can bring anywhere. The material is BPA free, PVC free and Phthalate free. It is worth the money for this classy diaper bag.
7. Diaper Bag by Hip Cub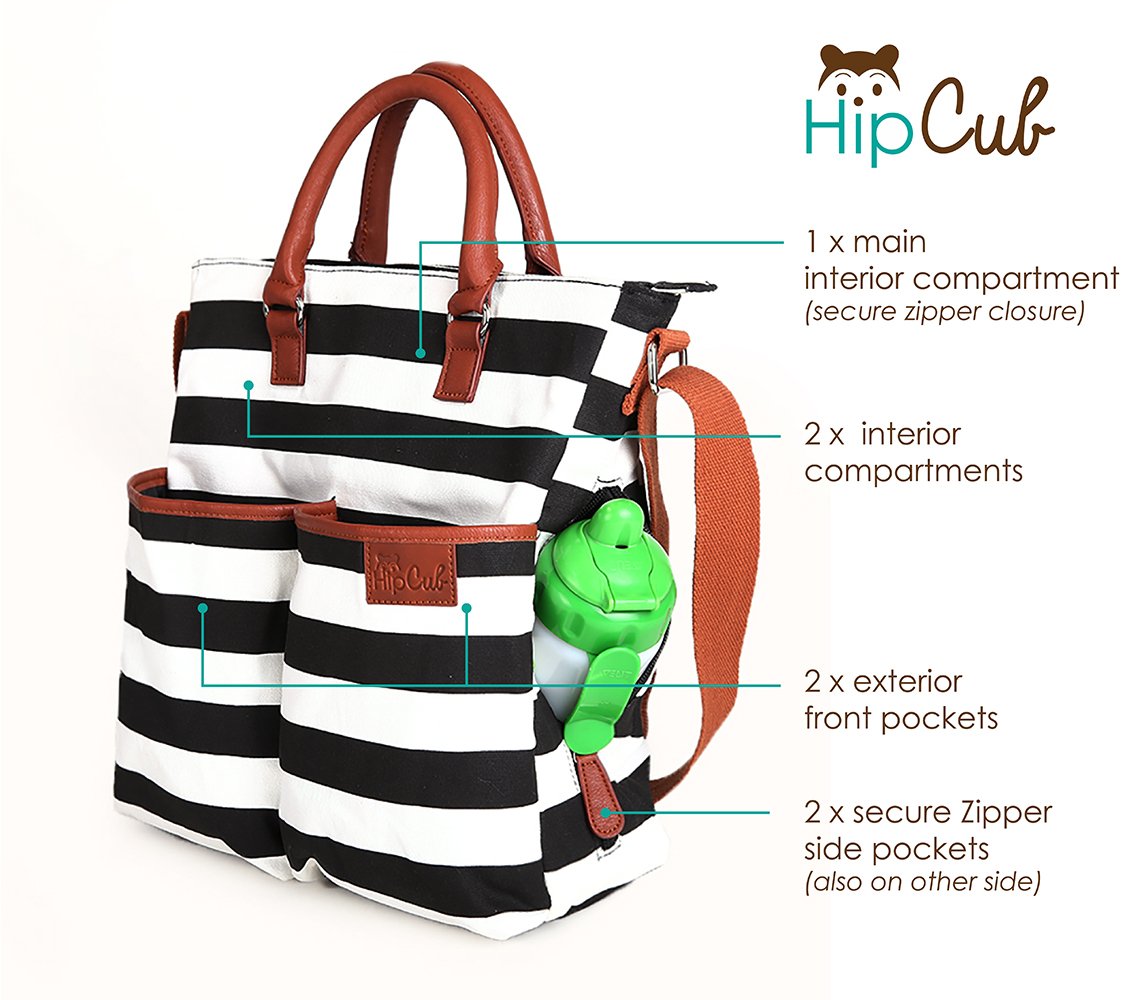 The next choice for the best small diaper bag is by Hip Cub. If you are looking for a stylish yet practical diaper bag, the Hip Cub hits most of the important features. The bag is attractive, in dark navy and white stripes, yet it is a practical choice for parents. There are seven pockets, including the main compartment. There are two side pockets intended for baby bottles or sippy cups. Also, Hip Cub added two more external pockets and two internal pockets. You will have plenty of storage!
Hip Cub added plenty of other nice features. There are an included matching changing pad and stroller clips. When out and about, you can hang the bag from your stroller. The bag measures 1.6 inches x 13.5 inches x 14.5 inches, on the larger side of the small diaper bags. It is great if you need an in-between size diaper bag!
8. Petunia Pickle Bottom Sashay Satchel Diaper Bag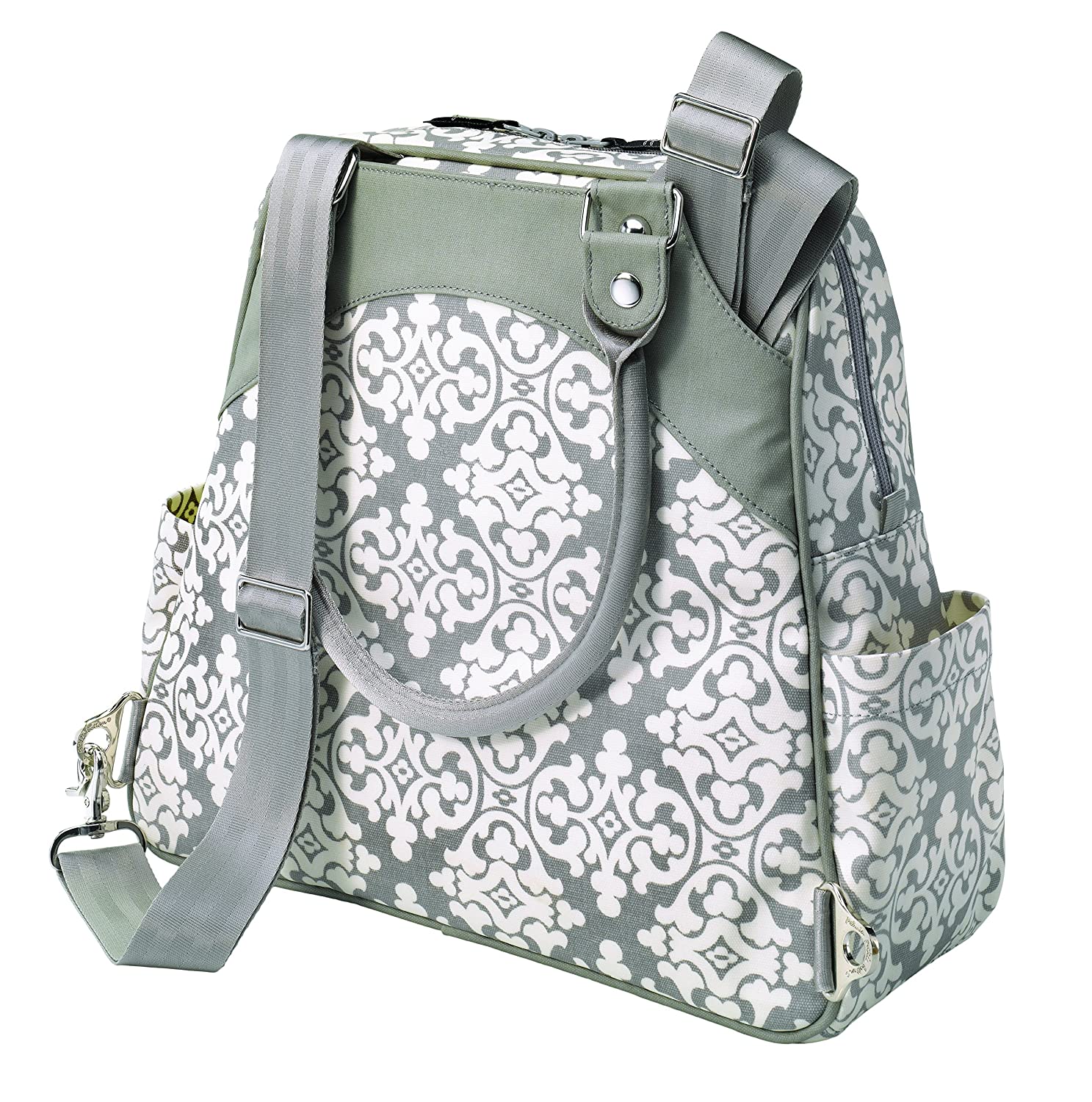 Petunia Pickle Bottom has another great option for one of the best small diaper bags. Their Sashay Satchel is stylish, with over 12 different prints and colors. You can pick the black Sashay for the perfect, classic diaper bag for any occasion. The main compartment is roomy, large enough for a small laptop or tablet, along with other valuable items
Storage isn't lacking, despite the smaller size. There are five interior pockets, two of which are designed for bottles. Petunia added a key clip so that you won't lose your keys in the bag. On the exterior, you will find two bottle pockets. Plus, there are front and back magazine pockets, perfect for that book you want to read while at the park.
Parents receive a removable and wipeable changing pad for sanitary diaper changes, and a PPB plastic wipes case. Moms can carry the Sashay in two ways. First, you can carry it over your shoulder with the padded handles. Second, you can wear it as a backpack with straps stored in the magazine pockets. Despite the higher cost, the Sashay Satchel is a sophisticated choice for a small diaper bag.
9. JJ Cole Parker Diaper Bag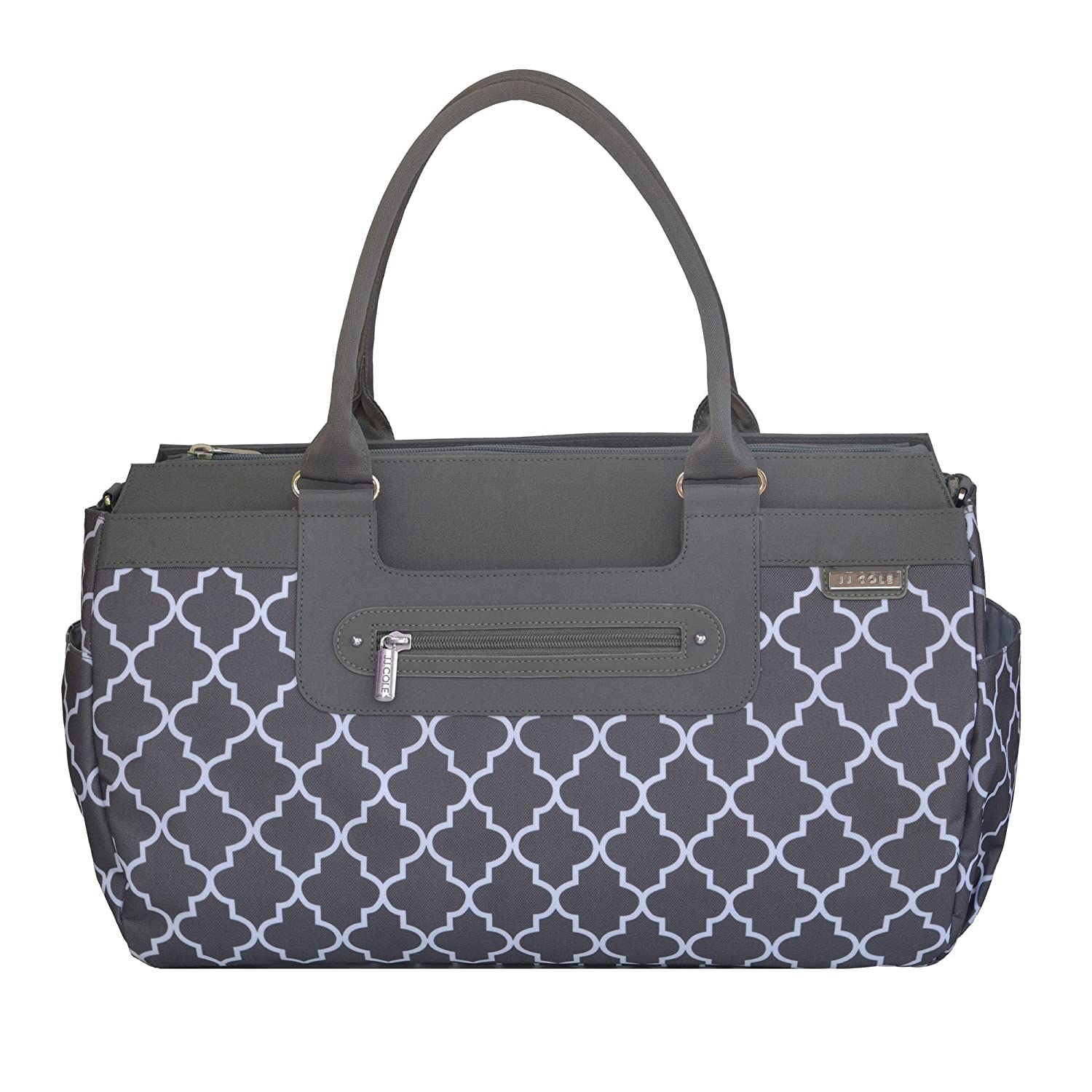 The JJ Cole Parker is a fantastic sized diaper bag. The stylish exterior of the bag is 100% polyester with a PVC coating. You can purchase the bag in eight colors and prints. The price of the Parker is budget-friendly, far from a stretch if your budget is tight. It is large enough for your needs, without being too large. Dimensions for the bag are 19.4 inches x 7.1 inches x 11.3 inches.
There are three ways to carry the Parker. You can use the handles, you could wear it over your shoulder bag, or you can clip it to your stroller. JJ Cole included non-slip grip stroller attachments. The shoulder straps are also removable. You will find a changing pad included that fits perfectly in an exterior pocket.
The Parker offers plenty of storage for parents. The spacious, main compartment also includes five interior side pockets. You have room for all of your items. On the exterior, there are five, easy to access pockets for convenience. On the side, there are two pockets for baby bottles or snacks. The large front and back pockets snap close to stop items from falling out.
Selecting One of the Best Small Diaper Bags
There are 11 different choices for the best small diaper bag. Making a final choice can be hard. Before you make the final decision, here are some quick considerations.
Storage Space: Even though the diaper bag is small, you want to have enough storage space for the necessary items. It will depend on how many items you plan to bring along. The best choices have various sized pockets, on the interior and exterior. It is best if there is at least one bottle pocket on the exterior. They are perfect for bottles, snacks or sippy cups.
Dimensions: The size of a small diaper bag varies. You may want an extra-small bag or a bag on the larger end of the scale. Look at the specific dimensions to see if one is more appealing.
Extras: Most diaper bag companies include extras. You may want to have stroller attachments that allow you to hook the bag to your stroller for a hands-free Most of these bags include a matching changing pad, giving you a sanitary spot to change your baby. Some bags have extra tablet pockets. Always check out the extras before you purchase.
Material: One of the most important considerations is the material used for the exterior of the bag. You want it to be easy to keep clean. Dirt and spills happen a lot when around children. An easy to clean diaper bag is less stressful.
Out of the 11 different choices, the Versa by Skip Hop is one of the best choices. It has an expandable interior that gives parents 20 percent more storage space if you decide you need to pack more. Another excellent choice is Petunia Pickle Bottom's Carryall that provides you great quality and features, well worth the money. If you need a budget friendly option, the JJ Cole Parker is stylish, compact but offers storage space for all of your important items.
Do you have a favorite small diaper bag? We would love to hear about your favorite choice! Let us know in the comments!