Are you scared of possible accidents that your hyperactive baby can suffer while crawling through stairs? Yes, most significant accidents occur at the age of six months to 9 months because babies start to crawl at this stage and want to explore the things around them.
I can understand your worry as a parent because, trust me, I was in the same place until I found a great solution to keep my baby safe from the stairs. Keep reading this review to know about the solution I am going to discuss in this review.
The crawling stage is where the caregiver becomes a security guard and a monitor looking for your child and keeping them safe from hazardous accidents. Humanly, it is not possible to sit all day long and watch your baby crawl and to keep an eye on their unnecessary movements.
That is why I am here to help you out and guide you about the safest baby gates for stairs so you can sit with ease without the fear of your baby getting hurt while crawling down the stairs.
What Are The Safest Baby Gates For Stairs?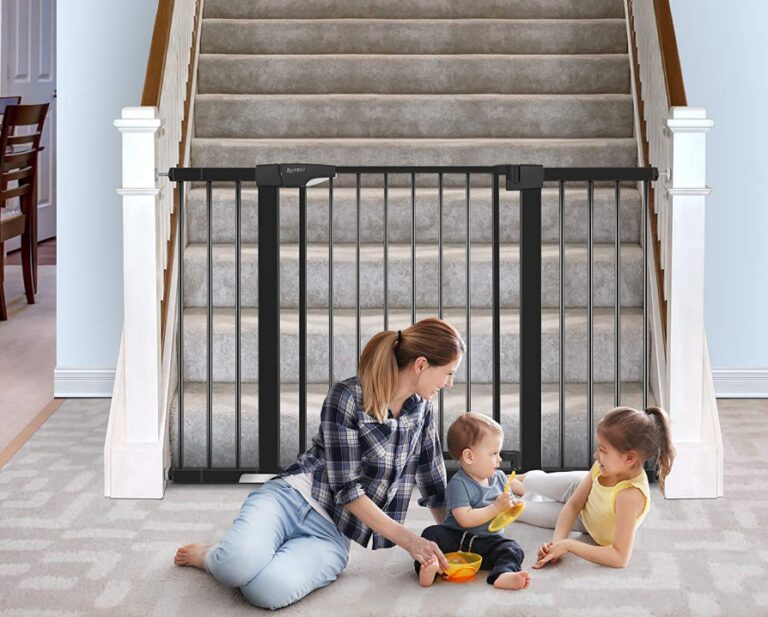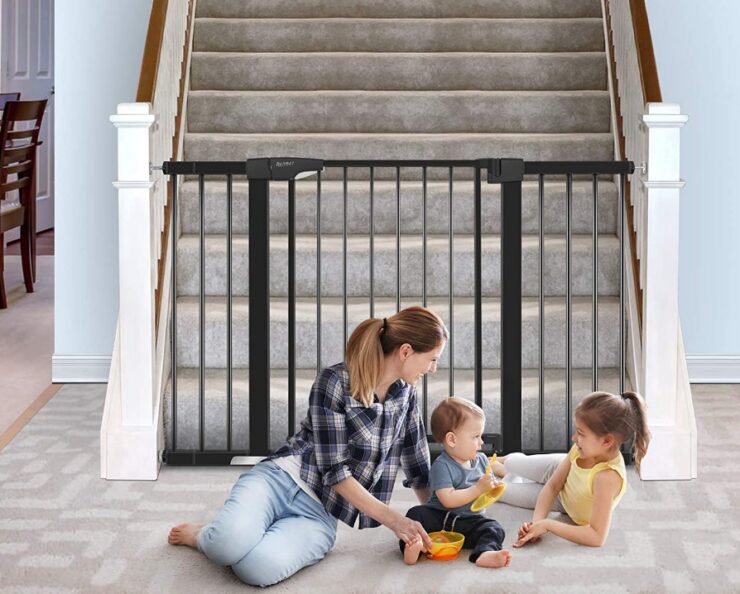 Baby gates help to reduce your tension by keeping your baby away from the stairs. If you live in a two-story house and have a hyperactive baby, baby gates are a must-have to keep your home area childproof. There are two types of baby gates based on mounting: hardware-mounted baby gates and pressure-mounted baby gates.
Hardware Mounted Safety Gates
Hardware-mounted baby gates are the safest baby gates that you can install when your baby starts crawling. The safety gates can be installed when your child is six months old, and they can be lifted when the child's chin crosses the gate, or they can climb over the gate. Hardware-mounted gates are the ones that need to be installed by drilling holes in the wall. You will have to put screws in the doorframe.
The drilling is essential for putting a safe baby gate at the top of the stairs. If you are concerned about the holes in your wall, you can put wally putty or any other compound when you lift these stairs. Hardware-mounted safety baby gates are durable and more secure for use. You can find hardware-mounted safety gates in durable steel that is durable and will not break or bend quickly.
The size and width of these gates vary from brand to brand. But in my opinion, the best safety gate must be 22-30 inches in height and 27 to 40 inches wide. The width also depends upon the space your stair has. Hardware-mounting safety gates are best for putting them on the front of the stairs. Because of its firm grip, it will keep your kids secure from falling.
Pressure Mounted Safety Gates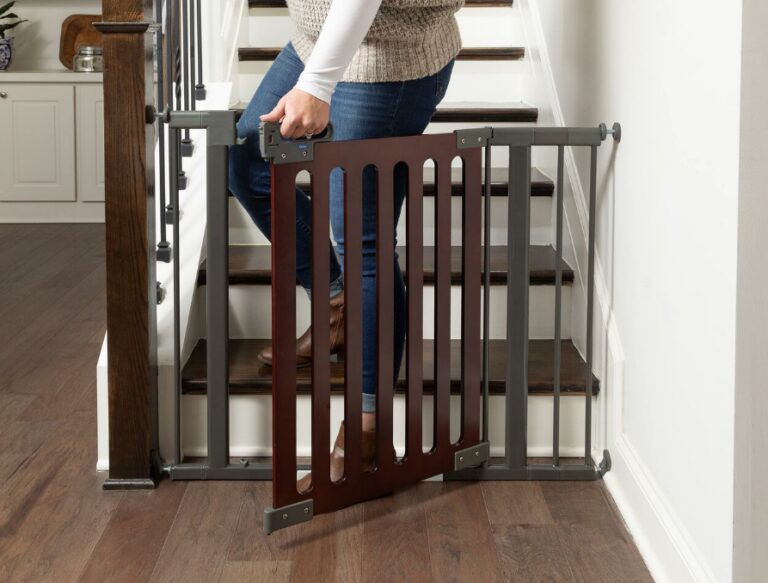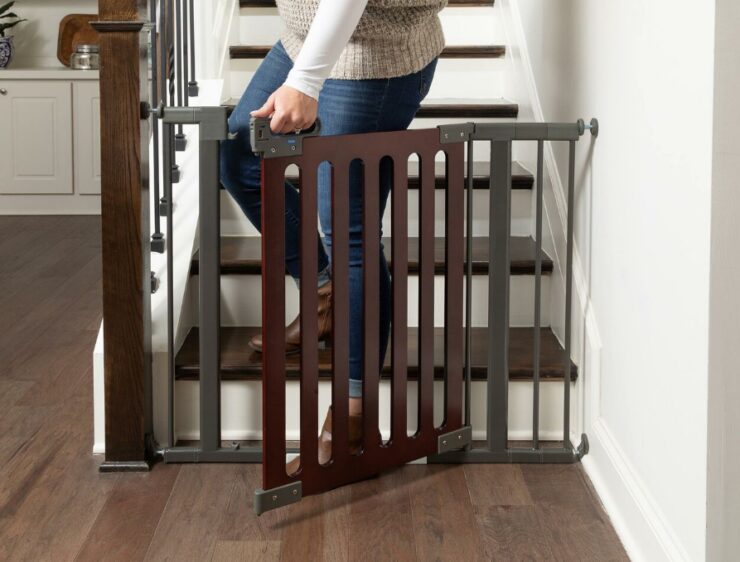 The pressure-mounted safety gates are easy to install and are ideal for placing at the bottom of the stairs. It requires no drilling or screwing. You just have to place the rod at the exact position, and your safety gate is ready to use. If you are concerned about drilling holes in the wall, this safety gate for your baby's protection is ideal. As it requires no drilling so you can easily disassemble it and carry it with yourself.
This gate is portable and ideal if you use to travel more often. These safety gates are best for separating two areas like the kitchen and living room on the same floor. If you want to keep your child protected from the kitchen, you should prefer installing pressure-mounted safety gates.
In my experience, if your baby's safety from stairs is your priority, do not place these safety gates at the start of the stairs; rather, placing these gates at the bottom will be a wise choice that will keep your child from going upstairs.
How To Get The Best Safety Gate?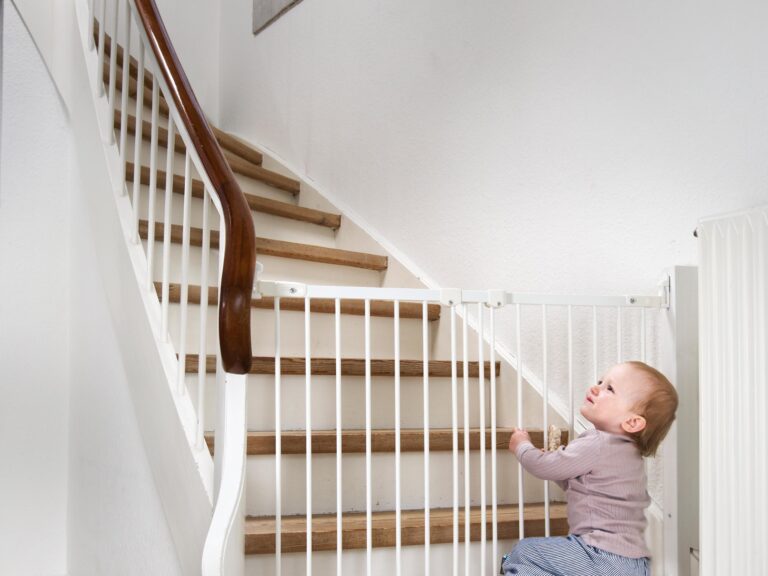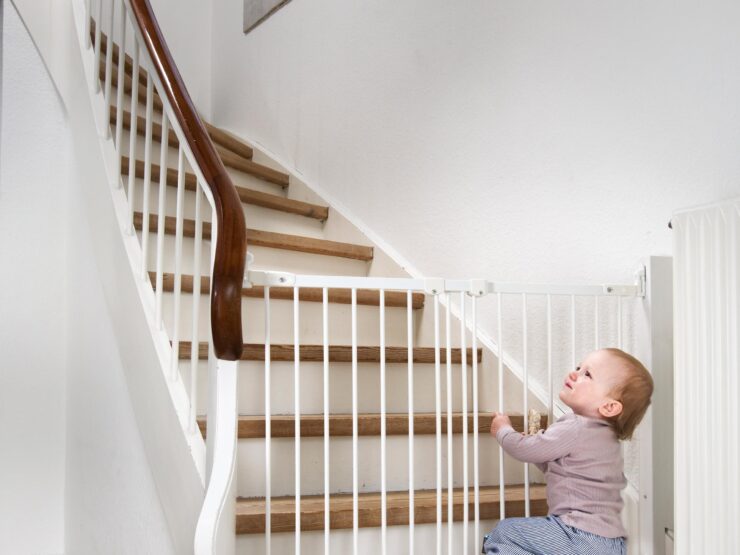 While you go for baby gate shopping, look for the dimension of the gate. Measure the place you want to install the safety gate and get one that suits your area's dimension. There are two types of gates available in the market: walk-through safety gates and climb over safety gates. I would prefer to buy a walk-through safety gate because it will be easy for an adult to pass through these gates.
For a more secure and safe baby gate, the self-locking mechanism is preferred by many specialists. A self-locking system will keep your safety gate locked automatically. The most important thing you should consider while getting a secure baby gate is the JPMA certification. The certified baby gates will be more protective and at least 22 inches in height to keep your baby secure from hazardous accidents.
FAQs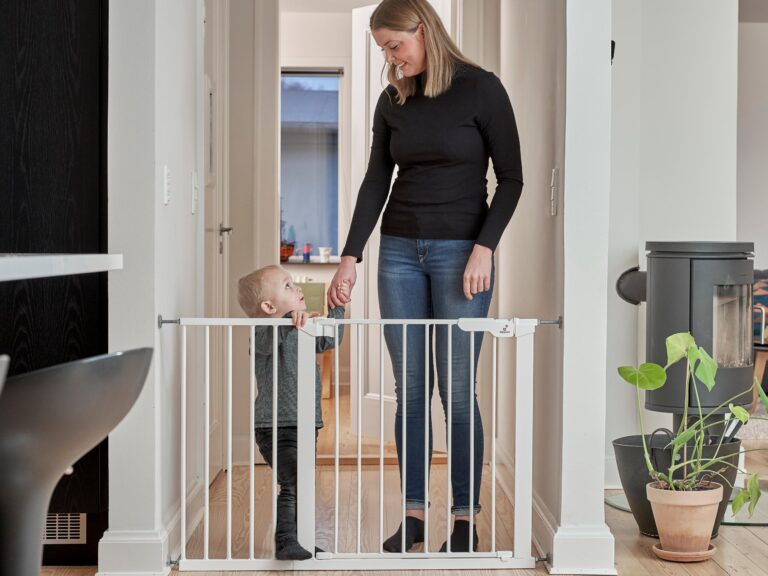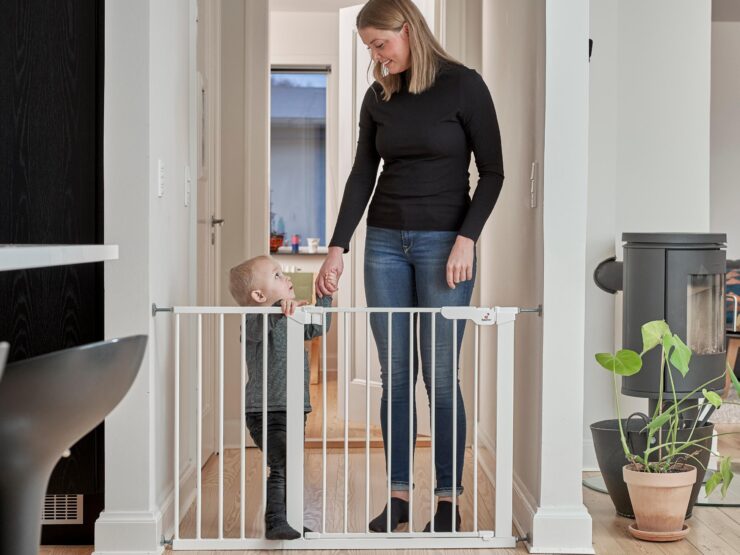 When to put safe baby gates on the stairs?
Baby gates are a secure option for babies that are at the crawling stage. Usually, babies start crawling at six to nine months, but the age can vary from child to child. So if your baby starts crawling before six months, it is the best time when you need to install a baby gate on the stairs to keep your child secure from any unforeseen injury.
Is a pressure-mounted gate safe for stairs?
Np, pressure-mounted gates are not safe when installed at the top of stairs because, according to one research, many cases of injuries were reported due to kids climbing over the pressure-mounted gates. These gates are not drilled into walls are not safe when put at the top of stairs. Therefore, it is essential to note that no matter how you hate drilling holes in the wall, do not put pressure-mounted gates.
How long are the baby gates needed?
Baby gates keep your baby secure from falling by keeping the stair area blocked and away from the reach of your baby. Gates are needed till the age when your child starts walking and learns to open the gate. Moreover, when the baby turns two, he may easily climb over the gate or open it. By this time, the child can keep themself secure from falling so you can remove the baby gates.
Conclusion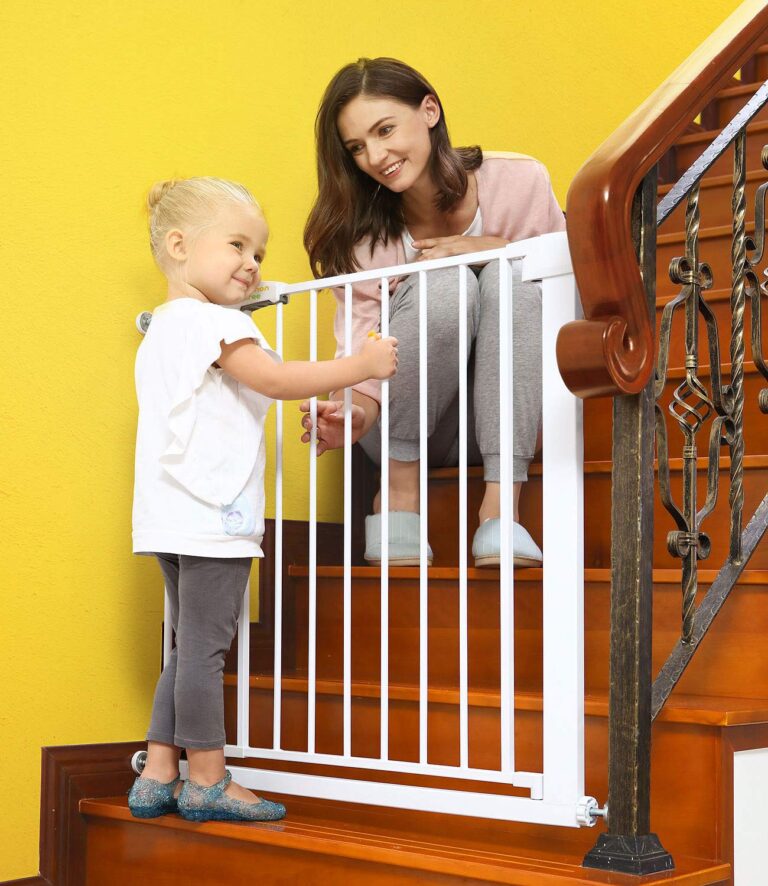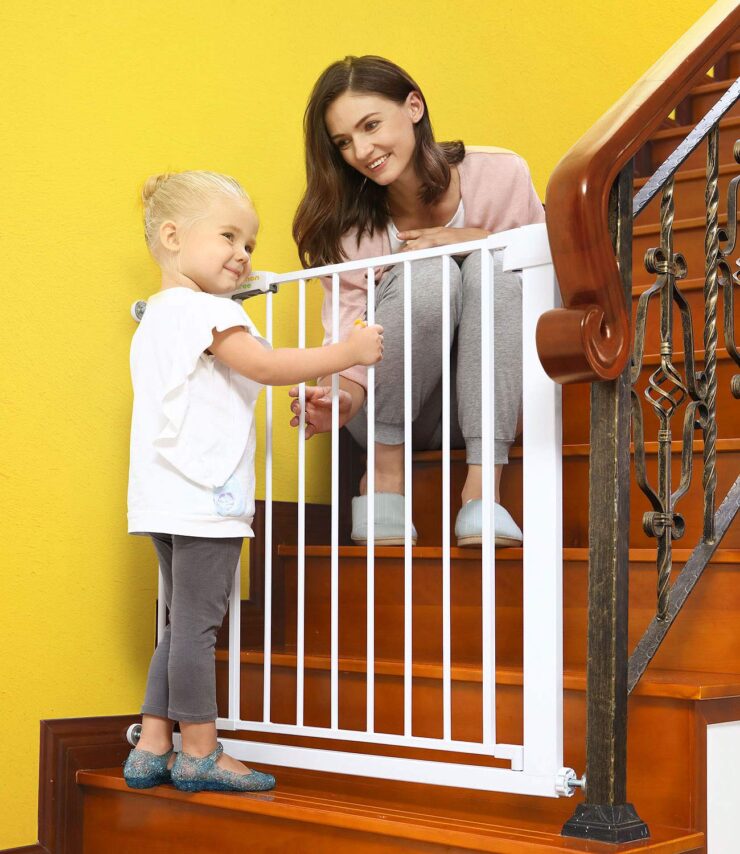 When your baby begins to crawl, now is the best time to install safety gates at the top or bottom of the stairs. Safe baby gates protect your baby from falling or tripping on the stairs. As a parent, I know how hard it is to keep an eye on an active baby eager to explore the world. Thankfully, baby gates are here to help us keep our baby safe from the risk of an accident. In this review, I have discussed the safest baby gates for stairs to help you decide while purchasing one for your baby's safety.