In this comparison post, we review the best mermaid bath toys for your little ones.
We have gone through some cute little mermaid toys which your child can play with within a bath or shower environment. They are all meant to interact in some way with water and look great when in a bath.
If you want to see a mermaid swim in your bath or a mermaid squirt water everywhere then the toys we have reviewed below will be perfect for your child's bath time.
List of Best Mermaid and Sealife Bath Toys for Children Reviews
The reason why we put the Disney doll first is that it looks the best out of the other mermaid bath toys and is definitely made well, a toy that will last for years to come. It also squirts out water in a great way once it's been filled up and comes with a little flounder bath accompaniment as well.
Dora comes in a close second behind Ariel The Little Mermaid, you can wind her up and she will swim just like a mermaid in your bath, which is amazing to see and your child will absolutely love it. The downside and why the doll hasn't come first is because it needs batteries.
The munchkin is a really simple design, great for the smaller ones, pull on its crown and you'll see it fly through the water. Is a great price and we're sure your child will love it.
We would still recommend the barbie bubble-plastic doll, but this may be a toy more for outdoor use than in your bathroom. It can be quite messy and requires bubble liquid which you may not want in your child's bath.
---
1. Disney Princess Ariel Mermaid Water Show with Flounder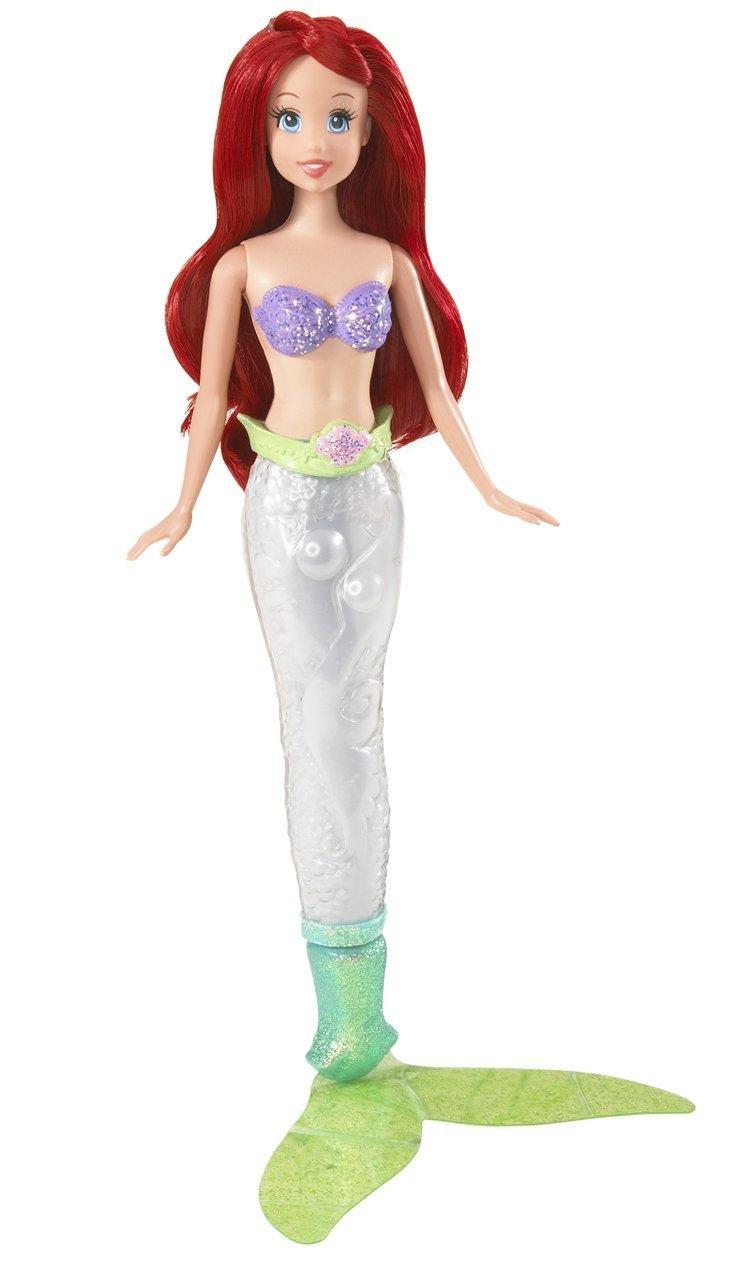 Ariel arrives packaged well in a box with her friend Flounder and her hair perfectly done. It is a childproof rigid plastic packaging that will need you as the adult to remove it from the plastic and wire ties using scissors. Her fin at this point is not yet attached, to do that you just need to put the pipe that is at the end of the tail into the fin and push and clip them together.
Ariel's mermaid design shows off her youthful looks and turquoise tail, wrapped with a decorative trail of pink scallop shells. She has a reversible shell bikini that can be either pink or purple. There is also a pretty pink crown on her head too.
We know a little girl who loves Disney Princesses and has quite of few of them, what makes this Ariel special is that she genuinely loves the water, making Ariel water show perfect for bath time fun. The turquoise scales of her tale glisten underwater. She does not swim or move by herself but instead, she has the ability to squirt water which adds to bath time fun! To do this simply submerge her in water and squeeze Ariel's tail at the back and then she will shoot water out from her jets at the back. What we did find after a number of bath times with Ariel her hair did not look as pretty as when we first got her. Also if you were to take her to the beach and use in the sea, which we tried out too, make sure to rinse her thoroughly with fresh tap water afterward or you may find the jets get clogged with salt.
Pros
Well made
Easy to rinse and dry
Comes with Flounder as an extra to water fun
Great as a present for a Disney lover
Requires no batteries
Next day delivery with Amazon Prime
Cons
Can be hard to squeeze tail for small children
Tail does not move
Verdict
Ariel water show provides a pretty and colorful Disney Character that can survive bath time. Providing great fun and games in the water especially between siblings, just be careful as you have armed your child with an item that can squirt you with water in the face.
---
2. Swim Mermaid Dora Doll Bath Toy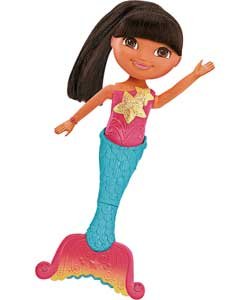 Dora the mermaid is a little bigger than I imagined. Based on Dora from "Dora and Friends" the animation show, if your child has loved that TV program or whether she just loves mermaids. It is definitely worth learning about Dora. She is a well made, children friendly, and bath time ready mermaid. She is very pretty with a blue scale mermaid tail, a pink top with seashell, even down to the extra details such as her blue pearl necklace and bracelet.
She has big brown eyes, pink Rosey cheeks, and her hair is silky smooth, almost real. Very easy to style and do different plaits and fishtail hairstyles with.
You can move her arms up and down. To see Dora swim all you need to do is wind up her tail but turning the fin part at the bottom round a few times. Once in the water, Dora will float and she will not start swimming until you press her yellow shell on the front. When you press the shell you will be pleasantly surprised by the flashing lights and sparkles that appear from her tail now too as see swims. For best effect face her down on her tummy to see her swim off. I have to say the first time I saw her swim, I was a little disappointed as I thought more of her tail might move as it is just her purple fin acting as a propeller that makes her move. She does move pretty speedy for a doll which is fun to see!
As well as requiring manual winding up to obtain the flashing lights and sparkles Dora requires 3 LR44 batteries which she comes with. Dora's recommended age range is from age 4 upwards and due to how fast her fin can spin especially out of the water and the size of the batteries included.
Pros
Pretty design
Suitable for bath time
Swims like a mermaid
Dora's hair can be styled
Batteries are included
Floats
Dora's tail lights up and sparkles as she swims
Available next day delivery on Amazon Prime
Cons
Requires winding up for her to swim
Requires small batteries
Your child may not want to leave the bath to keep playing
Verdict
Dora is a colorful, well-designed mermaid full of sparkles and fun with the added bonus she can swim and float she will encourage any little girl to head to bath time with Dora for company!
---
3. Munchkin Splash Along Mermaid Bath Toy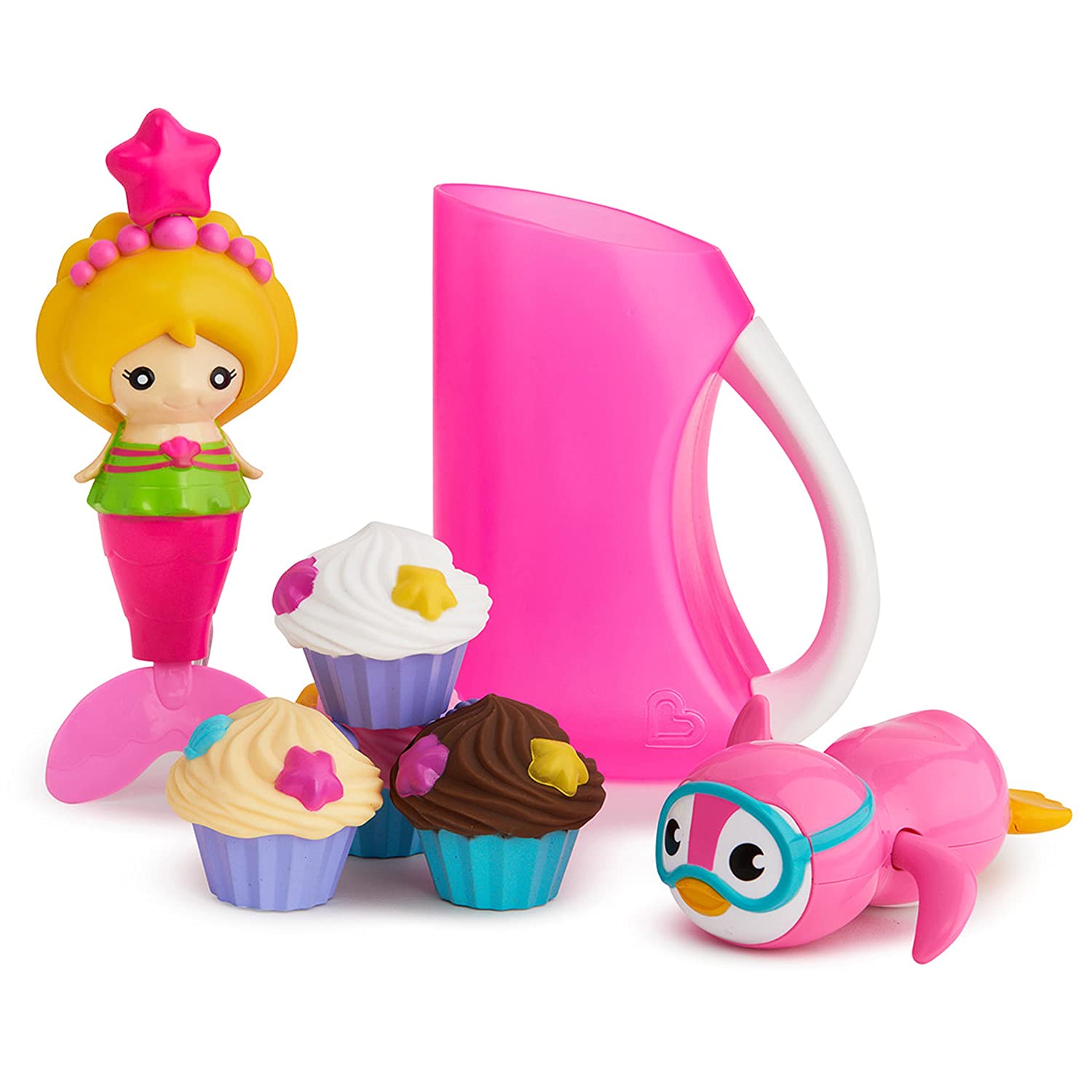 Munchkin's splash time mermaid is colorful and well made. She is simple to use and is better suited to younger children than other mermaid bath toys available as there are no loose parts that come off. Made of rubber this little mermaid is quite small and looks more cute than pretty. Her tail and fin have very little detail but there are different color options for blue and green as well as yellow and pink.
The Munchkin splash time mermaid is perfect for bath time with little happy mermaids as she is easy to grab hold off in size and rubber texture making her suitable for age 18 months and up.
The mermaid loves being in the water and if you pull on her crown this will wind up her fin and you will see her swim in the water, this is a nice extra feature for the mermaid however I would like to have seen her fin continue moving a little longer, it seemed to run out pretty quickly each time. She is very simple and easy just don't pull too hard on the crown and cord as it may break it, other than that this is one very hardy little bath time mermaid.
Pros
Cute design
Simple and easy to use
Cheap
Next day delivery with Amazon Prime
Great for younger children mermaids
Cons
Not a lot of detail in the design.
Pull of cord doesn't leave the mermaid swimming very long
Verdict
This little mermaid is vibrant, easy to grab and use, making it great for your littlest mermaids (age 18 months up).
---
4. Barbie Girls Bubble-Tastic Mermaid Doll Bath Toy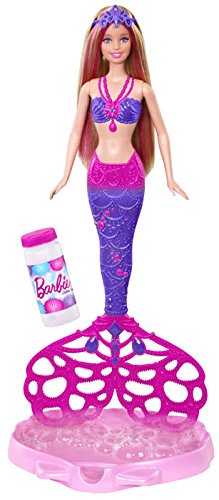 Bubble-tastic Barbie mermaid, as she is named is all about the bubbles! Which is quite a unique idea for a mermaid. She has long hair flowing hair with pink highlights, a tiara and even a little hairbrush to style and keep her hair in good condition. Her tail is a pretty mix of purple and pink, with detail of scales and gems.
The fin itself is a story in itself. Prepare for a mess! Is the first initial thought id like to state? I was not expecting how much mess this lovely mermaid would actually make. I would recommend keeping the whole thing a bath time or playtime activity where you have can contain the mess. The reason this occurs is with your mermaid's bubble-making tail you dunk it into the tray provided with bubble solution in it. You then pull the cord on the back of the mermaid and her tail will start to spin causing bubbles to appear.
There is a slight knack to this at first you and your children may find the bubbles are very small and a lot will drop to the floor as it spins. Personally, I feel for it to be called "Bubble-tastic" there should be more bubble solution provided than just a very tiny 100ml bottle which with the mess it causes accidentally you will find you will go through very quickly. I would look into purchasing a little more bubble solution with it especially if giving as a gift.
When using in the bath without the bubble solution, this mermaid has a different story. No mess and she can still be used to make bubbles, that of the bath bubble variety! If you pull the cord on her back while her fin is in the bath (assuming you have used a bubble bath) Her fin will provide the creation of waves that make more bubbles appear on the top. Providing a lot of fun! If your little mermaid gets bored of the bubbles or pulling the cord, there is the added bonus that she is still a Barbie doll and can be played within the bath or out on adventures just as a Barbie doll that also so happens to be a mermaid with a beautifully large fin.
Pros
Makes bubbles
Can make little waves while in bath
Lovely colors
Great gift for Barbie or Mermaid lover
Bubble liquid included
Reasonably Priced
A hairbrush and tiara for the mermaid is included for hair styling
Cons
Not suited for young children
Not suited for children with the limited attention span
Verdict
Bubble-tastic Barbie Mermaid brings a unique skill to any doll collection, whether be it Barbie or Mermaid that they love. Once you run out of bubbles, there is still one fun time mermaid to play with.