"A picture speaks a thousand words." It is a common saying that most of us believe in. Parents want to record every milestone of their child's existence from being inside the womb to adulthood and their little and tremendous achievements. Admit it, taking photos with your newborn can be a bit tricky!
You can incorporate a touch of creativeness to your newborn's photo in so many ways. Consider this central concept: maintain an artistic background using creative design (you don't need to spend, as much as possible), only use props that are appropriate for your baby (such as pets, stuffed toys, etc.) and utilize photo editing apps for best result (you can try Photoshop, Lightroom, etc.) You don't have to hire a professional camera operator to create an artistic baby photo. You can do it!
Why Do You Need a Creative Baby Picture?
Why do you need a "creative" baby picture? Often, I asked myself. The purpose is not about posting the best-photographed image in social media to impress your friends and followers nor partly showcase your skill. It is about preserving memories of your child, celebrating her existence and signifying love and care for them.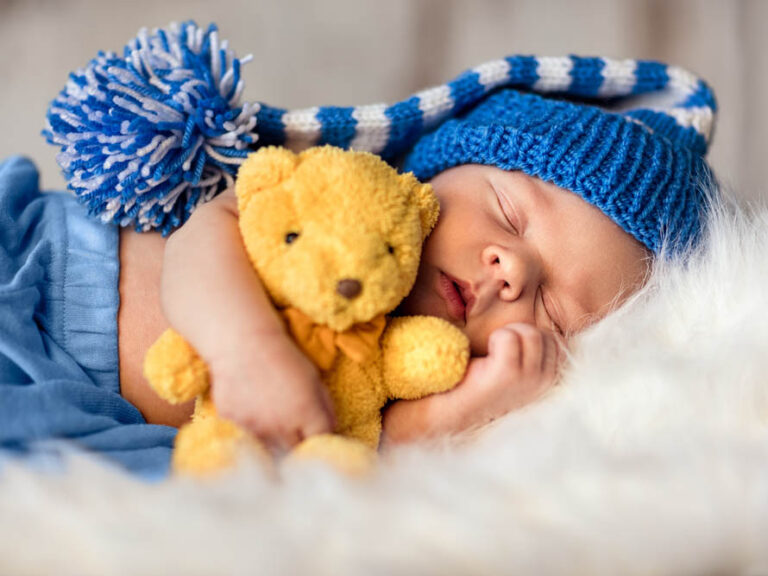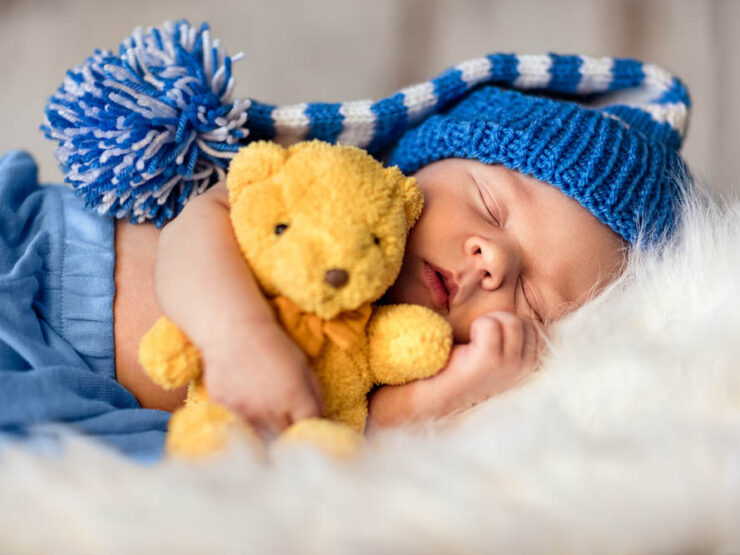 Parents take creative photos as a way of celebrating the coming of the new family member. It is an important milestone that needs to be recorded, remembered and, cherished forever. A sweet photo is one way this could be treasured!
​Besides, a creative photo of your newborn reflects love and care. Parents treat these photos like treasures as it were all they have when their children left to face their own lives. So, make it pretty, durable and creative!
15 Creative Ideas for Baby Pictures
1. THE FAIRYTALE THEME
The fairytale concept is one of the most common ideas for creative baby pictures which involves the use of blankets, pillows, and clothes as decoration. You can surround your sleeping baby with drawings of bunnies, trees, moon, and clouds to give justice to a fairytale-like theme. A good lighting and a creative setup is the key to cute baby picture in a fairytale setting.
2. BEST OF FRIENDS
Have your baby pose with her favorite pet. It can be a dog, a cat or a bunny. (Only use friendly pets to pose with your baby) Find a way to achieve a good pose for better angling. A pose with your baby's favorite pet can surely capture good laugh between the two and a creative picture as a result.
3. CRADLE BASKETS
Soft baskets are perfect props used in a shoot for a baby picture. You can use the creative design on the soft basket to cradle your baby. A perfect basket design and good angling are the main ingredients in acquiring a good shot with this concept. The soft basket newborn photography concept can be tricky as you need to get the best angle with your props and make your subject look relax and adorable.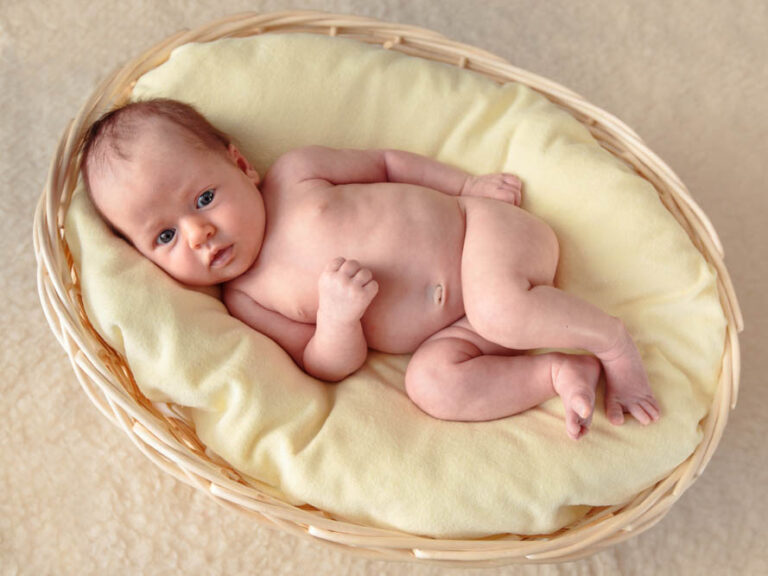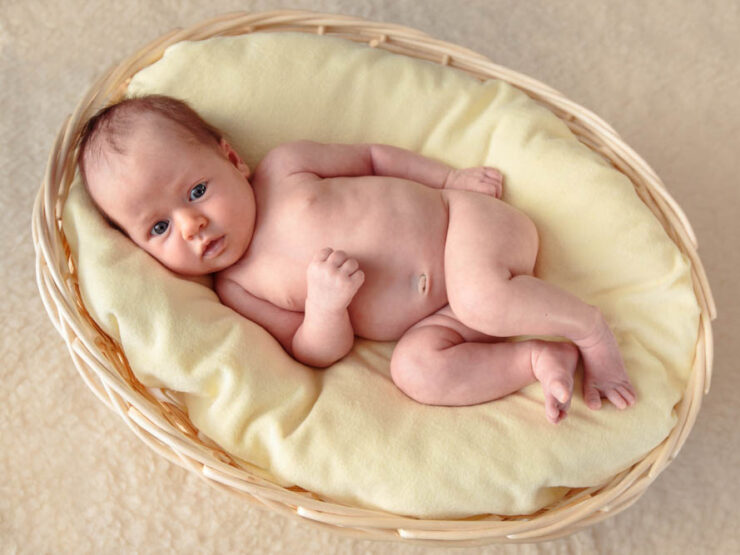 4. DRESS EM UP!
"Dress to impress". You can dress her up with your favorite tv character. (Doesn't always need to be cartoon characters, explore new aspects as well) This concept will appear creative in a family photo. Dress 'em up and achieve a picture suited for a magazine cover!
5. WHAT A MESSY BABY!
The messy baby concept might sound awful, but it's worth considering for the sake of a creative baby picture. Try placing a chocolate cake or bread on her hands and let her explore what is it for. Capture the unusual reaction and happiness that she will exhibit to get a messy yet creative photo.
6. THE PLAIN WHITE SCENE
The plain white scene concept is the most classic concept of newborn photography which mainly involves the use of white cloth as a background. The white background is best as it signifies purity, love and can bring creativity even without proper posing of the subject. The plain white scene background concept can be described as an effortless "creativity".
7. FLORALIZED
Floral background guarantees creative baby picture as it can beautify the surroundings and refresh in the viewer's eye. You can use flowers as a background decoration but choose the ones that are suitable for your subject. (Research about the meanings of flowers here) Take into consideration the of your baby as well.
8. UNIQUE PROPS
This concept suggests the use of props that are not commonly utilized in a newborn photography studio while shooting for a baby picture. Explore other accessories without degrading your concept or idea. You can opt to use props from recycled materials. (They always look good, and you won't spend a dime)
9. SWADDLED
A swaddled baby is another great idea for newborn photography as it is designed not only to be creative but to melt the viewer's heart. Her cute face and angelic smile being art that garnishes to the beauty of the photo. Remember to use good quality fabric for wrapping your baby as it can add more to the concept's creativity.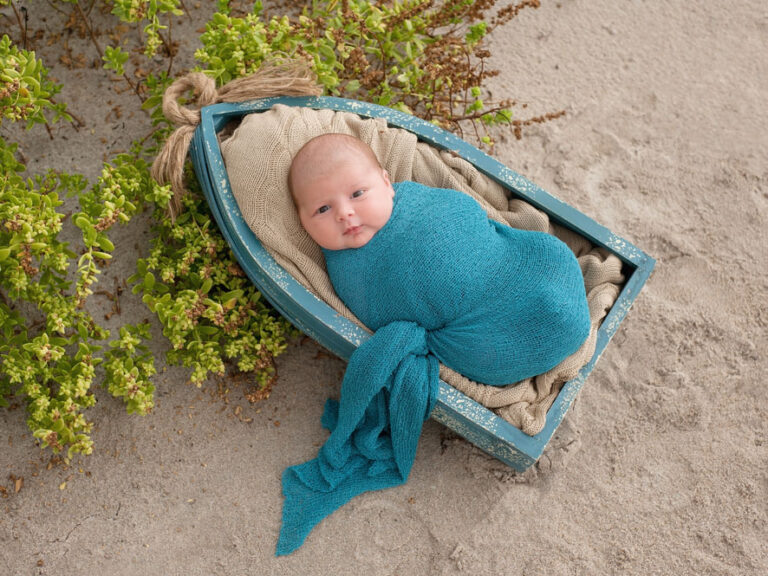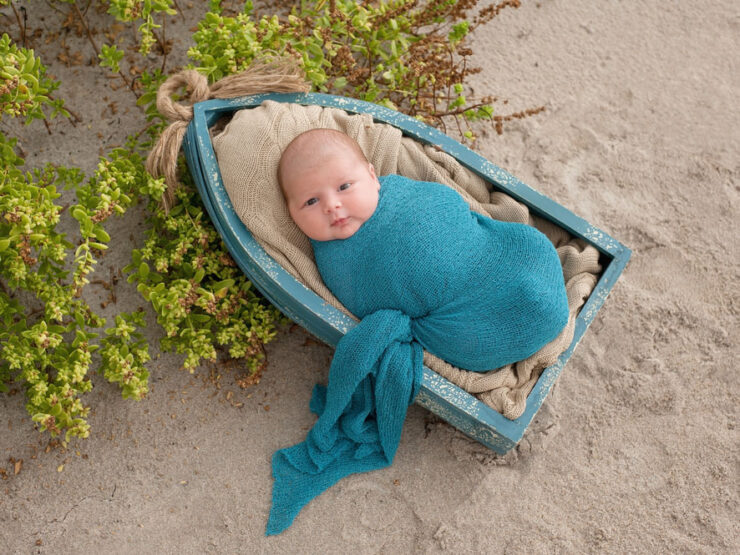 10. WITH THE SQUAD
The term with the squad is operationally used to describe a sibling photo which can give you various ideas on how you can come up with the best picture. Think of what the family loves to do and incorporate the concept to your shoot.There are various creative poses you can experiment from including your newborn or the whole family.
11. EDIT ME
Most creative baby pictures have undergone a series of the editing process to make it more polish and pleasing in the eyes. You can easily edit your baby photos using applications and software which can guarantee a creative and artistic output. The good thing with this concept is you will have control over the designs that you want for the baby photo.
12. SOFT FABRIC MANIA
Most baby photo ideas always involved the use of soft fabric as one of the props. The soft fabric adds beauty and artistry to the photo. Soft fabric with light colors looks elegant and catchy. Have your baby lay down on a piece of soft feathery fabric with few accessories in the background is a sure tip for this concept.
13. MIRROR, MIRROR
Mirror, mirror is also called as the reflection game. Get a mirror and have your baby face it. Her reaction will be happy while staring at her reflection. If you want to make your baby smile in photos, try this game.
14. BEACH BABY
Babies love the sea and crawling in the sand is what like the most while enjoying the beach which is an explorable concept as you can have so many right angles to take. The beach background is always creative, stylish and unique.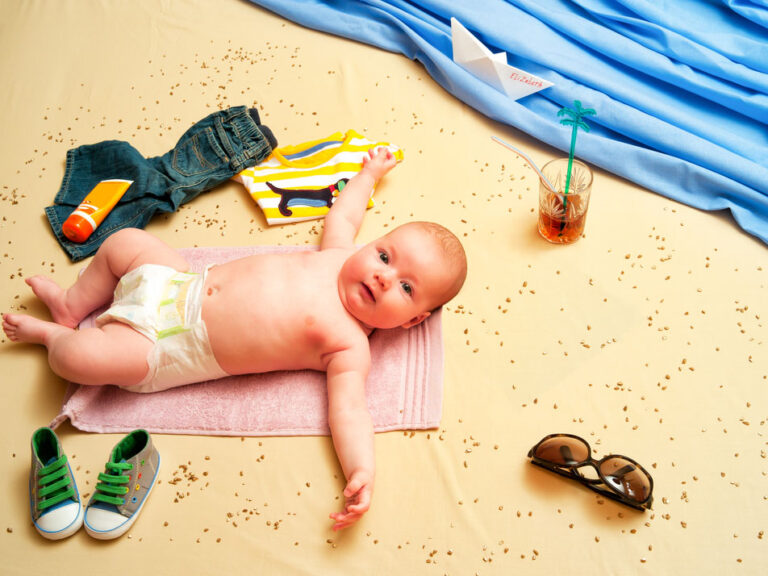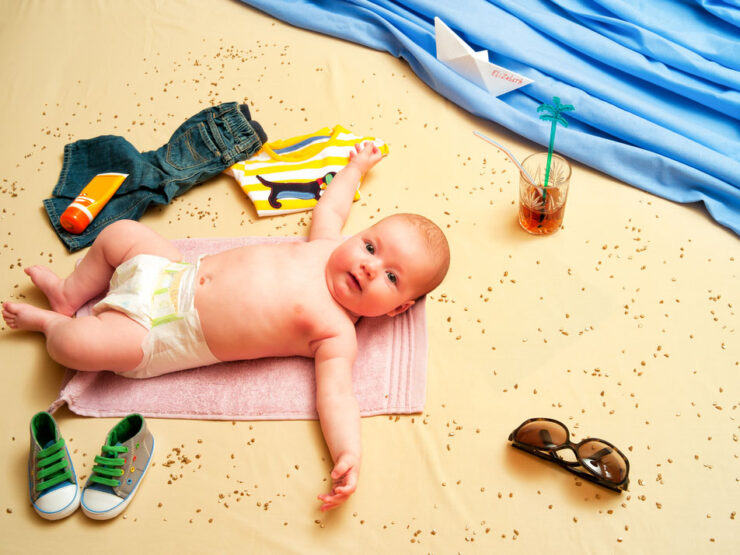 15. SLEEPING BEAUTY
The sleeping beauty baby photo idea is the most comfortable concept you can experiment on as you can try many props while your baby is asleep. You can put different backgrounds and props without hassling your baby. Her angelic face is to your lens' advantage which can surely add a touch of effortless creativity.
10 Useful Tips to Achieving a Creative Baby Pictures
1. CHOOSE THE MOST CREATIVE COSTUME
Dress up your baby with creative costumes such as cartoon characters, fairies, and animals. Colorful costumes and unique designs are original and stylish. A cute photo getup will look adorable and worth cherished which can also melt anyone's heart.
2. PRODUCE A DIY STUDIO FOR PHOTOGRAPHY
Shooting for a baby picture in a photo works a lot better but if you cannot afford to visit one physically, try a DIY photo studio at home. You can use recycled materials for decorations or other furniture. You can also use blankets, pillows, and clothes to provide better ambiance.
3. ADJUST THE SHOTS
A perfect background will help in achieving creative newborn photography as it can blend well with the props and costumes. Props and dresses should be placed appropriately to maintain a good background. Do not outdo your subject with the background design.
4. PROVIDE GOOD LIGHTING
Good lighting is one of the essential part of all types of photography. Good light will provide better shots and clarity to the photo. You don't want a shot that is too bright nor too dark! (Know how to use the lighting techniques)
5. LAY YOUR BABY DOWN WHILE SHOOTING
The best way to shoot your baby is when she is laying down or sleeping. This is your best chance of getting a good picture as she won't be crying or have wonky eyes in the photo if she is asleep. With this setup, you can also experiment the use of various props in the background.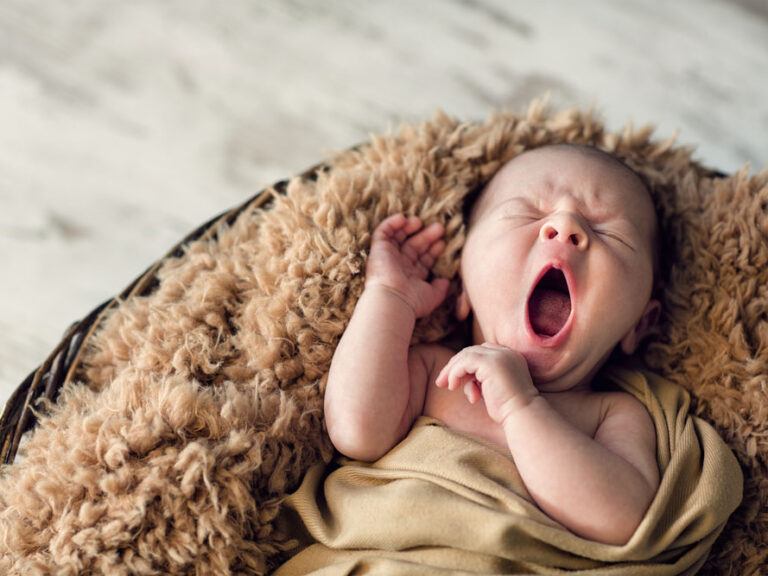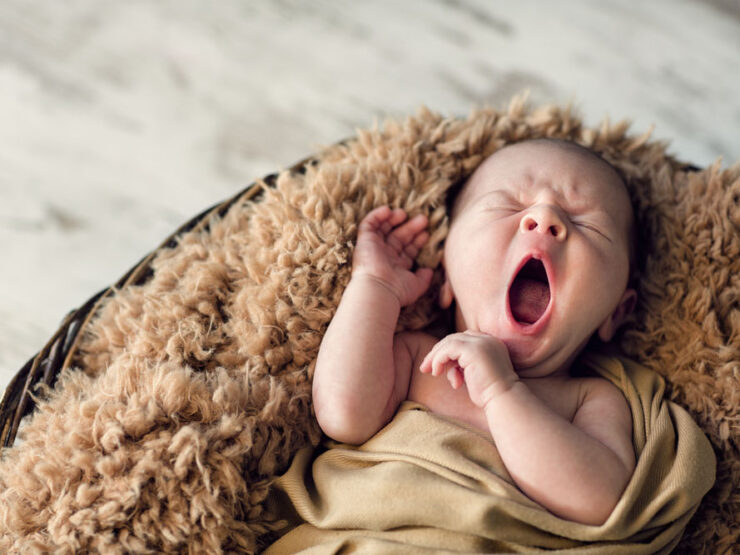 6. MAKE YOUR BABY SMILE
A smile is the best ingredient to creative and good newborn photography. You need to make your baby laugh while shooting which can be a little tricky for some. (You'll find a way) Perhaps waving a stuffed toy will help.
7. UTILIZE THE PROPS
Make use of the props in all aspects. A plain setup may look dull and boring while photography background with well-utilized accessories looks refreshing, eye catchy and creative. You can use your props creatively in so many ways.
8. DO MORE THAN ONE SHOT
Realistically, you can't easily achieve the best shot in one go. You need to do various shots to get the best one. You'll be requiring more takes for other purpose or designs that you have in mind.
9. CANDID SHOTS LOOKS GOOD
Open shots look good as it captures real emotion. You need a shot wherein your baby is looking at her toy, or you are laughing with her. These moments are worth cherished and valued.
10. HIGHLIGHT THE EYES
"Eyes are the windows to our soul." A bright eye means a happy soul. Capturing your baby's eyes whenever she smiles are a great way to achieving a good picture. Her bright eyes can surely melt anyone's heart!
Tips for Editing Baby Pictures
An edited baby picture makes a big difference compared to an unedited one. The use of applications and software such as Photoshop and Lightroom can aid in making the baby picture look more pretty and more unique. You can take advantage of the application or software by incorporating the features to the images. Follow the useful tips that we have compiled below: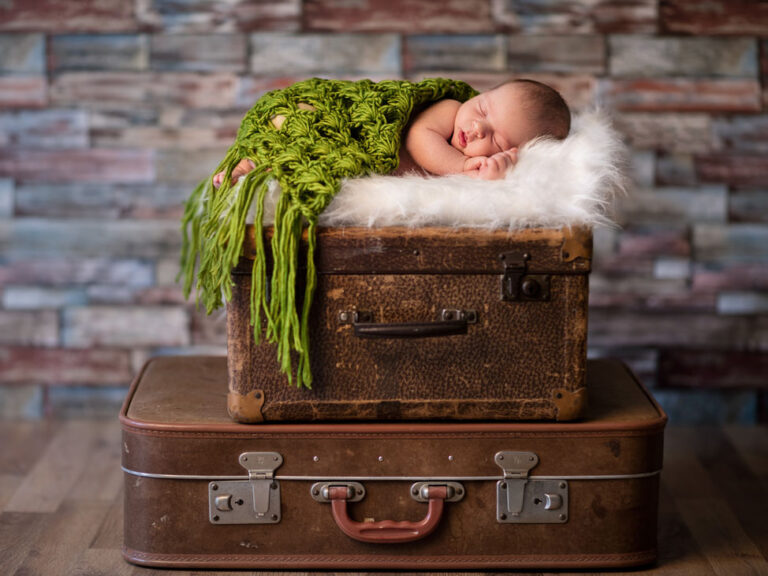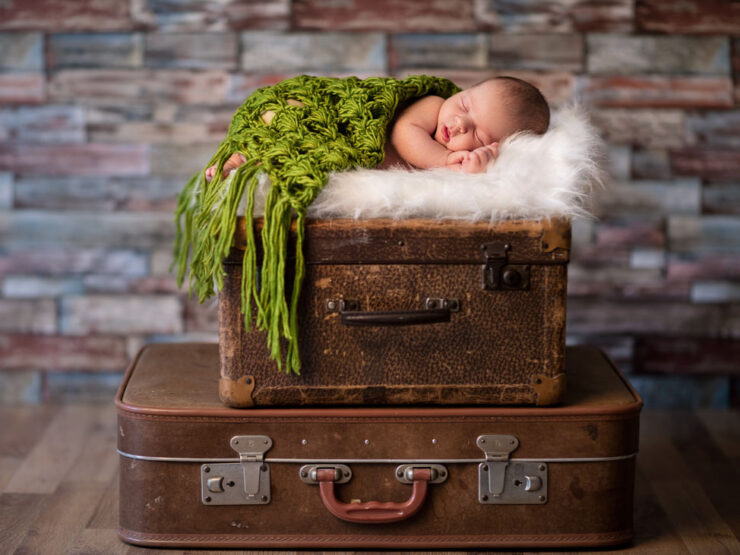 IN LIGHTROOM:
SLIGHTLY OVEREXPOSE PHOTOS: It can help in hiding some of your baby's red skin while emphasizing the creamy and clear complexion.
USE RAW FORMAT: The RAW format may need time in editing, but it can maintain the color and tone of images which attracts newborn photographers.
USE THE C SLIDERS: The use of contrast and clarity slider can help in maintaining the creamy skin color of your subject.
USE HSL SLIDERS: The hue, saturation and luminance sliders can help excellent tone the skin to achieve a more natural look.
BE SELECTIVE OF THE PROPS: Avoid props that are too bright as it can be quite challenging to edit using any photo editing applications or software.
IN PHOTOSHOP:
USE THE VIGNETTE: A vignette can draw attention to the photo by darkening the edge to catch the viewer's attention to the subject.
USE THE WARMING FILTERS: The warming filters help warm skin tones and give a warm glow to the image.
HIGHLIGHT THE EYES: Utilize the Photoshop features that can enhance the eyes to achieve a better-emphasized eye expression in the photo.
Creative Props for Newborn Photography (and how to use it)
You can use a series of props to showcase creativity in newborn photography. The good thing is, you don't need to spend because you can find accessories at home. Or build one. Explore this creative props for newborn photography: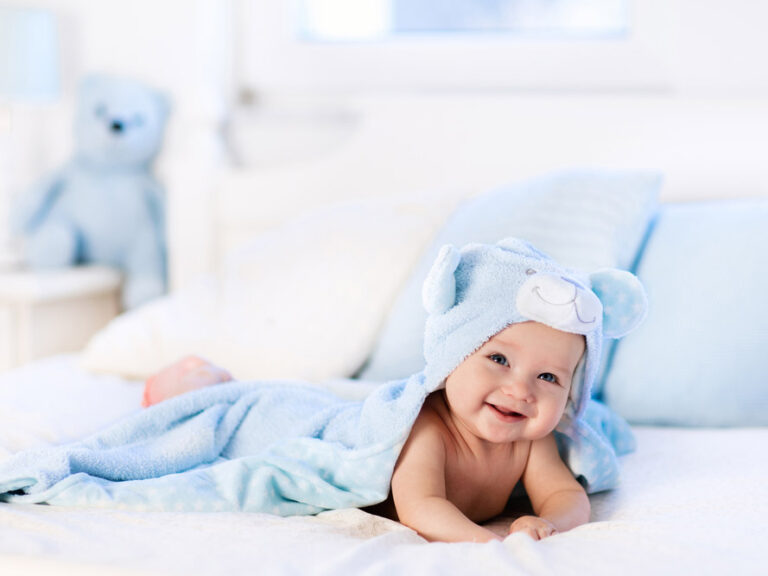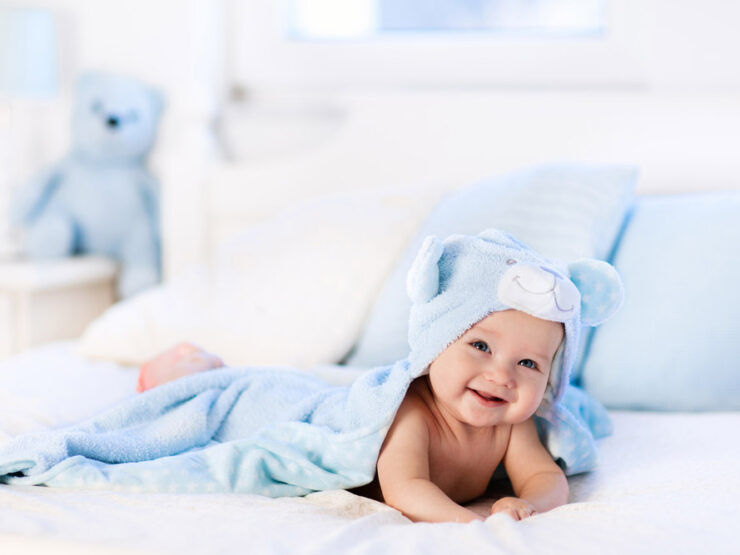 CRATE MADE OF TIMBER: Put a fleecy fabric inside the crate and lay your baby on top of it. Take a good shot from the top to achieve a creative output. Maneuver the best-relaxed pose for your baby for a better result.
BEAN BAG COVERED WITH VINYL: Vinyl covered bean bags are useful and convenient in newborn photography as you do not need to worry for dirt if your baby has spit or peed on it. Cover the bean bag with nice looking soft fabric and lay your baby on it. Keep taking shots until you get the best one!
BACKGROUND FRAME: Background support or frame is what you need the most to avoid uneven creases on your background. You don't want those imperfections seen on the baby picture.
SOFT BASKETS: Soft baskets are good props to showcase cute baby pictures as you can use it in so many ways with various poses including you and your baby. Lay your baby inside the soft basket full of beautiful decorations and soft fabric.
PILLOWS: Pillows are common newborn photography props as they can easily be found in the house. You can try letting your baby lay down on a soft pillow or sitting on it. (Do not choose a pillow that is too big nor too small to maintain the creativity of your baby's picture)
PETS (appropriate baby pets): Let your LO pose with her favorite pet. You can take a shot while they're cuddling or playing. These are the best moments that you must record.
TOYS: Babies love toys, and their happy reaction will always be present while seeing their favorite toy. Have her pose next to her favorite toy and capture candid moments for the best result.
BALLOONS: Colorful balloons can beautify your background for newborn photography as it will look cool, refreshing and suitable for babies. (Balloons can also be used as decorations for birthdays) Find a location that will not drown your subject.
CLOTHES: Character costumes are best props if you want to achieve a creative and unique look for your baby pictures. You can explore with other outfits but consider the character's background beforehand.
BLANKETS: Blankets are among the best props with many uses and styles you can try. You can use it to swaddle your baby or in the background and many more. (Do not use blankets with bright colors)
Points to Remember
Newborn photography has the most fragile working environment you can think of. You need to abide by certain conditions and rules to avoid accidents and misunderstanding.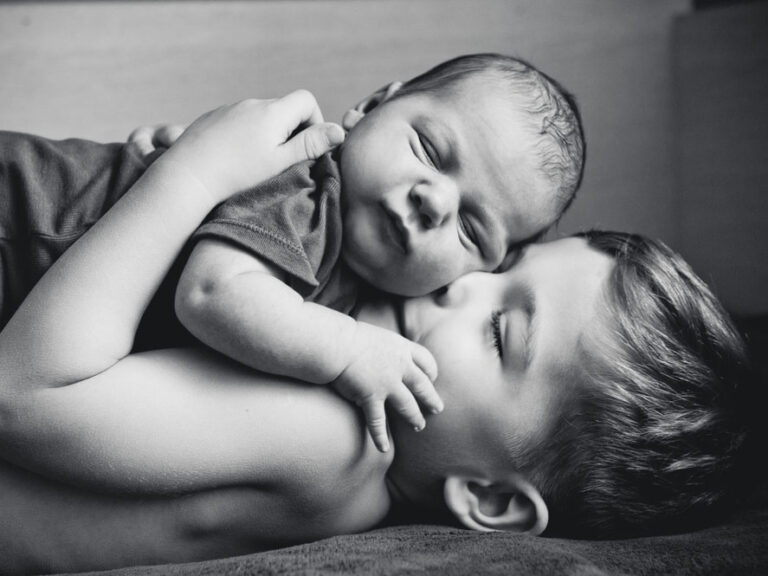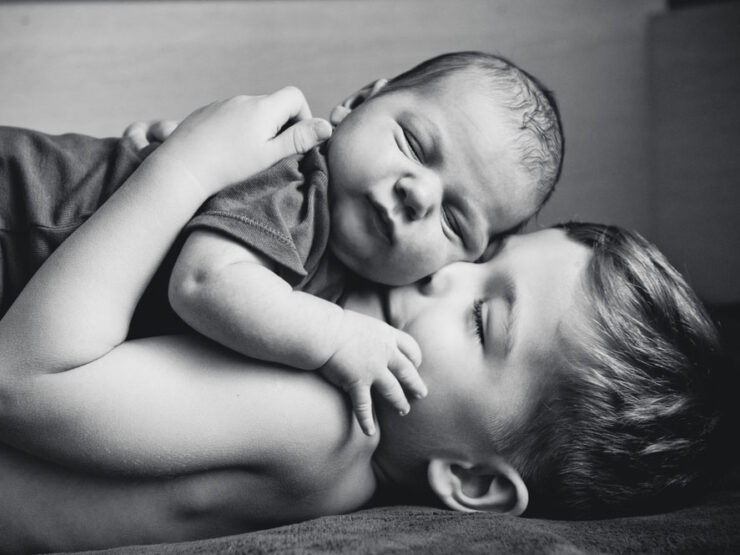 The following tips will help you work well in this delicate and adorable environment:
SAFETY FIRST: Safety is the primary concern in newborn photography as you are handling the most sensitive client in the universe! Ensure that the location is clean and safe. (Avoid any accident!)
DO NOT LEAVE THE BABY UNATTENDED: Ask for assistance from friends or family. Never leave the baby unattended. (She may have an accident while you are not around)
HAVE DIFFERENT CONCEPTS IN MIND: Think of different concepts or ideas that you can showcase in case your present idea did not work. Having different approaches will allow you to explore and arrive at a creative baby picture.
LET THE PARENTS KNOW ABOUT THE DURATION OF THE SHOOT: Informing the parents about the duration of the shoot is very important so they can prepare for their baby. You don't want parents to come to your studio unprepared and untidy. (It's a big no-no!)
BE PATIENT: Patience is what you need most in any type of photography including newborn photography as you need to take many shots before achieving the best one. (You have no right to be angry with the baby because she doesn't know proper posing!) Arm yourself with bundles of patience before engaging in newborn photography.
SET DIFFERENT POSES: Different ideas for posing in newborn photography will be beneficial as it will be challenging to stick to only one pose. Your baby may not be able to give justice to the pose that you wanted. (Know when to move on with the baby poses) Different poses are also useful to explore as you can discover new tricks while doing it.
KEEP THE BABY COMFORTABLE: A comfortable and happy baby is very likely to give you a good pose and a beautiful smile. (You don't need a grumpy baby in the set) Keep her comfortable by making sure that props or background are conducive for a baby. Right room temperature will also help in making her comfortable.
AVOID INAPPROPRIATE PROPS: Inappropriate props are those that are not safe to use such harmful materials, aggressive animals and other toxic materials. (You can't use a snake as a prop for a photoshoot for safety reasons) All of these are threats to your baby's life. Avoid it!
ONLY USE HYPOALLERGENIC PROPS: Babies have soft skin that is very sensitive even to the slightest imperfections of a particular fabric. Check out the material carefully before using it as a prop in newborn photography. The hypoallergenic fabric is the type of fabric that is safe to use.
GIVE THE LO SOME TIME FOR A BREAK: Taking baby pictures can be tiring for your baby. Take a break and feed her. In that way, she can be more relaxed and calm in taking baby pictures.
What You Should Know in Newborn Photography
Newborn photography is not merely about capturing the best smile or employing creative designs and costumes to acquire stunning baby pictures. It also involves a specific mixture of taste in photography and design. Here is what you should know in newborn photography: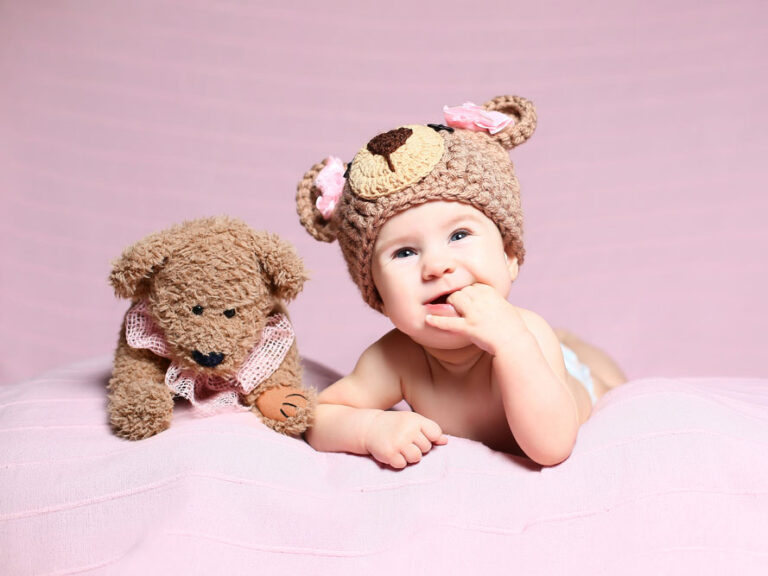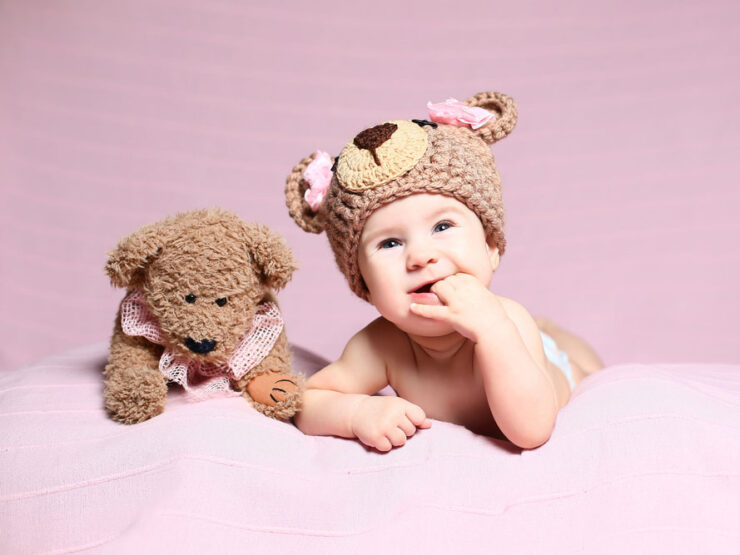 IT'S NOT THE PROPS: In newborn photography, props aren't always a big thing. You still have to present an intelligent idea to make use of the accessories contextually. (You can't use props that are too bright or dark or too big and small) Most of all do not drown your subject with your accessories and designs!
GET TO KNOW YOUR CAMERA: A camera is your best friend in photography as it has its way of showcasing the beauty of the subject. Learn the features of your camera from the most important down to the least. (All elements will be of good use in the beautification of your output)
PHOTOGRAPHY WORKSHOPS ARE HELPFUL: Attending photography workshops are useful in learning the tools for creative baby pictures. Photo editing is an important skill to learn as it can help you create better output and better opportunities if you want to take newborn photography to the next level. (Photography workshops will also expose you to new tricks on how to create stunning baby pictures)
SAFETY PRECAUTIONS: Safety is always the primary concern in newborn photography. Inspect your location and ensure an accident-free shooting area. Make sure that the surroundings are clean and free from different viruses. (You don't want the LO to catch any diseases)
OWN A STYLE: Think out of the box. Explore different background designs, props, and costumes. The new style can be your niche or identity as a newborn photographer.
Newborn photography is an art that will let you explore the many facets of creativity and design.
Some Newborn Photography Pose For You Try
Newborn photography is one of the most challenging pieces of creation as you can't tell the baby how to pose to get the best photo.
There are few poses you can try to get the best shot and acquire the most creative baby picture. It is also important to note that you shouldn't just stick to one pose as your baby may not be able to give you the best one successfully. (Plan for different poses beforehand)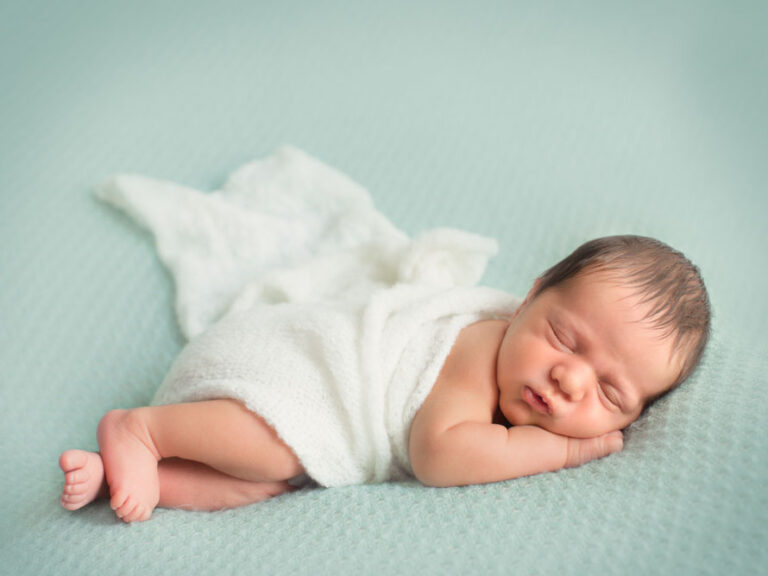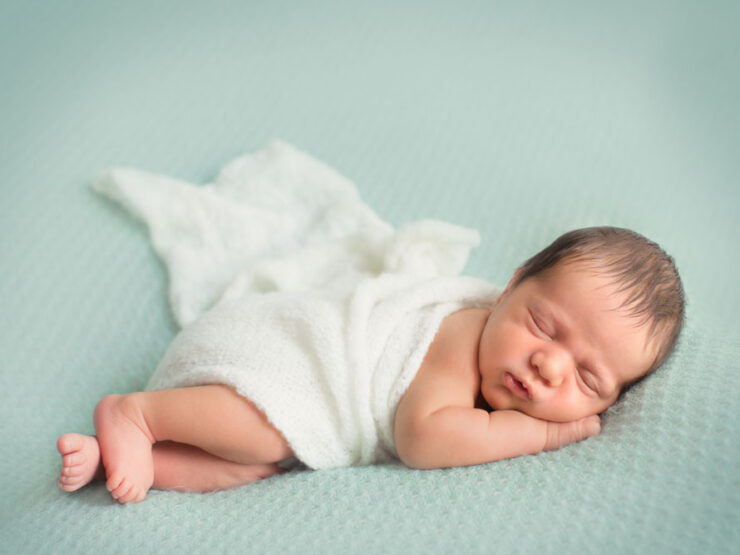 Here are few poses you can try:
FROG POSE: The frog pose is a classic pose in newborn photography which can also test the baby's flexibility. Sit her down with legs on her side, and both hands are cupping her chin. (Do not do this if you are not a professional newborn photographer)
TACO POSE: Also known as the "womb pose" which is another classic young photography pose. Have your baby on her side with one hand below her face to showcase her squishy face and expression. (This kind of resemblance with the frog pose)
SWADDLED: The wrapped pose is probably the most comfortable pose a baby can successfully do. All you have to do is wrap her in a soft fabric with her squishy face out. (Only use hypoallergenic blankets)
FAMILY POSE: With family pose set up, the best posture you can try is having your family lay down with heads touching one another or hold your baby in your arms. These precious moments will surely give a reaction that is worth photographing!
SIDE POSE: Let your baby pose on her side with her hands under her chin. (It can be in a laying or curl position) You can also use creative props to make the picture look good.
Tips on How to Calm the Baby Down During Photo Taking
Babies are little cuties who are fond of crying or getting upset over little things. So, what will you do if she starts crying or getting upset in the middle of the shoot? Try the useful tips below to soothe your baby during photo taking.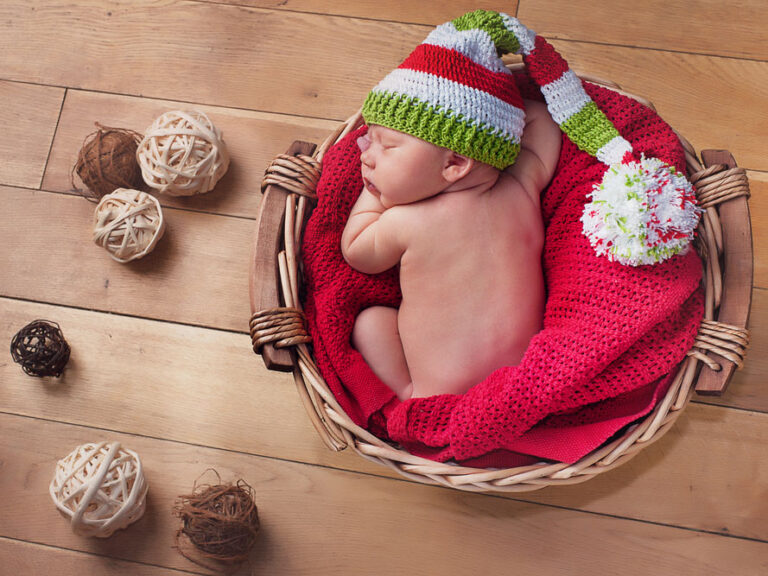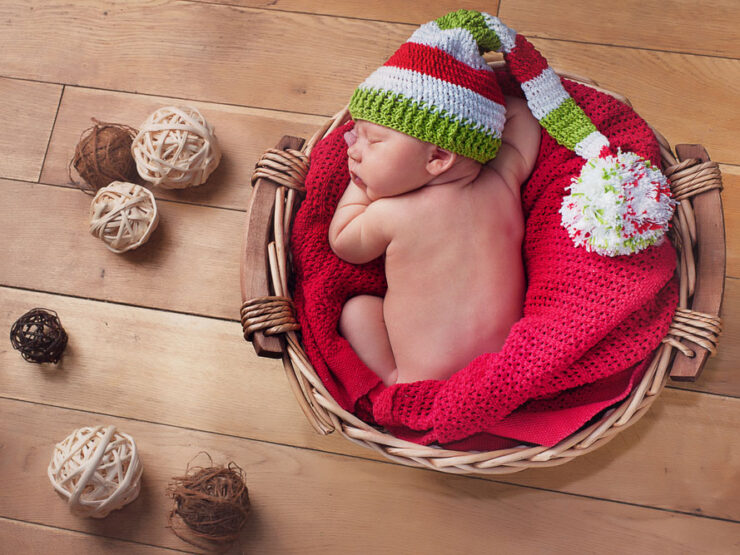 USE WHITE NOISES: White noises work best in soothing your baby while shooting for a good picture. White sounds can help them focus in relaxing while posing for a baby picture. There are also downloadable Android applications designed for soothing your baby. (You can also use the sound of hairdryers to comfort her) White noises are proven to work in calming down the baby.
Studies show that 80 percent of babies fall asleep within the first five minutes in the presence of a white noise in the background.
BE CALM: Do not be tense when you hear your LO crying. Instead, find out why she is upset and find a way to make her feel more comfortable so you can continue shooting. Besides, you also need to calm down and relax to give the best shot and keep yourself from reshooting.
WRAP HER IN SOFT TOWEL: A clean, soft towel or fabric will make her comfortable, warm and relax. Wrap her properly and make sure she is warmed and cozy inside. Avoid rough fabric as it irritates the baby skin.
ROCK THE BABY: The rocking part is the most favorite part babies love to do with their parents. If you feel that she is starting to get upset, pick her and rock her slowly while singing a lullaby.
HAVE A CLEAN AND WARM HANDS: Keep your hands clean and warm as you do not want to upset your baby or be attacked by harmful viruses. Cold hands can bother babies and can jeopardize your newborn photography ideas. You also don't want virus making your baby sick.
Related Questions
What are some of the best ideas for baby boy photoshoot at home?
There are few photoshoot ideas for your baby boy and you can easily so it in your home. A home photoshoot is the also the most convenient way to take pictures of your baby as you can readily utilized furniture, beds, pillows, etc.
You can lay your baby inside a soft basket or a bean bag with pretty looking soft fabric on top. Take a picture from the above to achieve the best shot. These ideas are suited for baby boys as you can quickly search for fabric colors suited for the LO.
What are some of the poses ideal for a baby boy?
Achieving the best posture for a baby boy can be a challenge as you need the picture to embody your cute little one's personality. You also need to consider the background, props, and costumes you have. Make sure that all three will have a touch of maleness in it.
You can try the swaddle, frog pose, and side. These are all excellent pose especially if you have props in the set. Remember also to showcase meaning or stories behind the photo.
What are some of the photoshoot ideas for six-month-old babies?
The most popular photoshoot ideas for six months is a pose with your baby and material that signifies her birthday. This pose is creative and ideal as you can see every detail of your baby's growth. It is important to remember that when posing for newborn photography, security is always the primary concern.Enter your text here…
Try other concepts and experiment on it until you learn more about new photoshoot ideas. Perhaps you can let your baby pose with her favorite pet or a toy to achieve a more creative setup. You can also try maintaining the room with colorful paintings to amuse the baby and give the best-looking picture.