How to choose the best kids bunk beds under $200? Did you know that bunk beds could date all the way to the Ancient Egyptians? As a lover of these space savers, I can.
Being perched on the top half of a bunk bed lets you imagine yourself as king of a very small. When I was young, sleeping in a room covered floor-to-ceiling in the wood panelling, I shared one of a bunk bed with my mother. I remembered hours spent, tiny legs shoved through guard rails, peering down upon my domain of just eight feet by ten.
Being lifted above the dangers of the world, protected by solid steel, made me feel safe and protected. This experience let me grow close to my mother and helped teach me a few things about sharing spaces. While I eventually grew tired of my mother's earth-shaking snoring, I still remember my first bunk bed fondly.
If you need to save space, or just want to teach your children a lesson about sharing, you might be well-advised to look at our list of cheap bunk beds for kids. Please be aware that none of these products includes mattresses, bedspreads, or pillows.
Cheap Bunk Beds Criteria
We promise no darts were tossed during the selection process. All these products fit pre-determined selection criteria that help makes these cheap bunk beds for kids accessible for a wider audience.
First and foremost, because we want you happy with your purchase, we only selected products with an average customer rating higher than four out of five stars.
In addition, to make certain these scores represent the opinions of a large market, we required each kid's cheap bunk bed to have over 300 customer reviews. Lastly, to keep your wallet full, none of these products cost more than 300 dollars.
Cheap Bunk Beds for Kids
---
1. Dhp Twin-over-twin Metal Bunk Bed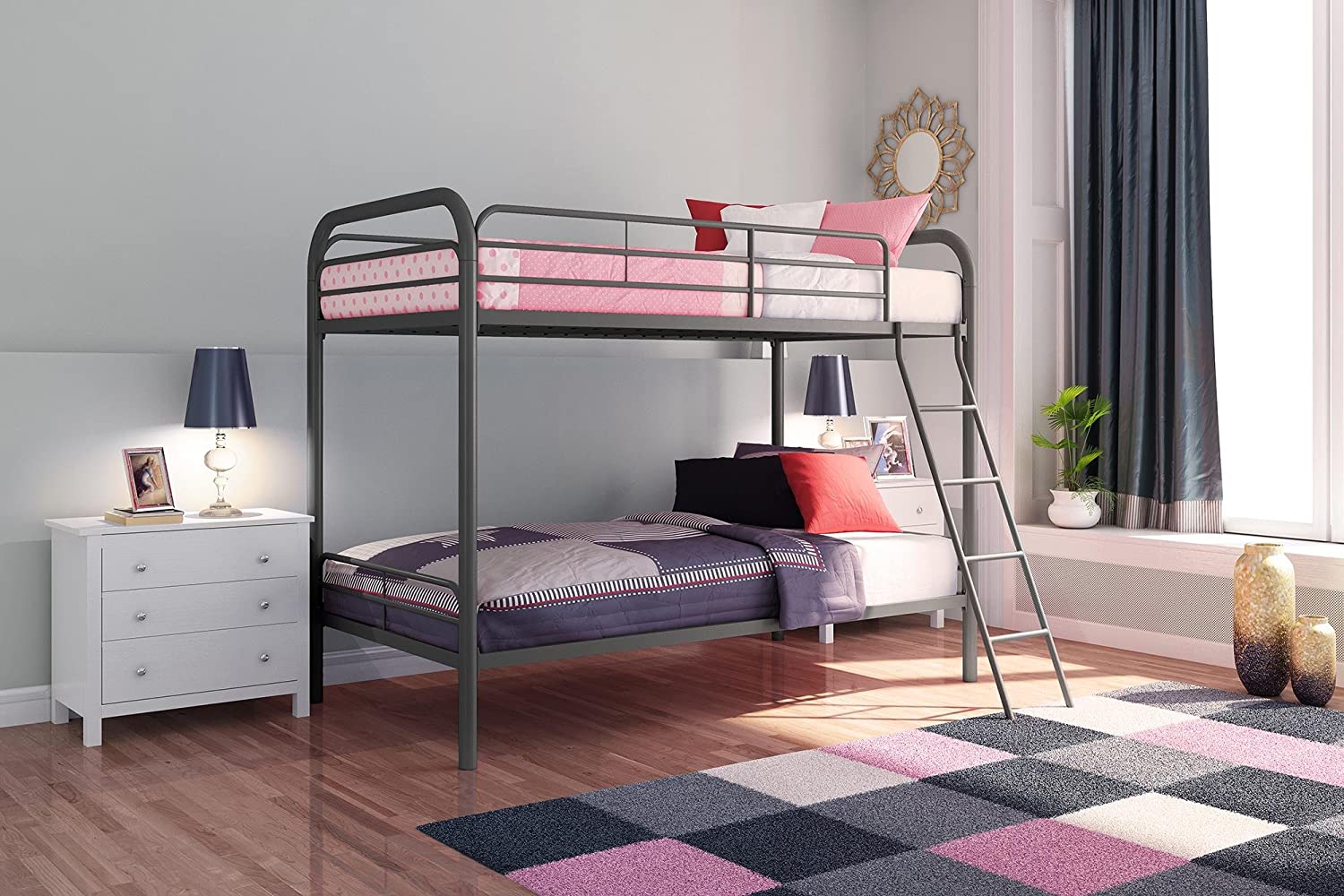 Our first cheap bunk bed for kids comes to you from North American furniture importer, Dorel Home Products (DHP). DHP specializes in bringing stylish bunk beds, accent pieces, and futons, just like this one, to the American market.
Crafted from powder-coated metal, featuring a compact, stacked design, this durable bed frame comes in three classic colors: white, silver, and black. Six-foot tall when fully assembled, you can purchase this modern bunk bed for about 150 dollars.
With an upper weight limit of 200-pounds, this cheap kid's bunk bed can support your child long into adolescence. This product ships with full-length guard rails and a slanted ladder for enhanced safety. After 2329 customer reviews, this DHP product earned an average score of 4.1 stars.
With 81 percent of customer ratings above four stars, simple math implies that you'll be happy with your purchase. For those who fell in love with this bed, giving it a perfect score, they cited the following: easy assembly, accurate sizing, contemporary styling, and sturdy construction.
While far less common, with only eight percent of customers giving it a score less than two stars, many complaints drew from issues with the supplier.
Judging by these comments, contacting DHP could be a nightmare of difficult-to-understand technicians and heated interrogation. Less common than the former complaint, a few customers bemoaned a box shipped with missing hardware. While left out of most reviews, the biggest issue from this bed comes from its lack of versatility. Like a Siamese twin, the two beds cannot be easily separated.
If you need a simple bunk bed in a classic color, at an affordable price point, this DHP bed frame might be your solution. Just be certain that its intended recipients get along before hitting that 'Add to Cart' button!
---
2. StorkCraft Long Horn Bunk Bed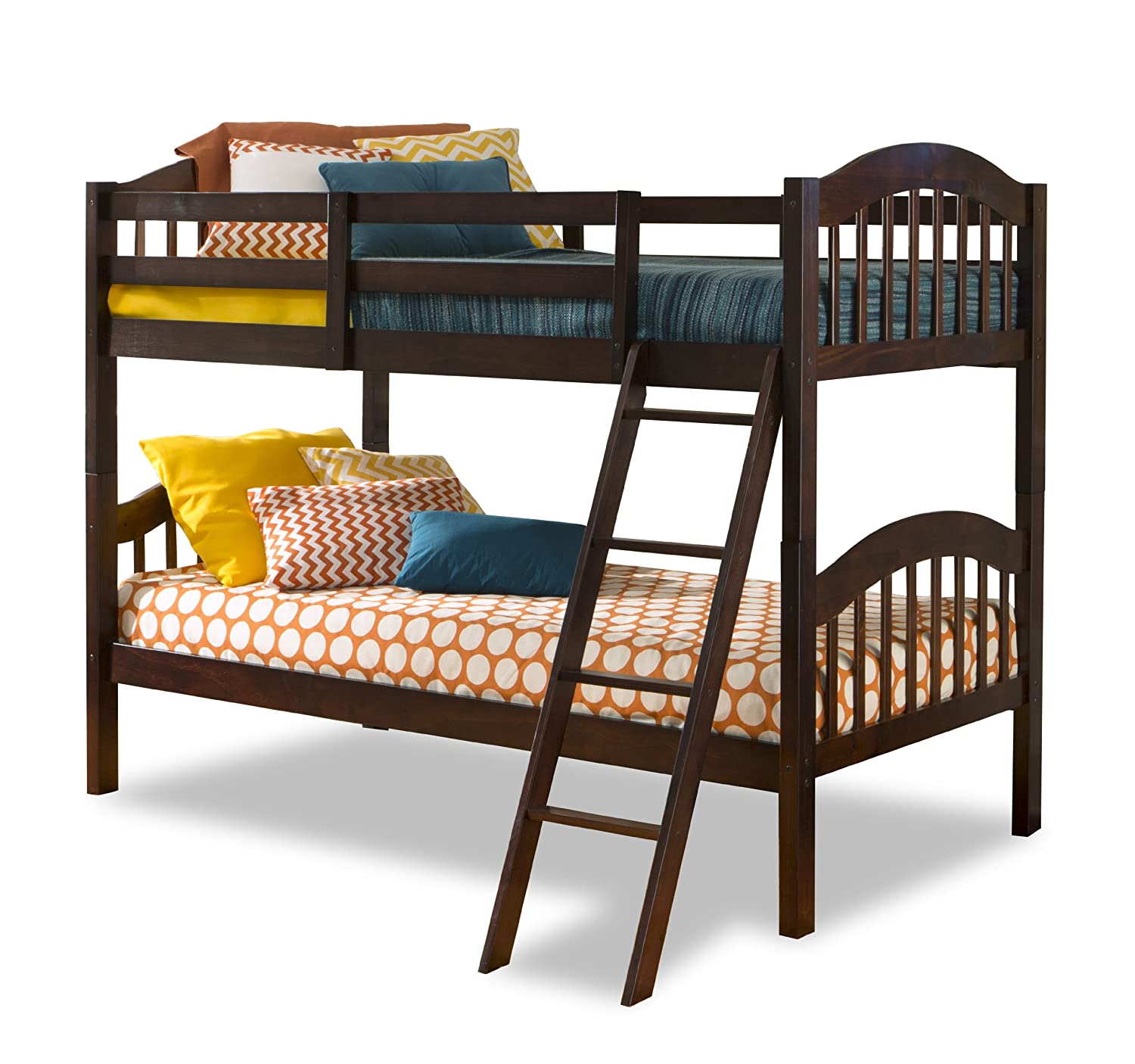 Since 1945, Stork Craft has crafted products everyone needs for a child-friendly home: changing tables, dressers, beds, gliders, and bunk beds. The company's quality brands include Zutano, Broyhill, and Canwood.
This bed fits right in with the rest of their catalog. Built out of solid wood and wood composite, this stylish bed features a simple colonial design with four distinct colour options: cherry, espresso, white, and pink.
When fully-assembled, the LongHorn measures 78 inches tall and can support an adult of more than 200 pounds. This cheap kid's bunk bed comes with full-length guard rails, unique fasteners, and full-sized slat support.
While the most expensive item on our list, at a price of just about 250 dollars, it's still in easy reach of most consumers. From 823 customer reviews, this product earned a mean rating of 4.3 stars. You can read these reviews yourself at this link. For my own take on these customer comments, keep on reading.
At the time this article was written, 81 percent of customers gave this cheap bunk bed for kids a rating higher than four stars. They commonly praised this cheap bunk bed for kids for its sturdy, shake-free design, well-written instructions, smooth finish, and hassle-free assembly.
Unlike the DHP product above, this one can be easily converted into two separate beds. If your kids outgrow one another's a company, you don't have to chuck this one out. Like all things though, perfection is in the eye of the beholder.
Eleven percent of customers who did not think this cheap bunk bed for kids was worth its price tag, gave it a rating of two-star or fewer. Common complaints included the following: shortened bunk-boards, a strange odor to the wood, cracking near screw holes, and a hard-to-contact manufacturer.
If you need a cheap kid's bunk bed with antique styling, and a high degree of versatility, you can stop your search here. If you want a wood frame that comes in navy blue or grey, you should take a peek at the other Stork Craft item on this list.
---
3. Walker Edison Twin-over-twin Metal Bunk Bed
Founded in 2006, Utah-based furniture manufacturer Walker Edison provides high-quality, stylish, ready-to-assemble furniture that fits the needs of modern families.
As some homes have families with more bodies than rooms, it makes sense that they'd have their own line of cheap bunk beds for kids. Built from powder-coated steel, made to stand up to the test of time, this bed can be purchased from Amazon for about 200 dollars.
Seventy-nine inches tall when fully assembled and able to support well over 300 pounds, this bed can accommodate the average adult. Your purchase includes support slats, a ladder that attaches to both ends, and ready-to-assemble packaging.
After 500 customer reviews, this kid's cheap bunk bed garnered an average rating of four out of five stars, Keep reading to find out what to expect from this product.
Like all items on this list, most buyers ended the day happy with their purchase. Eighty percent of customers gave this kid's cheap bunk bed a rating higher than four stars.
For the 11 percent who rated it under two, their complaints feature a few commonalities: unclear instructions that made assembly difficult, a tall height that causes teetering, rounded runs that make climbing difficult, and screws that tend to come loose over time.
The poor technical instructions sometimes resulted in assembly times exceeding four hours for some customers. Many of these issues can be solved by following the advice and step-by-step instructions laid forth by other reviewers.
For those who loved this bed, its main benefits include sturdy construction for people of all sizes, easy-to-use hardware, and a crisp clean finish that adds a touch of class to this economical centrepiece. This metal bed holds one huge advantage over the other one on this list; it's convertible.
When you get an extra bedroom, or just decide to cut down on stacked beds, you can tear this piece down into two separate pieces. To find out more about assembly difficulties, please click this link. If you need a convertible metal bunk bed and can afford the extra cost, this product might be your best bet.
---
4. Stork Craft Caribou Bunk Bed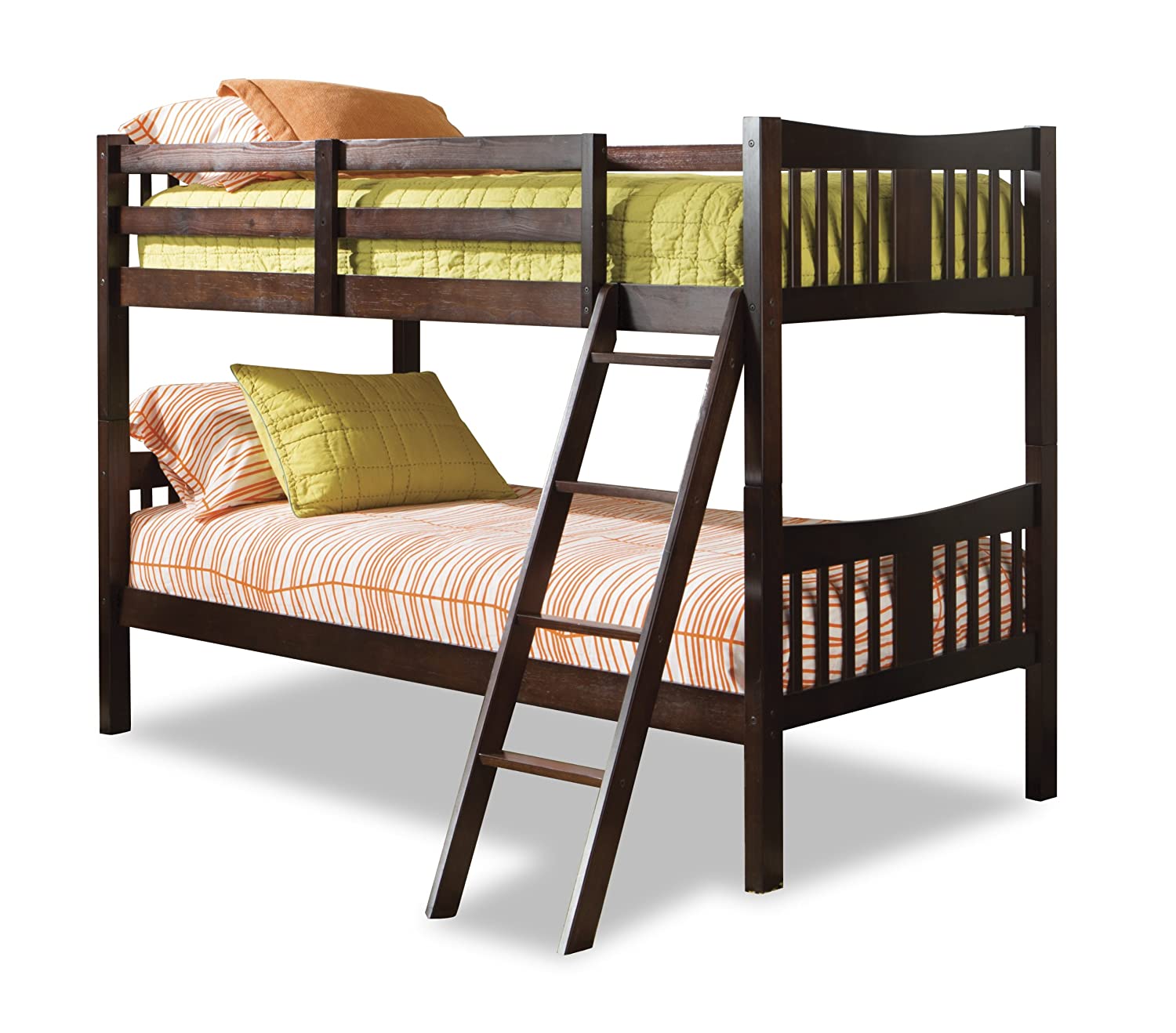 Creating products for kid-friendly homes since 1945, Stork Craft has over seventy years of experience creating cribs, gliders, dressers, and bunk beds. One of only two wooden options on this list, roughly six-feet tall, this cheap bunk bed for kids supports a maximum of just 160 pounds on its upper bunk.
While it might not be the sturdiest on our list, it offers the most styling versatility. Customers can choose from six different colours: black, cherry, espresso, grey, navy, and white. The package includes full-sized slats for mattress support, a set of guardrails, and a detachable ladder.
The Stork Craft Caribou Bunk Bed can currently be purchased on Amazon for around 250 dollars. After 1000 customer reviews, this product has an average score of 4.2 out of 5 stars. This leaves it tied for first place with four other beds on this list.
As dictated by our criteria, this bed tends to leave its owners feeling upbeat. In fact, over half of the reviewers gave the bed a perfect score.
Those who adored this kid's cheap bunk bed lauded its crisp styling, its large amount of under-the-bed storage space, its convertibility, and its moderately sturdy construction.
Many of the less impressed customers cited the same issues in their reviews: mislabeled hardware, poorly-aligned drill holes, its inability to support an adult, and its lack of smooth finish.
If you only need a temporary solution for a growing family and do not plan to use this bed over the long-term, it might be a suitable selection. You just need to remember to bring the gloves and avoid splinters.
If you need an option that grows with your child, or another houseguest, it's might be best to choose another cheap bunk bed for your kids.
---
5. Dorel Home Products Twin-over-full Bunk Bed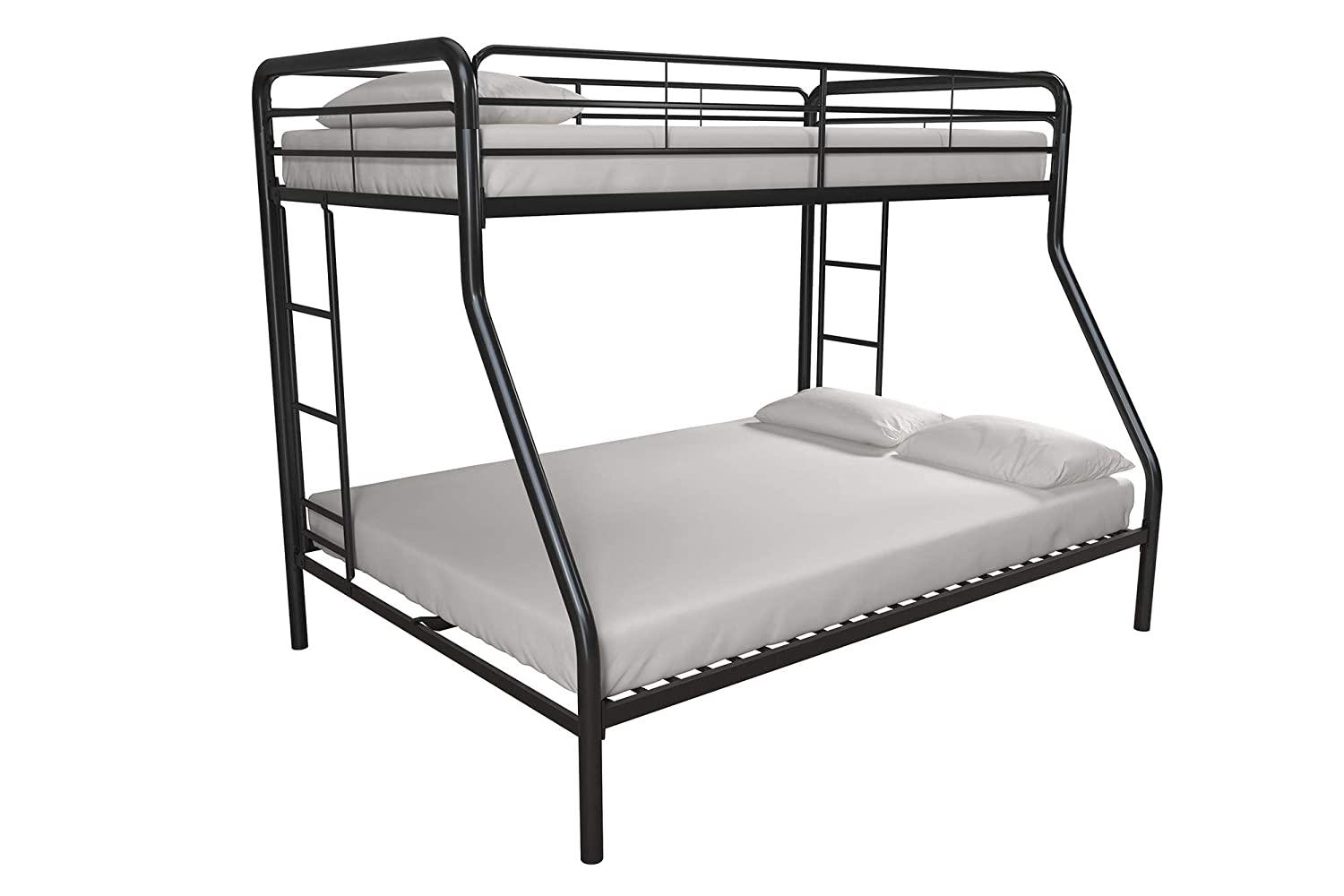 The only one of our cheap bunk beds for kids offering a full mattress on the bottom bunk, this steel-framed bunk bed is brought to you by North American Furniture importer, Dorel Home Products (DHP).
Experts in helping you count sheep in style, DHP specializes in bringing you the most stylish futons and bed frames from around the world. Just like the twin-over-twin DHP product mentioned earlier, this bed is built from powder-coated metal in white, black, or silver.
When completed, this bed at a towering height of 78 inches, and reviews state that the top bunk can hold well over 200 pounds. This particular kid's cheap bunk bed comes with full-length guard rails and an assembled ladder that easily attaches to the bed frame.DHP
You can purchase this larger version of the twin-over-twin bunk bed by for about 200 dollars When this review was written, this product had garnered 2300 customer reviews and earned an average rating of 4.1 out of five stars.
With 81 percent of ratings over four stars, this cheap bunk bed for kids seems to be well-received. After mining through nearly six hundred comments, I found the same bits of praise continuously popping up.
Customers appreciated this bed for its hassle-free assembly, quality construction, and its ability to hold both adults and young children. The ladders on both sides allow you to place the bed practically anywhere in the room.
For the 11 percent of reviewers left with a sour taste in their mouth, they were irritated by this bed's noisy movements, oddly-sized bolts, and a frame slightly bigger than the typical full mattress. In addition, just like the other DHP product, this bed is forever stuck in a stacked format.
If you need a full-sized mattress for an older child, and a smaller one for a sibling, this bed could be your perfect choice. Its simple metal finish and simpler styling, along with the classic color scheme, let it seem right at home in any room. However, if bunking up together is just temporary, it's best to choose from our three convertible options.
---
How to Pick You're the Bunk Bed That's Right for You
Families, just like the people they're composed of, vary widely in their stylistic and physical needs. To cater to this diversity, companies create a wide variety of bunk beds, in a wide variety of colors, from a wide variety of materials.
In fact, if you search 'bunk beds' on Amazon, and narrow the category to 'kid's furniture, you get nearly 700 results! To help separate the wheat from the chaff, you need to determine the set of characteristics that best fits your family's needs.
Please consider the below before picking out your family's newest piece of furniture:
Budget
Whether you can afford a more expensive bunk bed, or not, your desired price point should be one of your main considerations. Prices on Amazon vary from about 1300 dollars down to around 100 dollars.
Your budget can determine the grade of product you receive. For example, getting a real cherry wood bunk bed for under 200 dollars would be next to impossible.
Styling
If you find your newest piece of furniture hideous, you won't leave it up very long. These beds come in a wide range of styles such as colonial, modern, simple, Mediterranean, and Mid-Century Modern.
If you want something more extravagantly designed, you might have to consider raising your price point. You can also pick from a wide variety of color schemes. Some beds, such as those made from natural woods, give you the options to choose the color or the stain yourself.
Material
As you can see from our five products, bunk beds can come in more than one material. The most common choices are wood and metal. Some brands also craft beds from plastic. Real wood is more expensive than pressed wood.
Rustproof metal beds tend to cost more than their more oxidized counterparts. Depending on the durability you need, and your personal preferences, this criterion can be used to cut out quite a few options.
Strength
Do you plan to put nothing but a toddler on this frame? Do you like reading with your child at bedtime? Do you need it to fit them straight through adolescence and into adult hood? All beds tend to list a weight limit for the upper bunk. As keeping your kids safe is a priority for most parents, this might be one of the most important criterion on our list.
Convertibility
If you ever need to separate the beds, convertibility is a key feature. If you're not certain how long you'll need the bunk beds, or how well this 'sharing' thing will go, it's best to buy a bed that won't force you to buy two to replace it.
Storage
Some beds have a clearance of just a few inches beneath them while other bunk beds build drawers right into the base. If you want somewhere to stow a trundle bed, or need a place to stuff extra clothes, you would be advised to pick a bed with its storage capabilities in mind.
If you consider the above six characteristics, you should be able to find the best cheap kid's bunk bed for you and your family.
If you are looking for more bed options for your kids, check out our reviews on:
FAQ
At what age can kids start using bunk beds?
Pediatric experts recommend that bunk beds should be used only by kids that are 6 years of age. The top bunk bed should only use kids of this age as safety measures.
What type of mattress should I put on the bunk bed?
The best mattresses for bunk beds are low-profile ones between 6 and 7 inches in thickness. This way mattress will be thick enough to support the person sleeping on it while ensuring it is not too tall for safety rails.
Are bunk beds safe for kids?
Yes, they are since safety rails keep kids from falling off the bed. However, accidents do happen. To ensure that your child is safe in the bed, you need to take a couple of precautions. Placing the bed in the corner of the room will surround your child with two walls granting more safety. Install safety rails that should be at least 5 inches tall, and regularly check the stability of the bed.
What is the average height of bunk beds?
Typically, the height of the bunk beds varies depending on the brand and price. However, average bunk beds are between 5 and 6 feet tall. Also, it is essential to have a separation of at least 33 inches between the top of the mattress and ceiling.
Which bunk bed should I purchase for my children?
It is important to choose a bed that has installed all the safety measures. Prioritize features like guard rails which are essential for security. Make sure that you check the weight capacity since some products are made only for younger children. We recommend you to go for Dhp Twin-over-twin Metal Bunk Bed. It is stylish, cost-efficient, and comfortable.
Take a look at these products from the same price range, that are available right now on Amazon: