Trivia is a great educational and entertaining game that offers lots of excitement for both family and friends. It is a great way to bond and share knowledge for countless fun hours. The nature of these games is also quite competitive, which brings even more thrill and resolution among the players.
If you like to challenge your friends and family in the battle of wits, these games are surely your cup of tea. However, there are so many options to go for nowadays, and it seems impossible to pick the right. In this article, we hope we will make your choice a bit easier because we have made a list of some of the best trivia board games for you to enjoy with your close ones.
Most Popular Trivia Board Games
1. Wit's End Board Game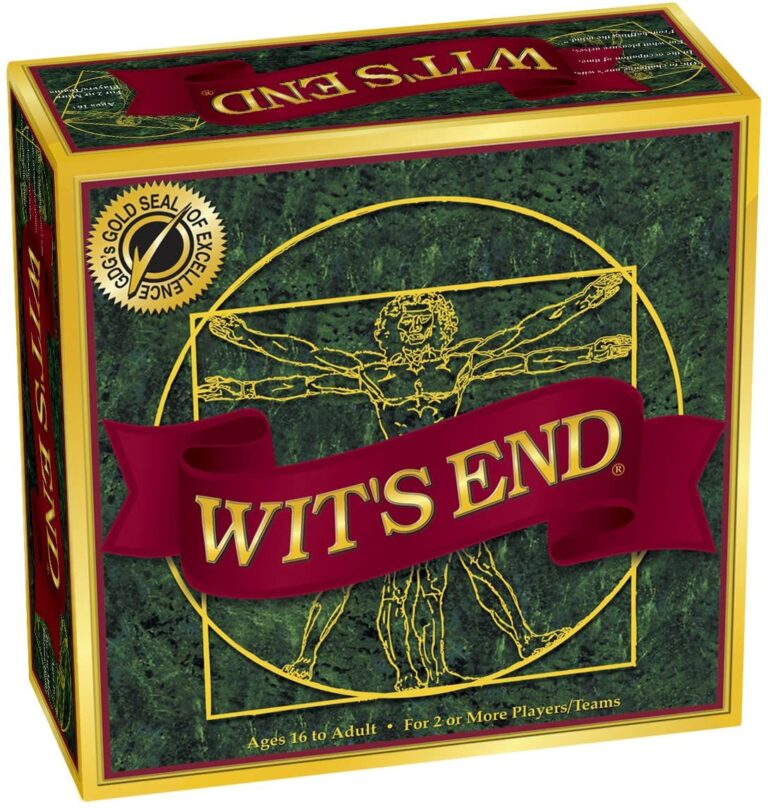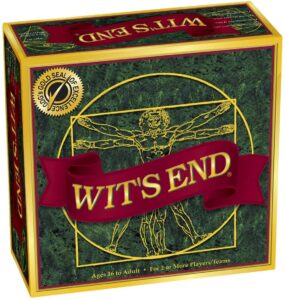 Coming from the Game Development Group Store, Wit's End is a game that will test your knowledge in four different categories. It is recommended for kids from 16 years of age and above.
The four categories you will get questions from are a teaser, odd1out, sequence, and wild card. Each will test you in different ways and reward you accordingly. The board is straightforward and easy to use. You play it by rolling the dice, which will land you in one of two directions, question type or reroll field.
As long as you keep giving the right answers, you keep playing, and opponents wait for their turn. As you keep answering right, you advance further on the board, and when you reach the center, you have won. The questions are quite challenging and are not recommended for pre-teens.
This set contains 1200 questions from various categories that will test your knowledge. It is an excellent game for the whole family's entertainment.
2. OK Boomer Trivia Card Tabletop Game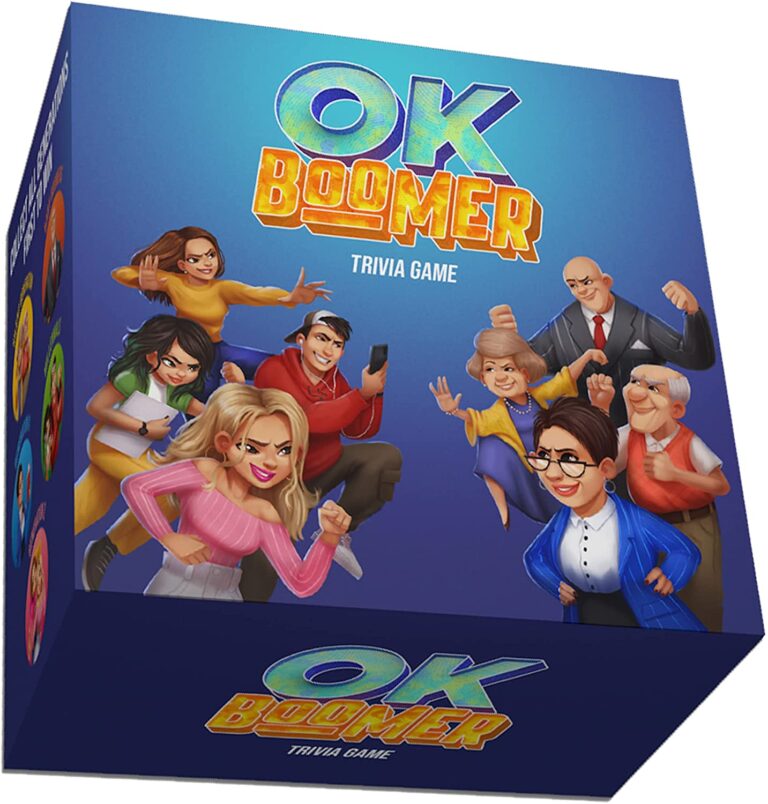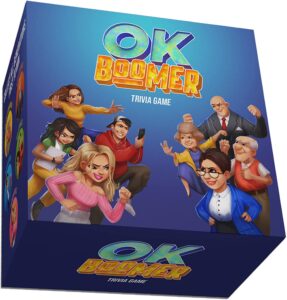 OK Boomer is a trivia game that will test your knowledge of every generation. It is a great way to bond with family members and friends of different generations and ages. The game is simple, rewarding, and hilarious.
The game can be played by as many players as you like, but the recommendation is that you go for 4 or 6 players. The set includes 550 questions that are divided into different generation categories. There are gen Z, millennials, gen X, baby boomers, and the silent generation.
It is practical and portable, so you can play it wherever and whenever you like. The rules are very simple; the player that answered most questions correctly wins. There is also an expansion pack available for purchase that will give you another 550 questions. This game takes the generational gap and creates an entertaining and fair atmosphere for players of all ages to enjoy.
3. Half Truth Game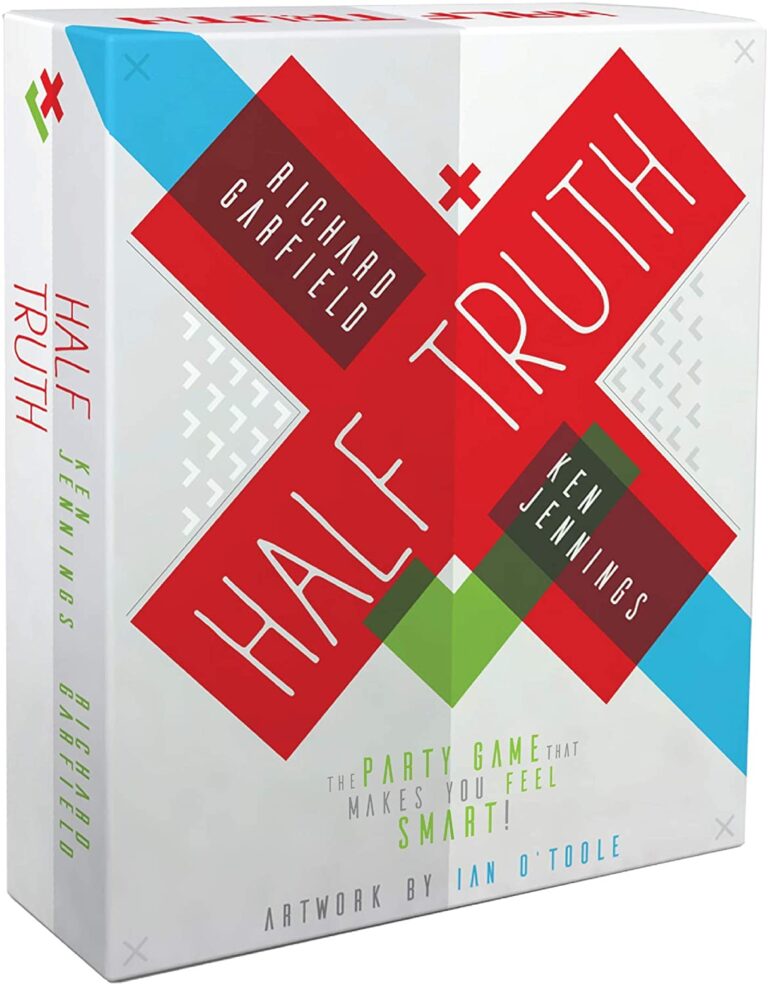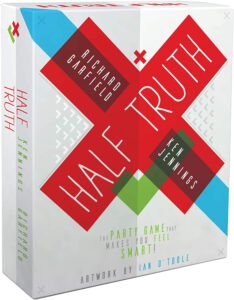 Half Truth is a trivia game designed by Ken Jennings and Richard Garfield. It is a game that offers you several correct answers, and it is enjoyable to play both for casual players and trivia enthusiasts.
The rules are pretty easy to pick up and will not overwhelm new players that are not familiar with them. The game is engaging, and rules allow all players to answer the questions at each turn. The twist of having half of the answers true and half false adds more excitement and risk/reward to trivia.
Every correct answer will reward you a point, and you can receive a bonus at the end of a round if you get all answers correct. The game will offer you clues alongside questions, so even if you are not familiar with the category, you can make a guess and get lucky. It is educational, fast-paced, and family-friendly, granting you hours of entertainment.
4. …I should have known that! Trivia Game Green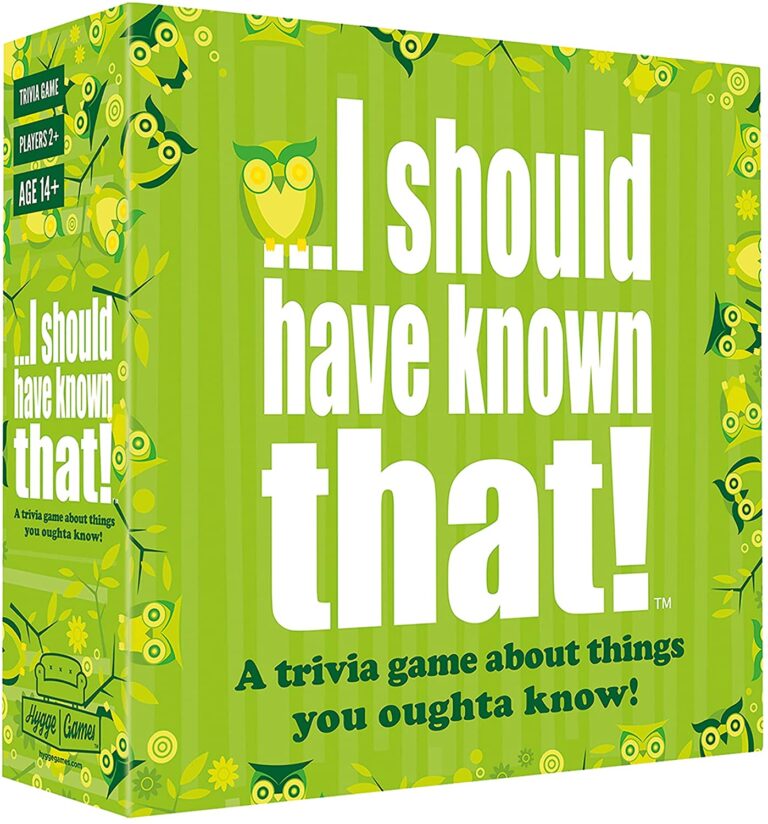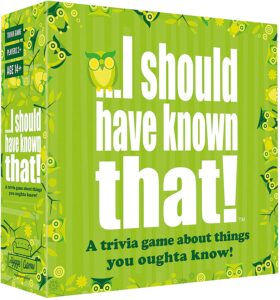 "…I should have known that!" is a trivia game coming from Hygge Games. It is perfect for 14-year-olds and above. Great for friendly game nights and can be played in teams or individually. The recommended number of players is a maximum of 3 per team, so you can play as high as 12 players divided into 4 groups.
This set comes with 400 questions that can provide you with hours of entertainment. The rules are a bit different than in other trivia games. You do not get the points for correct answers, but your points get subtracted for the wrong ones. Teams or players with the most removed points lose the game.
The questions are pretty straightforward but can be deceiving and detailed, so it is just a matter of time when you will say, "I should have known that!" There is a wide range of topics that the game covers, so it is educational as much as it is entertaining. Some questions might open the discussions, so it is a great tool for socialization with your loved ones for game nights.
5. Death by Trivia – A Party Game with A Killer Twist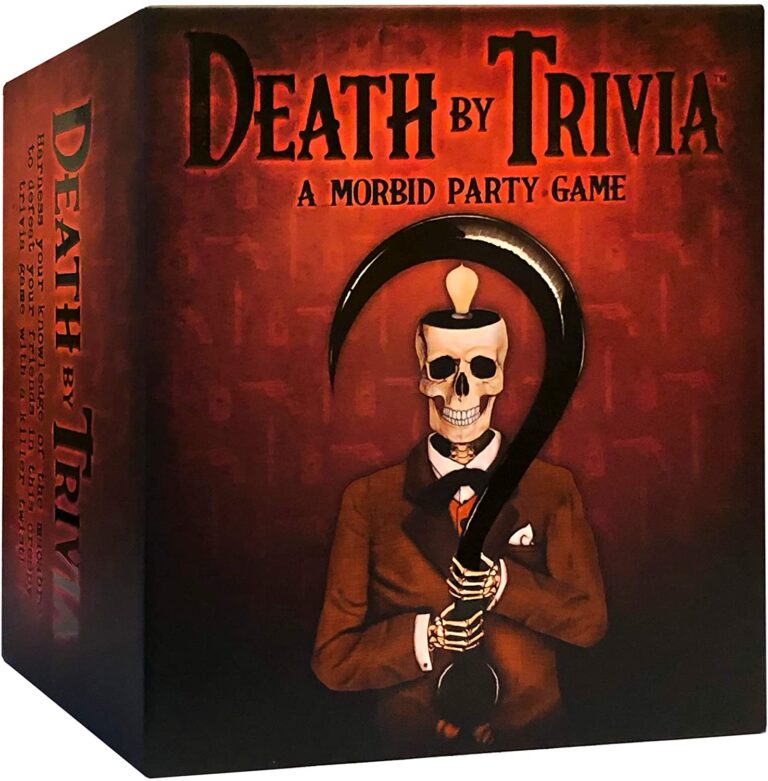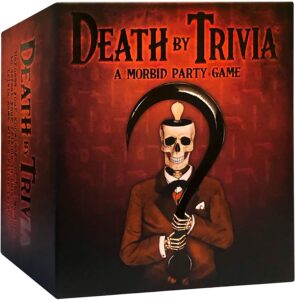 Death by Trivia is a creative game coming from the Headburst store, with an interesting theme, particularly suitable for Halloween game nights. There are over 2500 questions with morbid, gruesome, and disturbing topics. These are all splattered with humor and very entertaining for smaller or bigger playgroups.
Rules are something that separates it from other games of this genre. At the start of the game, players get two decks, one for alive and one for the dead. The alive deck contains a series of questions that, if answered wrongly, give you a penalty. The penalty, of course, is being stabbed, shot, or poisoned, depending on the card.
Each player can get the penalty up to 3 times, after which he is dead. However, the game does not end there for the player since dead players start drawing cards from the dead deck. Questions from this deck are asked exclusively by dead players and will cause instant death if answered wrongly.
They also contain resurrection cards that will bring the player alive again. The last player alive wins the game. It is certainly an exciting way to play trivia and an absolute gem for your game collection.
6. Trivial Pursuit Game: Stuff You Should Know Edition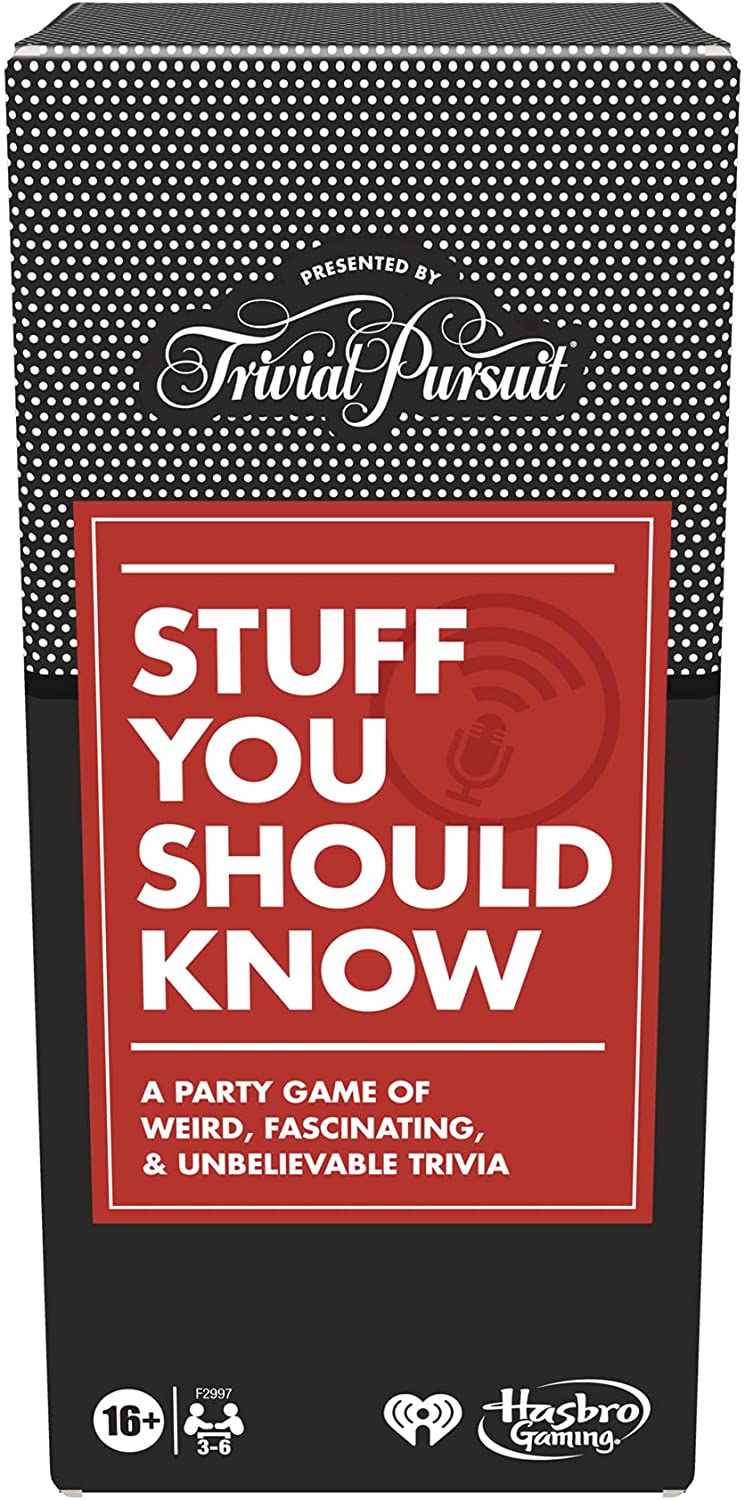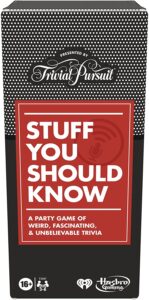 This 600 trivia questions game comes from Hasbro Gaming. It is inspired by the famous podcast "Stuff you should know."  The question topics are related to different episodes of this show and offer you hours of entertainment.
In this set, you will get the board and cards with questions. There is a total of 6 categories of questions – history, pop culture, myths, legends and conspiracies, science and tech,  humans, and SYSK selects. The game is for 3 or 6 players and is recommended for 16-year-old teens and older.
The rules are pretty straightforward, and the player who fills the board with the most answered questions in all categories wins. If you are unsure of the answer to some questions, there are lifelines such as "stuff someone else should know," 50/50, and others.
Since there are a lot of questions in the set, you are bound to play this game multiple times, which adds to the price value quite significantly. There are humorous quotes next to the answers, which just adds more of the atmosphere from the podcast—a great choice for your trivia collection.
7. Ultimate Pub Trivia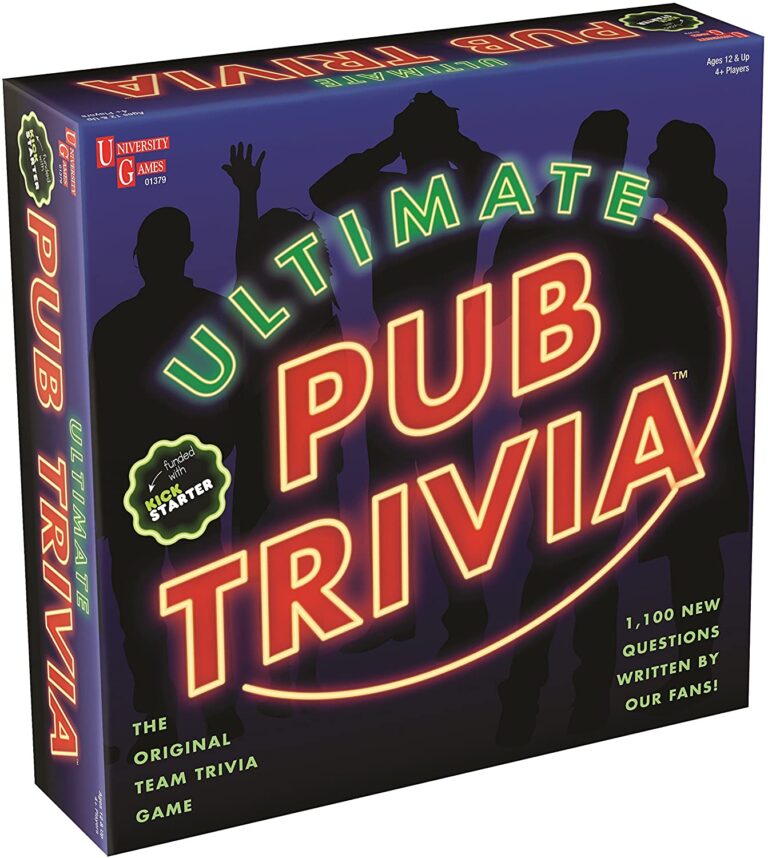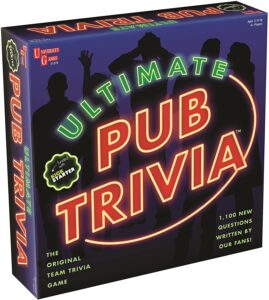 Ultimate Pub Trivia comes from University Games and offers you over 1000 unique questions that cover 6 categories. It is a great game for trivia beginners, although seasoned players can enjoy it too.
The categories are sports, past present, and future, pop culture, anything goes, geek knowledge, and literature. The game is ideal for 4 players or more and can be played in person or on Zoom and other types of video chat. The rules are pretty simple. One person assumes the role of quizmaster while others get divided into teams or play individually.
The or player with the highest score wins in the end.  Inside the pack, you will find questions, answer sheets, pencils, instructions, score sheets, and a question card sleeve. The game is excellent for competitors of all ages, and it is an absolute hit for party game nights. The difficulty of questions varies, so it offers different types of challenges and big replay value.
8. Race to Stupid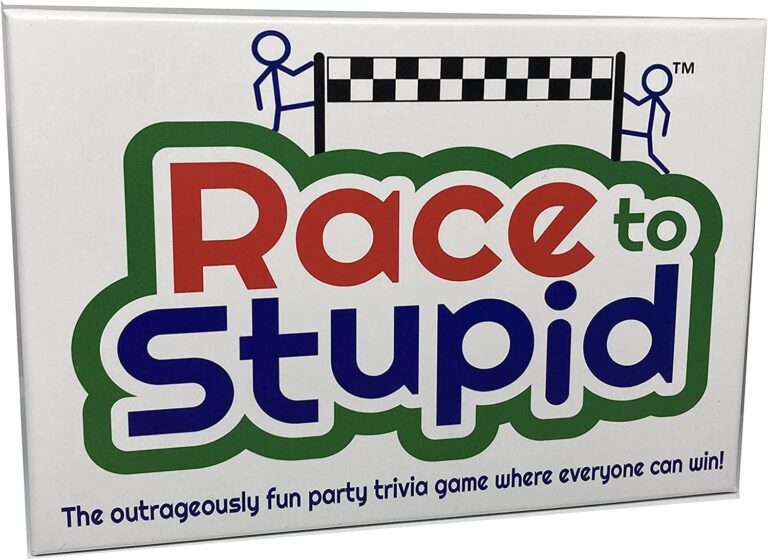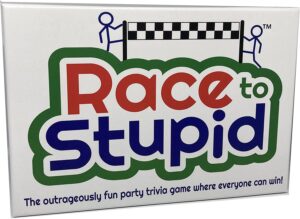 Race to Stupid is a fun family and friends trivia game for all ages. There are 400 exciting questions covering different categories that you can have fun with during parties or game nights.
The rules are pretty straightforward, except for the fact that you should have two answers for each question – correct and stupid one. Correct answers are worth 1 point, while stupid ones are worth 2. A single session lasts roughly 45 minutes and is suitable for at least 2 and as many as 6 players.
The funniest answer will bear the most significance on the scoreboard, so you get to be witty and creative during playtime. It is also great for experimenting, so you can add any rule you like to make the game more appealing and exciting.
It is great for parties and can be G or R-rated; it really depends on the style you want to play it and the company you like to keep while doing so. Educational, creative, and fun, this game deserves the place on your trivia board game shelf.
9. Smart Ass, Think Fast – Talk Fast To Win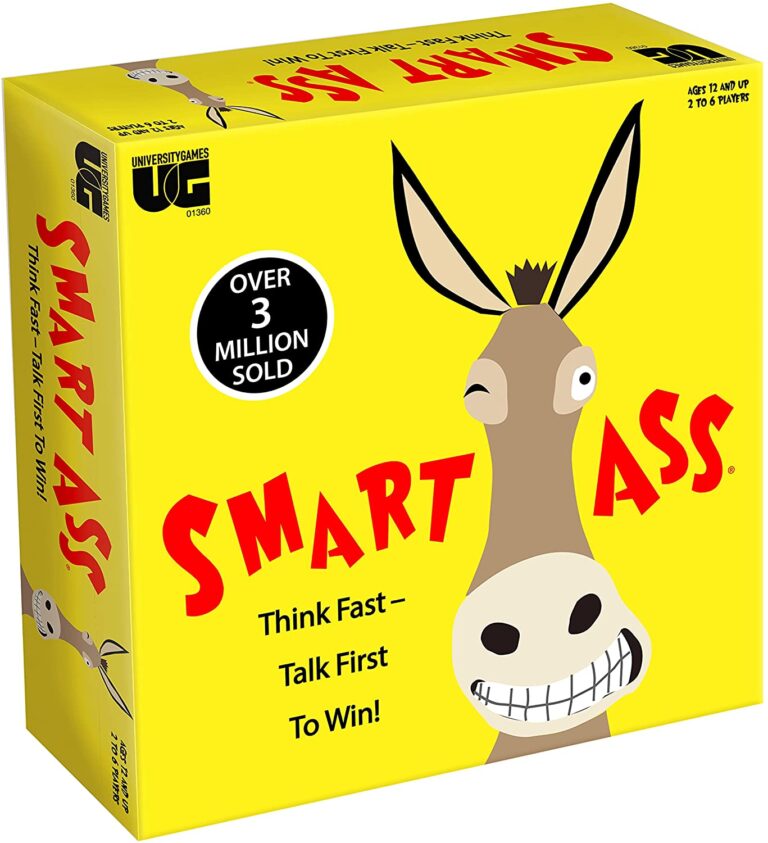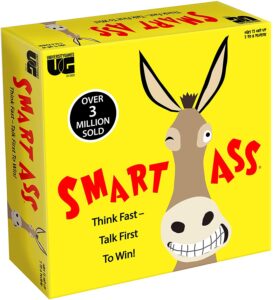 Coming from University Games, Smart Ass, Think Fast – Talk Fast To WIn is a trivia game especially suited for players who hate to wait their turn. It is very fast-paced and suited for at least 2 and as many as 6 players. It is recommended for 12-year-olds and above.
The game comes with the instruction manual, board, 6 playing figurines and stands, 411 questions, and 2 jumbo dices. What makes this game so unique is the fact that all players have a chance to win at any time.
It encourages fast thinking and reactions. The questions are presented in the forms of WHO, WHAT, and WHERE? Every question has 8 different clues that should lead you to the answer; once players realize the correct one, they should yell it out loud and fast. It's a fun and educational game that will provide you with lots of laughs and battles of wits.
Buyers guide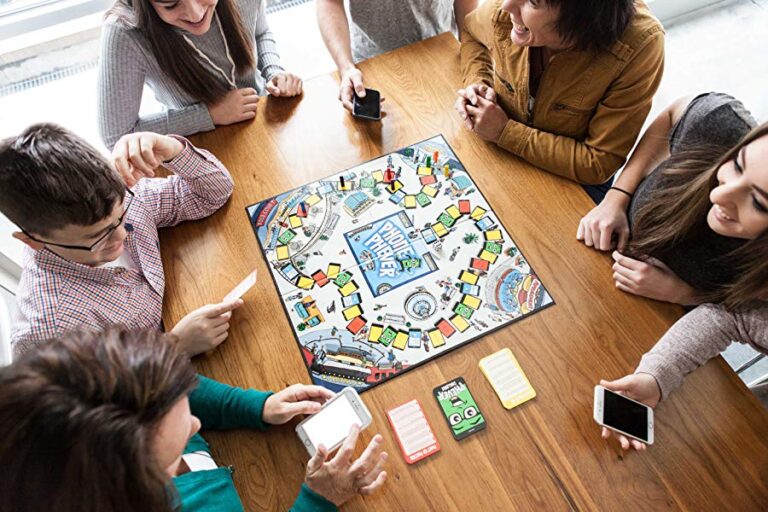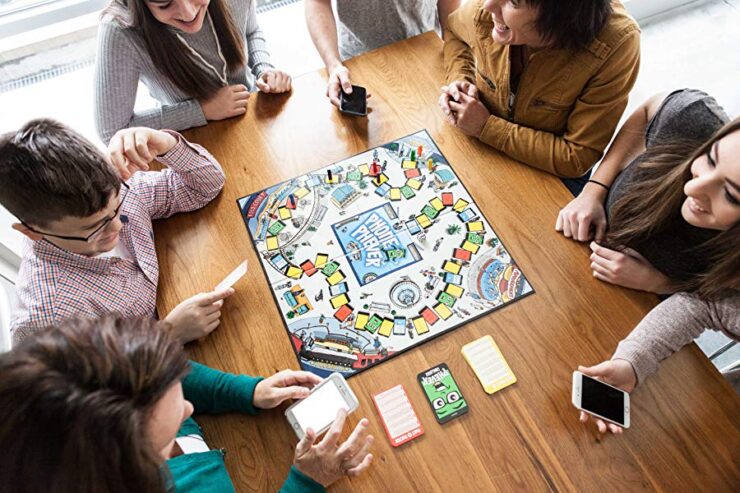 There are numerous factors that might determine which trivia board game will suit you best. You can find various themes, designs, and rule sets that can be overwhelming when you want to make the right choice within your budget limits. We have put together a brief guide that ought to help you choose the right product for you and your loved ones.
Number of players
Always check the manufacturer's label that marks how many players can play the trivia game. Since every set has a limited number of question cards and other components, it is not practical to buy a game for 10 players when you have only enough for 2.
Choose according to your interests
There are many different themes and content in trivia games that might pick your brain. To choose the right, you should consider consulting your friends or family on which theme to go for and what category should be suitable for you to play.
Playtime and replay value
These are very important factors that should also determine the amount of money you should spend. Going for trivia sets that have a larger number of questions, have bigger replay value, and offer you more playtime.
Age limitations
It is important to pick the game that is suitable for the participant's age. If you buy adult-themed trivia, teenagers or younger kids might struggle to answer the questions and will lose interest in it quickly. Every manufacturer marks their product with age threshold pieces of information, so make sure you read them carefully before spending money.
FAQ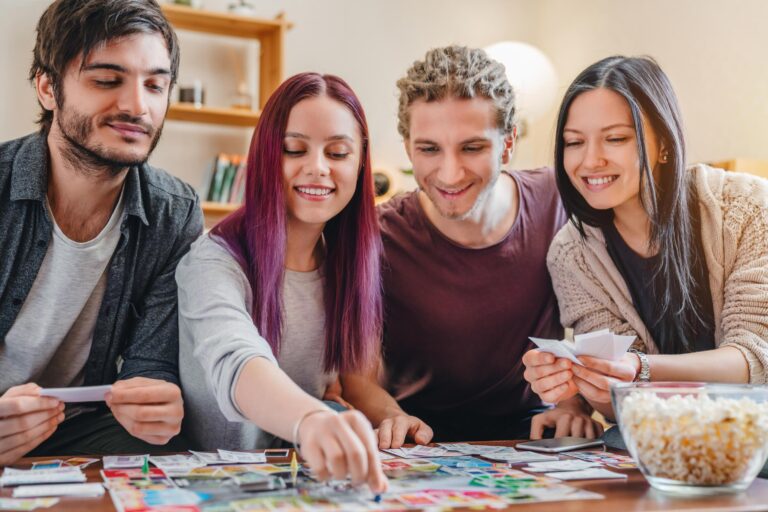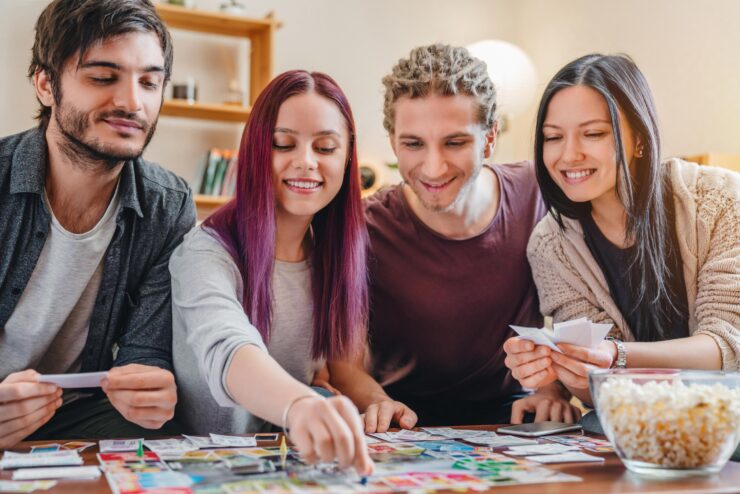 What is a trivia board game?
It is a game in which participants answer a series of questions from different categories and win points for it. Typically the game comes with a board that marks the player's progress throughout the game and keeps the score.
How many players can play a trivia board game?
It depends. Manufacturers typically mark their products with a label that marks how many players the game is recommended for. Generally, these games are best for 4 or 6 players, but you can play them with even more participants, depending on how many questions there are in the set.
What are the benefits of trivia board games?
These games are highly educational and entertaining. Depending on the nature of the questions, they can be great conversation starters and themes for social bonding.
Which trivia board game should I purchase?
This depends on numerous factors. We have listed most of them in the article above, but if you are uncertain which game to go for, we recommend you the Ultimate Pub Trivia. It is great for beginners and experienced trivia players.
Conclusion
Playing trivia games is an absolute joy for players of all ages. It will give you competitive satisfaction and a chance to learn something new each and every time you play. This type of play brings people closer and strengthens relationships, so it is the activity that you should find time to practice.
We hope our list will shed some light on a choice of trivia game you should go for. Many satisfied customers play and praise the games we have listed, so we are sure you will find the right one for you and your loved ones to enjoy.
Check this also: