When purchasing furniture for your baby's nursery, a baby glider is an essential aspect. A glider is where you will spend hours rocking your baby to sleep and breastfeeding each night. Finding one of the best baby gliders can be difficult; there are so many different options on the market. You want a comfortable and relaxing baby glider; remember, hours will be spent there. Skimping on comfort will cause problems later, so invest in your comfort.
You may not think a baby glider, also called a rocker or a nursing chair, is necessary. However, for mothers that don't co-sleep, nighttime parenting can be a bit more challenging. When your baby wakes up at 2 am, you walk to their nursery and change their diaper. Baby is hungry again. So, you have to walk down to the living room and find a place to sit and nurse.
Then, after what seems like an eternity, your baby is finally asleep with a full stomach of milk. You get up and walk down the hall, but a squeaky floor board startles the baby in your arms. Back you go to the couch and start the process again. A baby glider allows you to stay in the nursery and provides an easy transition in the middle of the night.
Features to Look for in the Best Baby Gliders
All of the choices we will list are popular brands that parents have tried and tested. They all have great reviews. Otherwise, they wouldn't be included in the list. Since they are all great, it can be hard to narrow down the choices. Here are the features you may consider necessary to help you make your final selection.
Reclining: It would be great if your glider can recline. Those first few months of life are often sleepless, and you will find yourself catching bits of sleep in your glider. Reclining isn't found in all chairs and most that do recline only give you a six-inch
Padding and Cushioning: One of the most important things to consider is comfort. You will spend hours in your nursery chair. If it isn't comfortable, you will dread the nighttime wakeups even more. To avoid a sore back, make sure it has extra padding and armrest cushions for maximum comfort.
Full Seat: Another thing that adds to the comfort is the width of the seat. A wide seat lets you change positions when feeding the baby. Sometimes, you have to find a comfortable way to nurse your baby in the middle of the night.
Locking System: Most gliders have a locking mechanism that stops the chair from moving if you happen to doze off. These movements could cause an accident and your baby to be hurt. A locking mechanism is essential.
List of 11 Best Baby Gliders for Nursery Reviews
1. Windsor Glider and Ottoman
The Windsor Glider and Ottoman – White with gray cushions – is a top seller. It provides generous seating room for the parent with padded arms and storage pockets. The pockets are ideal for books, small snacks and a bottle of water for those late night nursing sessions. The glider and matching ottoman come in a white finish with gray cushions. It is the perfect combination of colors for a gender-neutral nursery.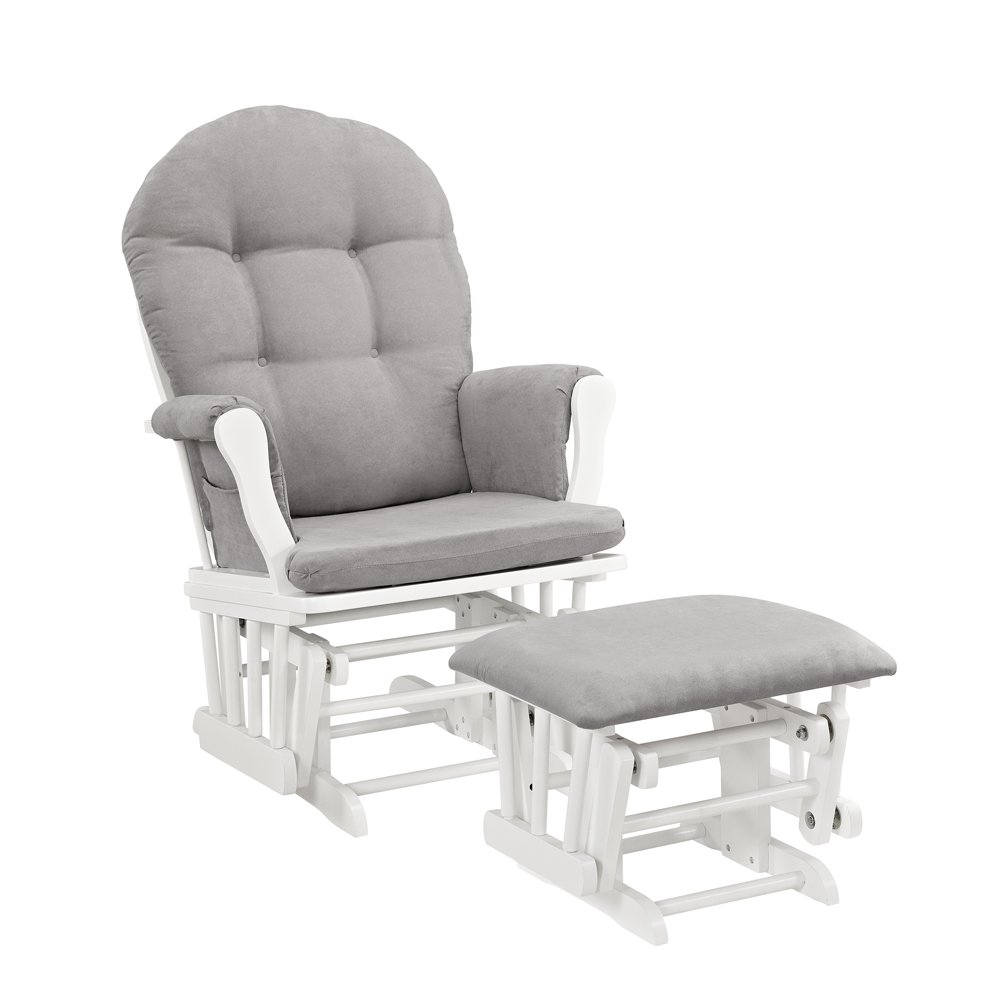 Why Purchase Windsor Glider and Ottoman
Parents can remove all of the chair cushions for easy spot cleaning.
The chair has plenty of padding for comfort.
The enclosed metal bearings allow the chair to glide smoothly.
It is one of the most comfortable gliders you can purchase.
The assembly is easy to finish.
The price is affordable for most parents.
Product Specifications for the Windsor Glider and Ottoman
It weighs 48 pounds.
The product dimensions are 24.8 inches long x 25.8 inches wide x 39.5 inches high.
The gliders have a weight capacity of 210 pounds.
Made in the USA.
2. Stork Craft Hoop Glider and Ottoman Set
The Stork Craft Glider and Ottoman set are affordable and comfortable, created in a light beige color with dark wood. It matches most nurseries and offers generous seating room with padded arms and a storage pocket. The Stork Craft glider is JPMA certified and is a purchase you can feel good about including in your nursery.
The Stork Craft Glider is one of the best sellers because it offers parents an affordable choice that gets the job done. It is economically priced with great reviews. If you have a tight budget or need a baby glider soon, The Stork Craft Hoop Glider works excellent with a functional design. You won't find a better, economical choice.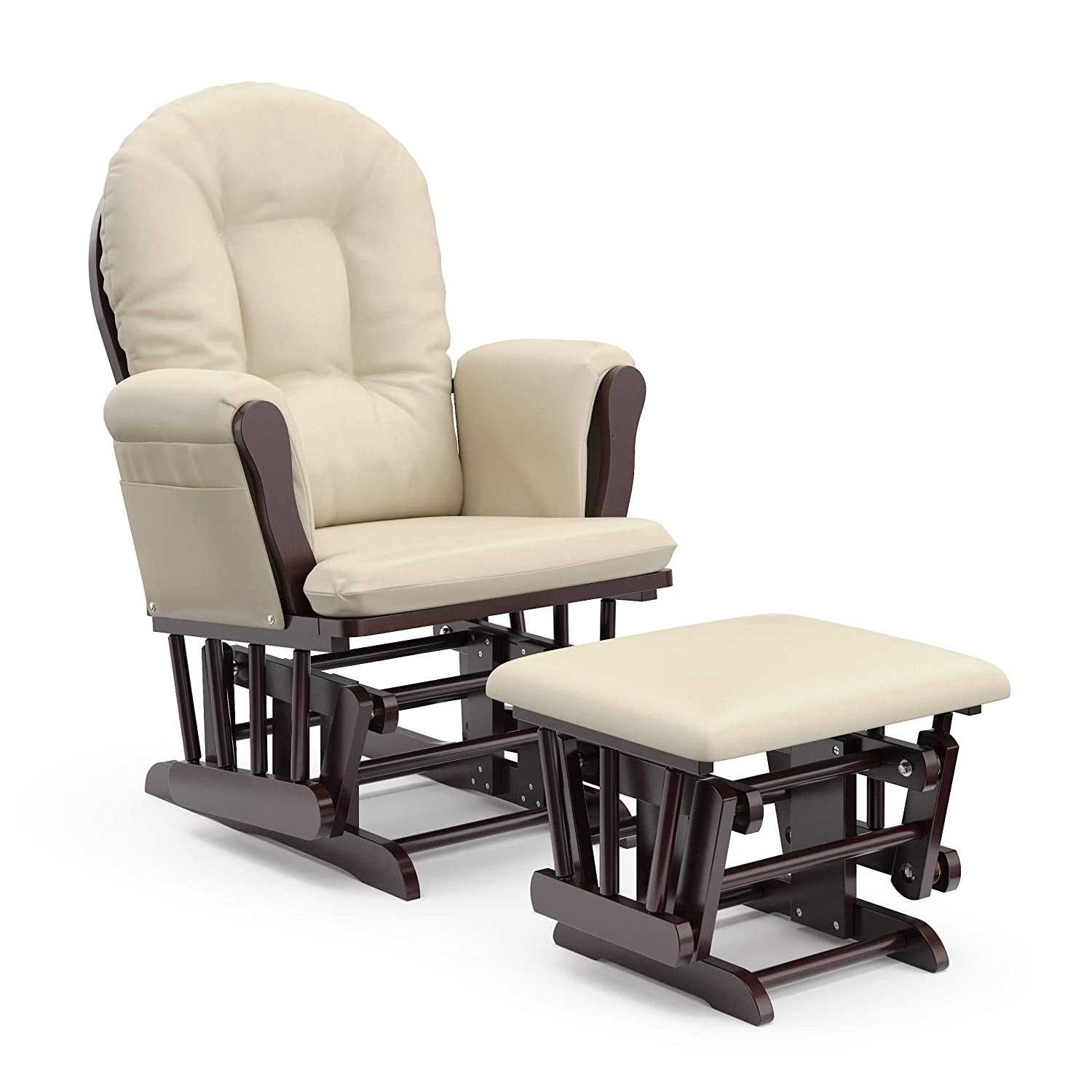 Why You Should Purchase the Stork Craft Hoop Glider and Ottoman Set
The ottoman is included, so you can put your feet up while breastfeeding or rocking your baby to sleep.
The enclosed, metal ball bearings let the ottoman and glider smoothly move without squeaks.
Both arms are padded and have two side pockets for storing books, toys, and snacks. The arm padding is perfect for resting your arm while feeding the baby.
The seat width is around 20 inches, providing lots of room to find a comfortable position.
The cushions are made of soft polyester for comfort and durability. The cushions provide adequate support to prevent discomfort.
There are multiples finishes and cushion colors, so you can find an option to match your nursery décor.
Assembly is easy and can be completed with one person.
Product Specifications of the Stork Craft Hoop Glider and Ottoman
The glider weighs 44 pounds.
The dimensions are 24.8 inches long x 25.8 inches wide x 39.5 inches high.
The Stork Craft Glider is an excellent choice. There are some things to remember. The cushions cannot be removed to be washed, so you can only spot clean the chair. Also, many reviewers state the glider works better for shorter persons rather than those who are tall. It is affordable and well below the $200 price tag. Even though it doesn't recline, it is still a great option for any parent.
3. Baby Relax Mikayla Upholstered Swivel Gliding Recliner
If you have a larger budget, Baby Relax created a luxurious choice for a glider. The glider can provide comfort for endless hours. It reclines, which is a great feature for those long nights with a newborn. Unlike most nursery gliders, it can swivel as well as glide. The Mikayla is elegantly designed with button tufting on the backrest and white, welt trim detail. It is the perfect addition to a high-quality nursery and décor.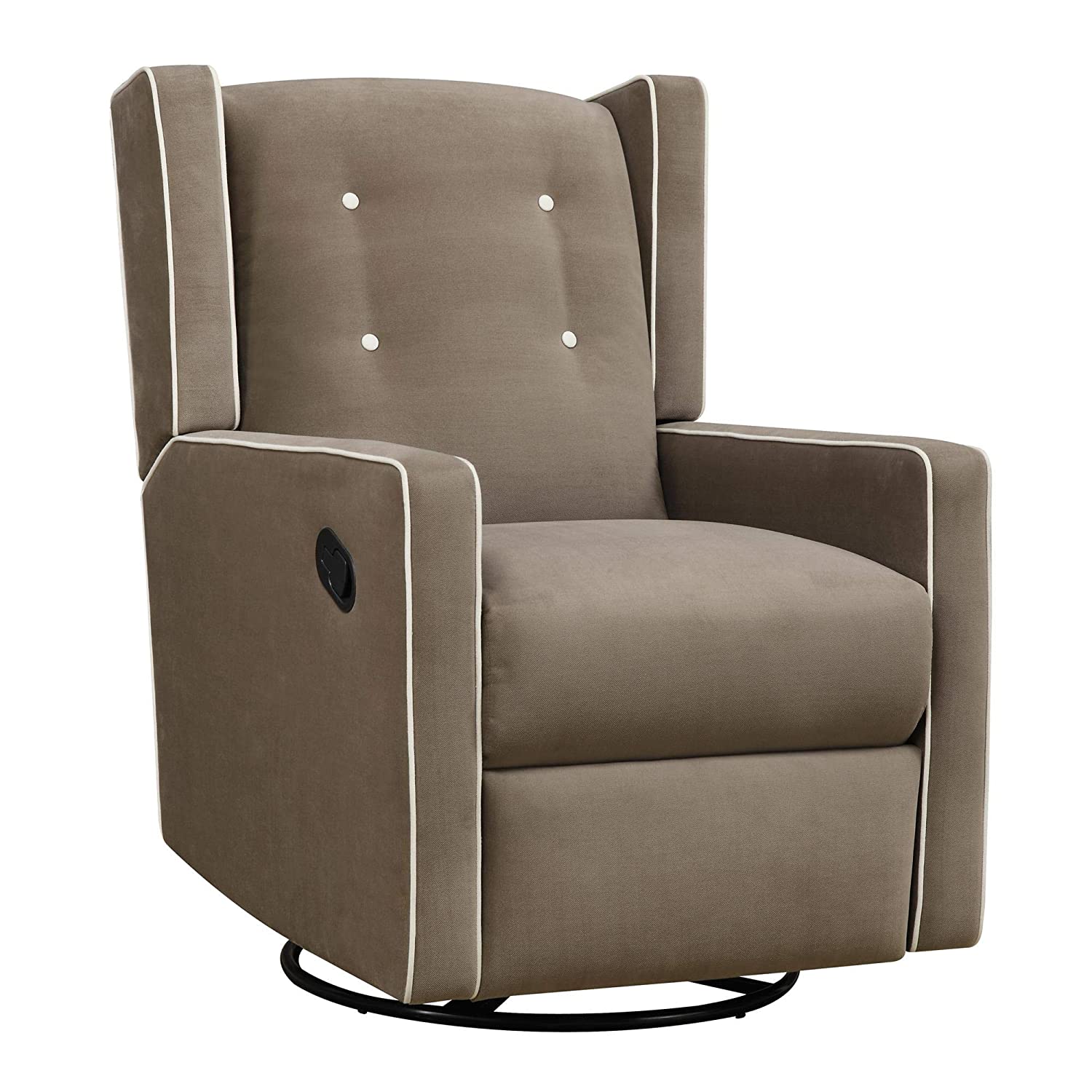 Why to Purchase Mikayla Upholstered Swivel Gliding Recliner by Baby Relax
Like mentioned before, the glider swivels and reclines! Unlike most reclining gliders, this one can totally recline or semi-reline. You aren't limited while trying to find the right position for your baby's needs.
The enclosed, ball bearing mechanism allows for a smooth swivel and glide.
The seat has support, spring core filled with foam for comfort.
There is a built in, easy pull mechanism that lets parents prop up their legs for support.
The Mikayla comes in a variety of colors to match your décor.
It has a micro suede fabric.
You will love how easy it is to assemble.
This glider is perfect for tall parents!
Product Dimensions of Baby Relax Glider
The recliner size is 41.75 inches long x 30 inches wide x 37 inches high.
It weighs 103 pounds.
There aren't many options that allow you have a glider that reclines. Baby Relax made a comfortable chair for your recliner. Because it is micro suede, cleaning can pose a challenge. Also, you can only recline the glider if you have your foot rest up. The functions and durability of the Upholstered Mikayla give this gliding recliner a great value. It will last you years to come, beyond infancy.
4. Baby Relax The Naomi Nursery Rocker Chair
Here is another excellent option for the best baby glider by Baby Relax – the Naomi. Naomi is ideal for parents who want a stylish seating option for their nursery. It is comfortable, cozy and attractive, plus it has fantastic reviews. As you spend hours with your baby in the chair, you will only remember comfort instead of intense back pain.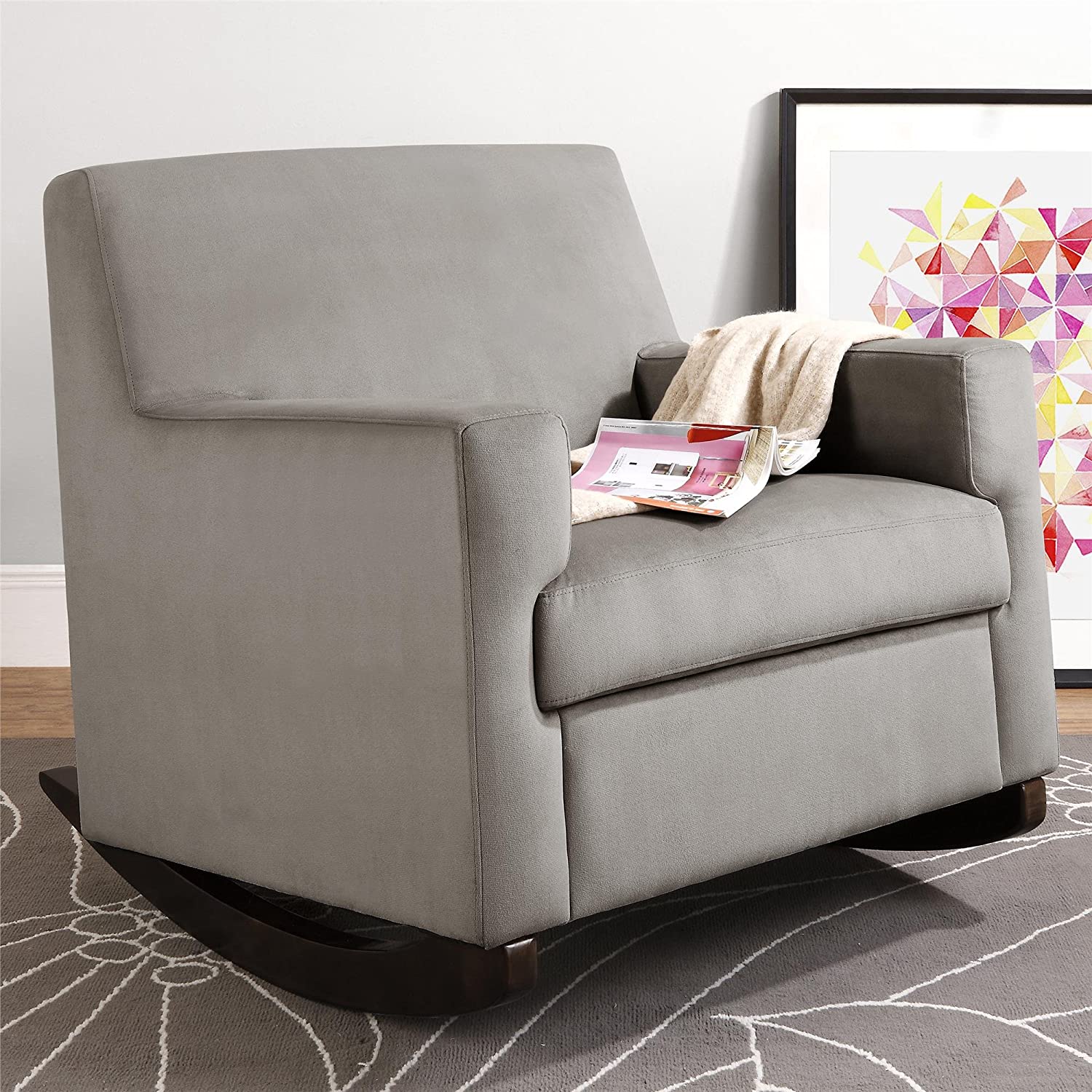 Reason to Buy the Naomi Nursery Rocker Chair by Baby Relax
The chair is made of microfiber and is easy to clean. Parents can spot clean.
Microfiber is soft to touch and comfortable.
Baby Relax designed it to be durable with a sturdy design.
It has a modern design with a clean track arm design.
The Naomi is nursery-friendly and has non-gender specific colors available to match all décor.
The nursery rocker has thickly padded cushions with lumbar support. Your back won't ache after hours of rocking your newborn baby.
The assembly has few steps.
Product Details of the Naomi by Baby Relax
Maximum weight capacity is 225 pounds.
Product dimensions are: 34.50 x 32 x 35 inches.
Seat dimensions are 20 inches long x 21.5 inches wide x 20.75 inches high.
The product weighs 45.8 pounds.
5. Delta Children Upholstered Glider

Delta Children create many varieties of baby gear including one of the best baby gliders. Their upholstered baby glider gives mom and baby a cozy and comfortable place to spend hours rocking and breastfeeding. It can gently swivel and glides smoothly because of its strong steel mechanism. The gliding is silent.
The glider by Delta Children is comfortable for parents. The arms are padded, and the back is tall, perfect for all adults. There is plenty of shoulder and elbow space. You will love the durability of the chair, as well as its classic style.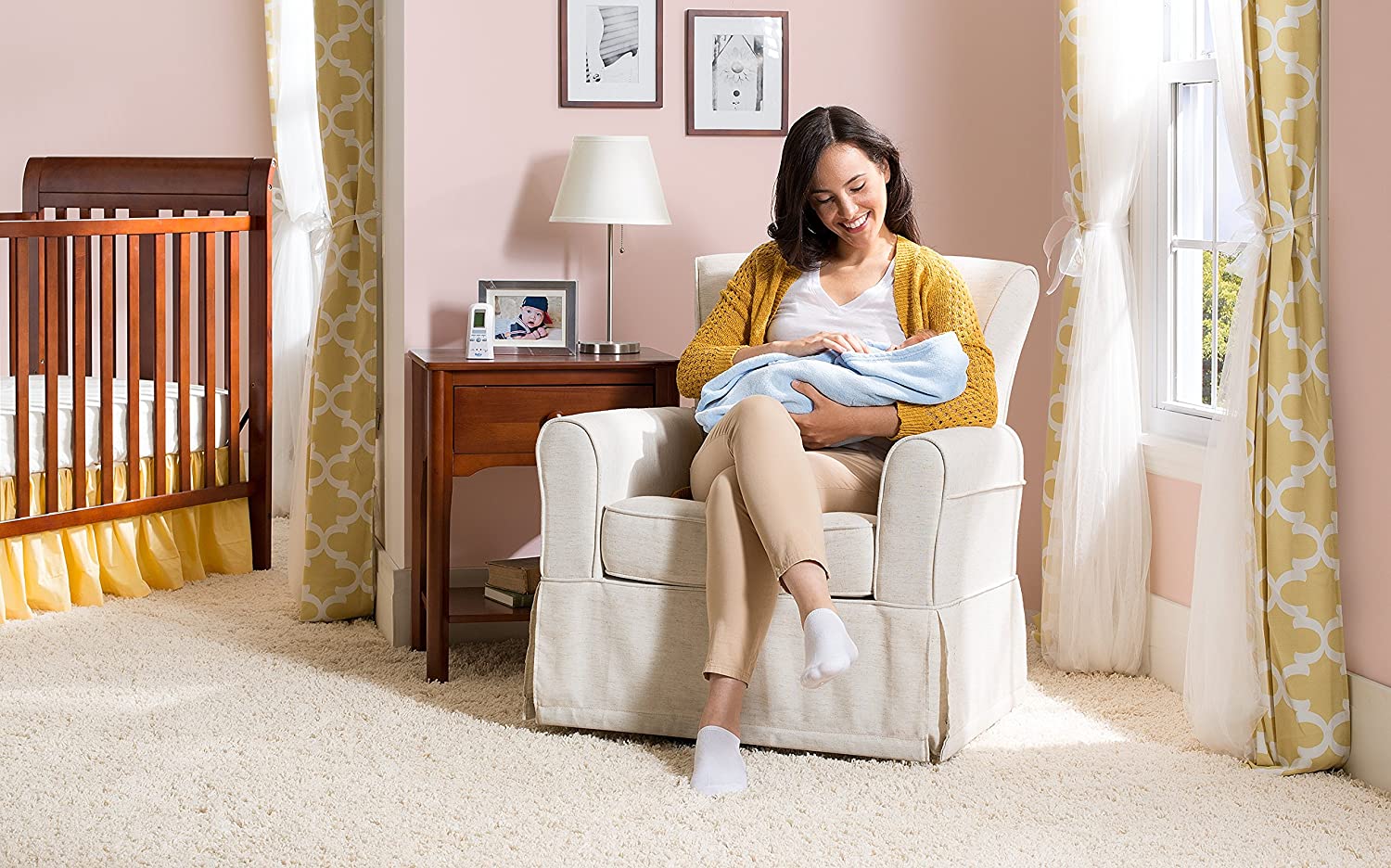 Why Purchase the Delta Children Glider
The frame is sturdy and stable.
It can swivel, and it has a plush cushion for those long, sleepless nights.
Parents can remove the cushions from the Delta Children Upholstered Glider and wash them. You can also spot clean to keep the chair looking fresh year round.
The steel mechanism is quiet and won't disturb your sleeping baby.
The entire chair upholstered in a pebble brown color, perfect for any child's nursery.
Product Specifications for the Delta Children Upholstered Glider
The glider is lead-free.
It weighs 79.2 pounds.
The width is 30.25 inches.
The product dimensions are2 inches long x 32.5 inches wide x 36 inches high.
6. Dutailier Ultramotion Espresso Wood Glider and Ottoman
The Dutailer is an adjustable glider that allows you to rest and to recline while taking care of your baby all night. The reclining system is wonderful and needed at night. Dutailer created the glider with a sturdy, hardwood frame in a gorgeous, espresso finish that will look great in your nursery.
The Dutailer Ultramotion Espresso Wood Glider and Ottoman is made with microfiber fabric and cushions filled with foam for comfort and support. The backrest is adjustable. Also, they included a stop for gliding mechanism at the desired position for comfort.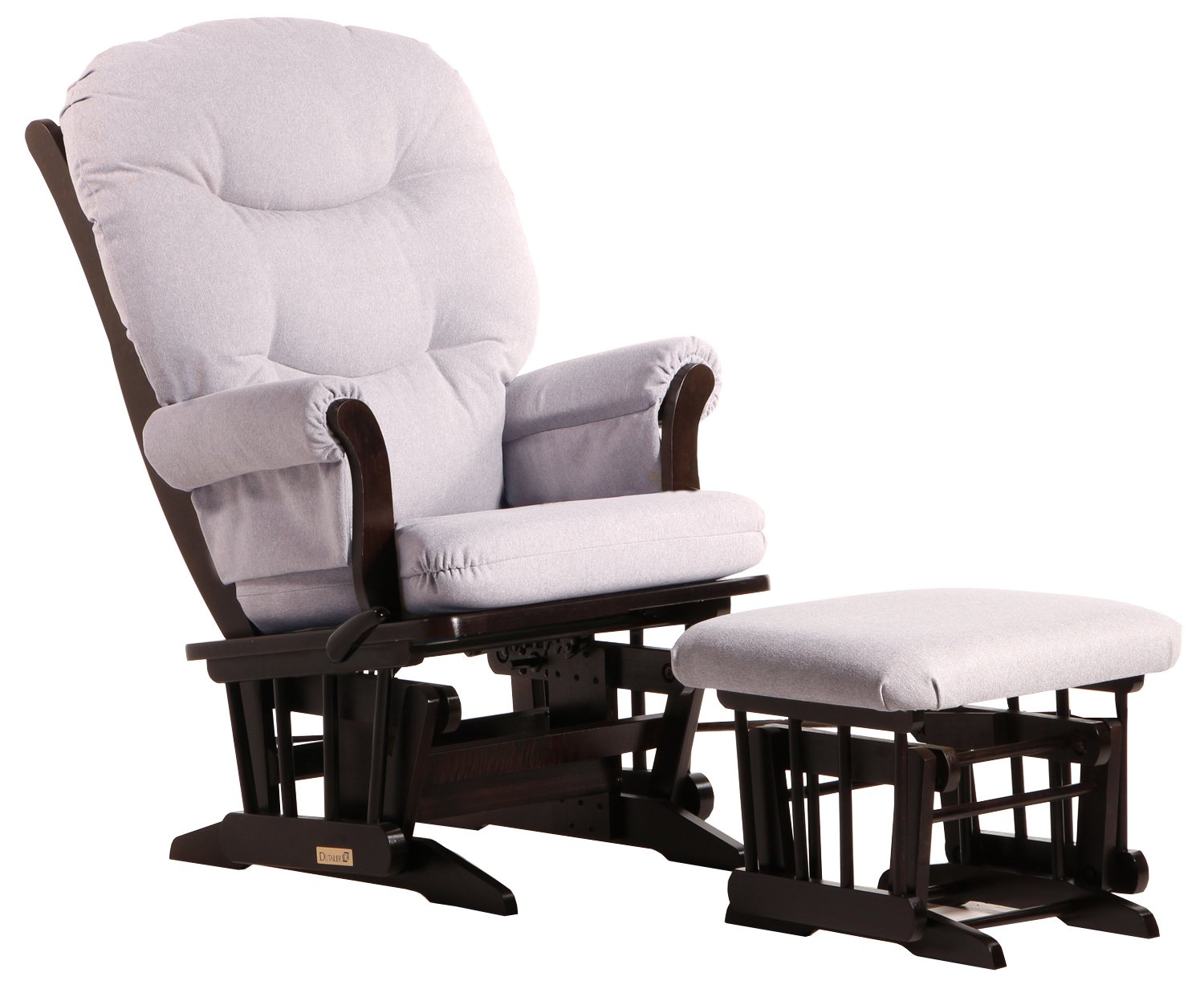 Why Purchase the Dutailer Ultramotion Glider and Ottoman
You can assemble the glider with ease.
It is durable and will last through many children.
Made in China, Dutailer produced the glider with hardwood.
The wood has an espresso finish, making it a great addition for a sleek nursery.
The upholstery is made with a microfiber material that is easy to clean. Parents will have no issues spot cleaning the glider to keep it looking brand new year round.
The foam cushions are removable, and the arms are padded for comfortable
The Dutailer chair can glide and has a reclining mechanism. The backrest can fully adjust.
A multi-position mechanism lets you stop the glider at any position.
Product Specifications for the Dutailer Ultramotion
The chair dimensions are 42 inches high x 26.5 inches wide x 31 inches deep.
The Ottoman dimensions are75 inches high x 20 inches wide x 18 inches deep.
The Ultramotion is comfortable and made with high-quality materials. You will love this glider in your nursery. However, it has a high price tag that may place it out of the range for many parents.
7. Komfy Kings Rock A bye Round Back Glider
Every nursery needs a chair that the parents can sink into and relax. Whether you are nursing, rocking or reading a bedtime story, the glider will get hours of use. Another great option for the best baby glider is the Komfy Kings Rockabye Round Back Glider. It is a glider with a lip over covered back and a seat pillow. The style is that of a classic glider.
Why You Need to Buy the Komfy Kings Rockabye Glider
The Rockabye has a smooth glide, and it can swivel 360 degrees for easy viewing of the entire room.
You can wash the chair with mild soap and water. Being able to spot clean the chair is beautiful because babies cause a lot of spills.
The glider is spacious and wide; you will have no issues finding a comfortable position while relaxing.
You can purchase a matching ottoman sold separately to prop up your feet up.
Komfy Kings crafts these impressive gliders in the USA.
The back is slip covered and has an additional seat pillow for even more comfort.
It is constructed from hardwood and is covered with a soft, durable foam.
It comes with a fantastic five year warranty.
Product Specifications for the Komfy Kings Rockabye Glider
The glider measures 36 inches length x 35 inches wide x 36 inches high. As you can tell, it offers a very spacious seat!
The seat dimensions are 19 inches length x 22 inches in width.
It has a weight capacity of 250 pounds.
8. Naomi Home Deluxe Multiposition Sleigh Glider and Ottoman Set
Our next option for the best baby glider is the Naomi Home Deluxe Sleigh Glider and Ottoman Set. It is crafted from beautiful, solid wood and extra soft and comfortable padding. The design of the chair is stylish and will fit into most decors and style. Coming in under $200, the Naomi Home Deluxe is an affordable option for many families.
Some might feel the price is high in stores, but it is lower than some the baby gliders on this list. The lower price doesn't indicate a lower quality baby glider. The 4 out of 5-star rating, given because of over 200 reviews, proves it is a solid contender for a baby glider in your child's nursery.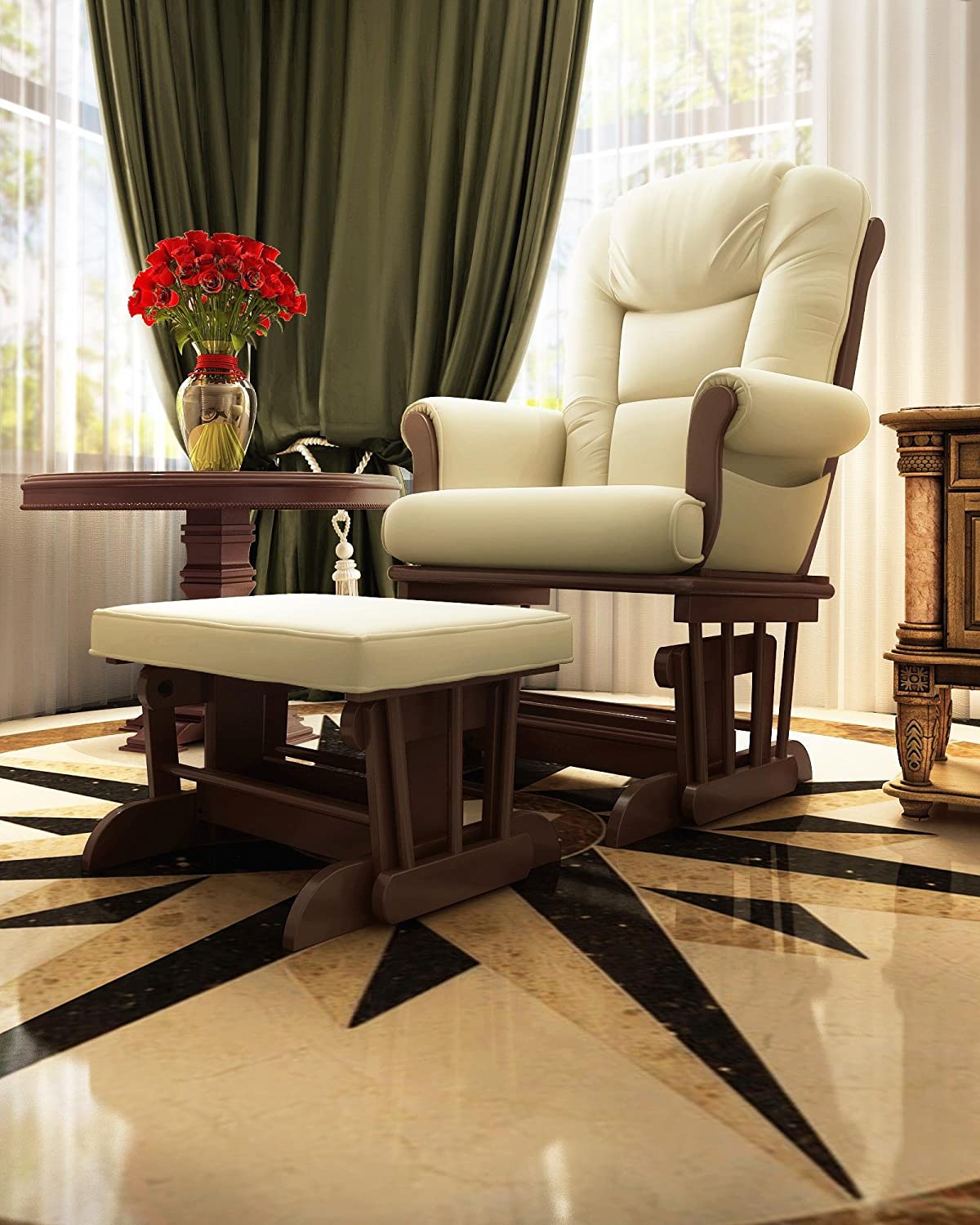 Why You Should Buy the Naomi Home Deluxe Sleigh Glider
The glider has padded armrests for a comfortable position while feeding your baby.
There are pockets on the side of each arm for easy storage. You never know when a pacifier will mysteriously disappear! The pockets also eliminate the need for a side table.
The rocker and ottoman glide, and they can be locked into several different positions for comfort. The locking mechanism is a great safety feature.
Because of the steel ball bearings system, the glide is quiet and smooth. No noises decrease the chances of your child waking up because of a loud squeak.
Parents will find the chair easy to assemble.
The Naomi has a high back and spacious seating for optimal comfort. Tall parents will love this chair; most chairs are designed with smaller people in mind. It is hard to find a comfortable position when the chair is too small.
It can recline and locked into a reclining position.
Product Specifications of the Naomi Home Deluxe Glider
The glider dimensions are 40 inches tall, 30 inches wide, and 24.5 inches long.
The Ottoman dimensions are 13 inches high, 19.5 inches wide, and 15.75 inches long.
There are many reasons to purchase the Naomi Home Deluxe Glider. It is great for tall parents. It can recline and has a locking mechanism for safety. The width of the glider is 30 inches, which is amazing for comfort! You won't spend enough eternity assembling the pieces. The best part is you can get a quality baby glider for a reasonable price.
9. Stork Craft Tuscany Glider and Ottoman
If you liked the Stork Craft Hoop Glider, chances are you will also like the favorite Stork Craft Tuscany Glider. It is one of the best baby gliders for nurseries and rates well with parents. It has a 4.5 out of 5 stars and over 400 reviews. The biggest difference between the Stork Craft Hoop and Tuscany is the design of the back. The Tuscany has a higher top back that is square, instead of a rounded back.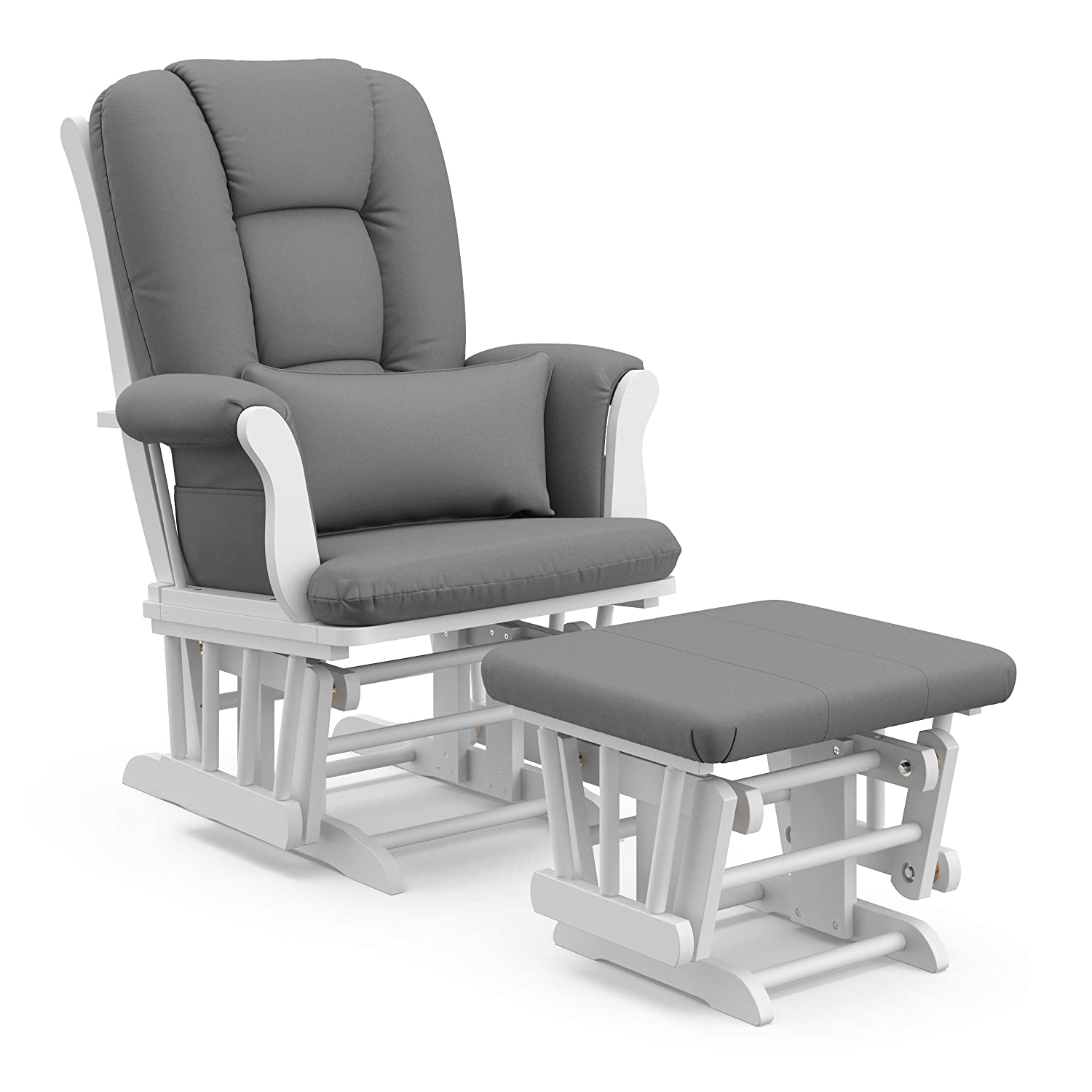 Reasons to Purchase the Stork Craft Tuscany Glider and Ottoman
They added metal, enclosed ball bearings for a smooth and quiet glide for your baby. They are totally enclosed, making them safe for a nursery. No pinched fingers!
The arms are generously padded, and there are pockets on each arm for storage.
Parents can spot clean the back and seat cushions to keep the glider looking fresh and new. This is an excellent feature because babies tend to create stains with ease.
The chair is spacious and comfortable. The microfiber seats are padded and add soft, lumbar support pillows. The Tuscany offers more comfort than the Hoop Glider.
The Tuscany comes in a variety of colors to match the baby's nursery.
Assembly is required but simple to complete.
While the Tuscany is more expensive than the Hoop Glider, it is still quite affordable in comparison to other baby gliders.
Product Specifications of the Stork Craft Tuscany Glider
It weighs 50.7 pounds; it is heavier than the Hoop Glider.
The glider's dimensions are 29 inches long, 35 inches wide and 37.5 inches tall. When you compare the dimensions to the Hoop Glider, you will notice the Tuscany offers more spacious seating room.
If you liked the look for the Stork Craft Hoop Glider but worry about the comfort it provides, the Tuscany is a great upgrade. It costs more, but you receive more support and a higher comfort level. The back is taller, and you have more lumbar support with the Tuscany. It also has a wider, more spacious seat for easy positioning. Overall, it is an excellent choice that still comes in under budget for many parents.
10. Babyletto Madison Swivel Glider
Babyletto is a new brand on the market, but they already impress parents with their quality products. The Madison Glider just came out in 2015 and is already popular among new parents. Some folks prefer a modern design for their baby gliders. If that is what you want to find, the Babyletto Madison is the perfect option.
The Babyletto isn't the cheapest option on our list of the best baby gliders. It comes in under $300, but it may be too expensive for you. However, if you have the budget to afford the Babyletto, it is a small sized glider, perfect for a smaller nursery. It also makes a great reading chair for a study when your children age past the infancy stage.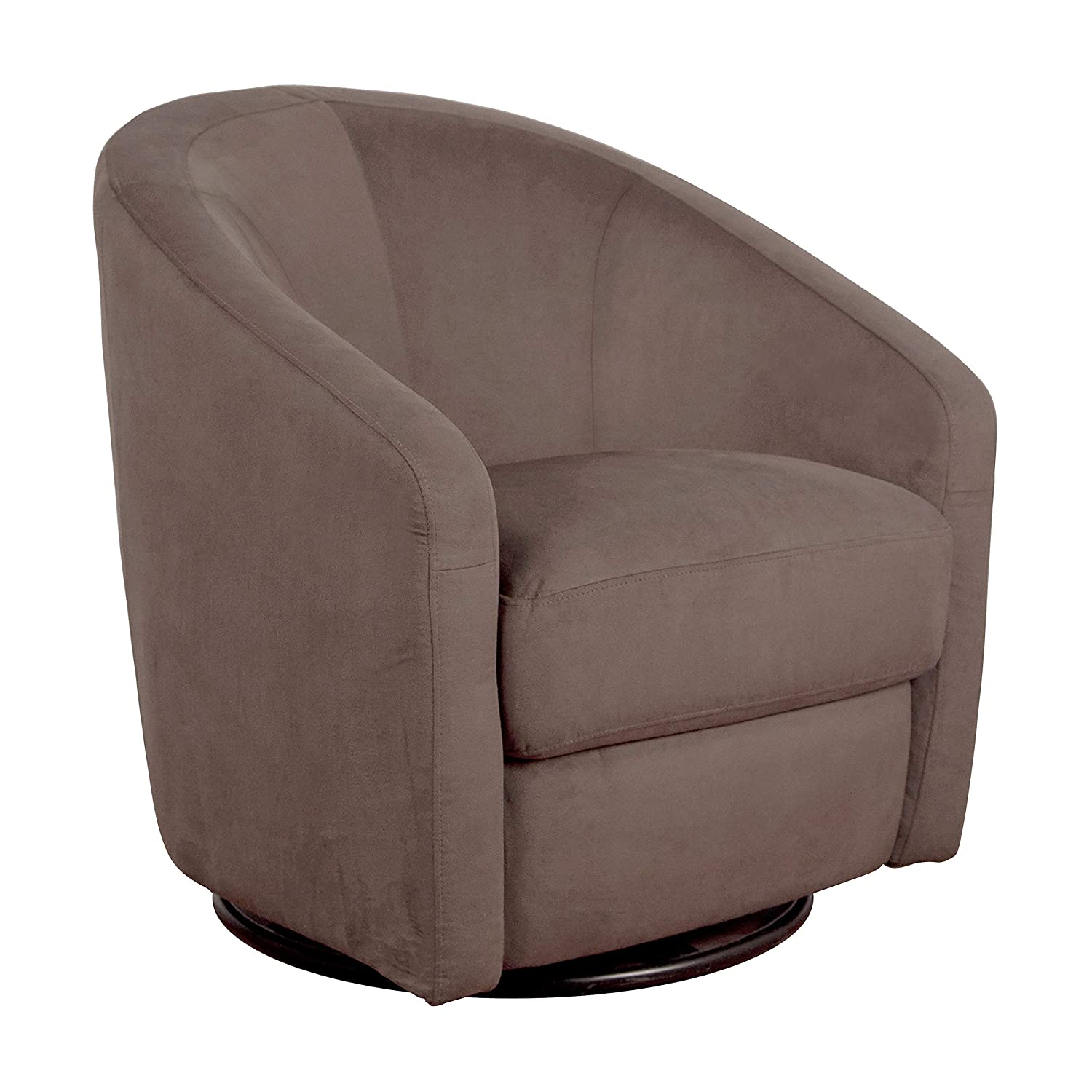 Reasons to Purchase the Madison Swivel Glider by Babyletto
Instead of being a classic rocker or glider, the Babyletto is a swivel glider. You can turn from side to side instead of the traditional rocking.
It is made from 100% micro suede. This means it is very soft and has a luxurious feel. The material is water resistant and stain resistant, making it an excellent choice for a nursery chair.
You can select a few color options for your nursery.
There is a matching ottoman you could purchase separately.
The seat is easy to clean.
Product Details of the Babyletto Madison Swivel Glider
It weighs 63 pounds.
The product dimensions are8 inches long, 29.8 inches wide and 33.5 inches high.
The seat is 21 inches wide and 18 inches deep.
They used no formaldehyde and PBDE's in the production of the seat.
11. Thomasville Kids Grand Royale Upholstered Swivel Glider and Ottoman
Many parents don't like the look of a classic baby glider. Instead, they desire a versatile piece of furniture that can later be included in their living room or study. The Thomasville Kids Grand Royale Glider doesn't look like a typical baby glider. It closely resembles a recliner one may see in someone's living room.
Thomasville created a fantastic glider for your family. It is one of the widest and deepest seats on the market today. The glide is smooth and soft because of the metal ball bearings. The frame is crafted with a high quality, hardwood frame. The cushions are made with soft and luxurious microfiber materials. You can guarantee the Thomasville Glider will last for years to come.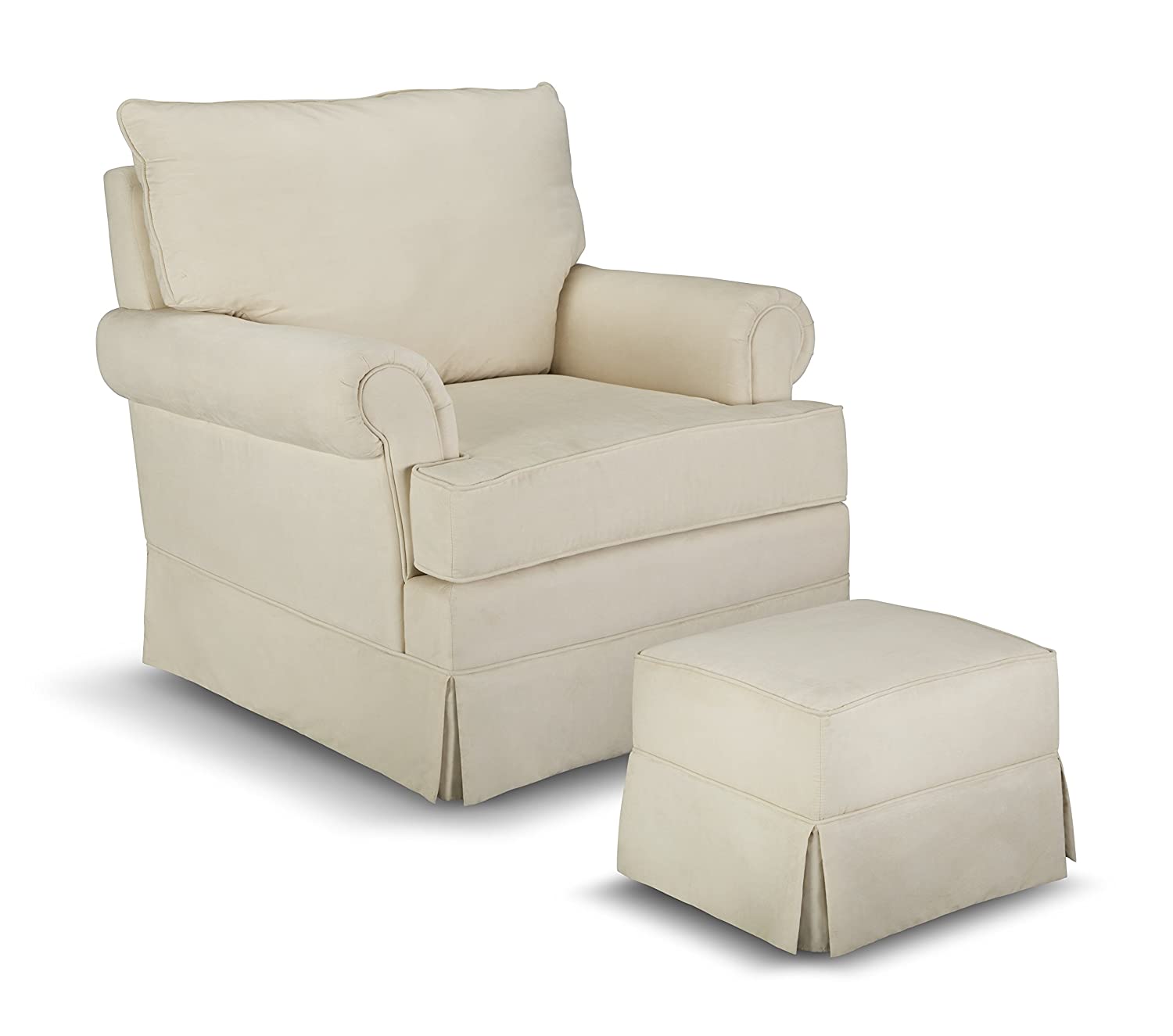 Reasons to Purchase the Thomasville Kids Grand Royale Glider and Ottoman
The material is 100% microfiber. You will find it comfortable, yet it is easy to clean up spills and stains. It is spot cleanable.
The cushions are soft to the touch, perfect for a chair you will use for your child.
The seat is spacious and comfortable, perfect for breastfeeding and finding the right position.
Metal ball bearings provide a smooth glide without squeaks that will wake your sleeping baby.
The ottoman does not glide. Instead, it is stationary.
You can trust that it will last for years, with a frame crafted from high-quality
Specifications of Thomasville Kids Grande Royale Glider and Ottoman
The weight limit is 300 pounds.
The weight of the entire product is 108.3lbs.
The dimensions are 37 inches high x 35 inches wide x 38 inches deep.
Seat dimensions are5 inches high x 21.5 inches wide x 23 inches deep.
Ottoman dimensions are 15 inches high x 18 inches wide x 20 inches deep.
Selecting One of the Best Baby Gliders
Picking the best baby glider comes down to your personal preferences and needs. Each family has features they prefer over others. All of the baby gliders on the list are modern and will last for children. There will be no need to purchase multiple gliders; the right one is an investment that should get you years of use. They come in different sizes, styles and budget ranges.
There is no need to compromise on anything that is important to you. Because there is such a variety of baby gliders on the market, you will be able to find something that fits into your budget and provides you with all of the necessary features.
In the 11 different baby gliders, there are a few choices that stand out among the rest. The Stork Craft Hoop Glider and Ottoman is a budget friendly option with ample comfort and features. If you love the look at the Hoop Glider, Stork Craft created the Tuscany Glider with a higher back and increased comfort level.
One of the best options on the list is the Baby Relax Mikayla Upholstered Baby Glider. The material is durable yet luxurious. It reclines and swivels, making it a unique choice. For great parents, you can't go wrong because of its design. However, the price tag is higher for the Mikayla because it is made from some of the best materials.
Do you have a favorite baby glider you used for your children? We would love to hear about it! Let us know in the comments about your child glider.