Do you like to present your children something amusing that will give them a taste of freedom and adventure? Then WL v912 helicopter is probably the best suit for you. Not only children but also grownups can have great excitement by flying this helicopter anywhere and anytime. This WL v912 helicopter Review must help you to choice the best helicopter like this one .
You can fly this helicopter in a wide range in all possible directions! Get fun anytime!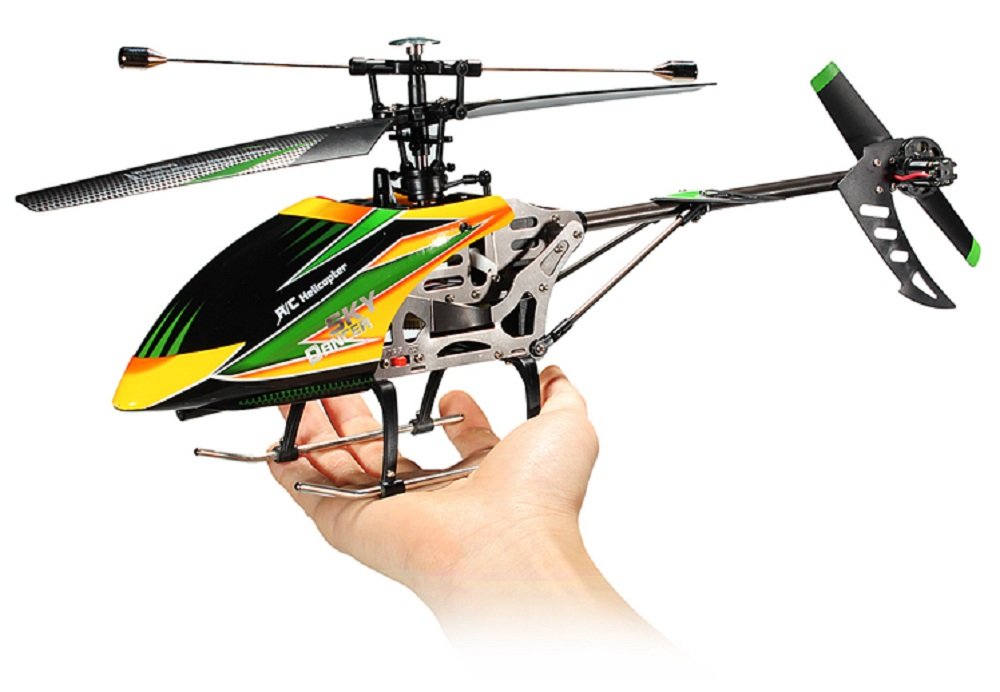 WL v912 Helicopter Review: Features
WL v912 helicopter has some pretty awesome features that make it favorite among toy lovers. I am having great fun with my children by this exciting tool. I am writing this review for you so that you can take the purchasing decision wisely.
Features are as follows:
Wide Range: Control distance- 150 meters
150 meters range remote control with awesome gyro system made the copter special . 3D side flying feature added extra value to this one. We recommend this one to buy for kids and grownups also.
Its range is pretty awesome considering range of many other models. You can control the helicopter by remote controller within 150m. It is better to fly you WL v912 helicopter in an open place to avoid interference with the controller's transmission.
This range refers to the maximum distance that the WL v912 helicopter can receive transmission control signals from the remote controller. This allows you to fly the helicopter farther than many other toy helicopters increasing the enjoyment of the flight experience.
3D action and stability
You can fly the helicopter in all 3D directions smoothly! This will give you the sensation of excitement of flying a real helicopter.
The tail is slightly heavier than the head making it easier and smoother to turn the helicopter in any direction. Forward flight is a little harder than turning due to the difference on weight between tail and head.
While flying, the head is tilted downwards to shift the center of gravity making the helicopter more stable. It also gets stability by the size and material used to make the WL v912 helicopter as well as the heavy weights placed strategically at each end of the fly bar.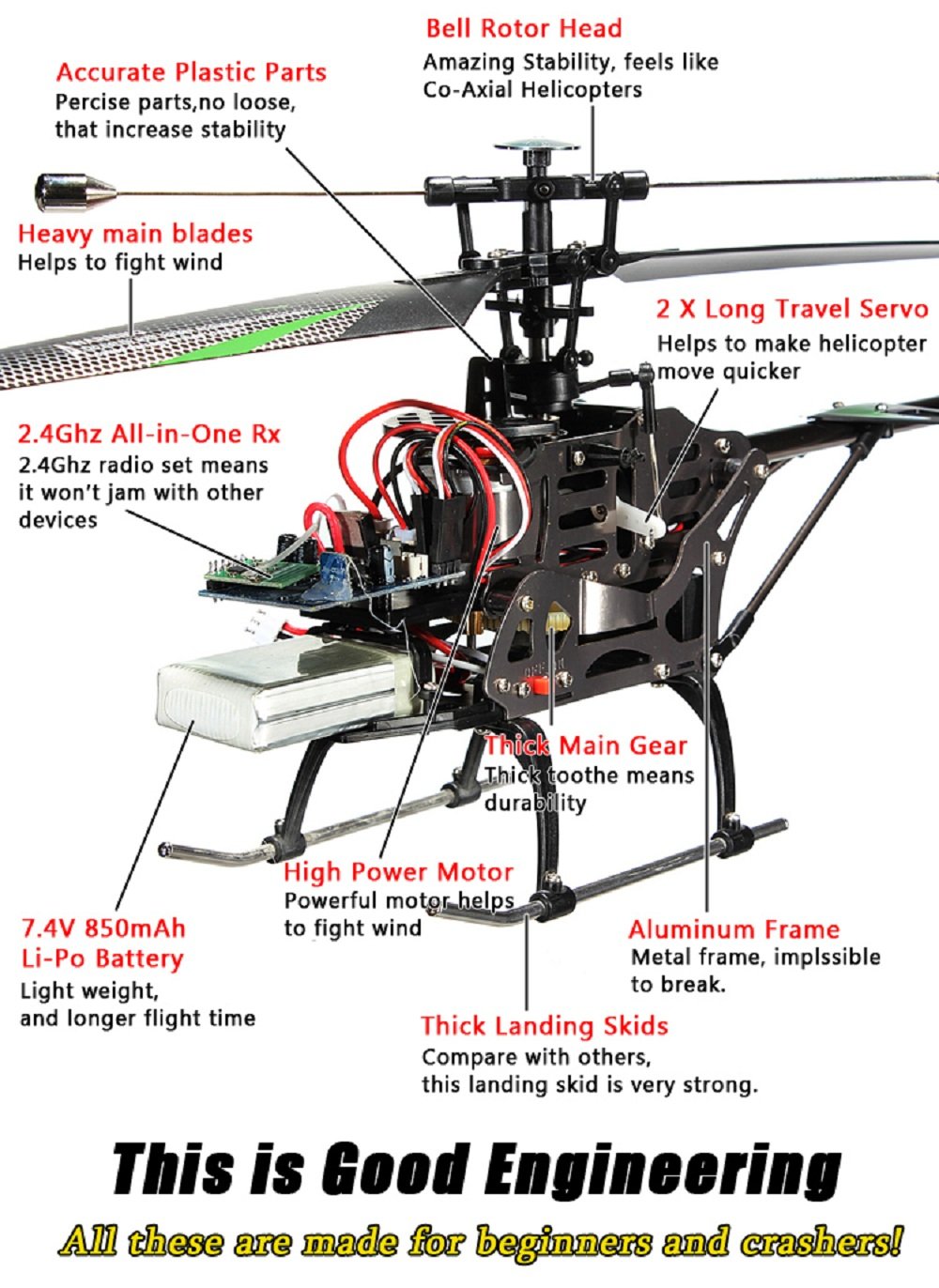 Remote control transmitter
This has very well designed user friendly remote controller that gives you absolute control over flying your helicopter.
This is a four channel 2.4 GHz controller that transmits signal that control the WL v912 helicopter in flight. It has several control buttons that have different functions such as turning on the headlights and turning off the helicopter. It has a finger controlled joystick that allows you to maneuver the helicopter and maintain its stability.
The four modes are easy to switch between and allow you to fly under different conditions. Finally, the remote controller has an LED screen that helps you monitor the current status of the helicopter in flight in terms of location, speed, stability and status of headlights.
Built in rechargeable battery
This amazing toy provides you with a well-functioning battery. This battery is superior to many other such devices in the market considering its charging time and performance.
The WL v912 helicopter has a 7.4V battery built into its body. It is rechargeable using a stock charger provided. The battery is removable in the event that you want to charge it using a computerized charger. Such design ensures the best usability.
For the remote control transmitter, 4 x AA batteries are used. These batteries are affordable and easily available.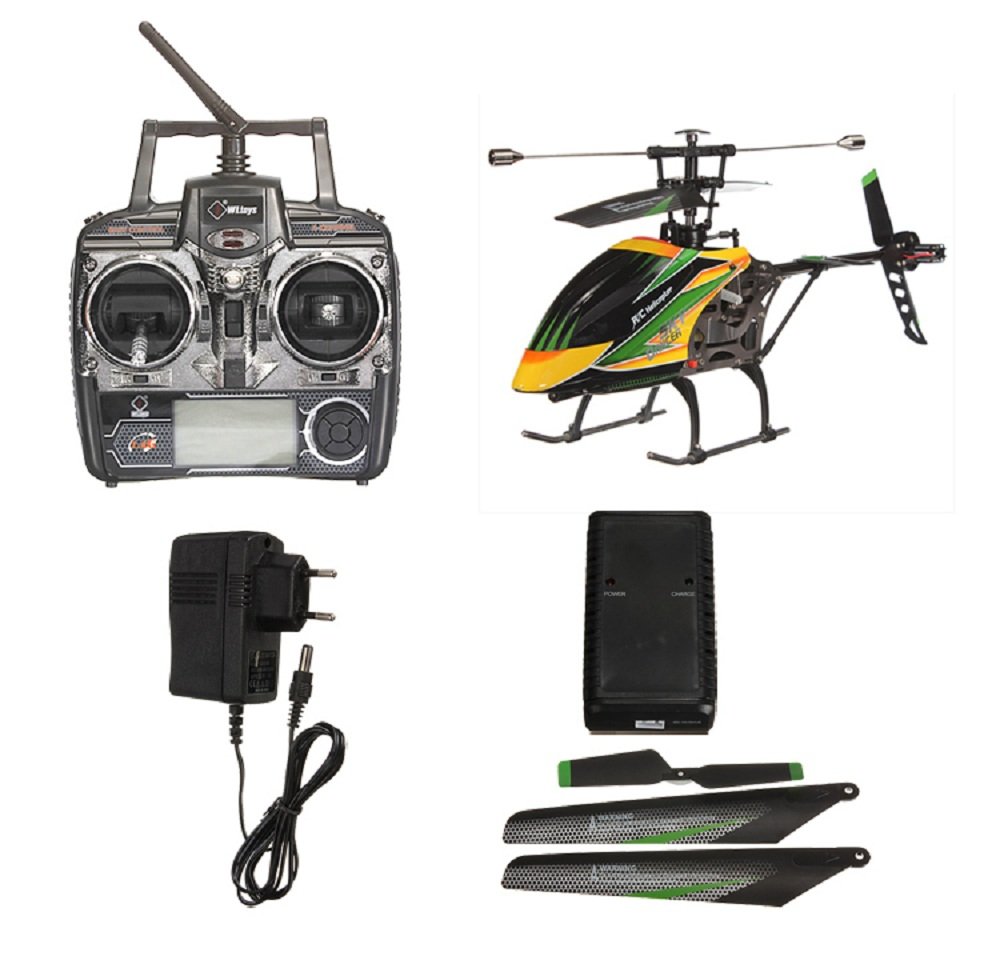 Headlight
You can continue your adventure with WL v912 helicopter in dark night too with the help of its effective headlight. The WL v912 helicopter has a single LED headlight at the front of the helicopter. This allows the user to fly the helicopter at night or in dark areas without any problem. The light is controlled by the remote control transmitter and draws minimum power from the battery.
Long flying time with comparatively less charging time made it best one in among Helicopters. Syma never compromise with quality which figured out in customers review.
Stability: Bell rotor head
Its sophistical designed bell rotor head gives maximum stability. This is like a hybrid design between a coaxial and a single blade helicopter. WL v912 helicopter is designed to maximize stability giving the helicopter the best of coaxial and single blade helicopters. It allows speed and agility as in basic single blade helis while giving the stability and control of coaxials.
Durability and Resilience : Aluminum frame
The well-built aluminum frame gives this WL v912 helicopter more durability and resilience. The aluminum frame protects the inner delicate parts in case of sudden impact with hard objects such as trees and walls. The frame also adds to the weight of the machine thus increasing its stability in windy conditions.
Features at a glance:
Control distance 150m
Fling time 8 minutes
3D actions and side flying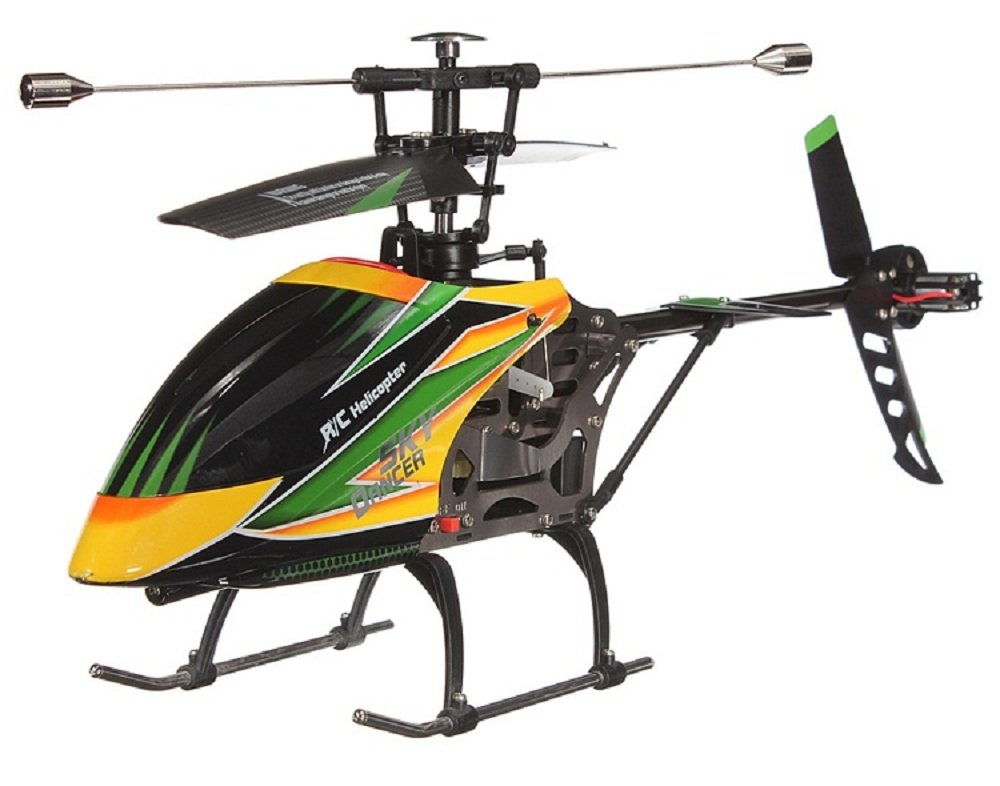 Pros
So how can we summarize the numeric pros of WL v912 helicopter ? We can mention the below points in a nutshell as a brief summation of its pros:
WL v912 helicopter is very stable and picks control transmissions without delay.
Handles windy environments very well and thus can be used indoors and outdoors.
Its battery is rechargeable.
WL v912 helicopter has great rudder control and has a powerful motor and gives a great flight experience. I
It is packaged nicely in a way that there is no risk of damage in transit.
WL v912 helicopter has a longer control distance than most electronic toys.
Cons
This brilliantly built WL v912 helicopter also has some room of developments. Such as:
Balancing and leveling swish plate are much better than average models but still it could be easier.
Though its rechargeable batteries are well performing, still adding spare battery would add more usability for users.
Like all other toy helicopters, its flying time should be increased.
Despite the great design and functionality, its tail is little bit heavier.
Frequently Ask Questions (FAQ) about WL toys
Q: What is the advantage of a single blade helicopter like wl v912 over a co-axial helicopter?
A: The single blade helicopter is more stable and thus can be used both indoors and outdoors in windy conditions.
Q: Is it safe for a beginner to use the wl v912 helicopter?
A: Simply no doubt about kid's safety.
Final Verdict
The WL v912 helicopter is an upgrade of the wl v911 and is a successful implementation of some exciting features. It is a favorite among avid heli fans mainly due to its size. The bigger the better right?
It is also a great choice because of its resilience in unfavorable outdoor conditions and the amazing flight experience offered to the user. My advice, if you don't already have one, gets it.