One of the newer must-have items on a new parent's list is a baby food maker. Growing in trend over the last decade, these food processors were created specifically for parents who put the time and energy into creating their own fresh, homemade purees.
There are many choices for the best food processors for baby food. Over the last few years, these machines have added features with powerful motors and high-quality materials.
Why do Parents want to Make Their Own Baby Food?
With so many choices for baby food on the market, you might wonder why anyone would want to make their own baby food. Clearly, it is more labor-intensive than simply picking up a few jars or pouches on your next grocery store trip. There are quite a few reasons why parents choose this route.
Cheaper
The most obvious reason for making your own baby food is the reduction in cost. Baby food can cost an arm and a leg. If your child eats three pouches a day, that can be over $3 a day, totaling up to $30 a month! However, most kids can eat more than that as they reach one-year-old. A pound of green beans makes a lot of baby food for a whole lot less money!
No Preservatives
If you are concerned about preservatives, homemade baby food contains nothing other than the fruit or vegetables used. Parents don't have to add any chemicals, so you can feel confident giving this food to your baby.
Higher Quality Food Used
Perhaps, you love to garden and want your child to eat homegrown peas instead of the canned varieties. Maybe, you only eat organic food, and it is simply too expensive to buy the premade types in the store. Parents can purchase the highest quality food for their babies. Scientists truly don't know if the chemicals in food affect humans, so many parents like to take the safer route and only use organic, GMO-free food.
Baby Eats What Family Does
Instead of serving your baby green beans and peas, you can puree whatever you are making for dinner. This process exposes your child to a wider variety of textures and flavors! The goal is to reduce the chances that your child is a picky eater. Many babies love fun things such as chicken pot pie or macaroni and cheese pureed up!
It's Fun
Yes, making your own baby food takes time. However, the time invested isn't nearly as much as you might assume. It can be a weekly date with your older kids as you all prepare the baby's food for the week. It could be something you do each day! Either way, most parents agree that it is a fun time creating mixtures for babies!
Best Choice
Don't Miss
Also Consider
Duo Meal Station Food Maker 6 in 1 Food Processor with Steam Cooker, Multi-Speed Blender, Baby Purees, Warmer, Defroster, Sterilizer (Nutritionist Approved)
Baby Brezza Glass Baby Food Maker – Cooker and Blender to Steam and Puree Baby Food for Pouches in Glass Bowl - Make Organic Food for Infants and Toddlers – 4 Cup Capacity
BEABA Babycook Solo 4 in 1 Baby Food Maker, Baby Food Processor, Steam Cook and Blender, Large Capacity 4.5 Cups, Cook Healthy Baby Food at Home, Dishwasher Safe, Latte Mint
Best Choice
Duo Meal Station Food Maker 6 in 1 Food Processor with Steam Cooker, Multi-Speed Blender, Baby Purees, Warmer, Defroster, Sterilizer (Nutritionist Approved)
Don't Miss
Baby Brezza Glass Baby Food Maker – Cooker and Blender to Steam and Puree Baby Food for Pouches in Glass Bowl - Make Organic Food for Infants and Toddlers – 4 Cup Capacity
Best Food Processors for Baby Food
---
1. BEABA Babycook 4-in-1 Steam Cooker and Blender
First up on our list of baby food makers is the Beaba Babycook! The Babycook Pro makes up to 4.7 cups of food at a time. Parents love that they can steam, cook, blend and reheat the food all in one device. After you make a batch, freeze it or put it in the refrigerator for the next day. The Babycook Pro allows you to defrost and reheat the food!
The process to create your child's food couldn't be easier. The patented steamer cooks the food you add. Steaming preserves vitamins and minerals, so your baby is enjoying healthy food. A steamer basket keeps the food away from the liquid.
Best of all, the Babycook Pro is easy to use! It takes one hand to use and features a one-touch open and close. When the process is over, it beeps to alert you and shuts off on its own.
Here are a few other features you will love about it!
You receive a spatula, a mixing lid and smoothie filter, and a recipe booklet with the baby food maker!

The water reservoir is stainless steel. The entire Babycook Pro is BPA, lead, and phthalate-free!

It cooks 18 servings of baby food at one time with over 4.5 cups of capacity!

Parents can make any stage baby food, as well as soups, applesauce, and other foods for the entire family.
Why You Should Buy It?
We looked at look at the reviews and picked the top reasons why parents love the Babycook Pro. Here is what they have to say.
Compared to other baby food makers, the Beaba is quieter. If your child is asleep in the nursery, chances are he won't be woken by the sounds.

It can make a huge batch of baby food! Instead of having to do multiple batches of each food, you can make one large recipe.

The Babycook Pro blends food perfectly without any chunks (unless that's what you want).

Parents can operate it one-handed, which is excellent Everyone knows, sometimes, your baby just needs to be held all day long!
It is easy to see why the Beaba Babycook Pro is typically the first choice listed on reviews. It is a multi-functional baby food maker that is easy to use and has all the important features parents want. The one negative to consider is the price. The Babycook Pro is pricey, listed higher than $130.
---
2. Baby Brezza Food Maker Glass Large 4 Cup Capacity
Next up on our quest for the best food processor for baby food is the Baby Brezza. Typically reviewed side by side with the Beaba, the Brezza features many similar qualities for a similar price tag. It is a one-stop for all of the steps you need to feel your baby healthy, homemade baby food.
Brezza has patented features that created an all-in-one steamer and blender. Unlike other baby food makers, parents just stick all of the food into one bowl, turn it on, and the food is ready in a matter of minutes. There is no need to transfer any hot food from basket to blender.
You also don't have to stop in the middle of the process to empty the water reservoir. The Brezza can make stage one baby food up to later, chunkier stages for toddlers.
Here are some other impressive features of the Brezza
The capacity of the Brezza is 4 cups. Both the steamer basket and blender hold the same amount of food. It is the perfect amount for a few days of food!

Everything is contained in a glass bowl, reducing the overall exposure to plastic while cooking.

Parents select the easy to choose settings – steam only, blend only, or steam and blend.

An LCD display allows you to track how much time there is left before the food is finished.

The water tank is removable, so it is easy to fill up. Also, cleaning it is very easy, reducing the risk of calcium build-up. The bowl and blades are dishwasher safe, making clean up even simpler.

Baby Brezza includes a spatula and a recipe book to make life easier for you.
Why You Should Buy It?
While the overall rating of the Brezza is lower than the Babycook Pro, there are still some awesome positive reviews listed by parents. Let's take a look at what the parents love about the Brezza.
Parents love that it is a glass bowl rather than plastic, reducing the exposure to toxins.

It is very easy to use, producing fantastic baby food!

The number one positive feature is that the Brezza blends and steams in the same bowl. It is one less step that you have to go through, and one less item to clean up!

Cleaning, overall, is very easy. You shouldn't have any issues with calcium build-up.
---
3. Cuisinart BFM-1000 Baby Food Maker and Bottle Warmer
Everyone knows Cuisinart. They make some of the best products for the kitchen. Now, Cuisinart branched out to make a baby food maker and bottle warmer, completing the high-tech kitchen desired by modern and busy parents. Just because you are a working parent doesn't mean you can't make your own high-quality food for your little one!
Here are some of the product features you should know before purchasing
Cuisinart designed the BFM-1000 to perform three functions – steam, puree, and warm bottles.

The bowl is four cups, perfect for large batches of recipes throughout the week, lessening the amount of work you have to complete.

It purees food nearly perfect. At times, you may have trouble with a certain food that isn't thoroughly cooked. However, your child will likely love the consistency produced by Cuisinart.

Unlike other engines, the Cuisinart baby food maker is quieter. No food processor is actually silent, but this one is muffled, reducing the chance that it will disturb or scare your child.

Because there are only a few parts to this baby food maker, cleaning the Cuisinart is very simple. The bowl, blade, lid, and spatula are all top-rack dishwasher safe. It is important for parents to remember to clean the water container to reduce the risk of bacteria growth.

It is one of the most durable choices on the list. It features metal blades and BPA-free plastic, along with a 120-volt electric motor. This engine can stand up to tougher food like sweet potatoes.
There aren't too many negatives to this baby food maker. One thing to note is that it is heavier than many of the other choices, weighing close to 10 pounds. While all of these machines are technically portable, chances are you won't want to take them to grandma's house due to their size and weight.
Why You Should Buy It?
Believe it or not, the Cuisinart BFM-1000 scores higher than the beloved Brezza! There are many reasons why parents have rated it so highly. Here are some things you should know.
Having a built-in bottle warmer is a convenient feature. There is no reason to purchase a separate one and take up more kitchen counter space!

The price is perfect! Listed around $50 less than the Beaba and Brezza, you get many of the same features for a lot less money.

Some parents have noted that the bowl is easy to stain, especially if you are pureeing brightly colored foods like beets.
---
4. Sage Spoonfuls Immersion Blender with Food Processor Attachments
Perhaps, you are looking for a simpler choice to make your own baby food. You might not have the budget to be able to purchase a $150 baby food maker. That doesn't mean you shouldn't be able to make delicious food for your child!
Surprisingly, Sage Spoonfuls Immersion Blender is beloved by many parents despite its overall simple design. It is a perfect size and is versatile in function. Plus, the price point is perfect, listed under $60.
Right off the bat, the first thing you are likely to notice is that the Sage Spoonfuls Blender lacks the steaming option. However, it makes up for this fact by being able to puree soft or cooked food into the perfect, creamy consistency for your child.
One of the reasons parents do like it so much is the versatility it provides parts. You can process a small serving, a larger serving, or you can blend up an entire pot of cooked carrots. Parents aren't limited by a set number of cups.
Reasons why you would want to purchase the Sage Spoonfuls Blender
Besides making your own baby food, this immersion blender is a convenient tool to have in your kitchen. You can use it to make mashed potatoes or puree a pot of vegetable

For infants just learning how to eat solids, Sage makes some of the best first-stage foods. Most of the time, it is too thick and chunky for little infants. However, Sage makes it just perfect!

It has a dual capacity that is simple to use because it only has a few parts! The included food processor only has four parts, and the immersion blender has two! Remember, for the immersion blender, you need to have a large pot or cup to blend inside to reduce a messy disaster!

Best of all, cleaning the Sage Spoonfuls Blender is really simple. It doesn't take much effort on the parent's part. All of the parts, minus the motor housing, are dishwasher safe. The only tricky part is ensuring the blade gets thoroughly

This blender is made without BPA, Lead, PVC, and Phthalates!

It is a durable and reliable blender, featuring a 120V/250W motor. The great thing about this blender is that it rarely burns out on parents.

If you are looking for a portable baby food maker, this would be excellent It is lighter than the Cuisinart by a number of pounds. Just roll up the cord and bring it along. It will be perfect so long as there is a pot or bowl to use.
Why You Should Buy It?
There are plenty of positives to this baby food maker. Here is what the parents love the most.
You don't just have to use it for baby food making! An immersion blender is a fantastic tool for soups or mashed potatoes. You will find other usages for it.

It is a super simple and quick blender. It only will take a matter of seconds to blend up food.

Parents save a lot of money by going with this route! It is around $100 cheaper than other choices, but it does have fewer.
---
5. Babymoov Baby Food Maker – Nutribaby Zen
The next choice for the best food processor for a baby is Babymoov. It features a unique design that allows you to cook foods separately before blending them together. First, you place the foods that need to cook the longest, like sweet potatoes, into the first basket.
Then, add other quicker ingredients into the second basket before the end of the cycle. It makes sure that you don't overcook certain foods, reducing the chance of cooking out nutrients.
Parents love the Babymoov because it prefers the same functions as the Beaba Babycook Pro, but it costs around $50 less. However, there are some distinct differences. For example, the Babymoov has more parts to put together and take apart. You will need two hands; it is an involved process. Parents note that the Babymoov has a bit of a learning curve.
Here are some other impressive features of the Babymoov Baby Food Maker
It has the largest capacity out of all of the baby food makers on the market! You can cook up to 6 ¼ cups of food at a time! You will have to take some food out each time you blend because the ideal amount is 2 ½ cups to find the perfect consistency for your baby food.

There are five different functions to the Nutribaby: steam, blend, sterilize (up to three full-size bottles at a time), defrost food, and warm up baby food!

Parents easily manage the functions they want to perform on the easy-to-read LCD screen.

Nutribaby includes a spatula and a recipe book to get you started on your journey to all homemade baby food!

All of the parts that could touch your child's food at BPA-free and dishwasher safe, making clean up a breeze.
The Nutribaby makes a fantastic baby registry item. Since you can use it to sterilize natural baby bottles, there is no reason to hold off on purchasing this item. Parents can use it as a sterilizer until their baby is six months old and ready for baby food!
Why You Should Buy It?
There aren't too many negatives listed about the Nutribaby besides the additional parts to clean and that the plastic can easily stain if you cook brightly colored foods. Despite that, parents give high points to the Nutribaby!
The two baskets make it easy to steam more than one type of food at a time. You can cook apples and broccoli together without having to blend them together, cutting down on your work time.

You can quickly clean the water reservoir, lessening bacteria growth.

The price is perfect! You get so many functions without having to spend an arm and a leg!
---
6. Magic Bullet – Baby Bullet Baby Care System
Most people have heard of the Magic Bullet. They took the convenience and durability of their product and created one of the most widely sold baby food makers on the market today! One of the most obvious reasons to purchase the Baby Bullet is its strength. It matches its "big brother" in terms of power; you can use it to puree even the toughest foods like sweet potatoes.
Right off the bat, you are going to notice you are missing a steamer. This is the one big negative for the Baby Bullet. You will have to steam the food in a separate container before you put it into the blender.
The Baby Bullet features two different blades so you can match it to what you are blending for the day. Here are some other features to the Baby Bullet.
It comes with a smaller blending cup, so you don't have to make a large batch unless you want to do so!

Baby Bullet includes a batch tray with a lid, so you just pour the food into the tray and load it into the freezer for easy storage.

If you are going to use the food soon, there are six date-dial storage cups. The date-dial is a fantastic feature! You don't have to wonder when you actually made the food and if it is still good to serve to your child.

With both blending attachments, you can cook up to eight cups of food at a time. However, the more food you add, the thicker the consistency will end up being.

Magic Bullet didn't use any BPA when they created their Baby Bullet, and the parts are dishwasher safe for easy cleanup.
Why You Should Buy It?
The Baby Bullet has some of the highest ratings out of all of the baby food makers on our list. Most parents have nothing but positives to say. Of course, there are a few negatives, but you will love the pros to the Baby Bullet.
It is very easy to use. All you have to do is put the food in and turn it on. If you want to puree up something from dinner quickly, you don't have to put together a complicated machine.

The Baby Bullet is easy to store in the pantry or on your countertops. It won't take up an enormous amount of

The included containers are great. You have the tray to store for freezer food, which you can later store in freezer bags. The daily containers are even more convenient with the date dial.

The price is perfect, costing less than $60! It is a steal compared to other choices on the list. So, if you are on a budget, look no further!
---
How to Pick the Best Food Processor for Baby Food
Over the last few years, there has been an increase in options for baby food makers on the market. Most importantly, you have to balance the features and qualities that you want with your budget. Some choices are expensive, yet, there is no reason to blow your budget on them! There is something in your price range for sure!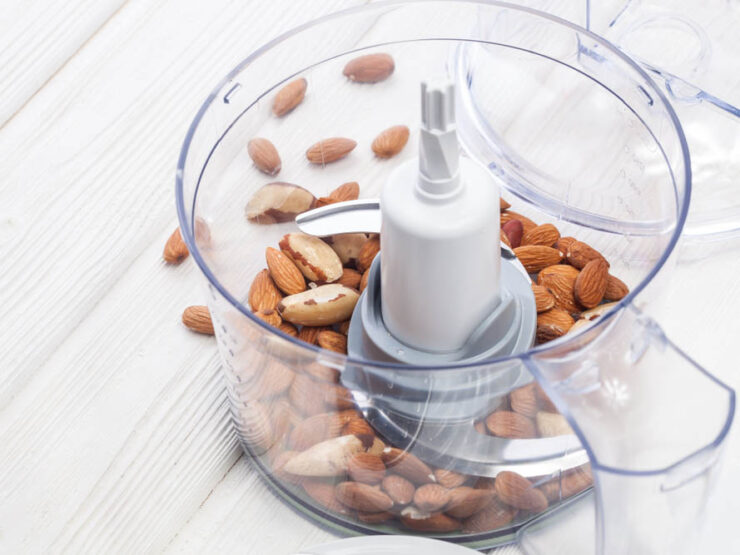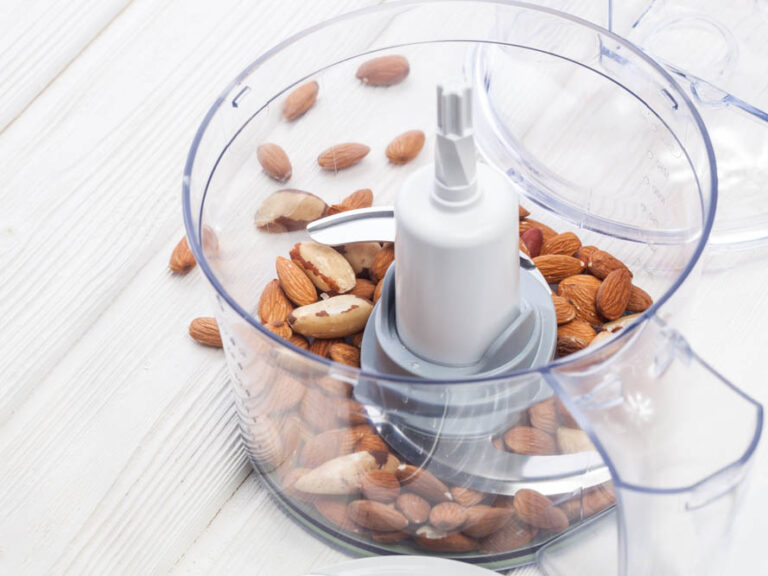 Steamer and Processor
At one time, baby food makers were just food processors designed to look cute with some stickers. You have to cook the food separately, typically in a steamer, then you would puree them in the processor.
As you can imagine, it takes a lot of time to do this. Luckily, there are a lot of new choices that combine the work for parents. All you have to do is add the food you want into the machine, add some put and the system will do the entire process for you. It doesn't get much easier than that!
Easy to Use
You don't want a food processor that is like a puzzle. It should be easy to take apart to clean, easy to put together, and easy to use. If it takes you hours to figure out how to use it correctly, you have the wrong one. Only poorly designed makers are complicated.
Easy to Clean
Just like you want an easy-to-use system, you also want an easy-to-clean baby food maker. You don't want something that doesn't have dishwasher-safe components. If you have to hand wash all of the pieces every time, you are going to get frustrated.
Baby food makers have to get spotless after each usage to reduce the risk of mold and bacteria growth. Also, the water reservoir, for those with built-in steamers, should be easy to clean, reducing calcium build-up.
Efficient
The baby food maker needs to do its job quickly and correctly. If you have to keep checking to see if it is properly blended, you are going to get annoyed fast. Slow motors, dull blades, and an overall bad design just lead to an annoying headache.
Also, it should make a good deal of food, so you don't have to make single servings. Ideally, you can make a large batch of carrots and peas, lasting for a few weeks!
Safety
All baby products should be safe for your child. Most baby food makers no longer contain BPA, but always double-check that the company specified. All harmful chemicals, like phthalates, don't belong anywhere near your baby! Look for recalls on the product as well, just to be sure everything is fine before you purchase.
Other Functions
Some really impressive baby food processors on the market perform even more functions than just steaming and processing. There are a few that can defrost and warm up food. If you store your made baby food in the freezer, the machine defrosts it for you and then heats it to a safe temperature for your baby.
Also, some machines are bottle warmers as well as bottle and pacifier sterilizers! Instead of purchasing multiple devices for these functions, buy one that does it all!
Size
Do you have a small kitchen? If so, the last thing you want to do is purchase a large food processor for baby food that is hard to store and transport. Look for ones that are easy to store, like in the pantry or under the cabinets, or that won't take up too much valuable space on your countertops.
Also, if you plan to take the processor on the go, you don't want something that is cumbersome to carry.
---
Conclusion
We looked at six of the best food processors for baby food in great detail, letting you see all of the reasons why it might work for you. Now, it is time for you to make the decision. Before you do, ask yourself these simple questions.
Does it fit into my budget comfortably? We don't mean the budget that kills your next payday's budget as well. You want something you feel financially comfortable purchasing.

Does it provide all of the functions I want? If you want a bottle sterilizer as well, buy one that has that capacity. If you want one that steams and processes the food, make that a priority.

Is it made with safe materials? Always remember to look for a label or details that tell you the product is made without any PVC, Lead, Phthalates and BPA. It has to be safe for your child.

Is it easy to clean? After spending an hour making baby food, you don't want to spend even more time cleaning. Ideally, you can put everything in the dishwasher and go on your way.

Will it make the consistency needed? Read the reviews and see if parents state that it made the right food for their baby. You want to ensure the texture is perfect, so your child enjoys his meal.
Do you have a favorite food processor for baby food? Let us know in the comments!
Take a look at these products from the same price range, that are available right now on Amazon:
Baby Food Maker 7 in 1 Baby Food Processor Multi-Function Steamer Grinder Blender,Make Organic Food for Infants and Toddlers,BPA Free, Self Cleans,Auto Shut-Off,Touch Screen Control (Green)
MULTI-FUNCTIONAL FOOD MAKER:7 IN 1 mixing, steaming, rapid milk warming, disinfection, self-cleaning, heating, thawing, and it's large Internal suitable for all kinds of vegetables, fruit, meat, chicken, and fish,very suitable for baby food maker.
AUTOMATICALLY STEAMING & BLENDING:Chop the food that needs to be steamed and put it in the mixing cup,press the steam button and adjust the time.The sharp blade powered by a high-speed motor running at 18000R/min chop up baby food soft and no particles,helping babies to gain more nutrients.
SMART OPERATION&EASY CLEAN:The one-key start button helps you select a function at ease press the button for the steam heating, spin for the blending,and then automatically blend perfectly within the set time.Our baby food maker water tank with a diameter of 3.15in has auto cleaning function to quickly remove scale within 5 minutes. The detachable cutter head is convenient to clean, with no impurities left.
EFFICIENT HEATING: It's large capacity is suitable for 99% of baby bottles,simply adding water to the tank and press the button is good to go, 3~4 min to heat milk to 104°F and quickly defrost and heat baby food.
SAFE&HEALTHY:Blender is made of food-grade non-toxic ABS and 304 stainless steel hardware,delivering high-temperature resistance. BPA free and odorless.Besides,the smart reminder function will automatically shut off the machine when the water tank is short of water. Offer 2-years quality assurance. Our friendly and reliable customer service will respond to you within 24 hours!
Sale
Hamilton Beach Food Processor & Vegetable Chopper for Slicing, Shredding, Mincing, and Puree, 10 Cups - Bowl Scraper, Stainless Steel
Bowl scraper attachment: Special attachment scrapes the sides of the bowl to keep ingredients close to the blades for more even results and to save you time when chopping or pureeing — no need to stop and remove the lid to use a spatula
10 cup capacity: The generous 10 cup bowl can handle large volumes of foods without having to stop to empty it
Large feed chute: Can fit large foods like a whole block of cheese for quick, easy processing and less prep time
Versatility of a food processor, food chopper and vegetable chopper: Reversible stainless steel disc slices and shreds, while the stainless steel s-blade chops, mixes and purees
2 speeds plus pulse and 450 watts of power: Food processor's low and high speeds plus pulse gives you the control you need for a variety of recipes
Baby Food Maker | Baby Food Processor Blender Grinder Steamer | Cooks & Blends Healthy Homemade Baby Food in Minutes | Self Cleans | Touch Screen Control | 6 Reusable Food Pouches
create fresh, healthy, homemade baby food with the touch of a button … forget juggling multiple pots and pans while your precious bundle of joy is screaming in the corner! our multi-function baby food processor allows you to steam, blend, reheat and defrost … it even sanitizes and self cleans!
super easy to clean. our self cleaning cycle is the perfect time saver for busy moms. just add some clean water and the machine does the rest! for any stubborn stains, the stirring cup is dishwasher safe. unlike our competitors who's water tanks often harbour mold, ours has wide opening making it very easy to clean
know exactly what you are feeding your little one - our unique steaming cycle locks in nutrients, flavors and vitamins ensuring your little one benefits from tasty and healthy homemade food. modern touch screen control panel allows you to easily select the precise meal consistency from purees to solid. suitable for all vegetables, fruit, meat, chicken and fish
stylish and modern design. our premium baby food maker fits perfect within any kitchen interior with style. compact and sleek design makes it the ideal addition to your kitchen worktop but more importantly … less clutter! it also makes the perfect premium baby shower gift
a family brand you can always trust. we are parents ourselves and would never compromise on safety. our baby food maker doesn't contains any nasties bpa, phthalate and lead free.
Sale
Baby Food Maker Chopper Grinder - Mills and Steamer 8 in 1 Processor for Toddlers - Steam, Blend, Chop, Disinfect, Clean, 20 Oz Tritan Stirring Cup, Touch Control Panel, Auto Shut-Off, 110V Only
8 IN 1 Steam, Sterilize, Cook, Juice, Warm, Defrost, Puree and Chop - All You Require From a Food Processor for Babies. A 3 tier basket design allows you to cook 3 separate meals at once
EASY TO USE Intuitive Touch Control Panel Interface is All You Need to Prepare Healthy and Safe Food for Your Baby - Simply Press One Button to Steam the Food and Then Press Another Button to Chop it. Baby Food Maker Does All That With Ease
SAFETY FIRST Stirring Cup is Made of Tritan Plastic, Which is BPA, Phthalate and Lead Free, ETL Safty Certification (UL982 and UL1026 Standards for Safety)
EASY TO CLEAN Stirring Cup is Dishwasher Safe. Don't Waste Your Precious Time Cleaning the Device When You Can Spend it With Your Family
STYLISH This Cute Baby Food Processor / Steamer / Blender / Chopper Fits any Kitchen Interior with Style. It's the Perfect Time Saver for Moms to Be with their Families. Compatible with 110V power network ONLY.
Avec Maman - Baby Chef, 4-in-1 Food Processor for Babies - Baby Food Blender | Steamer | Bottle Warmer | Jar Warmer | Sterilizer - Baby Food Maker | BPA-Free
HEALTHY COOKING, HEALTHY LIVING: As your little ones grow, you want to make sure that they're getting the most beneficial and most nutritious meals. You have some ideas, but who wants to use 3 or 4 different machines for cooking a simple meal? Thanks to the multi-function options of the Avec Maman - Baby Chef - Baby Food Maker, you can steam, blend and warm-up your meals in one, easy-to-use machine. It's excellent for weaning and help your baby with a smooth transition.
PREPARE MEALS QUICKLY & EASILY: Between diaper changes and frequent night awakenings, you don't have a minute to spare. Well, with this baby food processor you can take a deep breathe and relax. Just chop, put the food into the holder, press on steam (if necessary) and sit back until the timer beeps, then empty the basket and press blend. Your baby's meal is now ready to be served.
4-IN-1 MULTIFUNCTION + EASY CLEAN: Avec Maman's Baby Chef will help you steam and blend food, warm milk bottles / food jars and sterilize bibs or small bottles, making it an excellent choice for you and your baby, as well as a great gift for expecting parents. It's also super easy to clean, just remove the jug, throw in some water and press blend, then rinse it under running water and allow it to dry.
5-YEAR REPLACEMENT WARRANTY: At Avec Maman, customers always come first. That's why we build all our products are for longevity with quality and style so that you can count on us. The Avec Maman - Baby Chef - 4 in 1 food maker and baby blender is backed by our warranty and our exceptional customer service team.
SMART DIGITAL CONTROL + TIMER: To take a little weight off your shoulders, we've designed the Avec Maman Baby Chef to be very convenient and easy to use. The smart digital control allows you to set a timer and take care of your little child (or if you're lucky, sit back for a breather). A soft beep indicates that the operation is now complete.
Cuisinart DLC-2ABC Mini Prep Plus Food Processor Brushed Chrome and Nickel
250-watt food processor with 3-cup plastic work bowl
Chops and grinds with patented reversible stainless-steel blade
Simple push-button control panel; durable, yet lightweight plastic body. LWH (in inches) : 5.00 x 7.00 x 9.25
Dishwasher-safe bowl and lid for quick cleanup; spatula included
Product Built to North American Electrical Standards.Wipe the motor base clean with a damp sponge or cloth
Sale
Kocbelle Food Processor,Wireless Small Food Processor & Portable Mini Food Chopper for Vegetables Fruit Salad Onion Garlic,Kitchen,1.3Cup 10 0z,150 Watts,Glass Container Dishwasher Safe,Green
【Wireless Handy Chopper】If the battery is insufficient for the first use, please charge it more than 4 hours.Food process innovation,smart kitchen gadget,cordless food processor free to move anywhere in the kitchen,equipped 1.3 cup small bowl but handy for daily meal preparation.only 0.9 kg weight,size 4.2 inch * 4.2inch * 8 inch ideal for family meals and outdoor picnic.
【Sturdy and Durable Glass Container】Washed up perfectly in your dishwasher,easy to clean and safer compared to plastic bowls. No worry for scratch and leakage,BPA free make it perfect for family use and ideal for making baby food.
【Fresh ingredients press to go】No complicated procedures,only simply switch on to deal with meats, nuts,onions and so on,Ingredients are usually processed in 5-30 seconds,determined based on component properties,safety product design to avoid knife blade hurts and over-heating.
【Easy to assemble and clean】No difficult twisting or locking,just place the lid, blade and you are about to chop. Dismantlable blade and glass bowl design make it super easy to clean, dishwasher safe.
【Service and Warranty】Contact us anytime if you have any problems when using the products,reply daily by our professional customer service team.Pick our product and start the worry-free journey.What you get:1*Mini chopper motor,1* Glass bowl,1*Scraper ,1* blades ,1* USB charger and 1*user manaul.