The Best BB guns for kids, same as laser tag guns come in a variety of shapes and sizes. They are excellent toys that can be used to introduce your child to the essentials of gun safety and its uses. Apart from this, BB guns can also be crucial in your kid's hand-eye coordination development, which is a significant part of growing up.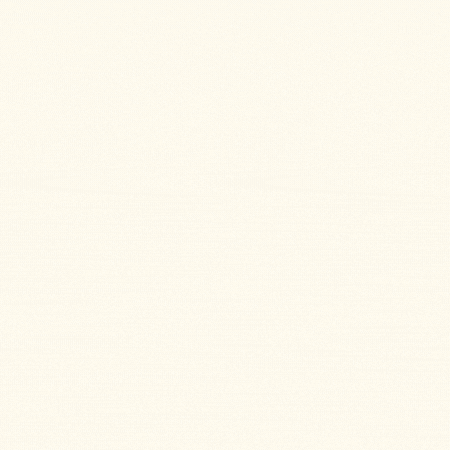 Playing with these toys can evolve into picking up interesting hobbies that can be highly beneficial for active kids. When it comes to these guns, the market offers you numerous choices, which can be pretty overwhelming for busy parents that are not sufficiently informed about these products.
To help you make a more educated choice in this purchase, we have put together a list of some of the best BB guns for kids your money can buy.
List of the Best BB Guns For Kids Reviews
---
1. Daisy Youth Model 105 Buck Spring-Air BB Rifle Gun – Editor's Pick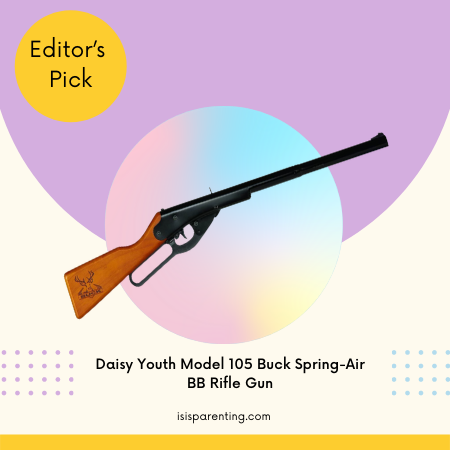 Model 105 Buck BB rifle is an excellent gun for beginner shooters that are at least ten years of age. This beautifully designed lever-action rifle will be light on your child's hands since it is very easy to cock and has a low weight.
This BB rifle speeds up at 275 fps speed and can retain up to 400 BB rounds. Aiming is pretty easy since the gun is equipped with TruGulo fiber optic on the front and has stationary back sight. These features provide your children with an easygoing learning curve that will motivate them to play outdoors more and remain active.
The gun is 29.8 inches long, which allows smaller shooters to take a comfortable shoulder position while aiming, making the starter shooting sessions and training much more effective. The rifle is also equipped with a cross-bolt trigger for extra safety, which is one of the reasons this toy is widely considered an excellent first gun.
---
2. Barra Airguns 1866 Air Rifle Junior Bundle Kit .177 Cal Pellet and BB Gun for Kids and Youth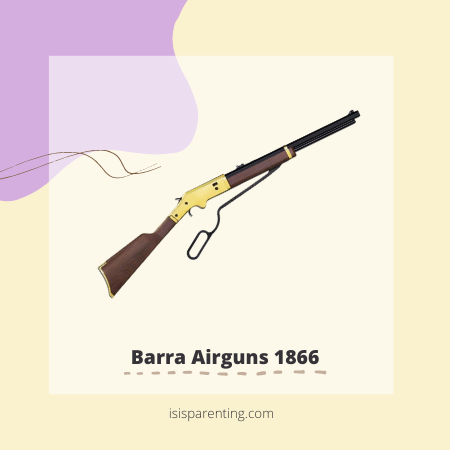 This lever-action air rifle for kids is an excellent starter toy for your little marksmen. It is equipped with an auto-safety feature that prevents your kid from any accidental misfires and injuries, which in the end, is the most important thing next to having fun.
The rifle is beautifully designed, and once you take it out of the box, you will notice the attention to detail the manufacturers invested in this product. It can retain up to 1000 BB rounds, which is a sufficient amount for a young shooter.
The package also contains a full starter kit, including safety glasses and paper targets. The gun is compatible with both pellets and BBs, so you do not have to worry if you run out of ammunition.
The lever arm is pretty long so that pumping can be done effortlessly. The gun has an impressive range with a maximum velocity of 350 feet per second. It makes shooting safe, entertaining and comes at a fair price.
Take a look at the quick overview in the following video:
---
3. Daisy Model 35 – Best for Beginners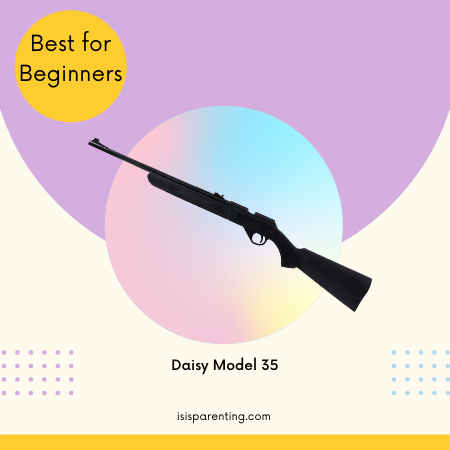 This is an excellent beginner BB rifle that weighs mere 3 lbs. It is compatible with both pellets and BBs, while the maximum velocity is at 625 fps for BBs and 605 fps for pellets. The design of the pump and grip is excellent for young marksman's hands and makes them aim steadier and better.
It is equipped with multi-pump pneumatic action, and it takes between three and ten pumps to take your shot effectively. The gun can retain up to 50 BB rounds of 0.177 calibers.
The gun provides you with large magazines, fast reloads, and adjustable sights. The size of the product is just right, while the construction is sturdy and well built.
Daisy model 35 is a smooth bore, optimized excellently for BBs. The pump is very easy, and its short-throw pump lever feels much better than the longer 880. It pumps silently without making a noisy clacking sound. Daisy model 35 is an excellent rifle for a price and is suitable both for children and adults.
---
4. Crosman 760B-N Pump Master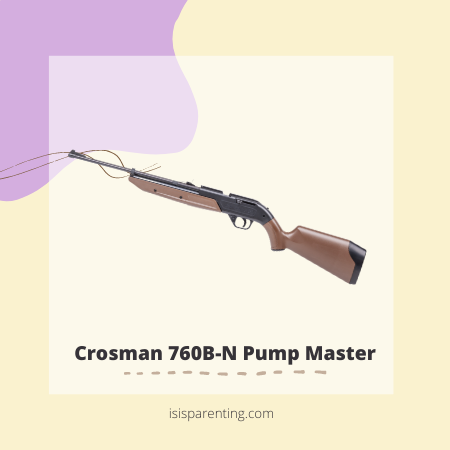 The Crosman 760B-N Pump Master is a BB gun that has been around on the market for over 40 years. It is an excellent gun that offers exceptional value for the money you are paying. It is a multi-pump pneumatic gun that can fire with a BB repeater or a single-shot pellet.
The stock and forearm are very durable, while the grip and pump handle provide you with excellent handling and very convenient use. The Crosman 760B-N Pump Master can send BBs up to 625 fps after you pump it 10 times.
It is an excellent BB gun choice for your kids, and it comes with standard bland and ramp sights that can increase accuracy drastically. The gun also features 11 mm dovetail slot in which you can easily mount a scope or red-dot sight. It makes an excellent purchase for both beginners and seasoned BB gun enthusiasts.
---
5. Smith & Wesson M&P 40 .177 Caliber BB Gun Air Pistol – Great for Training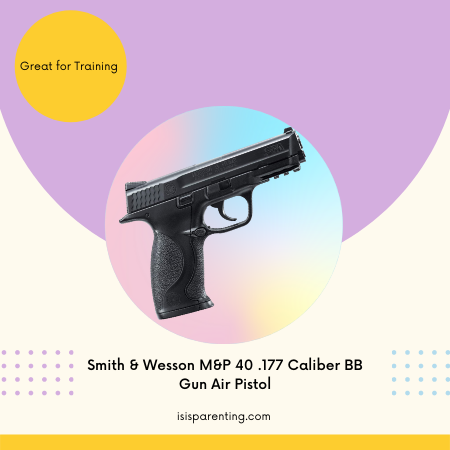 Smith & Wesson M&P 40 might be one of the best BB pistols you can get for your kid at a fair price. This pistol uses a general type of 0.177 caliber steel BBs that are quite cheap, so you can reload without worrying you will overspend.
Since well-being is one of the most important things to consider when purchasing a BB gun for your child, this pistol is an excellent choice since it features manual safety. It protects your child from unintentional misfires and injuries at all times.
The pistol is equipped with a CO2 cartridge of compressed gas that gives your child a more realistic shooting experience and has an integrated rail accessory so you can add flashlights, scopes, or any other compatible gadgets to it. Excellent for training children to use more serious self-defense guns.
Check out its performance it the following video:
---
6. Crosman M4-177 Pneumatic Pump .177 Air Rifle –  For Right or Left-handed Shooters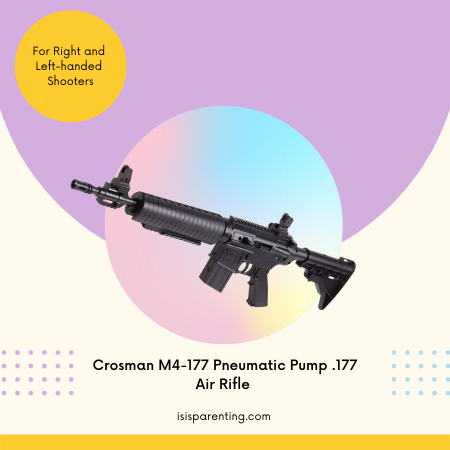 Crossman M4-177 is a bolt-action air rifle that can turn your kids from beginner shooters to intermediate. It is an excellent practice rifle that boasts high-quality components that are pretty durable and can take quite a lot of beating.
The rifle features a 5-shot pellet and quick reload clip that can retain up to 350 pellet rounds, which makes a fair amount that will keep your child active for an extended period.
What makes this rifle a convenient purchase is a fact that it possesses rails in which you can install various accessories such as cameras, flashlights, scopes, or lasers that will keep your kids entertained and improve their shooting practices.
As far as velocity goes, Crossman M4-177 shoots pellets at a very impressive 600 fps, and you can go as far as 625 fps when you use BBs. It is a rifle suitable for children that are looking to improve their aim in a convenient and entertaining way.
---
7. Remington AirMaster 77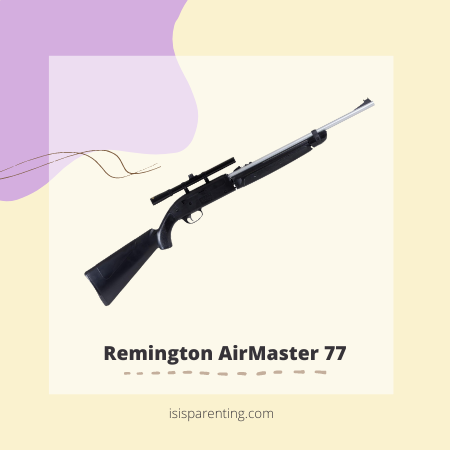 Remington AirMaster 77 is an excellent BB rifle if you are looking for enjoyable and smooth aim practice training for your child. Although it might be a bit difficult to pump this rifle all the way to ten pumps, it is certainly manageable and provides you with excellent accuracy and power.
It grants you a safe way to shoot both pellets and BBs without risking any misfires and accidental injuries. Even though it is quite enjoyable to shoot from this rifle, it is also recommended to purchase it for older kids since pumping might require more strength and it is a bit heavy.
As far as velocity is concerned, it can go up to 1000 fps with alloy pellets and up to 800 fps with BB rounds. Stock and forearm are made of synthetic materials that can endure pretty much any weather and environmental conditions. It comes with a 4 x 15 mm scope and fiber optic front sight that will grant you pinpoint accuracy and entertaining practice sessions.
---
8. Umarex XBG .177 Caliber BB Gun Air Pistol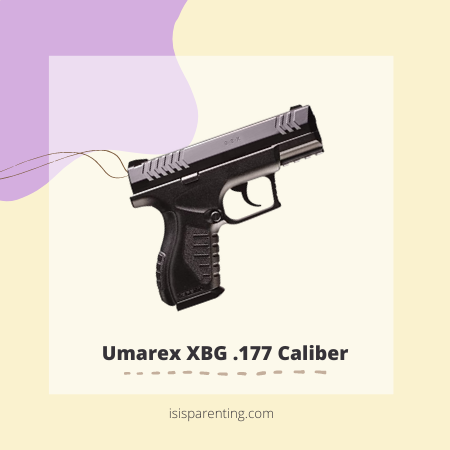 Umarex XBG comes in a variety of colors and features a 0.177 caliber, 19 shot, and it is powered by a 12-gram CO2 cartridge. The pistol boasts a lightweight and durable polymer frame, and both front and rear sights are fixed.
The XBG provides you with a quick reload and fires in double action at a whopping 410 fps. It grants you excellent value for a pretty affordable price in today's market. Its excellent power, consistent accuracy, and simple design will offer your child numerous aim practicing hours.
The grip is comfy, stylish, non-slippery, and very convenient for delicate youth hands. The pistol also features an under-muzzle rail in which you can install accessories such as scopes, flashlights, lasers, or any other gear that will provide your kid with even more fun.
The gun is not small by any means since it is a true-to-life replica, so it might be better suited for older kids that can grasp it firmly.
---
9. Glock 19 Gen3 .177 Caliber BB Gun Air Pistol – Best Compact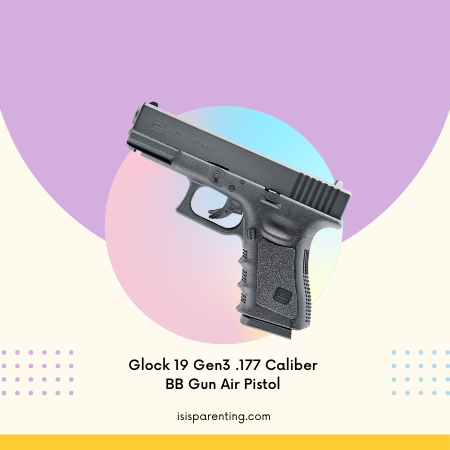 This BB pistol captures similarities of Glock 19 Generation 3 very accurately. At first sight, it is very difficult to notice the differences between this BB model and the centerfire version. Both size and shape very much resemble the real Glock 19 pistol.
Glock 19 CO2 BB gun weighs roughly 26 ounces, which a similar to a partly-full centerfire version of this pistol. It looks very realistic and feels compact and comfy. The pistol is quite accurate, especially for BB guns standards. The point of impact at 6 yards is very good, and the pistol offers you the option to mount various accessories on it (scopes, flashlights, etc.).
As far as velocity goes, Glock 19 CO2 BB gun averages around 412 fps which is more than fair considering the price. It grants you excellent power, comfort, and it is quite compact, convenient, and accurate. It is definitely worthy of consideration when you are looking for a new BB gun for your kid.
---
Comparison Table
Buying Guide for the Best Kids BB Gun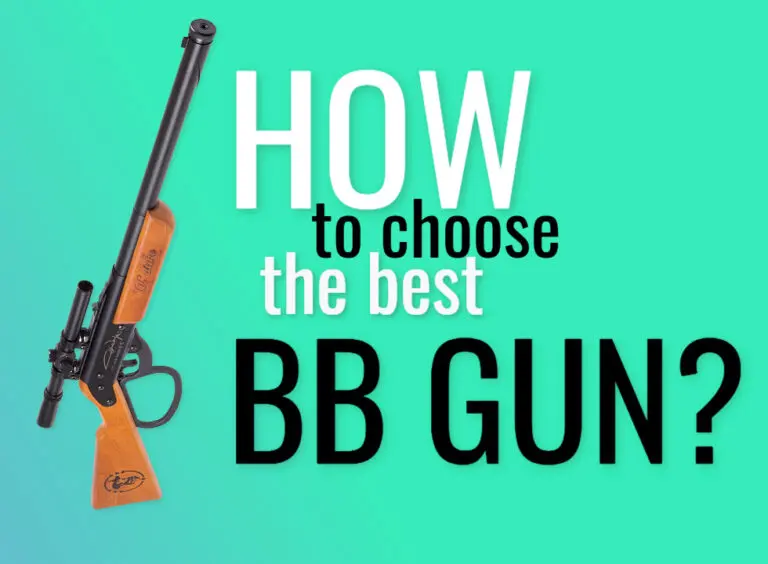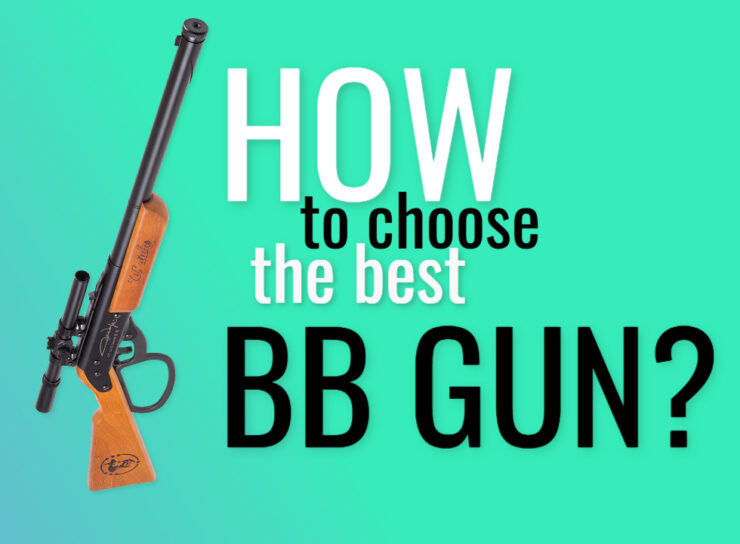 When choosing a BB gun for your child, you must think about safety, quality, durability, price, and multiple different things that come into factor to get the best possible product for your money's worth.
In the section below, we have listed some of the important things you should remember and consider when making this purchase.
Single-Shot, Semi-Auto, or Full-Auto?
Single-shot BB guns are usually the least expensive and most typical. A single-shot design can include a reservoir for additional rounds to be held, but it still simply shoots one shot. Between every shot, the shooter must make a manual activity to load another round.
A semi-auto gun is a repeater that self-loads another round. This implies that it fires a single round per pull of the cause. This layout is rather common and these firearms are very enjoyable, allowing you to shoot very fast.
Full auto guns allow you to shoot ammo when the trigger is constantly squeezed, and the fire does not stop until you release it, CO2 runs out, or the magazine is empty. This is mildly different from the semi-auto system that has several fire mode options such as one, three, or six-shot bursts. The majority of full-auto BB guns offer you between 250 and 500 fps.
Power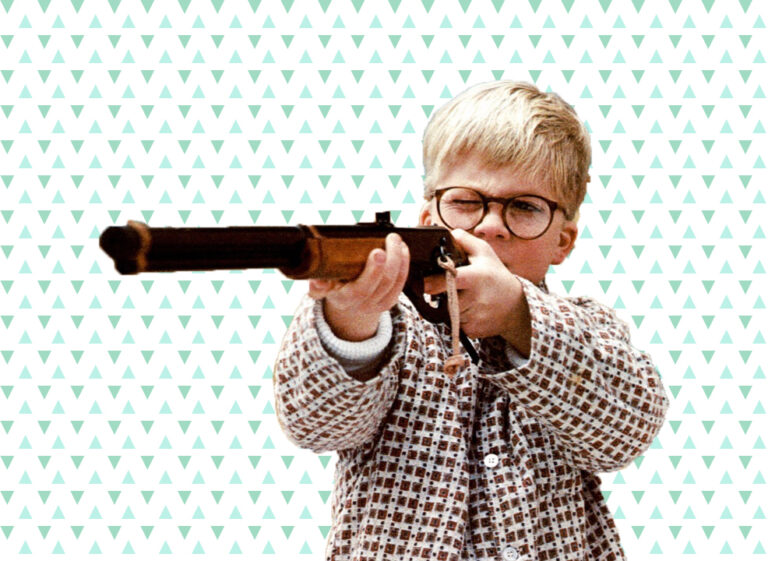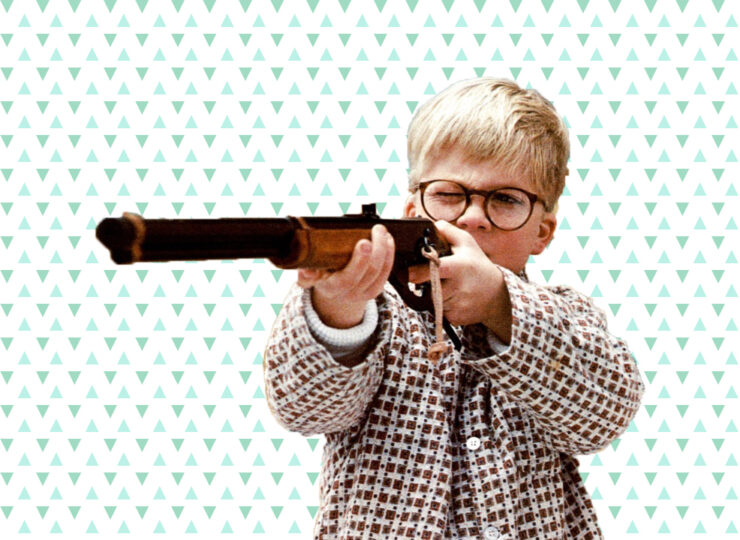 The most usual shooting mechanism to get a kid's BB gun could be lever-action and pump firearms. A lever-action BB gun gets powered by a lever, which you need to manually pump.
This is a great system as your child is better protected from accidental misfires, and it is the least powerful system among a variety of kinds.
A CO2-powered BB rifle is powered by compressed gas, which can be stronger than an analog, manual mode.
The last common type is compressed-gas in Powerlet cartridges and it is generally used in BB pistols.
Purpose
BB guns are generally created for shooters that want to practice their aim from the home, with no requirement for a real weapon range. In contrast to other choices, they're very affordable. Since their primary role is to shoot and have fun, I favor semi-autos and full-autos, but any BB gun could grant you lots of fun if you spend enough time practicing.
When it comes to instructing shooters about fundamental security and handling abilities, a single shot with iron sights is a great starting point. Single-shots will make novices take their time, and that is all that is necessary to educate them about the fundamentals of marksmanship and gun safety.
For more serious coaching functions, you might require a gun that functions similarly to a real firearm. In this case, you might want to look for true-to-life replicas. There is a great deal of pistol BB guns made to function as direct replicas of the majority of firearms available on the market.
Cost
The last question would be, what's your budget? Basic single-shot BB guns are available for as low as 10 dollars, and as you look for more contemporary designs with CO2-powered semi- or full-auto layouts, you will notice that the prices get higher.
In regards to semi and full-auto firearms, you wish to buy a reliable version from a dependable company. Cheaper versions won't last long. If you'd like a greater end single-shot, then you may definitely find them. They are frequently dual-use firearms that fire pellets and BBs, which can be a great mix.
---
FAQ
What is a BB gun?
A BB gun is a type of air gun designed to shoot metallic ball projectiles, called BBs. BB guns are designed for sport. They are used for target practice, recreation, and sometimes training. BB gun is most commonly used to introduce the child to the basics of gun safety and use.
What age for kids is appropriate to get a BB gun?
You should buy your child their first BB gun when they show an interest in learning and if they have enough maturity to safely handle a gun. Your child must be able to hold something dangerous (like a BB gun) and operate it the right way. They should be under close supervision.
Are BB guns safe for kids to use?
BB guns for kids are safe only if they are used under the watchful eye of a parent. You should not let your kid carry their BB gun with them unless you are traveling to the place to practice. Keep the BB gun secured in a locked case when it's not in use. Even the best BB guns for kids should also have safety mechanisms so they aren't accidentally fired.
Are BB guns legal?
In some country BB guns are legal and for some countries, you need to have a certificate for them. If you are unsure if the BB gun is legal or not in your country, you should check with your police force's firearms department who will be able to advise you.
Can BB guns hurt kids?
Yes, they can. BB guns can make some tissue damage, possible bruising, and will send a strong pain nervous impulse. If you are not using them in the proper way the BB guns can be very dangerous.
Are the BB guns toys?
Although often regarded as a toy, the firing mechanism in BB guns meets the threshold to be defined as a firearm. This is because these types of guns use compressed air to cause bullets or other projectiles to accelerate. The effect of the law is that there is no distinction between air rifles and more powerful guns. Instead, they are all classed as firearms.
Conclusion
Purchasing the best BB gun for kids might look to be a simple job since it can be treated as a toy. But, you ought to be able to differentiate whether the device you will buy is well worth the money. We expect that our review has helped one in regards to choosing the BB gun of your own choice.
Take a look at these products from the same price range, that are available right now on Amazon: